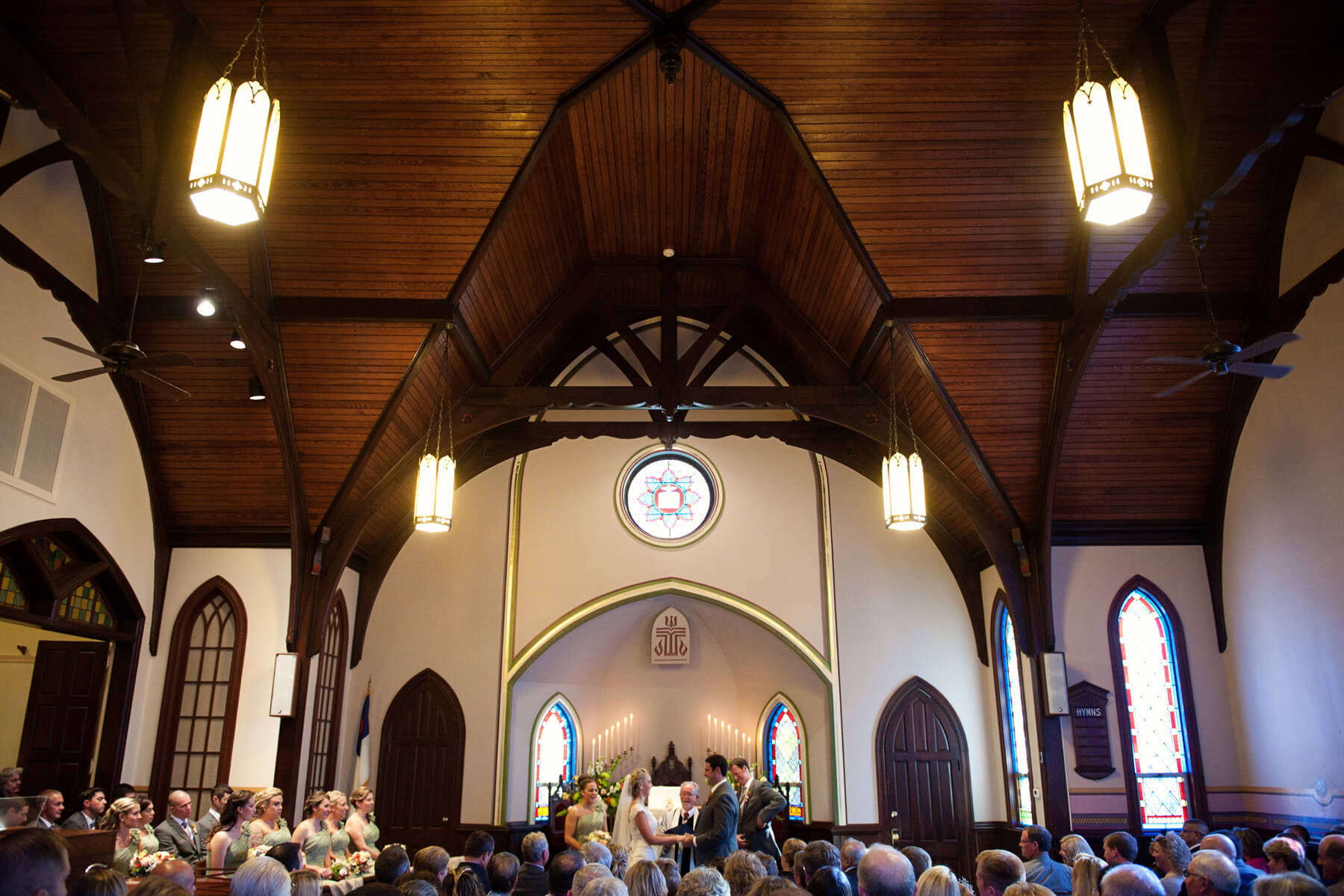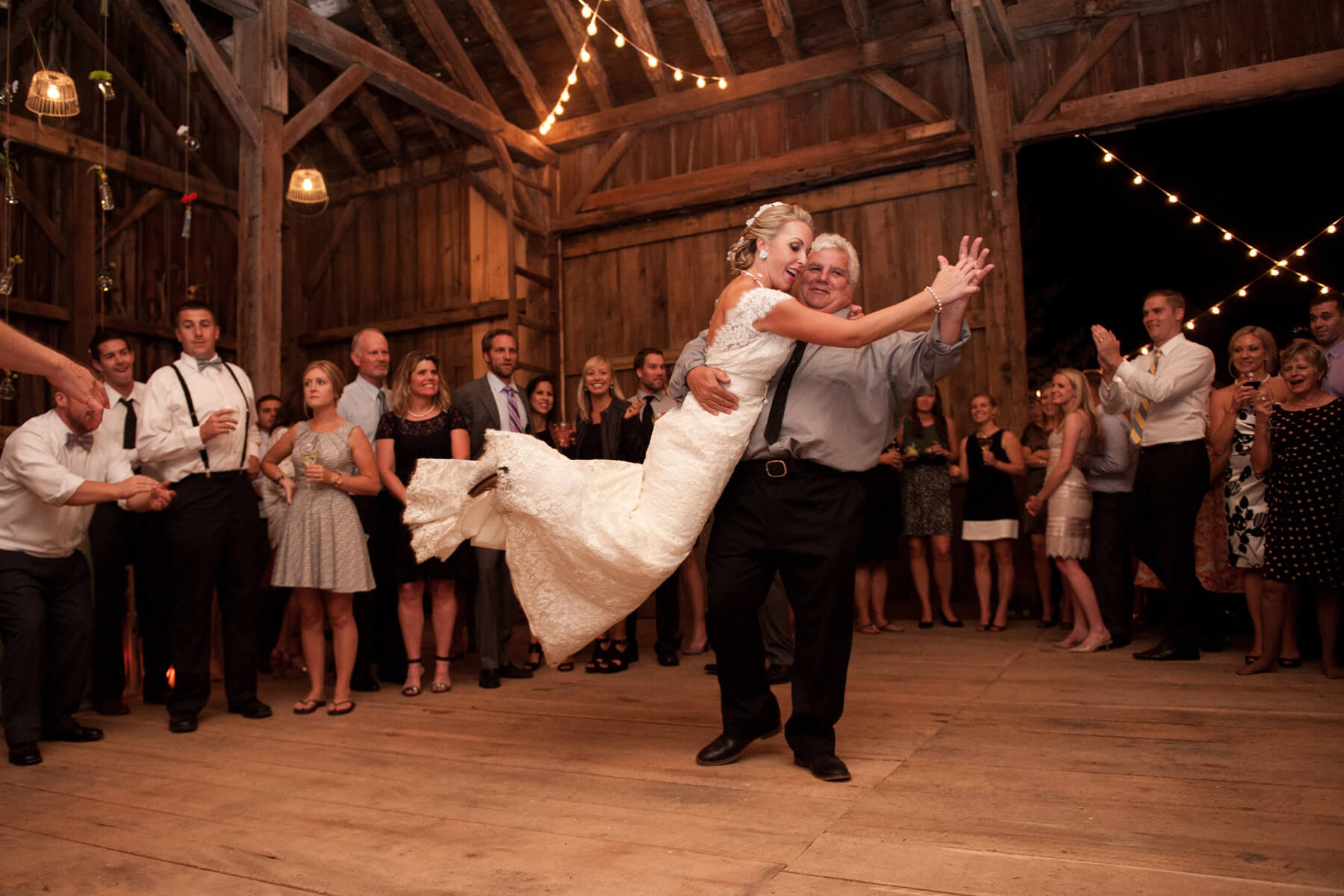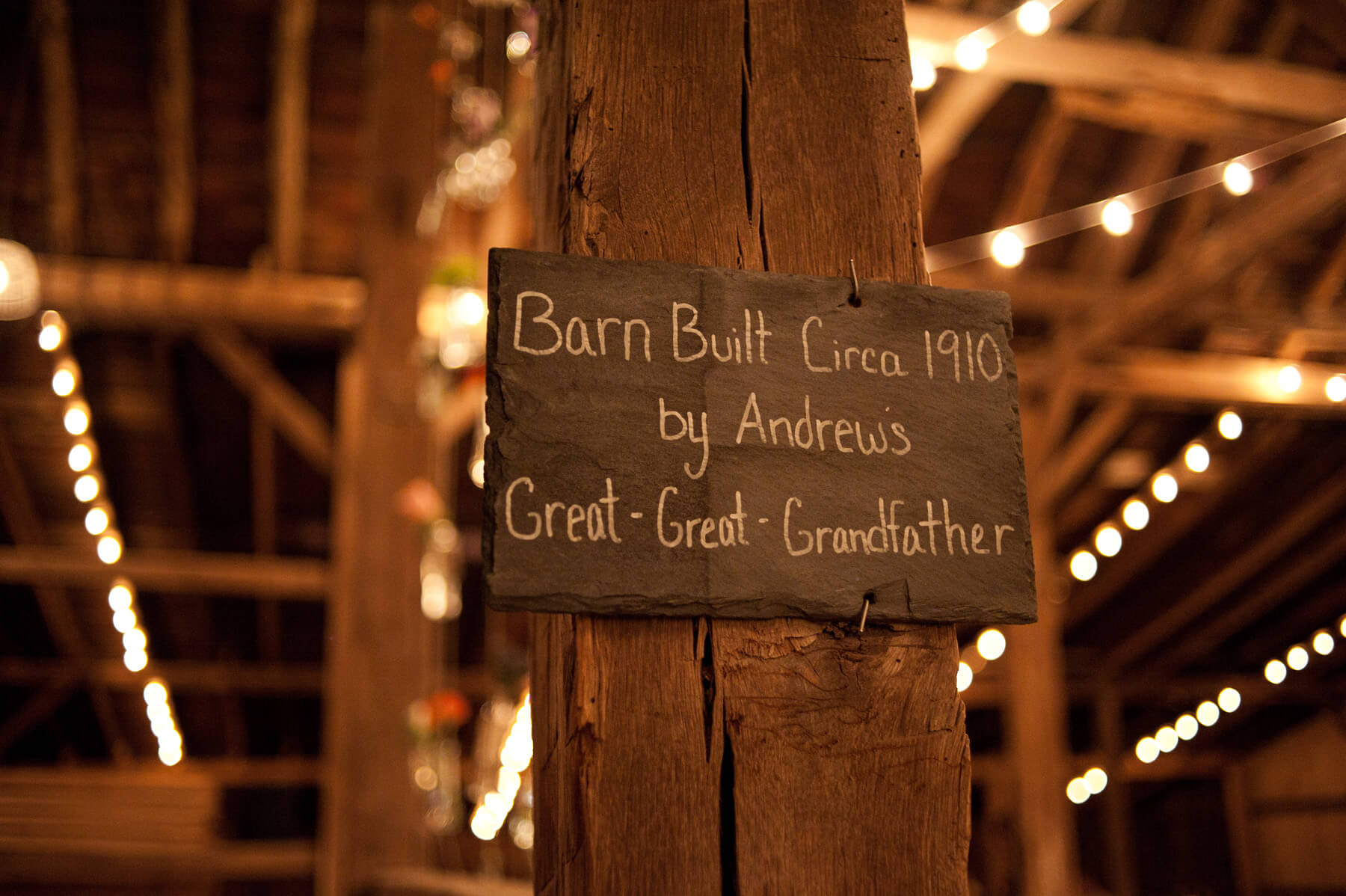 Occupations Mary works in government in Harford County; Andrew is a landscape designer.
Wedding date September 20, 2014
Number of Attendees 240
Number of Attendants 17 in total. Mary and Andrew had a Matron of Honor, six bridesmaids, a junior bridesmaid (their stunning 15-year-old niece Victoria), a flower girl (their 11-year-old niece Isabella, who modeled as a flower girl in Baltimore Bride magazine in 2010!), a Best Man, six groomsmen, and a ring bearer (their show-stealing nephew Brogan).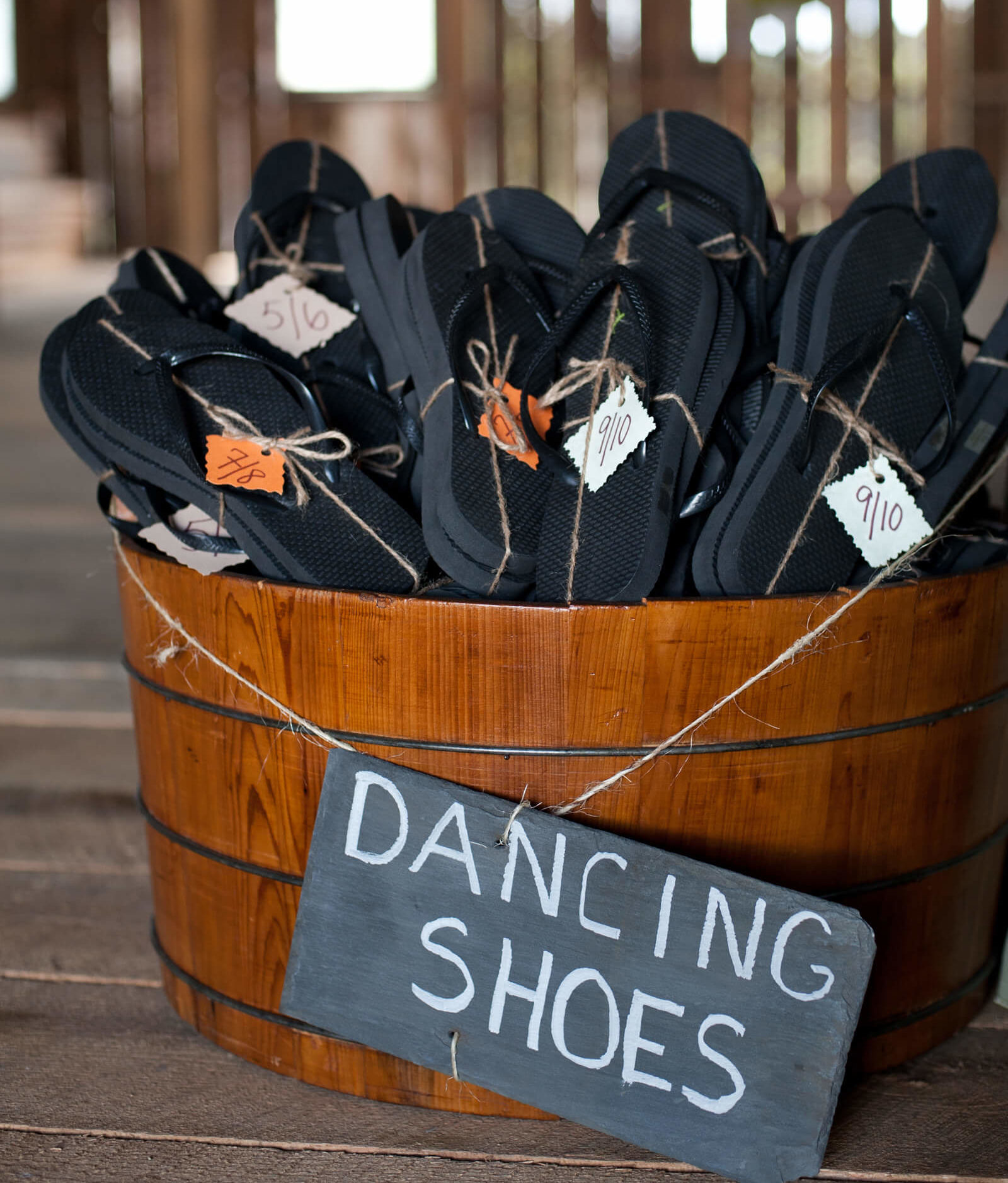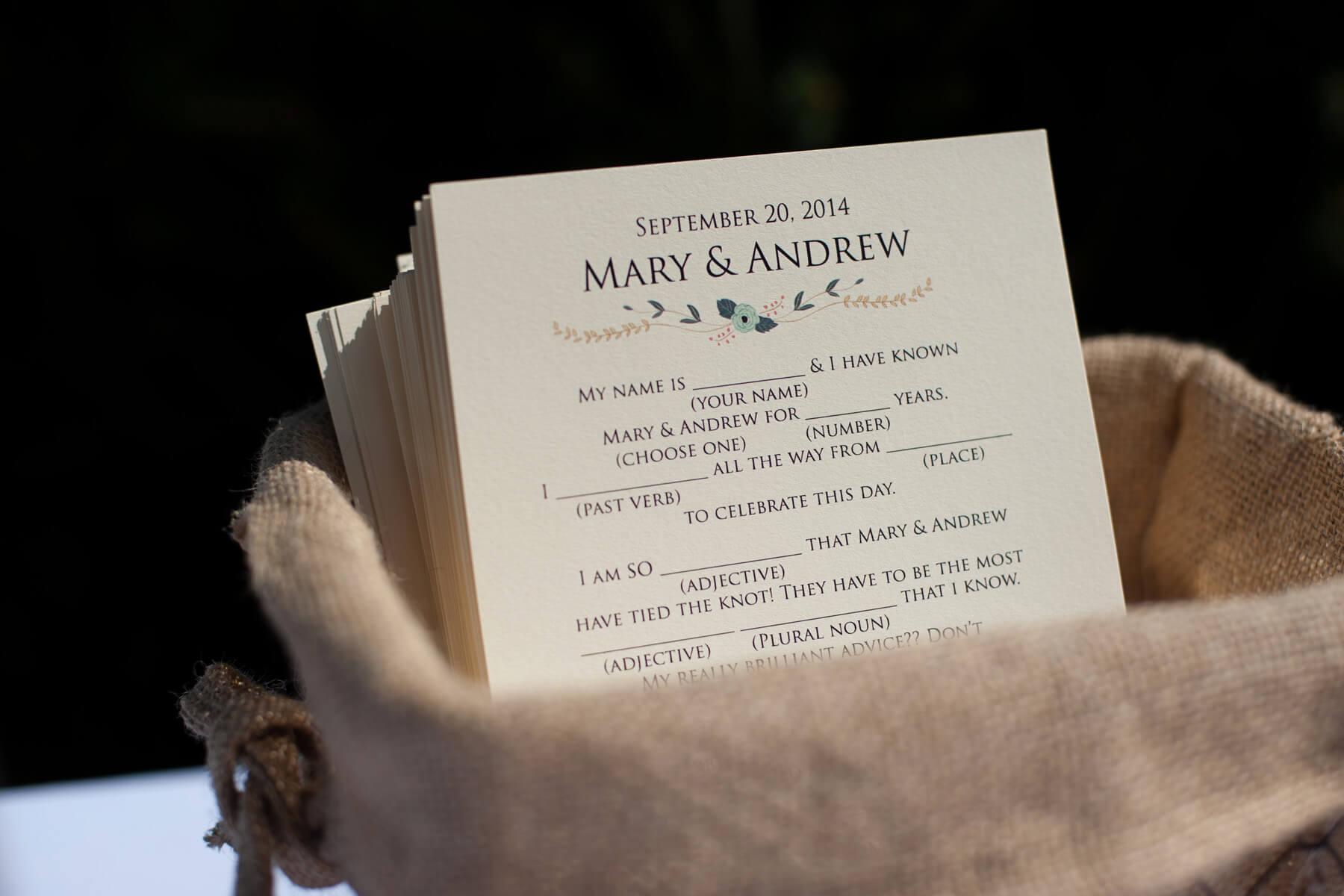 How You Met Mary and Andrew shared mutual clients who had tried time and time again to set them up for a year. Luckily the clients never gave up. After a few phone calls, Mary and Andrew decided to meet at Boordy Vineyards for a blind date on March 20, 2011. Mary was fashionably late and Andrew was fashionably waiting in his aviators that matched hers. The day of their first date was Boordy's "Stew in the Woods" event, so the two enjoyed tasting wine, and listening to music–by quite an eccentric artist–but mostly getting lost in their conversation with each other. Eventually Boordy kicked them out, literally, because they were closing. Mary and Andrew then headed to DuClaw to grab some dinner. The waitress came to the table five times before they had even looked at the menu to place orders for dinner. Andrew ended the marathon date in the most gentlemanly way, and the rest is history.
 The Engagement Mary had a very early morning May 19, 2013 at The Columbia Triathlon. Afterwards, Andrew and Mary met at her parent's house before heading out to dinner. (Mary later found out Andrew had also asked Mary's father for his blessing to marry her.) As some of you know, triathlon mornings start extremely early, like 4:30 AM early, and getting a restful night's sleep never really happens. So, after a long day, all Mary wanted to do was go home and go to bed. Upon returning home, Andrew completely surprised Mary (which in Mary's words is nearly impossible to do), and asked Mary that night to marry him. Both Mary and Andrew were so glad to have had that moment happen in the place where they will spend the rest of their lives together.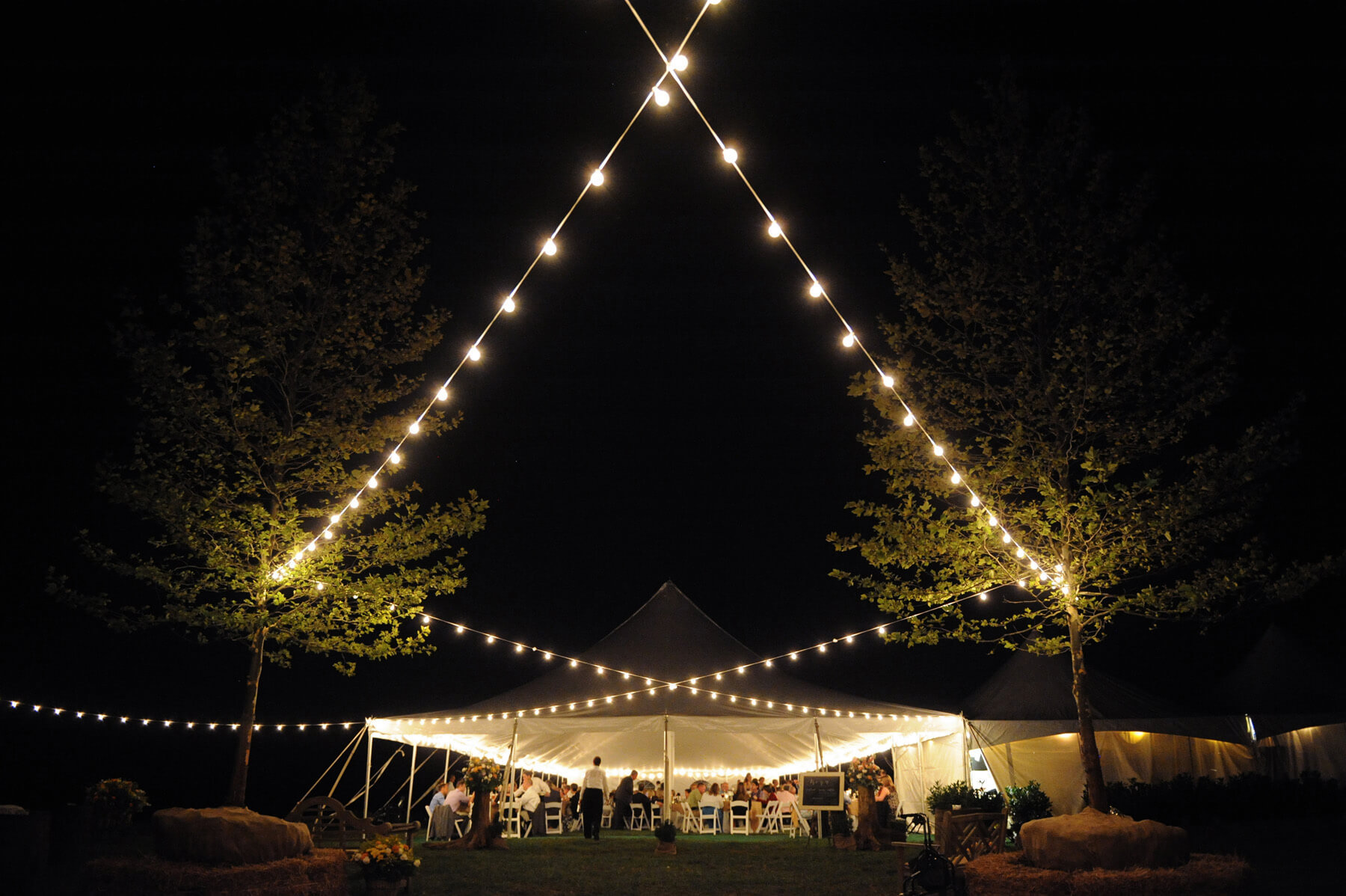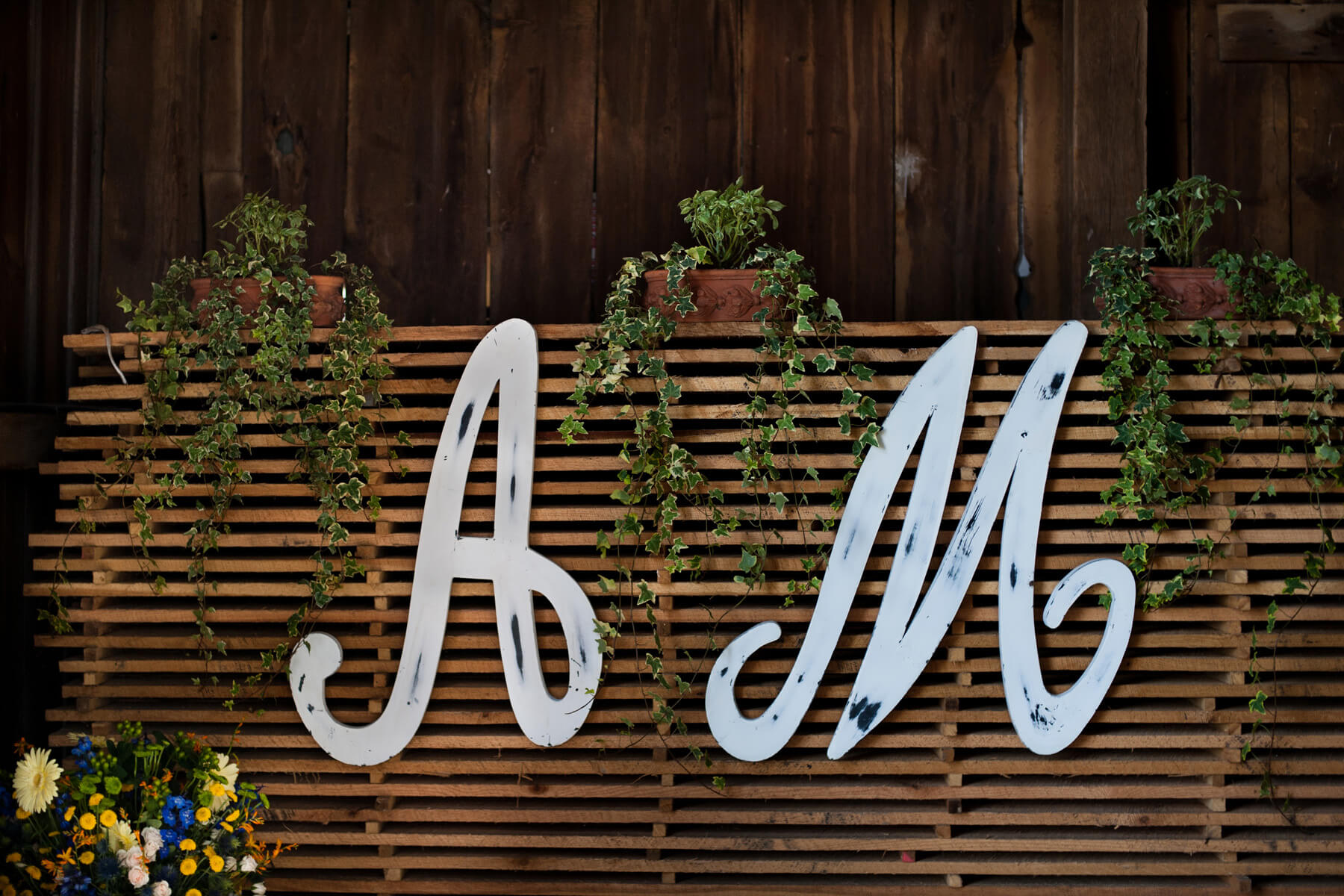 Wedding Design Inspiration Rustic elegance.
What Was Unique and Special About Your Wedding Mary and Andrew were married in Andrews's family church, and had the reception on the farm Andrew grew up on. Andrew's great-great-grandfather built the barn that housed part of the reception circa 1913.  Every detail was a reflection of the couple, their personalities, history and life together. From the Mad-Libs guest book, Willow Tree cake topper, to the vintage truck they arrived in, which belonged to Andrew's father.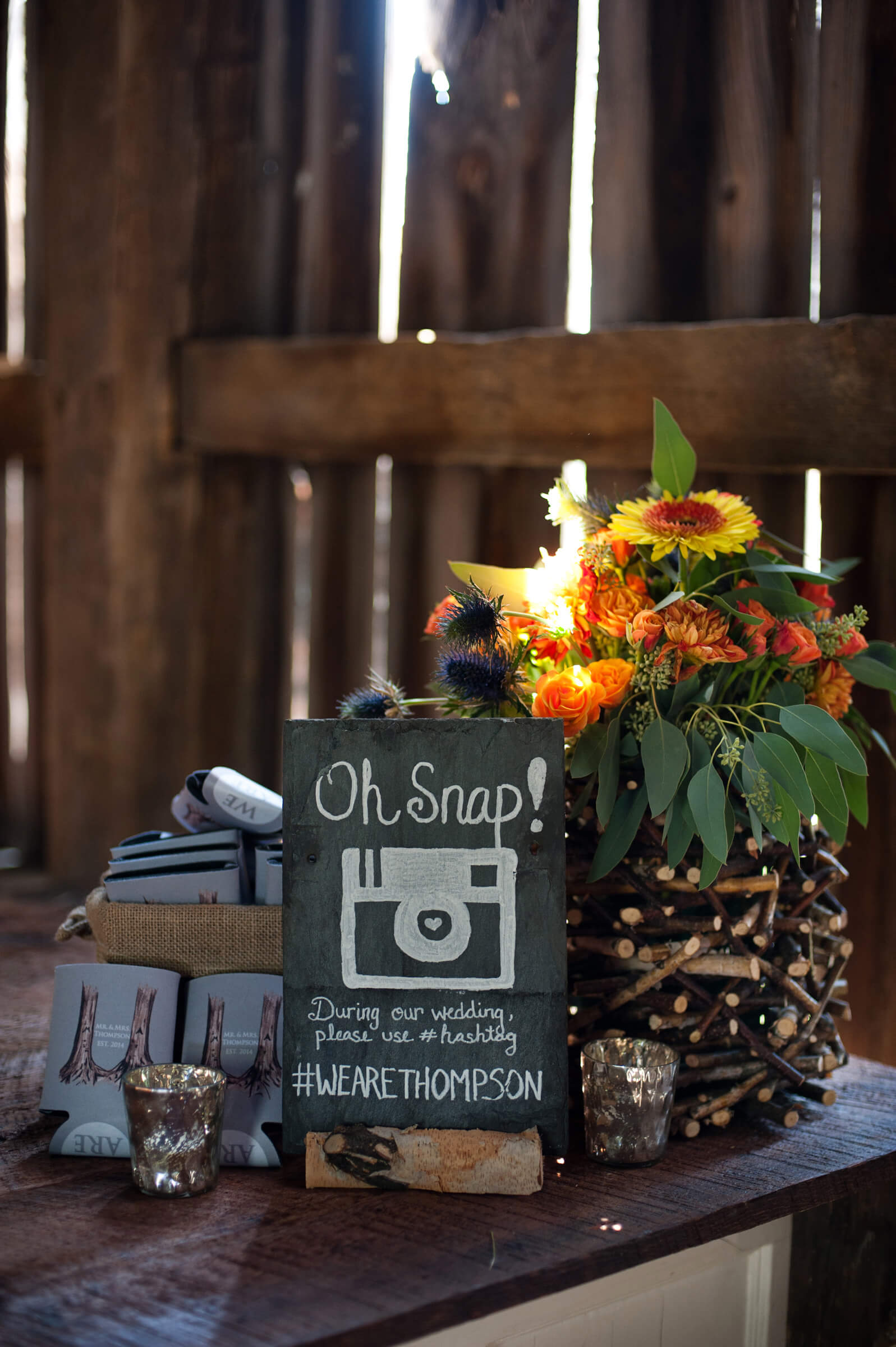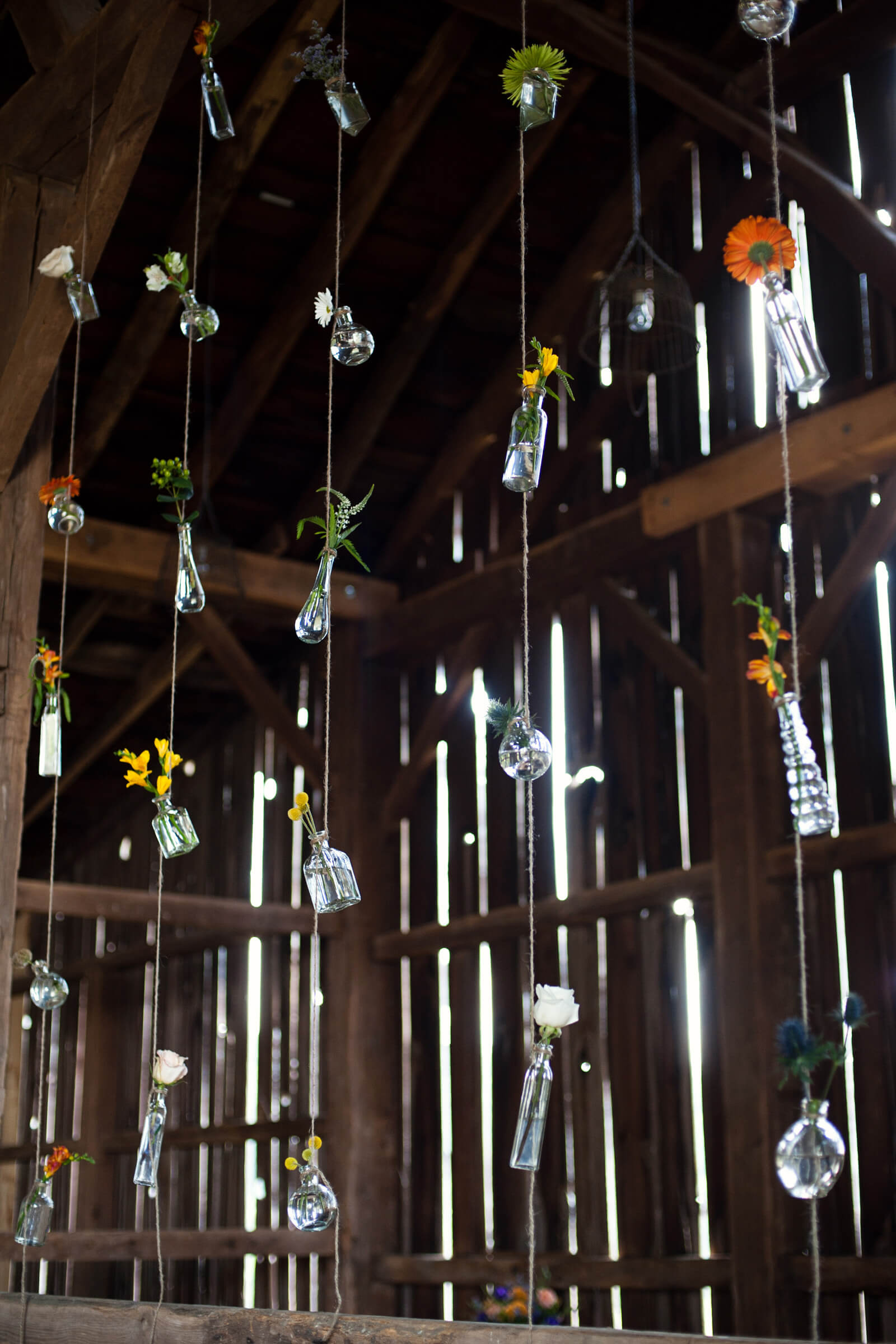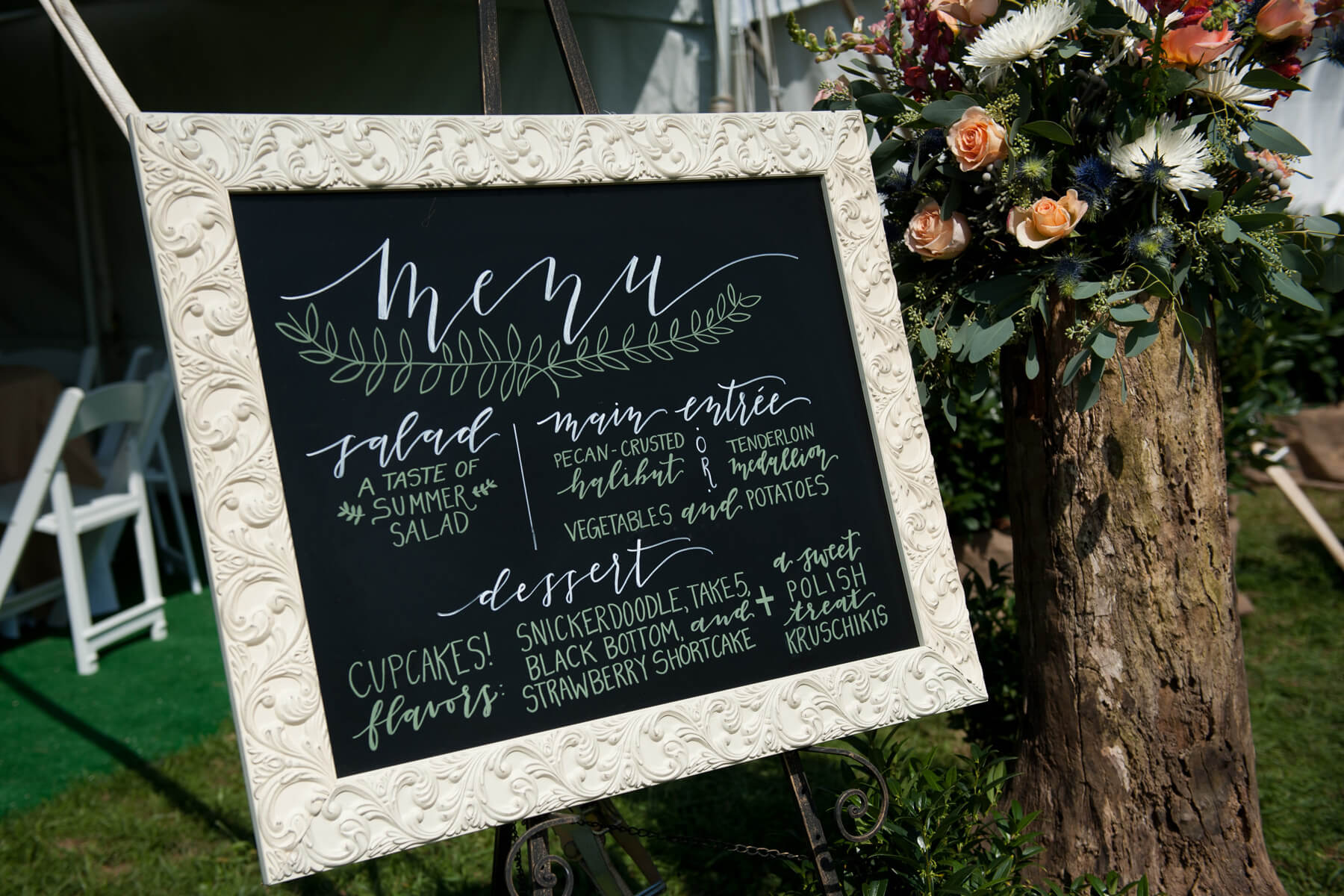 Favorite Detail The couple was "obsessed" with the hanging bud vases in the barn.  The vases created an amazing curtain to separate the space they were using in the barn.  The custom koozies! Trees were sort of a theme for Mary and Andrew, so Mary drew up a sketch that Kim Bond at Preston's Stationery turned into a digital print, which was then printed onto koozies.  But, Mary and Andrew's favorite part was the "WE ARE" on the bottom, a Penn State reference for Andrew's alma mater.  The couple loved the family table placed at the church. Both Andrew and Mary come from families of "life-time marriages" and feel that is so rare these days and certainly something to celebrate. The couple set up a table at the church that displayed wedding photos of their siblings, parents, grandparents, etc. Mary painted a sign to hang above with a bible quote, "We love because He first loved us." Finally, Mary and Andrew thought the food was incredible, and everyone loved the raw oyster bar they had during happy hour.
Most Unexpected Event on the Day of the Wedding The weather! It was absolutely beautiful, a nice change as it rained at Mary and Andrew's engagement party, shower, and earlier the week of their wedding.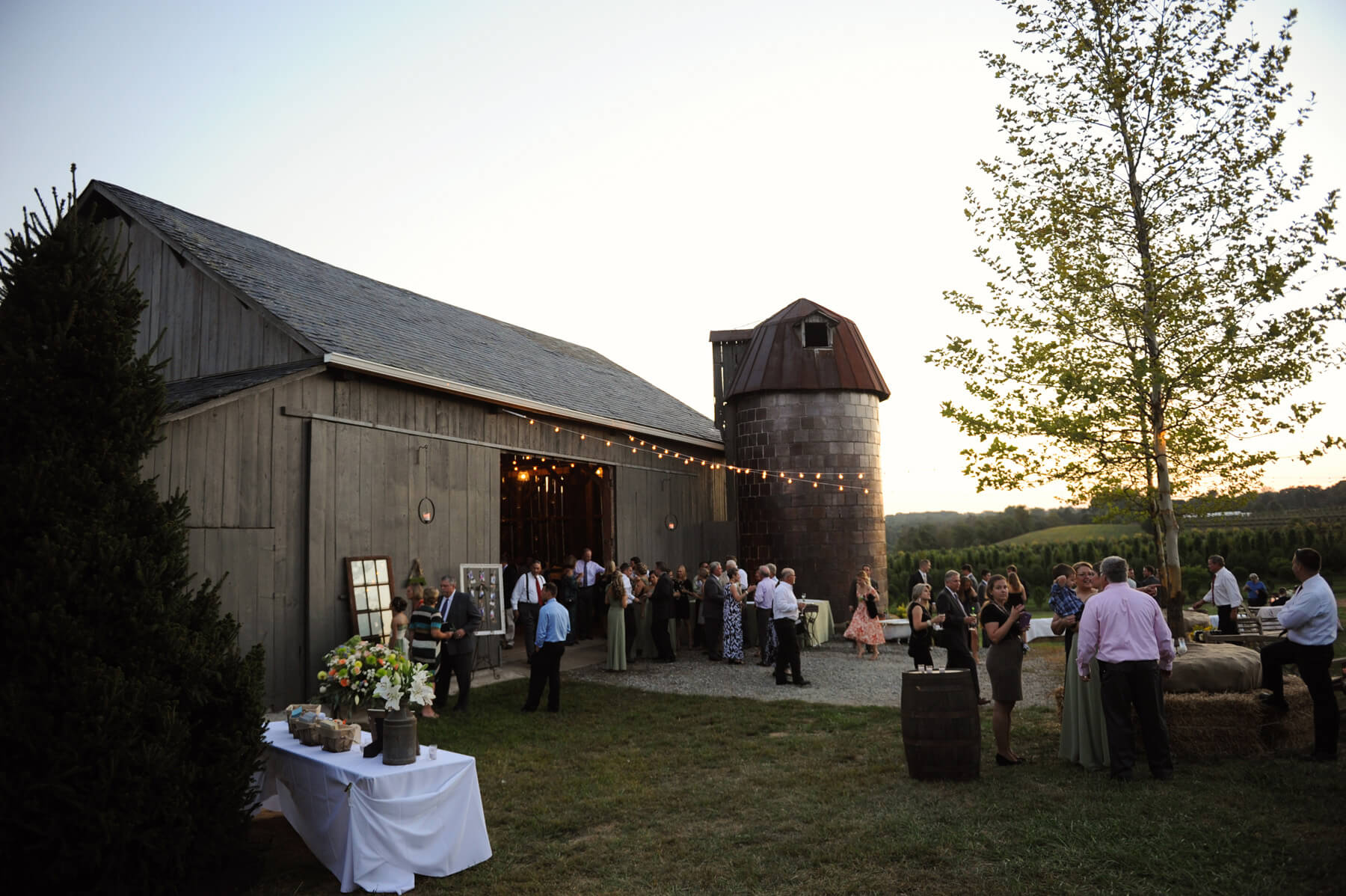 Piece of Advice Have your wedding! In all seriousness, after you get engaged, sit down with your spouse and talk about the top details important to each of you for your wedding day.  Cater to those details. For Andrew it was a band and food. For Mary it was the ultimate digital storyteller, Stevie T. Photography, and help putting everything together (thank you lemon and lime event design!). Make sure you make your wedding a reflection of the two of you. You want to be comfortable, at ease and relaxed as much as possible. There is a silver lining in all the stress leading up to the wedding day, you will remember every detail if they are a reflection of you
Beauty Sarah DiBlasio Cunningham (hair); Nicole Gentile (make-up) Bridesmaids The girls wore Allure Bridals from Amanda Ritchey Bridal & Beauty Cake: Flavor Cupcakery Caterer Linwoods Flowers Radebaugh Florist & Greenhouses did the boutonnieres, bridal bouquets, and two altar arrangements at the church. The groom's parents made all other arrangements.  Groom & Groomsmen The groom wore a custom suit from Filling's, Est. 1929; the groomsmen wore suits from Jos. A. Bank Honeymoon Destination Sandal's Emerald Bay in Grand Exuma, Bahamas Invitations  Preston's Stationery, Inc. Location  Andrew's family farm, Foxborough, located in Street, Maryland. Music Organ played by Nancy Jones (ceremony); The Bachelor Boys Band (cocktail hour and reception) Officiant Reverend John V. Carlson, of Highland Presbyterian Church, in Street, Maryland Photographer Stevie T Photography Rentals Party Party Inc. (tent, table and chairs) Rings Smyth Jewelers Transportation The couple rented a school bus to transport guests from the hotel to the ceremony, reception and back. Andrew and Mary departed the church in Andrew's father's vintage 1956 F1. Wedding Dress Allure Bridals from Amanda Ritchey Bridal Wedding Planner Lemon and Lime Event Design