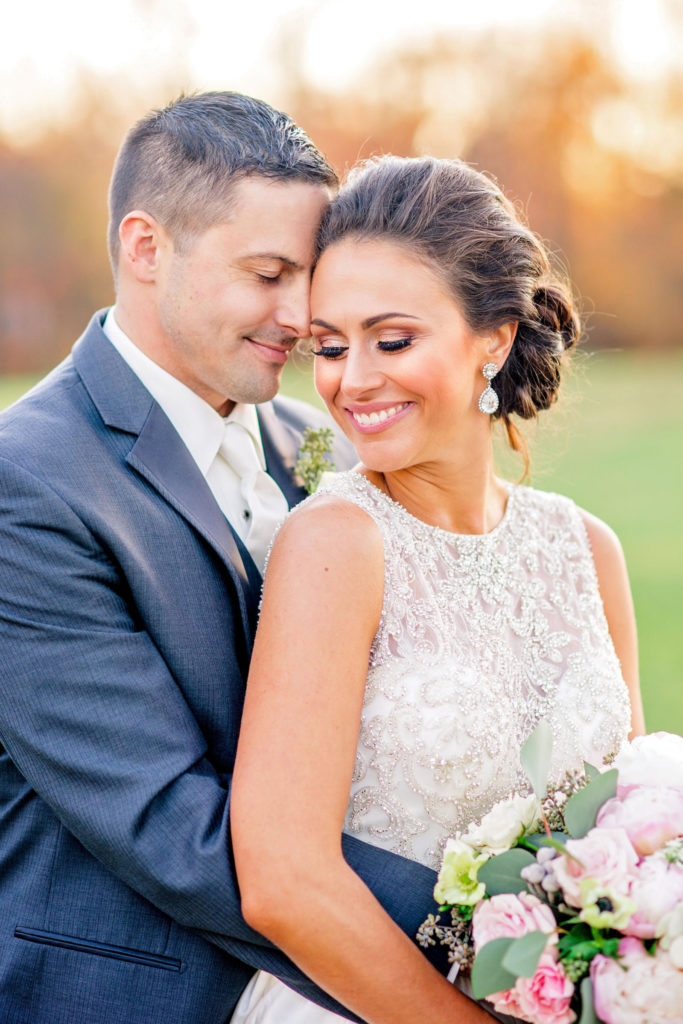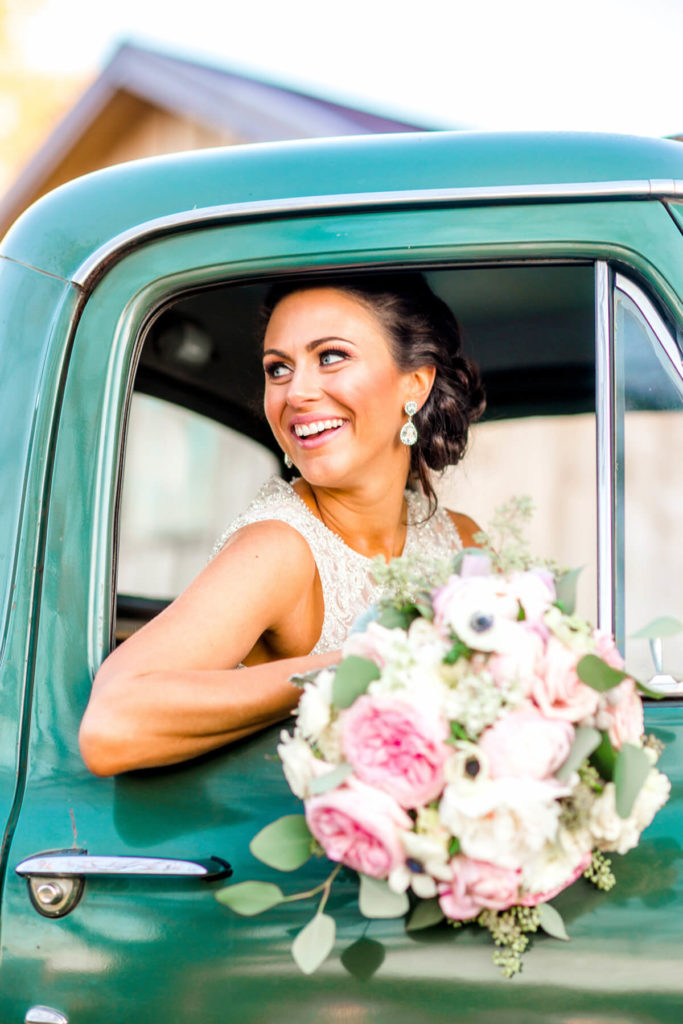 Occupations: Brittany works for a government contractor; Dan works for a commercial landscape company.
Wedding date: November 12, 2016
Number of Attendees: 155
Number of Attendants: 5 groomsmen, 5 bridesmaids and 2 flower girls
How You Met: I met Dan through his sister, Alyssa, who introduced us in early June 2013. I ran into Alyssa at the Orioles' opening day in early April and she told me about her brother, Dan. She expressed to me how she "had to introduce me" to Dan. She even pulled out pictures of him and, of course, I was immediately interested. She ended up doing the same thing to Dan, and he was interested too. Alyssa set us up on our first blind. It was a double date with her and her husband and we clicked instantly.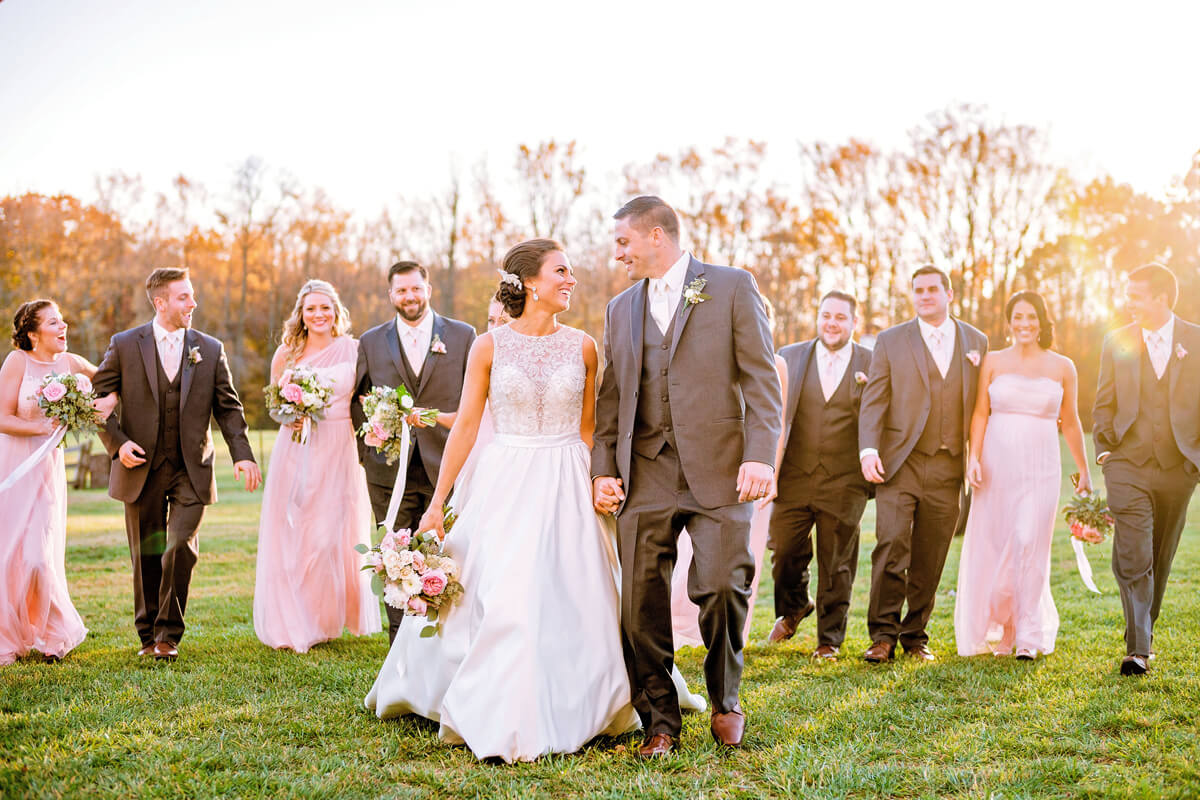 The Engagement: Our engagement was definitely special. I don't think it ended up going exactly as Dan had planned but that's what makes for an unforgettable story, right?! Dan and I went down to Richmond, Virginia for the weekend on November 12th. I was running the half marathon and he was doing the 8K. We finished the race and headed back home in Baltimore. After a much-needed nap, I woke up and Dan told me to start getting ready to go grab some dinner. He also quietly mentioned that Peanut (our cat) has something to give me when I am finished. It left me a little confused but I brushed it off and went on with getting ready.
As I stood in the hallway, ready to grab dinner, Dan had our bedroom door shut with his hand on the doorknob. You could hear Peanut behind the door crying and trying to claw his way out. Dan mentioned that Peanut is wearing something for you and it's a surprise. I think Dan's face had turned as white as a ghost by this point so I got the hint something was going on. As soon as he opened the door, Peanut darted out like a cannon ball and ran right into the bathroom. Little did I know, he had the ring around his collar the entire time. I completely missed that part. Dan got down on one knee and asked for my hand in marriage. I didn't believe him at first—without the ring. But he told me to grab Peanut because the ring was on his collar. And there it was, the most beautiful diamond ring. I said, "Yes!"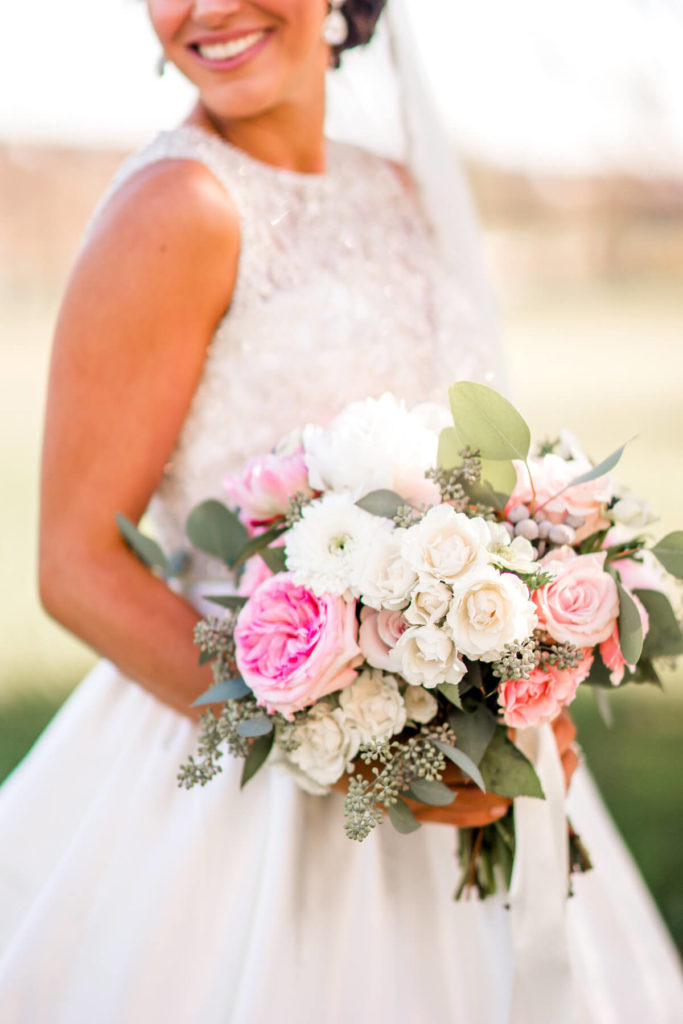 What Was Unique and Special About Your Wedding Day: Our wedding was special in so many ways. Something personally special to us was having my dad walk me down the aisle. My dad was diagnosed with Multiple Sclerosis at 38 and has progressively gotten worse with his mobility. He walks slowly with a cane and sometimes has to be in a wheelchair. Our church's aisle was very long, so having him walk me the entire way was an incredibly special moment. I don't think there was a dry eye in the room. I think the most unique part about our wedding was our cake. Dan and I were on the Cooking Channel's Cake Hunters. It was an awesome experience. Our wedding cake reveal on our wedding day was a complete surprise. Kupcakes and Company out of Elkridge baked us an amazingly gorgeous and delicious 200-pound, 5-foot tall wedding cake of our dreams.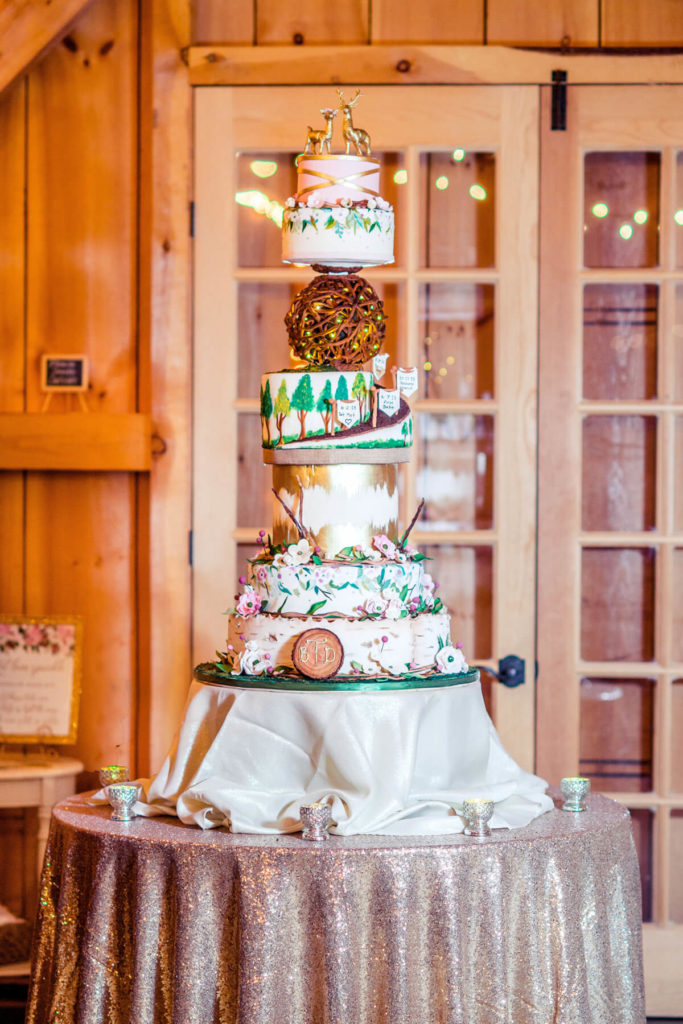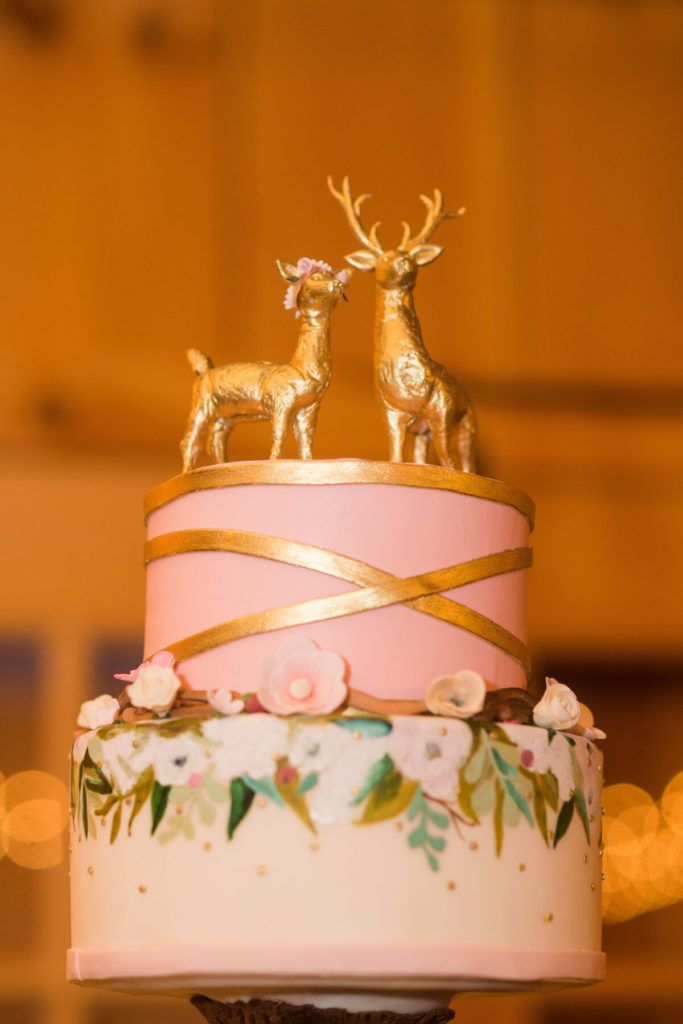 Favorite Details:The 1950 Ford pick-up truck, hands down. It was Dan's idea to rent the truck to drive away in from the church. The rental company warned us you couldn't go very far in it because it was so old and there may be a chance that we'll stall out. They were right. Let's just say we stalled out quite a few times as we were leaving the church. It made for a funny moment in front of our guests. Another favorite detail was the bridal party table. The tables were absolutely gorgeous. We rented old farm tables that we decorated with thick garlands and floral sprays, and handfuls of mercury votives to give it a whimsical vibe. We also had our florist put a lush floral wreath above our seats as a focal point.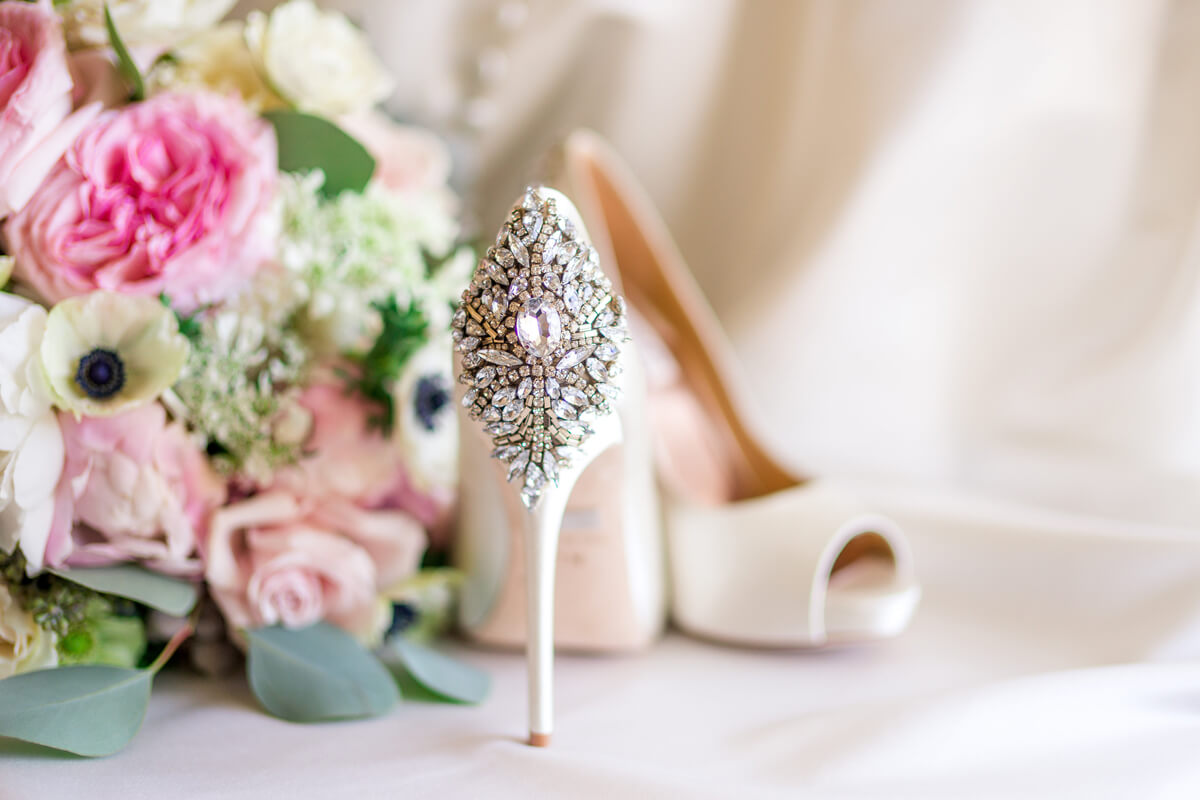 Most Unexpected Event On Your Wedding Day: To be honest, we didn't have anything that was unexpected on our wedding day, at least not to my knowledge. We had a fabulous team of wedding planners on the day of that helped make sure everything was seamless with our vendors. If anything went wrong, we didn't hear or see it. One thing I was told after the wedding was our 5 foot + cake was wobbly on the cake table as we were dancing. I think a few of our guests had to hold the table down.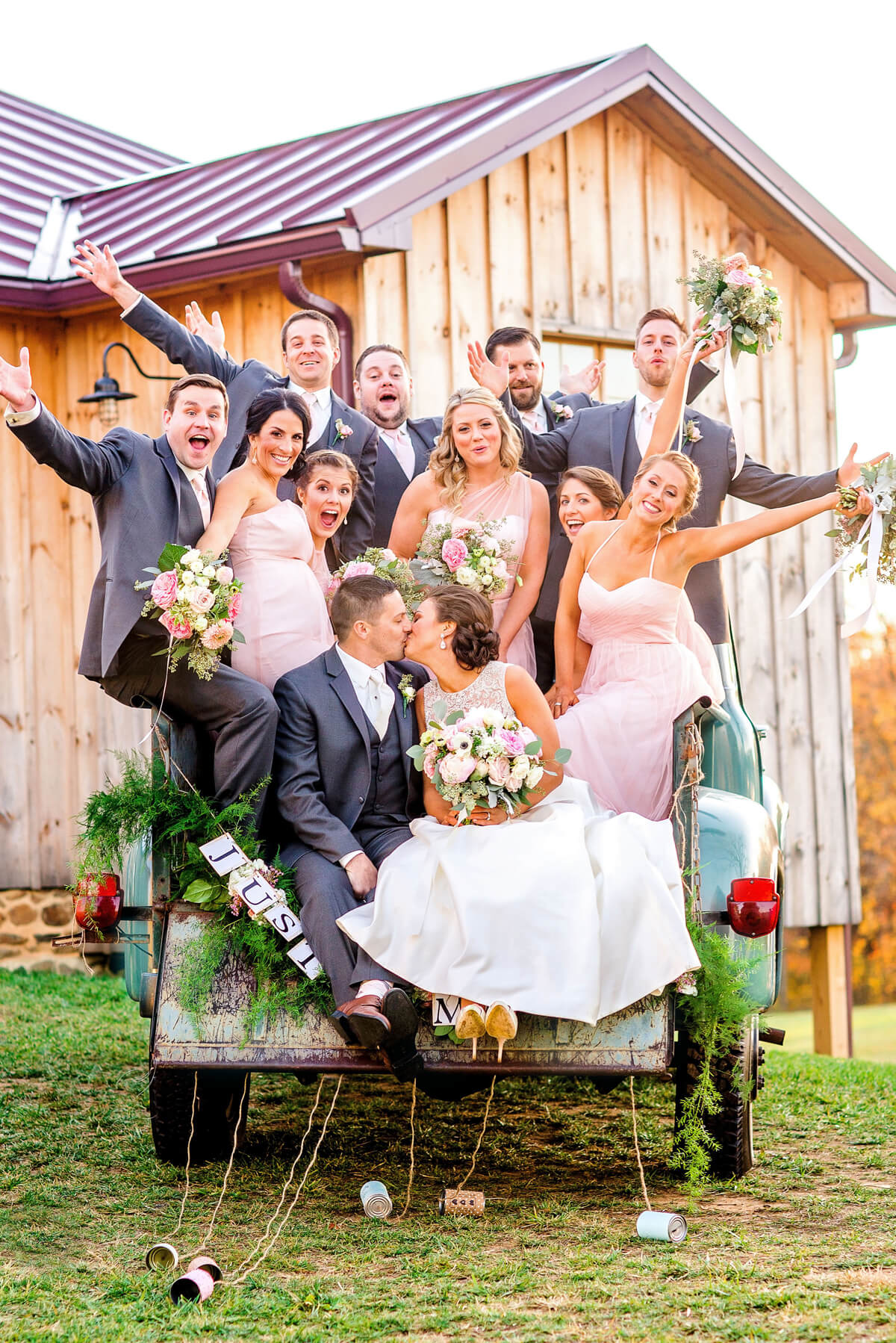 Piece of Advice: Everyone says your wedding day will fly by and they are right. It will go by so quickly. Enjoy those special moments when you are alone with your husband during the wedding, whether it's taking pictures together or dancing to your first song. For our first dance, I remember feeling like Dan and I were the only ones in the room at that very moment. I felt the same way walking down the aisle to Dan at our ceremony. There's a sense of joy and calmness that comes over you and you don't even pay attention to the 150+ people watching you. Those are the memories you will cherish forever.