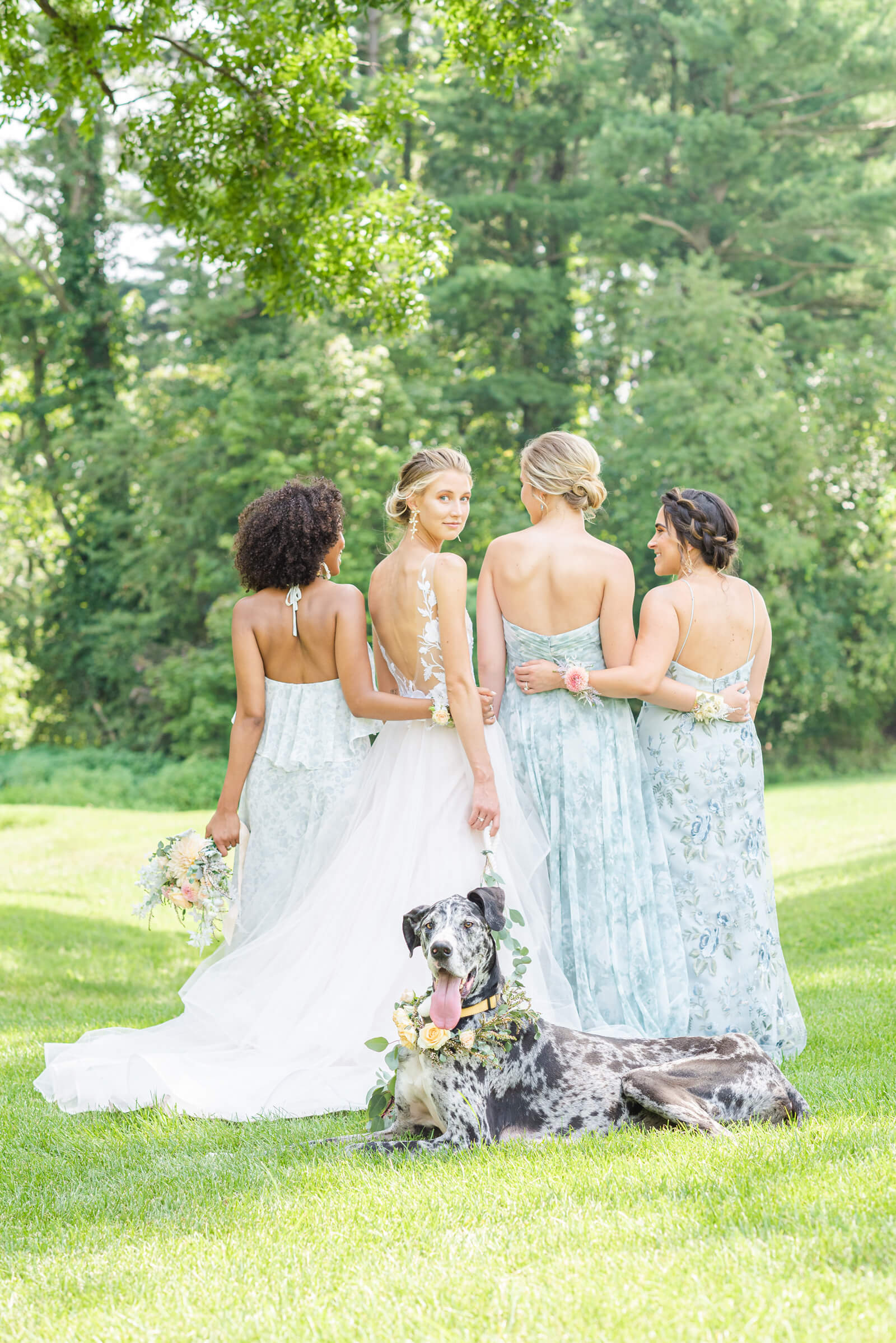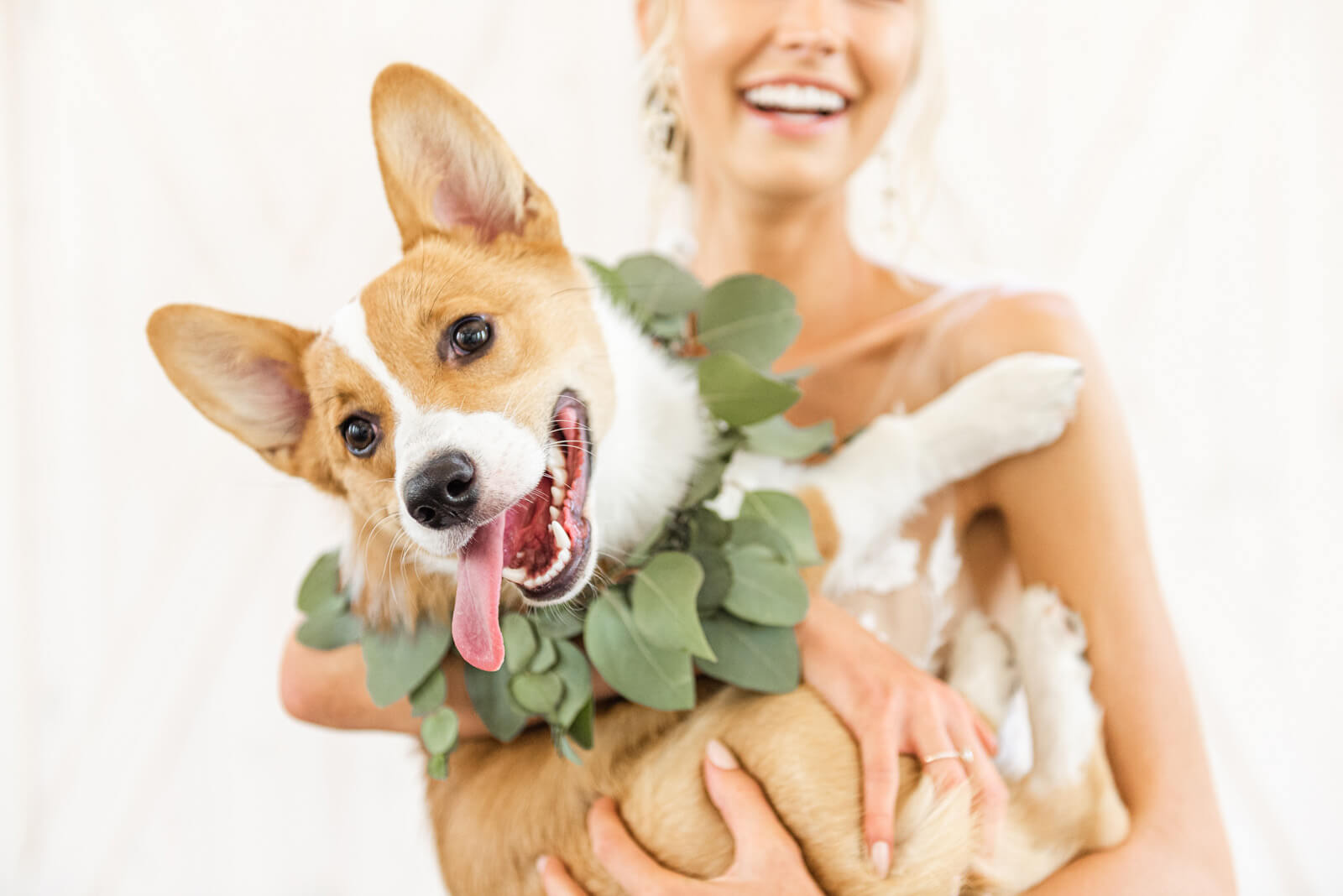 Want to add some bow-wow to your vows? Here are five tips from Furever & Fur Always to make the day worry-free.
Make sure your venue is pet-friendly
This is definitely the most important place to start when you want to include your pup. Ask questions about an inclement weather plan and whether your pup will be allowed. A lot of venues are pet-friendly, some have certain rules in place, and some just do not allow animals. In the cases where they have rules or do not permit pets, there are some things we suggest. Ask if they will make an exception if you have a professional wedding day dog handler escorting your pup the entire time. If exceptions cannot be made, then snapping a few pictures with your furry friend off-site is always doable and a great way to have them be a part of your wedding memories.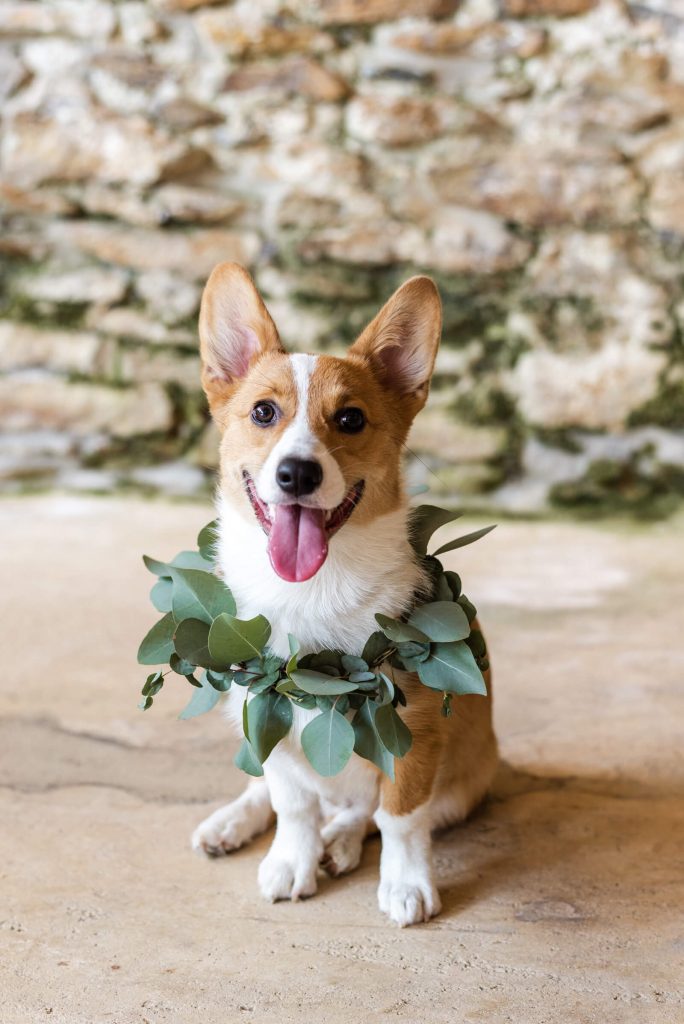 Know your pup's personality
While it might be your dream to have your canine walk down the aisle with the rings, it just might not be in your pup's best interest. Every dog is different. While most are comfortable and fine with new environments and large crowds, others are not. If your dog has anxiety, it might be best to just include them in a few intimate photos away from all your guests. If your pup is high-energy, it's beneficial to get them to the venue early to get the wiggles out. For some pups it's just not doable. In those cases, it's a great chance to include them in other (creative) ways, such as using their faces on large photo booth props.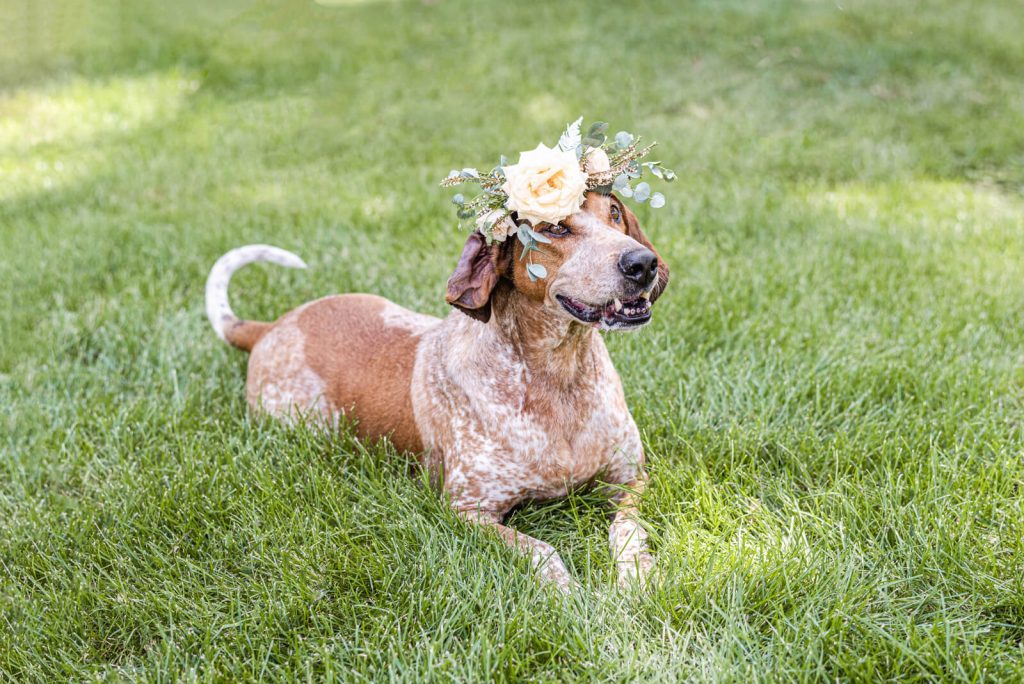 Be understanding
Your dog might decide the vows are a great time to bark because their humans aren't giving them their full attention. It's nice to have someone on standby (like a wedding day dog care professional) to be able to escort them away from the ceremony and entertain them if needed. There's a chance they could decide to be stubborn and not walk down the aisle or decide that's the perfect time to conduct their business. Just be prepared that your pup might engage in their normal doggie behaviors. Be willing to smile, laugh, and shrug it off if things don't go 100 percent your way.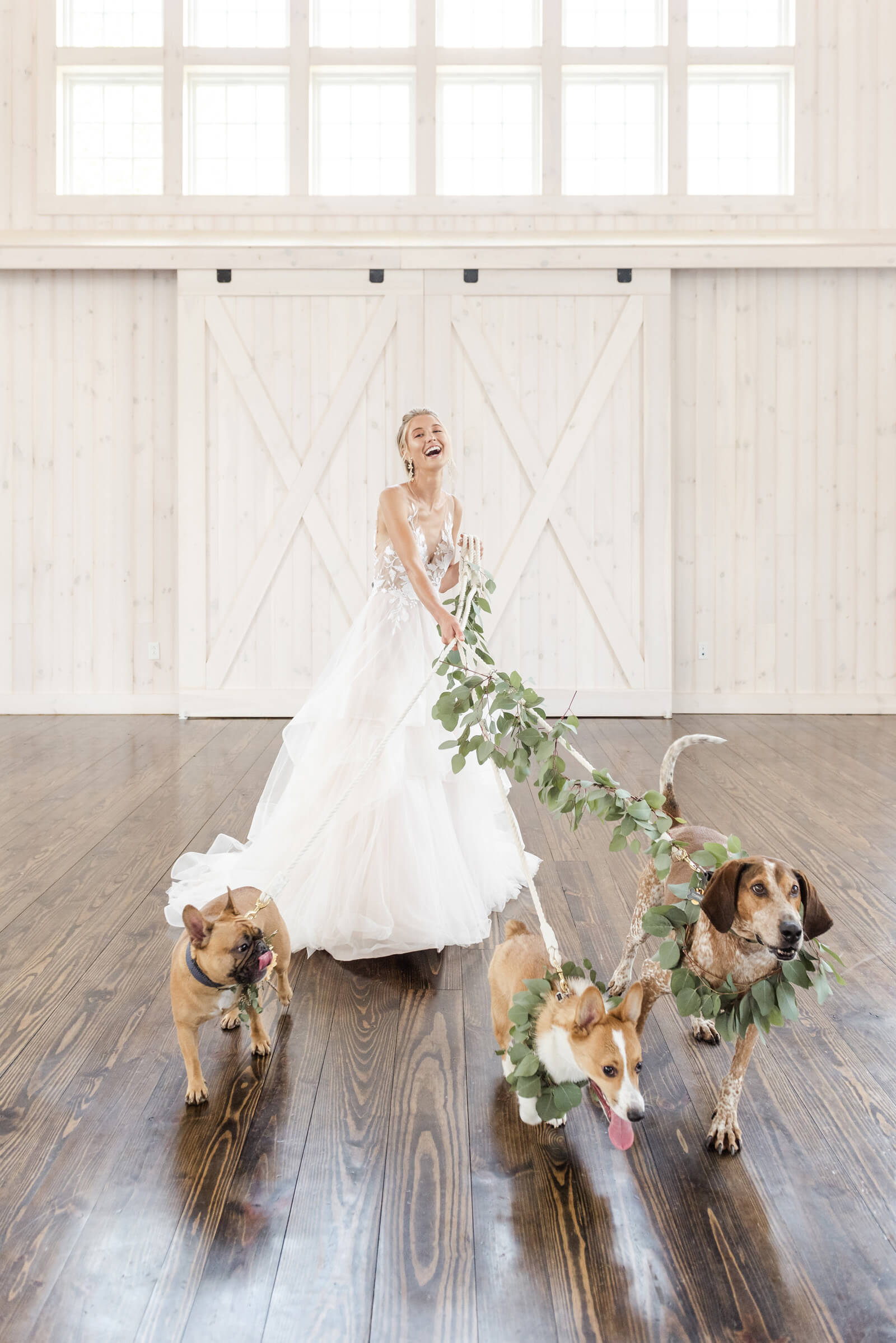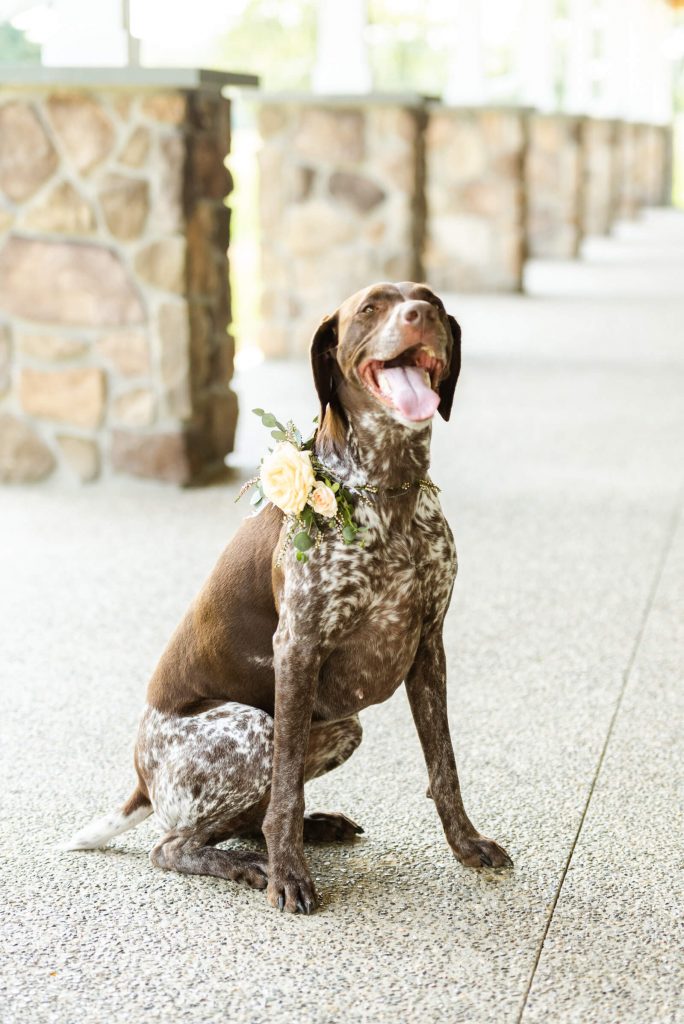 Let them get acquainted with their new space
Dogs like to sniff and mark their territory. It's definitely helpful to have your pup walk around the ceremony space before guests arrive. There will be a lot of new stimulations (especially when people are there too), and you'll have a better chance of your pup flawlessly executing their ring pup or dog of honor role.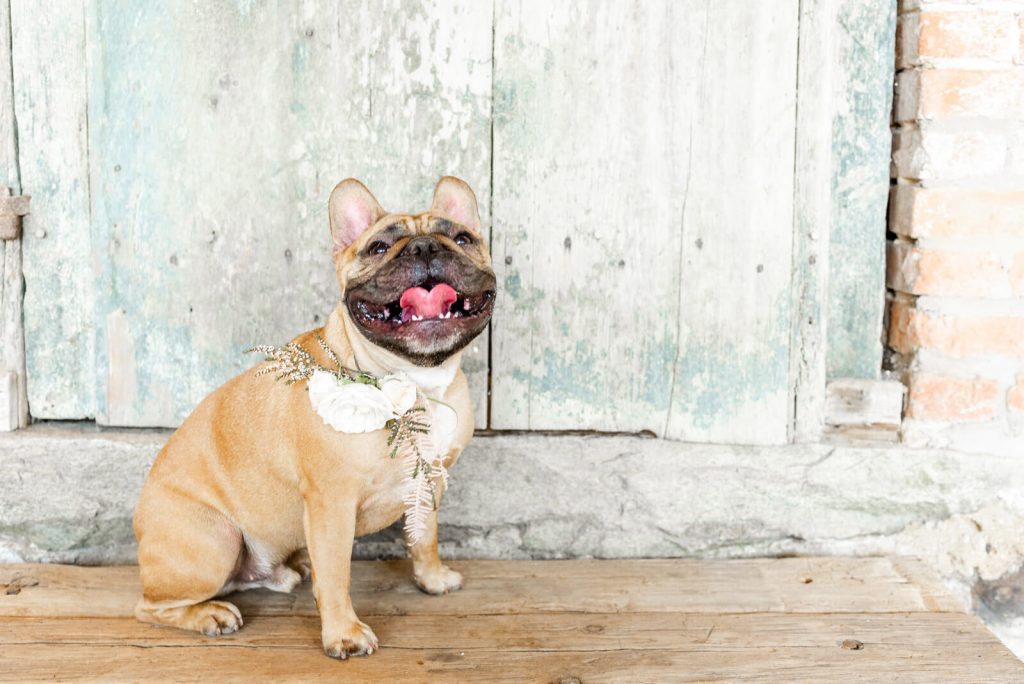 Play Dress up
Doggie clothes and accessories are just like our clothes and accessories. Even though the tuxedo might say it's a certain size, it could be cut strangely or fit completely differently than what you're expecting. The worst thing is to wait until the day of and then realize your pup won't be able to sport their wedding fashion.
Styled and produced Betty Lou Events Photographer Terri Baskin Photography BRIDESMAID DRESSES Nouvelle Amsale "Pela" ($220), Jenny Yoo "Adeline" ($290), and Jenny Yoo "Drew" ($325) at Bella Bridesmaids DOGS Nyx, Copper, Pierre, Luna, and Podrick FLORALS Love & Luster Floral Design HAIR Stacie Snyder Beauty JEWELRY Faye Daniel Designs LOCATION Rosewood Farms MAKEUP Beauty by Jacs MODELS Asena Johnson, Allie Edwards, Scarlett Horn, and Melissa Van Tuyl PUP WRANGLING Furever & Fur Always WEDDING DRESS Wtoo by Watters Valera gown ($1,800) at BHLDN