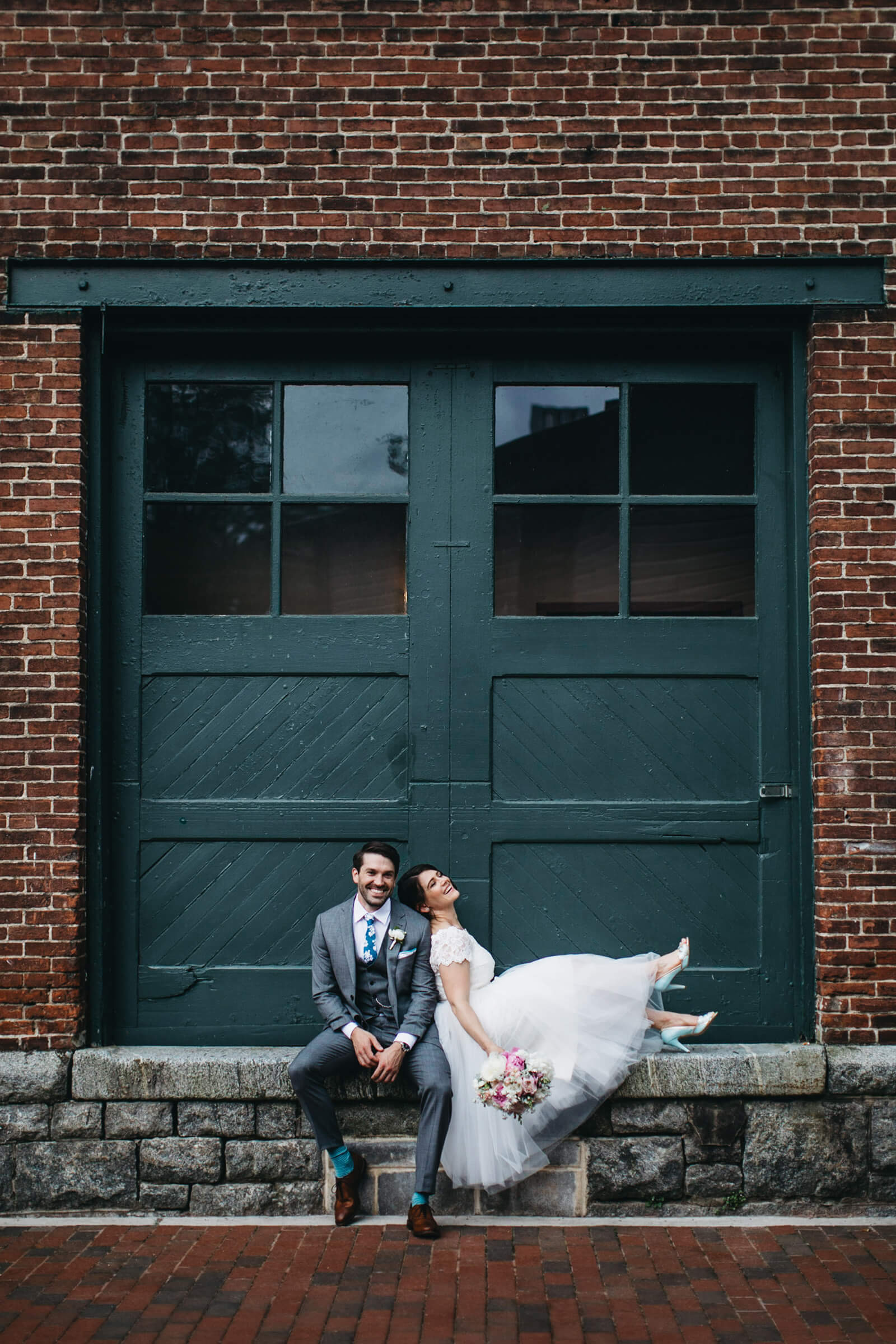 The bride wore flip flops, her feet wet, the groom's gray suit was soaked with rain. Abandoned chips and guacamole littered the table at their venue. It wasn't supposed to be like this, but Kristen Rigney and Craig Cymbor were married at a Mexican restaurant in Historic Ellicott City on Sunday, May 27 over Memorial Day weekend 2018.
Just 30 minutes earlier, their wedding day was going according to plan. Rigney and Cymbor were minutes away from walking down the aisle up until water started filling the parking lot, sending cars and dumpsters floating by like rubber ducks in a bathtub.
The two first met under less stressful conditions. Cymbor had noticed Rigney right away at the engineering firm where they both worked. She was "really pretty and outdoorsy," says Cymbor. He finally worked up the nerve to visit Rigney at Holiday Heap, a marketplace featuring handmade goods, where she was selling retro aprons. "Would you want to make some aprons for my mom and sister?" Cymbor casually asked. "Maybe we can figure out the fabric?" Rigney said sure, not realizing the true ask: Let's go out. But Cymbor didn't push it.
Soon, however, he found himself traveling a lot for work—and no longer calling Baltimore home. Rigney followed along on his social media. "I liked all his photos," she laughs, and remembers thinking, "Craig Cymbor was a nice guy, I should have gone out with him." The next time he was in town, she seized on the opportunity. Numbers were exchanged, beers were consumed, and then commitments were made. They dated long distance for three years until he returned in 2016 and moved directly into her house in Baltimore. "She's my landlord," he jokes. "Best tenant I ever had," she counters. That following July, he had a ring burning a hole in his pocket. While she was away for two weeks traveling for work, he started—and finished—a major backyard project: leveling it, building a brick patio, landscaping the entire yard, and hanging those "fancy café lights," says Cymbor. Rigney had no idea Cymbor had completed it when she got home tired and hungry. He promised dinner at The Food Market. She came down in shorts and a tee shirt. "Maybe a little nicer?" he pleaded. She went upstairs to change. When she came back down he took her to the backyard. She was shocked. "One more surprise," he told her, before proposing. "She yelled, 'Stop!'" recalls Cymbor. "And then, 'yes,' obviously," as he placed a teal sapphire ring from Montana on her finger.
As their wedding planning got underway, that summer they visited and fell in love with Branch No. 3, a former library turned wedding venue on Light Street in Federal Hill. "Our 2018 was going to be incredibly busy," says Rigney. They had seven weddings to attend, and Cymbor had a week-long hunting trip planned with his dad. The wedding would have to be in May or sometime after November. Before going out of town for their Lake George vacation, they put down a deposit to hold May 27th as their wedding date.
A month later, in late September, that all came crashing down when Branch No. 3, along with partner Church & Company, went out of business, abruptly ceasing all communication. Dozens of other couples also found themselves without a wedding site, some even hours before their big day. Rigney and Cymbor considered themselves fortunate, they still had eight months before their wedding, but had to fight to get their deposit back (it finally came, not from the venue, but through their credit card company). At that point, they were able to start the search again but needed to keep the exact date since their photographer and band were already booked. It felt so lucky when they found their date was available at Main Street Ballroom, an industrial space in the heart of Ellicott City with The Tiber River directly out its front door, cutting through the parking lot. The venue had been built after the devastating flood of 2016.
In the months leading up to the wedding they contended with some serious medical issues on both sides of their immediate families, plus Cymbor was traveling for work and Rigney was juggling two graduate-level classes at Johns Hopkins University while working full-time. As they crept closer and closer to their date, they both felt more exhausted than excited after so many months of planning. Then there were the bigger warning signs: Talking to co-workers one day about how they had ended up in Ellicott City instead of Baltimore City, Cymbor had quipped, "Knowing our luck, we're going to have another crazy storm." Rigney, an environmental scientist, had even once worked at McCormick Taylor, the very engineering firm contracted by Howard County to do a flood study after the storm in 2016. But even with all that, "the odds of that really happening seriously didn't cross our minds," says Cymbor.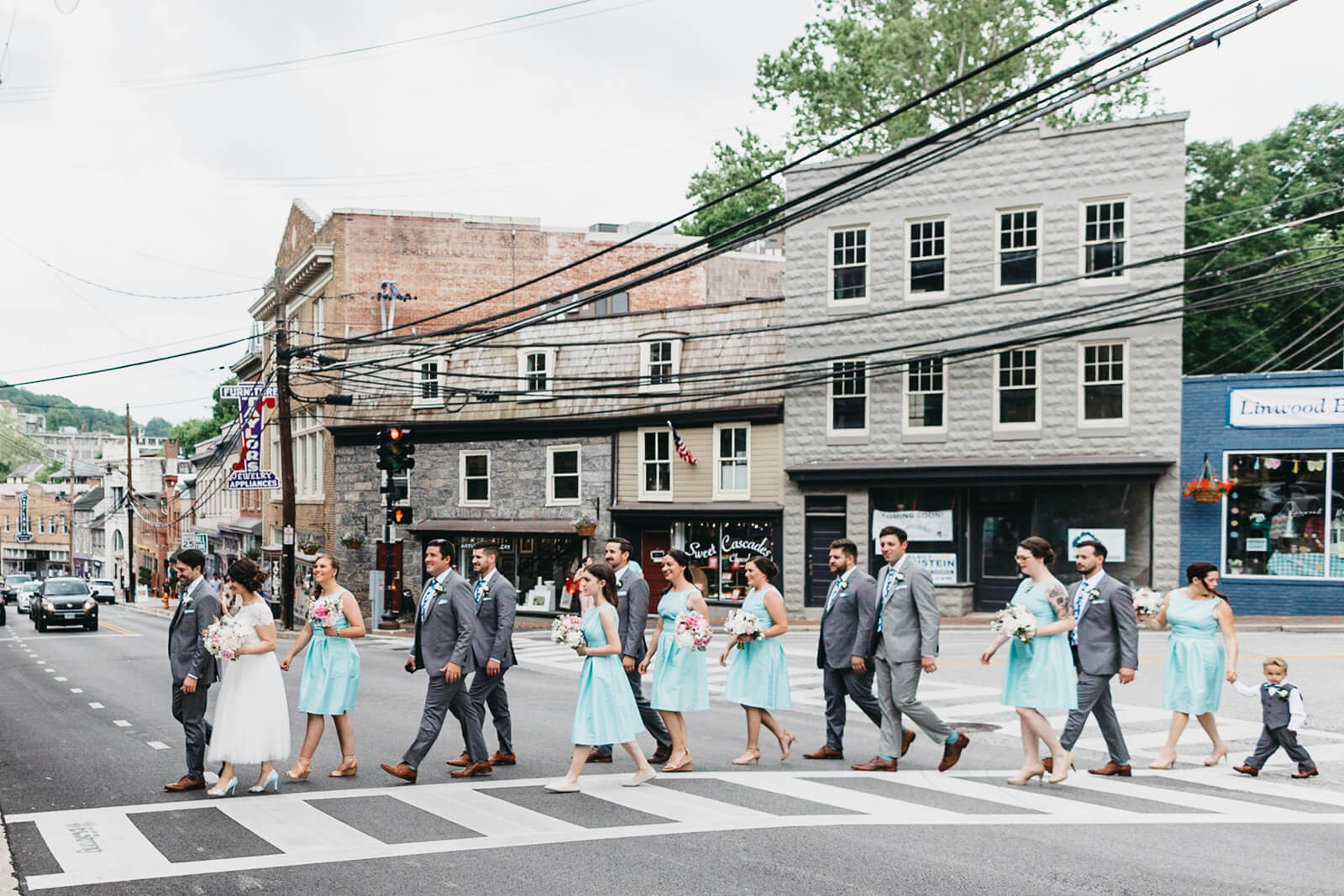 And then it was May 27th, a hot and muggy Sunday afternoon. Despite the heat, the two, along with their wedding photographer Justin Johnson, trekked all over Ellicott City taking their "first look" photos, Rigney resplendent in her tea-length gown, her hair pulled back into a perfect chignon, with gorgeous art-deco Rachel Simpson shoes on her feet, in the perfect shade of blue. In some photos, the bridal party crosses the street right in the heart of the historic town, the skies gray but still. But within a few minutes of returning back to Main Street Ballroom, the raindrops grew steadier and steadier.
Rigney headed for the bridal suite and huddled with her bridesmaids. Cymbor waited for the shuttles to arrive from Turf Valley Resort, where a majority of their wedding guests were staying. Rigney couldn't see the rain from her room, but Cymbor was starting to get a little nervous. The rain just kept coming down harder. A guest showed Cymbor his weather app, "There's a red strip over Ellicott City for the next three hours," he told him. Cymbor eyed the parking lot where their two cars were parked. Both cars were swiftly moved to higher ground.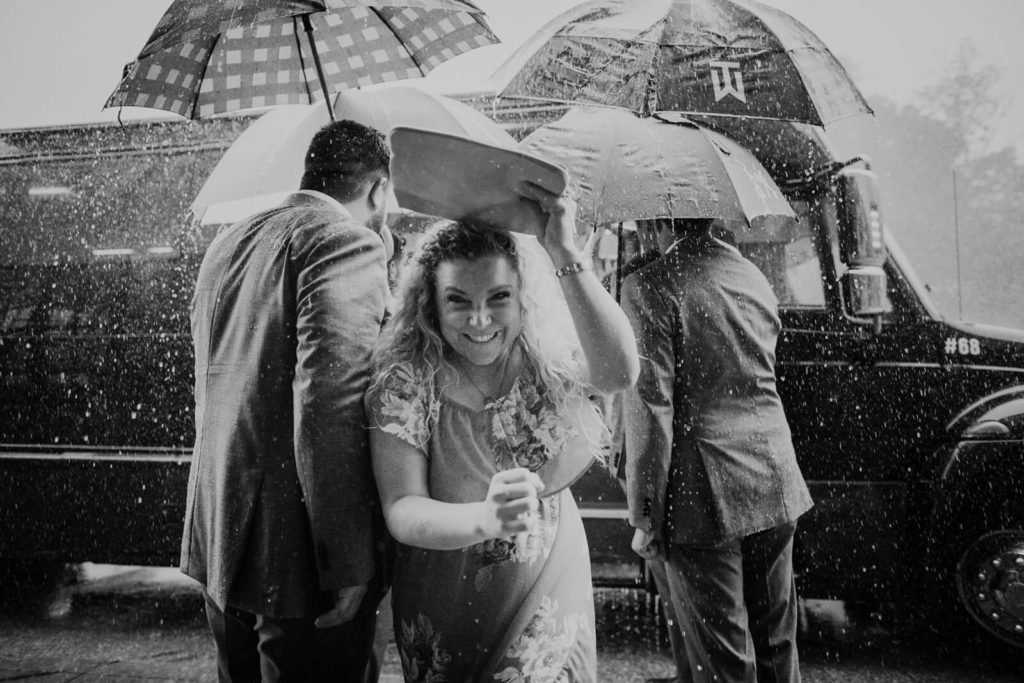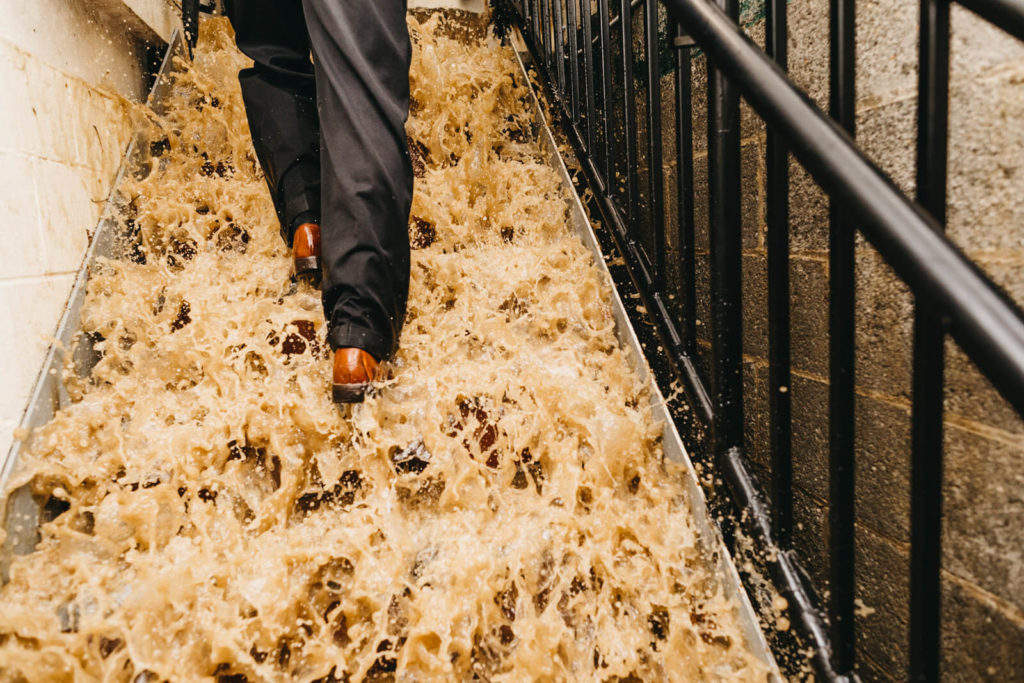 The ceremony was supposed to begin at 4 p.m., but the first shuttle didn't arrive until 3:40, so they pushed back the start time. Their wedding planner, Kelly Brittingham, owner of The Wedding Ninja, noticed some water starting to come into the building through the stone wall. The second shuttle arrived with guests at 4:15. The shuttle was blocking the river, so Cymbor couldn't see how close it was to cresting. "We were rushing everyone in, trying to get the guests to sit down," says Brittingham. "Everyone was soaking wet." She was in the middle of wiping up the damp floor when a member of the Bachelor Boys Band came over to tell her that water was coming in from the windows and they were worried about their equipment. "I felt like the little Dutch boy trying to put my fingers in holes all over the venue," says Brittingham. She looked up and noticed the parking lot had started filling with water. It took a second for her brain to register what she was seeing. "I started screaming, 'This is not a joke,'" she says. In disbelief, guests were snapping pictures. Brittingham, along with the Pantry Catering staff, started ushering people out the back of Main Street Ballroom up a narrow staircase.
Cymbor could not believe how quickly the water had filled the parking lot, lifting cars. Water and debris pushed up against the big glass doors, and the water was steadily climbing. "It's amazing how much water the doors held back," says Cymbor. He heard Brittingham say they were evacuating and went to grab Rigney.
Still in a state of shock, Rigney took off her wedding shoes and slipped them into a little suitcase she had with her. She also grabbed her "something old," a handkerchief made by her great-grandma, and placed it in the case before putting on flip flops and running out, the marriage license still sitting on the table. One of Cymbor's friends took the suitcase from Rigney's hands and said she would be in charge of it.
"It went from 0 to 100 like that," says Cymbor. At this point the front entrance was completely blocked with floodwater, and more water was rushing in from the side entrance. Everyone started going up the back staircase to escape, but soon water was pouring down that staircase as well. It felt like being on a sinking ship.
Brittingham, one of the last people out, could see the water outside was now waist-deep and seeping under the door. "We could see dumpsters floating around the parking lot, and we were worried if they hit the door all the water would rush in," she says. Vendors put what they could on top of tables and followed the guests.
In her wedding dress and flip flops, Rigney felt herself go numb. "I almost couldn't react," she remembers. "This is really bad. This is really bad," she kept repeating. "We were in shock," says Cymbor. In addition to their own panic, they also had 160 guests to worry about, including their two-week-old nephew, five other kids under the age of 6, and Rigney's 92-year-old grandfather.
As they all exited the ballroom, up onto the street, they needed to figure out where to go. Some of the groomsmen popped into La Palapa Grill & Cantina to see if the restaurant was safe. It was, and owner Simon Cortes told them all to come inside. They piled in, Rigney and Cymbor, their guests, the band, their wedding planner, the photographer, and the Pantry catering staff, all wet and scared. "We survived the flood before, we'll survive again," Cymbor remembers Cortes saying. Tragically, it was Cortes' friend Maryland Army National Guardsman Sgt. Eddison Hermond who was killed that day trying to save a woman.
Guests had grabbed a few things during the evacuation: the wedding cake, bottles of gin, a case of beer, and an apple crate full of flip flops. ("That turned out to be the best thing," says Rigney.) They checked outside. The weather seemed to be calming down. "I thought we were going to be able to go back downstairs," remembers Rigney. One of the band members pulled out his acoustic guitar and began to play. "Let's get this wedding going," said some of the guests.
With the encouragement of their friends and family, and their officiant, Drew Schmidt, at the ready, they decided to proceed with the ceremony then and there, albeit surrounded by trapped restaurant patrons. "They had front-row seats to our wedding," says Rigney. The whole thing, including a reading from her brother, was done in 15 minutes. It was 4:45. Everyone applauded.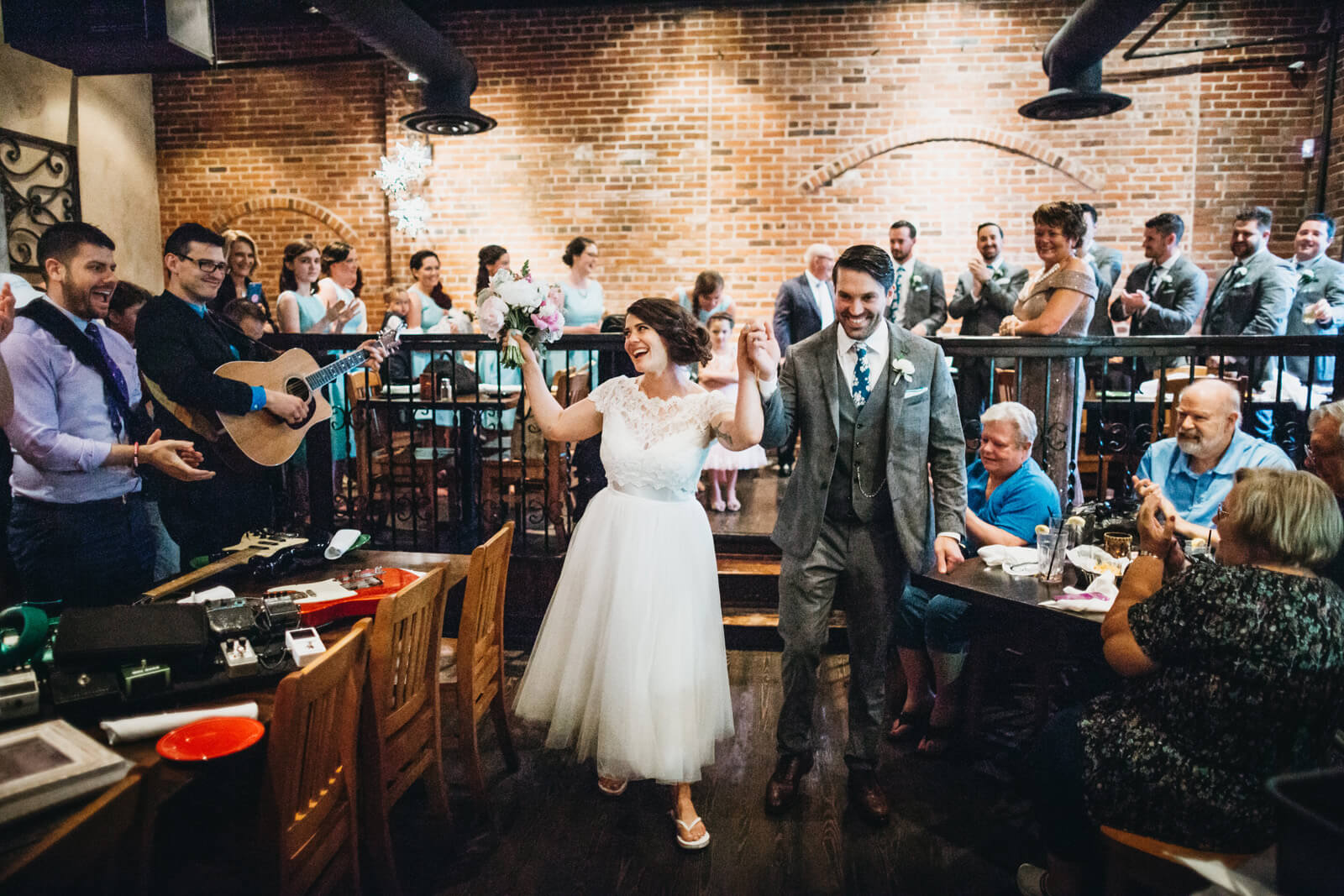 People were generally in good spirits, Rigney and Cymbor remember. But some family members were distraught. "They were upset for us," says Rigney. As guests started to realize the severity of what was still an ongoing flood, some grew very distressed.
Feeling a bit trapped in the restaurant, Brittingham had called 911. Cortes came over and handed the newlyweds a bottle of champagne. They popped it open and took a sip. Five minutes later, a rescue team arrived. Brittingham still isn't sure if it was because of her call or if they were just next in the evacuation plan. The rescuers told everyone they had to immediately vacate to higher ground—that involved crossing the road and continuing up the hill. A third of the party was able to get out before a rescue worker came in screaming, "Shelter in place."
Cymbor ran out to check on the family members who had been evacuated and found them safe at The Wine Bin across Main Street. He came back to tell Rigney, and then the restaurant started taking on water and plunged into darkness.
Brittingham, the wedding planner, was with the group initially moved to the wine store. "We were moved two other times and kept going higher and higher," she says. "We were up high and could see what was going on. That's when, right outside, that stone building went down. We had felt safe and then to see a whole building swept away. . . . Kids were screaming and crying." Eight inches of rain in three hours had turned Main Street into a raging river sweeping cars down the road, destroying businesses, and taking a life.
Rigney and Cymbor were still inside La Palapa. As they saw more cars floating by, they realized they needed to get out of there. But fire and rescue had said they'd be safer staying in place. When they went back outside they could no longer cross the road to the wine store. The water was rising again. "We made the call to get everyone out of there," says Cymbor.
They found an opening in the fence behind Matcha Time Tea and climbed the grassy hill between houses along Merryman and Cliff Streets. Homeowners along Cliff graciously allowed guests to take shelter on their porches, and some were kind enough to let wet guests inside, many wearing ponchos fashioned out of black garbage bags that had been passed out at La Palapa. "I kept making trips back and forth," Cymbor says. All in all, their guests ended up in multiple locations, including the attic of Su Casa Furniture store.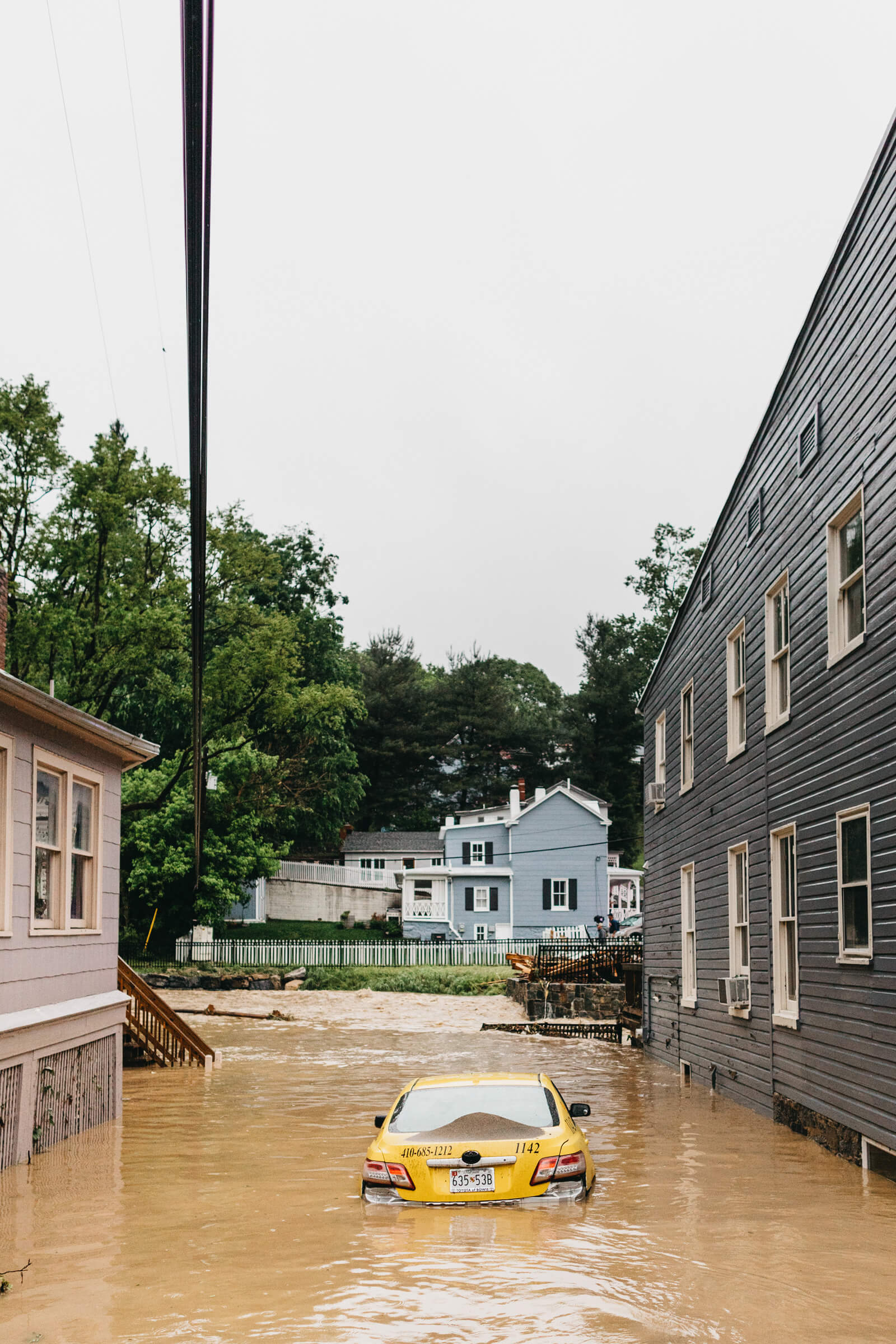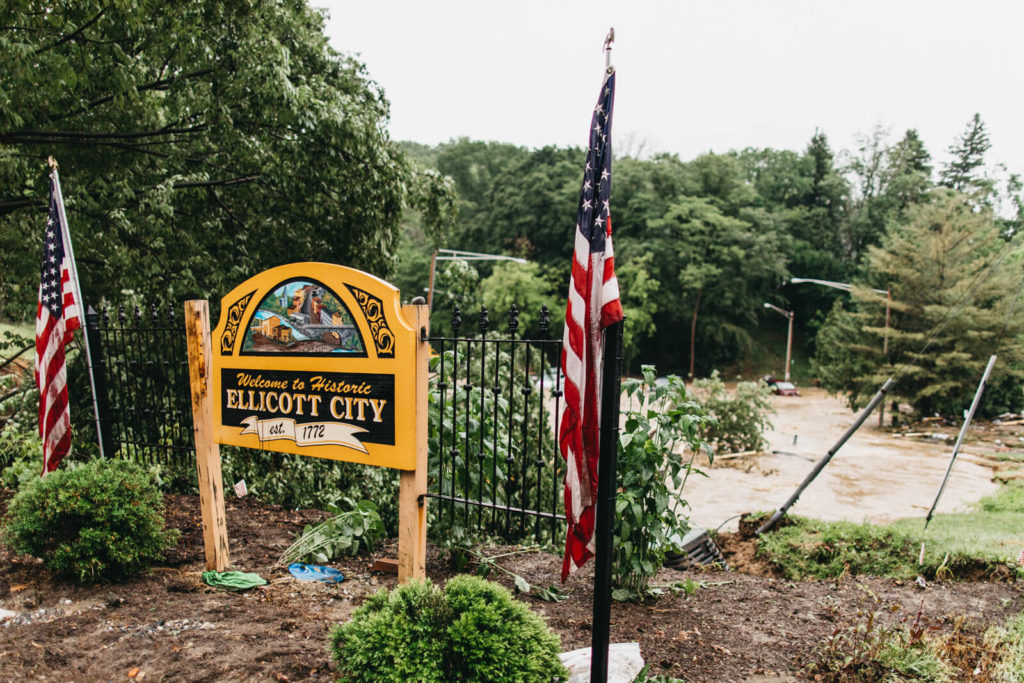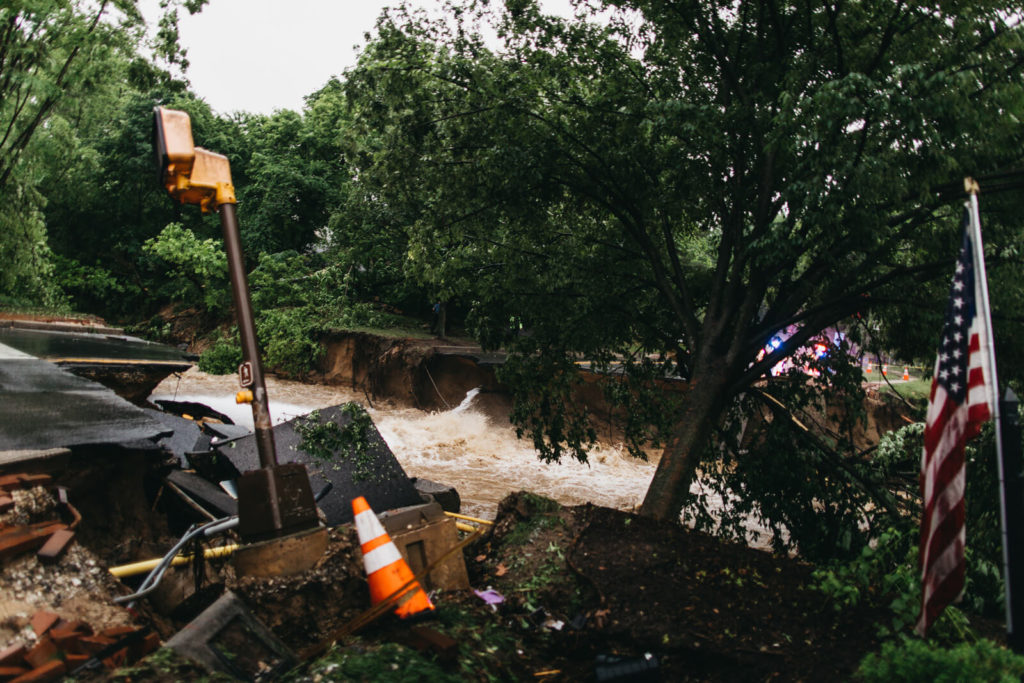 After being trapped for hours with no food, no water, no electricity—apparently it was turned off by the authorities—the smell of natural gas, and never-ending rain, it started to feel like they were going to be trapped forever. "We felt so responsible for everyone," says Cymbor. "Every single person was there because we asked them to come." 
The end goal was to regroup and figure out how to get everyone out of Ellicott City. Fourteen of their guests lost their cars that night to floodwaters. Even the ones who would later learn their cars had been spared couldn't access them. Johnson, the photographer, had taken on the daunting task of trying to coordinate with the Extraordinar shuttle driver. It took him three hours, with road closures, to make it back to Ellicott City.
The wedding location, at the foot of the Tiber, had basically been ground zero for the storm swell. "Even though we were basically where it started, everyone farther down the hill had it much worse," says Cymbor. "They were trapped in houses and attics with no way out. We were lucky enough to have the option to work our way up the hill." He was able to check in with at least someone from each displaced group and get them to the courthouse parking lot. The shuttle showed up, along with some Ubers, and everyone cheered. It was around 8 p.m.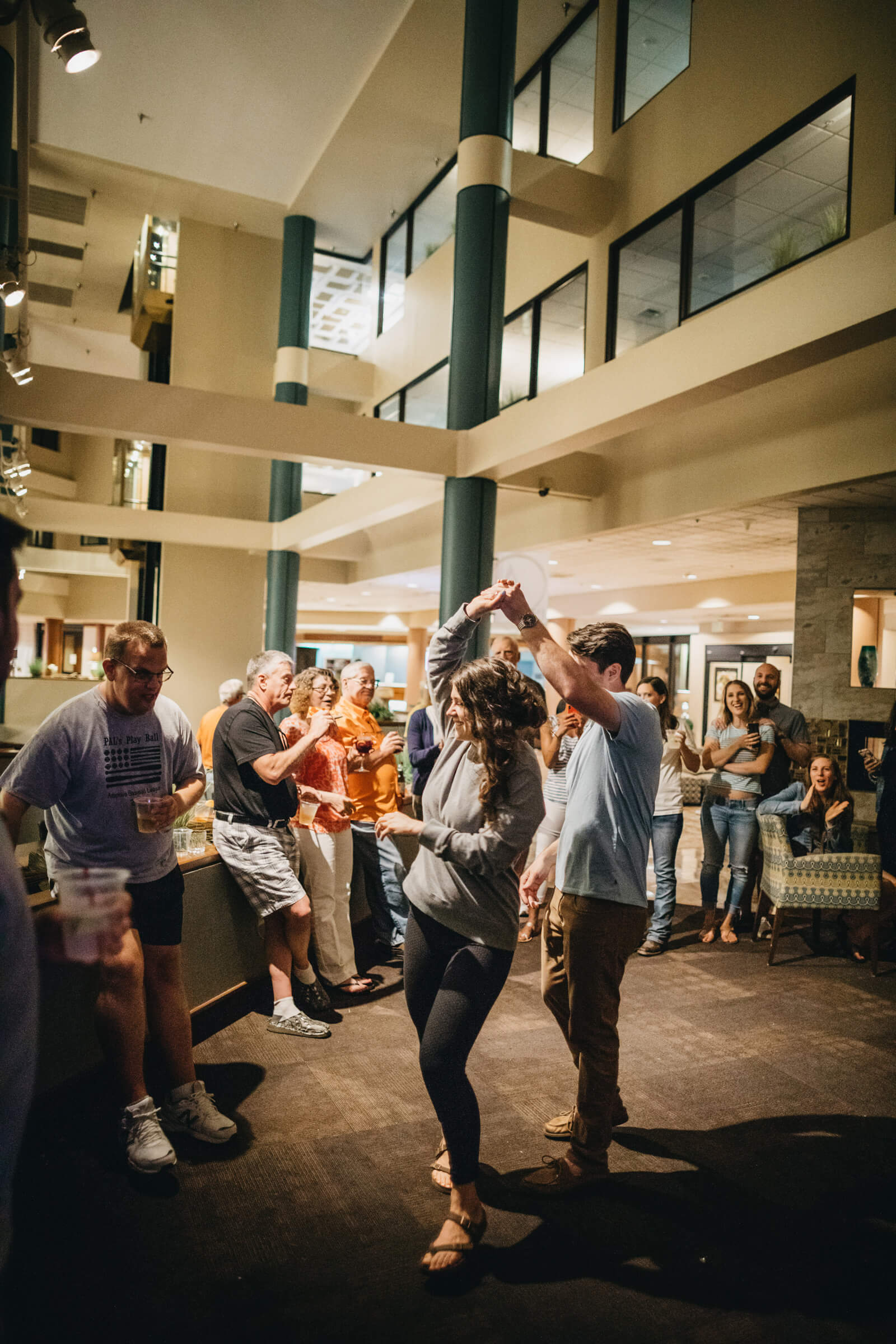 Fifty guests headed back to the Turf Valley Resort. As they pulled onto the road, the pond overflowed. Once inside, guests changed into dry clothes and bellied up to the bar to watch the Weather Channel. It was surreal and heartbreaking to see such devastation. "All I cared about was finding our people and making sure they were okay," says Rigney.
Pizzas were ordered. Rigney heard someone say her name and turned to find her suitcase being handed to her, with all of its contents safe.
The bar played Cymbor and Rigney's wedding song, "Hard Sun" by Eddie Vedder. Surrounded by loved ones, they slow danced, Cymbor in a T-shirt, jeans, and boat shoes, Rigney in his sweatshirt, her favorite lululemon leggings, and Birkenstocks. 
It was not the day they had expected. Brittingham had asked Rigney her wedding vision at one of their earlier meetings. It was simply, "to be married to Cymbor at the end of the day." And that had happened. But they felt cheated out of everything: the décor, the flowers— Brittingham had kept Rigney's Local Color Flower bouquet safe until they were reunited—the band, the food, the speeches. Those would have been the moments they talked about the next day, the next month, the next year. The pictures they would have selected for their wedding album.
But you can't control the weather. And even in the later pictures snapped by Johnson as they moved from location to location, there were hugs and held hands, small smiles, and tiny babies, safe.
"We're both spiritual people," says Rigney, although she admits it's hard to find meaning in the why. Why didn't the first venue work out?  Why was this one available? Why did a city that had already experienced "a 1,000 year rainstorm" flood once again? Or you can just say to the universe, says Rigney, "I accept how things played out." "In the end, a wedding only lasts one day, and all you're left with are photos and memories," says Rigney. "We still have those."