When Cheryl Carmona and Ed Schrader were planning their wedding, they knew they wanted it to be eco-friendly. Carmona has a background in urban farming and teaches sustainable agriculture at a local high school. Her husband, a multidimensional artist and chef, also has a soft spot for locally grown produce. Not only would a sustainable wedding be better for the environment, it also spoke to their personal beliefs. As a locale, the two fell in love with Woodberry Crossing, a nonprofit sanctuary in Parkton, and, with the bleats of goats and clucks of chickens echoing from a nearby pasture, they were married on a gorgeous summer day. Afterward, 120 friends and family members strolled over to dinner at a nearby pavilion draped in hand-woven yarn and locally grown, organic flowers.
Sustainability is the idea that our survival is dependent upon our natural environment, a tangible practice of environmental consciousness. "We see that people's awareness of the topic is definitely increasing," says Ava Richardson, the Food Matters Technical Advisor for the Baltimore Office of Sustainability.
For Carmona and Schrader, that meant more than just a recycling bin. Carmona borrowed her wedding dress from a friend, they set up a compost bin for food scraps, and they hired Baltimore vendors Union Craft Brewing and Well Crafted Pizza, a mobile kitchen that uses locally sourced seasonal ingredients. "Food and drinks are huge ways to incorporate sustainability," Carmona says.
As the wedding came to an end, Carmona cut up the garland, which was made of yarn and woven as a symbol of connection with her friends and family, and handed it to her bridesmaids as mementos. A close friend designed canvas totes for everyone to take home and use as a grocery sack or anywhere else a plastic bag might otherwise be used. And all the flowers were dispersed in bunches to the guests to live on for a few more days scattered throughout people's homes. Incorporating their guests into their mission felt very natural. "You have a chance to impact your guests and make them think more deeply," says Carmona.
From the personal to the practical, sustainability has integrated itself into many spaces of consumerism, including the wedding industry. With everything that goes into planning, the environmental impacts of your big day may be on the backburner, but the rapidly expanding sustainability movement is making eco-friendly weddings more accessible than ever.
You don't have to go all in (unless you want to). But even a few changes can have a positive effect, from choosing an eco-friendly venue to printing invitations on recycled paper. We focus on food, flowers, fashion, and favors here—so start reading (and then recycle this magazine).
LIFE COMES THROUGH THE FOOD
While most couples' weightiest decision about food may be chicken vs. crab cake, there can be a deeper conversation. When it comes to food sustainability, it's all about prevention, recovery, and composting.
"Prevention is when we can prevent a surplus of food or we prevent food from being wasted in the first place," explains Richardson, from the Baltimore Office of Sustainability. "Recovery is when food that would otherwise be thrown away or even composted is fed to people, and composting is when food is recycled, and the nutrients are recaptured." According to a recent Department of Public Works "Less Waste, Better Baltimore" project, 25 percent of all generated waste in the city is food waste, yet one third of the materials sent to landfills and incinerators could have been composted. Imagine the increase in that percentage at a wedding. With an abundance of plated dinners, finger food, and drinks, a reception is a hotbed of food waste. But you don't have to go it alone: An eco-friendly caterer can help cut down on the food waste generated.
Michael Hackerman, purchasing manager of The Classic Catering People, says the company practices sustainability from the moment ingredients leave the ground to when the meal is finished. "We have a three trash can system: There's a compost trash can, plastics trash can, and [a general waste] trash can," Hackerman says. "We also do oyster shell recovery. We save the shells and replant them in the bay. It's amazing how many oysters can be reborn." The catering company is a member of the Maryland Green Registry, a program that offers tips and resources to help businesses with sustainability goals. Registry members have reported saving more than $107 million annually through sustainable practices, according to its website. 
Hackerman says the commissary in Owings Mills, where the company is based, also has a garden. Employees can be found picking fresh herbs, tomatoes, and peppers. Additionally, the company uses compostable, eco-friendly disposable products like bamboo plates and biodegradable cutlery as often as possible. And when they can, they've donated leftover prepared food to organizations such as the Helping Up Mission and Hackerman-Patz Patient and Family Pavilion at Johns Hopkins Hospital.
"We've really lessened quite a bit of our carbon footprint," Hackerman says. "We're so large, and we do large events, and we create a lot of trash and a lot of waste, so even the smallest of practices can really make an imprint."
Table Field Catering is also on the Maryland Green Registry. "We've been recycling company-wide since 1996," says Paul Dongarra, the president and chef. "And 75 percent of what we bring to the table is local."
The company implements sustainability initiatives such as provisioning locally sourced and organic ingredients, using biodegradable disposable products, and carpooling to events when possible. "We use seasonally smart menu design," Dongarra said. "We send customers a past produce report, so they can see what is historically available during the time of the year of their wedding." Even on trips to forage for mushrooms, Dongarra and his staff pick up trash they find along the way. "We're trying to leave the environment better as a result," he said.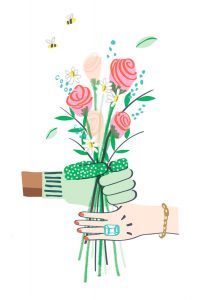 THE POWER OF FLOWERS
It's hard to imagine flowers not being eco-friendly, but with many flown in from other countries, they can actually inadvertently contribute negatively toward climate change.
"For a [traditional] florist, they will order flowers from a wholesaler, which then ships them in cardboard boxes filled with flowers that have been semi-frozen and flown from South America," explains Laura Beth Resnick, farmer and owner of local flower homestead Butterbee Farm. "Those flowers have been in boxes for a long time, so the employees have to break down a bunch of boxes and take flowers out of plastic and cut the stems and rehydrate them, and then they go in the floral arrangement." But for a local flower farmer, that process doesn't exist. "We are so close to our customers that we can literally be out in the field, cut the flowers, put them into buckets of water, put them in the back of a truck, and, in the same day, they arrive at the florist shops," she says.
And it's not just the processing of the flowers, but the actual farming practices that are sustainable. On the ground, this philosophy means staying away from harmful chemicals and plastics.
"We think about our farm as if we were thinking about a healthy body," Resnick said. "We want to build the immune system of our soil so that when those plants grow and are attacked by pests and diseases, they can fight those things on their own."
Here's an added incentive: Locally sourced flowers smell better, too. "As you can imagine, flowers that are shipped from far away and are packaged and frozen have lost their scent," Resnick says. "The biggest piece of feedback I get from our customers is how incredible our flowers smell."
After the flowers are grown and cut, they often end up at Local Color Flowers, a floral design business. "All the flowers that we use are locally sourced from farms within 100 miles of Baltimore," says owner Ellen Frost. The flower shop also uses recycled vases and limits packaging waste by selling flowers in water as opposed to cardboard and plastic sleeves.
"Our flowers are sourced, used, and gotten to the consumer within a day or two, which means that the vase life is going to be longer," Frost says, adding that couples like knowing they are supporting local businesses—a farm, a flower shop—through their purchases.
Libby Francis-Baxter is the owner of The Modest Florist, a Hampden-based flower shop that holds a spot on the Maryland Department of Energy's Green Registry for its environmentally conscious efforts, including sourcing locally grown flowers and using secondhand and thrifted vases for its floral arrangements.
For Francis-Baxter, The Modest Florist is a flower shop that just happens to be green. She bases a majority of her business model on the idea of proximity. "I try to encourage people to shop locally," she said. "All deliveries that are within two miles of the shop are free, and I only service Baltimore City."   
WHO MADE MY CLOTHES?
The familiar phrase "reduce, reuse, recycle" doesn't just apply to trash. It can apply to a wardrobe, too. Consumption of fast fashion, a section of the industry focused on producing clothing quickly and cheaply, creates a vacuum for apparel companies to fill with mass-produced items. A majority of these items are made using unethical and environmentally irresponsible practices.
There are, however, ways to counteract the effects of these industries, like buying vintage, secondhand, or thrifted items. 
Jill Andrews Gowns is a wedding and evening gown atelier in Baltimore. Owner Jill Andrews designs custom dresses for brides and provides alterations to dresses.
In addition to gown design, Andrews restores old gowns—or "legacy gowns" with some dating back to the 1930s—for new brides. "I love taking a grandmother's gown or a great-grandmother's gown or even just a vintage dress someone has thrifted and basically reconfiguring it while still maintaining the integrity of the original style," Andrews says.
And she reuses all of the scraps of fabric. "My client was having a zero-waste wedding," Andrews says. "I made her wedding gown out of tons of wedding-gown scraps. I save everything, so there's always a little piece of someone else's gown passed on through another gown."
DO US ALL A FAVOR
Perhaps the greatest gift of sustainability is skipping the favor. But if you can't resist, leave your guests with a memento that reiterates the mission of your wedding: to share your love for your partner and the planet.
Courtney Shaw, lead event stylist at Moore & Co., suggests including fun activities like an all-natural confetti bar where guests can make their own bags with dried flowers and herbs. "It's a biodegradable option," Shaw says.
Another option is to decorate the tables with succulents and let guests bring the plants home at the end of the night. Recently, Shaw had a couple who gave away bags of seedlings as sustainable wedding favors.
Says Shaw, "It's a way to create life on Earth and to spur regrowth."
If you want to gift your guests something a little sweeter, stick with locally sourced, sustainable products. A great and unlikely contender: honey. In the case of Hon's Honey, the product contributes to the betterment of the planet. Born out of a workforce development for lower-income women in and around the city known as The Well, Hon's Honey employs survivors of addiction, sex trafficking, generational poverty, and trauma. The products are natural, ethically crafted, and centered around sustainability both in terms of the environment and quality of life.