In the weeks leading up to my wedding, I remember a well-meaning friend trying to ease my stress by saying, "The most important thing is that you're going to be married at the end of it all. Nothing else matters."
While I appreciated her attempt to talk me off the ledge, let's be honest: A wedding isn't just about getting married. Anyone can go down to the courthouse and get hitched, right? A wedding is about throwing a party. It's about celebrating that marriage with friends and family, and, hopefully, creating a day that will be spoken about fondly for years to come.
Wedding planner Elle Ellinghaus of Elle Ellinghaus Designs agrees. "When talking about a reception [with brides and grooms], you have to realize that the day is about them, but it's not all about them," she says. "It needs to be broader; it needs to be for your guests."
With that in mind, we present 12 ways to make your day the most memorable event it can be—for them, and for you.
No. 1
Break the Rules (Without Ticking Off Grandma) We all know the formula: Ceremony, first dances, toasts, dinner, cake, toss the bouquet—boom, you're done. This was all fine and good for generations of brides and grooms, but more couples are bucking tradition in every aspect of weddings. And while younger guests may delight in your irreverence, a large swath of wedding-goers could be put off by it. (Especially if they're the ones paying for it.)
Thankfully, modern wedding planners are finding innovative ways to break the rules while shushing the peanut gallery.
For instance, if you're set on a trendy dessert bar, consider also offering a smaller, ceremonial cake for cutting that can be passed out to guests. And before breaking out Beyoncé or The Black Eyed Peas, ask the DJ to play some oldies as a way to make sure everyone feels welcome on the dance floor.
If the parents won't budge on the wedding, consider an after party. "Normally, they'll go from a band to a DJ, and it will be the younger crowd staying," says Strawberry Milk Events owner Julie Savage Parekh. "There's no formality, it's just having a good time."
No. 2
Make it Interactive Weddings can feel awkward for the lone person who works in your office or that couple from out-of-town. One way to break the ice is to give people something to do. Ellinghaus loves the idea of an interactive cocktail hour and suggests making it personal, such as a wine tasting or pairing for oenophiles.
"I had a bride and groom who met on a blind date in a Chinese restaurant, so we had a Chinese-food station at the cocktail hour," she says. "We had rice, noodles, and different types of ingredients that guests could experiment with."
She carried the theme into the beverages, offering hot teas spiked with honey liqueur, and ordered fortune cookies with truth-or-dare fortunes.
It can be as simple as serving the meal family-style or as involved as having a cigar roller or connoisseur arrive later in the reception to pair different liquors and cordials with each type of cigar.
Whatever you do, says Ellinghaus, "Make it different; make it interesting."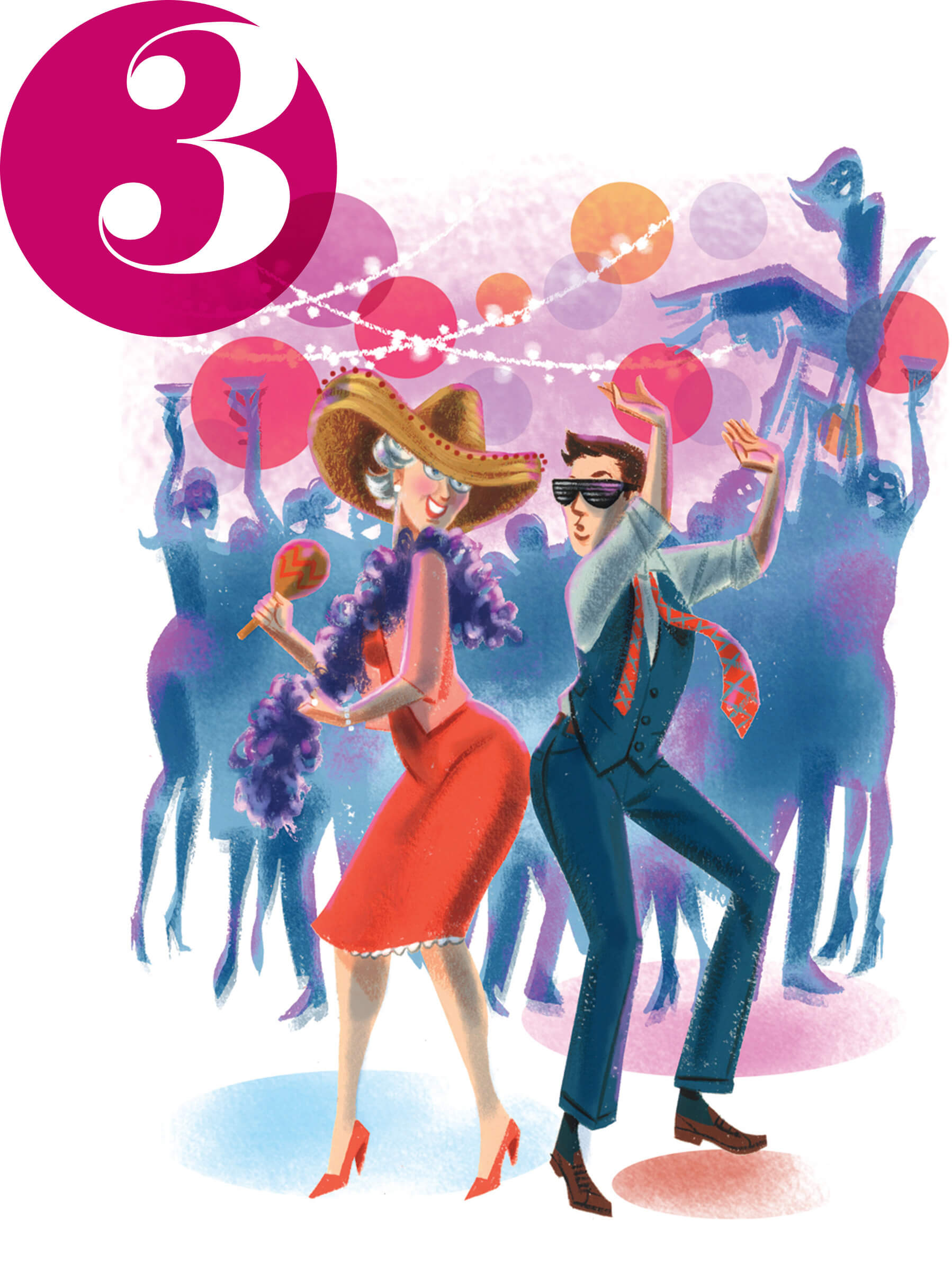 No. 3
Get Their Booties on the Dance Floor—and Keep Them There One of Ellinghaus's top three wedding pet peeves is when people say they want to keep the music classy. "Well, people are going to leave right after dinner," she says. "They want to dance. A good DJ is better than a bad band. Having a jazz trio for three hours is not going to make anyone have fun."
Having a well-planned timeline can also help keep the party going. Wedding photographer Jennifer McMenamin says grouping the formal activities as much as possible will help minimize the buzz kills. "When you stop all of that and have a toast, and stop all that and cut the cake—it can interfere with the party vibe of the reception."
If all else fails, Ellinghaus says it's a nice touch to have a box of props near the dance floor. "Let's be honest, who doesn't have more fun dancing with a boa or a mask on?"
No. 4

 
Rethink the Guest Book That pearly, heart-crusted guest book from Hallmark? Come on, you can do better than that. 
McMenamin says people are having custom coffee-table books bound with blank pages and photos that run from childhood to the engagement party for guests to sign at the wedding. Moore and Co. Event Stylists has worked with a couple to create Mad Libs-like worksheets that guests can complete and the bride and groom can enjoy on the way to their honeymoon.
But it's Alexa McCulloch of Union3 Event Productions who has taken guest books to a whole 'nother level. At one wedding being held on a horse-breeding farm, on-site quilters will patch together pieces of fabric signed by guests.
For another wedding, she had the couple buy a case of their favorite Champagne and assigned a different milestone to each bottle—such as the birth of their first child and special anniversaries. Guests could write notes on tags about that occasion and hang them on the bottle to be read by the couple when they achieved that milestone.
"When they're celebrating their 20th anniversary, they can pull out these bottles and read all these notes from their friends from 20 years ago," says McCulloch.
If it makes us get all misty, imagine how that couple will feel when they finally get to crack open that bottle.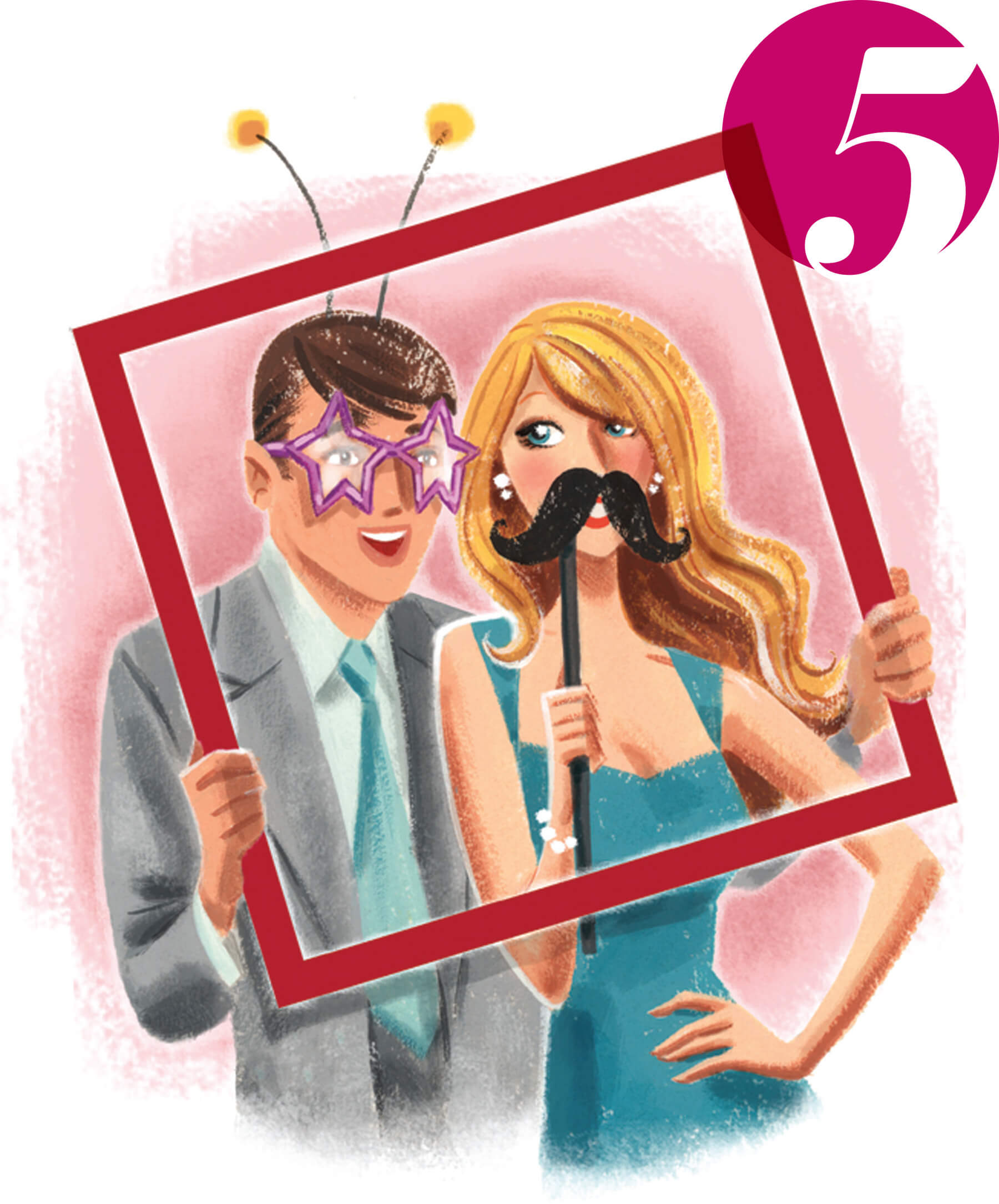 No. 5
Photos They'll Flip For The photo booth has been making an appearance at weddings for a while now. And who can resist the nostalgia of those iconic photo strips showing you and your friends acting like fools?
McCulloch has taken that trend one step further by offering flip-book studios. Remember those books you had as a kid that you flipped through really fast to see pictures jump to life? Turns out you can rent a team that will take the rapid-fire photos then print, cut, and bind them for guests to take home.
"People love it," says McCulloch. "And the funny thing is that the grannies get just as much into it as the 20 year olds. I've seen 65-year-old men making complete idiots of themselves in front of this thing, and it's just hilarious."
And the nice thing is that they double as entertainment and a favor. "Nobody leaves those behind," says McCulloch.
No. 6
Let Them Lounge Weddings have largely become a less formal affair, and the trend of providing a club-like vibe is yet another example of that.
"At pretty much every single one of my weddings, you're going to see a lounge area," says Ellinghaus. "Around the bar, around the dance floor—I've never seen a lounge area empty."
While you're at it, why not make custom throw pillows for that lounge using your monogram or a fabric that mimics the liner of your wedding-invitation envelopes? "A custom pillow is, like, 70 bucks," says McCulloch—a bargain for the wow factor.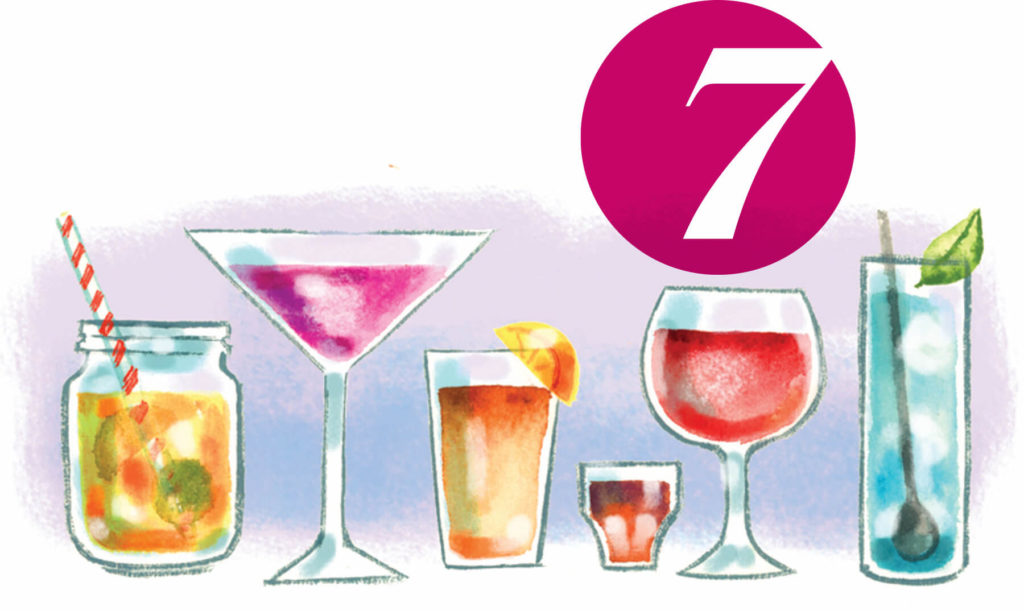 No. 7
Let the Drinks Flow . . . Even if you're not one to hit the sauce hard, people have certain, shall we say, expectations at weddings. It's a time to let loose, celebrate, meet new people, dance—and party. Hard.
For that reason, most wedding planners have a lot to say when it comes to keeping the booze flowing, including making sure you have enough bar staff to keep the lines to a minimum.
Ellinghaus lists stingy bar situations among her top three wedding no-no's. Stay away from cash bars and instead offer a few signature drinks if a full open bar is out of your price range, she suggests.
McCulloch says splurging on a mixologist is where she'd put her money. "Nobody wants Mr. Joe from the club pouring a crappy drink," she says. "A custom-designed cocktail menu for you is something that adds so much to the night. And having a drink that's well-made adds something super special to the party."
Other ideas: margarita stations; bars with orange, grapefruit, or lime crushes with vodka; or gin- or bourbon-based craft cocktails
No. 8
. . . Then Give Them Something to Soak it Up With all that boozing, it's a good (and delicious) idea to give your guests another shot at eating before they head home.
"It's not going away," Ellinghaus says of the late-night snack trend. "Butlers are passing around French-toast sticks with syrup; Old Bay tater tots; fresh-made potato chips; French fries with ketchup."
Food trucks rolling up at the end of the night is another way to surprise guests on the way out. Burgers, tacos, chicken and waffles—you name it, and there is probably a food truck that will deliver it piping hot and ready to eat.
Ellinghaus has another sure-fire trick for pleasing guests in the wee hours after the party has ended. "I can't tell you how many black-tie affairs have fast food delivered. It's adorable," she says of how excited people get. "Everyone knows what McDonald's fries smell like."
Whichever route you go, here is what she uses as her foolproof rule of thumb: "Think about where you would want to go in college. It's 2 o'clock, the bars are closed. Where are you going, and what are you ordering?"
No. 9
Keep Dinner—and the Speeches—Short If you're opting for the sit-down, McCulloch cautions couples to have mercy on their guests by keeping it short and sweet.
"Don't let the caterer talk you into having a long dinner," she says. "A good catering company should be able to set and clear a course in 10 to 15 minutes . . . people want to dance! They don't want to sit in front of a half-eaten salad for too long."
Guests don't want to feel like they're being rushed, though, so timing is everything. And if you think there will be several speeches from well-wishers—a lovely addition to any wedding, but something that can break the flow—encourage them to share their embarrassing stories about the groom during an otherwise unexciting moment.
"Have the speeches during the [plate] clearing or during the transition," she says. "That way, people are still being fed while listening to the speeches." 
No. 10
Make it Personal There are infinite ways, large and small, to infuse your personality into your wedding. Courtney Kappus, of Moore and Co. Event Stylists, says one couple she worked with was a big fan of brunch, so they not only had a brunch-hour wedding with their favorite brunchy foods, they also created custom crossword puzzles (with clues about the couple, naturally) and placed them with pencils at each setting.
Jodi Hair of Relysh catering company even likes to work the personalities of her couples into her food presentations. "For a school teacher or avid book reader, instead of passing her favorite thing on a tray, why not pass it on a really cool book lined with leaves? Or if they're really into music, why not use records as trays to serve the food?"
No. 11
Give Them One Big Surprise If the devil is in the details, are there angels in the grand gestures? Perhaps, since the live mariachi band during dinner or the surprise salsa dancers will probably keep guests talking long after the birdseed has been thrown.
"I think having one big statement piece is the way you can wow your guests," McCulloch says. She has used elements such as an ice curtain or a custom bar front—like one made of old doors for a farm-chic wedding—as showstoppers.
Another sophisticated yet still irreverent idea: hiring a painter to capture the scene as it happens. Guests will be really intrigued to watch the painter, plus, it's a nice keepsake after the wedding.
No. 12
Do 'Em a Favor Planners agree that wedding-favors-as-afterthoughts have gone the way of the dinosaur, and many couples are ditching them altogether. "They have to be the right kind of favor or people won't even take them home," says Parekh.
One trend is to put favor money toward a photo booth, where guests can pile in and goof off—and have a fun photo strip to take home with them. (See No. 5.) But for some, it's just not a party without a parting gift, and sweet treats are still a popular option.
McCulloch suggests Baltimore-based Mouthparty Caramels or bags of Fisher's caramel popcorn. "People do like to have something sweet as they walk out the door," she says.
Otherwise, she cautions favor fans to know their audience. "If you have big drinkers, maybe just have a nice bottle of water and some Advil with a thank-you on it by the front door," she advises.
We'll drink to that.