"It was right before the whole world ended," recalls Katey Clark, co-founder of Lemon & Lime Event Design, of the company's first wedding of 2020.
For months, the team at Lemon & Lime had been looking forward to the hundred-guest event on Saturday, March 14, at the Sagamore Pendry hotel on Baltimore's harbor that would kick off a busy year of event planning.
Just two days before the wedding, the first case of community transmission of the novel coronavirus in Maryland was recorded in Prince George's County. But the full impact of the pandemic had yet to be seen in the state. Restaurants, bars, and venues remained open, and all but the largest gatherings—those over 250 people—were happening as planned.
The wedding at the Sagamore Pendry was filled with joy, love, and celebration, with a few adjustments to follow the prevailing public health guidance at the time—Clark recalls bringing extra bottles of hand sanitizer and cutting out the typical high-fives and hugs with the vendor team and clients. "It's crazy to think back on it now," Clark says. "It was a very surreal place to be. Masks weren't being enforced yet. We had no idea what was coming."
Two days later, on Monday, March 16, Maryland Gov. Larry Hogan closed restaurants and bars and limited gatherings in the state to 50 people. The emergency order set the local wedding industry into overdrive.
With the emergency order in place, and lots of uncertainty in the air, "it was all systems go getting a plan in place for our May, June, and July weddings," says Lemon & Lime's other co-founder, Ashley Amtmann. She notes they were lucky that they didn't have any more weddings on the books for the rest of March or April.
In the following weeks, state, county, and city leaders announced a series of regulations aimed at curbing the virus' spread. Gathering sizes were limited to 10 people, and a stay-at-home order restricted travel to only essential activities.
"Every day past that initial announcement, it was just more news, more changes—all negative, both personally and professionally," Clark adds. "It was a downhill slide until about June."
Alongside their peers in the industry, the Lemon & Lime team worked hard to keep up with the ever-changing guidance around gatherings for their couples. "Every time Hogan had a press conference, we would sit and watch with pits in our stomach," Clark says. "Our phones would blow up after each one, going through what that meant for each couple's wedding."
At first, spring weddings were postponed to later in the summer. "It's hard to believe now, but back in May there was no question that, of course, the summer would be fine," Clark recalls. "Obviously, it was not."
Before long, couples had sent out their third save-the-dates. Some clients in the medical field, or those with guests traveling long distances, chose to cancel from the start. Others held out hope, pushing off postponements or cancellations until the last possible minute. "We would make a deadline for the couple to make a decision," Clark adds. "Everybody wanted a crystal ball to know what things were going to look like, but nobody had one."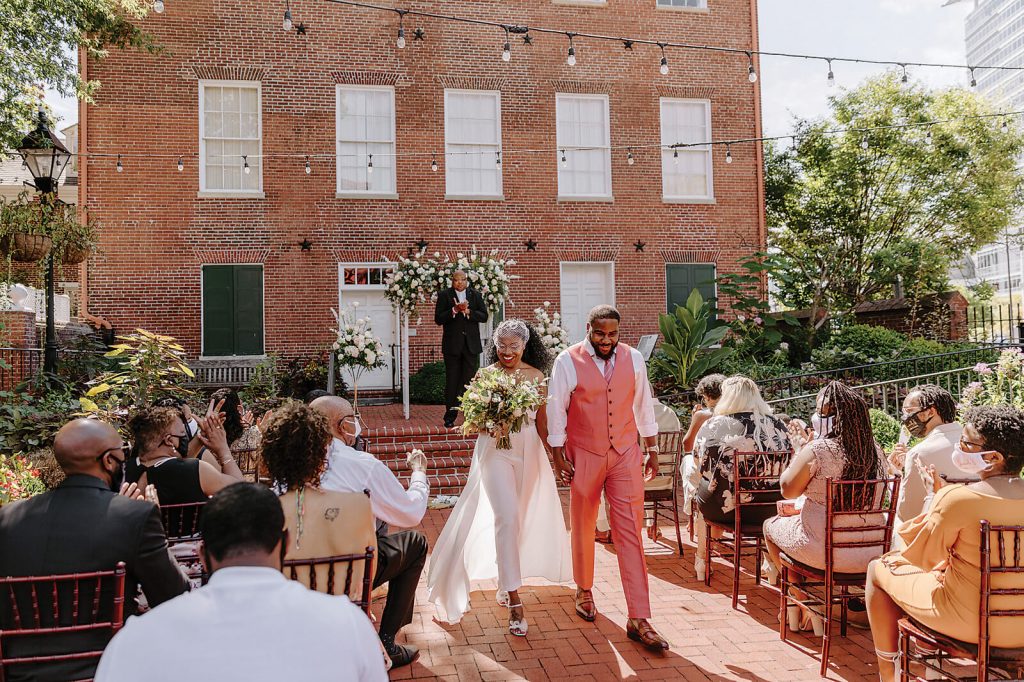 For Monique Wilson and Stephen Williams the necessity of downsizing provided a chance to rethink their December 12 Annapolis-area wedding for 180 guests.
Wilson says that before the pandemic she had fallen down a "rabbit hole" of planning, ending up with a more extravagant event than she originally envisioned. So, when she started seeing smaller, more intimate weddings taking place over the summer, it was actually a revelation. "We jumped on the micro wedding bandwagon," she says.
In July, the couple moved their wedding date up to Labor Day and reduced their guest list to just 20 people—a limit set by their ceremony location, the 1840s Plaza at the Carrollton Inn on President Street, and brunch venue, BrickRose Exchange in Canton. Guests stayed at the Kimpton Hotel Monaco downtown.
"It was hard to break it to our friends," Wilson recalls. "A lot of people wanted us to do a virtual wedding, but we didn't want to do that. We got a videographer instead. Overall, though, people understood."
For the 11 a.m. wedding and brunch reception, Wilson traded a glam dress for a chic jumpsuit. "I had purchased five wedding dresses—I'm currently trying to sell them all," Wilson says with a laugh. "But I thought, for a morning wedding, what would I wear to brunch?"
With safety in mind, the couple provided welcome bags with masks and hand sanitizer to their guests. Before boarding a bus large enough for social distancing from the hotel to the venue, a friend took guests' temperatures and made sure their face coverings were in place.
One invited guest waiting on the results of a coronavirus test didn't attend, and others stayed home for health reasons. "We were very transparent with everyone," Wilson says. "We told them, 'It's okay, please tell us if you don't feel comfortable attending.'" Fourteen days after the wedding, the couple reached out to their guests to confirm everyone was still healthy.
In addition to saving money, the smaller wedding created an intimate atmosphere among the two families as they celebrated throughout the weekend. Wilson says the ambiance might have been lost in a larger ceremony. "Go with whatever you and your fiancé agree to," she urges other couples. "Don't worry about what other people think."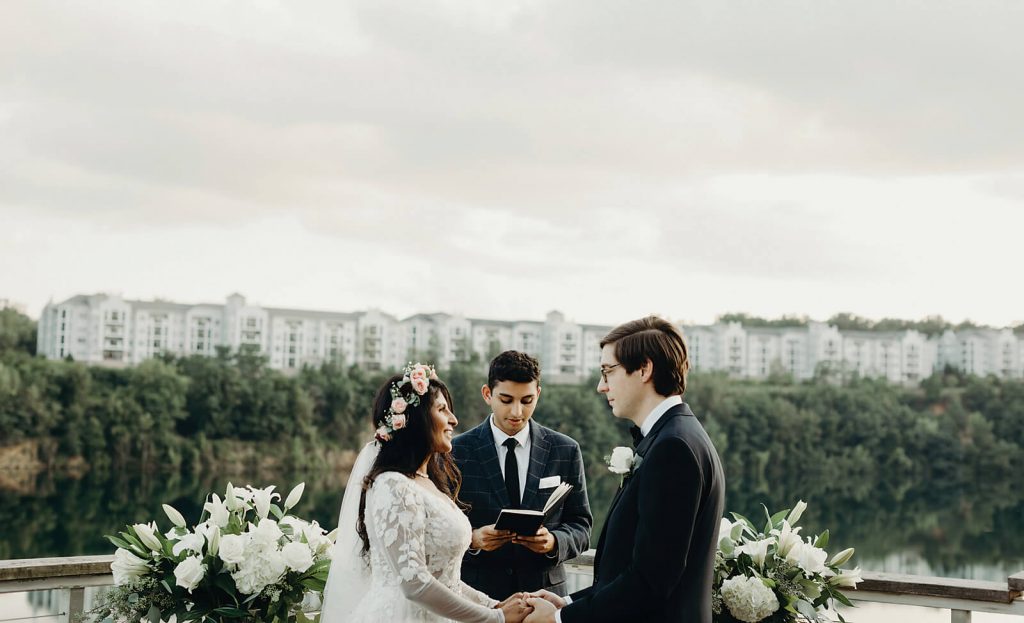 Wilson and Williams aren't the only couple to discover the intimacy and joy of a scaled-down wedding day amidst the coronavirus pandemic.
Shravani Durbhakula and Bryan Marascalchi's decision to postpone their Memorial Day weekend wedding came early. The couple were set to marry along the Hudson River with the Manhattan skyline as a distant backdrop in a multiday, multicultural celebration with both white-dress and Indian ceremonies and more than 300 guests, many of whom would be traveling from abroad.
But, since they were both anesthesiologists at Johns Hopkins Hospital, the couple saw the devastation of COVID-19 up close.
"Anesthesiologists are a big part of COVID, because we intubate," says Durbhakula, who is also a pain physician. "We realized this was not going to be gone anytime soon, and we suspected at that point this wedding wasn't going to happen."
So the couple moved quickly to notify their vendors and guests. "Canceling every contract across 10 vendors was hard," Marascalchi says. "Some went on to close and no longer be in the industry anymore."
Potential future wedding dates included August 8 and November 21—auspicious dates for the couple determined by Hindu astrology. "In Indian culture, the priest won't perform the ceremony every day," Durbhakula explains. "There were only a few days out of the whole year that would work for us."
As Gov. Hogan announced the state's gradual reopening and the ability to gather again in small groups returned, the couple began cautiously planning an August event for their closest friends and family at the Four Seasons Hotel in Baltimore.
Then, infection numbers started to spike again. In late July, Baltimore City shut down indoor dining.
"We felt lucky to be alive, because we were seeing people actually dying, but on top of that, lucky to have the insight as physicians to say if one person is sick that day, everyone can get sick," Durbhakula says. "We didn't feel comfortable going through with it."
Not keen on the idea of a late November wedding, the couple considered their options. Then, one day in early August, Durbhakula asked Marascalchi, "Hey, we were supposed to get married next weekend. Do you want to?" He eagerly agreed.
A few days later, on a whim, Durbhakula stopped by Citron at Quarry Lake in Baltimore County, the site of one of their first dates. She was stunned by the waterfront patio's beauty and the enthusiasm of owners Susan and Charles Levine to help them pull off a wedding in less than a week.
The couple booked photographer Gilbert Horst a few days out. To tell a story with the photos, Horst encouraged them to make the most out of their "mini-mony."
"I was kind of treating it like this wasn't our real wedding," Durbhakula recalls. "But he inspired me, and I went out the day before and bought a dress, I got my nails done." Citron took care of the dinner and cocktails, and sourced the cake and flowers.
The five-person guest list included Durbhakula's parents and brother, who got ordained online and performed the ceremony, as well as two close friends who live locally. Marascalchi's family, who live in New York, attended via Zoom.
As the couple walked down the deck on the lake past the main dining room to a private dinner area, the guests in the restaurant turned their heads and applauded. "Though we barely knew the couple, we welled up with tears of warmth and love as they exchanged handwritten vows," says Citron co-owner Susan Levine.
Still, the couple mourned the loss of their original—and then second—wedding plans. "One dream dies, and you have to start over again," Durbhakula says. "You're supposed to have this big wedding, have people come and bless you. My dad had trouble letting go of that concept at first. But the thought of having guests sign forms, do temp checks, saliva tests, masks—it's not the wedding we envisioned or felt comfortable with."
Eventually, the doctors plan on throwing a weekend of celebrations, including a Hindu ceremony, closer to their original plans. But as they recount the details of their wedding day, the self-described "Type-A" couple are in awe of how well the last-minute event turned out.
"We didn't have to do any coordinating. They elevated it and took it to the next level and made it so much more than we expected it to be," Durbhakula says of the Levines. "It was so opposite of what we were originally planning, but we realized simplicity could be so beautiful."
At the same time as they advocated for their clients, vendors worked to protect themselves and their businesses from a devastating loss of income as the majority of their work was canceled or postponed to 2021.
"It was very difficult being a human and being a business owner in this process," says Clark of Lemon & Lime. "We felt terrible for our clients. Most of them feel like family by their wedding day. We shed tears, because we were the bearer of bad news. But we are also business owners. We did need to charge to postpone to next year. We can't lose a whole year of business, nor can our vendors. It was really difficult, while going through such an emotional time, to have these financial conversations on top of it."
After the governor's executive order on March 16, Copper Kitchen co-owners Jennifer DeVos and Kevin Miller faced the terrible task of reducing their staff by one-third. "It was the hardest day ever," DeVos says.
At the same time as they advocated for their clients, vendors worked to protect themselves and their businesses from a devastating loss of income.
She estimates about a hundred weddings on the books for 2020 were postponed to 2021. The fourth quarter of the year is usually Copper Kitchen's busiest, accounting for nearly half of their total business. But in 2020, they were operating at just 17 percent of their typical volume during the same period.
"We needed to do something just to keep our operational costs down," DeVos says, noting that a recent expansion to provide their own china, glassware, and flatware resulted in bigger expenses, including rent on the 10,000-square-foot warehouse they were stored in. "This year we haven't even been profitable one single month and don't anticipate that we will be, but we had a good cash position going into the year," she says.
With increased time on their hands and the need to pivot, DeVos and Miller returned to their roots of doing drop-off, family-style meals. "When we first started, Kevin and I specialized in house parties," DeVos says. But by 2019, it made up just 7 percent of their business, and they were planning on discontinuing the service altogether in 2020. By mid-March, all that had changed. Just days after Gov. Hogan's initial executive order, Copper Kitchen quickly shifted to make a new drop-off menu available.
By fall, drop-offs made up 28 percent of their total business, in addition to some individual boxed lunches for corporate clients and a few outdoor weddings and smaller events as gathering restrictions eased.
During the pandemic, DeVos says she found great resources in the International Caterers Association. "You're in a Zoom meeting with everyone across the country experiencing the same thing," she says. "There's a great feeling of coming together."
Locally, she felt supported by peers in the wedding and event industry. Copper Kitchen partnered with Lemon & Lime and District Remix on a virtual Disney disco dance party in late March to raise funds to send meals to frontline workers at two area hospitals. It was just one of the many ways peers in the local industry supported each other. "Even with competitors, we really want to save our industry. It's going to be three or four years coming back, so we need to work together."
Photographer Alicia Wiley recalls getting the first call from a client with questions about postponing in March. "I had to revamp a lot of things behind the scenes," she says, and immediately began developing new policies for her business. In an effort to make the process as smooth as possible, a new page on her website counseled couples through their postponement decisions ("step one, contact your venue"), including her available dates for rescheduling, new studio health and safety measures, and links to other resources.
By fall, 32 of her 35 weddings for the year had been postponed to 2021, with three keeping their late 2020 dates. Wiley leaned into a second web design business to get through the season, and later opened up more tailored micro wedding, elopement, and portrait sessions for as little as one hour.
"I'm just proud that I stayed open," Wiley says. "A lot of people had to close, or temporarily close and get another job. It's hard to do when you're contracted to an entire business and you're the only person running it. You have to do all the work still with very little income."
As small, outdoor events returned, Baltimore-area vendors felt mixed emotions. "You're happy and excited because you're doing your job and you love your clients," says Wiley, who tries to be extra cautious because she is immunocompromised. "But then afterward you feel a pang of fear and regret, because you're wondering if you just participated in something that contributed to the spread of COVID."
Aside from personal health concerns, Wiley worried that if she contracted COVID-19 it would be devastating to her business. Despite being super cautious, in November, Wiley's fears were realized when she tested positive for COVID-19 while recovering from endometriosis surgery.
"When you actually do get COVID despite taking all the right precautions all year, it affects your business even more, because you can't work until it passes," says Wiley, who developed pneumonia and ended up in the emergency room. "You have to contact any clients you were around before symptoms started, and anything on your schedule during the isolation period has to be pushed back, moved to virtual, if possible, or canceled all together." Because Wiley's isolation period overlapped with her planned surgery recovery, she only had to reschedule jobs with two clients, and most importantly was able to focus on getting better. "I was fortunate to recover," she says. 
At Copper Kitchen, the team takes turns coming into the office, so there are never more than 10 people at a time. But despite every safeguard, there are still risks. "Even though we're taking precautions and wearing masks, we're kind of a frontline worker, because the people we're working with are not necessarily wearing masks," says DeVos, noting that clients remove their masks to eat. "I feel like we're at a higher risk. My family is in a retirement community, I can't really go and see them."
With so much uncertainty and coronavirus numbers hitting record highs across the U.S. in the fall, not all couples are ready to commit to a new date. Instead, they have chosen to put wedding planning on hold.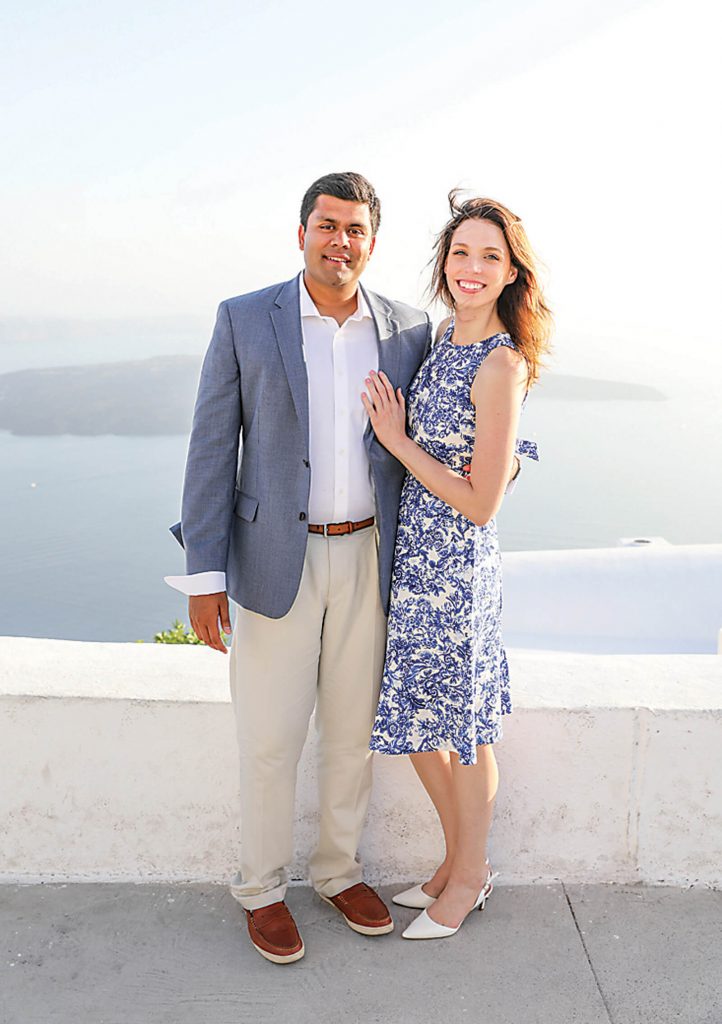 A red banner on Rishi Jain and Amanda Weaver's wedding website announces they have decided to postpone their November 6 wedding in New Orleans and will keep their guests updated.
The weekend of festivities in the Big Easy would have included Western and Indian ceremonies. The couple planned to invite 375 guests, nearly all of whom would be flying in—many from across the world. Originally, the all-out destination event highlighted the couple's love of travel and adventure. But with the onset of the pandemic, it became a point of fear.
"We didn't want to be responsible for a super-spreader event," says Weaver, a Johns Hopkins oncology nurse and colon cancer survivor who is earning her master's degree in health care management. "There was no way we would be responsible for that many people traveling."
In early summer, the couple informed their guests the wedding was on hold. With so much up in the air, they didn't feel comfortable locking down a new date, even if it meant losing thousands of dollars in deposits.
"The dynamics of the pandemic were shifting on a month-to-month basis," says Jain, a regional sales manager for Baltimore-based DAP Industrial. "We were trying to put health and safety first, but the excitement had also faded for us. Even if we had a wedding with half of the guests we had planned for, we wouldn't want to spend the money on a firework show, fly in caterers—the vision shifted as a result of the pandemic's changing nature."
For their original wedding date, the couple took a road trip from Baltimore to Asheville to spend the weekend together hiking, drinking craft beer, and eating great food. They're throwing around ideas for new wedding plans: maybe an elopement or mini-mony with close family in spring 2021.
With Weaver's mother undergoing cancer treatment and her sister expecting a baby, the couple won't postpone indefinitely. "The priority is going to be getting married in the next six months or so while her mom is still healthy," Jain says. "Then TBD on the reception, if it's happening at all. COVID kind of gave us the flexibility to rethink what we were originally going to do."
"For us, getting married is the priority," he continues. "Amanda is pretty chill about the details. For her, it's more the sentimental part—wearing the dress, having her family there."
For so many impacted by the pandemic, it's a reminder to be grateful for the most important things in life: good health and family and friends.
"We've come to terms that there are things in life that are out of your control," Weaver says. "It's the same in this situation. Things are out of your control, and it's how you respond to it that counts. We're both happy and healthy, and that's what matters the most."