Kira Bibbs prides herself on being a modern florist, always looking to be inspired by the "vibes" of her clients and paving the way for other non-traditional floral designers.
Flowers were never meant to be a business venture for Bibbs, simply a passion that Bibbs would dabble in as a creative outlet but never as a career choice. But after some encouragement from her husband, Bibbs started working as a floral designer apprentice.
"I was getting rave reviews from the person I was working with," says Bibbs. "And then out of nowhere, they told me they no longer needed me." Despite her former employer pushing her to go to a floral design school rather than rely on her self-taught skills, Bibbs took the initial positive feedback she had received and ran with it.
"I kind of took that as fuel to launch out on my own and do my own thing," says Bibbs.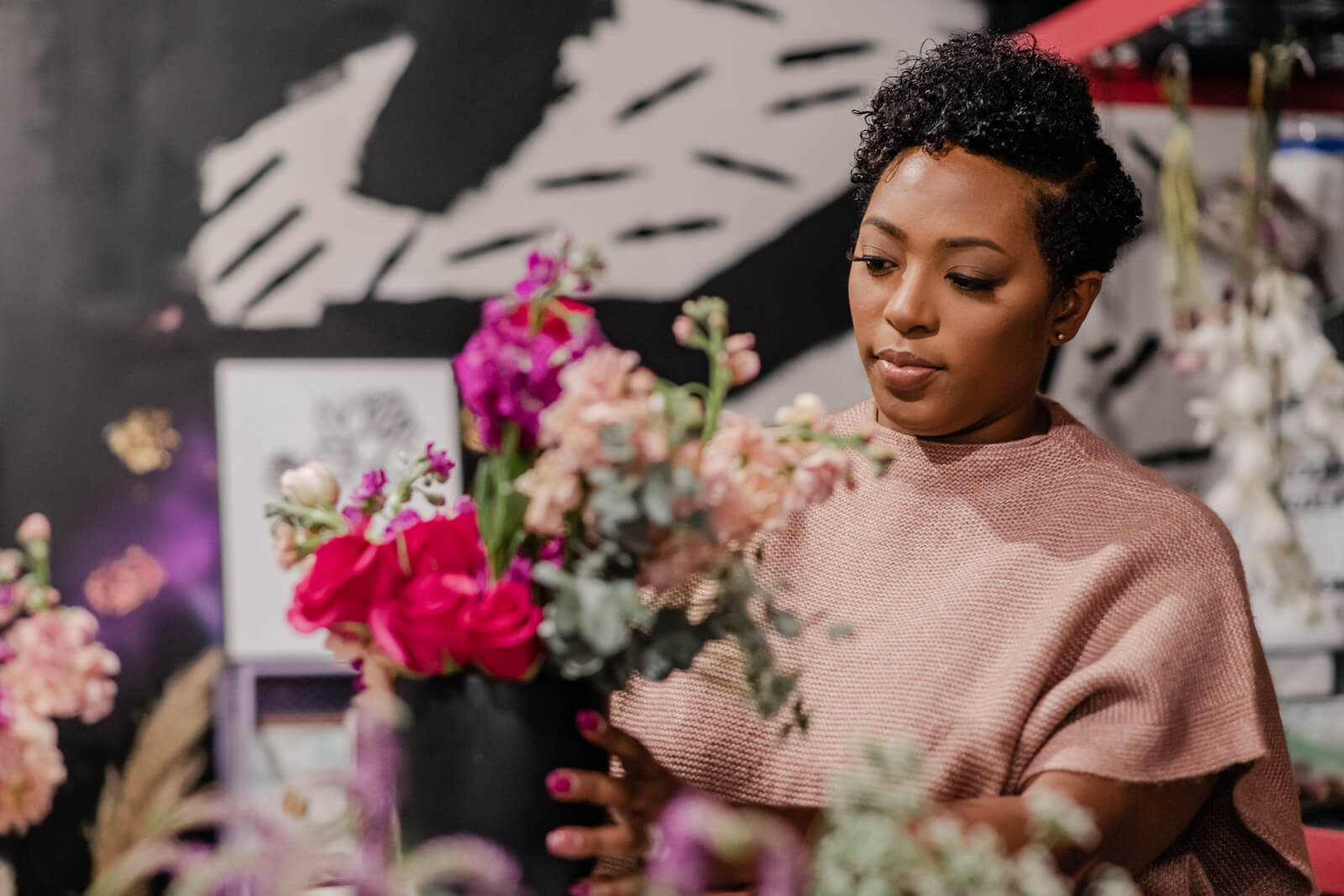 Bibbs runs Eclectic Blooms from her Annapolis home, where she has transformed her 20×20 basement into an intimate studio space. It might be small, but it's large enough to hold all the essentials for any florist: a worktable, floral cooler, vases, and tools. Her studio is a bit dark, Bibbs said, so she decided to paint one of the black walls with spray paint and other designs in an effort to brighten up the space and test out her ideas.
"I'm drawn to abstract, bright colors, patterns, and fun textures. I also have a thing for black and white. The wall just gives me a blank canvas to try out color combinations and paint things that wouldn't go over so well on the main level of the house," Bibbs said. "The gold textured foil pieces are one of my favorite elements that I spray painted purple and pink. I sometimes like to enhance the color of my dried flowers and I'll test it out on the wall."
Not surprisingly, Bibbs feels that nature is the perfect environment to get creative juices flowing. "I'll design in the driveway or in our dining room where it's a bit brighter," she says. "I can get inspiration from almost anything. And good music is key, too."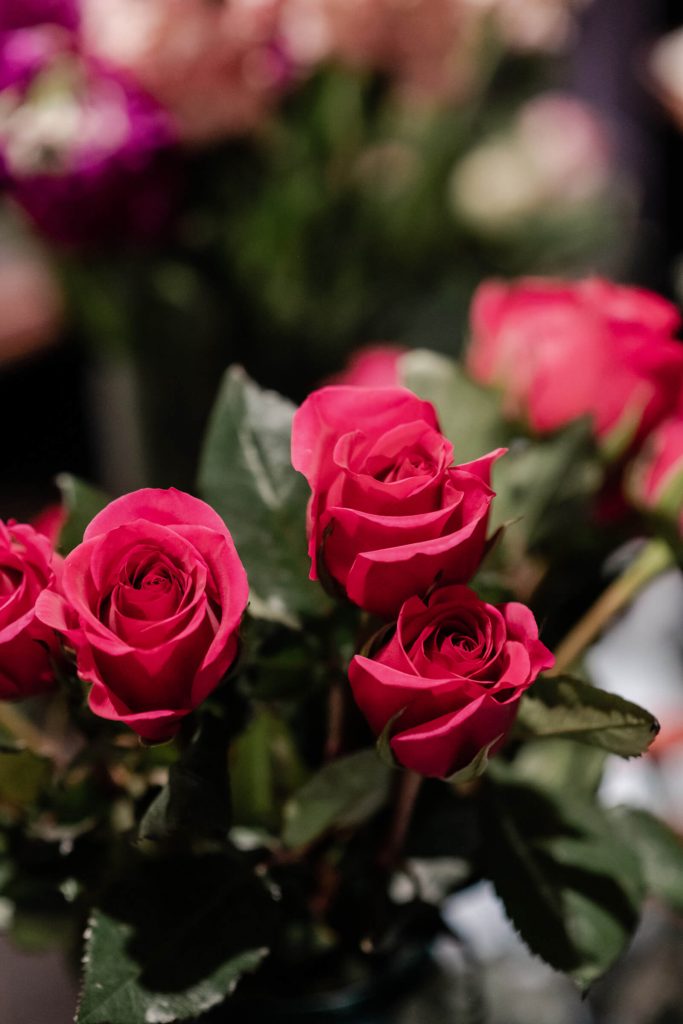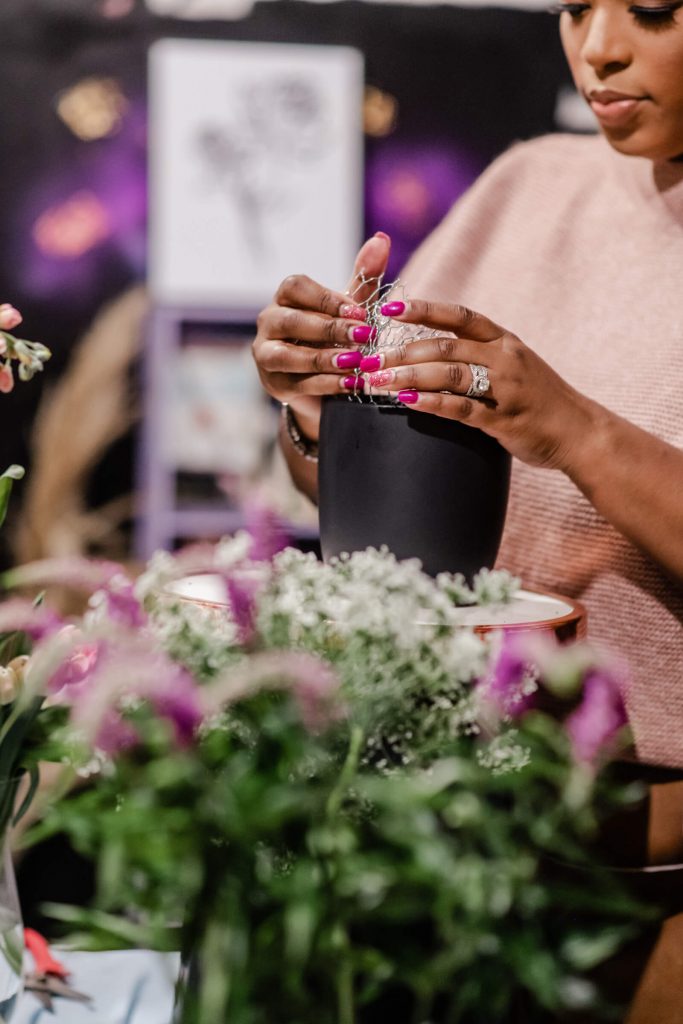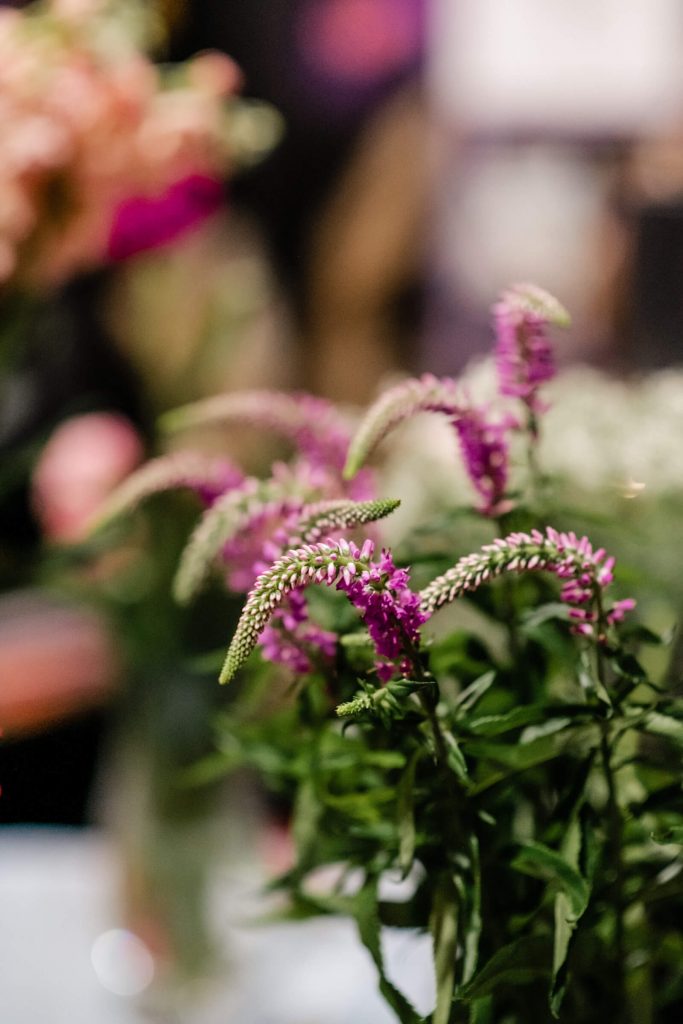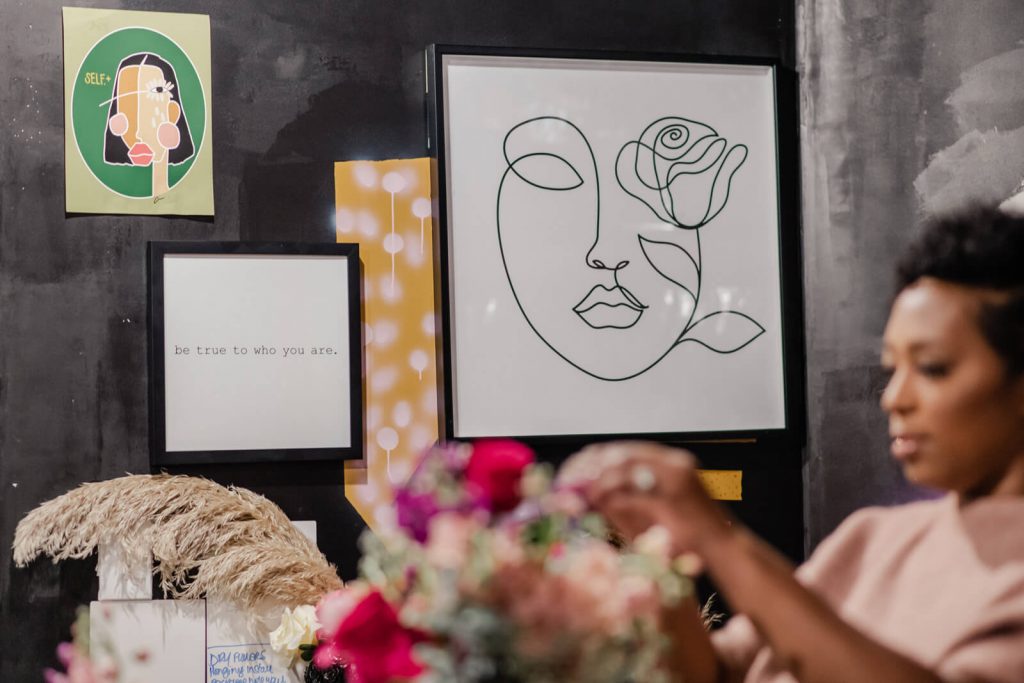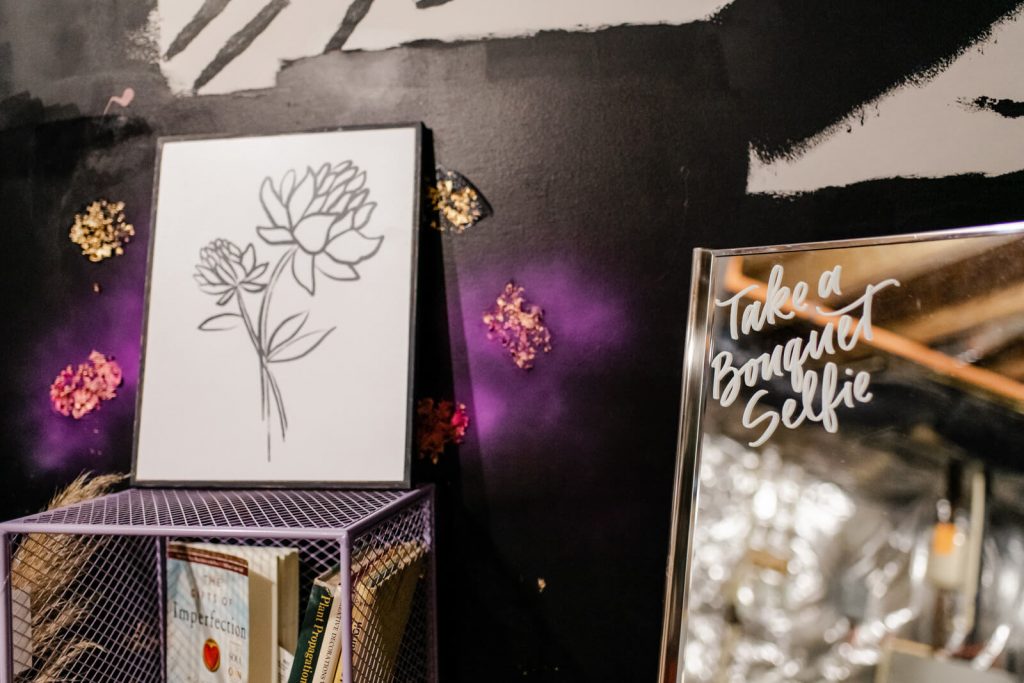 Bibbs, along with her husband Eric, who is "the muscles" of the operation, is able to work intimately with each client to ensure that she is catering to their diverse personalities and wishes. Whether it is for a wedding or a birthday party, she wants to learn more about her clients' style and "what would make your heart smile" on their special day.
"I like to tune into the vibes of the couple and get immersed in their day," Bibbs said. And it's not only bouquets she's building. "I had a super fun—actually I'll call them an eclectic couple—and the bride wanted a hair comb," says Bibbs. So she created a piece with florals including dahlias and scabiosas. "She had a super short haircut—it was almost like a mohawk—and the hair comb went in perfectly."
As Bibbs continues to grow her business, she plans to be more involved in mentorship.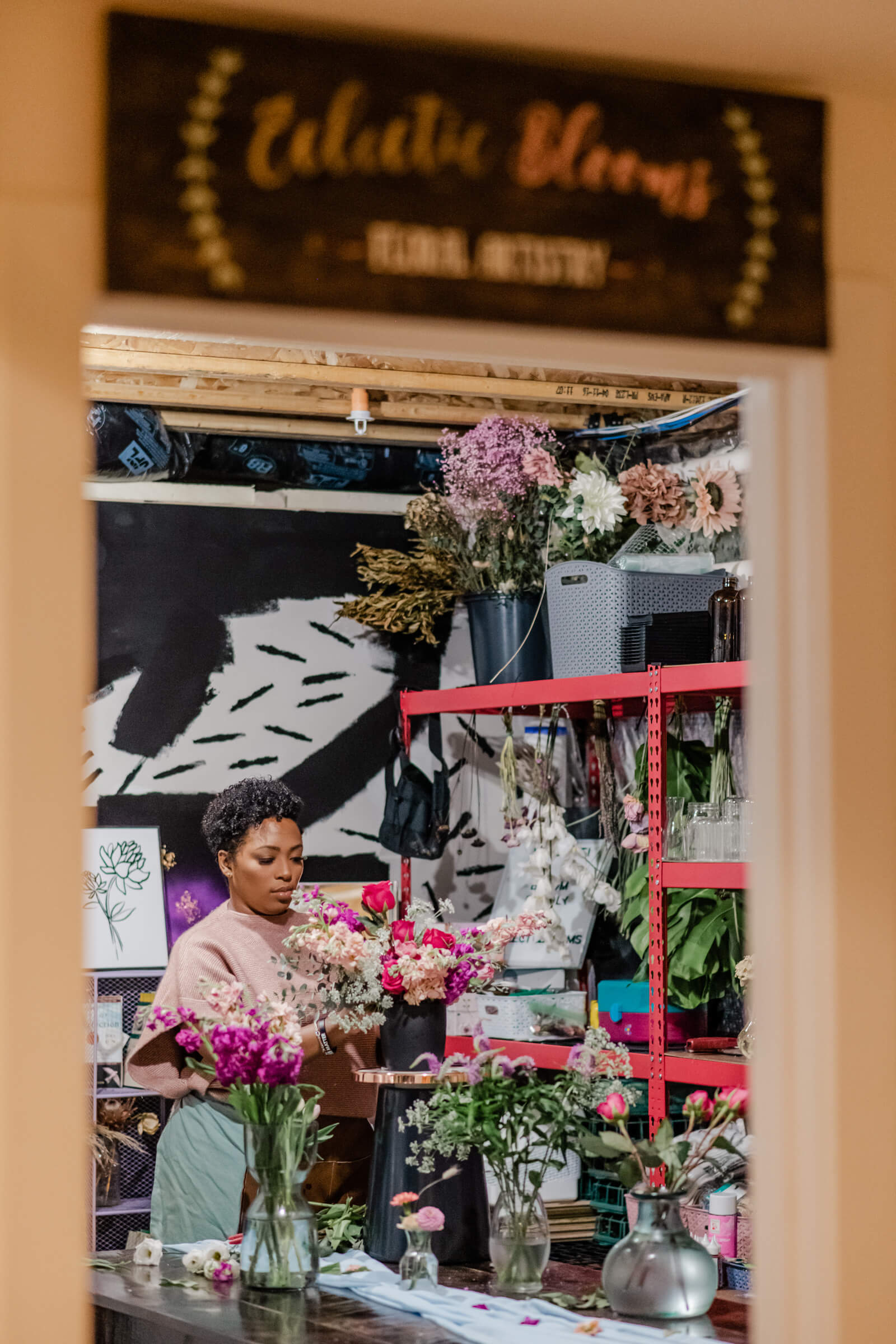 "There are not a ton of black floral design artists, and I would love to find young women in my community that are interested in learning more about floral design," Bibbs said. "Women and girl empowerment are something that is very near and dear to me, so I would love to nurture them through this floral design process."
In terms of physically expanding, Bibbs is in no rush to change how Eclectic Blooms is operating right now.
"I like my space right now. It's nice to have the flexibility to be able to work from home," Bibbs said. "Maybe one day I could see a nice little storefront, but I think I would still keep it to something kind of intimate, equipment-only, and smaller type of vibe."