What does the perfect art studio look like—a cozy corner crowded with art supplies, surrounded by plants, and a pet always nearby; or a dreamy wedding venue that is romantically decorated with florals and filled with smiling faces? For Elena Fay, it's both.
Fay, a self-taught illustrator, and Baltimore-based live wedding painter, pumps out her creativity from a snug corner of her home which she has thoughtfully filled with the things that inspire her the most. From paint swatches on the wall, to plants, Fay's workspace is a colorful nook that constantly inspires her art–and her English cream Golden Retriever, Marvel, is never too far away.
Her sunny deposition is felt even in her workspace. Fay likes to keep her area lively and packed with vibrant color. "I love color," says Fay, who believes that the rules for painting are limitless. Where other artists may go for more neutral tones or pastels, Fay opts for vibrancy.
Her humble home studio is a space she plans on keeping around for a while. "In my mind, it is very small but cozy; where you can just sit and enjoy the quietness," says Fay. As a mother of two, she gets to watch her kids grow while still being able to work. "Of course, my kids love to dig in my art supplies, but it's still my corner."
Fay's journey to becoming a live-wedding painter was born in a school supplies aisle, where she recounts buying cheap watercolors for fun and going home to play around with them. From there, she fell in love with putting a brush to canvas.
Starting with posting fashion illustrations on Instagram, Fay started to gain followers and eventually was commissioned by a bride to create art for her and her bridesmaids. Although it was a new endeavor and challenge for Fay, she was ecstatic.
"I researched, I opened my Etsy shop the same night, and she placed her order the next morning. I remember as if it was yesterday how excited I was. I was like 'I enjoy doing this!'" says Fay. From there, she immersed herself into the world of weddings. Fay started off as a live wedding artist that only did sketches of outfits and guests, but she now offers everything from sketches to scene paintings.
As a live wedding painter, Fay's workspace expands far beyond the four walls of her home studio. For every job, Fay has the exciting opportunity to work at a new venue, and with every location she's able to draw new inspiration.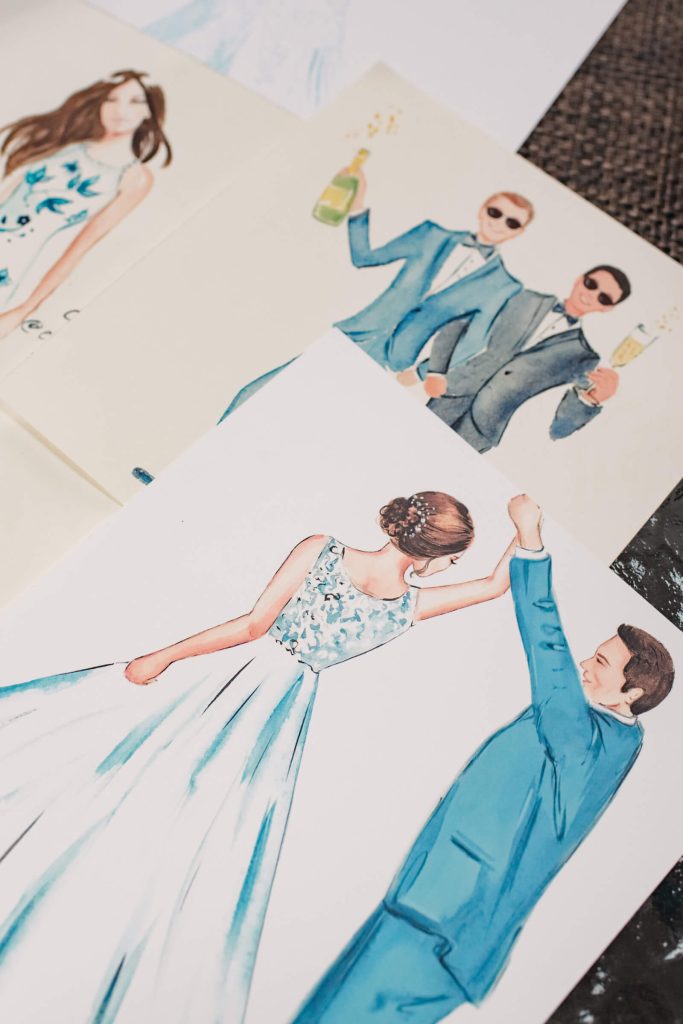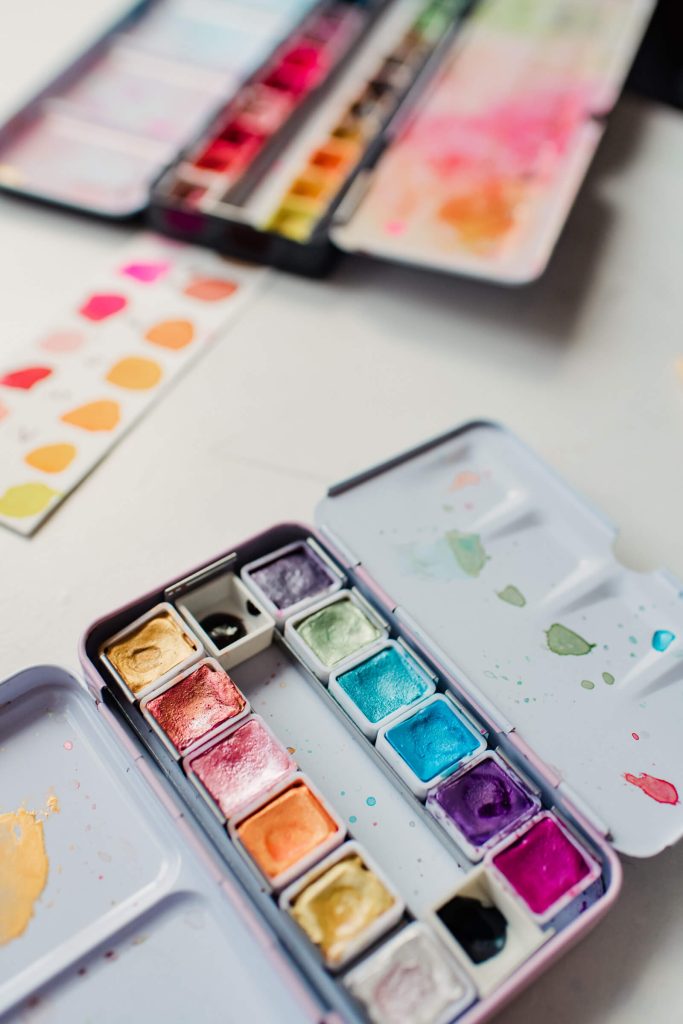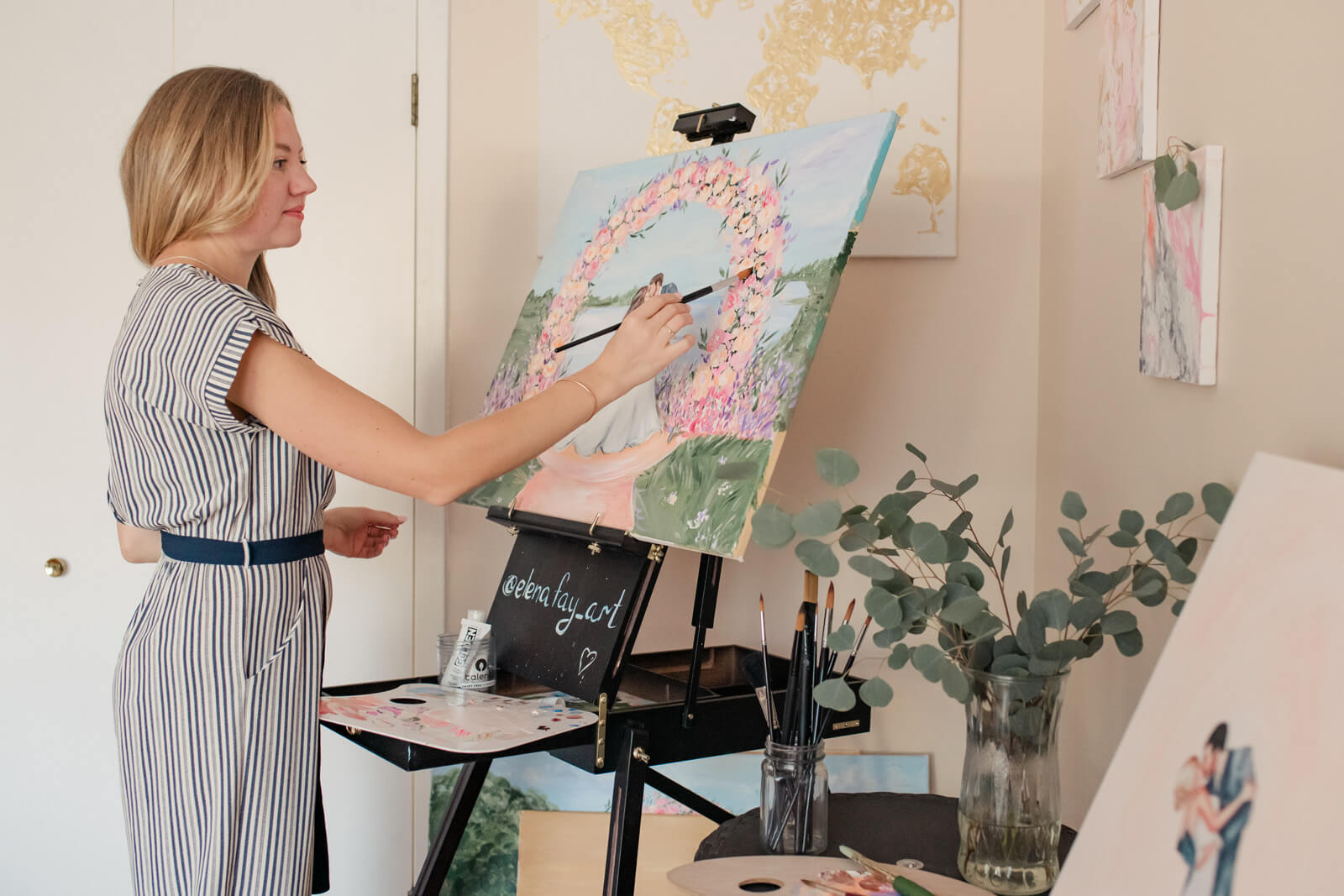 "Every time I come to the venues, I would post on Instagram, 'here's my office for today!'" laughs Fay.
Each wedding is a source of creativity. "You're surrounded by the most beautiful things like gorgeous florals and beautiful outfits, so that's always good to escape my quiet studio.," she says. "Some couples really put so much effort and thought into bringing the venue to life with their vision, like the florals, the colors, the decorations; it's always breathtaking."
The process of working somewhere new every time is a venture that Fay loves. For every wedding she arrives two to three hours early to find the perfect location and sets up her canvas. The base for the painting is crafted as Fay paints the background for the scene in preparation for the big moment.
When the time comes–whether it be the ceremony, first dance, or any other scene that the couple selects–Fay takes pictures on her phone and begins to paint the image onto the canvas, eternally capturing the memory in her art. By the end of the wedding day, the artwork is dry, and her clients are always thrilled with the sentimental work.
Not many artists have a live audience in their creative spaces so naturally, painting with a crowd around was an adjustment for Fay. At first, she was nervous but now she loves it. Chatting with guests and watching their reactions to her work has become one of her favorite parts of the job.
Fay shares that the most rewarding part of being a wedding painter is the moment the happy couple gets to see their special day in art form. For the reveal, which normally takes place during the reception, Fay likes to indulge in the happy reactions of her clients. Some couples even ask to have their pets or departed loved ones included in the painting, adding to the pricelessness of the piece.
"I think everyone wants art in their life," says Fay. She recounts a time that her service was gifted to a couple by their grandmother as a surprise when the grandmother couldn't make the wedding. They were thrilled to have Fay as a part of their big day and the love and memories she was able to put into art. Moments like this are the most fulfilling for Fay.
Fay has no intention of leaving the wedding business anytime soon but sees part of her legacy as encouraging more artists to become live event painters. "When I'm tired or when I'm too old, maybe I can teach other artists how to do it because it's pure joy. It's really the best job."