Caitlin Joffe was married on November 7, 2015 at the Baltimore Marriott Waterfront. Her traditional Jewish wedding featured clean and modern floral arrangements and a gorgeous Chuppah crammed with flowers. Even after her bridesmaids took home their J.J. Cummings Floral bouquets, the couple was left with a surplus of blooms. "We had more flowers than we knew what to do with after the wedding, and it seemed like a shame to let them go to waste," says Joffe. "After all of our guests had the opportunity to enjoy them at the wedding, sharing with those who might not receive flowers seemed like the right thing to do," she says. "Why trash something that could bring joy to others?" So, the Monday after the wedding, Joffe contacted Sinai Hospital. "We were able to drop off flowers that afternoon," she says.
On average, brides and grooms spend about 10 percent of their wedding budget on flowers. That means countless roses, peonies, ranunculus, and dahlias discarded at the end of the night. But for many couples, the only image that comes to mind when they think beyond the wedding is a preserved bouquet in a shadow box. And while there is nothing wrong with this method, there are many unique, and sometimes lesser known, alternatives to keeping wedding blooms, well, blooming.
Floral Dye
Wax & Wane Fiber is a natural dye collective that creates art with dye extracted from elements found in nature. "All plants have an end, and this gives them a new life," says Claire Fredrick, who co-founded the business alongside partner Ashton Page. The two met just after graduate school through an introduction from a mutual acquaintance at Maryland Institute College of Art (MICA), which then led to a lot of time spent experimenting and playing around with natural elements. This process caused their curiosity to soar and influenced them to start their collective about two and a half years ago. Page and Fredrick were quick to realize that flowers and leaves are finicky and there are many unexpected colors that come along with the extraction process. Of course, this is part of what makes their job so exceptional. For a bride or groom, dye extracted from their wedding flowers is the perfect way to commemorate the flowers' spirit. The extraction can be used to dye a scarf, shawl, wedding dress—the possibilities are endless. Page and Fredrick's beautiful process begins with untampered fabric (chiffon works best) soaked overnight in vinegar and water. From there, the fabric is laid out and the flowers and leaves are randomly placed on it. When working with flowers, the best results come from the freshest blooms. They suggest extraction within a week of the wedding, but also won't turn down dried flowers. After the first layer, they fold the fabric and repeat with another layer. Then, they begin to roll the fabric and flower/leaf combination. This roll is then tightly wrapped with twine to ensure that the fabric properly receives the dye from the elements. Once rolled, they place the bundle directly into a pot to be steamed for several hours, followed by a full overnight stay to just sit and soak. These carefully crafted steps have come from years of practice and hard work at their craft, and the end results make this apparent. The entire process is both beautiful and environmentally friendly, a perfect union. Watch the process here.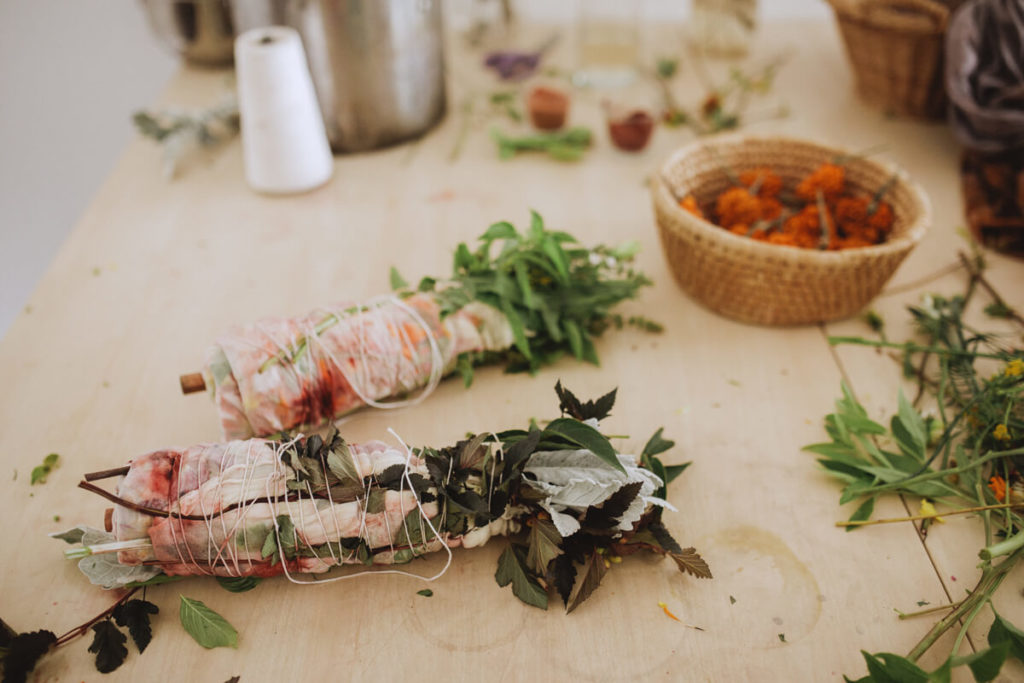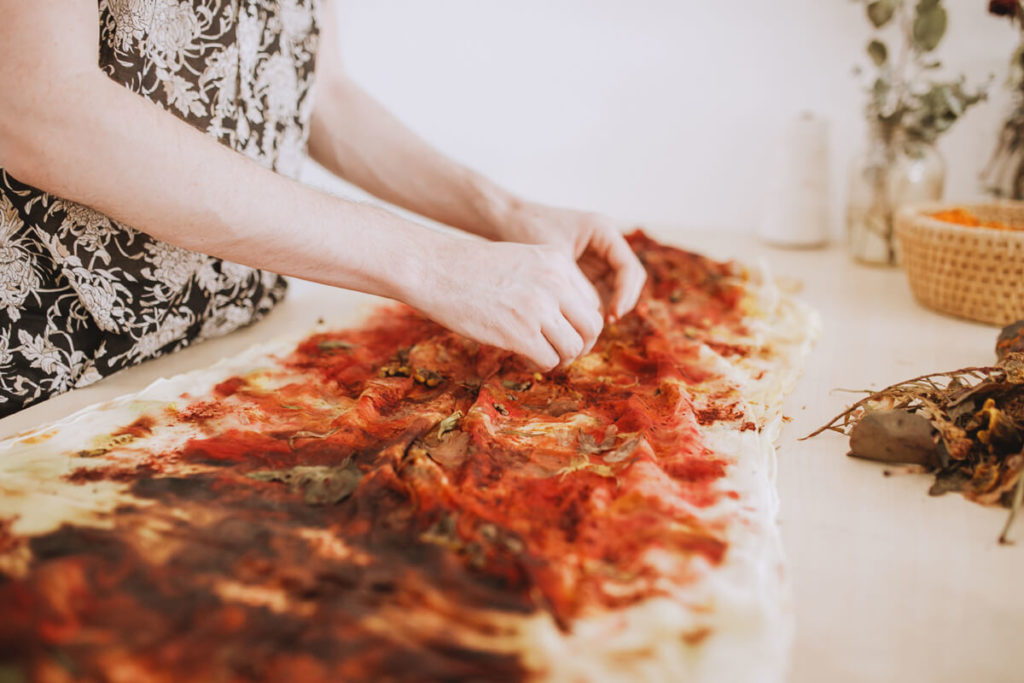 Donation
As an event planner in Baltimore, Jennifer Grove, the founder of Repeat Roses, was regularly exposed to the mass disposal of wedding flowers. Although crushing to see, it birthed an idea. Grove was inspired to start her own company that would put an end to trashing the blooms. "Flower donation brings joy no matter where we spread the love," says Grove. "It not only brightens the mood throughout the room, but also helps people forget where they are for some time." Brides everywhere are beginning to become more aware of the post-wedding waste dilemma and are deciding that they want to make a change. After the reception is over, Repeat Roses picks up the arrangements, restyles the flowers into smaller groupings, and makes sure all vases and other rental decor are properly returned. From there, the flowers are transported to various donation locations. "In Baltimore, we work regularly with The Ronald McDonald House Charities, House of Ruth, and Gilchrist Hospice," says Grove. Once the flowers have wilted, they are retrieved and moved to a compost location. After just three years of business, Repeat Roses has serviced several weddings in the Baltimore area and hopes to grow more. Services start at $1,000 and are custom tailored to the volume of floral arrangements at each event.
Artwork
While working as a florist with Crimson & Clover Floral Design in 2013, Corynne Ostermann noticed a need. "We would have so many brides who would come in and ask us to preserve their bouquets after their wedding. Crimson & Clover didn't offer that service, and I wanted to make something that could fill that gap," she says. So Ostermann, a MICA graduate, tapped into her art background and began offering two different types of floral paintings: one an oversized floral composition and the other a more traditional bouquet piece. Ostermann sees it as not only a way to preserve the memory of the day, but the perfect piece to kick off a couple's art collection. She works in conjunction with either the bride or photographer to ensure that the work she is creating is personal and a spot-on reflection of the flowers, all while using her traditional renaissance techniques. "Ultimately, I'm a romantic, and I love the idea of someone gifting or purchasing my work to keep a precious memory," says Ostermann. Her custom works are priced starting at $300.
Yuris Yoon opened up her Salt Stains Etsy shop about three years ago. "Marriage is sacred, it's precious, and it's meant to last," says Yoon. "But it's also the most difficult thing two people have to work at, and it's easy to forget the day when they made the promise to each other." Yoon sees her watercolor paintings as a gentle reminder. "I'm thankful to be a part of that remembering," says the Maryland-based artist. She turns around her paintings quickly, and each piece has a brilliance, yet softness to it. Her style is neither harsh nor flashy, which allows Yoon to create art that works in just about any space. Her custom pieces start at $100.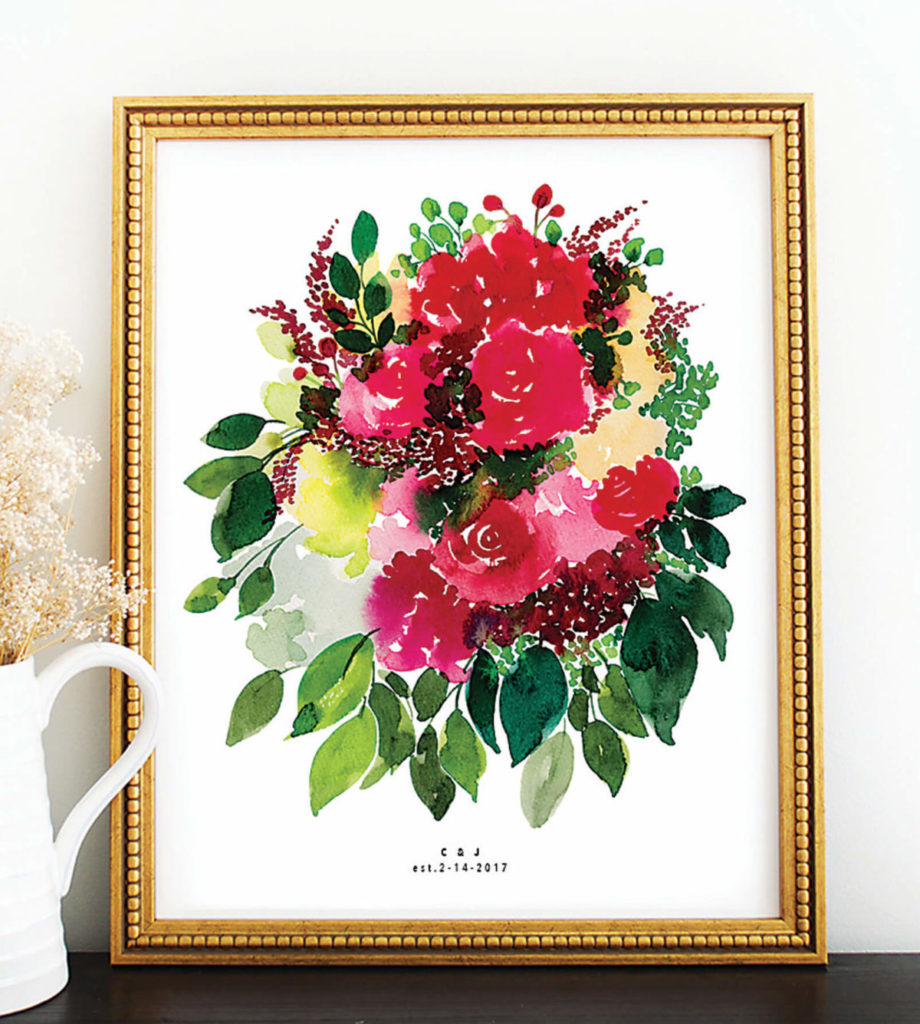 Beauty
Sometimes it's not just about how the bouquet looked, but how it smelled, too. Beauty expert Priya Narasimhan understands exactly how the aroma of a certain flower can trigger memories of that unforgettable day. So Narasimhan, founder of Priya Means Love, a local handcrafted and organic line of products for skin, body, and hair, decided to create a body oil that captures the essence of the flowers in a way that is both beautiful and unconventional. "When creating this product, I put my mind in the space of, 'What does this bouquet really smell like? What does it feel like, and how can I use these flowers and infuse them to really capture some of their scent and vibe?'" she says. With a smell of the flowers and a description from the bride, Narasimhan works with the ingredients that best match the bouquet's scent, along with some of the actual flowers and leaves. "It's about trying to paint a picture using essential oils to try and evoke that bouquet," she says. The oils include dried petals from the bouquet, which give it a beautiful color and natural appearance. Narasimhan explains, "The flowers in your wedding are some of the most meaningful flowers in your life. Your heart is so connected to every aspect of that day, and flowers and their scent are such a visceral way to connect to an experience."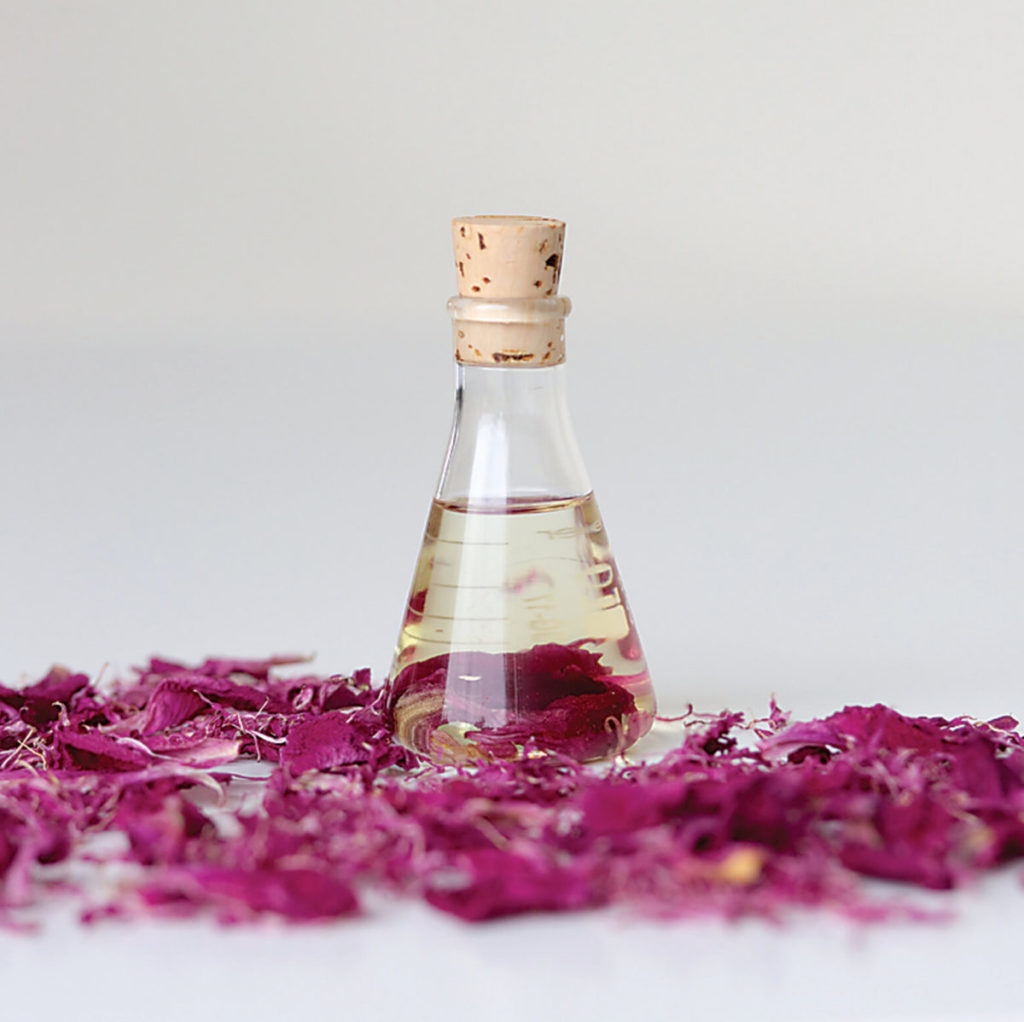 Jewelry
As a teacher, Kyla O'Neill often received flowers as gifts from her students. She loved seeing them on her desk, but what she really wanted to do was wear them. With this initial inspiration in mind, O'Neill started experimenting, and soon her business, Impressed by Nature, based in California, was born. "It all evolved organically. I didn't intend to be in this, but it's been so fun and meaningful and has taken me in so many different directions," she says. One aspect of her craft is creating jewelry from preserved wedding flowers. The process has evolved to become not only simple, but also unique and special to each couple. Before the wedding, a couple can request a kit that includes everything needed to dry out and safely package flowers and leaves, as well as access to helpful video tutorials. Once O'Neill receives the flowers, she immediately places 10 pounds of weights on the impressions, where they will stay for four weeks. The flowers and leaves are then removed and sealed in durable plastic to ensure longevity. O'Neill will then reach out to the couple to get a better understanding of what they are looking for. She gives suggestions, but also enjoys hearing different visions and working through the process. Once she has her game plan, she creates the pieces—necklaces, earrings, cufflinks, you name it. "Flowers are such a thing of joy. They are used in ceremonies all over the world," says O'Neill. "The choices each couple make are meaningful and the jewelry is wearable. It won't just sit around and gather dust," she says. Preservation kits are $95 and jewelry pieces are priced on a separate basis and range in price, but all fall under $100.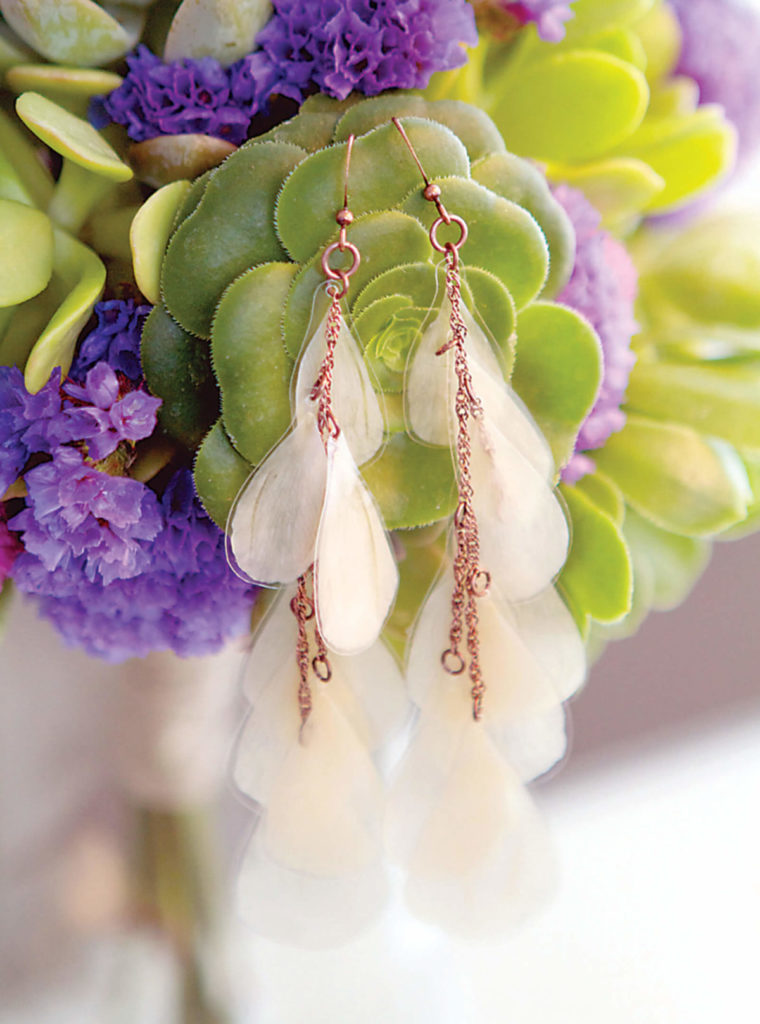 Tattoos
After her beautiful January 2017 wedding at the 2640 Space, with its woodsy, wildflower vibe, bride Hannah Walker was searching for ways to preserve her bouquet when she came across a stunning floral tattoo and was instantly hooked. "When I began considering the tattoo, I loved the idea that I would be carrying my bouquet with me forever," says Walker. "It gave me an excuse to talk about my wedding all day, and let's face it, who doesn't want to talk about their wedding all the time?" It was something she hadn't seen any other bride do before. As with many of her other tattoos, she said her decision was quick and easy, and she headed to Eric Willis of Drilled By Willis tattoo shop to turn her idea into a reality. Says Walker, "If it's special to you, that's all that really matters."
Becky Buesgens took a botany class during her time at Towson University that kickstarted her love affair with flowers. She met her husband, Ronald Poole, at Towson as well, where both were members of the marching band. They married in the summer of 2016 and, not long after, Buesgens went to Erik Keifer at Have Fun Be Lucky Tattoo and told him she wanted a tattoo celebrating her wedding flowers, including sunflowers, black-eyed Susans, and other wildflowers, with the words "To Infinity And Beyond" written below. These special words were a reminder to the couple of the promises they made to each other. "Flowers, dresses, memories, and weddings won't last forever. So, for me, my tattoo is a constant reminder of what has, so far, been the best day and biggest commitment of my life," says Buesgens. "Weddings go by so fast, and I wanted a reminder of that beautiful day."