She shared her cookies with you in elementary school. She helped you shop for your prom dress. Maybe she's the reason you passed organic chemistry in college or she's your go-to girl when you need to vent about tomorrow's budget proposal. In short, she means a lot to you, and now she's getting married.
As her maid of honor, bridesmaid, or cherished friend, it's up to you to celebrate the culmination of her single years with one fantastic party. Thankfully, bachelorette festivities are much more than pink sashes and—ahem—anatomically shaped straws. You don't need cliché party games or an overabundance of tequila shots to throw a successful bachelorette bash. Instead, show the bride-to-be that you care by organizing an outing tailored to her personality and interests—it will mean much more to her, and will yield photos that are actually appropriate to share.
With that in mind, we present seven festive bachelorette party ideas for the Baltimore bride-to-be—scantily clad men not included.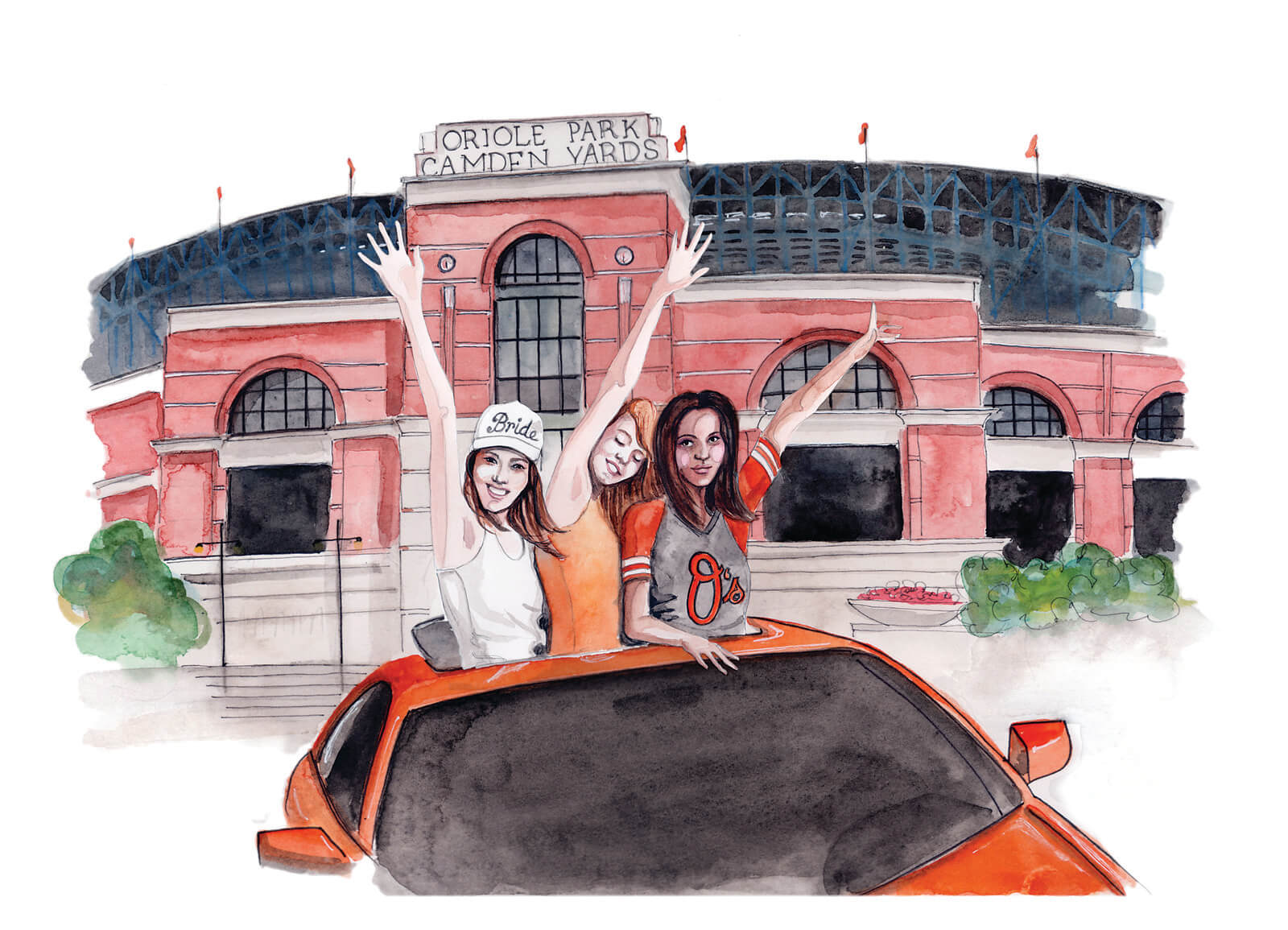 The Birdland Fan
If the bride-to-be grew up in Charm City, chances are that some of her first male idols were Baltimore Orioles. Celebrate her upcoming nuptials like Monique Kohler did, with a day at Camden Yards watching the O's defeat a rival. "The first major-league baseball game I ever attended was at Camden Yards, and I've been a fan ever since," says Kohler.
"Before Uber had all its current options, my party ordered a car service to take our group to the game—and an Escalade came to get us," laughs Kohler. "We rolled up to Sliders in true style." Since no Orioles game is complete without some pre-game libations, Kohler's friends spread the word around the bar about her bachelorette party. "Soon, everyone wanted to buy me drinks," she says. "It's inevitable that you end up making a bunch of new friends."
Inside the stadium, the right-field deck located on the Club Level has drink rails and high-top tables, perfect for mingling and taking photos. "We had a truly beautiful night with fantastic seats," recalls Kohler. "I have a pretty good record for O's games, so, of course, they won that night." For larger groups, the Miller Lite Flite Deck is the ideal setting for a bachelorette party, allowing direct access to the bar and a sweeping view of the stadium.
No day at the ballpark is complete without the essentials, so present the bride-to-be and her partygoers with special favors including peanuts, popcorn, and koozies for the obligatory Natty Bohs. "My friend had a baseball hat made for me," says Kohler. "It was white and had 'BRIDE' embroidered on it—in orange lettering, of course."
It's also worth mentioning that, as far as bachelorette festivities go, an Orioles game provides some of the best eye candy in Baltimore. Personally, we'd prefer Chris Davis and Adam Jones to Chippendales any day.
The Dancing Queen
Pole dancing may be more commonly associated with bachelor parties, but why should men have all the fun? Let the bride-to-be channel her inner diva with a pole-and-chair-dancing class at Xpose Fitness.
"It's a very laid-back environment," says Amy Lindsey, who kicked off her bachelorette festivities at the dance studio with her guests. Each class begins with time to socialize and sip cocktails—which may be necessary to lower those inhibitions—before an hour-long class which includes both chair and pole routines. "Our instructor was very aware of our varying levels of fitness and ability," says Lindsey. "She taught us a lot of moves, but we never felt uncomfortable if we didn't get them all right. It helps you be proud of your sexuality."
Chances are, no one will look as sexy as they think they do, but half the fun will be laughing with each other as you attempt to seductively slide down a pole. "I was awful at it," laughs Lindsey, "but it was definitely a lot of fun. One of my friends actually takes pole-dancing classes for fun, so she got to test out her skills. Needless to say, she put the rest of us to shame." A class at Xpose Fitness will undoubtedly yield some priceless memories, but there are other benefits, too. "It's all about the hips," says Lindsey. "It's actually quite a workout!"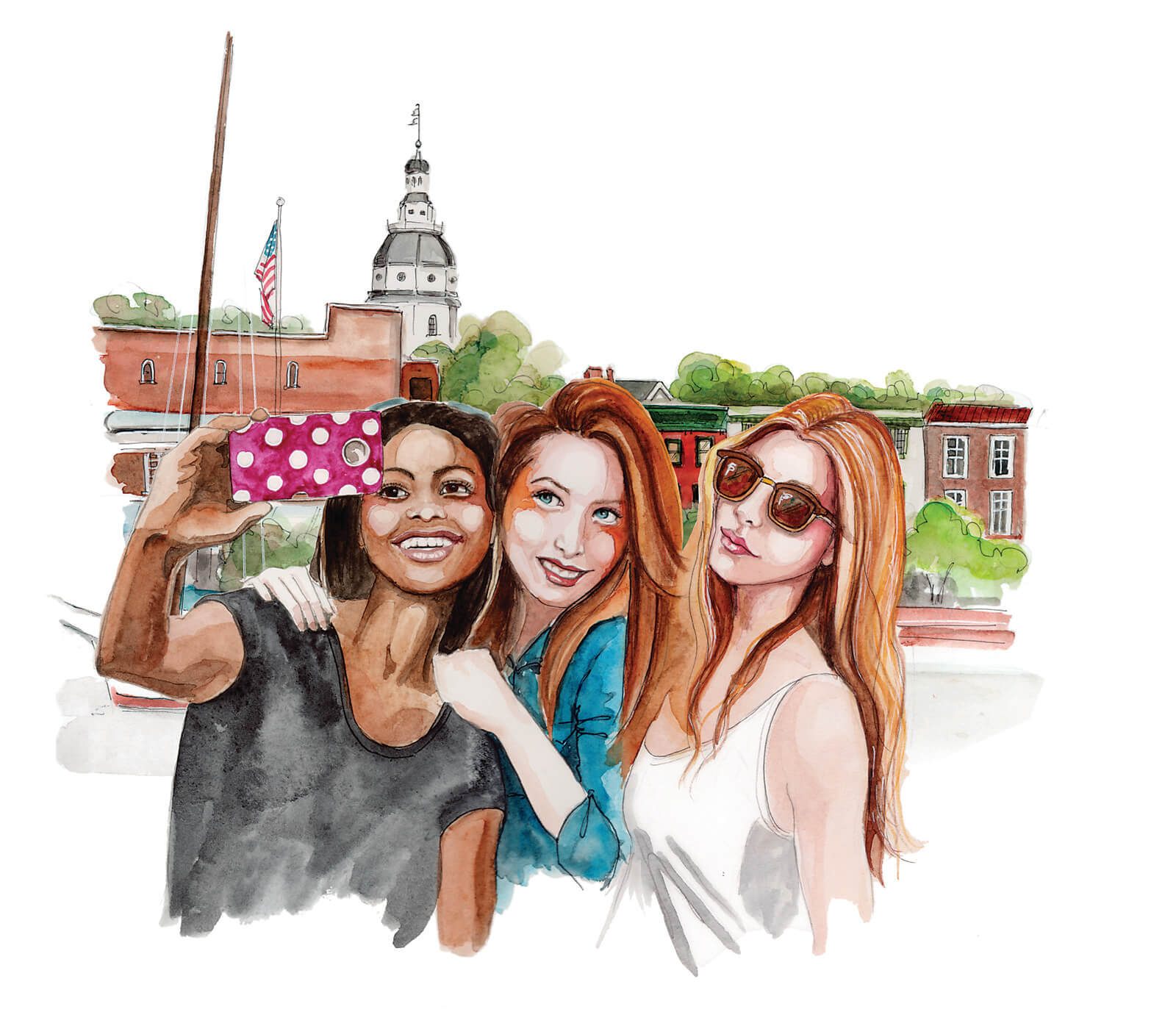 The Maritime Miss
Baltimore may be Charm City, but Annapolis, with its quaint marinas, cobblestone streets, and unique restaurants provides plenty of historic charm in its own right. Just a short drive from downtown Baltimore, Annapolis is far enough for an overnight getaway without the extra cost of travel expenses.
Liz Borcik celebrated her friend's bachelorette party with a relaxed, breezy day on the Chesapeake Bay. "Annapolis is the ideal place for a smaller, more intimate party," she says. "Lunch at Pusser's is a must." The waterfront restaurant provides the perfect perch to watch sailboats while you dine on the signature Caribbean fare. You can even end the meal by boarding a boat of your own.
Felix Charter, a private 45-foot catamaran, typically departs from the Bay Bridge Marina Yacht Club, but can also accommodate alternate pickup locations, including the bayside restaurant. "We spent the day on the boat, relaxing, drinking, and hopping around the bay," says Borcik. Whether you rent for a couple hours or the full day, the charter is a low-maintenance option that makes the planning process simple. Snacks and non-alcoholic beverages are provided, and all that's needed is a bikini, sunscreen, and the bride's drink of choice. The owners even take photographs throughout the voyage and download them to a photo-sharing site.
In line with the rest and relaxation of the sailing voyage, Borcik and the other bridesmaids all chipped in for the perfect honeymoon gift. "We ordered 'His' and 'Hers' suitcases off of the couple's registry and got personalized luggage tags made for them," she shares. "Then, we filled the suitcases with everything—seriously, everything—they'd ever need on their honeymoon. Sunscreen, sunglasses, swimsuits, flip-flops, and more. We even bought her a really nice camera to document the trip. It was really, really awesome."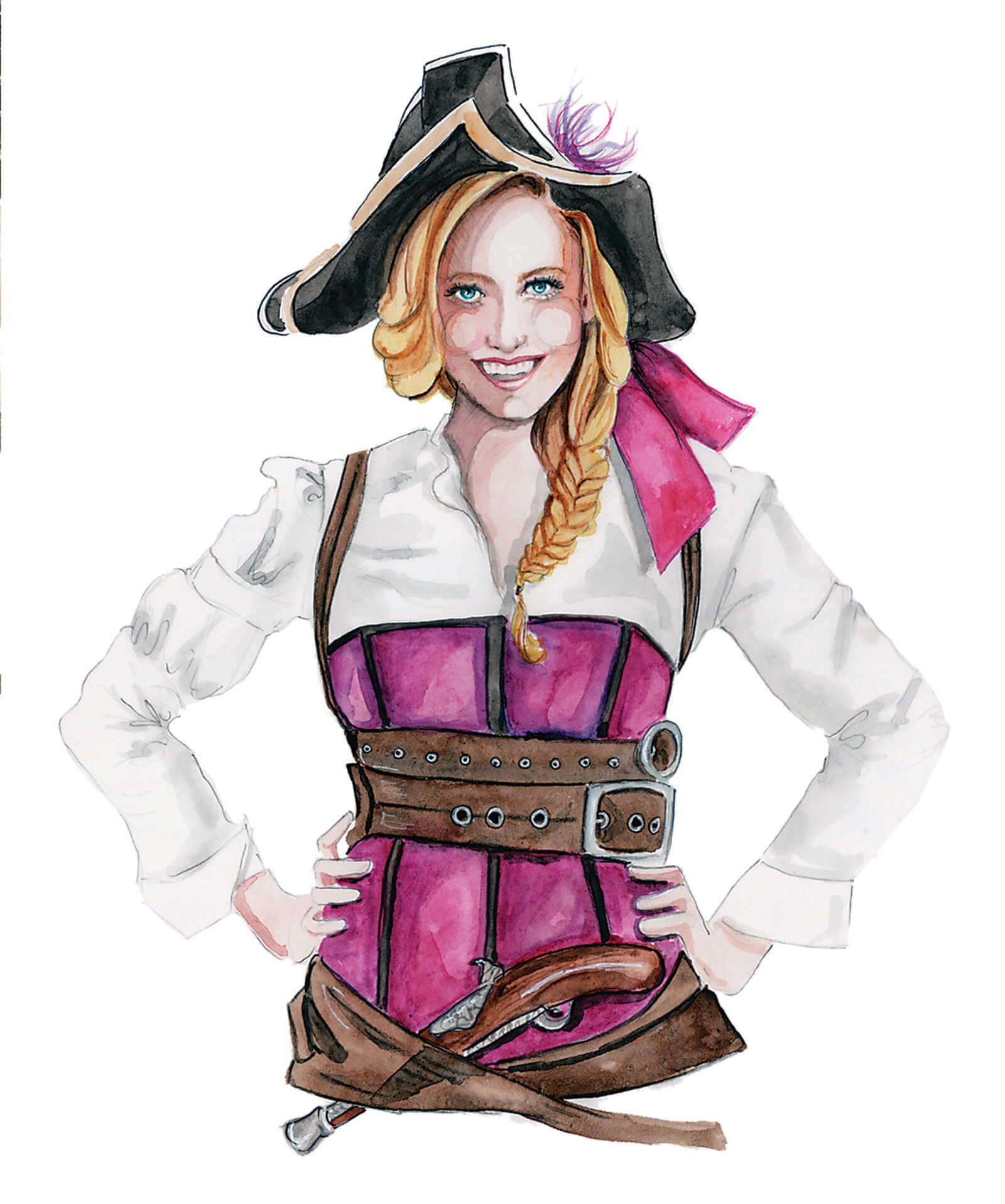 The Kid at Heart
She may be tying the knot, but that doesn't mean she always wants to act like an adult. Treat the bride-to-be to some ridiculous fun aboard an Urban Pirates cruise. Sure, you could tour the Inner Harbor on a variety of vessels, but why take a normal sunset sail when you could be firing water cannons from the faux pirate ship Fearless?
Amy Lindsey concluded a day of bachelorette party activities, including the aforementioned Xpose Fitness class, with the popular BYOG cruise. (That's "Bring Your Own Grog," for those unfamiliar with pirate jargon.)
While guests imbibe, the captain (who is, unfortunately, not Jack Sparrow) and crew lead the themed party with a variety of songs and games, made all the better by the pirate accoutrements provided. "We were decked out with eye patches, scarves, swords—you name it," laughs Lindsey. "The costumes were a fun touch. And I was rocking my bachelorette sash, so everyone knew there was a bride on board."
"We had a wonderful time, and I may have sung every word to The Lonely Island's 'I'm On A Boat,'" says Lindsey. "Everyone was really interactive and just enjoying the atmosphere. It was the perfect way to celebrate!"
The Wine Lover
There's no need for a trip to Napa to indulge in a scenic day of wine tasting. Instead, save the air miles and hire a party bus, as Bethy Hagan did for her sister's celebration, to chauffer the bride-to-be and her guests to Boordy Vineyards in the scenic Baltimore County countryside. "We left from Fells Point at 11 a.m. for a relaxing day at the winery," says Hagan. "My sister didn't want anything too glitzy, but rather something that she would do with her regular group of friends. You have to keep the bride in mind and know what she is willing to do."
A private tour will guide the party through the vineyard, the state-of-the-art winery, and the barrel room, teaching the group about the history of Boordy and the winemaking process. The group can enjoy a private tasting of several wines with a cheese platter for pairing. "The winery informed us of all of our options to help us choose the most cost-effective option for our group," says Hagan. "The biggest plus of a Baltimore bachelorette party is the budget. I have spent nearly a thousand dollars on parties out of town, but my sister's guests paid less than a fifth of that."
If the weather is pleasant, buy a few bottles of the bride-to-be's favorite wine and find a spot outside to enjoy the afternoon. In colder months, the private St. Vincent Room provides a quaint, cozy space in the winery to enjoy a glass (or several) by the fireplace. "It's important to remember the guests as much as the bride," says Hagan. "We had a few pregnant friends in attendance that wouldn't be drinking, so we brought a sandwich platter from The Wine Merchant, bocce ball, and some other lawn games to entertain us throughout the afternoon." Cheers!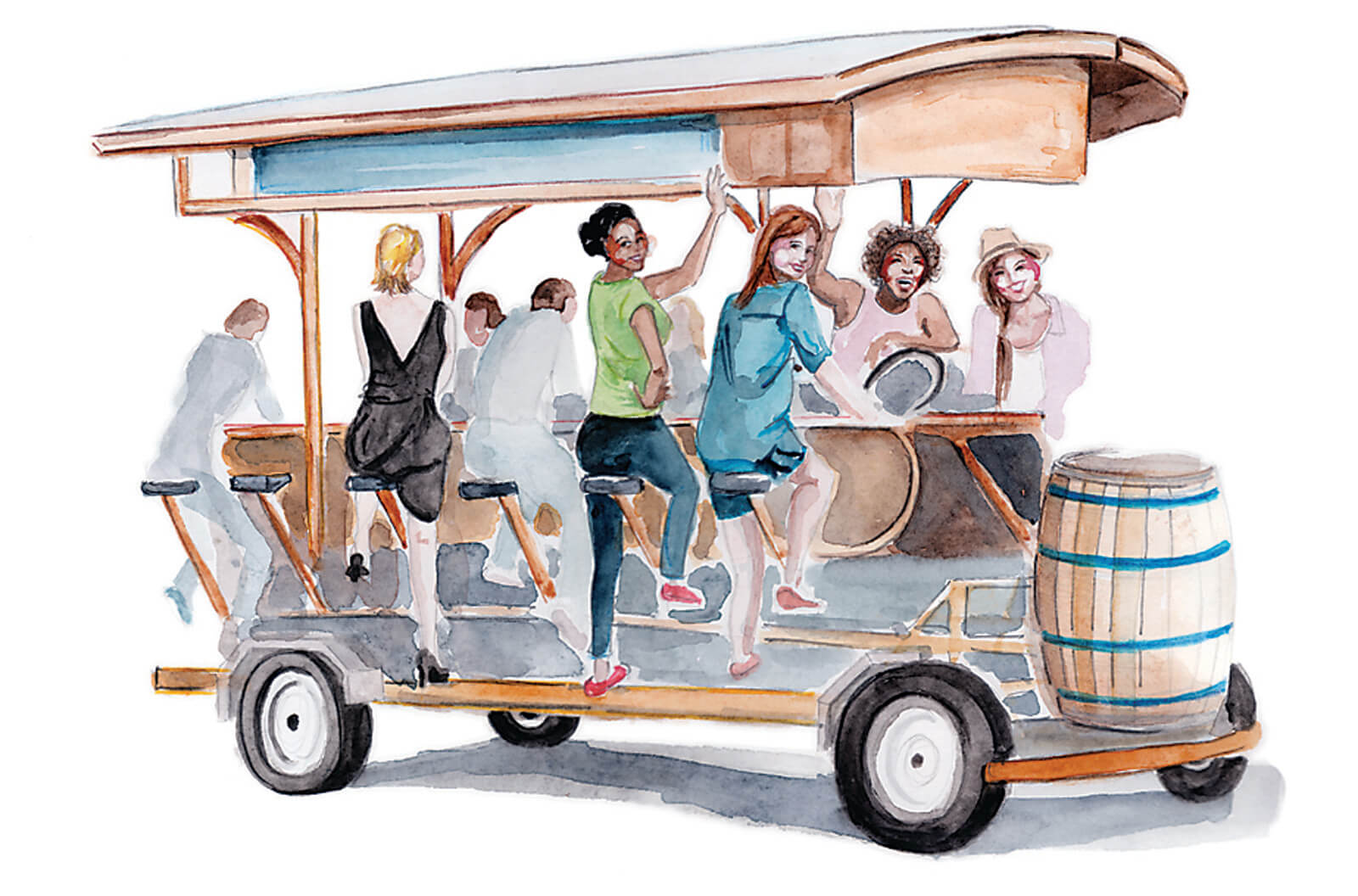 The Multitasker
If two heads are better than one, then 16 heads equal the recipe for perfection. Charm City Pedal Mill promises a bachelorette party that has it all: food, drinks, sightseeing, and exercise. "Exercising while drinking, it's the best of both worlds!" says Lisa Armenti, who celebrated her bachelorette party aboard the Pedal Mill. "We had no idea what to expect, but the driver was incredibly friendly and explained everything to us."
Before climbing aboard the 16-person bike, the party is encouraged to decorate the contraption with everything from streamers and balloons to signs and, occasionally, blow-up dolls. "I had several groups of friends who didn't know one another, and it's the best ice-breaker and made conversation so easy," says Armenti. "It's a change from the traditional party, all my guests could dress low-key in sandals and flats."
During a two-hour excursion throughout Fells Point, share cupcakes or chocolate-covered strawberries or whatever else you want to bring along, while blasting the perfect party playlist to keep your legs pumping. "Since I was the bachelorette, I got to stand on the platform in the middle and dance as we pedaled along," recalls Armenti. "People were waving and yelling to us all day, almost like a parade."
The tour stops at three popular Fells Point watering holes, each serving up happy-hour specials for the Pedal Mill party. "We had never been to any of the bars that they took us to, such as One-Eyed Mike's and The Wharf Rat, so it was nice to experience some new spots," says Armenti. "The drink discounts with our wristband were a nice perk, too." If the bride-to-be has a favorite hotspot, be sure to inform the driver, who can customize a route especially for the party.
The Traditionalist
There's a reason that a "Girls' Night Out" is the standard in bachelorette festivities—sometimes there's just nothing better than slipping on a party dress and going out on the town. Newlywed Erin Singh, who has been both the party planner for and guest of honor at local bachelorette parties, knows the secret to planning a successful night out in Baltimore. "You have to think outside the box," she says. "It's not your typical weekend away, but Baltimore has become such a cool, vibrant city that there's no need to inconvenience people or go out of town."
Start the evening at Haute Blow Dry Bar in Towson or Harbor East, where expert stylists will treat the party to flawless blowouts and professional makeup application. While you're getting glam, test the bride-to-be's knowledge of her significant other. Bethy Hagan crafted a "He Said, She Said" game for her sister's party. "We had the groom answer questions in advance about himself and their relationship, and we had fun quizzing her on the answers," she says. For the finishing touch, enjoy an expertly curated party playlist to get the group in the dancing mood. ("Single Ladies," anyone?) The salon has even allowed a belly dancer to come and teach a bachelorette party some moves.
Before hitting the dance floor, sip margaritas and enjoy the upscale Mexican cuisine at Barcocina, where Singh hosted her friend's festivities. "To play off of the Mexican theme of the restaurant, we gave her a sombrero that said 'Nacho Average Bride,'" says Singh. "Our 20-person table stretched both inside and outside, giving us a perfect view of the water—ideal for pictures."
When it comes to dancing, Baltimore offers a plethora of options. Live music at The Waterfront Hotel topped off her friend's bachelorette party, and Singh celebrated her own party at The Get Down, a Fells Point nightclub that certainly earns its name. "Breakdancers always entertain on weekend nights," says Singh, "and you can reserve a table with bottle service that's right on the dance floor, or choose one of the secluded tables to spend time talking with your friends. We danced the night away."