The day of her wedding, the bride-to-be, nervous but full of excitement, lowers herself into a chair in a well-lit room and lets her beauty team work their magic. When it's all over, she'll feel like the best version of herself on a day when she can't stop smiling.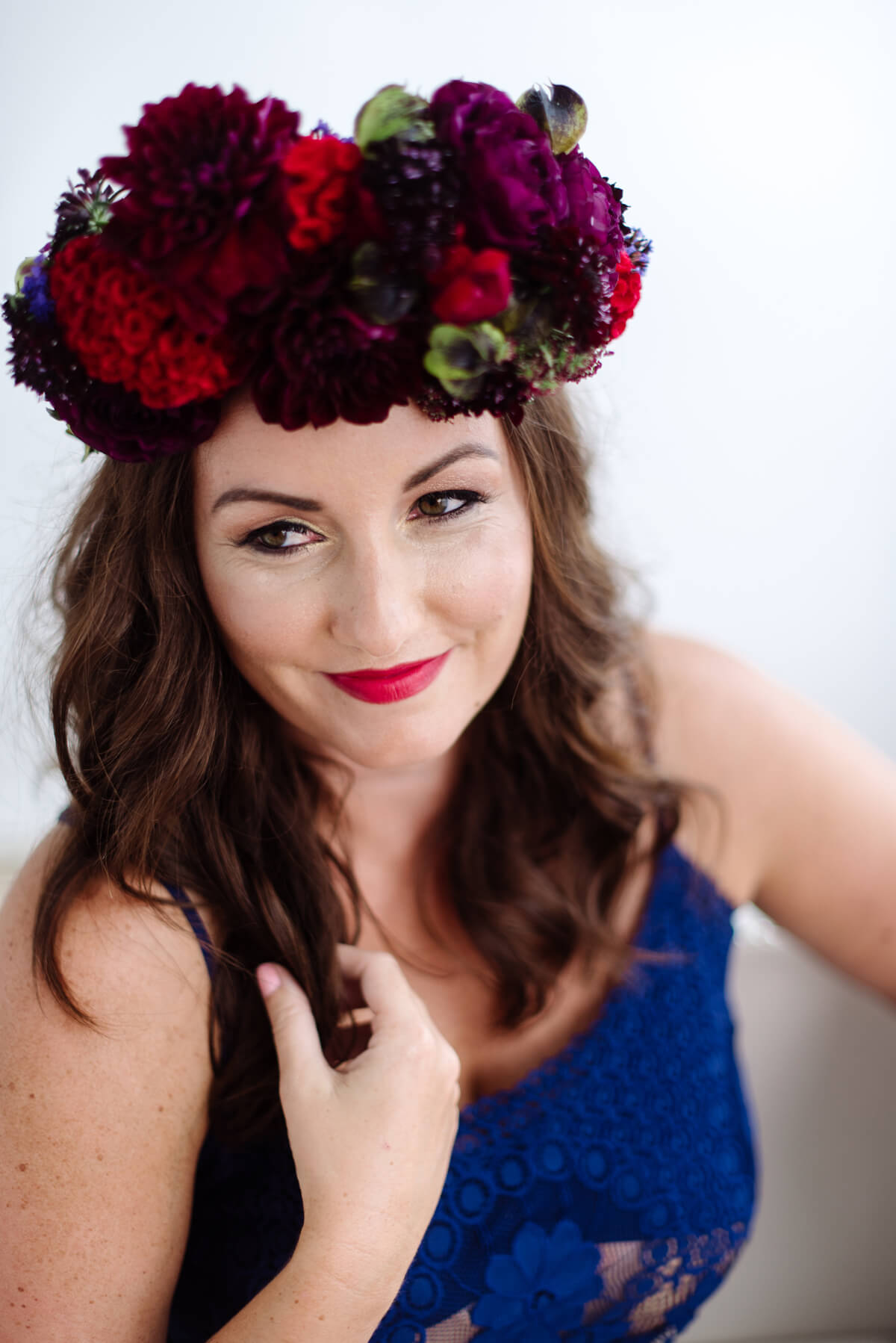 Beauty Behind the Veil | Kelsey Candy (makeup) & Heather Fowler (hair) Model Katie Kinslow wearing In Bloom by Jonquil navy blue chemise from Lingerie Lingerie. Floral Headpiece Mobtown Florals
Work together with your hair and makeup artists on a wedding-day beauty schedule. You want to make sure you have plenty of time to get pampered and also for brunch, relaxing, and being with your friends and family. This is how you'll start your big day and it should be fun, relaxing, and stress-free. – Behind the Veil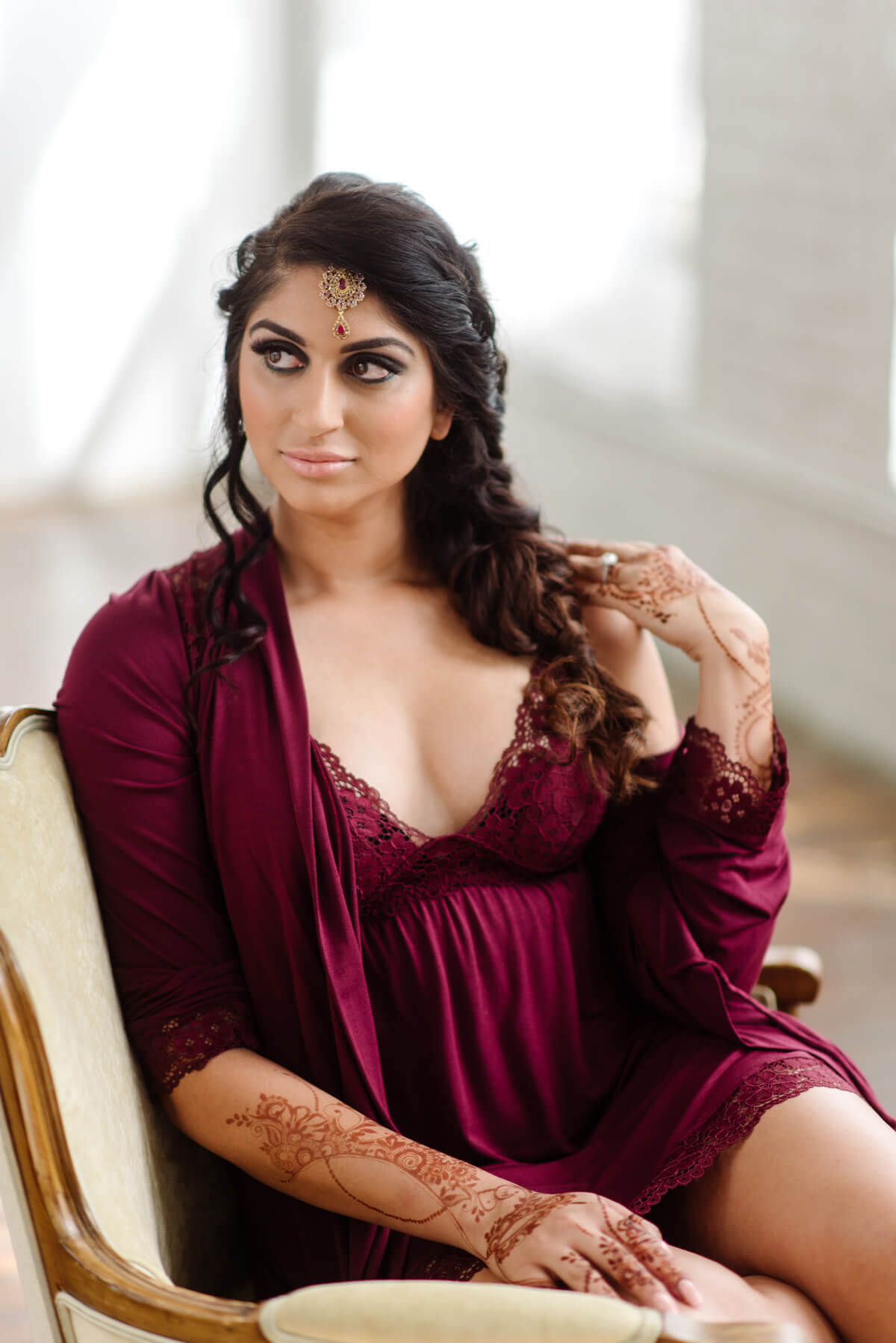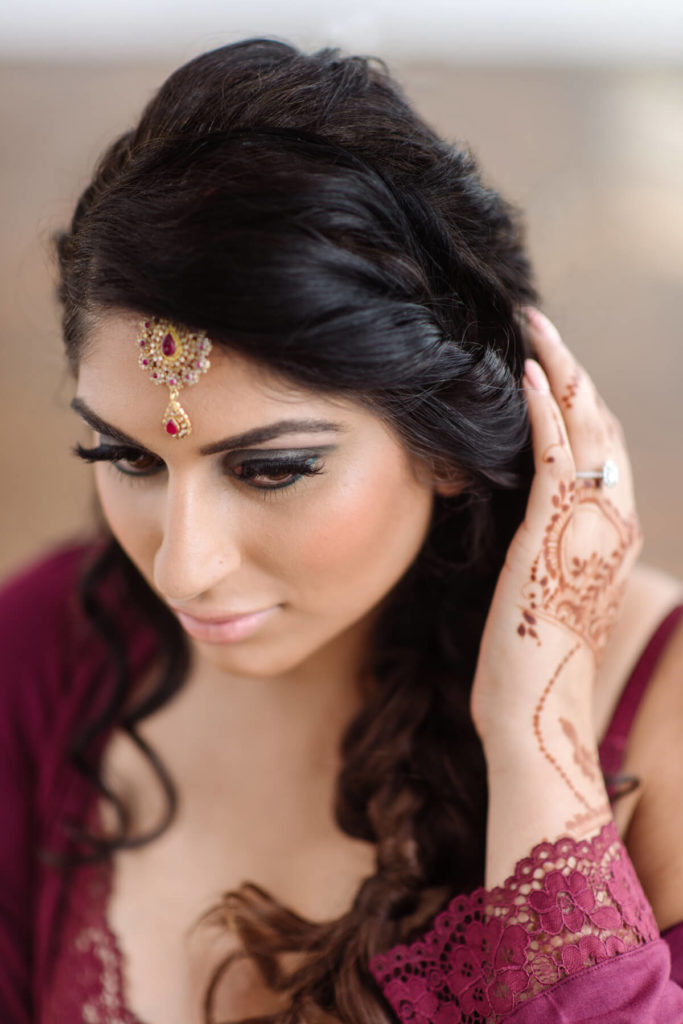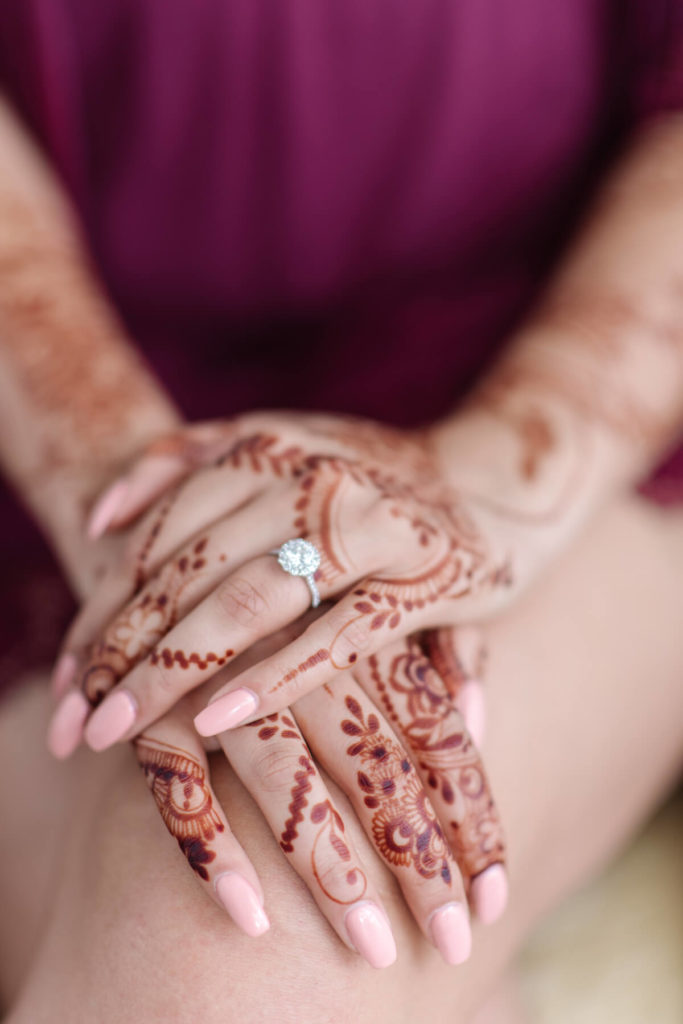 Beauty Up Do's For I Do's | Jessica Summers (makeup) & Jennifer Evans (hair) Model Zayrish Hussain wearing Eberjey Lila chemise and robe in vineyard wine from Lingerie Lingerie Henna Cardamom & Clove Henna
Bring only one friend with you when you are having your trial. Too many opinions can leave any bride feeling overwhelmed. Plan to spend one-on-one time with your hairstylist and makeup artist. It's extremely important for you and the artist(s) to get to know each other in order to help the creative process.
Do research ahead of time. Using platforms like Instagram and Pinterest can be very helpful, but can also leave you with unrealistic expectations. Search for images of people with similar hair, skin, and eye coloring. Please keep in mind that many models in photos may have eyelash extensions, hair extensions, or may be digitally altered or photo-shopped.
During your trial, feel free to share photos of styles that you like or don't like. Bring in photos of hairstyles and makeup applications that you have loved in the past and styles that you weren't so fond of. Sometimes knowing what you don't like helps your artist create something you will adore. – Up Do's For I Do's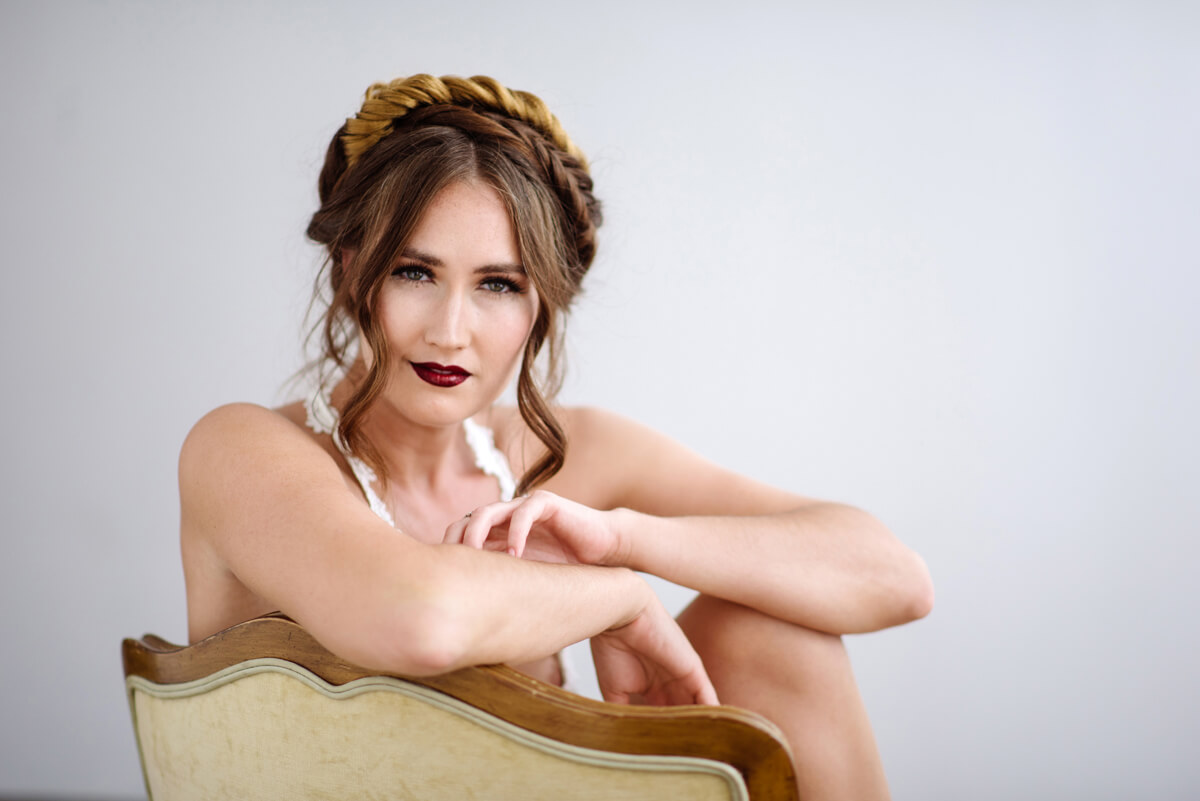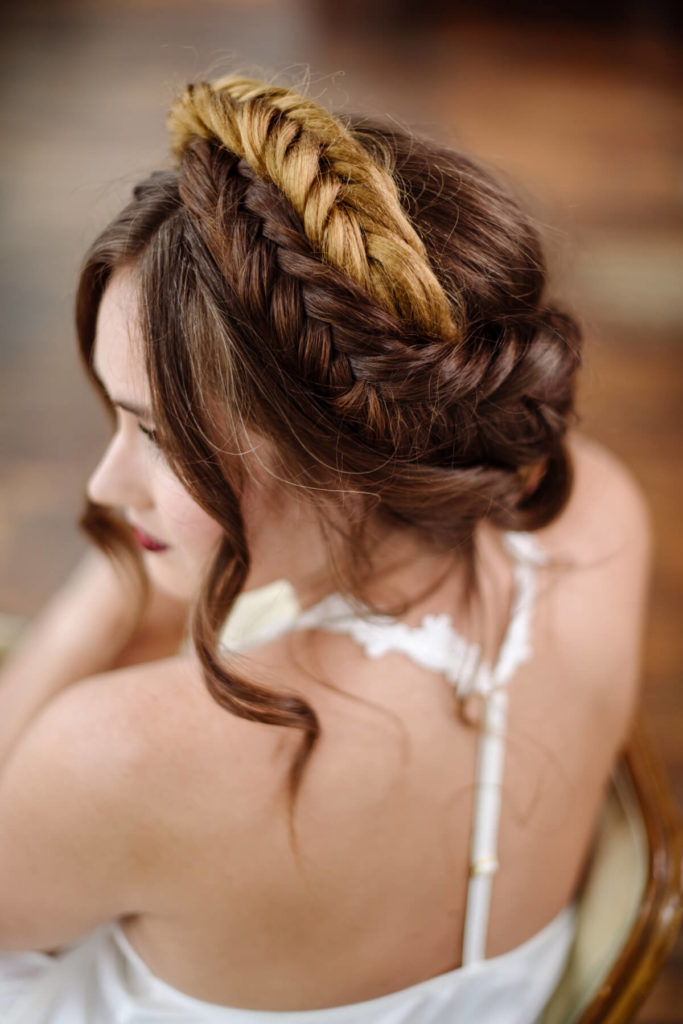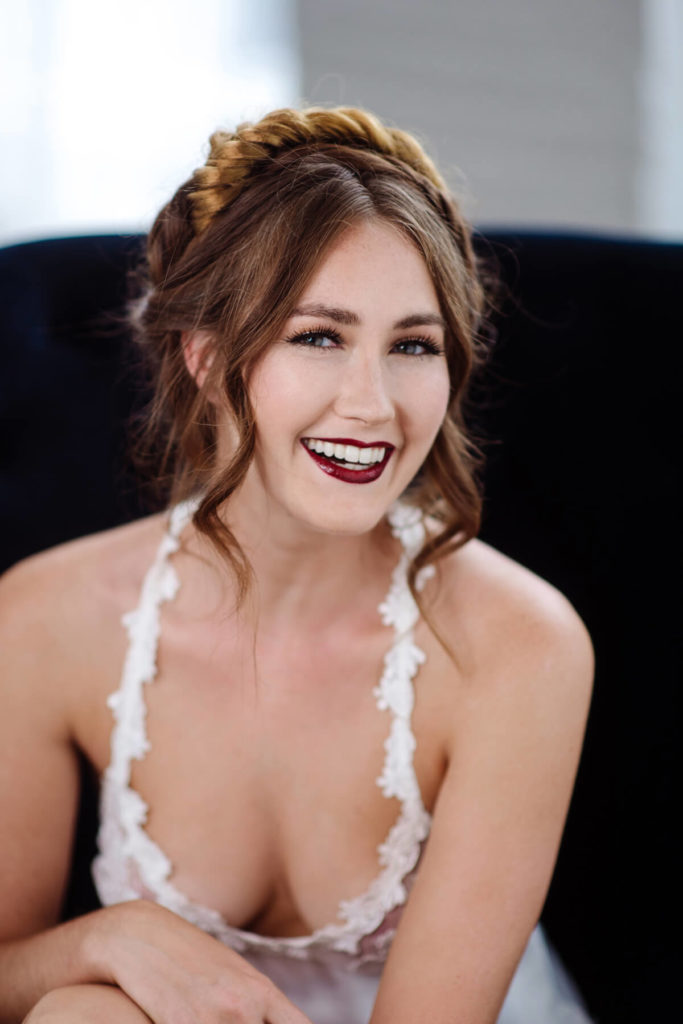 Beauty Vintage Veils | Amy Wild (owner/makeup) & Erica Ritchie (hair)
Model Cari Sunkhouser wearing Flora Nikrooz Showstopper charmeuse camisole and lace short set in ivory from Necessary Secrets.
Allow at least 45 minutes to an hour for makeup application on your wedding day. Also, it's essential to have your skin clean, exfoliated, and hydrated so you can achieve a flawless application of make-up. Don't forget to wear a button-down shirt so you won't smudge your beautiful wedding-day hair and make-up.
The secret to long-lasting makeup is in prepping of the skin, rather than the actual makeup application. Skin that has not been properly prepped will not be able to hold makeup beautifully. When you see makeup that starts to disintegrate with sweating and dancing, most of the fault lies in the skin preparation before makeup application. Always make sure that you start with a clean face. Wash your face and use a toner or cleanser to completely get rid of all dead skin, dirt, or makeup residues. Moisturize your face (under your eyes, as well) so skin is hydrated. Freshly hydrated skin will prevent makeup from drying on your skin and will help makeup blend in perfectly for a long-lasting effect. Follow your moisturizer with a pore-primer—that will decrease the look of pores, wrinkles, and lines.
Hair and makeup trials are an absolute must. Even though it might mean forking over extra cash, you'll have a much calmer attitude heading into your big day.
Also, take the trials as an opportunity to bring up any insecurities—for example, if your face turns red when you're nervous or your hair falls flat every time you style it. Your wedding makeup artist and hair stylist can work with you on solutions for your wedding day so that you're not worried about those small beauty details.
Start your skincare routine at least a month before your wedding. Sometimes your skin can have adverse reactions to new products, and the last thing you want is to try a new moisturizer the night before your wedding and wake up with red, blotchy skin. Any facials or treatments should be done at least a week before. The morning of your wedding, make sure your face is washed and well-moisturized before your makeup artist arrives.
Don't shy away from having hair extensions for your wedding day; it's way less of a drama than it may sound. And no one needs to know—it can be our secret. Extensions are great if you want a little more length or fullness, or if you or your artist is worried about your hair holding a particular style all throughout your wedding day. Even if your own hair falls, the extensions won't. – Vintage Veils