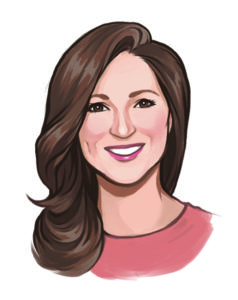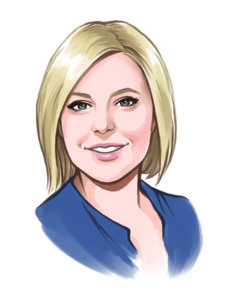 Carey Williams
Lucky Penny Floral
Years in the industry: 3
Favorite flower: I'm actually partial to greenery—a perfectly placed olive branch gets me every time.
IG: @luckypennyfloral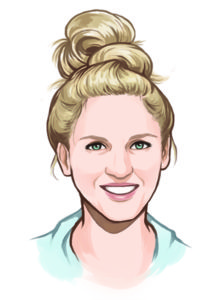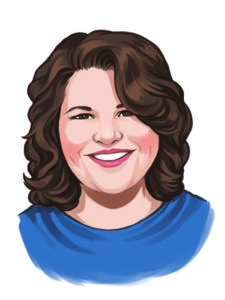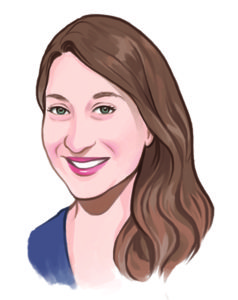 Liz Vayda
B. Willow
Years in the industry: 5
Favorite flower: Jasmine. Not the best for floral arranging, but I really love their flowers for the smell.
IG: @bwillowbmo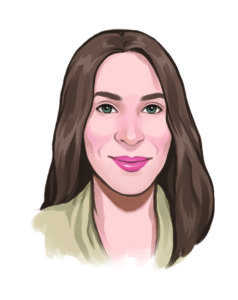 Sarah Ruberto
B. Willow
Years in the industry: 2
Favorite flower: Magnolia macrophylla—they have huge fragrant blooms that can be easily dried and preserved.
IG: @bwillowbmo
We sat down with six florists who represent very different companies to talk favorite flowers, business models, and who they'd order their flowers from. Mary Ellen LaFreniere grew up on a flower farm and made her first bouquet to sell at the farmer's market when she was just four years old. Her company Steelcut Flower Co. designs flowers that are a whole lot of lovely and a little bit wild. "In life, you can't have the sweet without the sour, and we believe flowers should reflect that same yin/yang balance," says LaFreniere. "We love pairing over-the-top beauty with tougher elements like branches or unique textures for a look that's a marriage of grit and grace. There is beauty both in strength and in softness, and hopefully our flowers convey that." Earlier this year, LaFreniere and Carey Williams launched a secondary company—Lucky Penny Floral. "Lucky Penny is a unique online platform pioneering a better way to shop for wedding and event flowers," says Williams. Their motto is: Click.Pick.Party. (A better one might be "flowers for millenials.") In a similar vein, in terms of providing a service that's outside the box, B. Willow is "all about enlivening indoor spaces and bringing more of a connection to nature into people's lives," says co-owner Liz Vayda. "We're very passionate about sustainability and try to reuse or repurpose as much as possible to reduce our environmental impact. Our vases and planters are all either locally made or vintage/antique. We care a lot about the waste factor of flower arranging and make as much use of flowers as possible, through pressing or drying." Unlike the newbies, Radebaugh Florist & Greenhouses has been around since 1924—with four generations of the family running the business and most employees staying on for decades. "I grew up in the Philadelphia area, but lived in Towson for school, and as a freshman went to Radebaugh with a friend to get a boutonnière and remember thinking how cute it was," says Lisa Baker. "The next semester, I ended up getting a part-time job there, and that's where it started." Intrigue Design & Décor is somewhere in the middle. Sarah Campbell started as a wedding planner more than a decade ago. She began to notice a need for higher-end flowers in the Annapolis and Eastern Shore area. "I kind of got thrust into taking over floral for an event, and as soon as I got my hands on them, I was totally hooked," she says. "Within a matter of months, I launched Intrigue and had a designer working with me that knew a whole lot more than I did, which was nothing."
Baltimore Bride (BB): Who are your clients?
Mary Ellen | Steelcut Flower Co.: My typical client describes their taste as non-traditional, but they care deeply about their family and friends. They appreciate that flowers are the only living element at the wedding (besides the guests!) and expect them to have personality. They usually opt for simple linens, place settings, etcetera, so that the flowers can be the focal point. They tend to have a deep appreciation for nature, are self-confident, caring individuals, and love being surprised by natural textures and shapes in their floral designs.
Lisa | Radebaugh Florist & Greenhouses: We design florals for clients with all different types of needs and visions. While we do have brides and grooms seeking traditional, formal, or seasonal looks, I can say that a majority lately are turning to on-trend natural garden designs incorporating lots of textured foliage. Our clients are typically seeking a reliable and talented florist they can trust to bring their vision to life.

Sarah | B. Willow: We tend to have a mix of both traditionalist and minimalist, which makes designing fun and diverse for me. I tend to be more of a minimalist, so I enjoy customers who challenge my aesthetic. 
Carey | Lucky Penny Floral: Our typical client is a visionary with a keen sense of when to be hands on versus what to outsource in the planning process. Inspiration for our concept comes from brides and grooms who want the look of custom flowers but don't meet full-service florist minimums or want/need all their services. 
Sarah | Intrigue Design & Décor: The Intrigue client is often traditional in the way that they want to create an experience for the guests. This couple is busy with careers and responsibilities and, on their wedding day, wants to be transported into a place of romance that can best be achieved by layers of flowers and beautiful décor.
BB: On average, how much do your clients spend on flowers for their wedding?
Lisa | Radebaugh Florist & Greenhouses: I'd say $3,000-8,000.

Carey | Lucky Penny Floral: Around $1,000.
Sarah | B. Willow: Anywhere from $1,500-6,000. We try to work with different price ranges, allowing our customers to work within their budgets while still achieving their dream designs. 
Mary Ellen | Steelcut Flower Co.: Average is $6,000, but budgets vary tremendously according to the scope and preferences of the client. Our minimum is $3,500 because that's what it takes to have enough purchasing power to source the kinds of unique blooms we're known for. I typically source from 4-12 different wholesalers and farms for every event in order to have just the right combinations.
Sarah | Intrigue Design & Décor: I'd say $10,000-40,000.
BB: What would you do if you weren't a florist?
Mary Ellen | Steelcut Flower Co.: I have a master's degree in counseling, and I will probably return to that field at some point.
Sarah | B. Willow: I'd probably be working on a farm somewhere and traveling, but B. Willow has allowed me to incorporate my passions for art, travel, and plants into my job, so it's hard to say I'd be doing anything else. 
Carey | Lucky Penny Floral: I'd lead guided tours through western Europe.
Liz | B. Willow: If I wasn't working with flowers or plants, I'd probably be making more time to write music or travel, but I'd need to find a way to make a living doing so.
Lisa | Radebaugh Florist & Greenhouses: Civil engineer or professional dog cuddler.
Sarah | Intrigue Design & Décor: I can't imagine a world without flowers, but if I had to choose, I think I would have done well as an interior designer.
BB: What's the most fun you've had designing a wedding?
Mary Ellen | Steelcut Flower Co.: The client's preferences and personality always inform the final product, and that moment when I see everything finished and glimpse the bride and groom taking their first photos always makes my heart flutter. When something is really good, I get goosebumps—which means I'm having the most fun. This is only my second year in business, so every event feels like a privilege—I hope to never take that for granted. 
Liz | B. Willow: One wedding that I particularly enjoyed was at Walker's Overlook in Frederick. We used a variety of repurposed metal containers for the centerpieces, and focused on whites, greens, and light pinks. The venue was set amongst rolling fields with beautiful vistas, and also included an antique forest green truck that we decked out with tropical cuttings. I love getting to see such beautiful venues around the area—I feel lucky to be able to beautify them even more with flowers and plants.
Carey | Lucky Penny Floral: I feel the greatest sense of reward when a customer shows us how to use Lucky Penny products. As a web-based company, we don't often have face time with our clients or get details of the setting and so forth, which makes it all the more rewarding when clients share their photos. A recent Belmont Manor bride was truly our ideal customer: She navigated our web offerings like a pro and, to our surprise, mixed in personal touches like additional ribbons for bouquets and added family photos to centerpiece arrangements to achieve her vision.   
BB: What's been the most challenging?
Lisa | Radebaugh Florist & Greenhouses: With winter weddings, there's always a risk of inclement weather. I remember the big snowstorms in December 2009, February 2010, and January 2016 where we had multiple weddings with last-minute date changes and early delivery requests to stay ahead of the storms. For one, they decided to turn their rehearsal dinner into their wedding. We have a great team that worked long and late days to make sure everything was beautifully designed and safely delivered.  
Liz | B. Willow: The most challenging wedding we experienced was in the depths of summer, when temperatures surpassed 90 degrees. As this was one of our first weddings at that time of year, we quickly learned which stems wouldn't last more than a few hours and had to make some last-minute changes.
Sarah | Intrigue Design & Décor: The most traumatic was a tented wedding in the summer of 2015. We arrived to set up a lavish wedding, complete with suspended floral chandeliers, towering centerpieces, and a plethora of flowers from floor to ceiling. We were surprised to find a reception taking place in the space we were scheduled to be setting up. It turns out that the venue had booked an afternoon wedding and had not informed us of the time change for our arrival. In a bit of shock and disbelief, we put our heads together and started calling everyone we knew within a 10-mile radius. If we were going to bring our client's vision to life with only an hour of staging time, we were going to need a lot of extra hands. This was the one and only time I have ever felt like we may not finish in time. However, with the extra help, we finished just seconds before the guests arrived.
Mary Ellen | Steelcut Flower Co.: I designed a huge wreath to hang from the ceiling of the tent at a recent wedding, and it was picked up the day before so that the tent company could install it. When I arrived at the venue the next day, the wreath had been hung upside down, so that all the flowers were at the top and not visible. These are the things that I'm learning to let go of. It was a travesty to me, but no one else knew the difference. and everyone was thrilled with how "amazing" it was.
BB: Who are other florists locally that you admire?
Lisa | Radebaugh Florist & Greenhouses: I am always amazed by the work of Wicked Willow Event Florals. One of our lead wedding designers even trained under the owner, Randy Woods. He and his staff are so friendly and creative. Another one of our favorites is Crimson & Clover Floral Design. Amy and her team always create impressive designs, and they're such a fun gang.
Sarah | Intrigue Design & Décor: There are so many local designers that I admire. If I had to choose one it would be Designs By Oochay. She started as one of my students and has grown her floral-design business into one that rivals my own. As a mother, wife, and entrepreneur, this designer is easy to admire. And she shares my love of color and lavish centerpieces.
Mary Ellen | Steelcut Flower Co.: I admire Ellen Frost at Local Color Flower for her commitment to local product. I'm grateful that she was well established before I came along, because she's been instrumental to the success of local farms in the area, and now I get to reap the benefit of her dedication by shopping from those farms as well. We're really lucky to have so many growers in one area and Ellen is a huge part of that. Also, Amy at Crimson & Clover. When I first moved to Baltimore three years ago and didn't find a job in my trained field of counseling, I took a job as lead designer for C&C and learned a lot from Amy about how to roll with the punches as a female entrepreneur and how to harness enthusiasm and excitement to overcome obstacles.