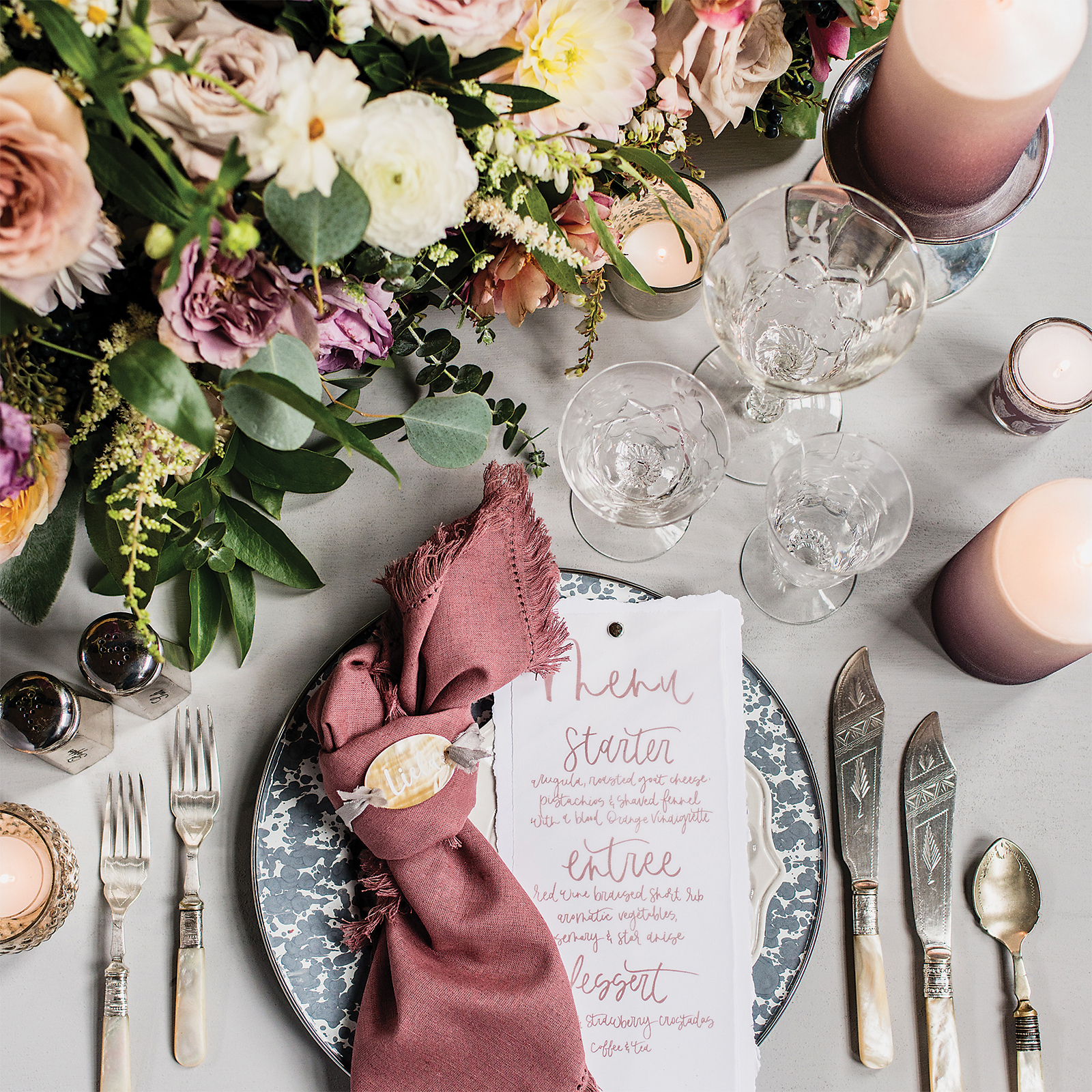 The Dos and Don'ts of
Wedding Receptions
By Lemon & Lime Event Design

• Always have your escort display list guests' names categorized alphabetically and not by table.
• If you have long tables for guests, place cards so that couples and friends don't get split up are helpful.
• Always make sure you have the correct number of bartenders. Most people follow the one bartender for every 50 guests rule of thumb, but adding one or two more depending on your headcount can be beneficial and will keep your guests happy, especially at the beginning of your affair. We never want to have anyone waiting for a drink, let alone standing in long lines.
• The biggest rush to the bar is directly after the ceremony as everyone enters cocktail hour. We always recommend trayed and passed drinks (champagne is a crowd pleaser) so that guests can grab a drink and the bar won't be completely bombarded.
• When it comes to speeches, your guests are most likely hungry and ready to celebrate and mingle, so capping out at three speeches is the best plan. A welcome from the parents along with the Maid of Honor and Best Man is a great combination. Anyone else can talk at the rehearsal dinner.
• Urge those giving speeches not to talk longer than two or three minutes (knowing they'll creep up to five minutes). Anything past that can interrupt dinner service and getting everyone on the dance floor. As planners, it's so hard to see one speech carry on for over 10 minutes—we know the bride and groom just want to get on the dance floor, and long speeches truly do detract from that.
• Lighting can make or break an event. If you've spent countless hours and a large portion of your budget on floral and reception design, you will definitely want lighting so that it doesn't get lost. Uplighting and pinspotting are very important to not only highlight the tables but also create the vibe you are going for.
• Don't forget about the guest experience. If you're having an outdoor element or your reception is in a tent, then it's important to think of the weather and plan for the worst. If it's fall, having heaters—or at least having them on reserve—is imperative. Warm drinks and offering blankets/shawls to keep guests warm is also a nice touch. If it's in the middle of July, make sure you have fans and ice-cold beverages available.
• Have a Plan B. We always have a backup plan, whether it's moving inside or bringing in a tent. And definitely make sure the design for the A option can be repurposed for Plan B.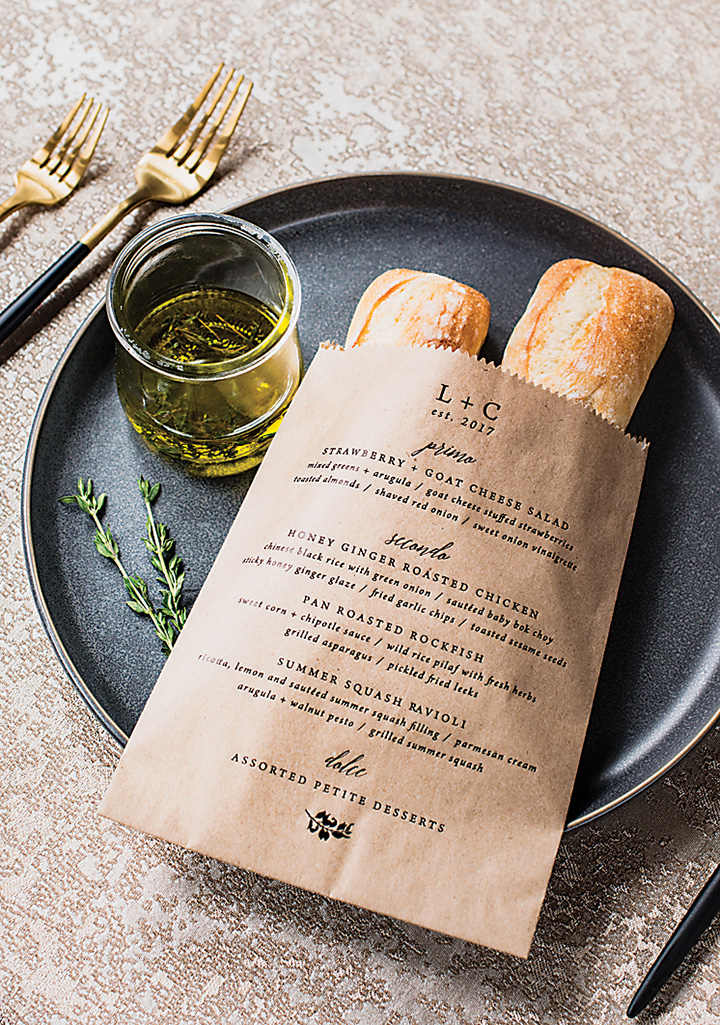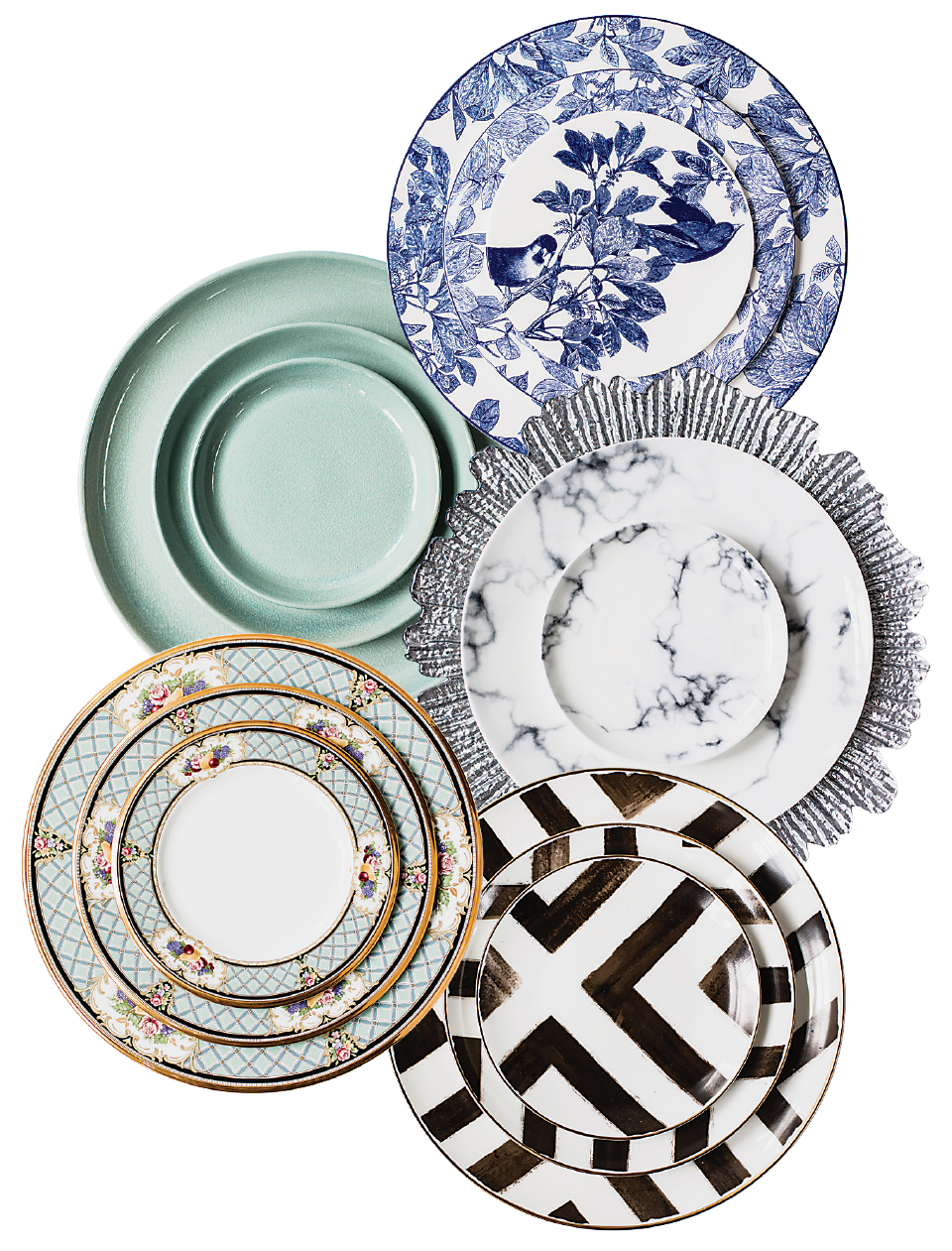 Dish it Out
Tabletop possibilities are as varied as food choices these days—from simple and
elegant to bold and modern. The options are endless.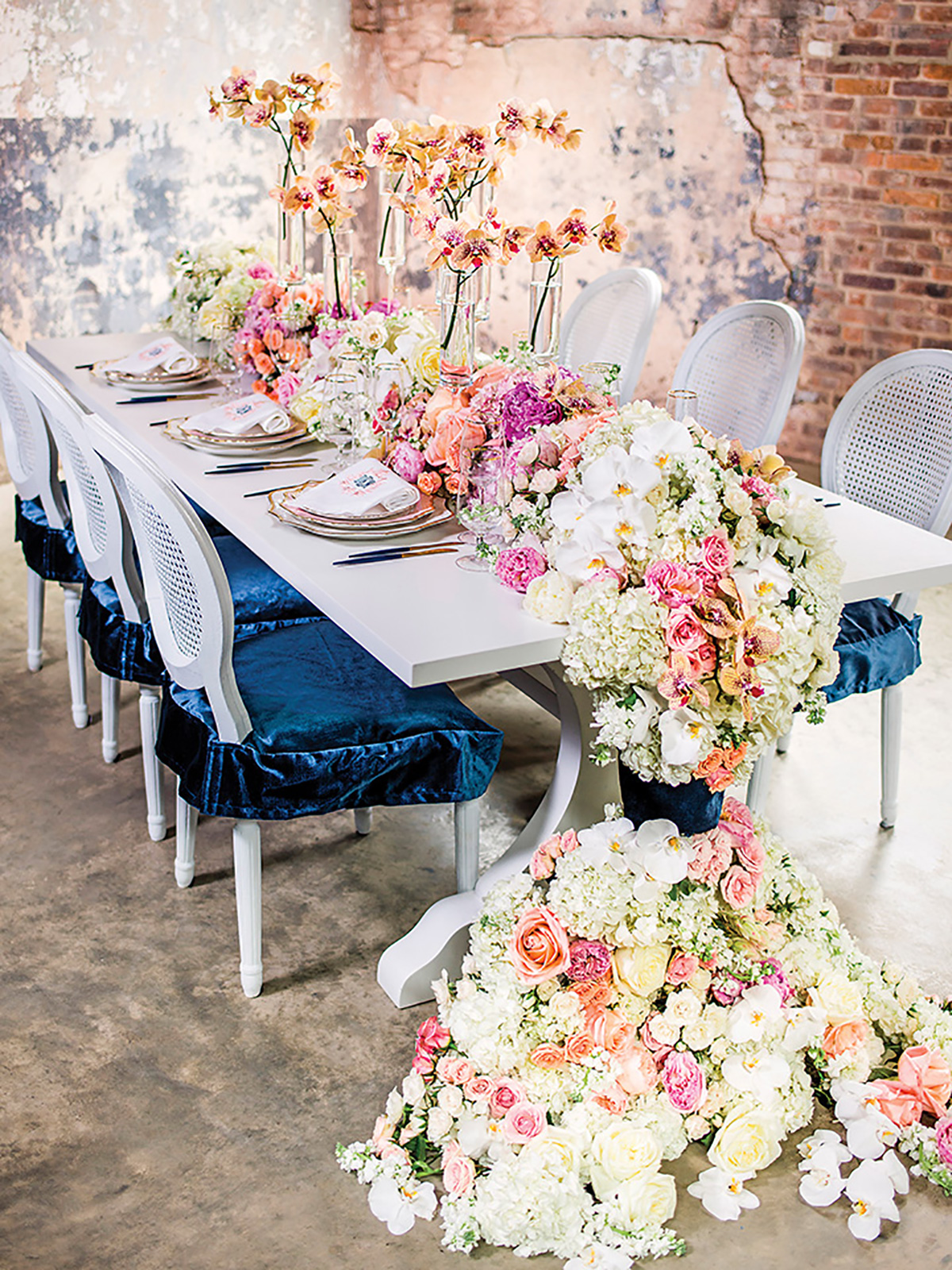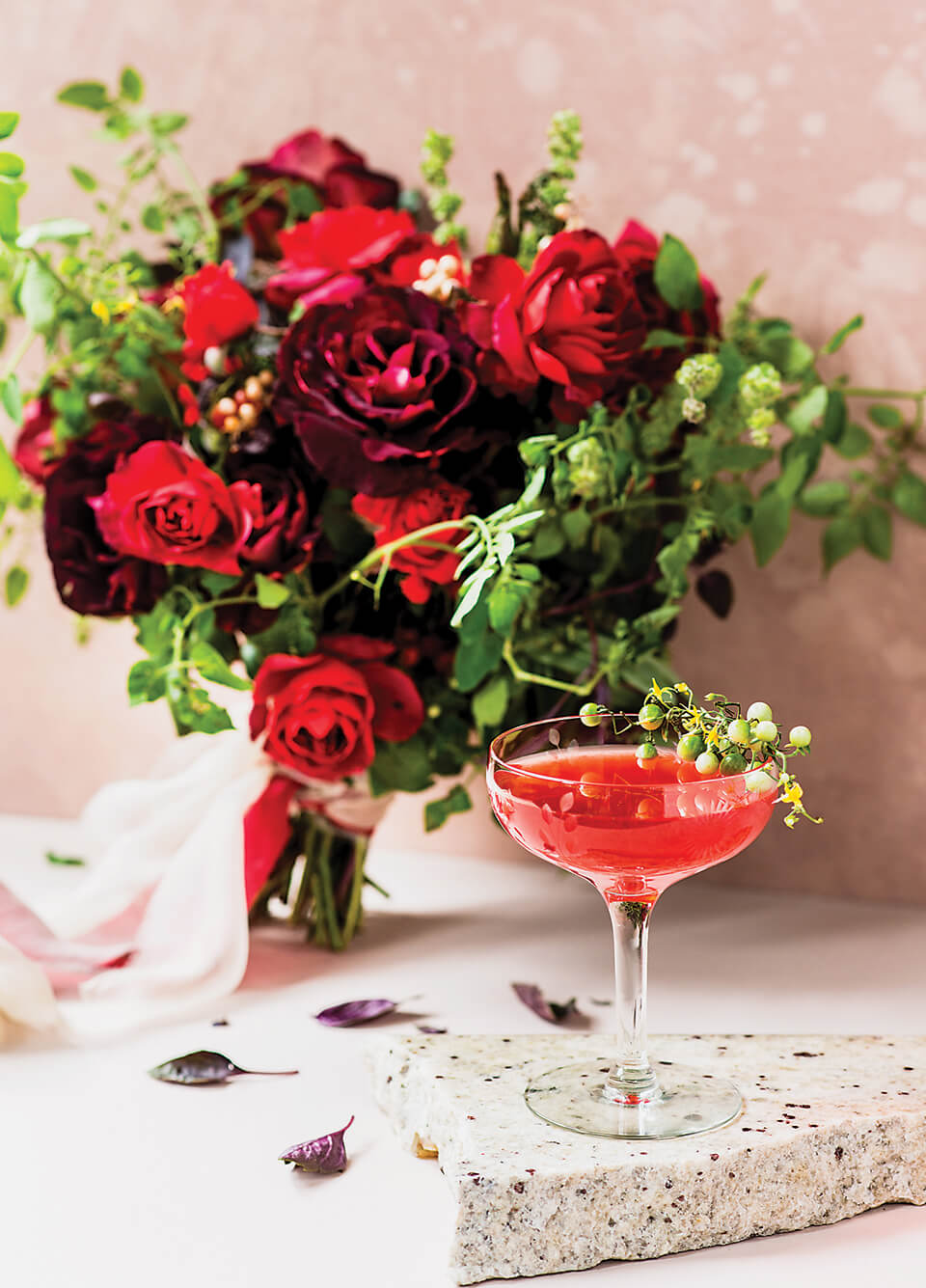 Belly Up to the Bar
Cocktails inspired by your wedding.
Cocktail culture shows no sign of slowing down, as venues and caterers continue to honor requests for a signature cocktail and even a "his and hers" (or "his and his" or "hers and hers") drink for weddings. And yes, we know—the wedding is all about you, but keep in mind that a majority of your guests might not want something that challenges the palate too much, which is why some of the more basic cocktails, such as variations on a Moscow Mule, are popular right now. Whiskey punches are also having a moment, as are drinks that focus on seasonal ingredients. Emily Howell at The Corner Pantry says using edible flowers in ice cubes or cocktail garnishes that echo what's tucked into the bride's bouquet are other ways to unify details throughout the event. – Rina Rapuano
Tales from the Cocktail Hour
When you're spending all this time and money to create a memorable experience, you don't want to ruin your chances of making a banging first impression. Perhaps that's why Celeste Bendetti, a partner with Rouge Fine Catering, says many brides and grooms care more about the cocktail hour than the dinner. Over the years she has seen the welcome drink transform into a welcome food and drink pairing, such as a tequila bar alongside nachos or fresh salsas and guacamole. She says local influences are another big trend, for example a slider with fries paired with a Natty Boh shot or the ever-popular Baltimorean staples Orange Crushes and Black-Eyed Susans. The pre-reception can extend even beyond the food. In warmer weather, keeping folks occupied with lawn games such as cornhole and croquet is another step toward cocktail hour nirvana.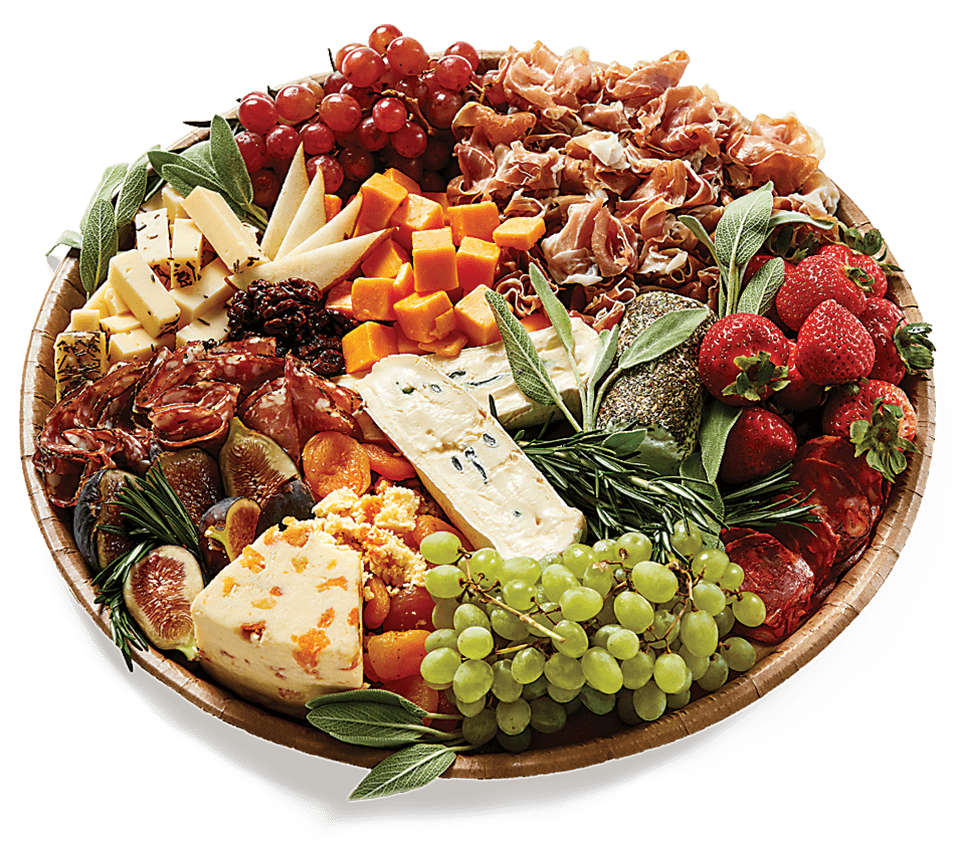 Overstuffed graze boards are becoming the appetizer du jour. Guests can nibble on meats, cheeses, fruits, nuts, crackers, and vegetables at their leisure. They leave guests satisfied but still able to eat dinner.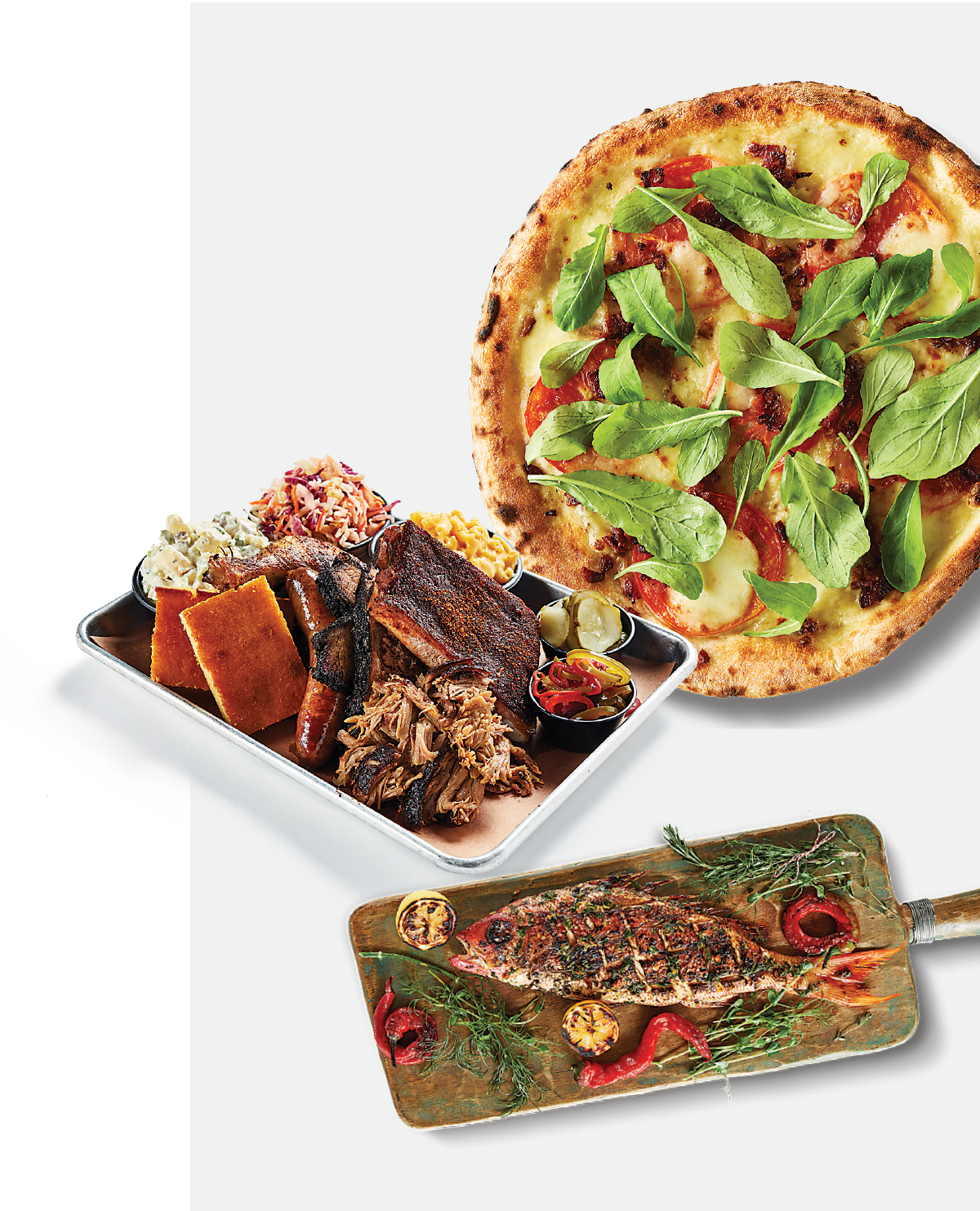 Love at First Bite
You can think outside the box—or plate—when it comes to wedding food.
If you're one of those people who desperately wishes things could go back to the simple era of checking a box beside chicken or fish when filling out your RSVP card, we've got sad news for you—that's not gonna happen. Couples today are all about flexibility and flow, meaning dinner could consist of pizza, an ode to their first date, their favorite BBQ, a family-style spread that allows guests to get to know each other a bit better while breaking bread, or even a whole fish that serves as a nod to their honeymoon destination of coastal Italy. The upside to all this newfangled wedding food? It's almost always tastier, and definitely more exciting, than what was served only a few decades ago.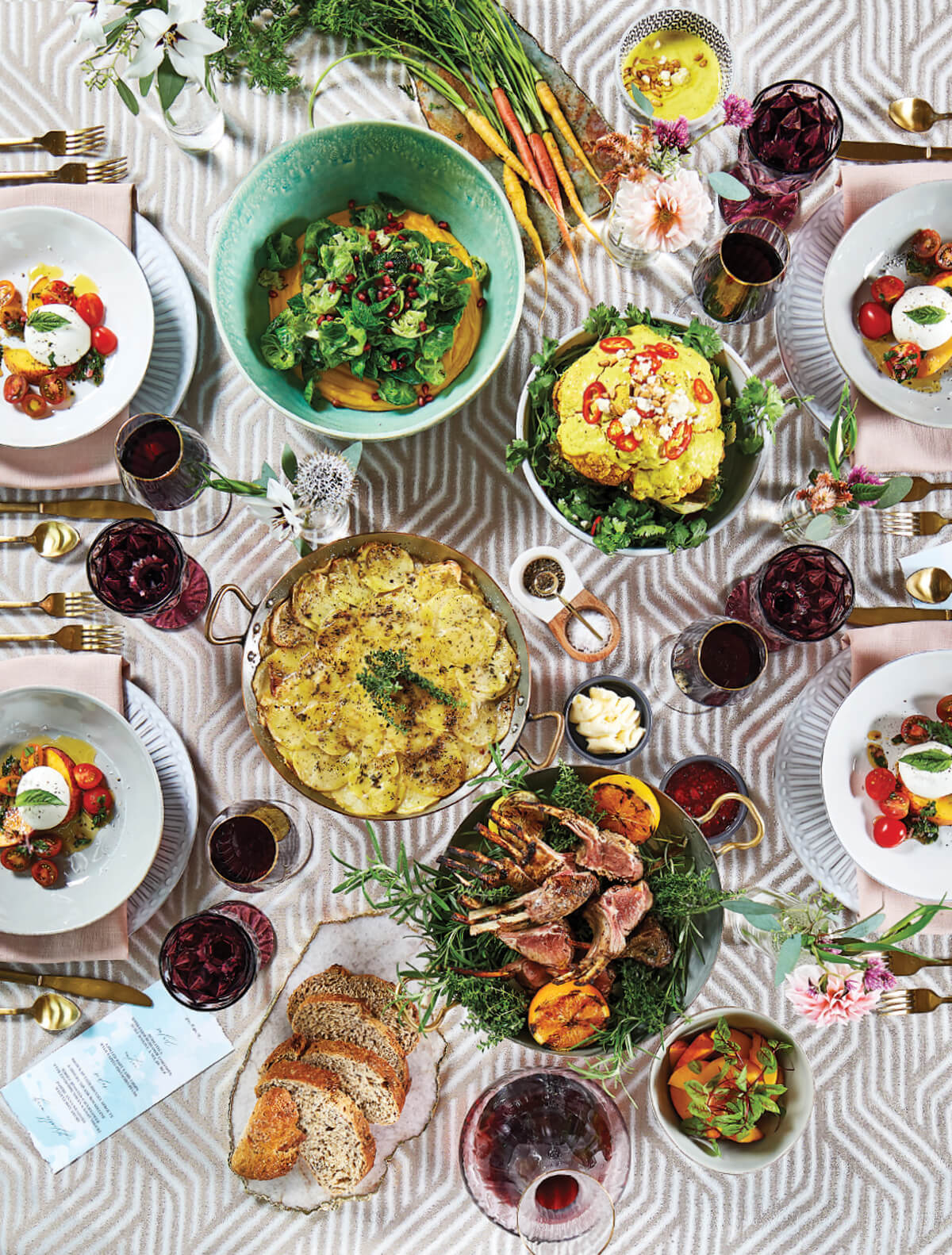 ALL IN THE FAMILY
Design: Stephanie Bradshaw Food: Copper Kitchen Flowers: Crimson and Clover Floral Design Menu cards: Alexandra Schroeder for Stephanie Bradshaw. Anthropologie: Chargers, gilded rim wine glasses, salt and pepper holder, turquoise bowl, and agate slabs. Select Event Group: Gold flatware and plum water goblets. BBJ Linen: Lotus napkins from the Sonoma collection and Solar linen tablecloth from the Celestial Collection by Stephanie Bradshaw. Food: Burratina, farm heirloom tomatoes, huile d'olive, and sel de mer salad; grilled baby lamb chops with rapini-pistachio pesto; brown butter Brussels sprout leaves, Kabocha squash mousseline, and pomegranate gems; whole roasted cauliflower with tandoori spices and goat yogurt; Pommes Anna Gratinée with lemon thyme.
Sweet Endings
By Rina Rapuano
Cake Walk
Laura Salierno of Batch Bake Shop says that for couples who opt for the
traditional tiered cake, the barely frosted "naked" cakes continue to
dominate. Dreamy watercolor-inspired buttercreams and rich, deep hues such
as navy blue, wine, and gold are also in, as are floral accents and gold
laser-cut cursive signs with the couple's name. Bride-and-groom ceramic
cake toppers, on the other hand, are downright endangered.
Cherry On Top
The trends of having dessert stations—an alternative to a traditional
tiered cake—or even passed desserts while everyone's on the dance floor,
are still going strong. Salierno says these tap into the movement toward
personalization, like serving childhood favorites such as brownies and ice
cream. Other options include Rice Krispies treats, macarons, whoopie pies,
and small-format tarts or pies.
The Dough-Not
Many caterers point to dietary restrictions as greatly influencing the
offerings at modern weddings. Neill Howell, chef and co-owner of The Corner
Pantry, who also happens to be gluten-free, makes a gluten-free flour mix
used in such desserts such as his tres leches cake. "Pretty much anything
you see on our menu, we can do gluten-free," says Howell's wife and Corner
Pantry co-owner, Emily.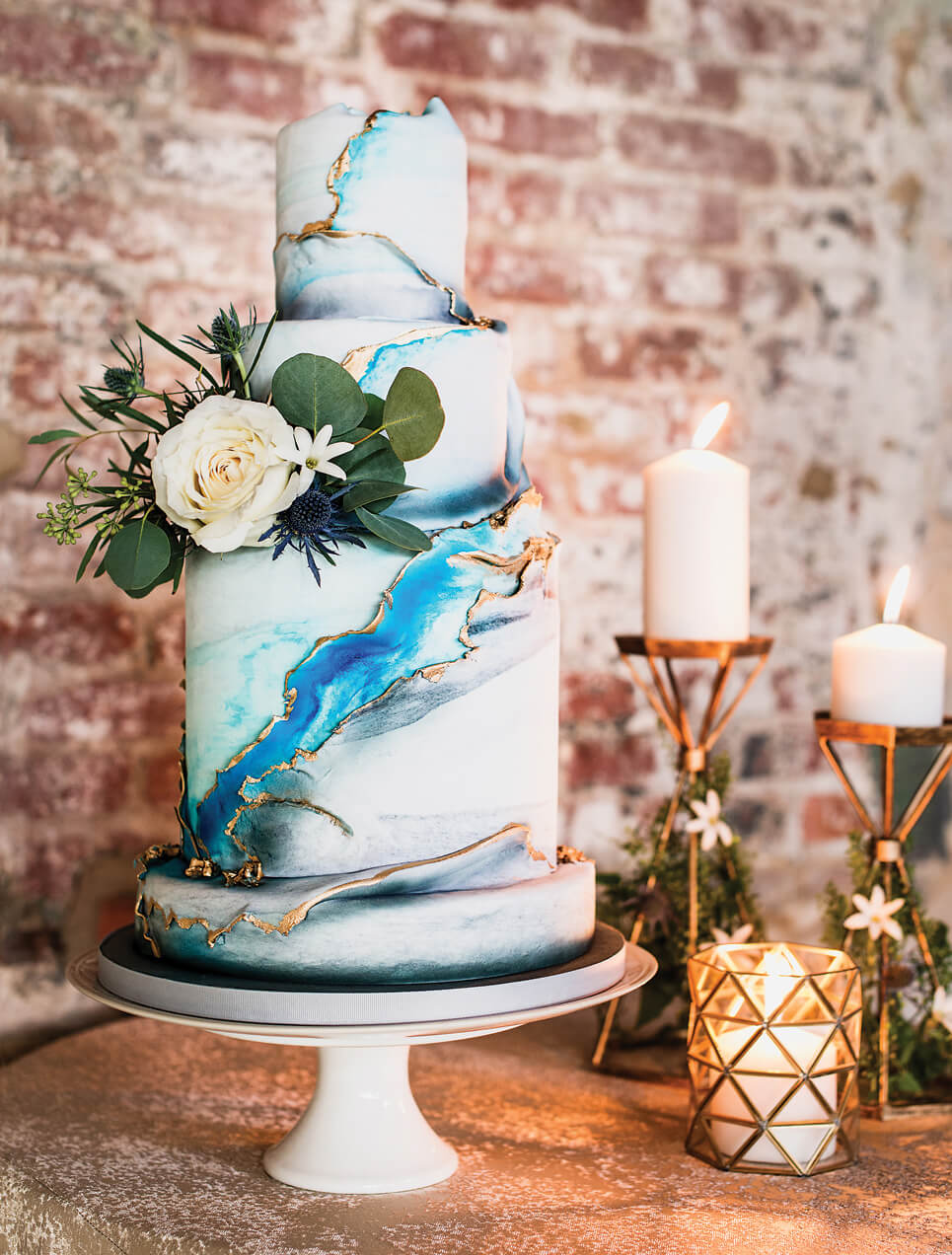 Grab a Late-Night Bite
Signal the end of the night with tasty treats to-go.
Dancing all night and the allure of an open bar will likely leave your guests with a powerful hunger as the DJ starts to wind things down. By that time, folks will likely be craving something starchy, comforting, and fun, like the options served by some of the city's most beloved food trucks or local restaurants. Mobile kitchens such as The Local Fry, Kooper's Chowhound Burger Wagon, and Cocina Luchadoras can roll up and serve anything from fries to burgers to tacos. This is yet another popular way for couples to customize their weddings by perhaps choosing a favorite bar food or something they consumed right before he (or she!) popped the question. Caterers are also seeing an increase in requests for a second meal and take-home sweet treats—a signal that breakfast isn't that many hours away—like donuts and cinnamon buns. – Rina Rapuano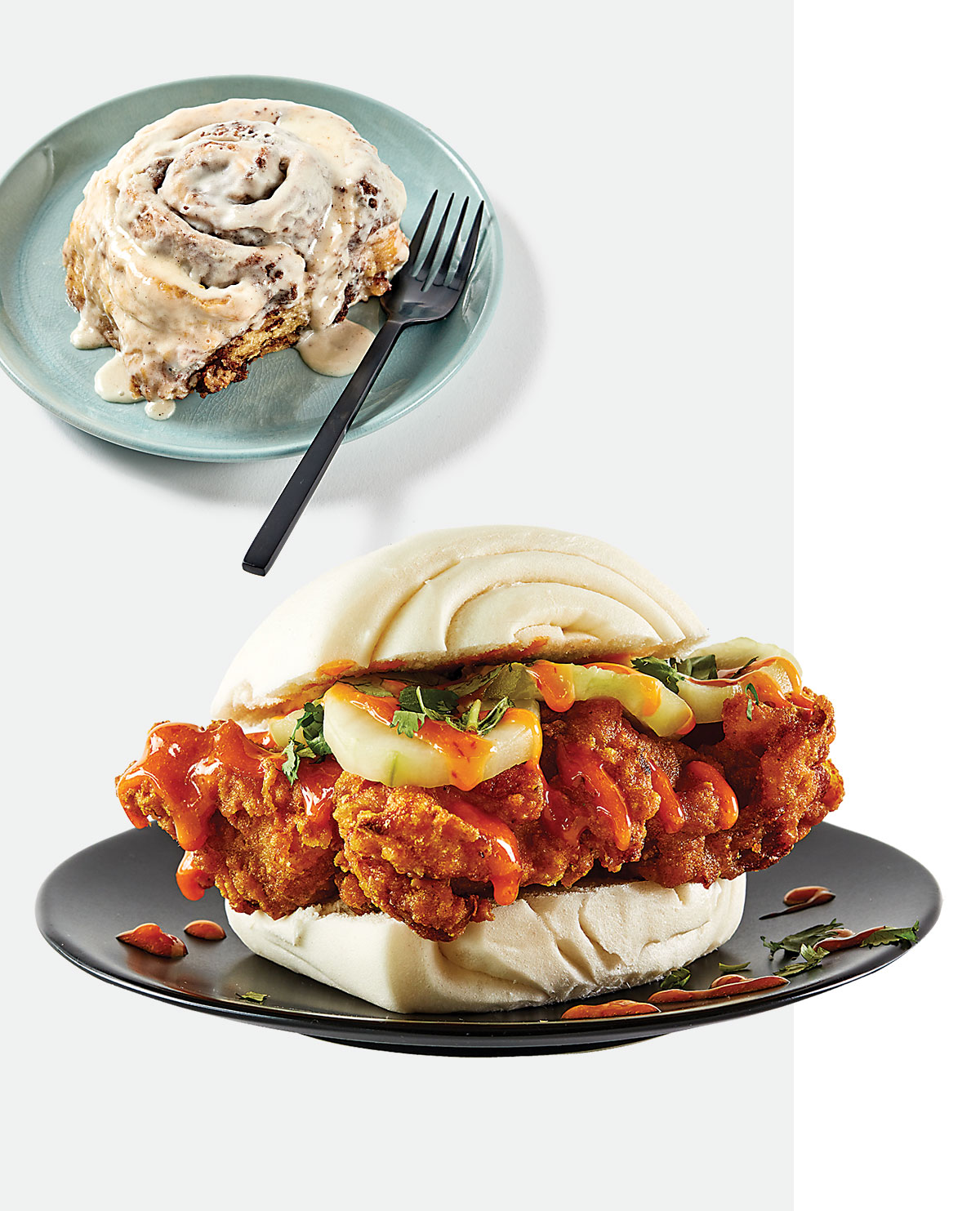 WHEELY GOOD

Some of the best post-dinner treats come with their own set of wheels.
Illustrations by Danielle Dernoga