After months of planning and arranging, your wedding day finally arrives. Everything is perfect, from your gown and the food to the first dance and the bouquet toss. But before you know it, it's over. All that remains are your memories—and the photos and videos.
Remember your parents' albums, with all those pictures? Remember your friends' and cousins' videos? It was all about yawn, squirm, and boredom.
"Well, today's wedding albums are different and so are videos," says Maryland photographer Clay Blackmore of Clay & Co. And many couples are now starting with video, which only a decade ago was an afterthought.
Native Baltimoreans Melissa Charkatz and her husband, Neal, love everything about the city and wanted their wedding—and their photos—to celebrate it. Married at B'nai Israel Synagogue, the oldest synagogue in Baltimore, they held the reception at the fashionable Pazo restaurant in Harbor East.
"When we decided to do a [pre-wedding] video to show at our rehearsal dinner, we wanted it to reflect us, be set in Baltimore, and not bore our guests," says Melissa, who hired the still-video team of Clay & Co. and videographer Jamie Young to shoot and edit the film shot in Camden Yards and Fells Point.
The three-minute video shows Melissa and Neal in the front row at the O's game. They even got a hug from the Orioles Bird. The video had a story line and music, and when they showed it at their rehearsal dinner, their guests were blown away.
"It really captured us," says Charkatz with a laugh. "Everyone said that we looked like professional actors."
Says Blackmore, "Today's equipment is incredible. Videos, done properly, now look like cinematic productions. It's like something you'd see in the movies."
Native Baltimorean Dayani Tipple wanted to have a video of her wedding day, but after interviewing three videographers, was almost ready to give up. "The videos looked like a friend took them," she recalls. "But when I saw the work of Chris Paige of Paige One Pictures, I knew I had found the right person."
Paige was with them from noon until the end of the evening. And he caught great moments, like the entire bridal party walking from the beauty salon to the venue at the American Visionary Art Museum.
"It was amazing and creative. It was like watching a music video," says Tipple.
"Wedding videos have become a lot more popular and creative, and crews have become affordable enough for any couple," says Paige. "Also, now that social media sites are the main way we stay in touch with people, shorter and more interesting videos optimized for the Web are commonplace. What's the point of a wedding video if you can't upload it to Facebook and YouTube to awe your friends and family?"
When choosing a videographer, ask for a link to their website so you can view their portfolio. "If their videos and former client reviews don't rock your world, keep looking until you find someone else whose work does," says Paige. 
Videos can be used in many different ways. Blackmore has done "save-the–date" videos. If a couple wants, he can even video the ceremony, edit it, and then show it during the reception, although this can be expensive.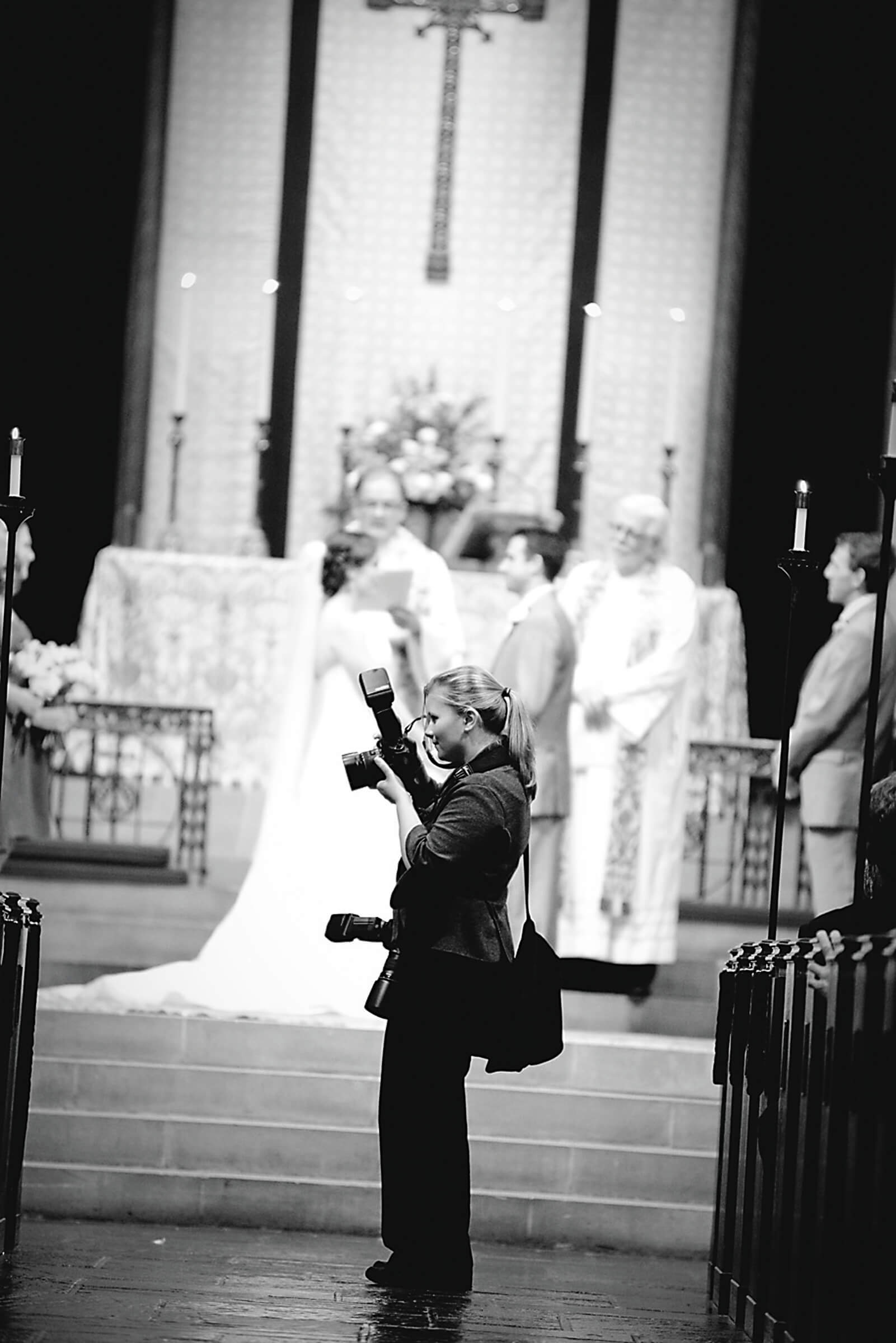 Capturing the unguarded moments is the trend in still photography, too.
"Wedding photography has become much more spontaneous," says Anne Sachs of Artful Weddings. "Brides want photos that are more exciting and capture the feelings and the emotions of the day.
"They don't want their photos staged and they don't want to spend a lot of time posing for group photos," she says. "In general, weddings have changed into anything-goes affairs, and a bride can really have her personality and interests show through at her wedding. Every time we go out to a shoot, we have a vision, but it's always customized to our client."
Melissa and Neal Charkatz wanted a variety of still photos—black and white, color, photojournalistic, candid, and some formal photos. And they wanted them to be artistic.
Dayani Tipple also wanted to see that artistic element.
So how do you find a shutterbug who can do just that? Sachs suggests that you always ask to see a full wedding album, rather than a composite of samples. The composite may be just the best parts of several weddings. Also, make sure you see a wide variety of work. If everything is outdoors and you are doing an indoor wedding, make sure you see some of those shots because indoor lighting is a lot more challenging.
Sachs, who works with her husband, Joe, finds that with two professional photographers, clients have the benefit of different perspectives, because there are always two sets of eyes capturing the day.
Another way to prepare for your wedding photographs is to have an engagement session. Couples use them on Facebook, wedding websites, and for announcements. An engagement session gives brides and grooms a great way to work with the photographer beforehand and become comfortable being in front of the camera. It also gives the photographer an opportunity to see how this particular client acts in front of the camera. Are they quirky and funny, spontaneous, or camera shy?
Jacqueline Malonson of Jax Photography feels that engagement photos are a real necessity, especially if you are shooting portraits on the day of the wedding.
"The wedding day can be emotionally charged," she says. "There is so much going on and each family is different. A great photographer will take the time to get to know what those family dynamics are and help their client's wedding day be seamless."
"We had a bit of an unusual situation," recalls Tipple. "Both my husband's parents and mine are divorced and remarried." Tipple needed someone that understood these dynamics, could be sensitive, give equal attention to all sides of the family, and make sure that the family photos wouldn't take too long. "Our photographer, Lindsay Hite of ReadyLuck Photography, was terrific. She took my list and photographed the largest group to the smallest, moving everyone along so they could enjoy the wedding."
"Once we met Lindsay, we loved her style and she made us feel comfortable right away," says Tipple. "It can be very invasive having them there all day, especially when you are getting ready. And she was great on the fly. We were going to take all these pictures outside and it rained most of the day, but she was able to find great places inside. And since she came with us on our walk-through, she had the lighting down right."
Eric Hartlieb of A Treasured Wedding Photo, Video, and Uplighting in Baltimore suggests that you make sure you meet the photographer who will be shooting your wedding in advance. Many times, with large or out-of-town companies, you will meet one person but they send someone else. Remember, the person you choose will be interacting with you and your guests on your wedding day. Also ask how much experience they have had shooting weddings.
Baltimore is an incredible place for wedding photos, says Malonson: "There are so many beautiful spots like Federal Hill and the Inner Harbor. Even simple streets have such interesting nooks and crannies."