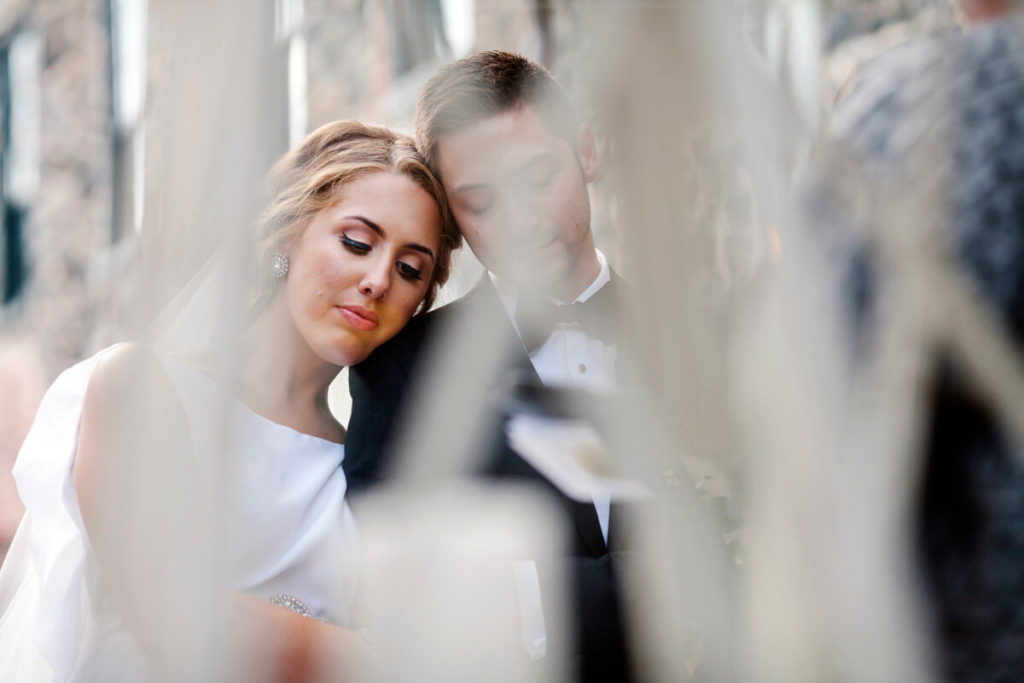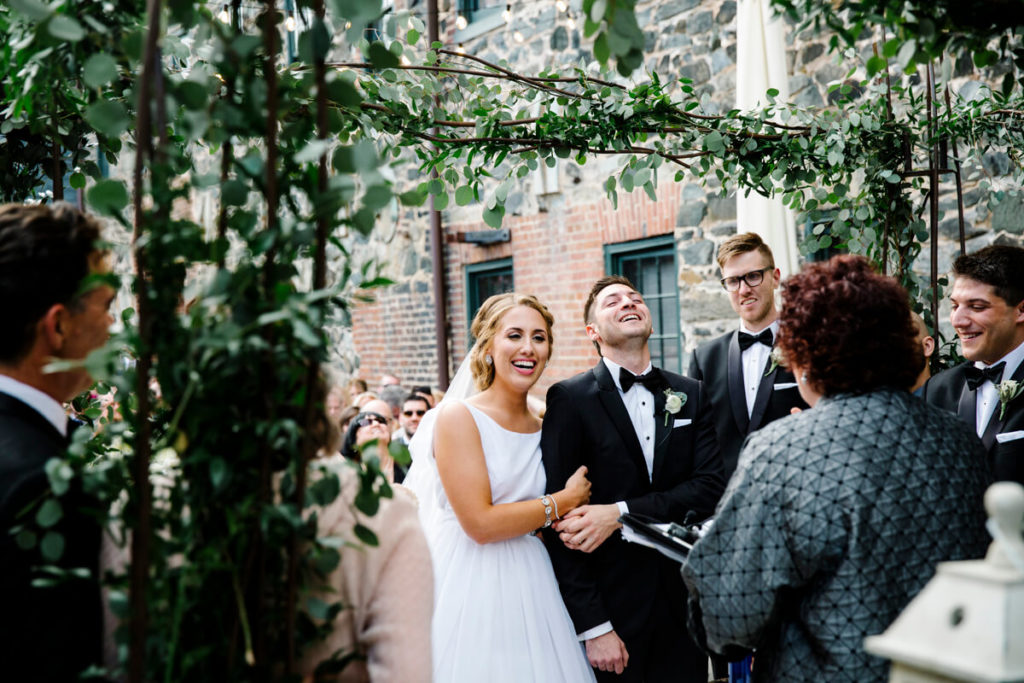 Occupations At the time of our wedding we were working as freelance hospitality coordinators (ie: the people who get all of the funny things musicians ask for in their dressing rooms) for concerts, touring artists, and music festivals. Today, Hanna is an Event Producer at Revolution Event Design and Production (and now have the pleasure of helping other brides design their dream days—often at the Dye House!) Together Andrew and I have founded and operate CoCo Backstage Hospitality; a boutique live entertainment/music industry focused firm catering to the specialized needs of venues, promoters, touring acts, festivals and film sets.
Wedding date May 2, 2015
Number of Attendees 125
Number of Attendants Six bridesmaids and seven groomsmen.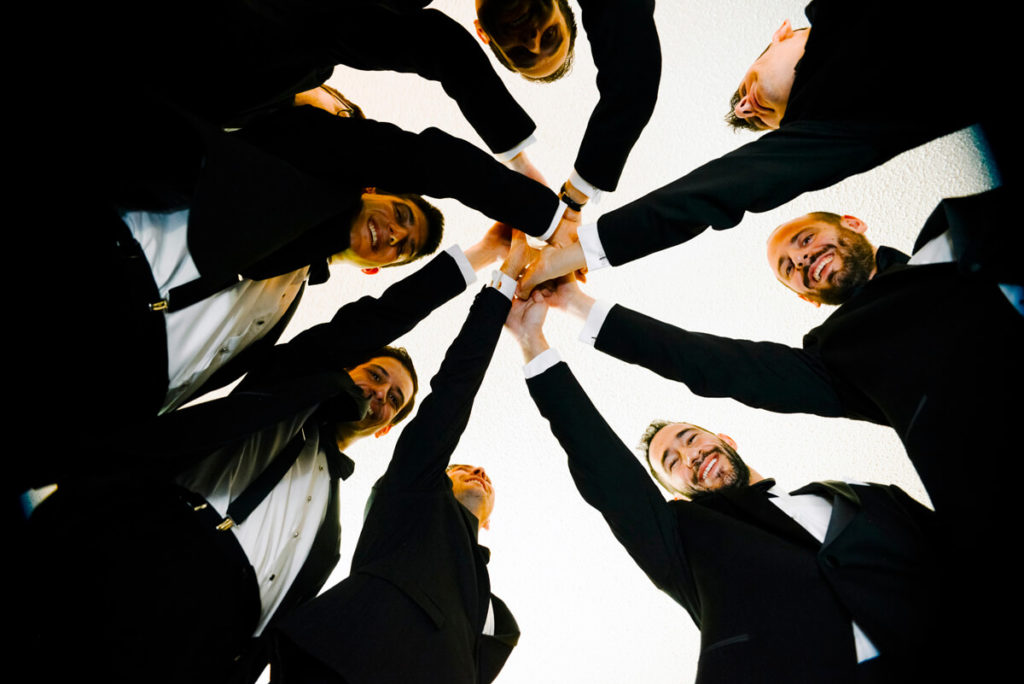 How You Met When we first met at 16 and 14, Andrew was in a SUPER cool band with his cousin and best man Trevor and groomsman, Matt. We were both heavily involved in the "pop rock" music circuit back before The Recher Theater was Torrent Lounge and All Time Low were still students at Dulaney High. While a love connection wasn't in the cards then (even though I was totally head over heels for his skinny jeans and faux hawk) we remained friends and eventually, around 2011, timing just worked out. Fun fact, I had just begun working as a backstage hospitality coordinator when we began dating. After my first few shows, I was in need of help and pulled Andrew in to work along side me. Somehow we've been working together as long as we've been dating. How he hasn't gotten sick of me yet is ASTOUNDING. I'm truly a lucky lady.
The Engagement Andrew proposed while we were in the middle of an Elton John tour. It was Thanksgiving, and we were all celebrating as a crew in Detroit. Andrew had coordinated with a few conspirators to suggest that we all stand in the middle of the dinner service and say what we were thankful for and the rest is history 🙂 We have the honor of touring with that crew a few times a year so it was fantastic to be with people who feel like a second family and share that memory with them. My engagement ring originally belonged to my grandmother. Since Andrew didn't want to run the risk of loosing the ring on the road my Dad secretly drove from Baltimore to the venue we played in Philadelphia a few days prior to the proposal. How anyone kept this a secret, especially because Andrew and I are together basically 24/7, is still amazing to me.
Wedding Design Inspiration Our ultimate goal was for the whole event from ceremony through reception to glow with a cohesive, and effortlessly industrial chic aesthetic. The venue has a very vintage industrial feel and while we certainly wanted to glam it up a bit, we wanted for the decor we used to feel as if it belonged in the space. We coupled classic and traditional elements with a few whimsical and unexpected details.
What Was Unique and Special About Your Wedding Day One of our favorites aspects of our wedding was how much of a team effort it was between Andrew, myself, friends, family and our venues. We are lucky enough to have many people close to us that are "in the business" of either events or concerts. Just a few examples: our wedding planner was Andrew's aunt, our wedding band leader/decor provider is one of our best friends friend from high school and my hair stylist has been doing my hair (and my mothers and sisters') since I was 15. We were floored by generosity of our friends and family and vendors who came together to make our day a reality.
Additionally, it's been awesome to enter into the event industry ourselves and be able to continue to grow relationships with the vendors we were lucky to enough as part of our wedding day.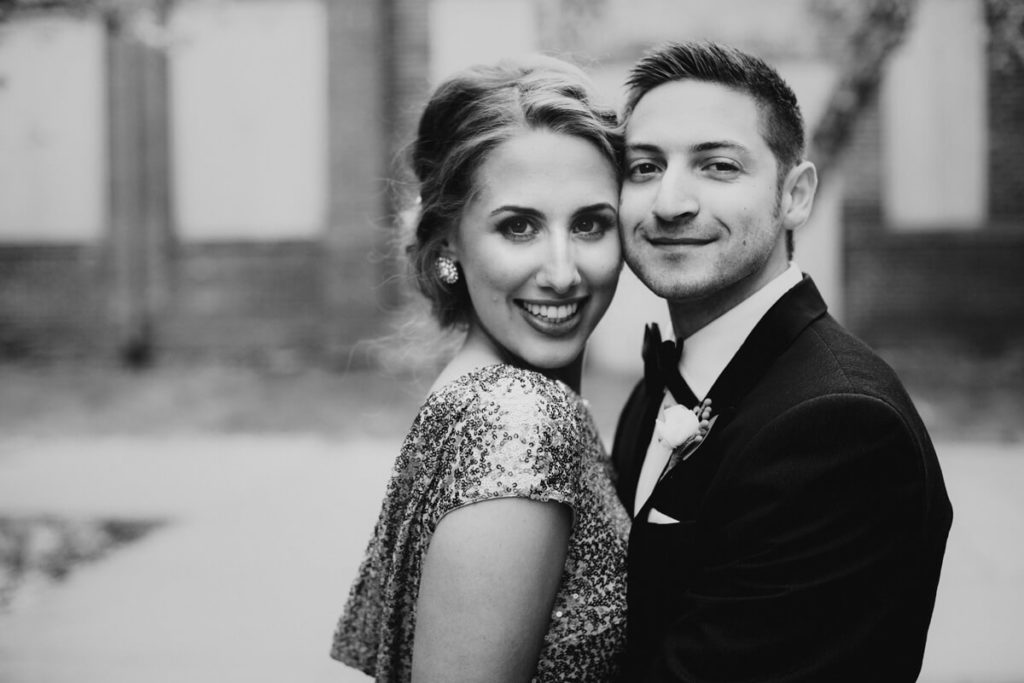 Favorite Details My flower girls were the daughters of the flower girl and daughter of the ring bearer of my parents wedding. It was amazing to have that full circle moment to share with my family. Bonus: I found those cute little dresses on eBay for less than $4. In our travels across the country over the course of our engagement, we collected the knickknacks, goblets and glasses that eventually became our centerpieces. After a few meetings and lots of Pinterest sharing, our fabulous florist, Simply Beautiful, was kind enough to let Andrew and I drop off 12 FULL boxes of "stuff" a week before our wedding. They took our family antiques and Goodwill finds and transformed our tables into a dreamy scape of white freeform floral and candlelight.
While their pop rock fame seeking days are over, Andrew and his ex-band mates are all still awesome musicians and wonderful humans. We were able to surprise all of our guests by getting the band back together (with me as the singer—watch out world!) and performing Ed Sherran's "Thinking Out Loud." We only had an hour or so of practice as everyone lives in different parts of the country and we had to fit a rehearsal into the wedding weekend without anyone noticing. We still can't believe we pulled it off, and it will forever be all of our favorite memories of the day.
One of our best and oldest friends Simon (of Baltimore Premier Event Solutions) sang us down the aisle to "First Day Of My Life" by Bright Eyes and "Moon River" from Breakfast at Tiffany's. He also rocked the night away as the singer of our nine-piece band. As a nod to our time spent with the Elton John crew, our first dance as husband and wife was "Tiny Dancer."
Some of our favorite DIY projects included:
Marquee Letters that we made out of letters, mini clear Christmas bulbs, LED tea lights, and lots of gold and silver spray paint.
Gift bags that included a laminated "All Access Pass" (as a nod to our dressing room coordinator days), branded hangover kit in tiny vials, and homemade chocolates from the mother of the bride. I'm a bit of an embarrassing Beyoncé fan and wanted to play on the popular "Feyonce" trend. I had sweatshirts made for all of my bridesmaids that transformed the logo from Beyonce's "Mrs. Carter World Tour" to the "Mrs. Cohen World Tour". Each of the girls had their name on the back in the pink font used on her last album.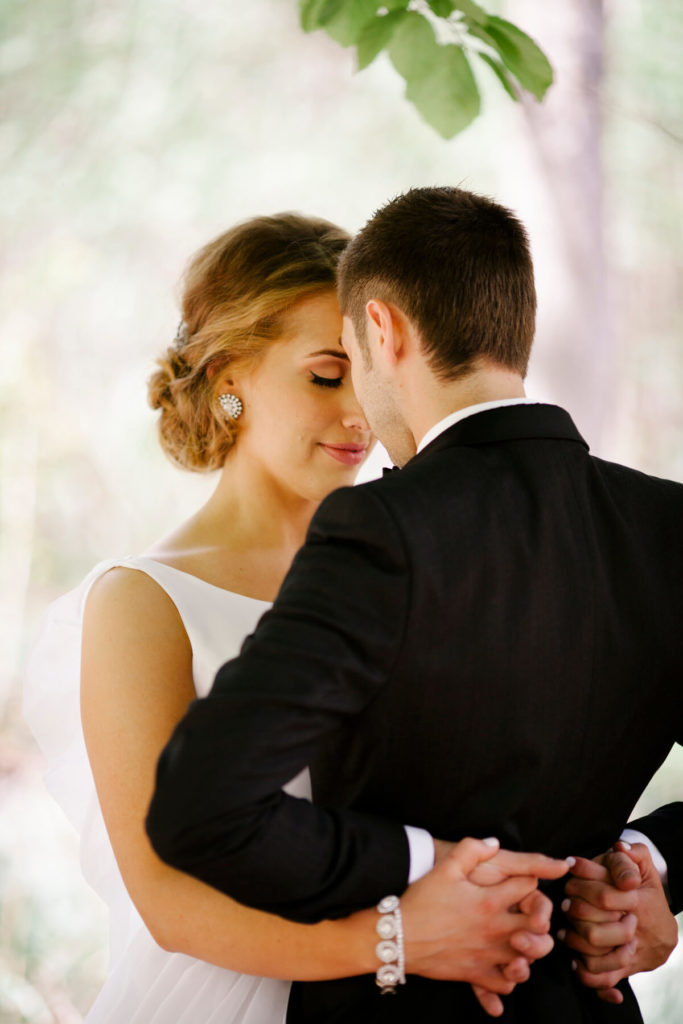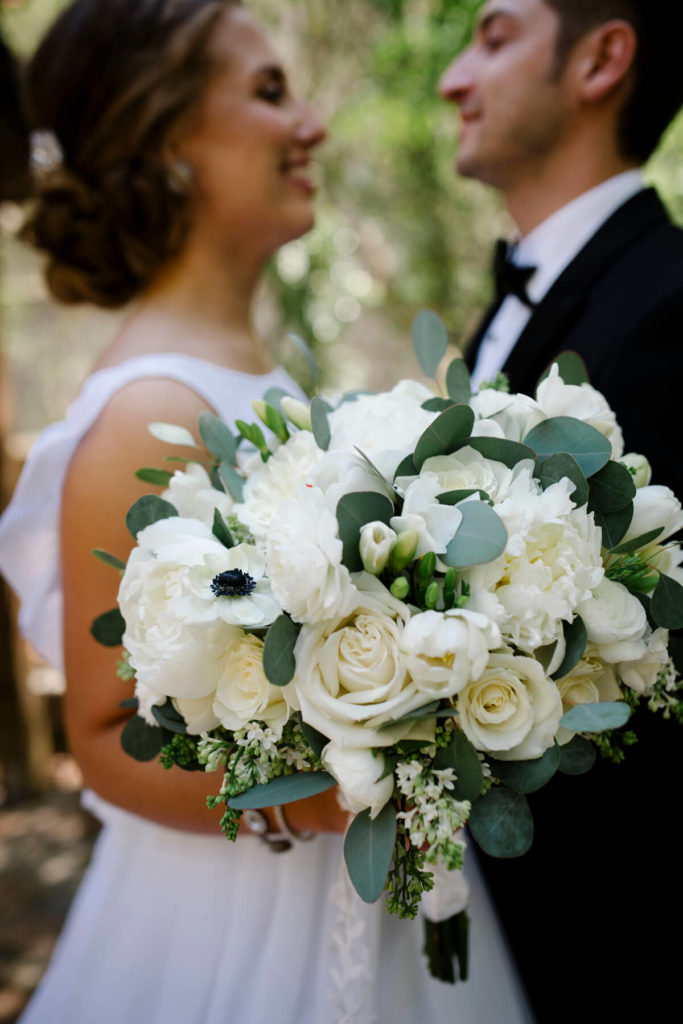 Most Unexpected Event On Your Wedding Day Both Andrew and I agree that the biggest surprise for us was that, although most of our energy leading up to the event was "the party," the best parts of the whole day were being alone in the woods during out first look and standing together under the chuppah. It's funny how the moments you spend the least amount of money and energy planning out end up being the most meaningful.
Piece of Advice When in doubt, take a step back, a deep breath and a shot of tequila.
Beauty Natalie Harris (makeup); Lauren Pelligrini of DK Salon (hair) Bridesmaids I love the trend of mismatched dresses (and allowing my bridesmaids to choose how much to budget for their dress), so I let my bridesmaids pick their own dresses based on the color pallet of mixed metallic. Cake Debi's Cake Studio Caterer Copper Kitchen Decor and Production Baltimore Premier Event Solutions and Revolution Event Design and Production Flowers Simply Beautiful Flowers Groom and Groomsmen Topman tuxedo (groom); Tuxedo House (groomsmen) Honeymoon The Excellence, Punta Cana, Dominican Republic Invitations Papers Plus Linens Table Toppers Location Mt. Washington Arboretum (first look); Mt. Washington Mill Dye House (ceremony/reception) Music: Jazz trio, ceremony musicians, nine-piece band, and DJ from Baltimore's Premier Event Solutions. Officiant Jan Morrison Photographer Natalie Conn Photography Transportation Choice Limousine & Sedan Service Videographer Jerry Meyer Studio Wedding Planner Sharlene Sherman Events Wedding Dresses Badgley Mischka from Rent The Runway (cocktails); Mother's 1984 gown altered by Dalinda's (ceremony); dress from Bloomingdales & Etsy accessories (reception.)
*Due to events out of our control (Uprising in April/May 2015), we had to do some significant rescheduling just days before the wedding. In order to comply with a city wide mandated curfew we needed to end our event by 10pm. Due to Shabbat, our (incredibly lovely) Cantor couldn't perform our ceremony any earlier than 5 pm. The resolution was that we needed to move cocktail hour before ceremony and that I needed to find another dress so that guests didn't see me in my wedding gown before ceremony. At 3 am the Wednesday night before the Saturday affair I rented a gold sequin Badgley Mischka stunner. It certainly wasn't Plan A, but our guests loved having time to mingle and grab a mint julep before the ceremony, and it was fun to greet guests in the glamorous gown.
For ceremony and portraits, I wore my mothers wedding dress. She was gracious enough to let me take it to a seamstress with a sketch and make it my own. The process was not for the faint of heart, but I couldn't have been happier with how it turned out. For the reception/performance I wore an awesome white sequin mini dress with beautiful crystal "shoulder necklace" that made the dress look as if it had jewel-incrusted sleeves. I wanted to feel like a disco ball . . . mission accomplished.