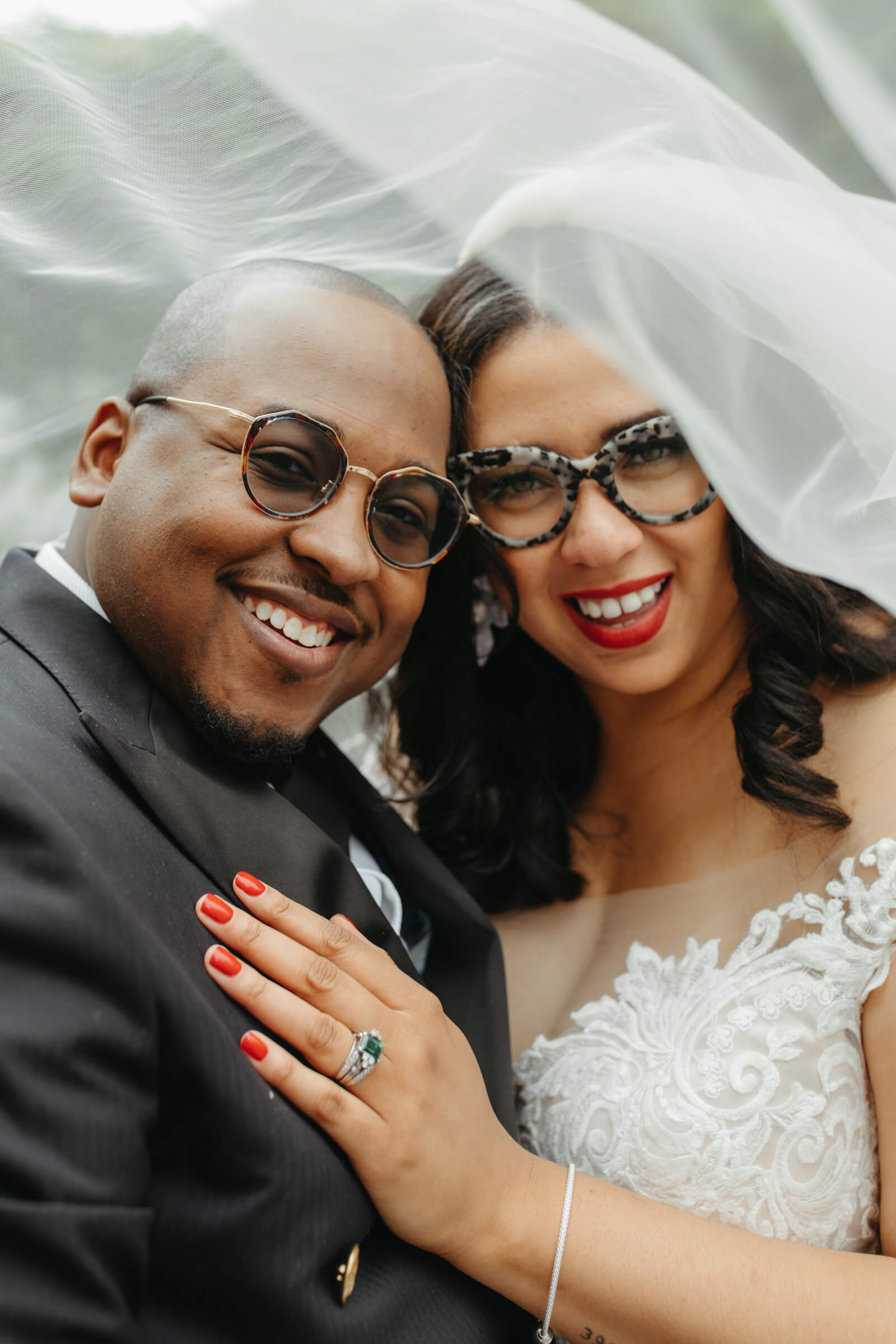 When you're one of Baltimore's Instagram "It" couples, there's a certain amount of pressure in everything you say, wear, do, and plan—and that includes throwing your own wedding. But let's not get ahead of ourselves. When Alysha January (aka @discovercharmcity)—she of the bespeckled, oversized, tortoise-shell glasses—first met Aaron Jones (@tailortron)—he of the impeccable style—neither knew much about the other. They simply crossed paths at Bookmaker's Cocktail Club in Federal Hill one day after work in 2015 and vibed.
January had just started hanging out more with the Mt. Vernon/Charles Village "arts crowd," which included Jones. At the time a mutual friend was hosting people at her home every Friday night for drinks, baked goods, and cheese boards to build a sense of kinship. January and Jones would find themselves spending time together there, laughing and flirting, but it never went beyond that.
It turned out that Jones had a girlfriend and he wanted to make a clean break before pursuing January. That Thanksgiving of 2015, they found themselves packed in at Ottobar dancing to Mariah Carey's "All I Want for Christmas Is You." Jones, now single, leaned in and whispered in January's ear, "Do you trust me?" She shrugged her shoulders, "I guess so," she said. Jones knew he had to make his move, or he'd risk losing her. He convinced her to leave, and they headed to Insomnia Cookies at Johns Hopkins University for warm chocolate-chip treats and then to a koi pond in the middle of campus. "It looks much better during the day," says Jones with a laugh. "We were definitely trespassing at this point—it was one or two a.m." But when they arrived it was just . . . dark. Jones thought there might be some twinkly lights over the pond or, at the very least, some lightning bugs (yes, it was November). Instead, it was 30 degrees, January had just trekked halfway across campus in heels, and they were standing next to a small, inert body of water. But their chemistry was clear, and Jones remembers thinking, "This is the best thing that's ever happened to me." January flashed that big smile of hers and they kissed. 
The two immediately started dating, and that next year, Jones, who co-founded Treason Toting Co., quit his 9-to-5 job to focus on the accessories business full-time, and moved with January into an apartment across the street from his work studio. "I say this all the time," says Jones, "I feel like the biggest decisions in my life seem to always be the easiest ones."
Proposing to January was equally easy. But he had to find (and save for) a ring worthy of her. "I need a little bit of Queen Elizabeth mixed with up-to-date modern jazziness," he told the jeweler—a father of a friend—helping him. The jeweler shook his head, "You f***ing artists." But in the end, he found Jones the perfect elongated emerald stone.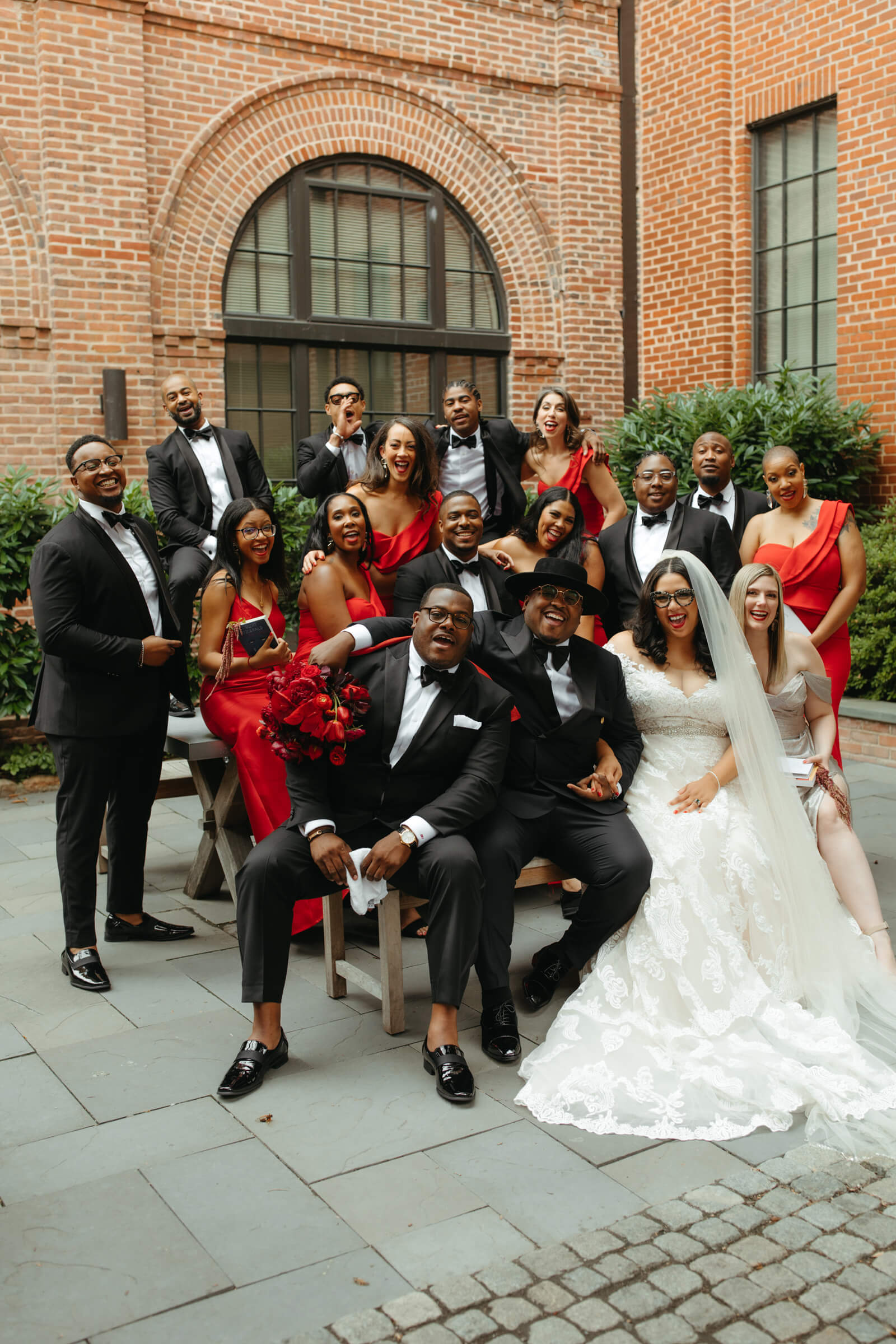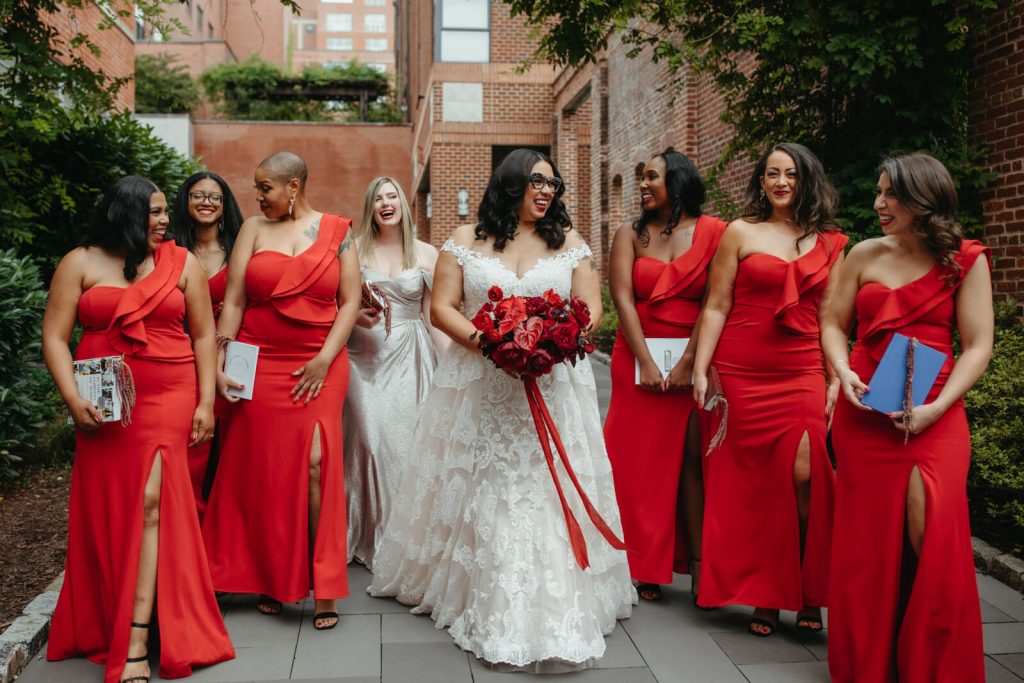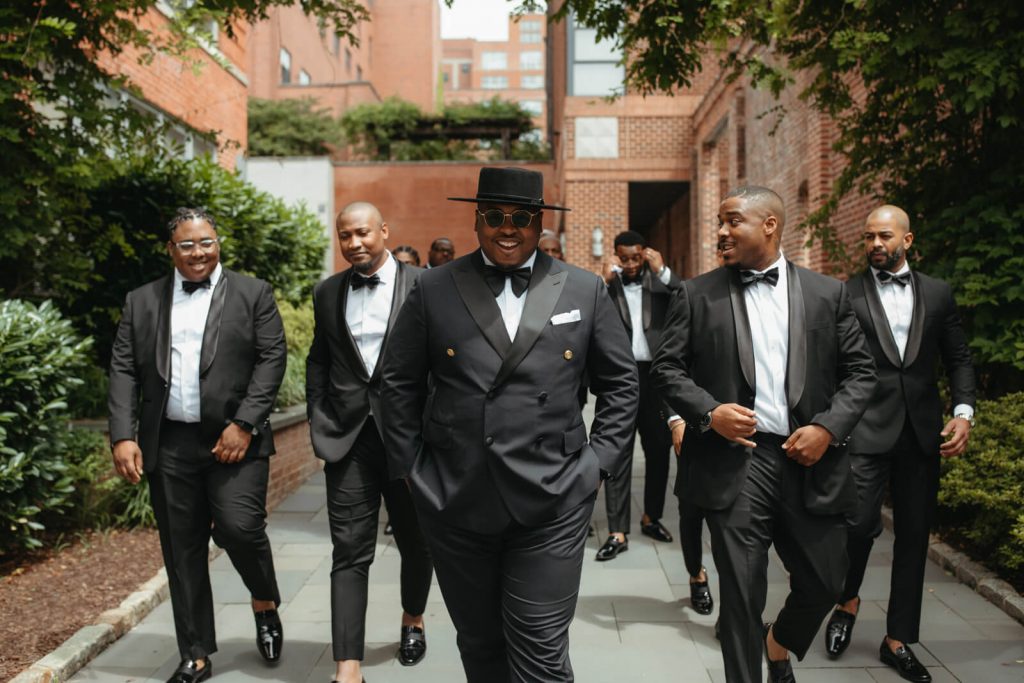 Jones, now the owner of Bushelers tailor shop, finally had the ring in his possession in early July 2019. And, like engagement rings tend to do, it was burning a hole in his pocket, and he knew he had to get it on January's finger. He started by taking her parents for drinks at The Bygone. "That was my moment to get their blessing and show Mom the ring," says Jones. That weekend, January and Jones also spent the day in Washington, D.C. As they headed out the door, Jones strapped on a fanny pack. January regarded him skeptically. "Aaron, you are not that responsible," she told him. "You need to leave that home."  In fact, Jones wasn't planning on proposing in D.C., but he was terrified of leaving the ring. "What if the dog eats it?" he thought. "What if someone comes in the crib and steals it? Or I misplace it?" But, so as not to arouse suspicion, the fanny pack and the ring stayed home. Jones knew he wanted to propose in Mt. Vernon—a place near and dear to them. The weekend before, he had climbed the Washington Monument on a proposal location-scouting trip. "I'm going to give her the ring before I get to the top," he said to his friend as he huffed. So, he decided to keep it simple. The morning of July 7, he called his friend, photographer Devin Allen. They met in the park at West Mt. Vernon Place and figured out where exactly January had to sit for maximum stealth picture snapping. When January showed up, she initially refused to sit where he wanted her to. Eventually, she relented, and he proposed down on one knee. She said yes, of course, and both of them cried. He more than she, as tends to happen in their relationship. It was a hot and sunny day, but as the two of them walked back to their apartment, rain came out of nowhere. "It only rained for the five minutes it took us to get to the house," says January. They let the cool drops wash over them and saw it is a positive sign. "It's kind of like a reset," says Jones. "Here's to your fresh start." January felt like it was a nod from their ancestors. "We were very close to our grandparents and great-grandparents. It felt like they were crying happy tears down on us," she says. Then the sun peeked out and they headed to V-NO in Fells Point, where Jones had 30 friends waiting with bottles of Champagne.
When it came to the wedding planning, Jones was as excited and involved as January, the marketing and engagement manager at Charles Street Development. And they were both on the same page when it came to their wedding vision, detailed in a mood board created by Jones with wedding planner Jessi Rutherford of Sentimental Fools Events.
They also spent time talking about what they hate about weddings, says Jones. They didn't want to get stuck inviting people who didn't really know them. They didn't want to eat a dry chicken breast with asparagus and mashed potatoes. "I wanted it to be reminiscent of who we are socially in real life," he says. "And I don't know how, but we successfully did it in a major way." Jones and January knew a lot of their fans would be following along eager to see what she wore (an Allure gown from Elite Secrets Bridal) and how he accessorized (a B.M. Franklin & Company custom handcrafted hat), but they never compromised on any details or decisions.
The city is just one more member of their community shining a light on them as a couple, explains Jones. "Baltimore is the canvas. I think we are the artwork."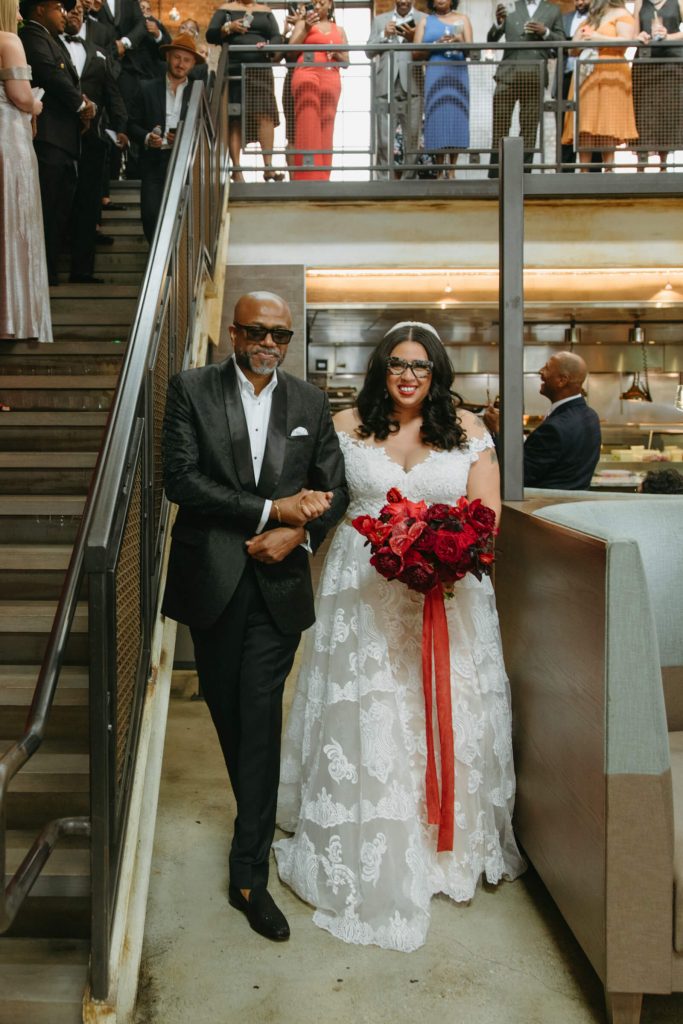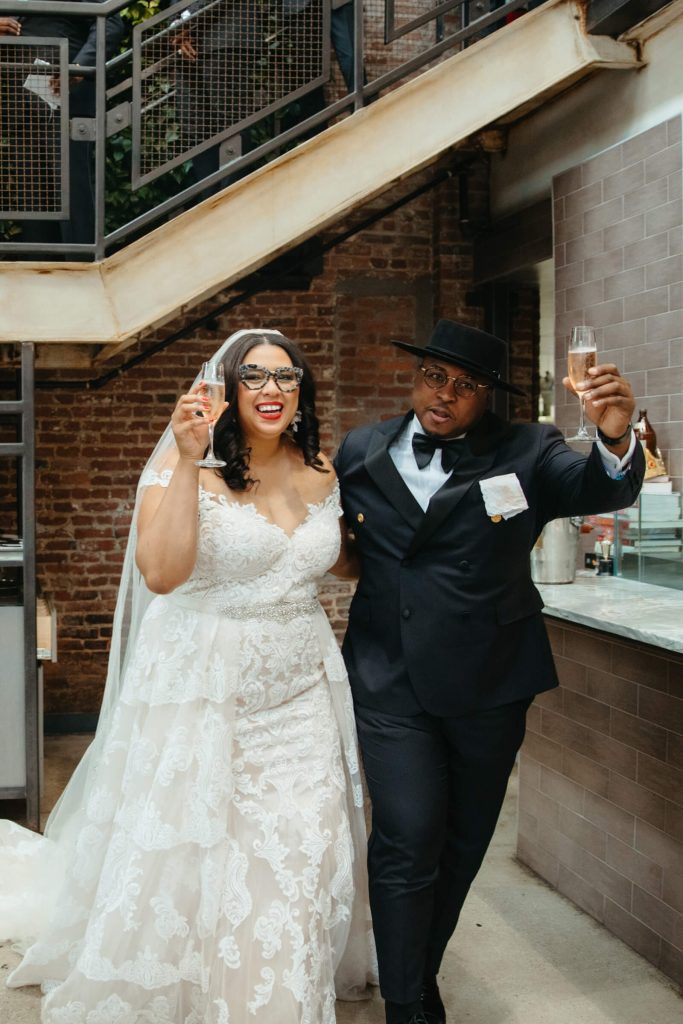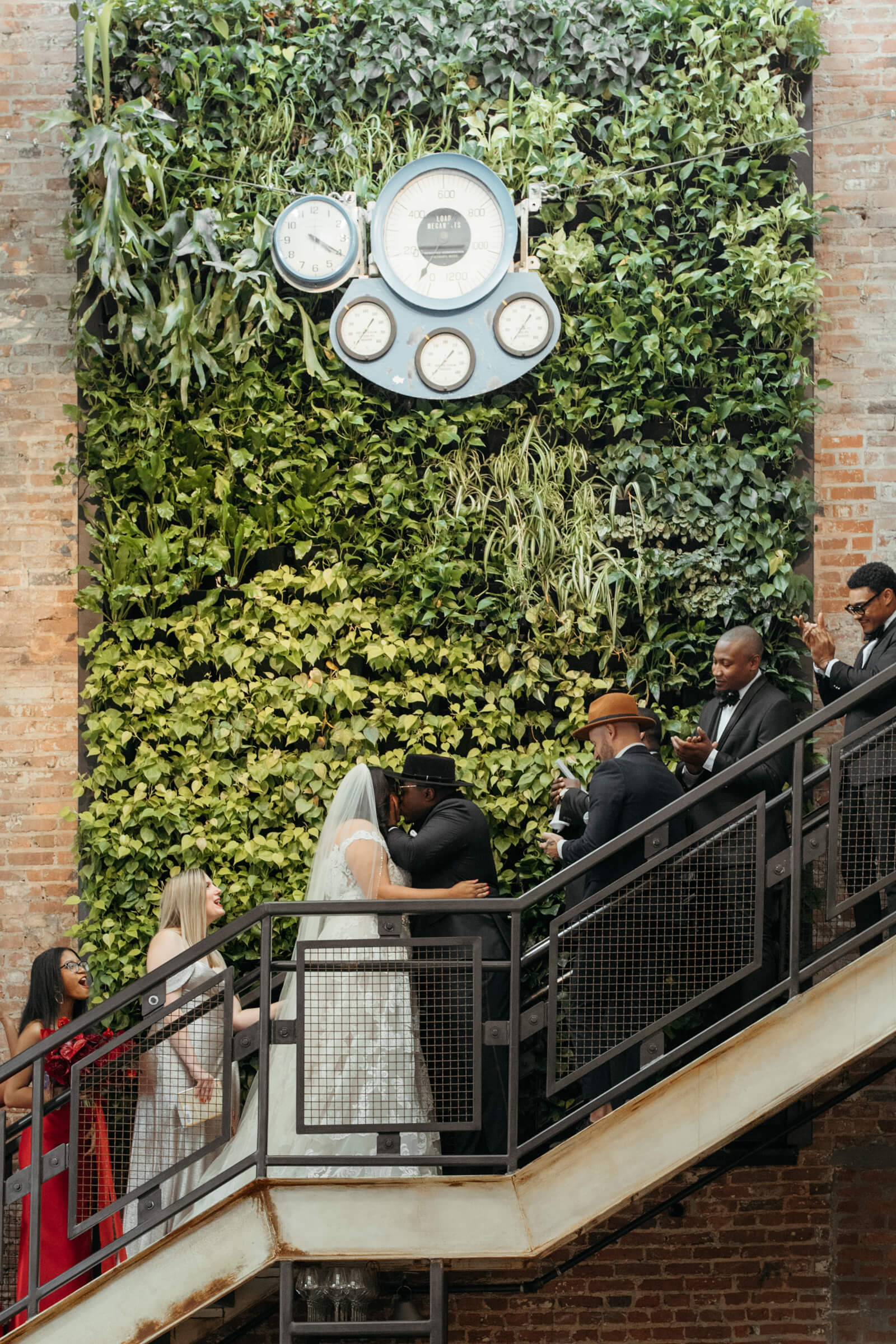 After a date and venue change due to COVID-19, they landed on June 12, 2021, at Gunther & Co. in Brewers Hill, with a revised guest list, but still the same feeling. They knew they wanted a black-tie affair (even when the reception moved to the afternoon) and to incorporate the color red. The couple had bonded over their mutual love of James Bond and wanted a 007 ambiance. It also had to feel like a fun party. Rutherford and her crew were up for the task. "This was a longer planning process due to COVID," she says. "At the beginning of the process, Alysha was definitely the logistics lead and Aaron was all about style and food." As they got closer, January turned her focus to making sure family members could attend safely (her grandmother surprised her by coming up from Mississippi for the wedding), and Aaron took the reins with the florist. That included incorporating some of his vintage sewing machines with the florals—a "maximum impact moment," says Rutherford.
January's dad had told her if they just wanted to elope, he'd gift them the money. "But we knew we had to have the wedding," says January. "Not that it had to be anything crazy expensive—we could have been in someone's backyard—it's just the gathering of our folks had to be there." Jones agreed. "If our friends and family weren't there to celebrate, it's not even real to us."
That's because their community of artists, bloggers, fashion icons, and foodies has been an integral part of who they are as a couple. They surround themselves with people who contribute, not just to making Baltimore a better place, but to each other as well. They wanted that feeling—a safe space to be who they are—to come across in their wedding, too. "It helped us decide we weren't doing sit-down tables—we wanted free roaming," says January. By creating a natural flow, the idea was that guests would be forced to mingle and make eye contact with each other—on the dance floor, at the open bar, at different food stations—and spark up a conversation. Weeks after the reception, a friend pulled Jones aside and told him, "That was the easiest wedding I've ever attended." 
The night before the wedding, January stayed by herself at their apartment—giving Jones and his groomsmen the suite at Hotel Monaco—so she could reflect and prepare. She woke up at dawn, and before meeting her bridal party for hair and makeup, she took a quiet walk around her neighborhood—just her and the dog.
The rest of the day flew by. There were beautiful moments, like January's bridesmaids carrying books—instead of bouquets—each with one dramatic stem of amaranth acting as a bookmark. The morning of the wedding, all the bridesmaids explained why they chose each book to gift January and Jones. (Titles ranged from The Company of Women to The Adventure Challenge to Seeking God's Face.) "What started as a way to save money on florals and make a bold statement became one of the sweetest moments of the day," says Rutherford.
When it came time to exchange their vows, they did so on the grand staircase flanked by their bridal party. All their guests stood below, holding cocktails, smiling, and "ugly crying" at the beautiful thing they were witnessing. "To look down and see our group of people and the diversity in the room—to me that's a big deal," says January. Their officiant, friend Micah Pringle, included a community vow, with everyone there pledging their own "I do's" to watching over Jones and January's relationship. 
"These are the people that Aaron and I can call when we're really struggling," says January. "When we need someone to remind us of why we got married or a hug to figure out how we make it through a hard time. We're inviting you into our space, there's a responsibility that comes with that."
There was, of course, one more big influencer at the wedding—and that was the city where they fell in love. "I think Baltimore played a pretty big role in our wedding," says January. "I knew I wanted to get married in Baltimore, I knew I wanted Baltimore vendors, and I knew I wanted a majority of our guests to be from here, because no one is going to understand it the way they do." The city is just one more member of their community shining a light on them as a couple, explains Jones. "Baltimore is the canvas. I think we are the artwork."