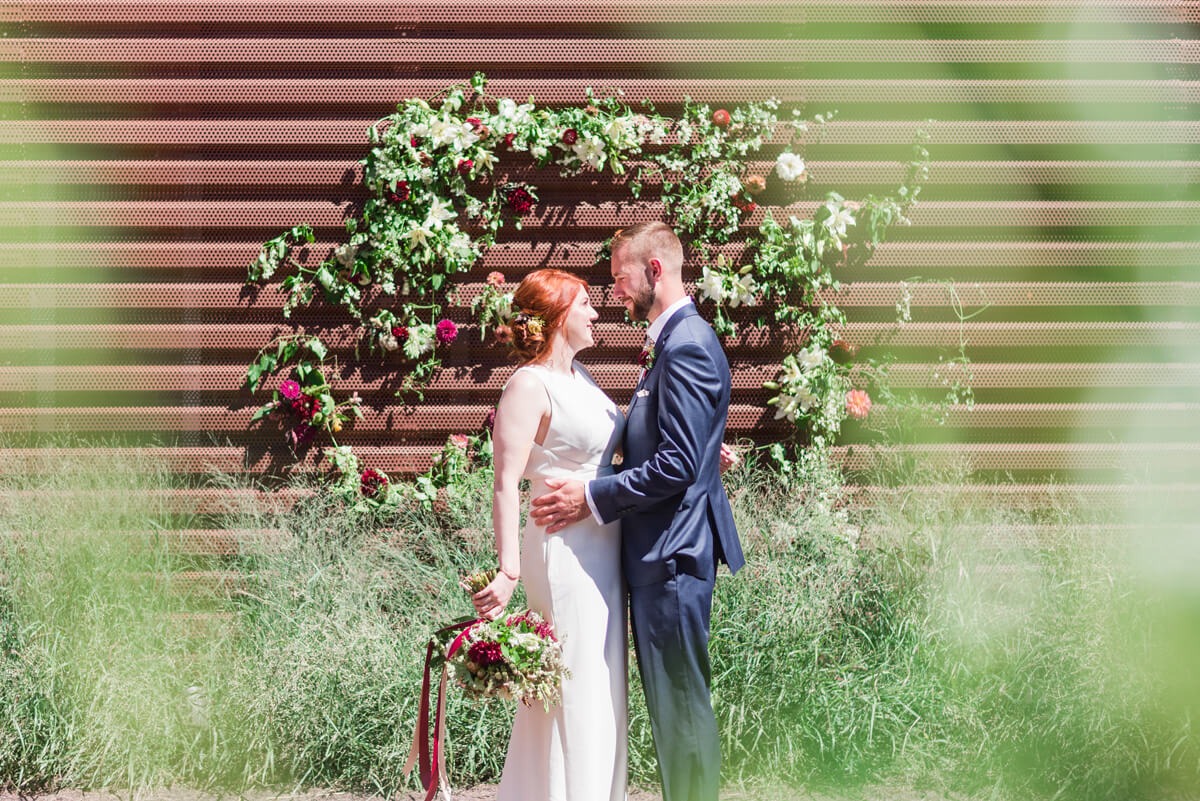 From the stylists/photographers Britney & Marlayna: This shoot was born from our love of the locally grown and intimate Baltimore wedding. Keeping the day cozy with the guest list doesn't have to mean going small on gorgeous details and amazing food. Even better is getting to treat your adoring guests to a sweet and sustainable celebration, which shows off the best of the area. Our inspiration for the shoot was a wedding that felt attainable and beautiful.
Many of the vendors on this styled shoot team are already focusing on using locally grown goods, especially La Cuchara, which served as our venue, and Local Color Flowers. La Cuchara, a Basque-inspired restaurant makes it their priority to use ingredients from nearby farms or farmer's markets. They create delicious dishes including our shoot's family style meal of whole roasted chicken from Zahradka Farm, which filled the space with the scent of fresh herbs and charred local spring onions. (You can check out the full menu from the shoot below.)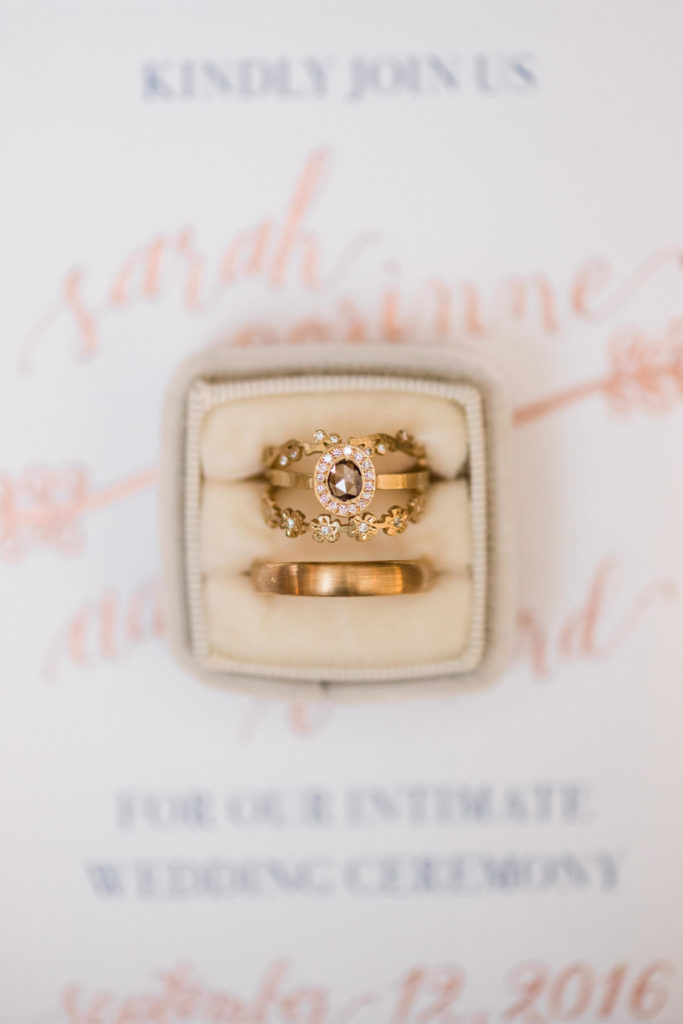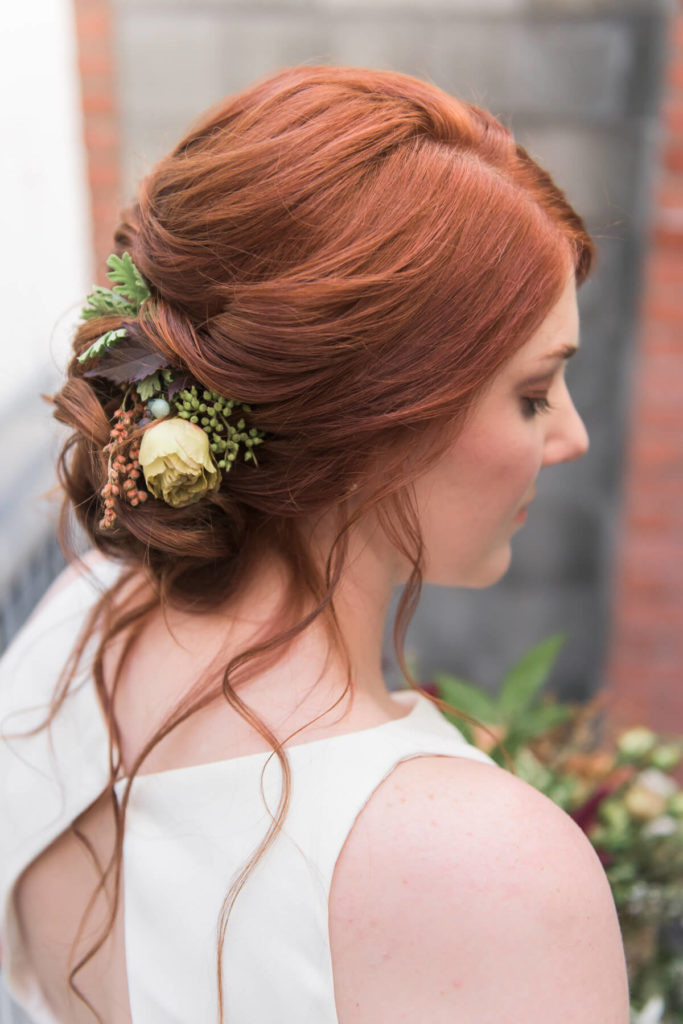 Local Color Flowers uses flowers and foliage sourced locally from farms within 100 miles of Baltimore. For the shoot, they created beautiful centerpieces with deep fall hues and lined the table with planted herbs in repurposed containers. From the floral to the meal, the room not only looked gorgeous, but also was deliciously aromatic. For the ceremony, a floral frame was constructed, with flowers and greens weaved through the patterned wall on La Cuchara's patio. The addition of the arch transformed the outdoor dining space, balancing the edgy modern and industrial materials with lush organics.
Inspiration can be found anywhere. La Cuchara's grid wall sparked the stunning, metallic, hand-painted liners and copper calligraphy in the invitation suite from Candace Cage Design. The invitation and RSVP cards gave a nod to the lattice designs on the restaurant's plates, and are printed on an environmentally responsible, recovered fiber.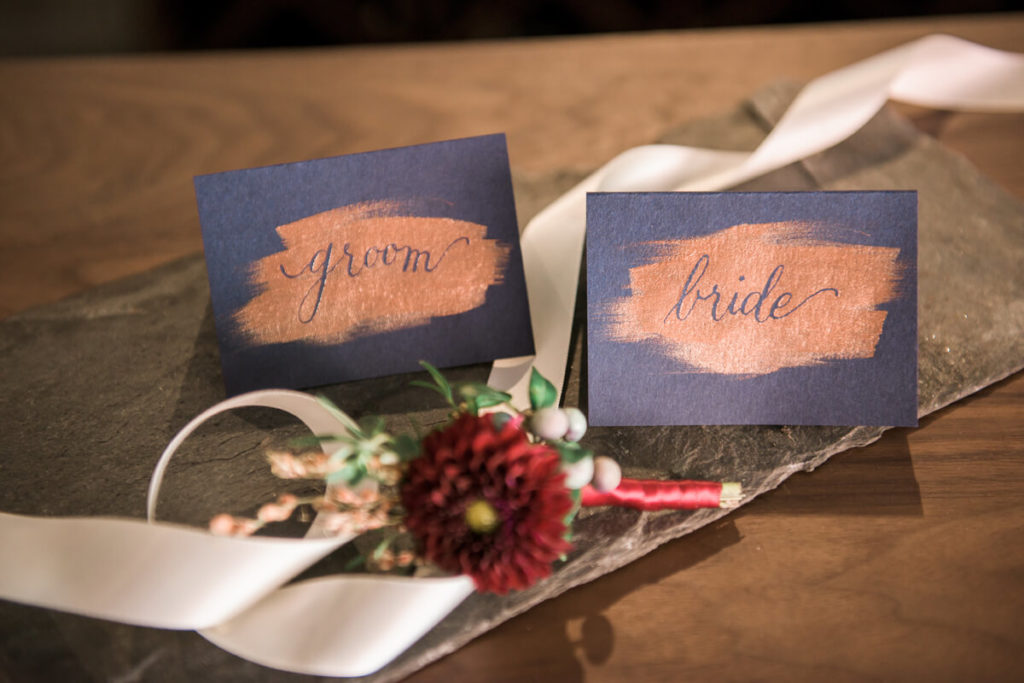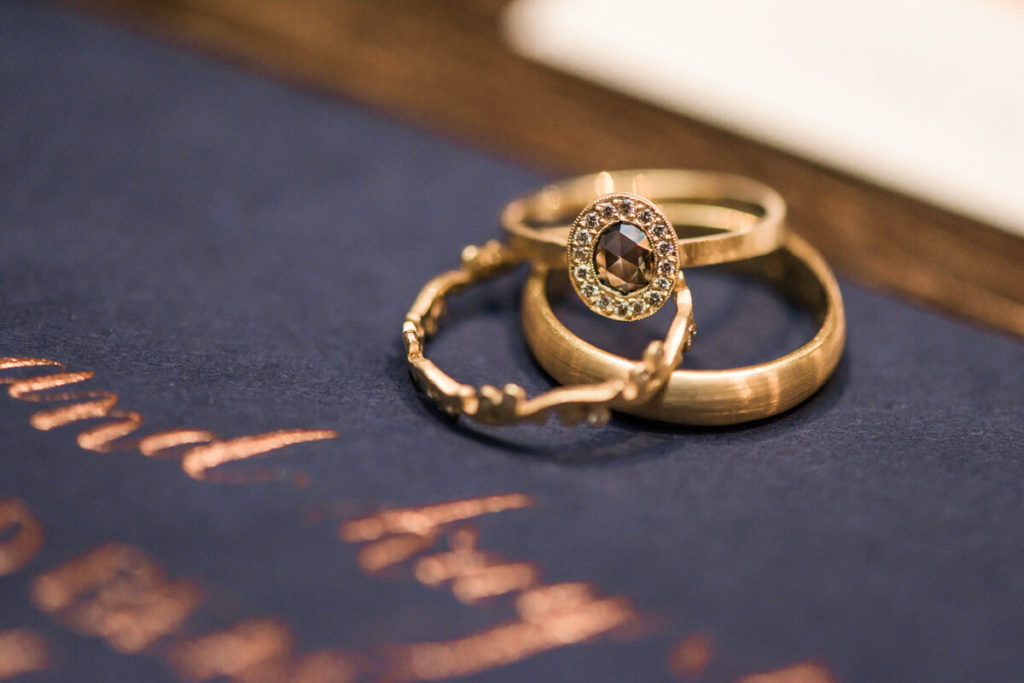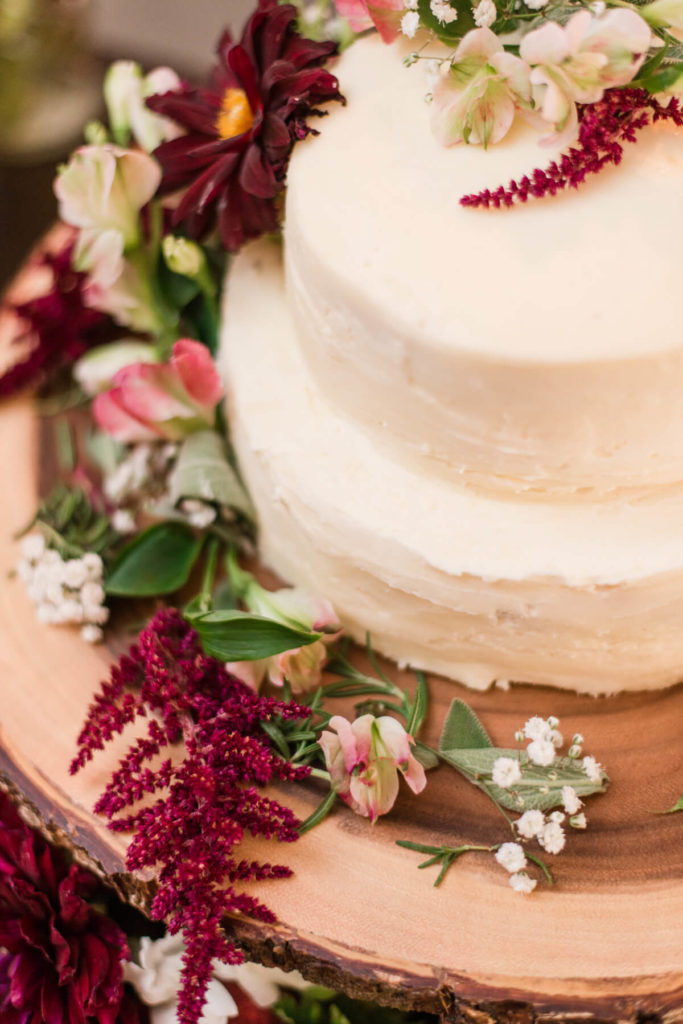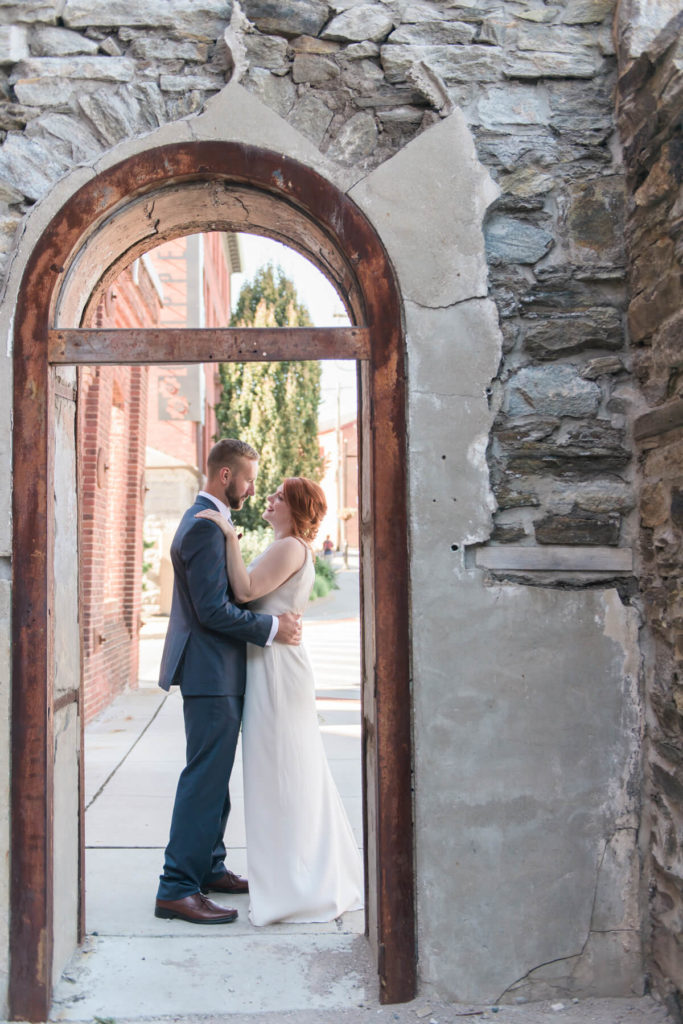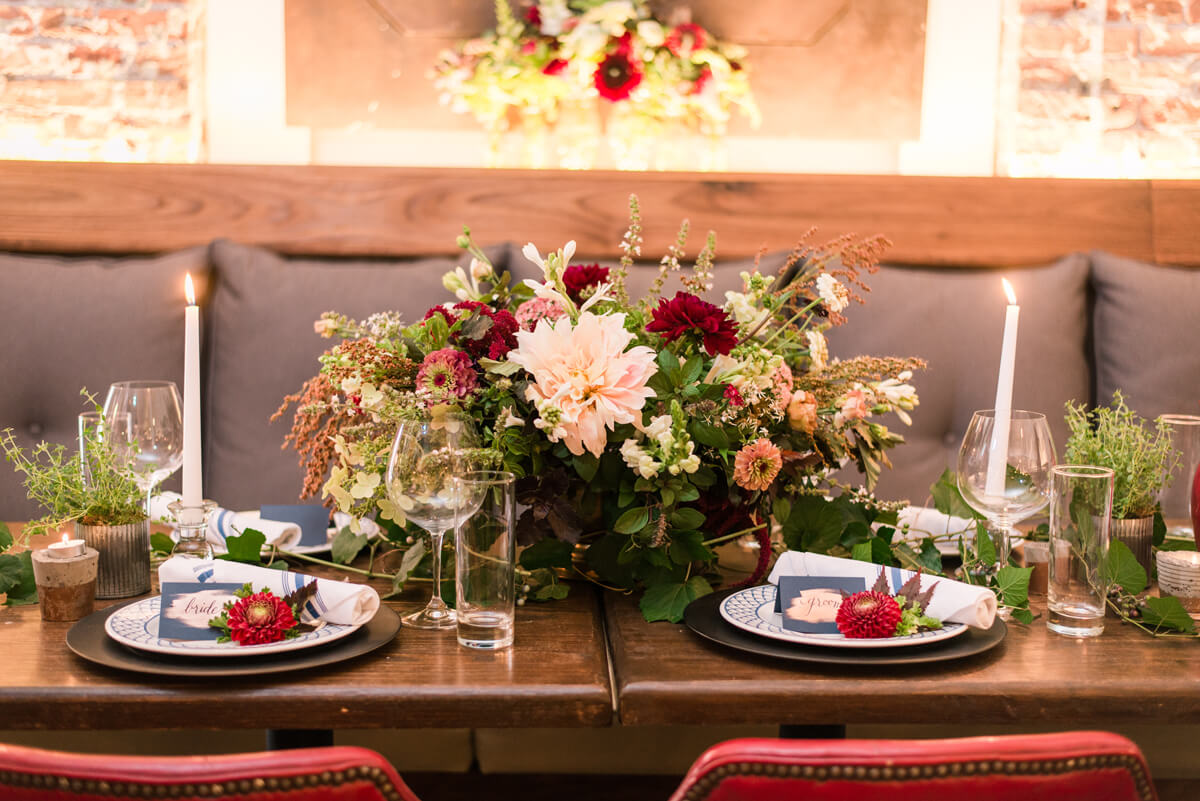 Jennifer Dawes is the designer behind the gorgeous engagement ring and band from St. John's Jewelers in Ellicott City. She creates each piece by hand, for those wanting non-destructive, sustainable and conscientious jewelry. For brides wanting a simple elegant and more modern gown, we loved reaching out to Bella Bridesmaids shop for a sleek and timeless After Six gown. This more modern detail is again balanced by softer touches like a low and loose up do and natural warm beauty tones by Caitlyn Meyer.
For couples wanting to incorporate some personal DIY touches, you can check out the tutorial we used for our concrete candleholders here. This is a fun and simple project that adds raw industrial touches to the tables, and is something that couples can enjoy doing together. Couples can even learn the steps to creating their own pressed flower guestbook like the one in our shoot, during a workshop with UpDown Bindery and Local Color Flowers later this fall!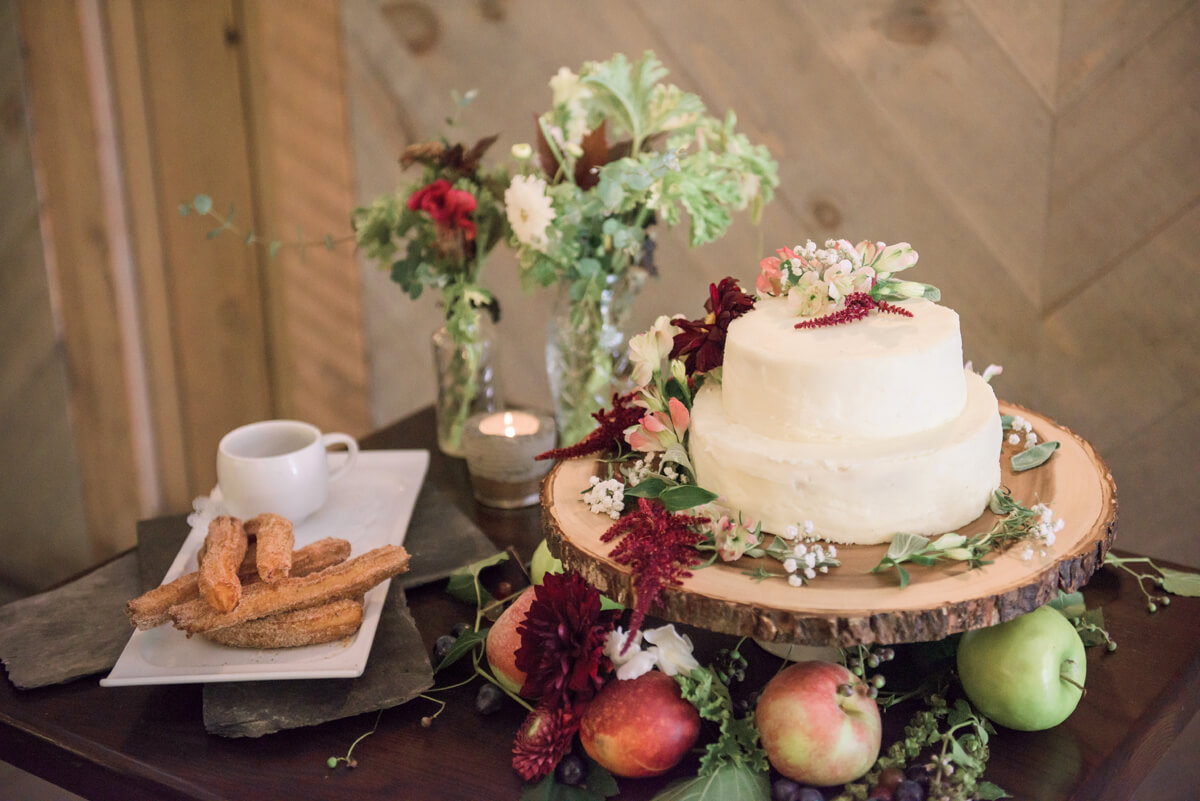 La Cuchara Locally Grown Styled Shoot Menu:
Pintxo and charcuterie plates: Valdeon cheese with champagne grapes; Manchego with Marcona almonds; Gildas, marinated white anchovies with piquillo peppers and queen's olives; and Morcilla, blood sausage with fried quail eggs and strawberry Dijon.
Entrée plates: Zahradka Farm whole roasted chicken with fresh herbs and charred local spring onions and grilled eggplant.
Dessert: Cinnamon churros, annatto, black pepper, warm chocolate sauce and a two-tiered French Vanilla cake with raspberry and lemon curd filling and American buttercream.