While the idea of a honeymoon might conjure up the classic image of a couple in their getaway car—decorated with a "Just Married" sign, tin cans clanking behind them—as they head off to a luxurious vacation, many couples find that figuring out (and financing) a honeymoon just isn't feasible.
It's no wonder, then, that more couples are turning to the mini-moon or micro-moons—terms used for a quick getaway to decompress after the wedding—and coming back to the official honeymoon several months or a year later.
"We have clients requesting mini-moons because, either financially or [in terms of] time off work, they can't turn around after getting married and go on a honeymoon for seven or 10 days," says Andrea Norfolk, president of Baltimore-based independent travel agency Shoreline Destinations.
Such was the case for Melissa and Matt Van Tuyl, who married at the Mt. Washington Mill Dye House in September 2018. "We had always talked about visiting Thailand," says Melissa Van Tuyl, an Anne Arundel County resident who works in advertising. "It was one of our bucket-list trips for as long as I can remember. We decided that our honeymoon was the perfect occasion to take the leap and head on the long flight to the other side of the world."
But because of the extended flight time (upward of 24 hours with a layover), the Van Tuyls decided to travel for two weeks, timing the trip with the Thanksgiving holiday to minimize the number of days away from work.
"We still wanted to be able to unwind and relax after the wedding, so we decided to take a mini-moon to the West Coast of Florida," Van Tuyl says. "Matt's parents have a condo there, and it made a lot of sense for us to be able to get some time alone and just unwind." It was exactly what they needed until their actual honeymoon.
For others, a staycation is the perfect mini-moon. After their weekend-long celebration with guests from out of state—including an intimate ceremony in the courtyard of the Ivy Hotel and a reception at Highlandtown's Haven Street Ballroom—Rodgers Forge residents Hannah Dusseau and Tom Williams decided to stay at the Four Seasons Hotel Baltimore to relax.
This year, three months after they said "I do," they will travel to Mexico for their honeymoon. "Our mini-moon is an opportunity for us to unwind in our hometown after a fun-filled weekend," says Dusseau, who worked with a travel agent to book their honeymoon. "We both work very busy jobs and have family that live out of state that we visit often, so for our honeymoon we wanted to have the option to be adventurous, but mostly just wanted to relax on a beach."
Couples who have embraced the mini-moon highly recommend it. "The wedding planning and wedding itself are exhausting, and you want to be able to enjoy your honeymoon—not just sleep the whole time," says Van Tuyl.
Destination weddings, which have become increasingly popular over the past few years, have also contributed to delaying the honeymoon. As more couples travel for their weddings, either across the country or internationally, they are opting to extend their trip for a few days somewhere nearby and put off the more extensive vacation elsewhere.
But that doesn't mean that the mini-moon has to be ho-hum or can't be equally exciting. For a quick, easy mini-moon on a set budget, Norfolk recommends all-inclusive resorts. "It seems like couples are paying for more aspects of the wedding itself these days, so then money is more of a concern with the honeymoon," she says. Couples like all-inclusive resorts because they know the cost up-front. "You will not pay any more unless you want to do optional spa treatments or excursions off-property. It's a great way to budget," Norfolk explains. And with several Caribbean islands a quick nonstop flight away from Baltimore, the mini-moon doesn't have to be limited to driving distance. "You can absolutely do it in three to four nights and have a great Caribbean honeymoon."
With that in mind, we've rounded up nine mini-moon destinations within an easy drive from Baltimore for every type of couple, plus five spots that make sense if you're willing to get on a plane.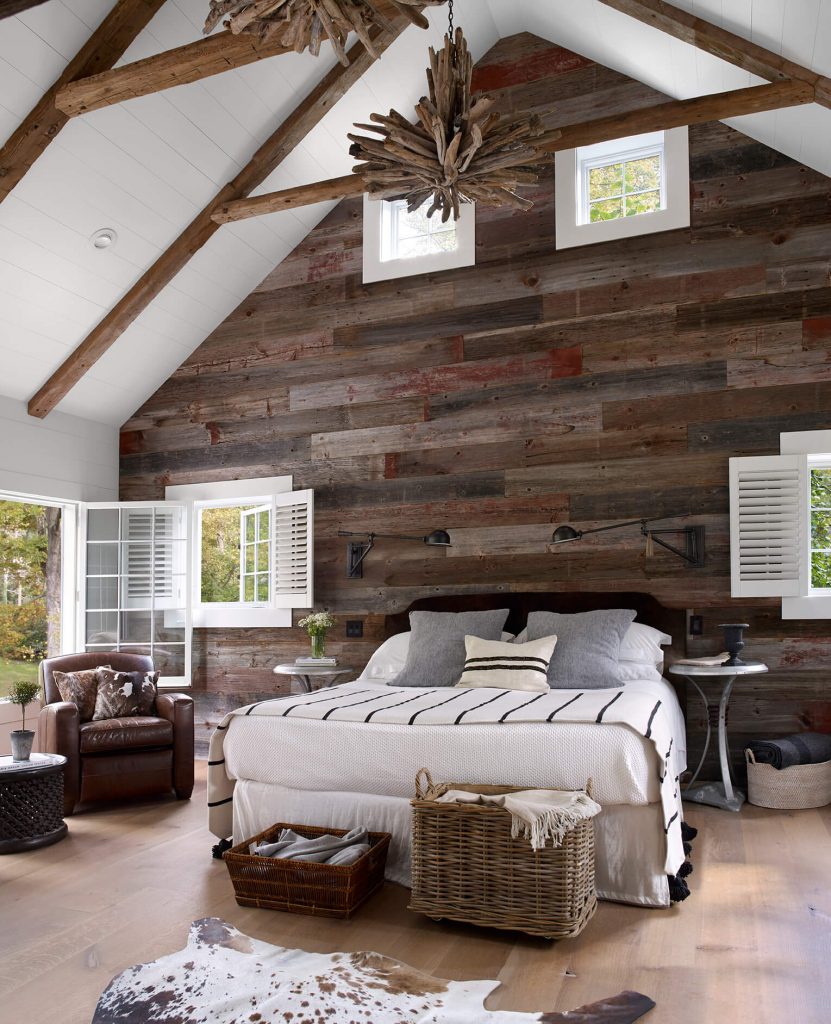 Connecticut's Silvermine River
Location Norwalk, Connecticut
Drive time 5.5 hours
Vibe New England charm
Price $$$$ (from $750/night)
On the banks of Connecticut's Silvermine River, The Inn at GrayBarns oozes New England charm. Surrounded by rolling hills, its 17th-century structure has served as a textile factory, speakeasy, and classic country inn that hosted Elizabeth Taylor and Eddie Fisher on their honeymoon in 1959.
Recently remodeled, the new adults-only Inn at GrayBarns highlights the Colonial building's original post-and-beam architecture with crisp white interiors and custom-made furniture in six king suites (think fireplace, soaking tub, and French doors leading to the bucolic grounds). Your stay includes a rustic breakfast buffet, while the front desk can arrange in-room services ranging from private yoga to a couples massage.
Inspired by the idyllic scenery, the area has long been a gathering place for artists. Explore the Silvermine Arts Center and head into the nearby town of New Caanan to tour the Philip Johnson Glass House, an architectural marvel and museum set on 49 acres. For dinner, the Tavern at GrayBarns is a no-brainer, beloved by locals and visitors alike for showcasing ingredients from local purveyors in seasonal menus. Ask for a table with a river view.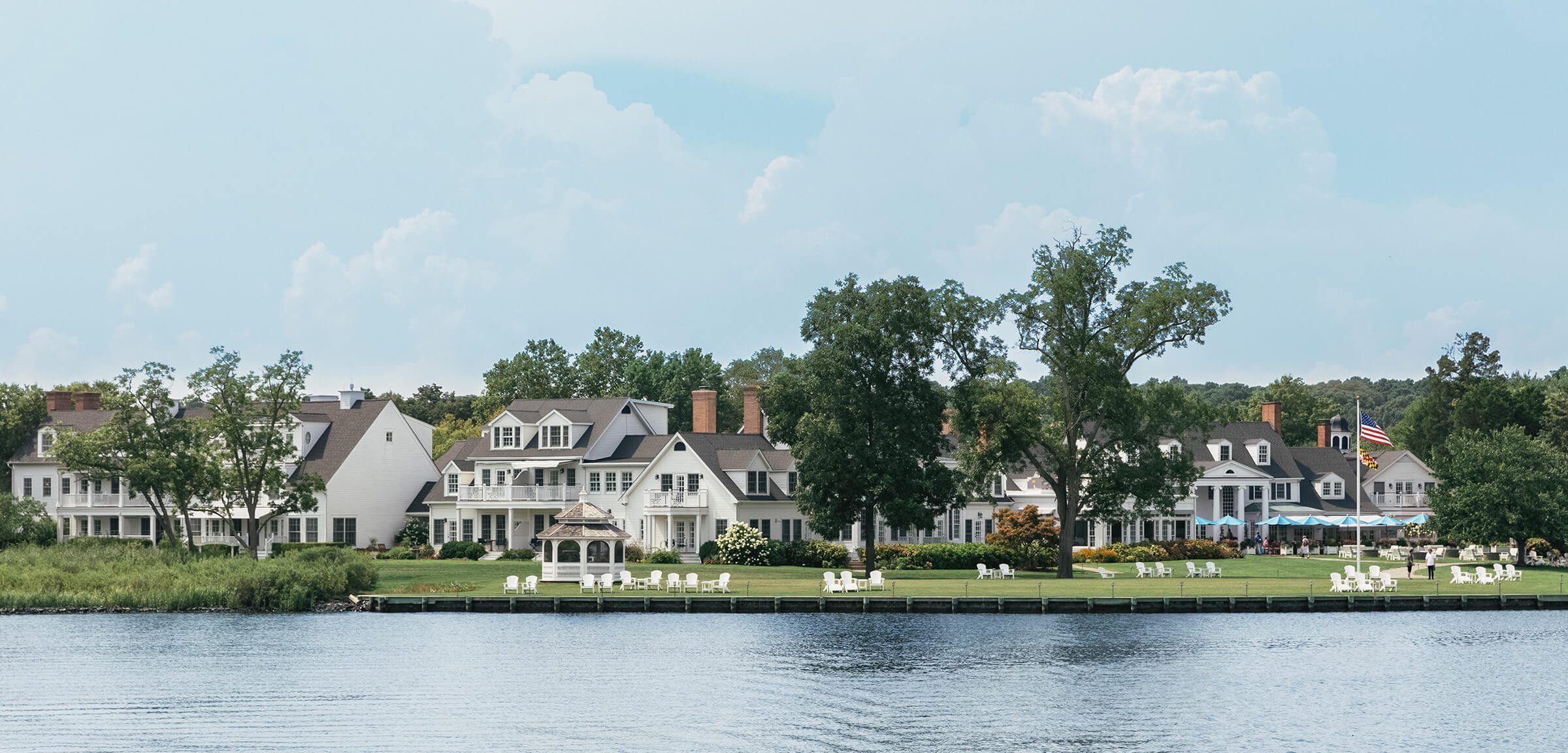 St. Michaels
Location St. Michaels, Maryland
Drive time 1.5 hours
Vibe Seaside tranquility
Price $$$ (from $300/night)
Host to many an Eastern Shore wedding (they filmed Wedding Crashers here, after all), St. Michaels' waterfront location, fine dining, and idyllic main street make it an ideal post-wedding escape, too.
For high-end waterfront accommodations, look no further than the Inn at Perry Cabin. On the shores of the Miles River, the inn, which dates to the War of 1812, expertly balances modern style and amenities with historic character.
This resort-style property has a spa, fitness center, pool, tennis courts, and a golf course on site. And staff can arrange sailing trips, motor boat tours, and kayaking excursions to explore the water. With its multiple dining experiences—from local beers at Purser's Pub to fresh-caught seafood and waterfront seating at Stars—you won't want to step foot off the property.
If you do get out and explore (it's an easy half-mile to town by bike), meander the eclectic shops on Talbot Street, or take a walk around the waterfront (stop for a photo at Honeymoon Bridge) on your way to the Chesapeake Bay Maritime Museum. Don't miss craft spirit tastings at Lyon Distilling Co., and enjoy a local rockfish dinner at the Zagat-rated 208 Talbot.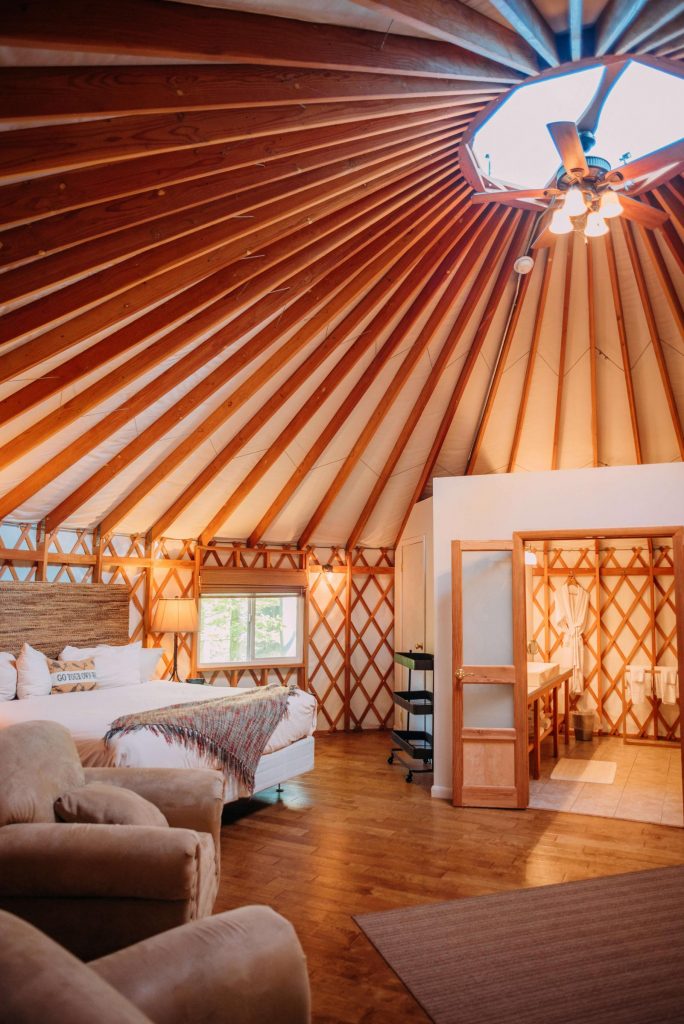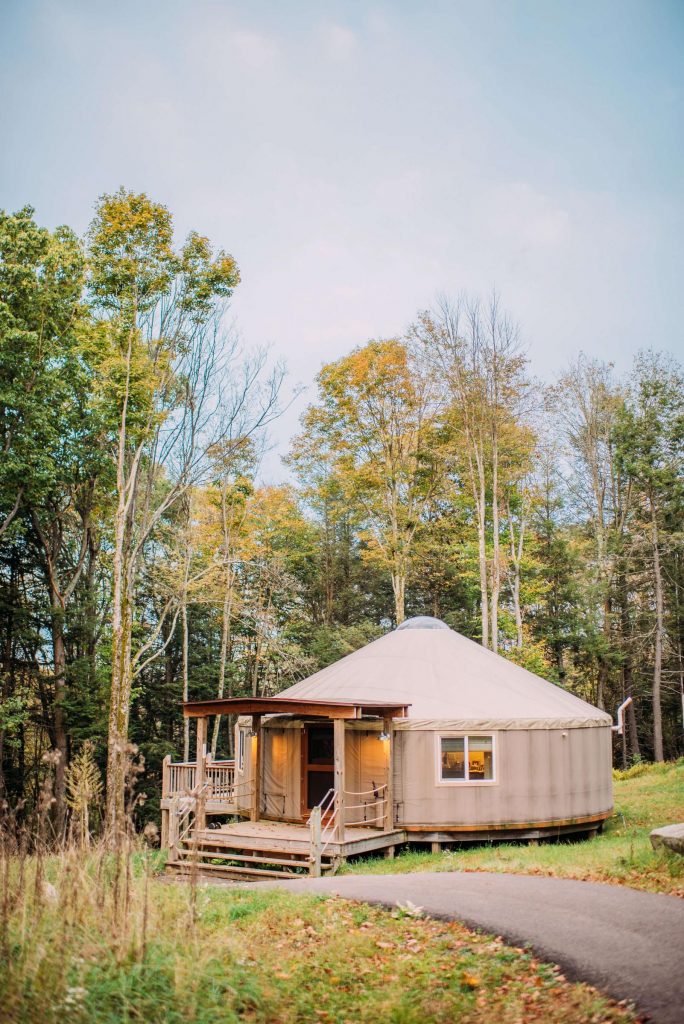 Savage River Forest
Location Frostburg, Maryland
Drive time 3 hours
Vibe Rustic escape with luxury details
Price $$ (from $250/night)
Whether you're longing to lace up your hiking boots or curl up with a glass of wine in front of a fire, the Savage River Lodge delivers rustic charm with honeymoon-worthy service.
Surrounded by 700 acres of state forest, the resort takes glamping to a new level with soaking tubs, gas log fireplaces, radiant floor heating, and luxury bedding in its 18 two-story log cabins and eight yurts. Wake early and take in the sunrise from the grand lodge, which serves a full breakfast on weekends and award-winning new American cuisine nightly, or sleep in and enjoy breakfast in bed thanks to the daily delivery of fresh-baked goodies of your choice (gluten-free upon request) via picnic basket.
Then choose your own excursion: The property maintains 14 miles of hiking trails, which connect to the Mount Aetna Tract of the Savage River Forest and can arrange guided fly-fishing tours or shuttle you to bike the Great Allegheny Passage. (Fun doesn't stop in the winter—just add cross-country skis or snowshoes, available for rental at the lodge.) Getting cabin fever? A 10-mile drive into Grantsville yields shopping (Grant's Mercantile), dining (Cornucopia Cafe), and sightseeing (Spruce Forest Artisan Village).
Philadelphia
Location Philadelphia, Pennsylvania
Drive time 2 hours
Vibe Escape in the clouds
Price $$$ (from $440/night)
The new Four Seasons Philadelphia is the ultimate in urban luxury. On floors 48-60 of the Comcast Center, the city's tallest building, this hotel serves panoramic views of the Philly skyline and cultural landmarks, from Liberty Place and City Hall to the southeast to the Philadelphia Museum of Art (cue the Rocky theme song) to the northwest.
Pamper yourself at the spa on the 57th floor, offering signature massages incorporating crystals, or take a dip in the infinity pool, where the water meets the city skyline thanks to massive floor-to-ceiling windows.
To taste your way through the city, let the Four Seasons guide arrange a tour of James Beard Award-winning restaurants, including the hotel's own Vernick Food and Drink, or sample the many flavors of Reading Terminal Market. While you're out and about in the City of Brotherly Love, snap a selfie in front of the Love and Amor statues at Love Park and Sister City Park, respectively.
Follow the Delaware River Trail, which stretches from Spring Garden Street to Ellen Street, to explore the city's many waterfront attractions, such as Spruce Street Harbor Park, RiverRink (home to a roller rink and ferris wheel in the summer and ice skating in the winter), and Cherry Street Pier (a multi-use complex housing artist studios, a marketplace, and eateries).
Hudson River Valley
Location Beacon, New York
Drive time 4 hours
Vibe Artsy small-town culture
Cost $$ (from $269/night)
One of the most popular and accessible small towns dotting the Hudson River Valley, Beacon hits the region's characteristic charm with sweeping river and mountain views, a healthy arts scene, and a walkable mile-long Main Street. In the middle of it all is the Inn and Spa at Beacon, a 12-room boutique hotel whose restorative qualities and small-town charm have been extolled in Vogue.
The inn expertly balances coziness with touches of luxury (in the rooms, rustic quilts top fluffy mattresses dressed in crisp white linens, and an antique armoire houses Naturopathica skin care products). Spa packages can be booked with your room or added as desired—a private couples yoga class is offered on the rooftop overlooking Main Street and the Hudson River.
In the town of Beacon, check out modern art museum Dia: Beacon, explore a citywide celebration of the arts on the second Saturday of each month, take a kayak tour of Pollepel Island to visit Bannerman's Castle, located in the Hudson River just south of Beacon, or make the moderate hike to the vista atop Mount Beacon.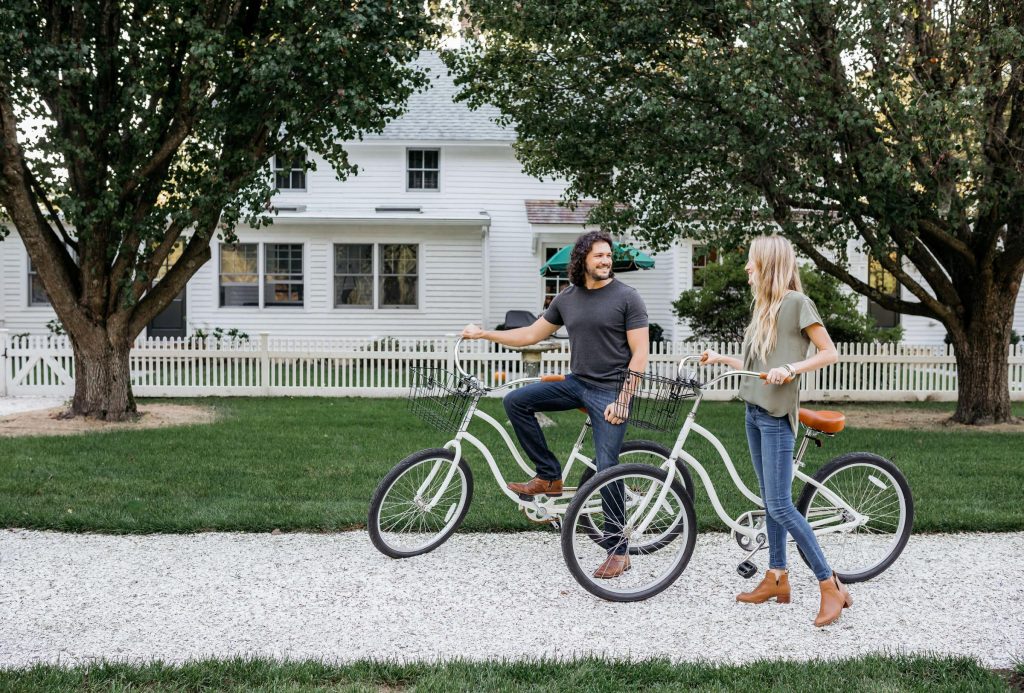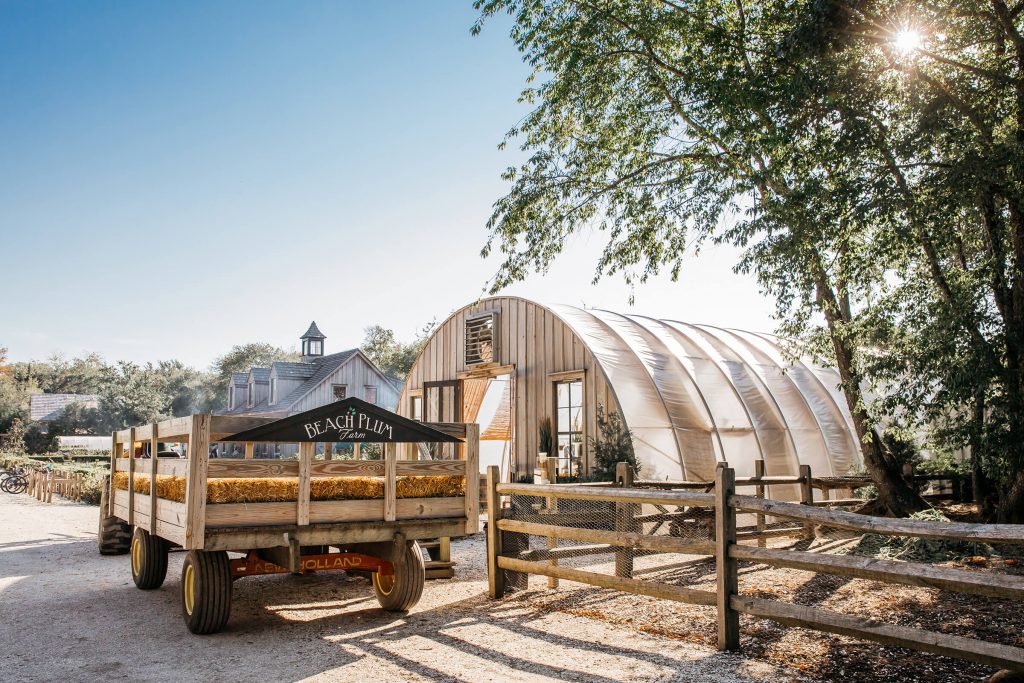 Cape May
Location Cape May, New Jersey
Drive time 3 hours
Vibe Beachfront nostalgia
Price $$ (from $190/night)
Known for its picturesque Victorian inns and nostalgic promenade, Cape May is a relaxing 85-minute ferry ride away from Lewes, Delaware. For a classic B&B in the heart of it all, stay at Casablanca, a newly remodeled 10-room inn balancing Victorian-era details with beachy, tropical decor. And it's just steps away from dozens of restaurants: Hit up The Lobster House for boat-to-table seafood or the candlelit veranda of 410 Bank Street for New Orleans cuisine with a Caribbean flair. Relive childhood beach-going nostalgia with a stop at the Cape May Arcade or Ocean Putt Golf, then wash it all down with a crisp brew (or two) at Cape May Brewing Co.'s taproom, where you're free to BYO food or order delivery.
Those looking to escape the hustle and bustle will enjoy Beach Plum Farm in West Cape May. Known for its communal, open-air dinners, this farm offers up five chic and eclectic cabins on 62 acres to visitors. Outfitted with cook's kitchens, the farm's bounty is at your disposal for mealtime. The Orchard Pool offers a peaceful place to take a dip, or hop on a golf cart to Congress Hall, where attendants are waiting with chairs, towels, and umbrellas, ready to serve you refreshments.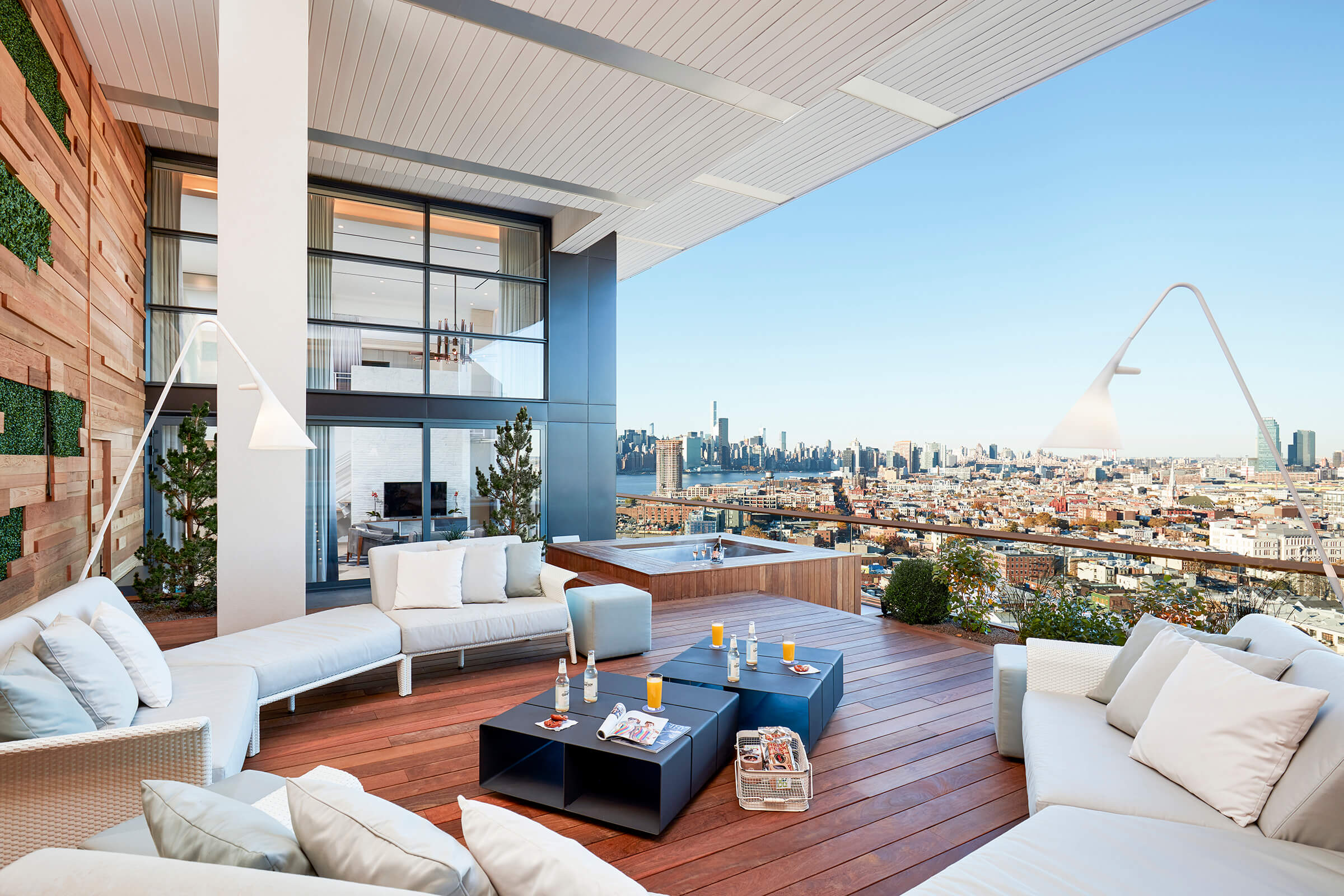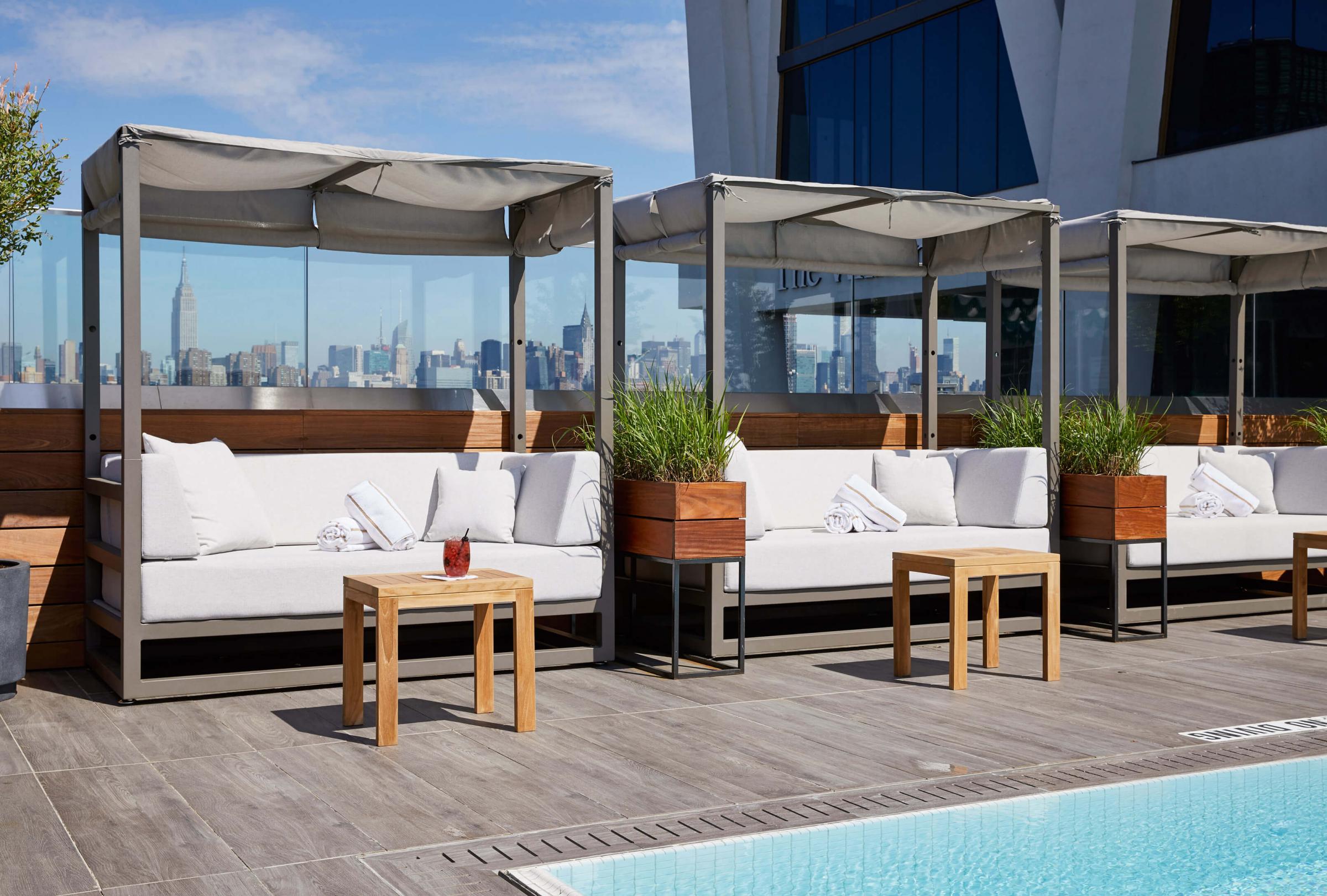 Brooklyn
Location Brooklyn, New York
Drive time 3.5 hours
Vibe Urban chic
Price $$$ (from $399/night)
There's so much to see and do in Brooklyn, you won't even need to venture into the borough of Manhattan on your New York City mini-moon (unless it's to walk across the Brooklyn Bridge, which we highly endorse). Make The William Vale your home base; every room has a balcony with views of the East River and Manhattan skyline.
In fact, there's much to enjoy at the hotel alone: Vale Pool, the 60-foot outdoor pool surrounded by cabanas and serving cocktails and light fare; Vale Park, an elevated public greenspace home to an airstream-trailer-turned-burger truck; and Westlight, a rooftop bar mixing craft cocktails on the 22nd floor.
When you do venture out, stroll through Brooklyn Botanic Gardens, escape the bustle in McCarren Park, or walk hand-in-hand along the romantic brownstones in Brooklyn Heights before ending up on the Brooklyn Heights Promenade, a pathway around the waterfront offering sweeping views of the city. Want a drink? Cocktail lovers should visit Donna's in Williamsburg, while beer geeks shouldn't miss Danish beer hall Tørst in Greenpoint. Looking to relax? Try CityWell Brooklyn, a boutique bathhouse with a wide array of spa services and rooftop hot tubs and sauna in Gowanus. Overwhelmed by the options? We feel you. The hotel concierge can point you in the right direction.
Richmond
Location Richmond, Virginia
Drive time 3.5 hours
Vibe Quirky southern charm
Price $ (from $179/night)
Virginia is for lovers, and Richmond—with its eclectic mix of restaurants, history, art, and nightlife—is perfect for mini-mooners. On West Broad Street, Quirk Hotel is a boutique hotel steps away from dozens of shops and eateries, and it even has its own gallery, restaurant, and rooftop bar.
Start the day with a sweet treat at Sugar Shack Donuts, then stroll through the Virginia Museum of Fine Arts or take in some of the best views of the city at Libby Hill Park. A robust fermented-beverage scene has bubbled up in Richmond over the past few years. Brewery crawl the Scott's Addition neighborhood with stops at The Veil, Väsen Brewing Co., Blue Bee Cider, and Black Heath Meadery before an intimate dinner at foodie-favorite Saison, just down the street from the hotel.
The Poconos
Location Hawley, Pennsylvania
Drive time 3.5 hours
Vibe Woodland rejuvenation
Price $$$ (packages from $359/night)
Start your day with guided yoga practice, end it with sunset kayaking on Little Lake Teedyuskung. The Lodge at Woodloch offers an all-inclusive experience akin to sleepaway camp for grownups—if sleepaway camp had luxury trimmings, like private verandas off each room, a 9,000-bottle wine cellar, and a destination spa with high-end treatments (think hydrotherapy, river stone massage, and reflexology).
Despite the luxe amenities and five-star service, this resort in the Poconos is decidedly un-stuffy. Guests donning robes head to the spa, while those en route to barre class or guided hikes favor athletic gear.
Savor gourmet meals at TREE Restaurant, serving up things such as creative takes on filet mignon and sea bass and incorporating ingredients from the property's garden. On nice days, take a picnic lunch to enjoy on the well-manicured, peaceful grounds.
  If you're willing to get on a plane . . .
With these nearby destinations, you can start enjoying your mini-moon just a few hours after departing from BWI.
Montego Bay, Jamaica
With daily nonstop flights out of Baltimore and all-inclusive resorts less than 15 minutes from the airport, you can enjoy the beach or relax poolside mere hours after leaving home, making Jamaica perfect for a quick three- or four-night getaway. Try the newly opened and Miami-inspired S Hotel Jamaica (from $299/night) overlooking Doctor's Cave beach and featuring an on-site spa, or relax at the ultra-luxurious Zoëtry Montego Bay (from $450/night), a secluded, all-inclusive resort in the upscale Rose Hall neighborhood. Try a zipline canopy tour or charter a sunset boat cruise.
Punta Cana, Dominican Republic
Home to some of the highest-rated beaches in the world, Punta Cana offers travelers their choice of five-star, all-inclusive resorts. Just 20 minutes from the airport, Secrets Cap Cana Resort and Spa (from $180/night) provides an adults-only experience on the shores of Juanillo Beach and seven a la carte dining options. For something more intimate, try Le Sivory Punta Cana (from $250/night), a 45-minute drive from the airport to a secluded 55-room, adults-only hotel offering an alternative to the typical sprawling resorts. Set up a day trip to the nearby islands of Saona and Catalina, or get a taste of local culture with a Mi Amor Pirate Rum Tour.
Cancun, Mexico
On Cancun's most desirable peninsula, the all-inclusive Hyatt Ziva Cancun (from $400/night) is surrounded by water on three sides, providing excellent views to its guest rooms, all of which include private furnished balconies. Hit up the Museo Maya de Cancun for a dose of Mayan history, and snorkel the Museo Subacuático de Arte, an underwater treasure trove designed to preserve the coral reef. With flights less than four hours from BWI, you can have your toes in the sand by early afternoon.
Montreal, Canada
For a taste of European culture without the long trek (the flight from BWI is just over an hour and a half), consider Montreal, a French-infused city known for its architecture, food scene, and being the "cultural capital" of Canada. In the heart of Old Montreal, Hotel Le St-James (from $359/night) exudes old-world glamour. The on-site spa is set in the former Merchants' Bank vault, where the stone walls were erected as part of the fortification of the City of Montreal. Explore the 18th-century facades of Old Montreal, then modern icons such as the Stade Olympique and Habitat 67. For a magical winter wonderland ambiance, visit during the cold months.
Fort Lauderdale, Florida
Sandy beaches are just minutes from the Fort Lauderdale airport, which is a short 2.5-hour hop from BWI. (You can often score deeply discounted fares—think under $100.) Splurge on a room at the W Fort Lauderdale (from $210/night), a beachfront luxury hotel with an on-site spa, infinity-style pool overlooking the Atlantic Ocean, and restaurant helmed by James Beard Award-winning chef Stephen Starr. Explore the canals of the "Venice of America" with a riverfront cruise or tour the Everglades on a fan boat. Then, venture inland via Las Olas Boulevard to peruse its many galleries, shops, and eateries while marveling at the grand yachts and multi-million-dollar homes.