Shakespeare famously dubbed music the food of love, but every couple knows that wedding guests expect to be fed on a lot more than the crooning of Etta James or Ed Sheeran after the "I dos" are all said and done. Friends and family today are accustomed to a very different wedding food experience than previous generations.
"People used to joke about bad wedding food," says Claire Stewart, author of As Long as We Both Shall Eat: A History of Wedding Food and Feasts and an associate professor of culinary arts at New York City College of Technology. "People don't joke about that anymore. Wedding food is usually great."
Gone are the days of formulaic wedding packages, Stewart says, with world-traveled and internet-savvy couples now opting for a more individualized experience.
"There used to be very standard wedding menus, especially in hotels and restaurants—Column A, Column B, Column C, and different price points," she says. "[Now], a bride might say, 'I'm from Georgia and want peaches in my appetizers, and my husband is from Kentucky and we want a whiskey cocktail.' Not long ago, the chef would have said, 'Get out of here.' Now it's not a pain in the neck, it's a way to make more money. And the bride and groom have the pleasure of saying nobody else has had this."
Once upon a time
If you started attending weddings in the '90s or early 2000s, you probably wouldn't recognize the wedding-food standard that persisted throughout much of the 20th century. Eric Michael, a Baltimore native who co-founded D.C.-based Occasions Caterers with his twin brother in 1986, has been in the business long enough to have witnessed the revolution firsthand.
"When we started doing weddings, it was often fully seated dinner buffets," says Michael. "Specialty cocktails and cocktail stations were not a thing. Into the '90s and early 2000s, it shifted largely to plated entrees. The idea was that a catered dinner would be exactly the same experience as going to your favorite restaurant. And that hasn't changed. People expect [wedding food] to be as good or better than any fine-dining experience."
"Today, there's a cultural desire to stand out, whereas past generations felt a strong desire to fit in, to be the same, to not stand out," says Claire Stewart.
Daniel Horwitz, owner and executive chef of The Pantry Catering in Baltimore, also remembers a time when wedding receptions looked—and tasted—very different than they do today.
"I'm 49, and I grew up in New Jersey," he says. "And when you went to a wedding, it was your typical passed hors d'oeuvres and maybe a big display at a big banquet place. [Waiters] came to the table, and chateaubriand was a big deal, or chicken Diane with the broccoli and the Mornay sauce. That's what we expected, and that's what we thought you had to have."
These days customers are more educated than ever, and caterers can no longer get away with trying to sound like the final authority on, say, what the best steak is.
"Thirty years ago, you got one quote," says Horwitz. "There was a place in town that specialized in weddings, and that's where you went," he says. "People didn't get married in abandoned churches and breweries. Couples today want to be heard, and it's really important to them that you understand what they're trying to express. We all need to understand how much the internet and the ability to make global friends has changed all of the traditions in the wedding industry, and definitely the food."
There were some historical exceptions to the lavish displays and sit-down dinners that dominated the better part of the last century. For instance, Stewart found an abundance of information on World War II weddings during her research. During this time of rationing and victory gardens, she says "food was very closely tied to patriotism," with magazines and cookbooks filled with recipes for sugarless wedding cakes and ways to make food delicious without using meat or butter.
"The ladylike thing to do was keep a lid on it as much as possible," she says of those wartime celebrations. "But back then, there wasn't necessarily an expectation of a meal, anyway. A tea or just coffee and cake was acceptable, depending on your region and economics."
As for regional changes, Michael points to the formerly ubiquitous oyster-shucker station that is often replaced by a raw bar or even passed oysters to better reflect the formality of the event. "We started doing highly stylized, gorgeous displays with the shucker in the back," he says. "More recently, we've been doing roving oyster stations on hawker trays like at a ballpark."
Love in the Age of Pinterest
Nowadays, Stewart says it makes sense that couples are less interested in blowing the budget on flowers or limousines, opting instead to create highly personalized culinary experiences. "It's really exploded in American culture, even in the past 20 years—but that mirrors our overall interest in food as a culture."
Melissa Benson, owner of Baltimore-based Eleven Courses Catering & Event Company, agrees that it's common for a couple to bring in treasured recipes that have been in the family for generations. "Sometimes we literally have family members come in and test it with us," she says. "It's more time invested, but it's part of the storytelling and makes everything more special. It feels like you're making magic."
For one couple that tied the knot at Belmont Manor & Historic Park in Howard County, Eleven Courses created a traditional Indian dinner to reflect the bride's background and a Lithuanian cake came from a bakery to honor the groom's heritage. "When [the bride] brought her grandmother to the tasting, we knew the stakes were high," says Benson. "Impressing her grandmother was just as important to us as impressing the couple themselves."
A military couple that recently married at Big Cork Vineyards just west of Frederick wanted Benson to feature some of the regions where they had been stationed around the globe. That menu included shepherd's pie appetizers, Hawaiian pork, and Mongolian dumplings.
And while many caterers lament that sites like Pinterest have somewhat homogenized wedding styles across the country, there is no doubt that couples still manage to put their unique stamps on the big day.
"One of them might have spent some time doing social philanthropy like the Peace Corps in Costa Rica or have family members from Pennsylvania or are planning a honeymoon traveling to Morocco," says Horwitz. "It's our job as a caterer to reflect all parts of that and do the best we can to complete that story—and at the same time keep everyone happy."
Stewart notes that this notion of highly individualized wedding food highlights a deeper shift in our society.
"Today, there's a cultural desire to stand out, whereas past generations felt a strong desire to fit in, to be the same, to not stand out," she says. "That's where the trend is: mini and me. Individualized, little portions that are more of a way to express yourself instead of blowing it all on the chicken or the beef."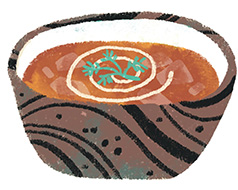 Occasions has also catered a fair number of weddings that feature international flavors—everything from Indian to Southeast Asian to Russian, and maybe incorporating an Italian grandmother's beloved meatball recipe. But even couples who want to stick with something more traditional for the main event can still find an opportunity to inject their personalities during another big wedding-food trend: late-night bites.
"That's a place where we do a lot of personalization," says Seana Hale, an account executive for Occasions Caterers who often works on Baltimore weddings. She says it could be a French fry bar or samosa bar, reflecting a favorite food or something from the couple's background. "For one wedding, we passed Chicago hot dogs, and everyone is like, we get it, the groom is from Chicago. That's definitely a place where they let loose a little bit."
The Price of Progress?
Regardless of how a couple wishes to express themselves after their nuptials, Stewart is fascinated with how the rituals of feeding guests at weddings connect cultures from across the globe.
"What I think is particularly interesting is how universal it is," she says. "Food is generally used across cultures to celebrate most big occasions but particularly weddings. There's a persistent use of rice and grains across cultures, and traditions are rooted in hopes of fertility for the couple. Ultimately, it might sound old fashioned, but so much wedding ritual is wrapped up in perpetuating the family."
And while just about everyone who is in the business of making couples happy on the big day has openly embraced the major changes in wedding food, Stewart wonders if shedding these rituals comes at a price. When everyone is looking for what's new, next and different, regional traditions duch as the Pennsylvania cookie table, where an area is filled with dozens of different kinds of sweets, often homemade by family, or the once-ubiquitous rites of passage like cutting the cake start to fall by the wayside in favor of trends such as cupcakes or passed desserts.
Others argue that it follows the natural trajectory of changing social norms as couples often pay for their own weddings, brides opt not to throw the bouquet or take the groom's name, and that whole garter belt thing seems kind of creepy by today's standards.
"All of these things relate to the change in food," says Horwitz. "As long as people can travel and enjoy culture and Google and research, what it says to them is, 'I don't have to be limited.' I don't think people feel as intimidated to break boundaries and mess up the rules."
Deliciously Ever After
No matter how or why couples choose to find ever-more creative ways to wow their guests, caterers agree that there's no going back to the way things were. This requires the catering staff to have a certain amount of flexibility, receptiveness, and a willingness to try eight Indian restaurants just to research one wedding.
"It's just about the overall feeling of bringing part of their story to life and making it a little bit more personalized," says Benson, using a word caterers now wield regularly: story. "We've had couples recreate something from their first date. It becomes a talking point, just kind of lets their family and friends get to know them better as a couple and relive different moments of their lives coming together and becoming one family. A good way to do that is when you have everyone you love in one room."
Horwitz points out that people used to ask what a caterer's specialty was, and they expected to hear something like salmon, Italian, or filet mignon. "I don't know how you answer that today as a caterer," he says. "There's no such thing as narrowing it down. For every single caterer in Baltimore, the specialty has become everything. Our specialty is listening and being open-minded."
For Michael, who says his company never leaned on prewritten menus, the genie might be out of the bottle—but he wouldn't have it any other way.
"It is the ultimate expression of joy and love and giving to your extended family and friends," he says of feeding wedding guests. "It should be personal, and we encourage that. We want guests to walk away and say, 'I've never been to a wedding like that. That felt like the two of you.'"