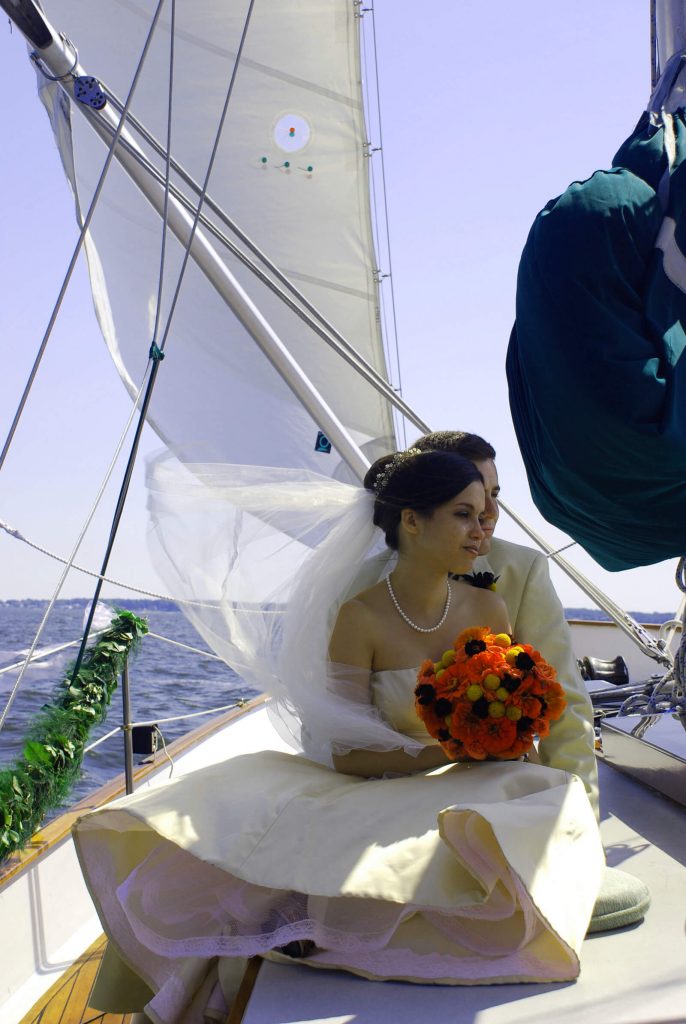 When Rebecca and Joshua were searching for the perfect wedding venue, they saw the Annapolis-based charter boat Woodwind II featured in the movie Wedding Crashers and knew it would seamlessly reflect his Navy background and her upbringing on the island of Puerto Rico.
Rebecca felt it also helped smooth over the fact that their families came from different religious backgrounds and provided a more neutral option than a church or synagogue.
"It changed the dynamic, so everyone was very, very relaxed on the boat," says Rebecca. "It was very nontraditional, which everyone loved."
Captain Jennifer Kaye, who started Schooner Woodwind Sailing Cruises with her parents in the early '90s, now sails two identical 74-foot custom wooden sailboats that carry up to 48 guests. In addition to ceremonies, the business also books a lot of pre- and post-wedding cruises.
Kaye says she often hears from couples that they had their first date on a boat or that they grew up near the water, but her brides and grooms also value the peace and quiet.
"They're not hearing the engine hum because we're a sailboat," says Kaye, a captain for 26 years. "It has a calming effect, and I think that comes from just being on the water, in general."