The traditional wedding is evolving: In the 21st century, bridal parties dance down the aisle, seating charts are optional, and wedding gowns come in colors. Naturally, the registry has followed suit.
"The concept of a registry is still relevant, but where couples register has become more reflective of their personality and actual needs," says Martha Morningstar, director of catering and conference services at Four Seasons Hotel Baltimore. "While wine glasses are always a great gift, a gift card to The Home Depot may be more realistic."
Katey Clark, co-founder of Lemon & Lime Event Design, adds, "Generationally speaking, many couples, whether they are building a nest egg or planning travel, prefer money for the wedding gift itself."
In short, this is not your mother's registry. Forget the crystal punch bowl, and instead check out these six options to help you tailor your registry to what you, as a couple, really want.
Roam If You Want To (or Rome, If You Want To)
The wedding is great, without a doubt, but we all know that one of the most exciting parts of a wedding is what comes next: the honeymoon! The question becomes: How do you afford a lavish vacation after you've spent thousands on the ceremony and reception? Enter honeymoon registries.
The latest and most popular twists to the traditional registry are sites like Wanderable and Honeyfund that now offer couples the ability to register for everything from unique travel experiences—say, snorkeling in Hawaii—to airfare and lodging.
Mackenzie Melfa, who recently funded her honeymoon to New Zealand with Wanderable, had already collected most home essentials over the years. "We decided to forgo the typical registry at Bed Bath & Beyond and only register for our honeymoon," explains Melfa. "It was a risk, but our family and friends knew our passion for travel and understood that we truly value experiences more than a brand new blender."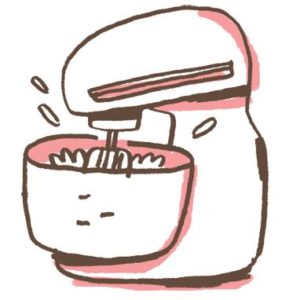 Megan Isennock & Robert Tate
Married: 3 years
"I am most grateful to have received my KitchenAid stand mixer. It's something I wouldn't have thought to splurge on for myself, but based upon how much I use it, it's truly the best gift!" –Megan
Conveniently, Melfa also helps clients create honeymoon registries through her job at a travel agency. "After having compared several sites, I found Wanderable to be the most aesthetically pleasing and user-friendly, providing curated suggestions based upon your destination of choice," she notes. "It's also the cheapest!" (Honeymoon registries often charge a small fee for the services and credit card transactions. Wanderable's fee is 5 percent—a 2.5 percent service fee for the user and a 2.5 percent credit card fee for guests.)
Melfa's clients typically have a traditional registry in combination with the honeymoon registry she creates for them. "They tend to register for the fun stuff, because guests want to give you a unique experience, whether a private tour of the Colosseum or dinner at the Eiffel Tower," she notes. "People really feel that they are providing you with a once-in-a-lifetime experience."
Wanderable has also updated the traditional thank-you note. "As we took our trip, we could snap a photo from atop a glacier and instantly send it, along with a note of thanks, to the uncle who gifted us the hike," says Melfa.
Though the registries are intended for honeymoon travel, couples have the ability to register for other flights too. "My fiancé lived in Texas while we were planning our wedding, and we asked that engagement and bridal shower gifts be given through Honeyfund," says Kaitlyn Hines. "It significantly helped us fund his travel back and forth for appointments, pre-marriage classes, and so forth."
Make a House a Home
If you've been living together for a few years, it's possible you're well equipped with everything from wine glasses to vacuum cleaners. The one thing you're missing? A home of your own to vacuum. Whether you've got your eye on a property or recently purchased a new home that could use some improvements, home-improvement registries can help you fund your dream house.
Local wedding planner Clark used Hatch My House for her own wedding. "We designed the virtual house to look like ours, shutters and all," she says. The home registry allows you to choose from six house types in a multitude of locations and colors. Guests are able to view the interior or exterior of your design, purchasing items at your suggested price. For example, a bed may be listed at $300, while a window may list for $50.
"It's a nicer, more appropriate way of asking for cash gifts toward your down payment or home-improvement project," notes Clark. "So many clients struggle with feeling greedy or awkward about registries, so consider supplementing your home registry with additional options for guests who prefer to give something tangible."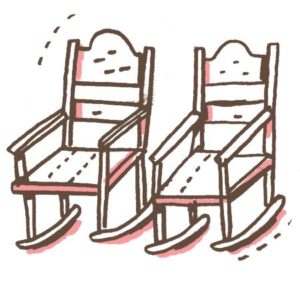 Danielle & Donald Allen
Married: 1 year
"We got so many sweet gifts, but my favorite would have to be the beautiful set of rocking chairs sent to us by a family friend. They weren't on our registry, but when they arrived, we were both so touched. In the midst of the place settings and linens, the rocking chairs were a little reminder of what this was all about—two people deciding to slow down and do life together. We love those little chairs. We try to sit in them as often as we can." –Danielle
Feather The Nest, another home- improvement registry, focuses on specific projects, or "nests." A couple looking to refurbish a bedroom or landscape their entryway can personalize the page with photos and video of the space. When guests donate a gift, the money is transferred to your bank account within 10 minutes (a 5 percent processing fee is also applied), enabling you to begin budgeting for your project as the gifts come in.
Despite the innovative nature of this technology, Clark believes guests are slow to stray from tradition. "These sites are a great concept, so I'm hoping that the word of mouth gets out there, and that guests begin to trust these sites as a great way to celebrate the couple," she says.
Local in Love
While brand name registries are a good fit for the necessities, local boutiques and home goods stores, such as Trohv and Su Casa, offer a personalized experience that can't be replicated.
"We will walk around with the couple as they pick out unique items," says Carmen Brock, owner of Trohv. "They'll write down items that they like, and we'll print up an order form for them. When guests come in, we're able to share the list and make recommendations based upon the items that fit within their budget."
Aside from the personalized attention, a local registry provides the opportunity to support Baltimore's artisans. "Our local feel makes us a unique offering to clients and customers," says Brock. "We have a lot of local artists represented here, and those pieces will be unique. You won't find it anywhere else." Brock especially loves the "BaltAmour" prints by Baltimore Print Studios for newlywed couples.
Megan Isennock wishes she had explored stores locally when she was creating her registries three years ago. "I realized I had been thinking so globally about my registry that it never occurred to me that everything I wanted was likely available in a local store," recounts Isennock, a big fan of local boutiques such as Curiosity in Harbor East and The Store Ltd in The Village of Cross Keys. "I think people miss out on contributing to local commerce by registering with large brands, but it is worth taking the extra time to see what's right in your backyard." She also likes the idea of a local registry to find decorative items you wouldn't splurge on yourself. "A wedding is the perfect time to see if anyone will indulge your need for an amethyst-skull paperweight or decorative paper placemats."
If you are celebrating your wedding locally, these personalized, local registries are ideal for close friends and family who live in town. But be sure to provide options for those traveling from outside of Baltimore, as well as for guests who would prefer to give a more traditional gift. "We can't be everything to everyone, as you can't register dishes or silverware here," says Brock. "But we have beautiful, specialty pieces to complement your traditional items."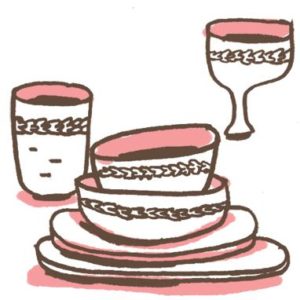 Stacey & Mike Phinney
Married: 7 years
"My favorite wedding gift was our fine china. Growing up, my mother always used her beautiful china on holidays and special occasions. So now, whenever I use my own china set, it reminds me of my mother and all those special holidays we had together as a family." —Stacey
Gifts That Give Back
Whether you are a civic-minded couple who shares a passion for volunteering or a well-established couple with little need for additional home goods, a charitable donation registry is an excellent way to honor your union by giving back.
"My husband and I are already so blessed with a stable home and full-time work," says Katherine MacLauchlan, who wed her husband, Ian, in 2013. "We lived together for a few years before getting married, so we weren't exactly starting out. We didn't need sheets or tea towels. Rather than receive material gifts, I wanted our wedding to spread good in the world." When searching for a charitable donation registry to accomplish their goal of giving back, they selected the I Do Foundation. In the past 13 years, the foundation has worked with over 242,000 couples who have sent more than $8.3 million to charity.
With over 1.8 million nonprofit and charitable organizations in the system, I Do Foundation enables couples to select causes that matter most to them. "We're seeing a more socially aware and active generation of givers. They are highly engaged in a variety of causes," notes Candy Culver, director of marketing for the I Do Foundation, which is focused on changing the culture of the industry so charity becomes an acceptable and expected part of weddings. "The most popular charities include Doctors Without Borders, American Cancer Society, and Habitat for Humanity."
Tammy Jameson is a survivor of domestic violence. When she remarried, she looked to the I Do Foundation to help her promote domestic-violence awareness while giving back. "My husband and I chose the District Alliance for Safe Housing, which operates and develops safe housing programs dedicated to sheltering and supporting women and their children made homeless by domestic violence," she shares. "Guests told me that the I Do Foundation made contributors feel like they were really making a difference."
If you want to incorporate charitable donations into your wedding, but still need a traditional gift registry, consider charitable wedding favors.
"I recently attended a wedding, and at each place setting was a role of quarters," recalls Melfa. "The bride and groom had each selected a charity, and the guests were able to donate their quarters to one or both of the causes."
If It Ain't Broke…
Wedding registries are nothing new, enabling large brands to perfect the registry experience for both clients and customers. "In general, people enjoy giving gifts, and sites like Macy's and Crate & Barrel have made it so easy and user-friendly," notes Clark. "Even Amazon has joined the bandwagon."
For couples that do need to stock up on essentials, brand loyalty goes a long way when deciding where to register. "We stuck with a traditional Macy's registry, a brand we knew and trusted, because, while we had a lot of kitchen items, they were all from college or hand-me-downs from older siblings," says newlywed Jessie Scheerer. "Plus, Macy's offered a great perk where we received a percentage of what guests spent on our registry on a gift card."
And though the advent of new and improved registry options has amassed a millennial following, there is still a place for tradition among many couples, including the Scheerers. "Although most couples our age are forgoing traditional china, it was something I wanted in order to host large family holiday dinners and celebrations, like my mom did when I was growing up," she notes.
When selecting your branded registries, be mindful of etiquette. Clark recommends at least three options from which guests can choose, particularly if you have a larger guest list. "Don't just do Bloomingdale's," she advises. "Pair it with something more affordable, like Target.
If your registry is filled with traditional gifts, but you still want a fresh approach to gift-giving, break from the norm, forgo wrapping paper, and consider an eco-friendly bridal shower, as newlywed Jessica Painter did. "I don't like to open gifts in front of people, and honestly, nobody wants to watch you open 50 presents," she notes. "We had a relaxed bridal shower—couples welcome, with lawn games and barbecue. When guests arrived, we simply displayed the gifts on a table. So we saved time, and we saved all the wasted wrapping paper!"
All of the Above
Are you reading this and thinking, "Wait, I want it all"? Well, there's an app for that. In fact, there are many. Sites and mobile apps such as MyRegistry, BlueprintRegistry, and Zola have integrated all aspects of the gift-giving process, promising convenience above all else. Couples can easily group home goods and cash gifts in one registry. If you can find an item online, you can add it to your list.
"I love that you can find universal registries now," says Katie Conley, catering manager at Four Seasons Hotel Baltimore. "Couples can select items from various stores and have it all available in one link."
Newlywed Kristin DeVan had a great experience using MyRegistry, which allows couples to place the "Add to MyRegistry" button on their bookmarks bar, similar to Pinterest. "We wanted guests to go to one place and see everything we had selected—including a furniture fund and a honeymoon fund—all at once," she says. "MyRegistry allows users to expand their choices beyond major retailers. They even keep track of the gifts that have been bought so you can write thank-you notes."
The freedom to add any gifts from any website, however, also can be overwhelming. "Many clients do come to us because they feel bad putting a $1,000 vacuum cleaner on their registry," notes Clark of Lemon & Lime Event Design. Zola and Blueprint Registry offer a group-gifting feature that allows several guests to contribute to one big-ticket item, removing the pressure from both the couple and the guests.
Blueprint Registry, similar to the home-improvement sites, also allows couples to select items based on a room-by-room floor plan. When a guest purchases a side table, they can see that you'll be placing it in your den.
Despite the plethora of gifts on universal registries, most gift tables at weddings go bare, save a few cards. "Very few guests come with actual gifts anymore—most couples would prefer to have them sent directly to their home," says Conley. "It's just one less thing they have to think about during their wedding planning." Zola offers couples the ability to hold gifts until after the honeymoon or until they move into a new home, sparing newlyweds the task of storing boxes pre-wedding or moving them from one place to another. Added bonus? If you change your mind about a gift, you can exchange it before it's even been delivered. That's what we call winning.