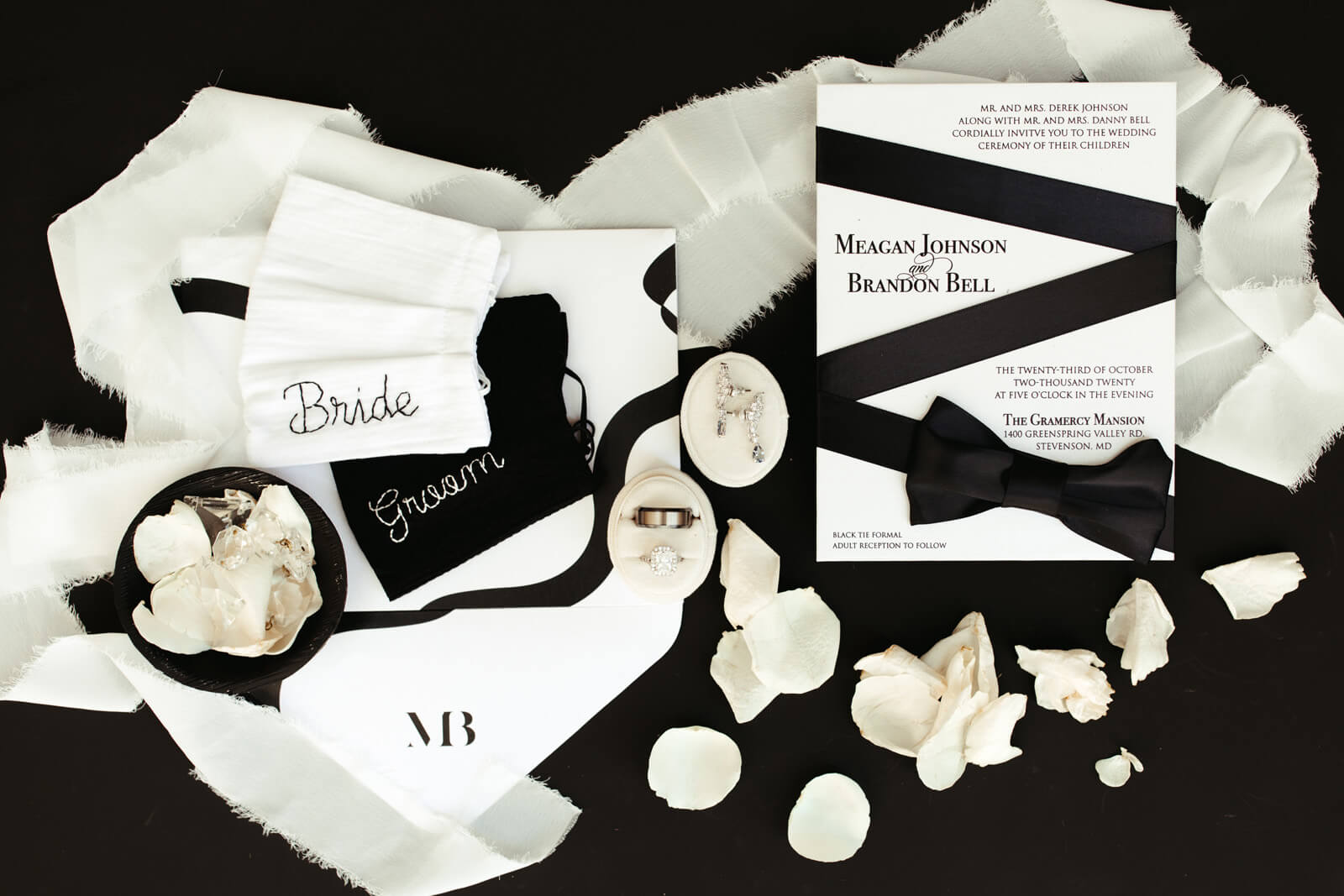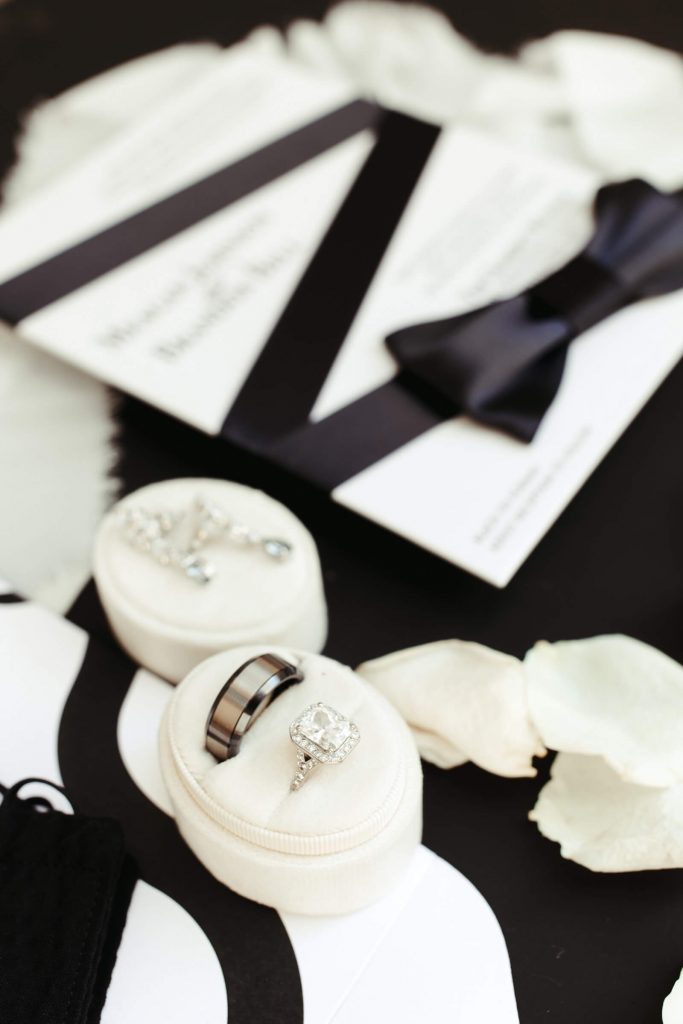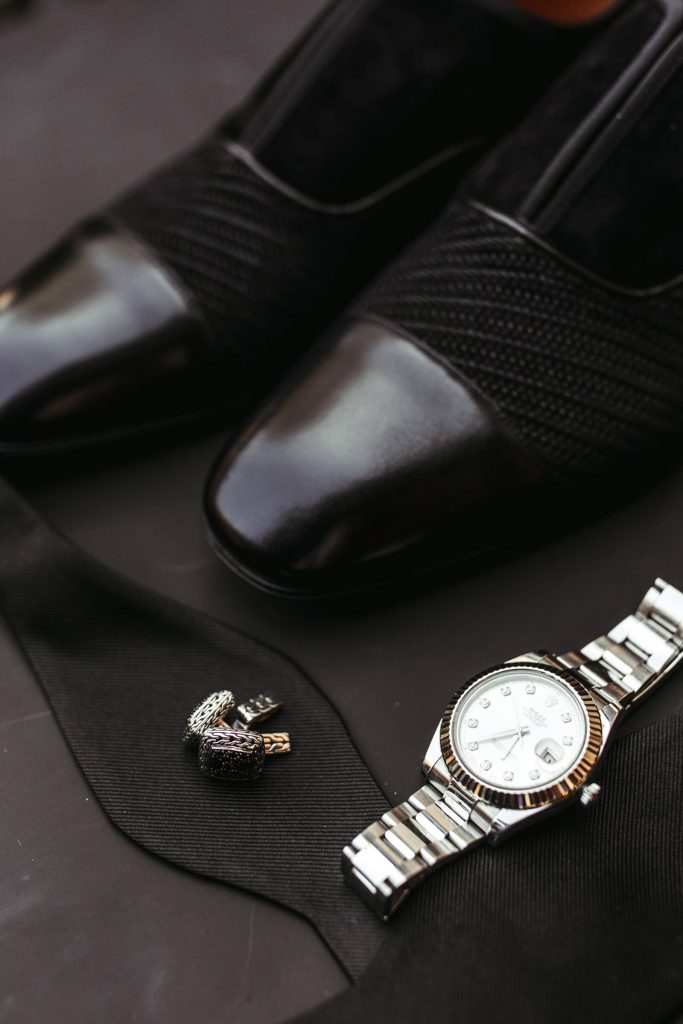 Occupations Meagan is a human resources director; Brandon is a McDonald's franchise owner
Wedding date October 23, 2020
Number of Attendees 135
Number of Attendants 21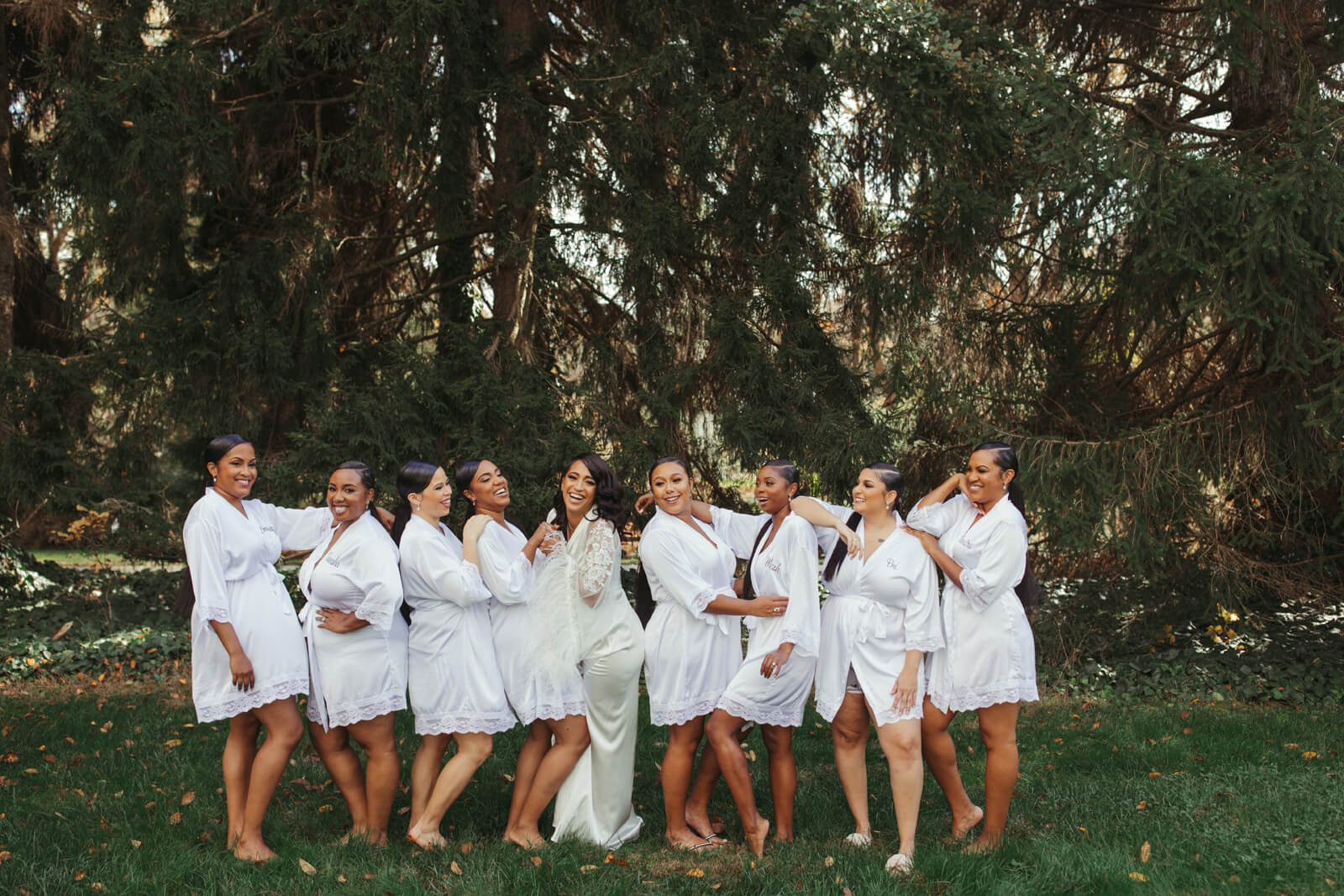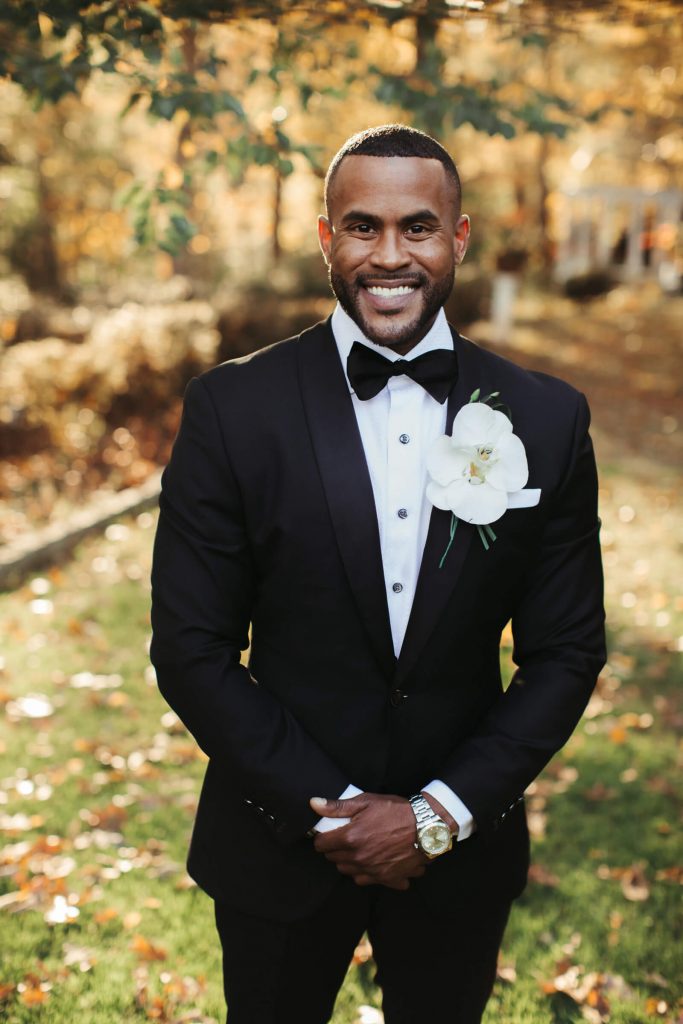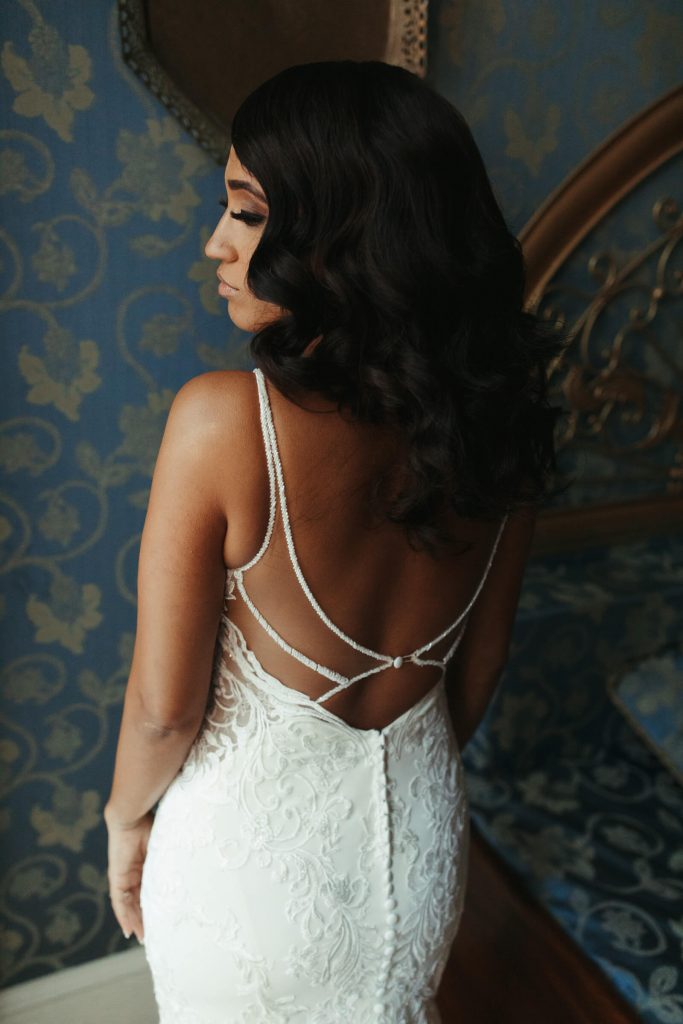 How You Met Brandon and I were introduced at the gym by our personal trainers at the time. Brandon is an early riser so he would workout with his trainer at 6AM and I would work out with mine at 6PM. If it weren't for our trainers, we probably would have never crossed paths. We were both close with our trainers and both trainers knew us well and knew we were both interested in dating someone like-minded and on a serious level. Brandon said his trainer told him "Bro, there's this girl that comes in at night to work out, I know you would like her!" I also knew Brandon's trainer and one day I walked in the gym, and he approached me and said, "Hey, I got your future husband for you." I immediately laughed and brushed him off, but he was so persistent on introducing Brandon and I, so eventually we ended up meeting each other and the rest was history.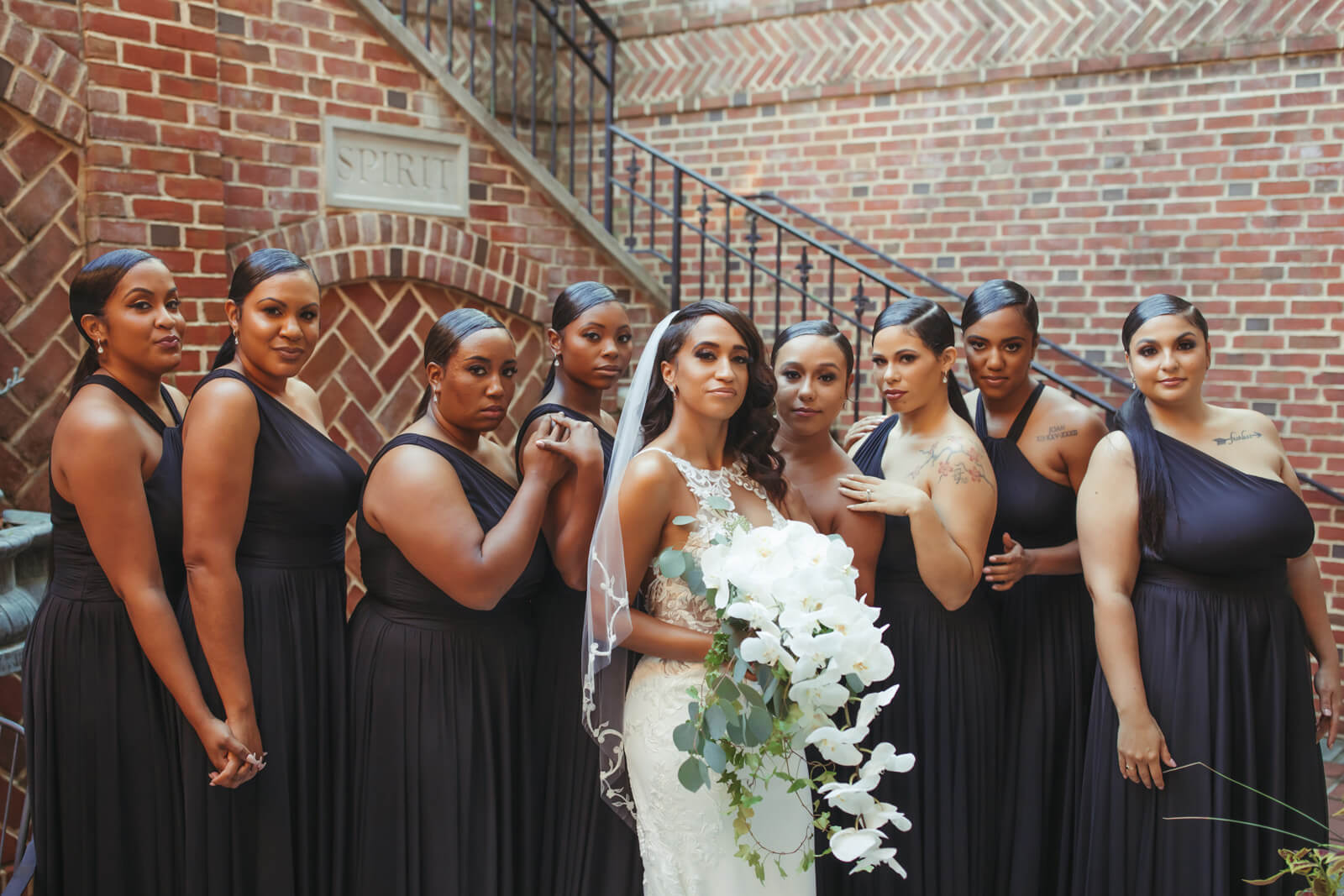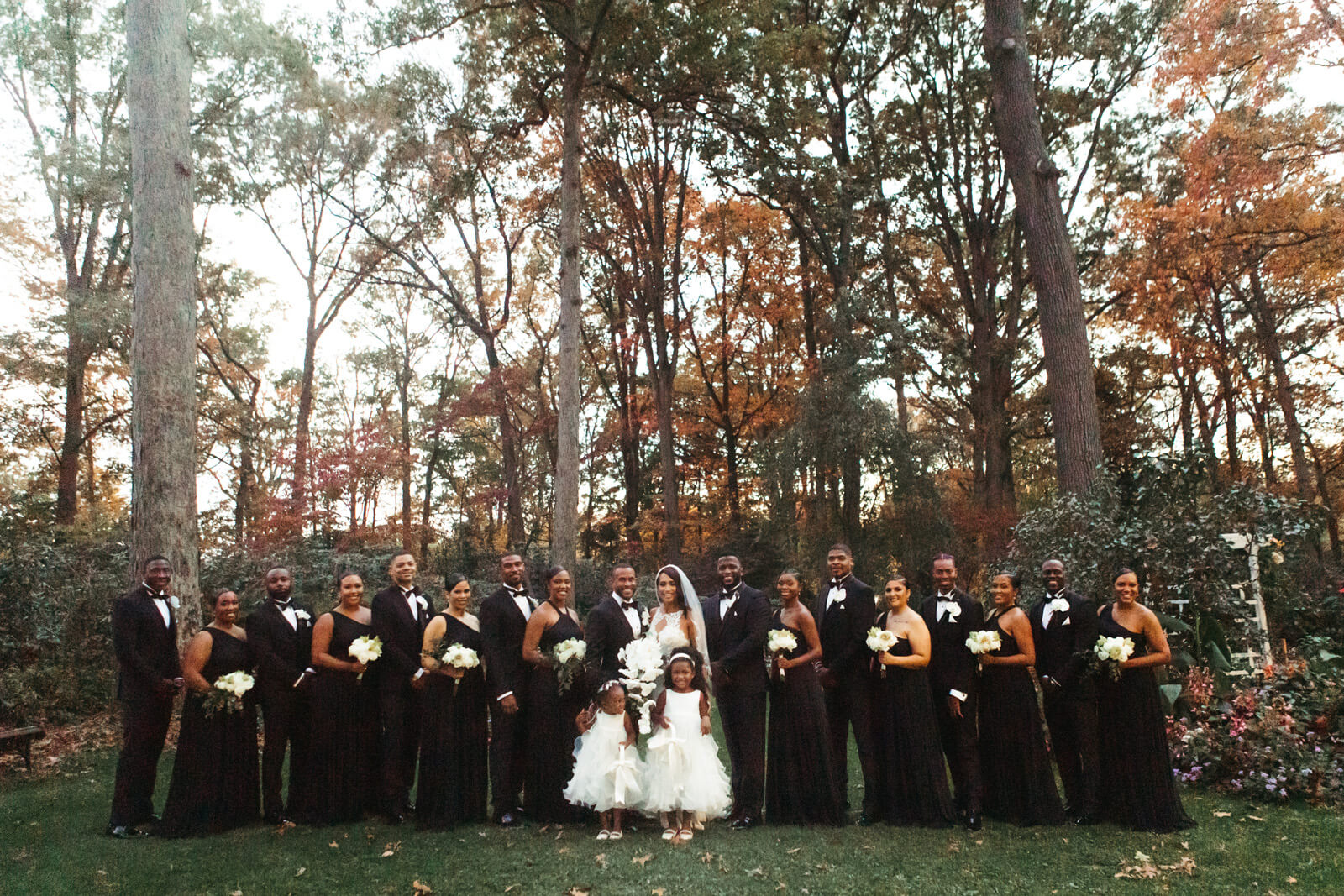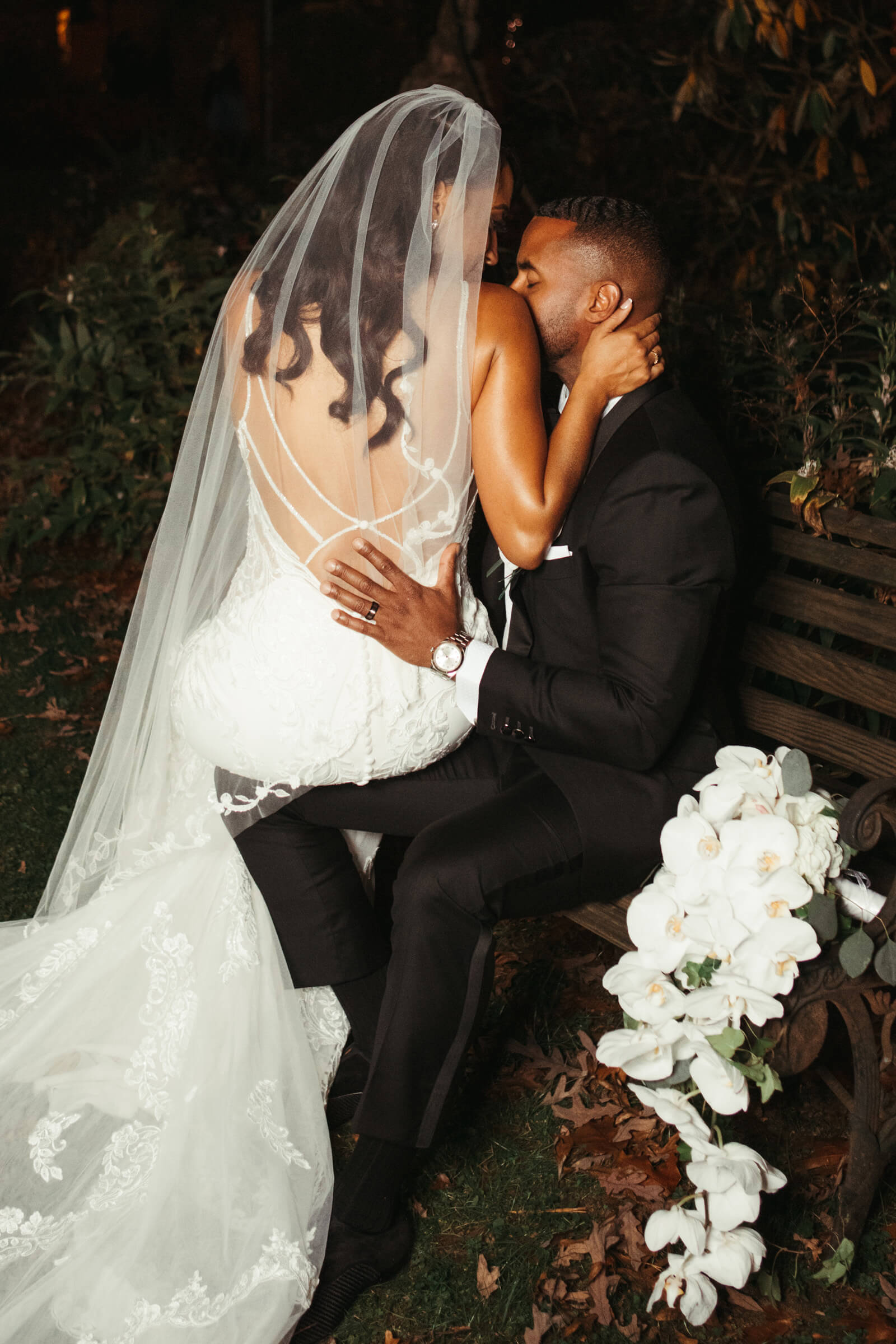 The Engagement This is another good story because I completely didn't see it coming. In my mind, Brandon and I were going away for Christmas 2019, and I imagined he would ask me while on vacation. We had "the talk" about intentions and I knew engagement was on the horizon after dating for about eight months. Well, I was wrong on what I "knew" (LOL.) That November I graduated with my master's degree from American University and Brandon and his parents said that they wanted to go to dinner to celebrate. It was supposed to be a casual dinner at a local restaurant, Xenia Greek Kouzina, in Columbia. After dinner it was time for dessert, which is my favorite part of any meal, and his mom said she ordered me a "special dessert." I went to cut into my dessert and was surprised by how hard it was and how my spoon wouldn't open what I thought was a piece of cake. It turned out to be a ring box and I was completely in shock. The restaurant had made a hollow chocolate design around the box prior to my arrival. Apparently, the entire restaurant was in on what was about to happen. Our Christmas trip was a celebration instead.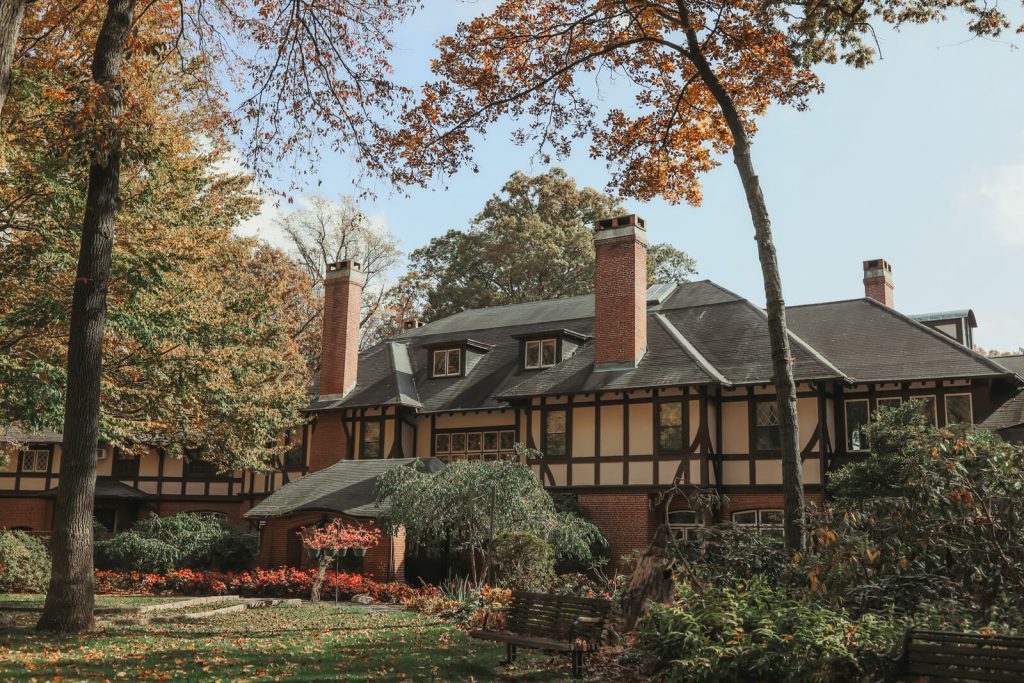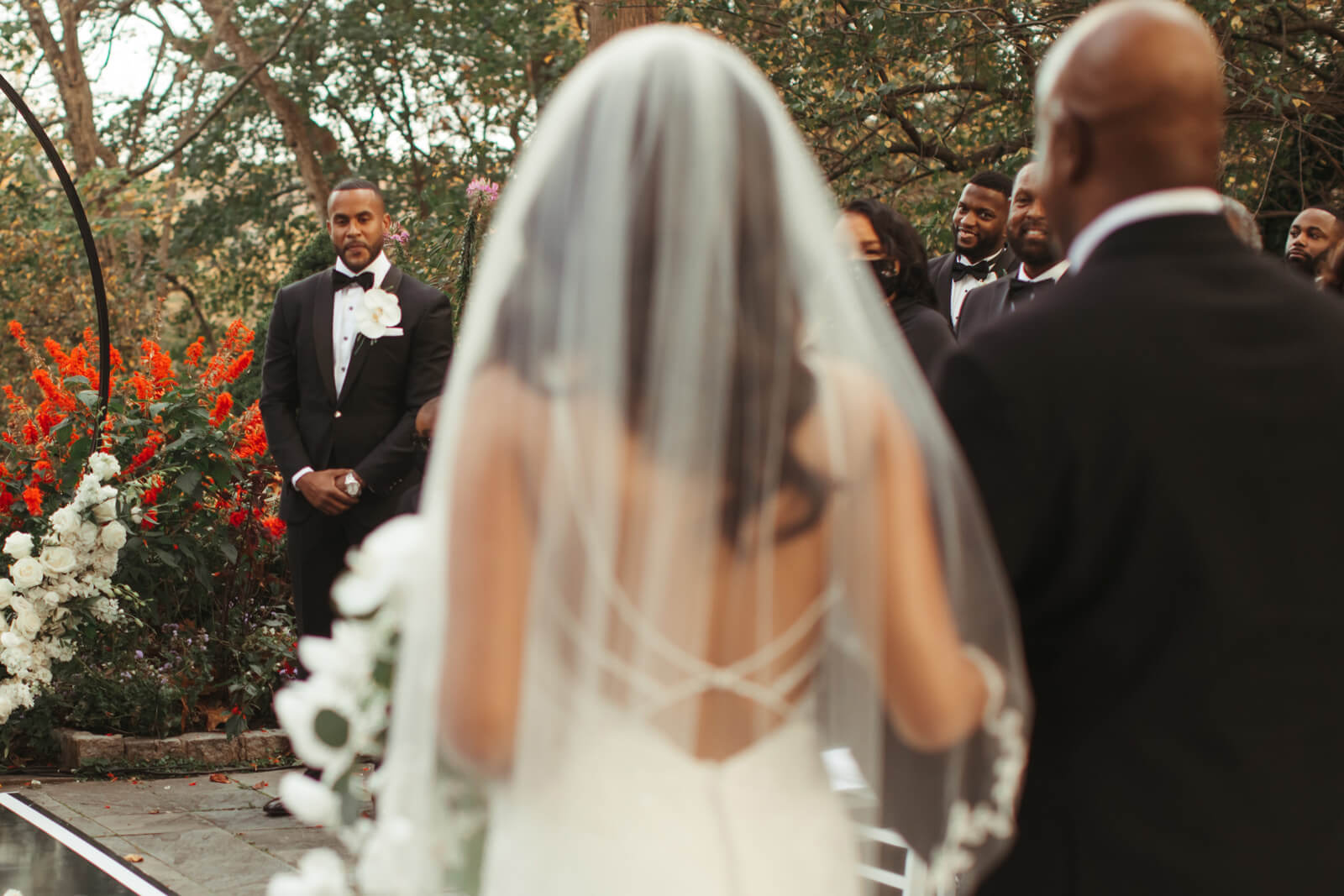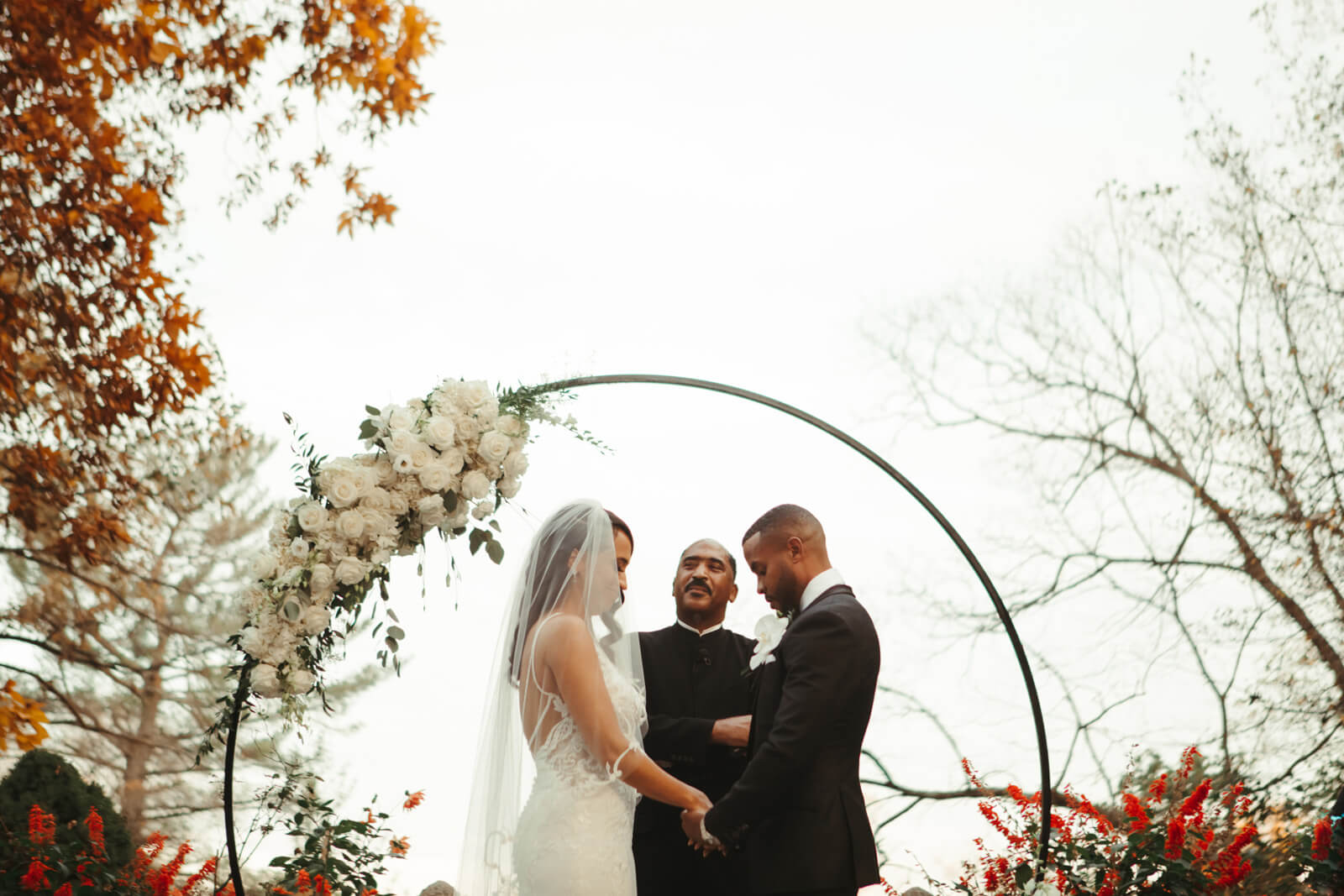 Wedding Design Inspiration Honestly, the inspiration was "us." We are both very simply stated people. When I met Brandon, his bachelor pad resembled Kim and Kanye's house and only had one color in the entire house. My favorite color is black, and no one can tell me otherwise, so it was a no brainer to not have a color and go with a black and white concept.  Brandon and I also both love dressing up, Brandon loves a custom suit and I love a reason to get my makeup done, so we went even further and decided to make the wedding "black tie." I wanted to see all our loved ones looking amazing! And they did not disappoint.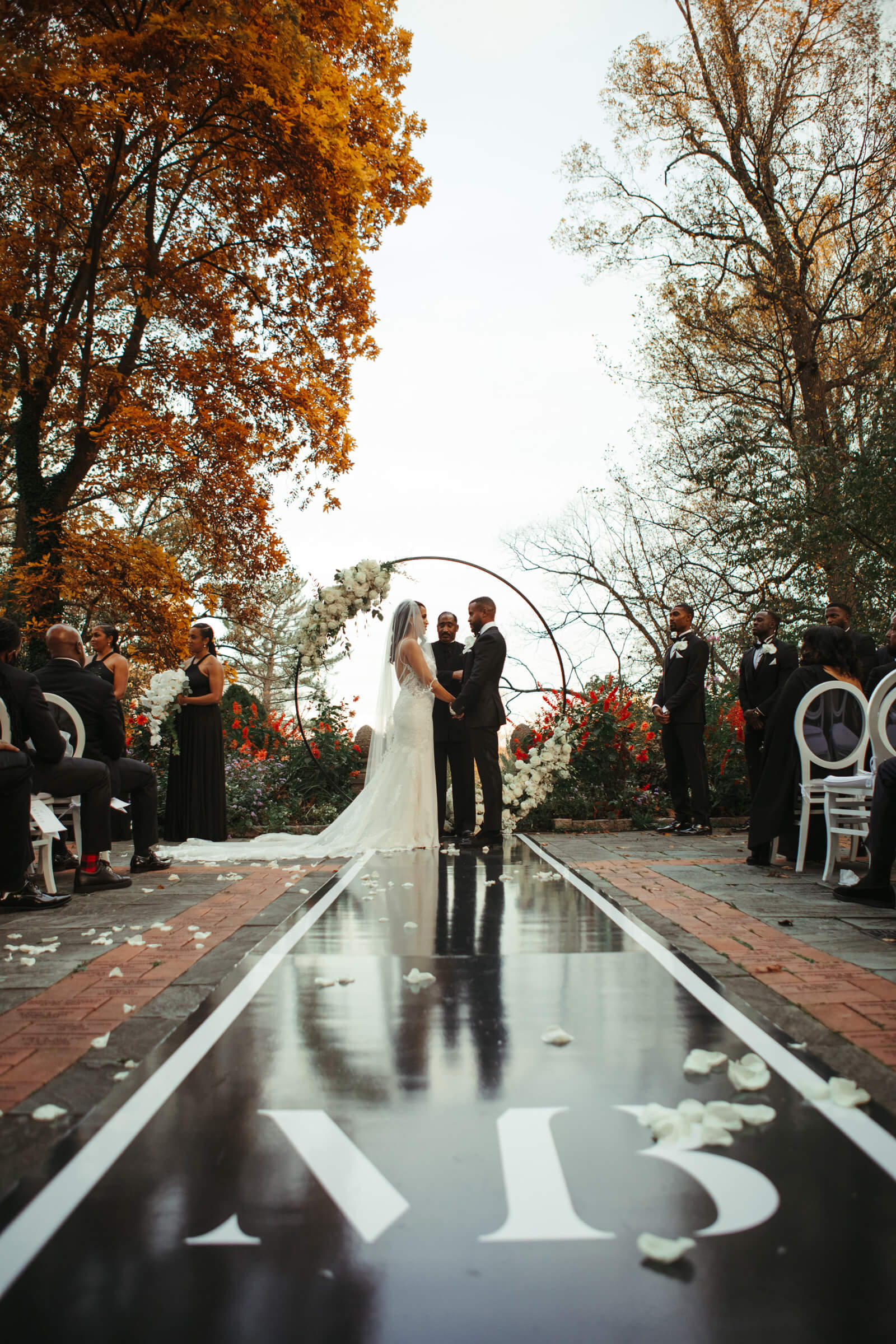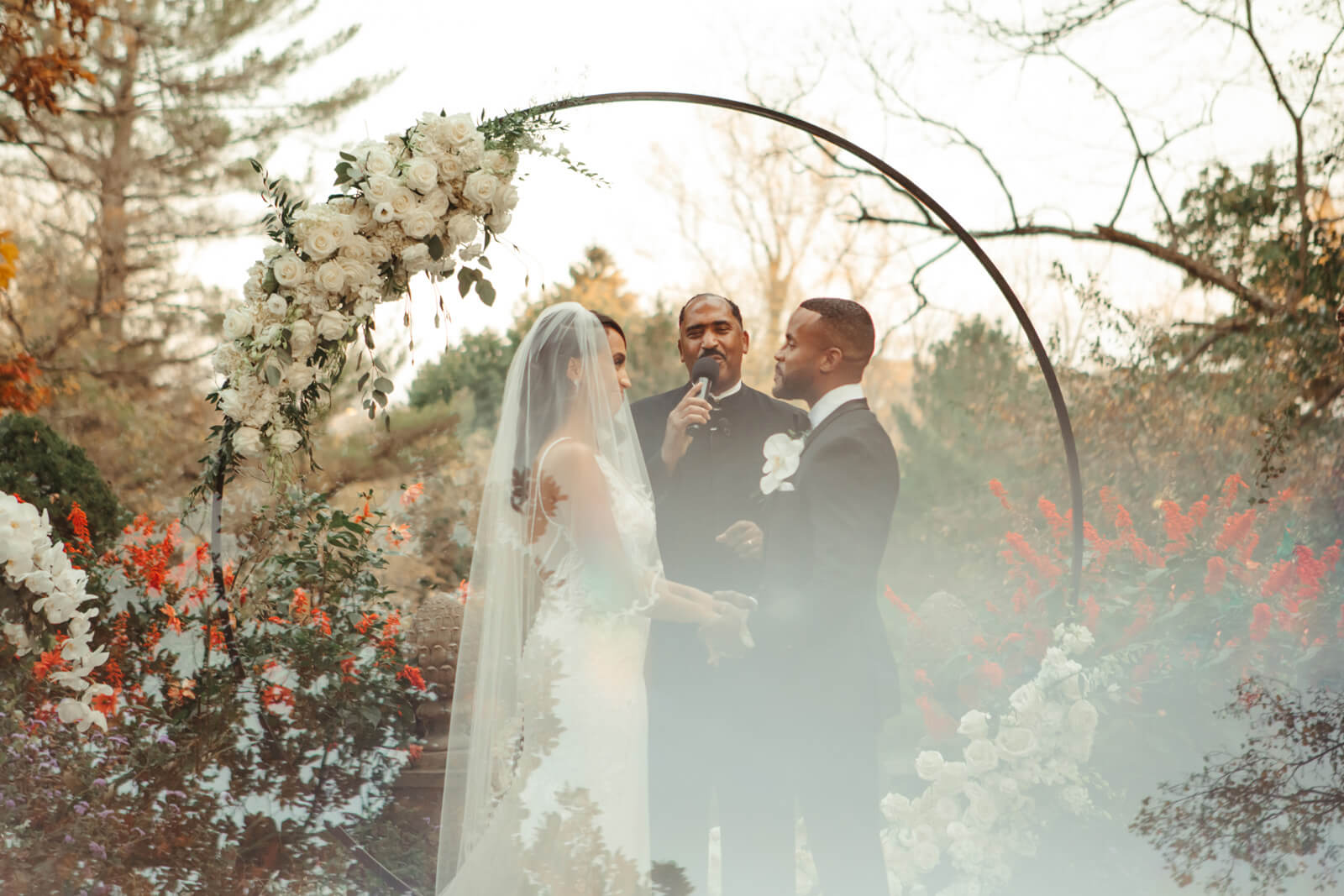 What Was Unique and Special About Your Wedding Day We were in the heat of Covid, prior to vaccines and answers on what was coming next, and we knew a lot of people that were struggling through the pandemic and needed a reason to get themselves together and have a good time. I think what was so special to me was to see every single person enjoying themselves, whether they were outside smoking complimentary cigars, eating good food, or killing it on the custom dance floor, the entire venue had an energy I will never forget. We had family and friends from each end of the U.S. fly in town. We booked an entire hotel out for Brandon's family and friends alone. We had almost everyone we loved the most there. I wish I could relive it. I also loved our vendors, and because of our amazing planner Sarah, of SG3 Events, we had some unique and talented vendors who made everything ten times better. My in-laws also threw an amazing rehearsal dinner at Citron and finished the wedding weekend with a catered after-party on Saturday at their home. We basically partied three days straight.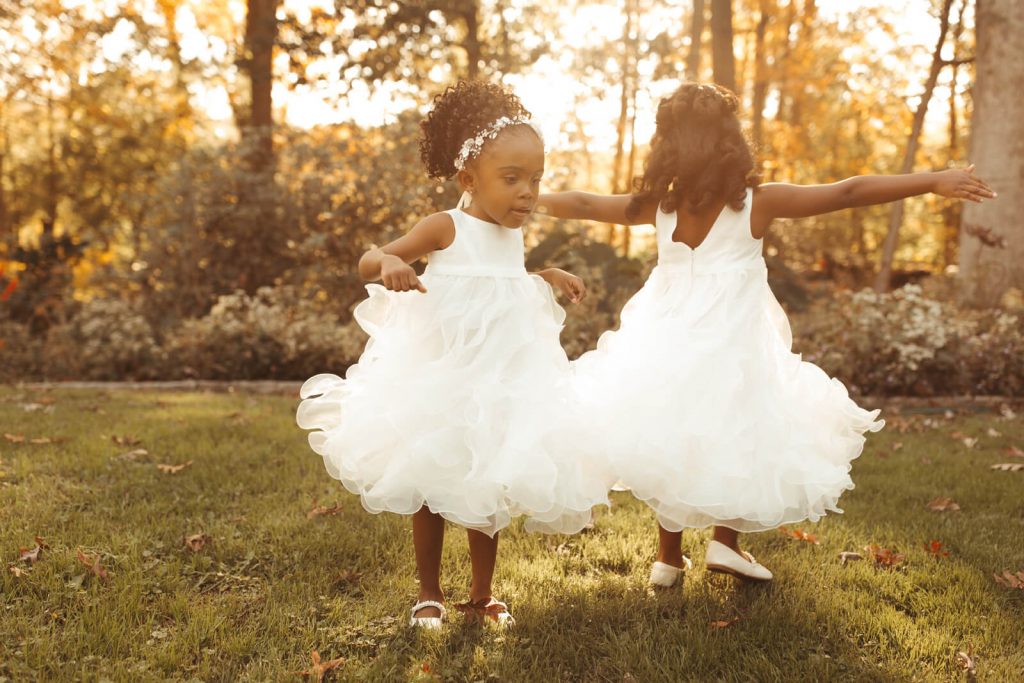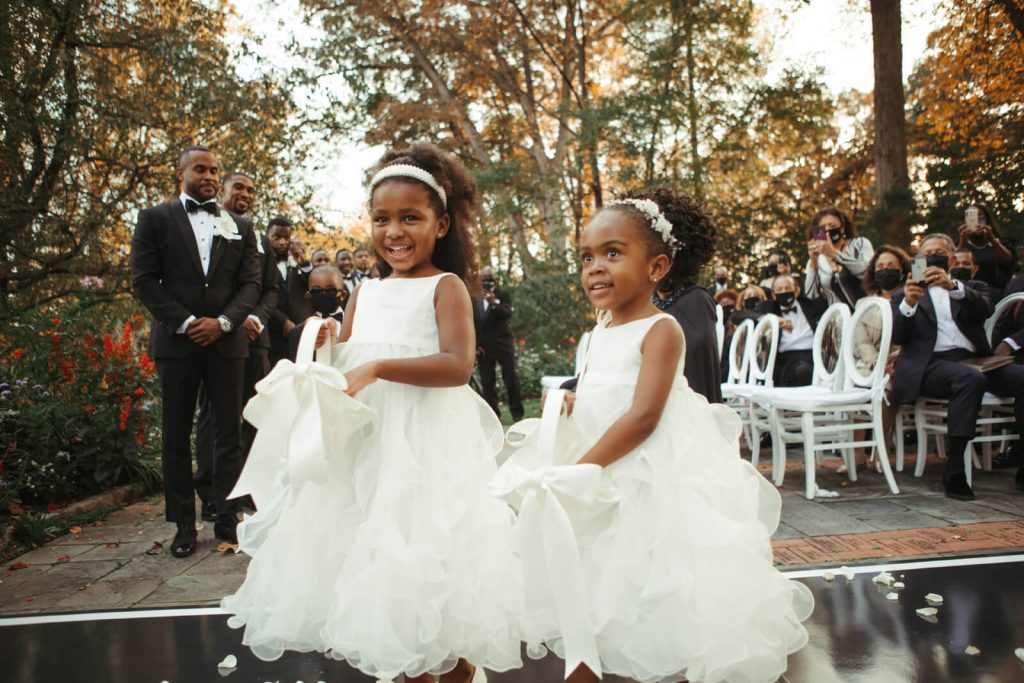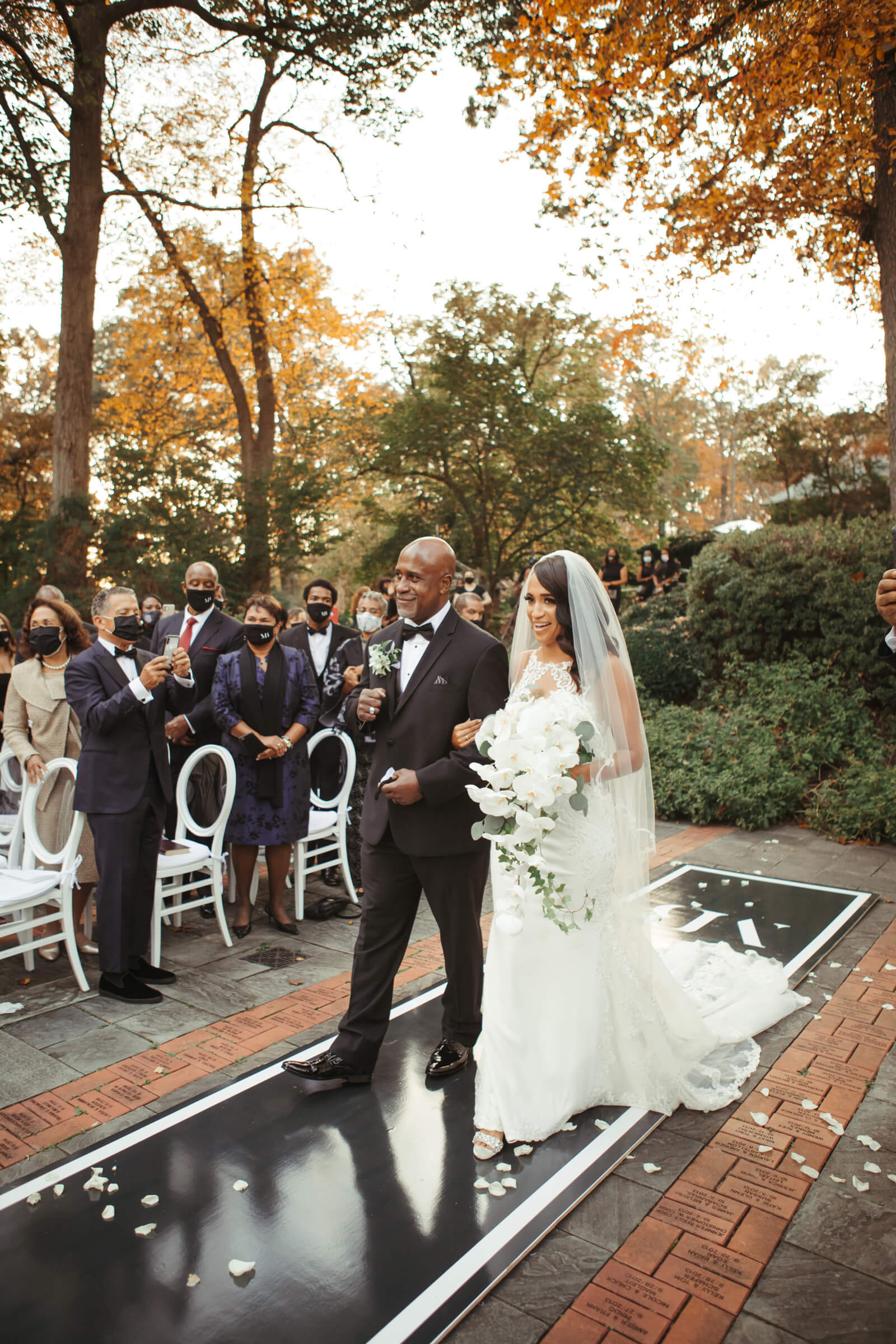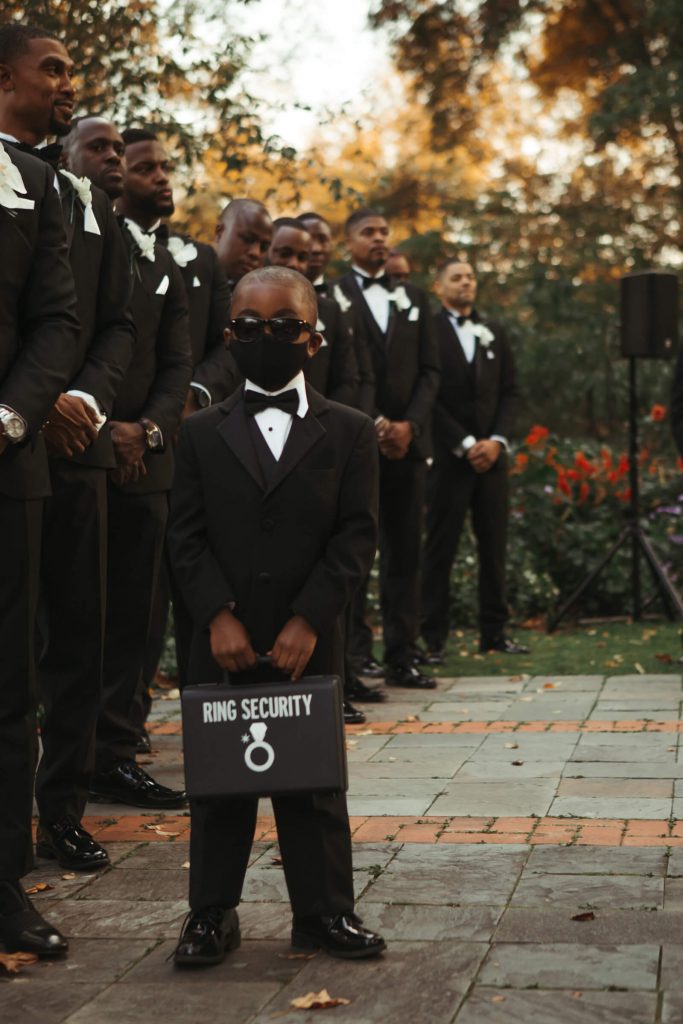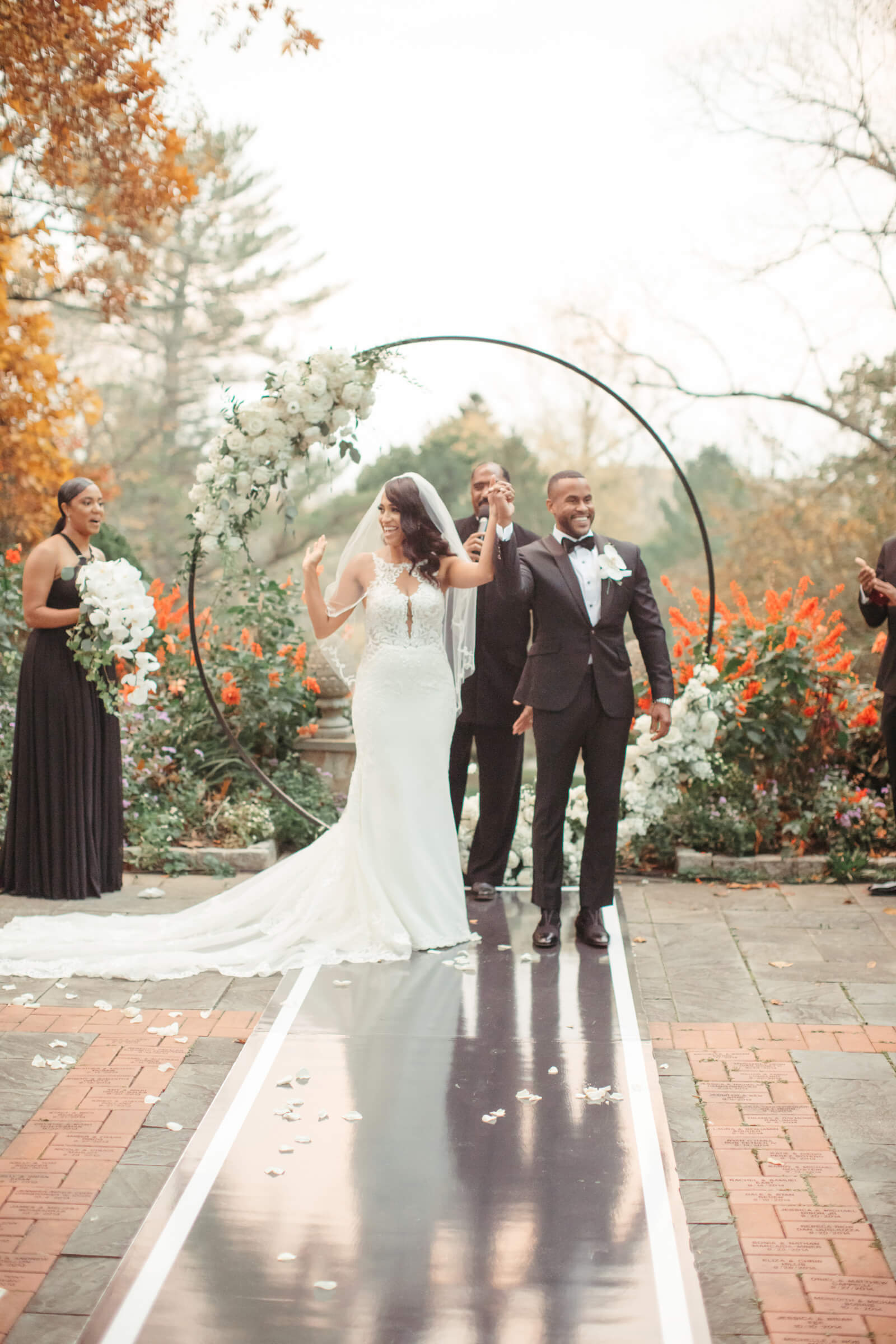 Favorite Details My favorite details were the table settings and the ceremony decor and set up. I was very hands on in the planning. I love flowers and candles and wanted plenty of them around the room. Brandon would have flowers delivered to me every Friday. So, for me, flowers meant a lot. I wanted the silverware to speak volumes and I needed the name cards to be keepsakes. Which so many of our guests ended up taking home with them. But if I had to pick my super number one favorite detail, I would say our wedding invitations. They were custom and breath taking. I believe the invitation sets the tone and boy did we set the tone.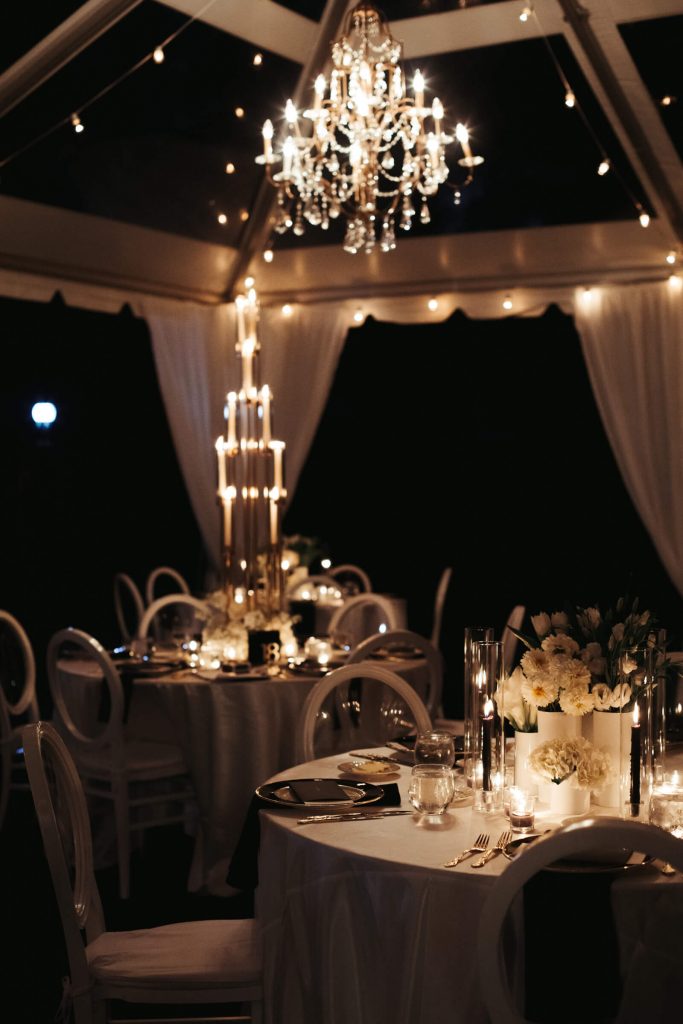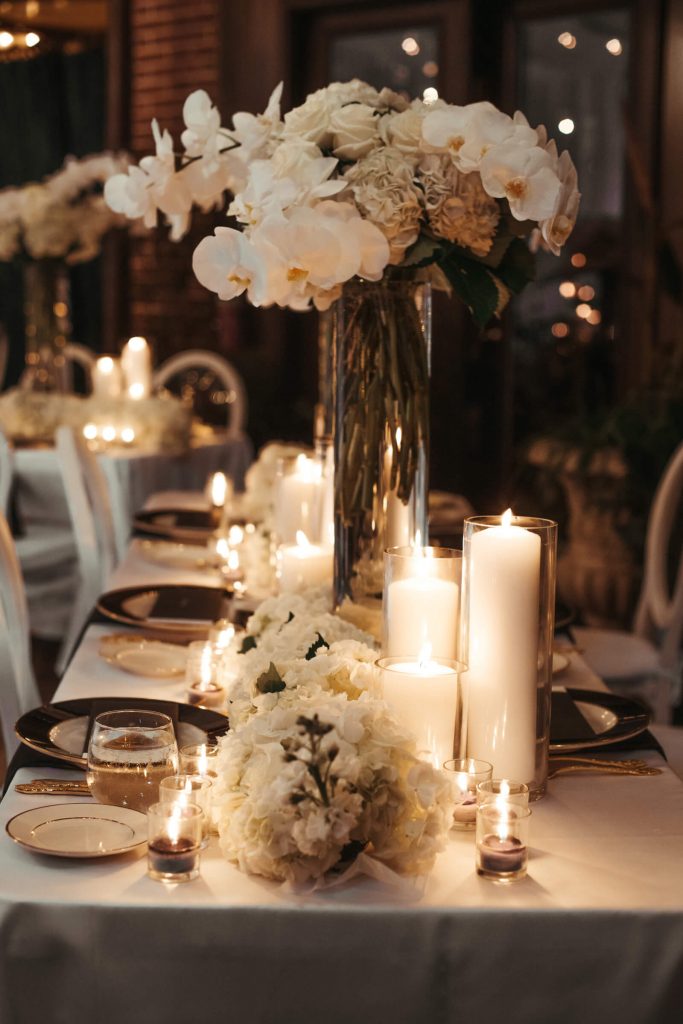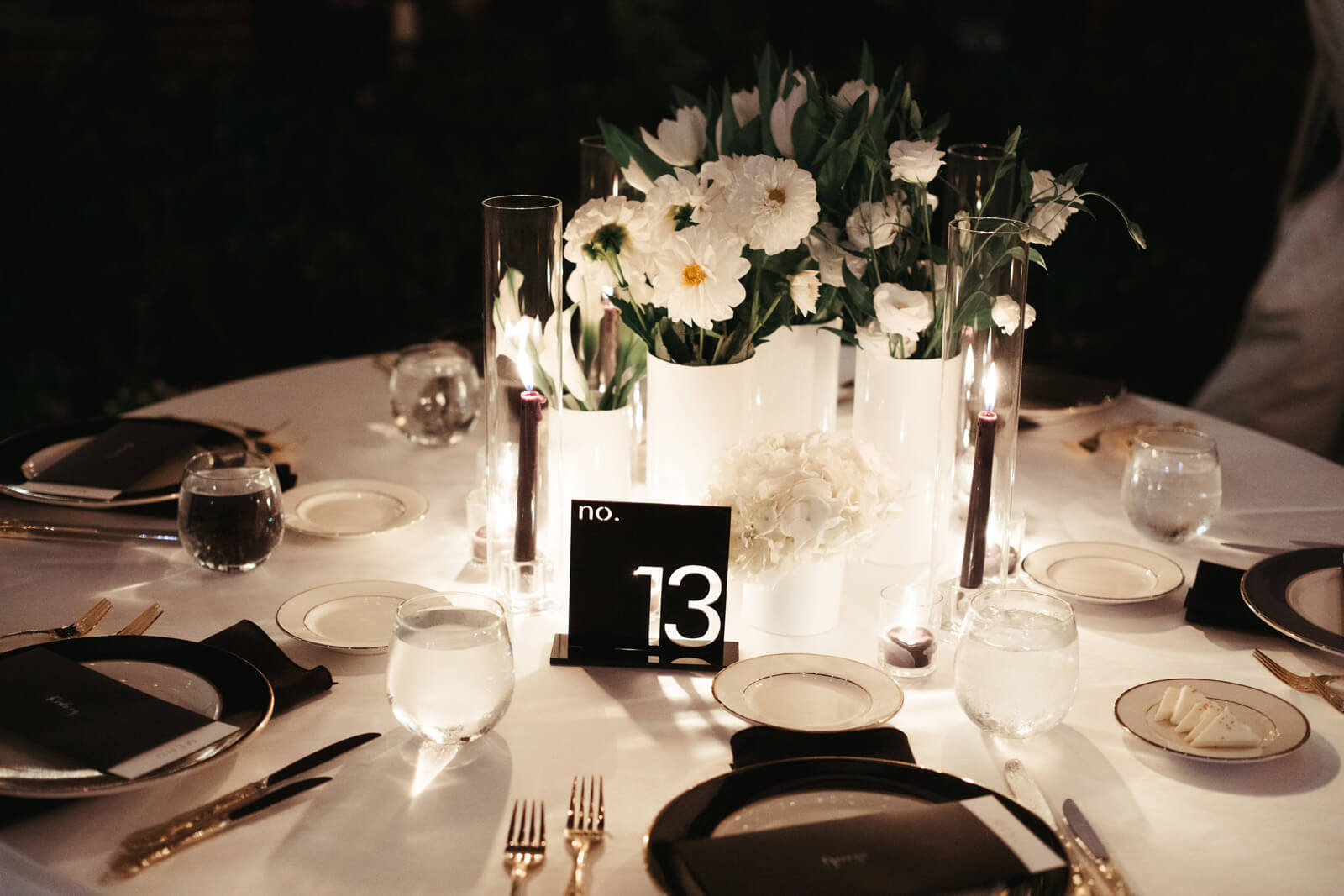 Most Unexpected Event On Your Wedding Day It's sort of funny to say, but it was really hot. We did not expect that—and were very close to having the venue heated because we were worried our guests would be cold. The days leading up to our wedding were cold and then next thing we knew it was 85 degrees in October. In my opinion, this made things even better since a lot of our wedding was outdoors—and the reception even spread out into the gardens which was not expected.
Piece of Advice Your wedding day will come and go, but your love is forever! Make sure that remains the center of attention when going into you wedding, the planning and the happily ever after.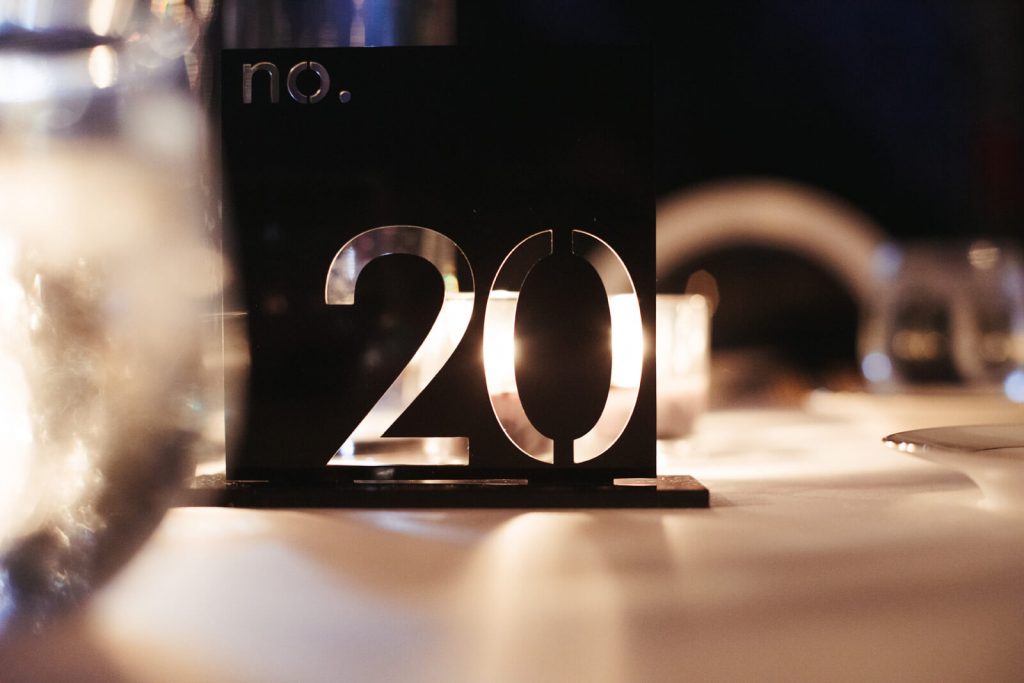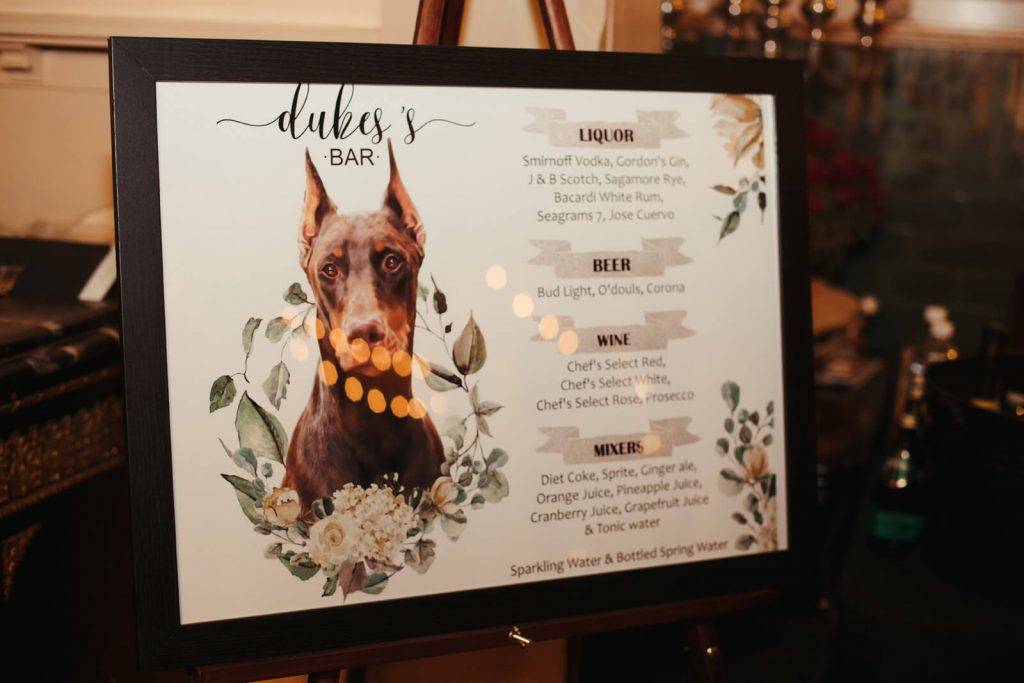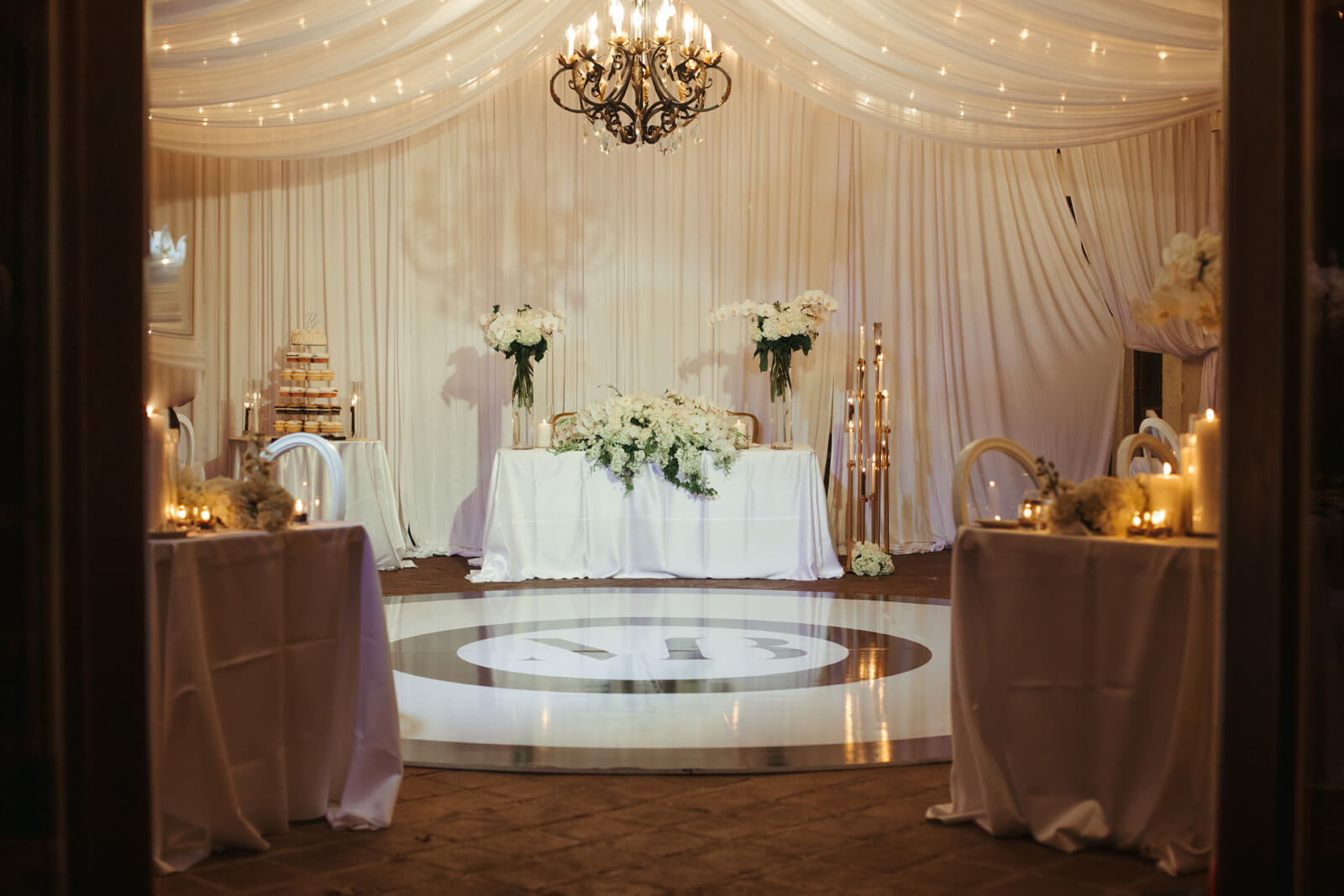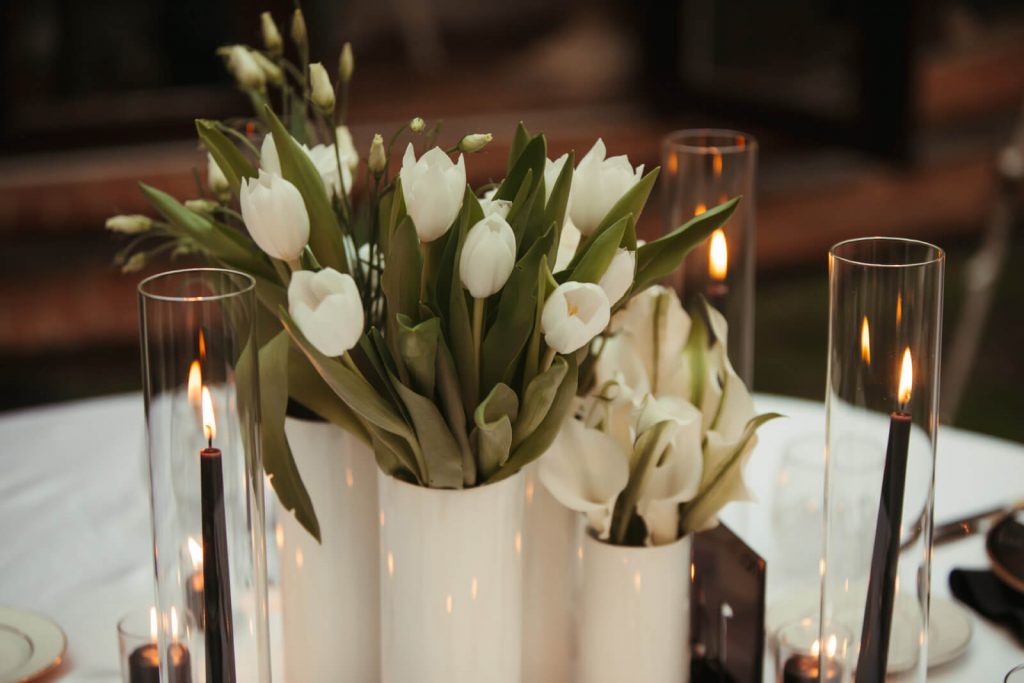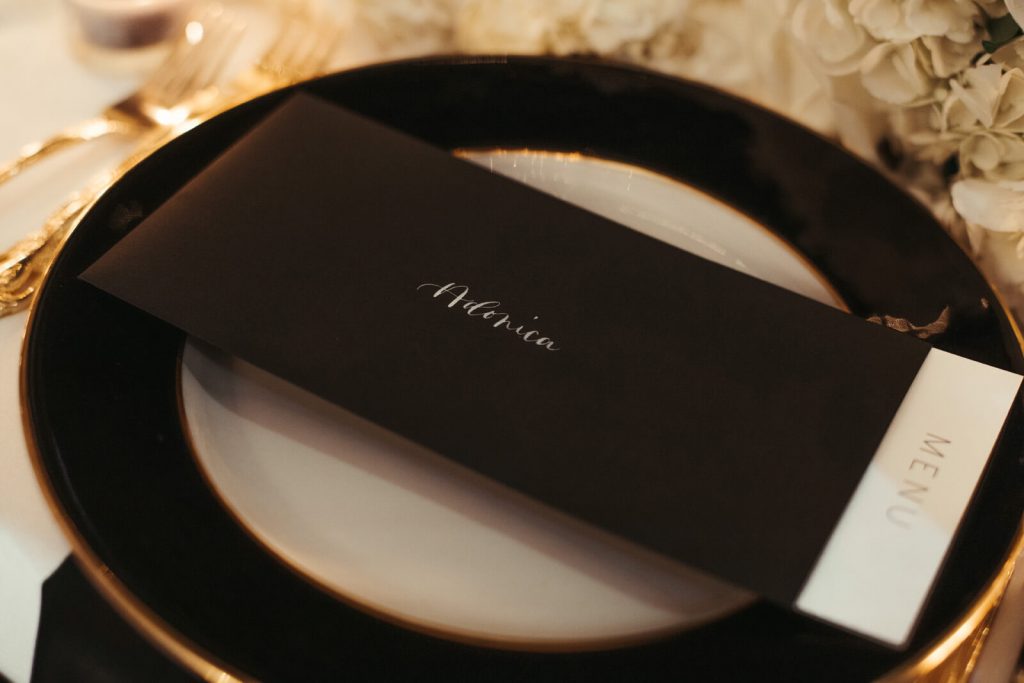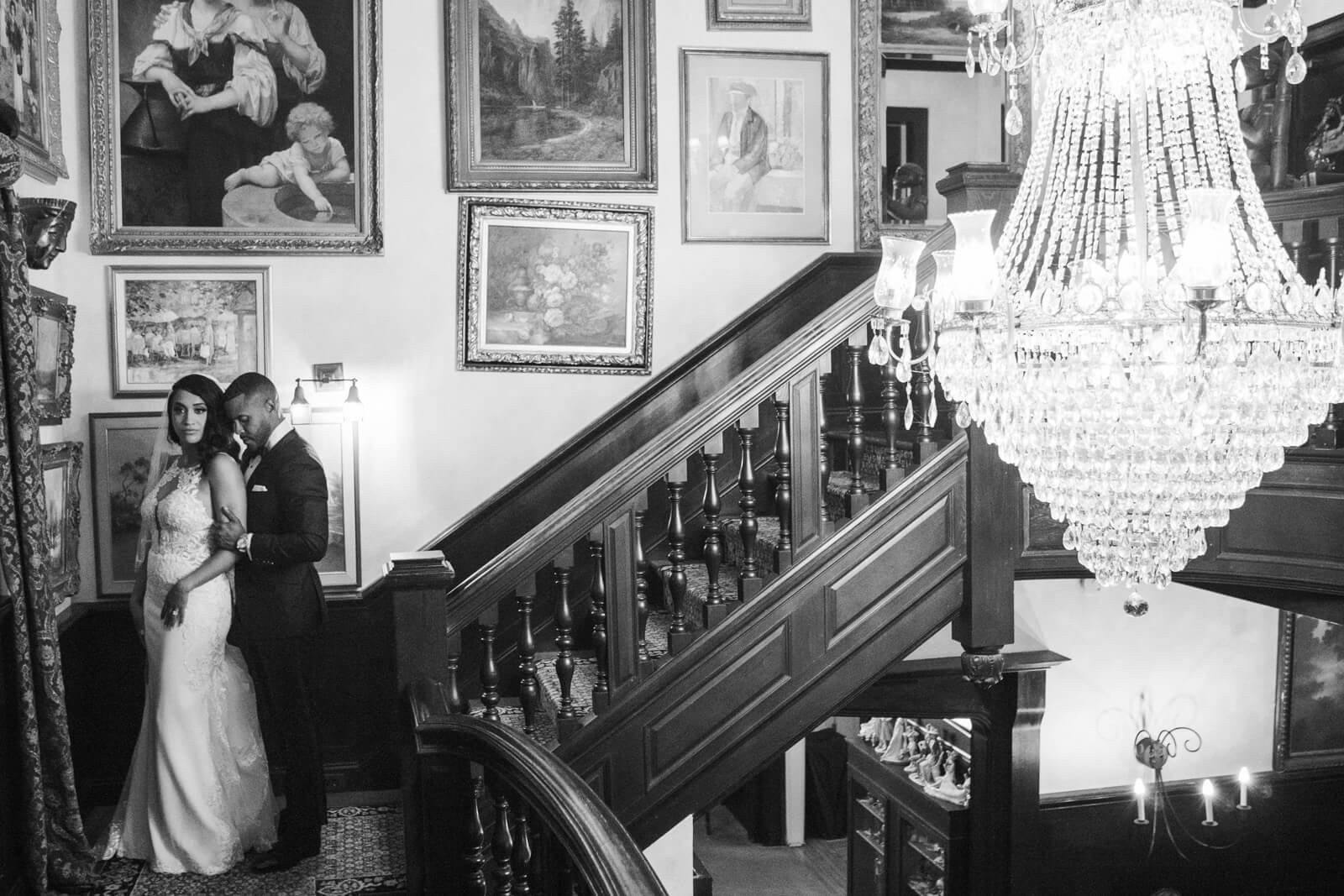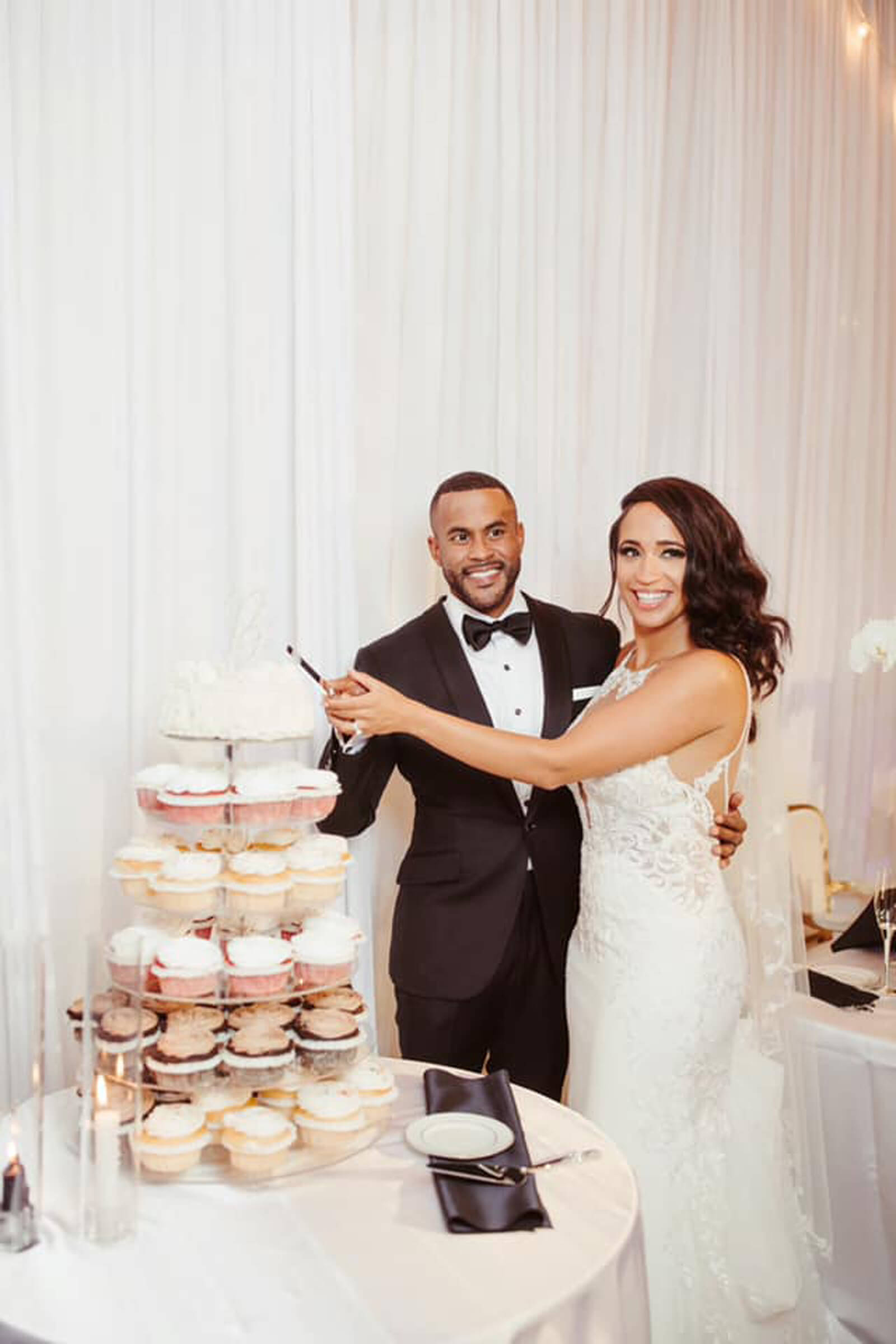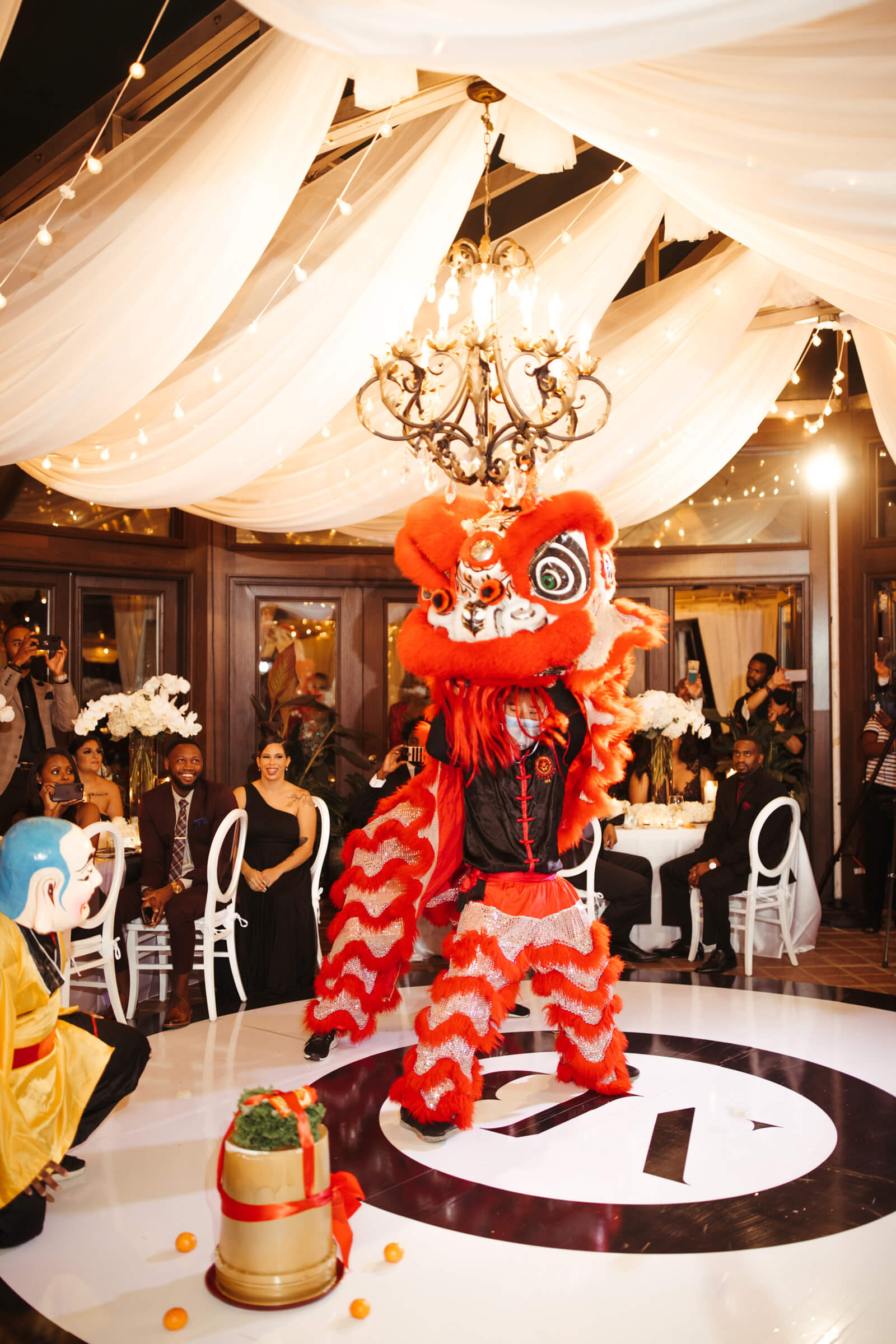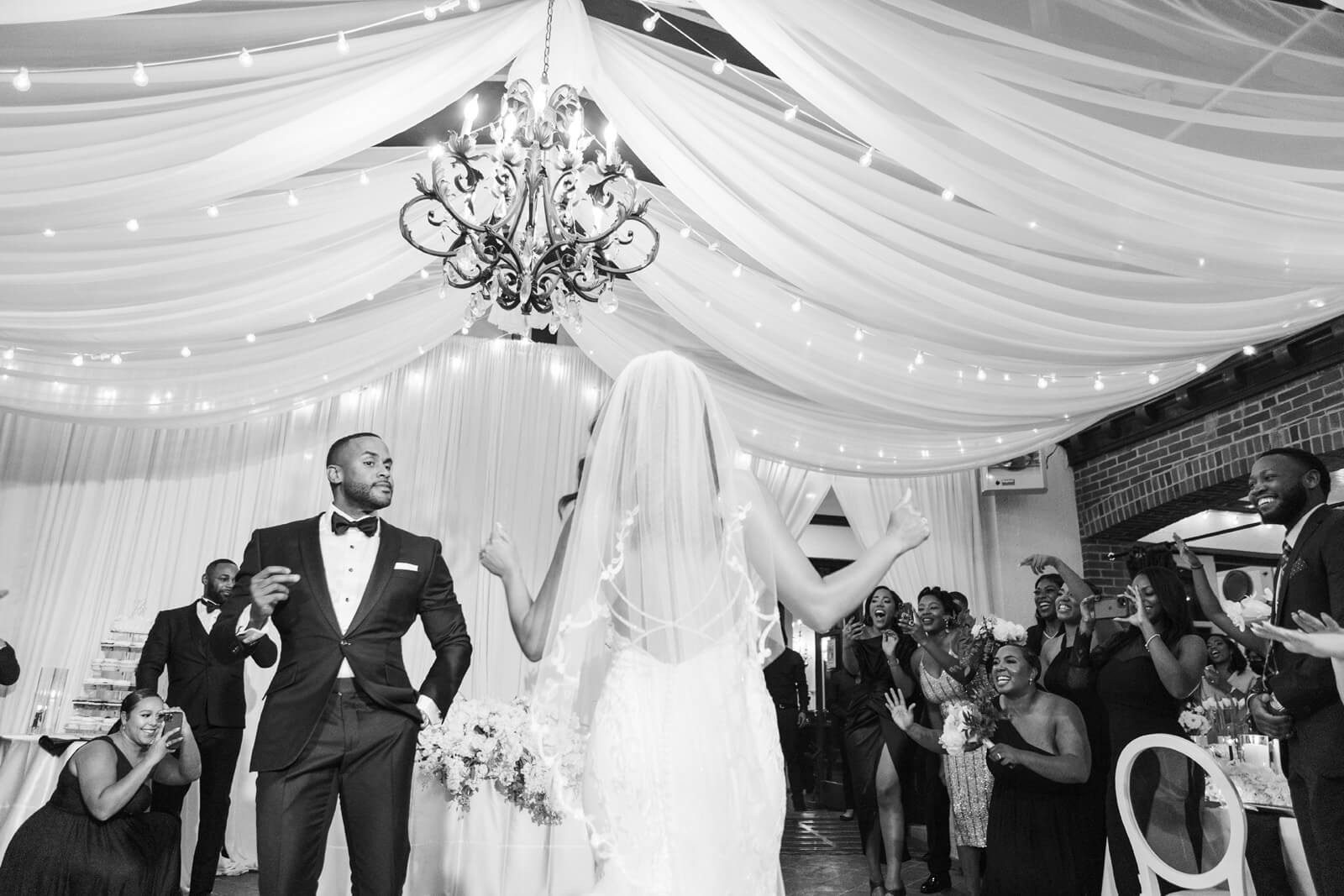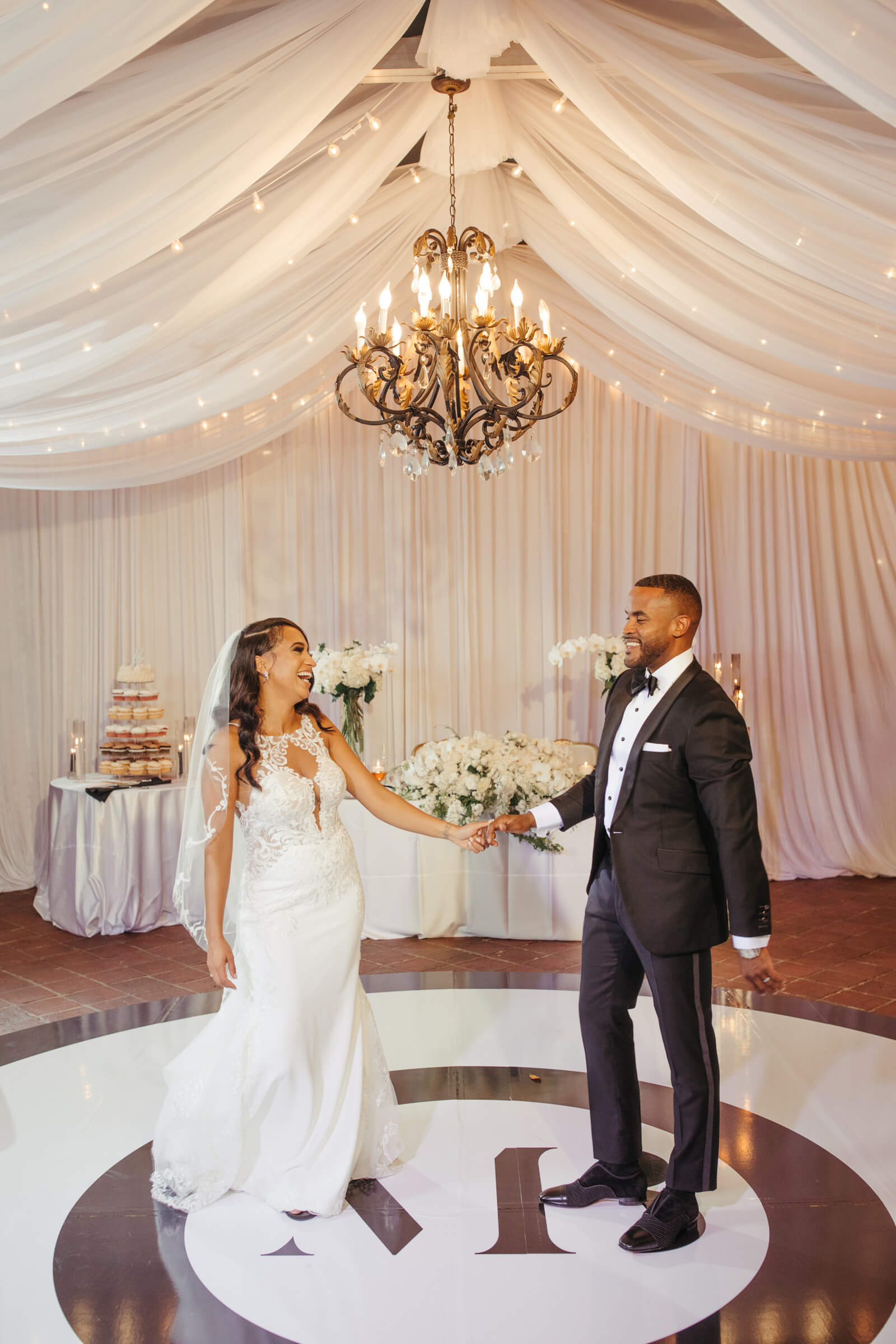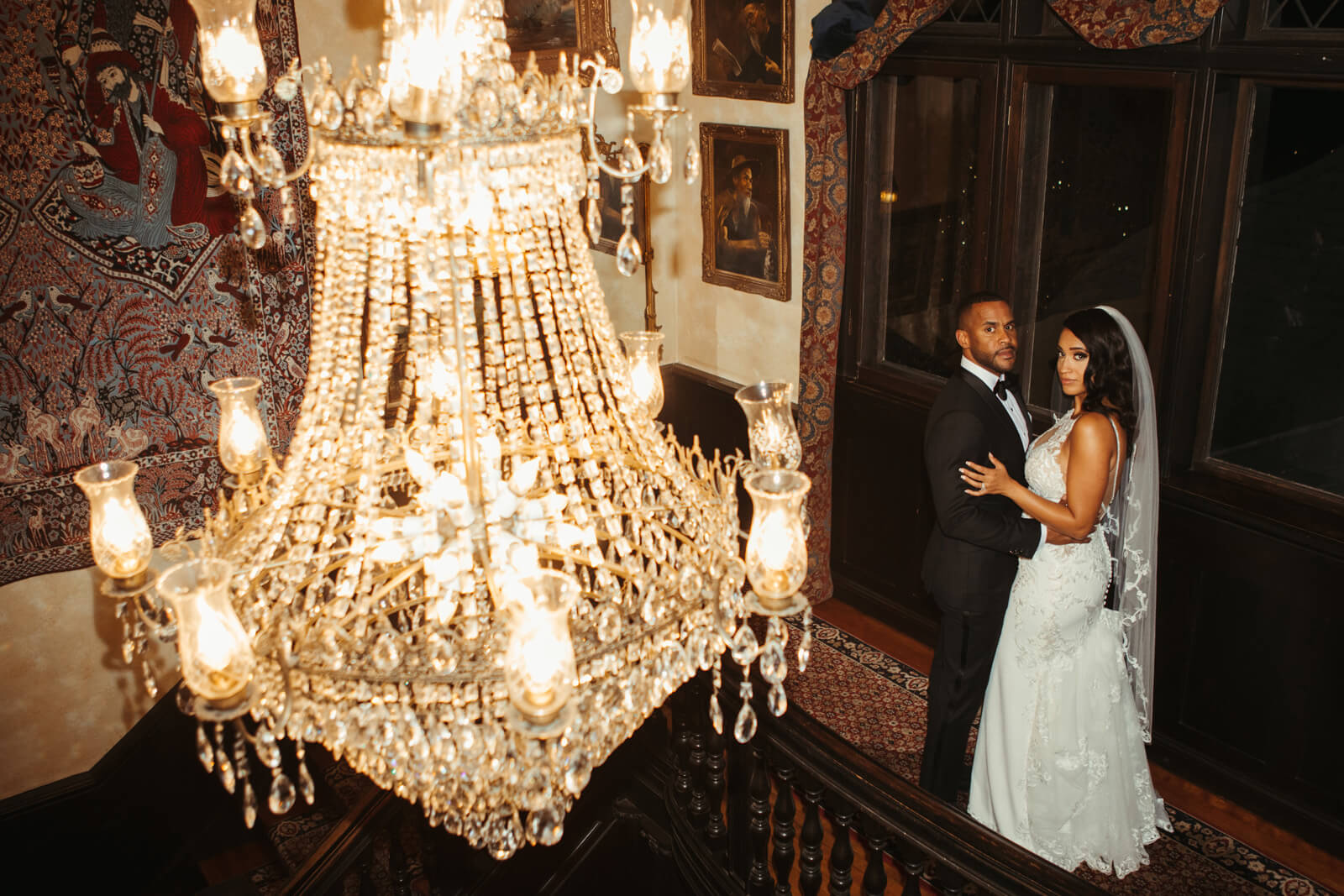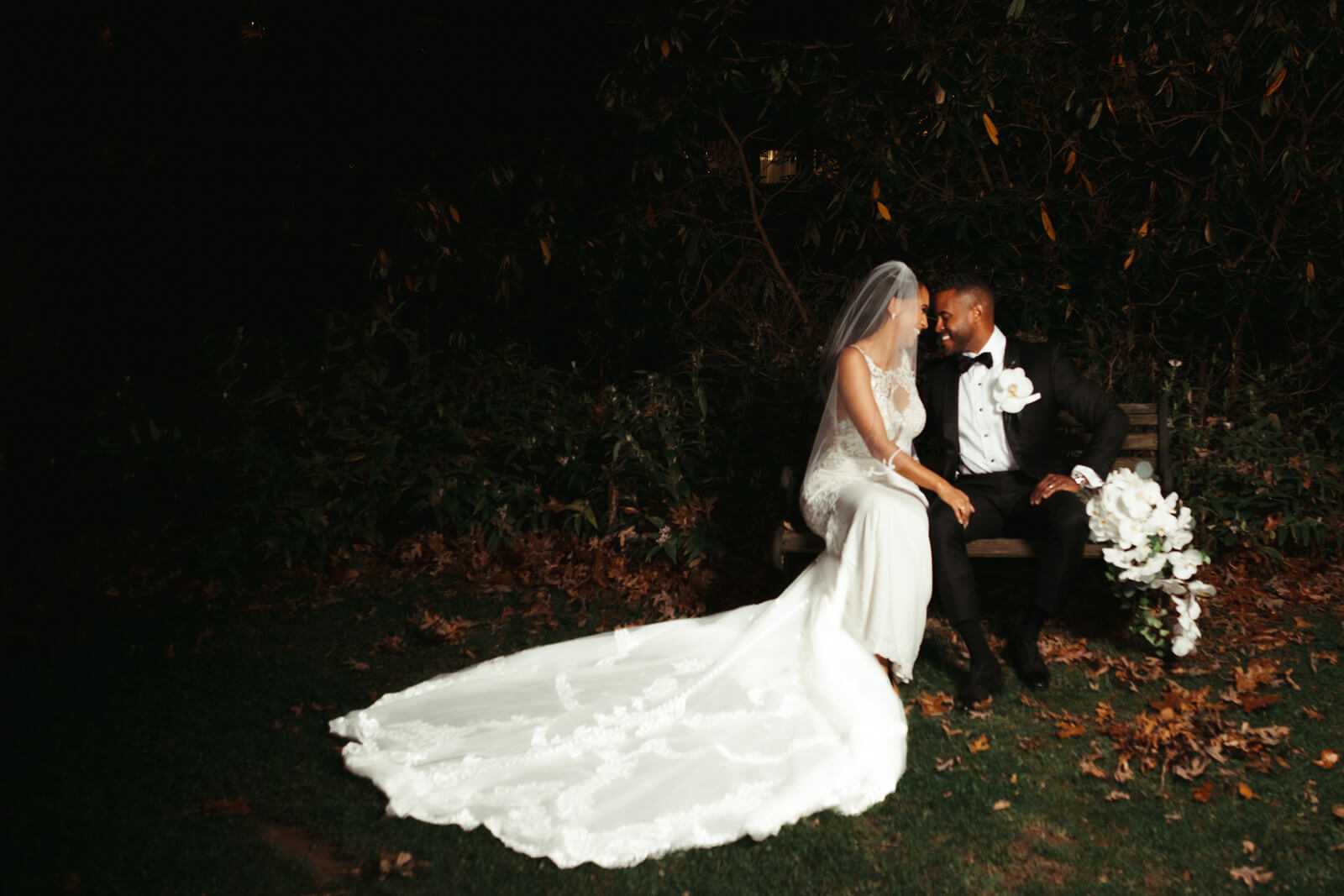 Beauty Shannie on the Beat, Kobe J Makeup; Salon Kaytoure (hair) Bride's Robe Apilat Lingerie Bridesmaids David's Bridal Caterer & Cupcakes Chef's Expressions Ceiling Draping Event Dynamics Chairs & Flatware Select Event Group Dance Floor, Wall Draping, Lighting, & Aisle Runner Phemstar Event Productions Floral Design Fleurs d' Ave Groom and Groomsmen Christopher Schafer Clothier, Menguin Tux, The BLK Tux Honeymoon Ritz Carlton San Juan, Puerto Rico Invitations By Dami Studios Location The Gramercy Mansion Menu, Place Cards, & Seating Chart Stephanie Gould Calligraphy Music Lucy Black Entertainment, ceremony and cocktail music; Father Fonz, DJ & MC Officiant Pastor Haywood A. Robinson, III Photographer Juliana Bird Photography Tent Sugar Plum Tents Videographer & Live Stream Chip Dizard Wedding Dress Betsy Robinsons Bridal Wedding Planner SG3 Events Welcome Sign Illustration Pretty Timely