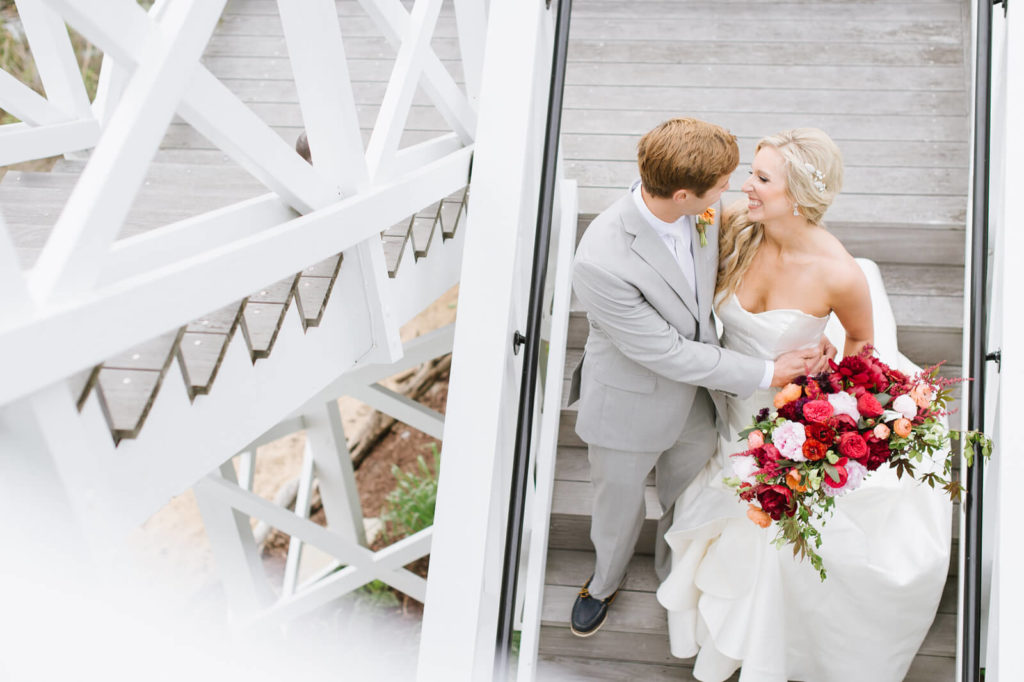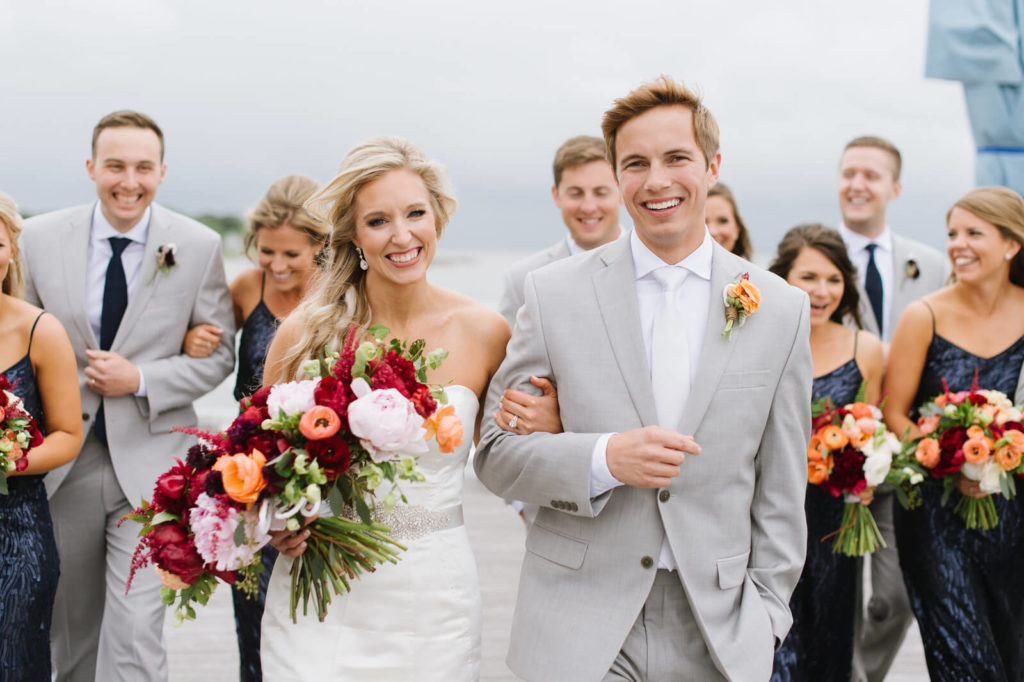 Occupations Christine is a marketing manager for a professional hair care and color company in Baltimore; Justin works for his family's roofing business in Catonsville, Ron Ruff Roofing.
Wedding date May 13, 2017
Number of Attendees 150
Number of Attendants 12 (six bridesmaids, six groomsmen)
How You Met Justin and I both grew up in Severna Park and attended Severna Park High School. As fate would have it we didn't start dating till after high school graduation when we connected in Ocean City during Senior Week. No one, including us, expected a relationship that started at the beach right before we were about to go our separate ways and attend different colleges to last, but I guess we were the exception to the rule.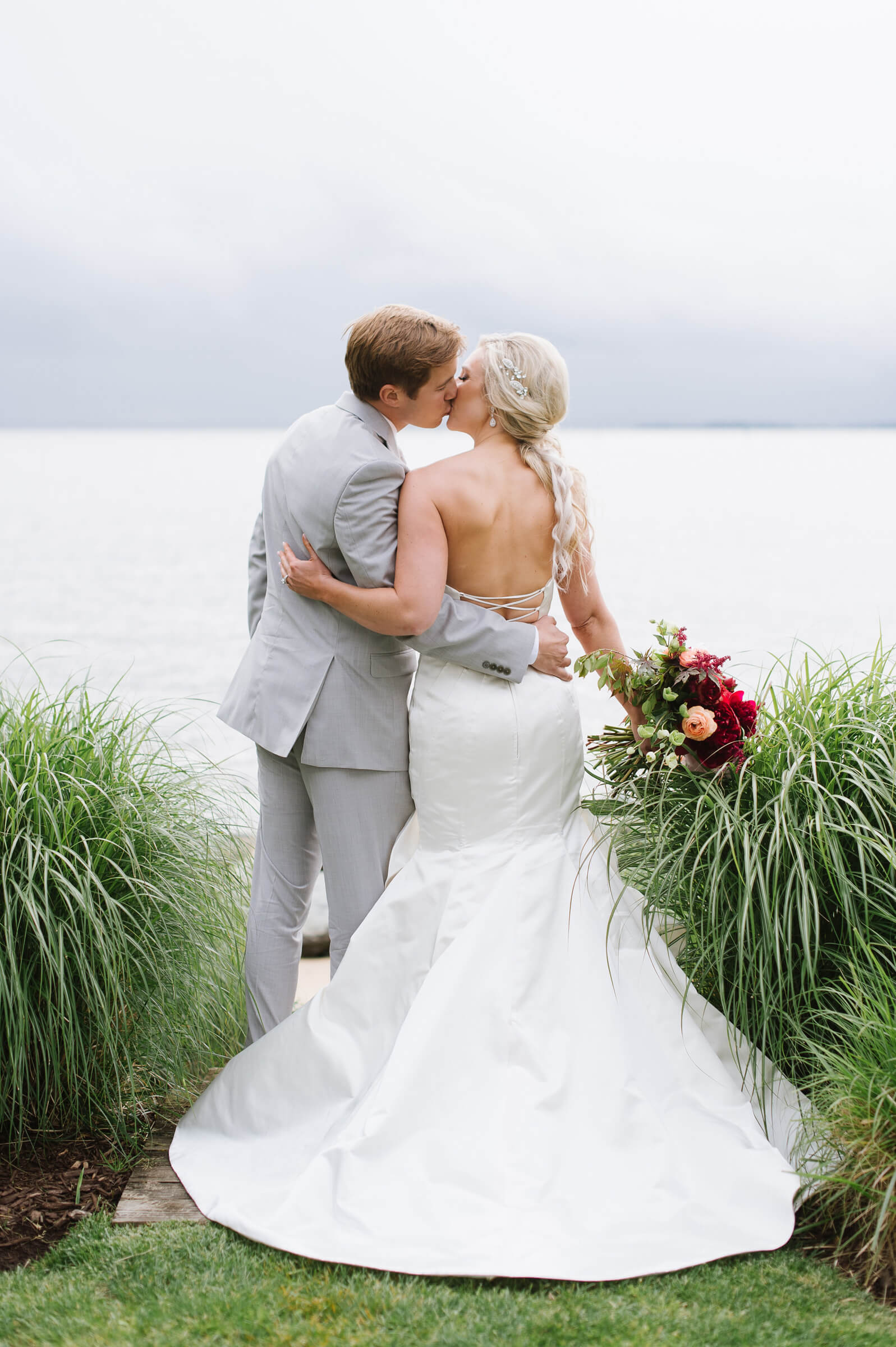 The Engagement Justin and his family invited me to come along with them to a resort in Mexico under the ruse of celebrating his dad's 60th birthday after Christmas. The second night into the trip on New Year's Eve on our way to dinner Justin dropped down to one knee and the rest is a blur followed by some celebratory shots and some more blur.
Wedding Design Inspiration Costal Chic. We wanted to have an outdoor wedding but I was terrified it would rain (which it did) so my goal was to have an indoor wedding with an outdoor feel. Sarah Campbell at Intrigue Design helped us accomplish this with tons of florals including a flower wall and chandeliers dripping in greens. The Chesapeake Bay Beach Club was the perfect reception venue with floor to ceiling windows so guests could see the beautiful sunset without setting foot into the rain.
What Was Unique and Special About Your Wedding Day Does our Mexican honeymoon in OVER THE WATER BUNGALOWS count? Justin's mom and dad planned the entire thing and surprised us with the trip as a wedding gift the week before the ceremony.
Favorite Details If you ask my husband he will say the superhero socks and Sperry shoes he and the groomsmen all wore. If you ask me, I would say the flower wall that doubled as the escort card display and the photo booth backdrop.
Most Unexpected Event On Your Wedding Day Justin surprised everyone by writing "Save Me" on the bottom of his shoes. It wasn't until we were kneeling at the alter and the congregation started laughing that I found out. His sense of humor is one of my favorite things so I guess I'll keep him. Ha ha.
Piece of Advice Find a live band you love and they will be the life of the party!