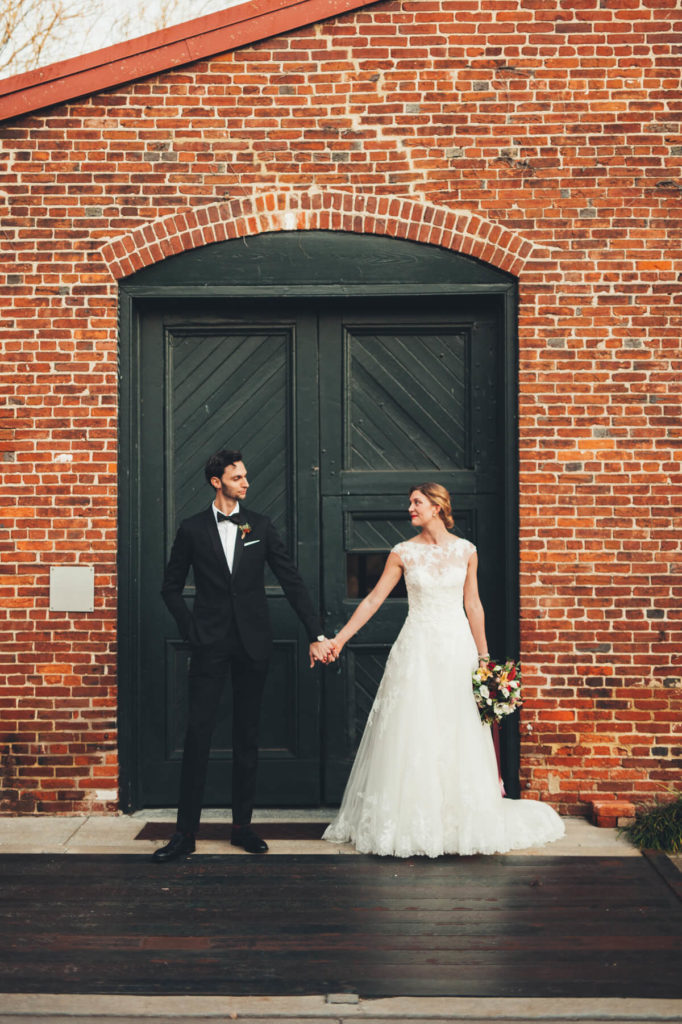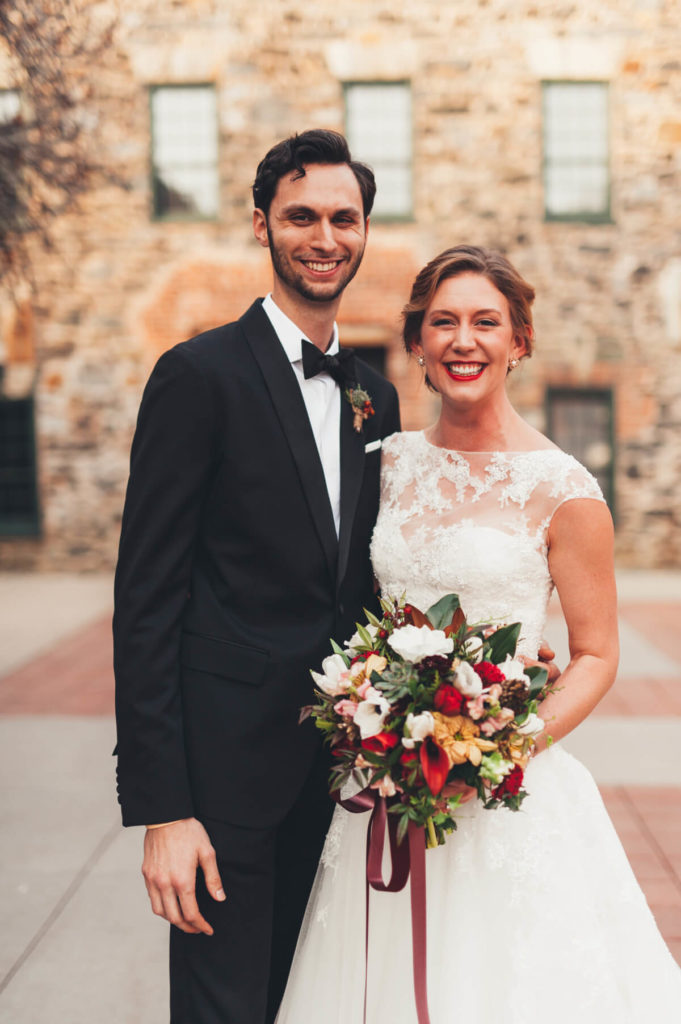 Occupations Elizabeth is a critical care nurse; James is a government analyst.
Wedding date December 12, 2015
Number of Attendees 145
Number of Attendants 12
How You Met eHarmony. It got them outside their social circles and outside their cities. James lived in Northern Virginia and Elizabeth lived in Baltimore. James was hesitant to drive to Baltimore, but it ended up being worth it. He ended up falling in love with the city, too.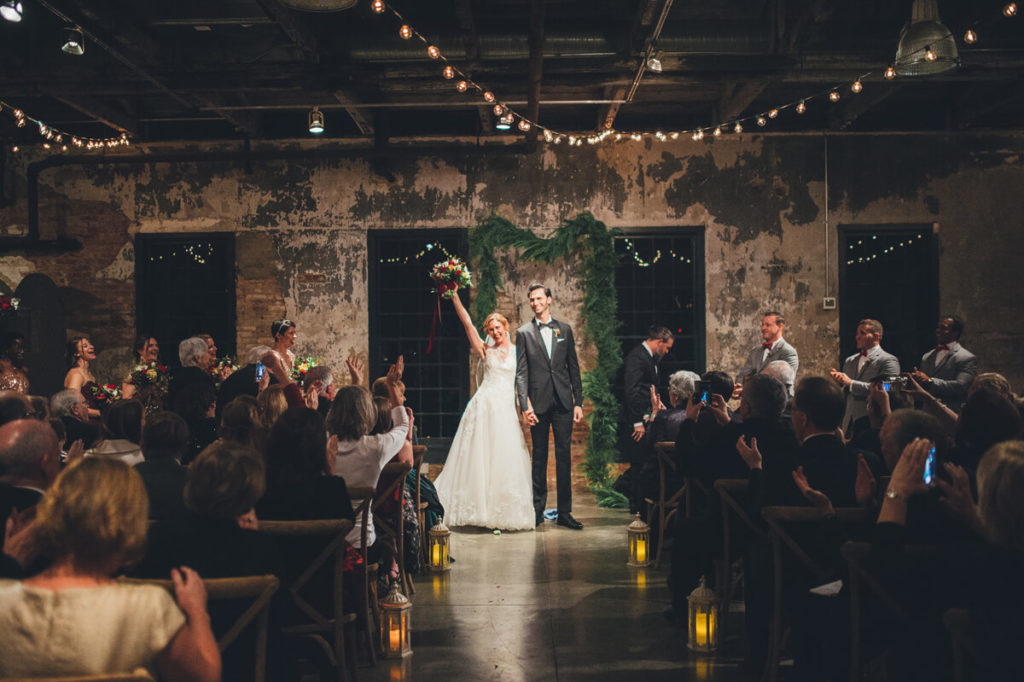 The Engagement They took a trip to Snowshoe with a few close friends and Elizabeth's sister and brother-in-law, where James had been planning a proposal and had everyone else in on the secret. On the way up, it ended up snowing 26 inches and took them 10 hours to get there. They had to search the small town for snow chains to get up the mountain. The next morning in all the chaos, Elizabeth didn't notice that James and her brother-in-law had snuck out to dig tracks in the snow reading, "Will you marry me?" When they came back upstairs, James called Elizabeth over to the window saying, "Hey babe, look at what some idiot wrote in the snow." Very confusing. Then he got down on one knee and said "Well?" And she said, "Yes!"
Wedding Design Inspiration The beauty and coziness of the holidays and the time with family and friends. They did long tables so that it would feel like a family dinner. They also wanted to keep everything as local as we could, supporting small business and the charm of Baltimore.
What Was Unique and Special About Your Wedding Day They wanted their day to be a celebration of friends and family who have helped make them who they are, as much as it was a celebration of Elizabeth and James. Their friend, Sarah, sang Teitur Lassen's "One and Only" as Elizabeth walked down the aisle. Elizabeth's sister and brother-in-law sang Ben Folds' "Luckiest." Sarah also wrote an original song for the first dance, which she sang live. Elizabeth's sister made their beautiful, gluten-free, and delicious wedding cake
Favorite Details They love to travel and on their trips before the wedding, they gathered pinecones that they painted and used as place cards. They had a globe for people to sign as their guest book. Many people signed where they were from, where they had been together, or suggestions on where to go. They had a vintage typewriter that they had people write notes on. People were very creative and wrote poems, including a haiku. Instead of a traditional program, they wrote a paragraph on each attendant and why they were important in their lives. Apparently, people were in tears reading them. They tied together James's Jewish background and Elizabeth's Christian beliefs in the ceremony. They stood under a garland that smelled amazing and created the feeling of a chuppah. Elizabeth loved all the lanterns, candles, and Christmas trees that made it warm and festive. The garlands down the table made it feel lush and festive too. She loved all the details, because everything was personal and reflected who they were as individuals and a couple.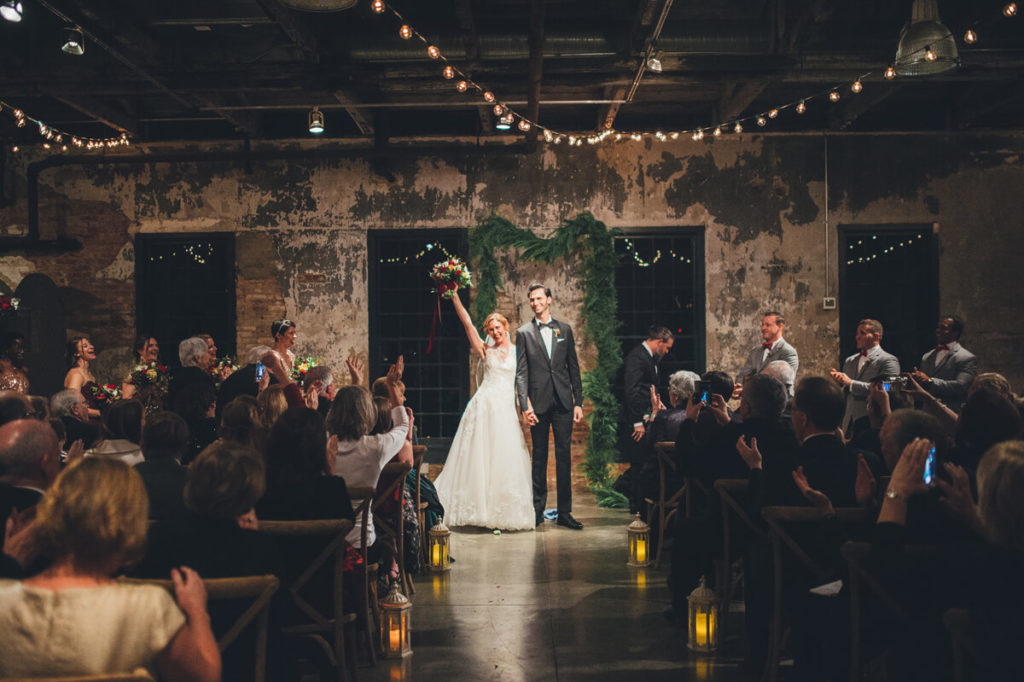 Most Unexpected Event On Your Wedding Day Two guys tried to steal their alcohol from the delivery truck. James and the groomsmen heard the caterers yelling and went out to see what was going on. They were able to hold the guys until the cops came. No one else had any idea that this was going on!
Their niece jumped in on our first dance, which was super special. She is so near and dear to their hearts and she just wanted to celebrate too.
Piece of Advice Have fun and don't let the stress get to you. It's one day and there's no one definition of perfect. It's a perfect day if at the end, you are married and have had fun. Take the time to eat and to dance. The rest will work itself out.