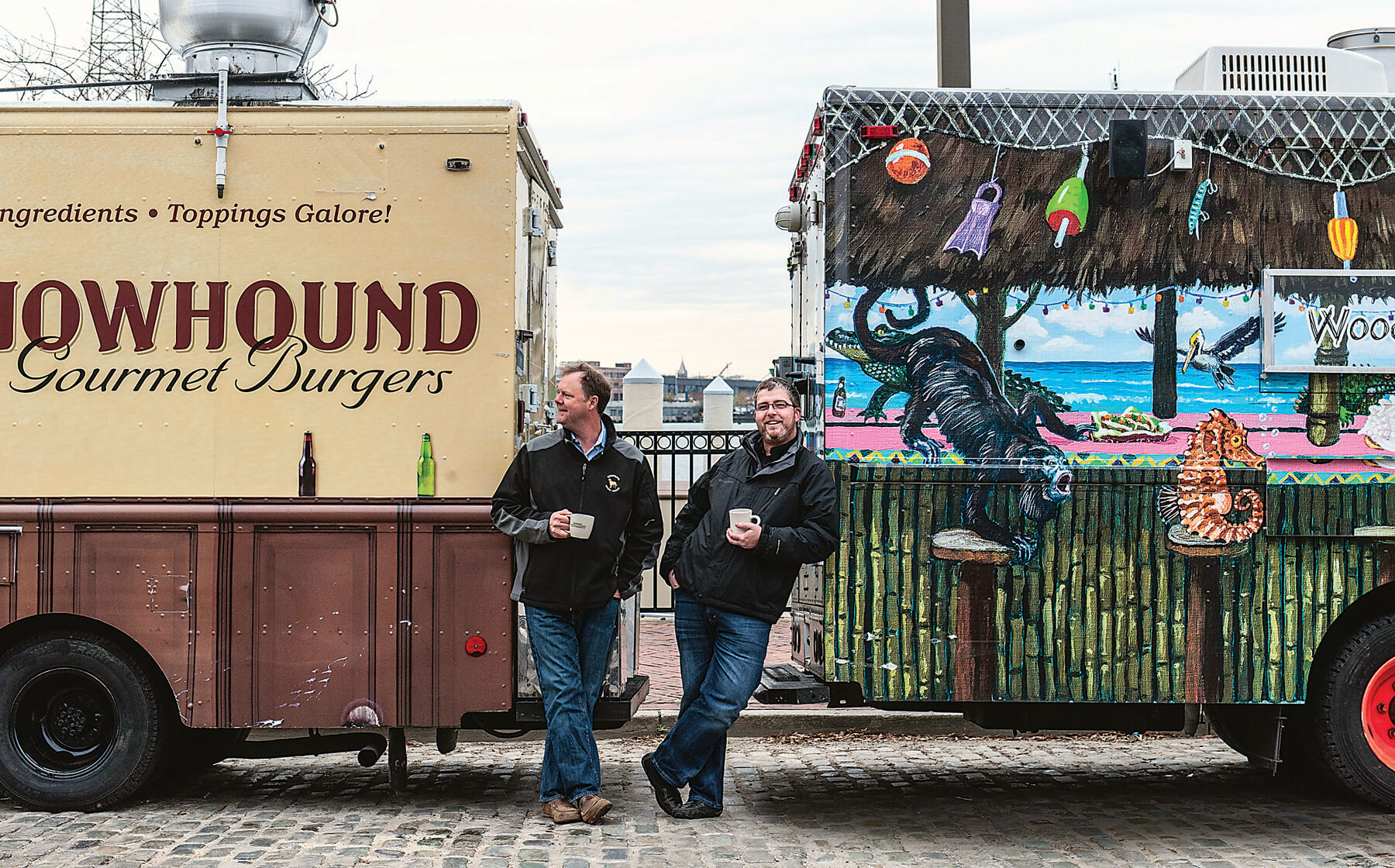 Patrick Russell is a Baltimore guy. He grew up here and stuck around for college—attending University of Maryland, Baltimore County as an economic and political science major. But he knew right away that wasn't his passion. He had an inkling what it was when he started working at the historic Mt. Washington Tavern as a teen. He started at the bottom—as a dishwasher—but knew he was ready for a bigger challenge. "As the busboys, wearing polos and khakis, threw dirty dishes at me, I asked to be promoted," Russell remembers. That's how he started learning all the different sides of the restaurant industry. He ventured on to Thames Street Tavern where he became the general manager. In 1997, at the age of 28, he bought the place and renamed it Kooper's Tavern after his yellow lab Kooper. (Another restaurant, Woody's Rum Bar and Island Grill, is named after his black lab, Woody.) Both have morphed into food trucks: Kooper's Chowhound Burger Wagon and Woody's Taco Island. Says Russell, "Sixteen years, five restaurants, two food trucks, a bed and breakfast, a spa and salon, two beautiful twins, and an incredible wife later, I'm ready for more."
Q: What made you want to start a food truck? A: We launched the first food truck in Baltimore in 2009. We wanted to expand our brand in Baltimore beyond our brick and mortar. We also felt the catering aspect would reach a sophisticated crowd. Most conventional caterers—for weddings, especially—get you once. Our goal is to provide a great experience at your function so you visit the restaurant, too.
Q: What are some advantages and disadvantages to having a food truck over a more traditional caterer? A: The biggest advantage is that all the food is cooked on-site just before being served. We transport the food already prepped, but cook and assemble everything on-site.
The biggest disadvantage would be that since everything is cooked on-site, there is no room for error. 
Q: How many weddings have you catered? A: We catered around half a dozen weddings last year, a dozen this year, and the demand exponentially grows.
Q: What kind of food can you provide? A: All weddings are different. We catered rehearsal dinners with burgers and wedding receptions with beef sliders, but also chicken, pork, vegetarian, and crab-cake sliders. Along with these sliders, we display all styles of appetizers and side dishes and also pass some hors d'oeuvres and amuse bouches. The Chowhound is a kitchen on wheels, options are endless. A big hit is our post-wedding reception "Burger Parties" when our burgers become life-savers after a long evening of drinking and dancing.
Q: What is the cost of having a food truck at a wedding? A: Cost will depend on the type of catering requested, location, and attendance, but tends to be more affordable than some classic catering options. We don't cut on quality and freshness of our products, and the Chowhound allows us to constantly serve the freshest product possible, as everything is cooked on-site.
Q: Does your truck have insurance? Do couples need to request a permit for a food truck at a wedding? A: We are a full-service catering operation. The Chowhound is insured through our business-insurance policy. Catering facilities require proof of insurance and certified food handlers. Weddings are sometimes hosted on private properties and permits are not necessarily required. State law, however, requires insurance.
Q: What are some of the foods couples request for weddings? A: Our burgers and sliders are among the favorites. People can create their own, and options are unlimited. We will always go the extra mile to make our brides happy. Kooper's crab dip and our truffle fries are also among the favorites. But what our clients like the most is when we simply serve their favorite food. They do have the feeling that they entirely designed and created their big day menu.
Q: Do you only provide food? What about napkins, small plates, etc.? A: We provide food and beverage. Our catering license allows us to set up a bar and, all of a sudden, a mini-restaurant just got created. We can also take care of any utensils and rentals, if needed.
Q: How does preparing for a wedding differ from preparing for, say, a food truck rally? A: A little bit more pressure. We want everything to be perfect—every single little detail from loading the truck to cleaning up after all guests have left. 
Q: Can you only serve outdoor weddings?  If not, what's the process for serving an indoor wedding? A: We can serve indoor or outdoor. When indoor, we try to park the Chowhound as close as possible to the most convenient entrance. We catered a wedding at the Flag House in downtown Baltimore and had to set up a prep area, then run up and down the flight of stairs all night. It ends up being a great workout.
Q: Do you see a trend with couples having food trucks coming to serve that late-night snack at their weddings? A: For sure. Traditionally, the dinner is the first thing done and all that dancing requires a refuel at the end before hitting the road or to just kick-off the after-party.
Q: Do you serve the guests or do they come up to the truck to order? A: It  depends on the attendance and the kind of wedding. Like choosing the menu, all options are possible.
]Q: Is there a pre-set menu or can guests order what they want? A: We have some menus to give our guests some ideas and guide them in their choices, but we pride ourselves on serving a completely customized menu.
Q: How many people is your truck able to serve? Do you bring a second truck to larger weddings? A: We can serve up to 350 to 400 people. We haven't partnered with another truck yet, but the pairing of a savory and a sweet truck is always a great thing when we are on the road. Burgers and cupcakes really sound like a dream wedding nowadays.
Soul food–warm sweet-potato biscuits, braised beef short ribs, collard greens simmered in coconut milk–that will make your guests swoon.
Hot crispy chicken, thick buttery waffles, pools of syrup? Yes, please.
Gourmet grilled cheese with all the fixins' like lobster, lump crab, or applewood smoked bacon, served with a side of hand-cut French fries.
Gourmet street food includes chorizo-and-pineapple tacos, mac-and-cheese cones, and caramel-bacon donuts.
Ditch the cake, and let guests choose from a million different cupcakes ranging from classic chocolate/vanilla to Caribbean coconut.