Is a ceremony and reception really enough these days? Is the Big Day increasingly just the centerpiece of a Big Weekend of happenings?
Seems so, many wedding experts say. In this global age, friends and family are spread apart more than ever. So when your old college roomie or beloved great aunt commits to flying in for your wedding, it could be a costly proposition. Giving them more reasons to come, by offering extra things to do, just makes sense.
"We always think it's a great idea to really go the extra mile for your guests and acknowledge that many people are coming in from out of town with a lot of expenses and effort," says Amanda Black, an editor with the wedding website TheKnot.com.
"Wedding weekend activities are just another away to show that you care and you appreciate that they are attending your special wedding day."
So you can think of the casual Friday night outing to a karaoke bar, or the lazy Sunday group brunch at a favorite eatery, as just another fun perk for your guests—a thank you. And since a wedding unites two families, it's also likely many of your guests will be strangers to one another. Mixing folks in a low-key way before the formal affair can help banish any banquet-table awkwardness.
"Events scheduled the day before the wedding can really help break the ice," says Sharon Naylor, author of more than two–dozen wedding guides, including The Smart Guide to Wedding Weekend Events. "On the wedding day, when people are finding their places at the reception, they are not sitting down with a table full of strangers, and that adds a new comfort level."
But perhaps the main reason you'll want to consider adding activities to your wedding weekend is purely selfish. Ask most any newlywed and they will tell you the harsh truth: The wedding day flies by in a flash. The months of planning and anticipation culminate in a whirlwind, table-hopping blur of hasty hugs and half-completed conversations. By creating additional opportunities to mingle with your far-flung loved ones—especially while not done up in suits and gowns or being blinded by the photographer's flash—you can maximize your quality time with the people who matter most to you. More time equals more special memories.
The one hard-and-fast rule when it comes to wedding weekend activities is that it's best to start planning them sooner rather than later. Some of your out-of-town guests will want to book tickets right away to take advantage of advance-purchase fares. They will appreciate a heads-up on weekend goings-on so they can make their travel plans accordingly.
Today's brides have help in this area that wasn't available just a few years ago: the personal wedding webpage or wedding app. This can be your interactive resource for keeping guests plugged in as the weekend develops. And what if you have a large, diverse list of guests and are not sure what activities or events might interest them all? Try asking.
"I've seen people use their website to do a poll," says Black. "They put up a list of activities they are considering and simply ask which ones folks are most likely to attend. This way you can get a real feel for what guests are interested in." Of course, you might be considering events for select groups—a golf outing just for the groom and his buddies, or a day-spa splurge for the bridal party. For these activities, use e-mail or sites like evite.com or paperlesspost.com to spread the word.
As a rough rule of thumb, event planner Stephanie Day, president of Baltimore's Dream Day Planners, feels it's a good idea to consider weekend events that stand in contrast to the look and feel of the wedding itself. "If you are doing something very formal at a ballroom downtown, I might suggest more casual activities for before and after the wedding," Day says. "You might want to spend time at a local crabhouse, so guests can experience that Maryland tradition. But if you are doing an outdoor farm wedding or something like that, maybe you could arrange to go see a show or go to a museum."
Cathy Maulsby says she and husband Thor Nelson were looking for "an alternative to the stuffy, sit-down rehearsal dinner" the night before their Baltimore wedding last February. "We wanted something fun, casual, and more activity-focused," she explains. "And that's how we came up with duckpin bowling." They leased the historic Patterson Bowling Center in East Baltimore, brought in a keg of beer, ordered pizzas from a place around the corner, and invited all 100 or so wedding guests out for an evening celebrating the city's homegrown brand of bowling. "Duckpins are great because it is Baltimore-specific and really cuts across all ages" Maulsby adds. "My nephew was three and he had a blast and my grandmother was 96 and she did, too."
Pro sports can be a universal language and a good common ground, even with guests coming in from other conferences, divisions, and leagues. Jessica Marshall spent the Friday evening before her Saturday wedding last June catching a ballgame at Camden Yards. And this despite the fact that many of her incoming guests were Red Sox fans. "It was a way for us to spend time with our out-of-town guests, and for our local friends to hang out with them as well," Marshall says. "We ended up with around 40 people."
As a special touch for the evening, she had folks meet for drinks and a quick bite before the game at Federal Hill's Pub Dog Pizza and Drafthouse, where she and husband Matt had their first date. Even with her sizable group, they found they didn't need to rent a private room. "We all got there right at five o'clock, which is when they opened, and just took over the upper floor," she says. Even if the O's are not in town for your wedding weekend, guided tours of Camden Yards are available, so guests can still get a glimpse inside one of the best ballparks in the majors. With fewer home games and steady sellouts, taking a group to see the Ravens play is much more problematic. But private group tours of M&T Bank Stadium can also be arranged. (And wouldn't it be fun to see that Steelers-fan uncle of yours wandering around Ray Rice's realm?)
If many of your guests have never been to Baltimore before, they might be interested in learning a little something about this birthplace of the National Anthem and burial site of Edger Allan Poe. Walking tours are a great introduction to the city and its monuments and architecture. The National Park Service runs a number of such tours out of the Inner Harbor's Baltimore Visitor Center. Baltimore Heritage, a nonprofit historic preservation group, puts together custom walking or bus tours for groups, often with themes, such as Baltimore in the Civil War, the Great Fire of 1904, or African-American history. And for tours of a more colorful nature, Baltimore Ghost Tours offers haunted walks through Fells Point and Mt. Vernon. There is even a haunted-pub walk to combine both kinds of spirits.
Looking for outings that are fun and also free? As soon as you set your wedding date, surf over to Baltimore.org, to see what special events might be happening that weekend. Street fairs, ethnic festivals, food and drink events, art and music celebrations—chances are something special is on tap for your special weekend, and many without admission charges. May's genteel FlowerMart, mid-summer's sprawling Artscape, and autumn's learned Book Festival are just some of the popular and free annual events in town.
Transportation is an issue you will want to be mindful of while planning your weekend's doings.
"Festivals are really good for mingling," Naylor says. "Groups can move together and there are a lot of things to do and eat and chat about." Children can also be well catered for in town. It could be something as simple as a group outing to the Inner Harbor paddleboats, or you could arrange special group visits to the B&O Railroad Museum, National Aquarium, or the Maryland Science Center.
If there's one group you might not want to single out for a special outing, it's singles themselves. Unmarried wedding guests may find it awkward to be conspicuously and selectively pooled together for an activity. A far better approach, Naylor feels, is planning something like a pub crawl for the younger set, but inviting both married and single folks along. (And who makes a better wingman than a married person?)
Transportation is an issue you will want to be mindful of while planning your weekend's doings. There's no value in arranging a custom tasting at a winery 30 miles from town unless all your guests have a way to get there. You can provide a bus or van for such trips, or, as a cheaper alternative, use your wedding website to establish a rideshare board where local guests with cars can connect with wheel-less visitors. And for events in town, it's worth asking if the guests' hotel can help. "Sometimes a hotel will let you use its shuttle bus to go on short hops around town, depending on how many rooms you booked with them," Naylor says.
Of course, any discussion of supplemental events surrounding a wedding has to consider costs—specifically, who pays for what? A simple rule of thumb is that the more formally organized the outing, the more you should consider paying for it all upfront. In other words, if you set up a customized wine-tasting dinner for a specific-sized group, you probably shouldn't ask folks to crack their wallets at the end. But how about a casual and loose pub crawl for whoever shows up at some prearranged meeting place? Here you might pony up for an initial round of drinks but probably shouldn't feel obligated to cover everyone for everything. In any event, it's best to indicate on your wedding website any costs associated with events so there are no surprises for you or your guests.
With more and more couples opting not to leave on the honeymoon immediately from the reception, the day after the Big Day can be a final blank slate for activities. The pressure is off (as are the uncomfortable shoes), the clock has stopped ticking, and it's a perfect time for a leisurely brunch. "A lot of guests might not expect to see the bride and groom at the following day's brunch, but it's definitely a nice going-away gift for guests to have some final time with them," Black says.
Jennifer Nolley had a brunch the day after her Baltimore wedding last June and recalls it as the perfect, easy comedown after a blitz of activity. "It was at my parent's house, so it was a familiar location, and with a smaller group of family and close friends that felt very intimate," she says "We were still on that high from the wedding and giddy. We got to talk to everyone about it, but we didn't feel all that pressure. And everyone got to send us off from there to go on our honeymoon."
A final bit of advice on planning the wedding weekend's itinerary is to leave some time for a very important activity: doing nothing at all. "Don't feel like you have to book up the entire weekend with events," Naylor says. "It's a great idea to let guests plan some of their own things. You can make suggestions and provide links, but you don't want them running from one scheduled event to another." "Down time is definitely something you'll want to provide," she adds.  "Let's face it, you will need it, too."
Greet out-of-towners with hometown goodies like snacks, drinks, and trinkets, all tied together with a great theme.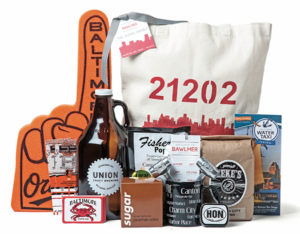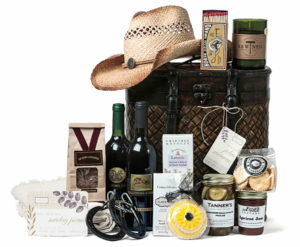 Country Bag: Cowboy hat at Carol's Western Wear. Matches and Rewind Cabernet candle at Trohv. Wicker picnic basket at Annapolis Country Store. Kinderhook Snacks crackers, Infused apricot jam, and Tanner's pickles at Fleet Street Market. Black-eyed Susan cookies by Sweet Spot. Crabtree & Evelyn lavender lotion and shower gel at Annapolis Country Store. Cabernet Sauvignon and Restless Babe wines by Galloping Goose Vineyard. Metal horseshoe game at Carol's Western Wear. Ivory woven blanket at Annapolis Country Store. Chocolate almond bar at The Velvet Chocolatier.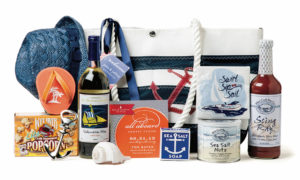 Bay Bag: Blue straw hat at Target. Anchor Bag at ReSails. Blue Crab Bay Company Sting Ray spicy Bloody Mary mixer, "Swirl, Sip, Sail" napkins, and Blue Crab Bay Company sea-salt nuts at A.L. Goodies. Sea-salt soap at Trohv. Gollywobbler Wine at St. Michaels Winery. Anchor wine-bottle opener and Wye River crab-seasoned popcorn at A.L. Goodies. Wine glass sandal coaster at Annebeth's. All paper goods by mlc designs.