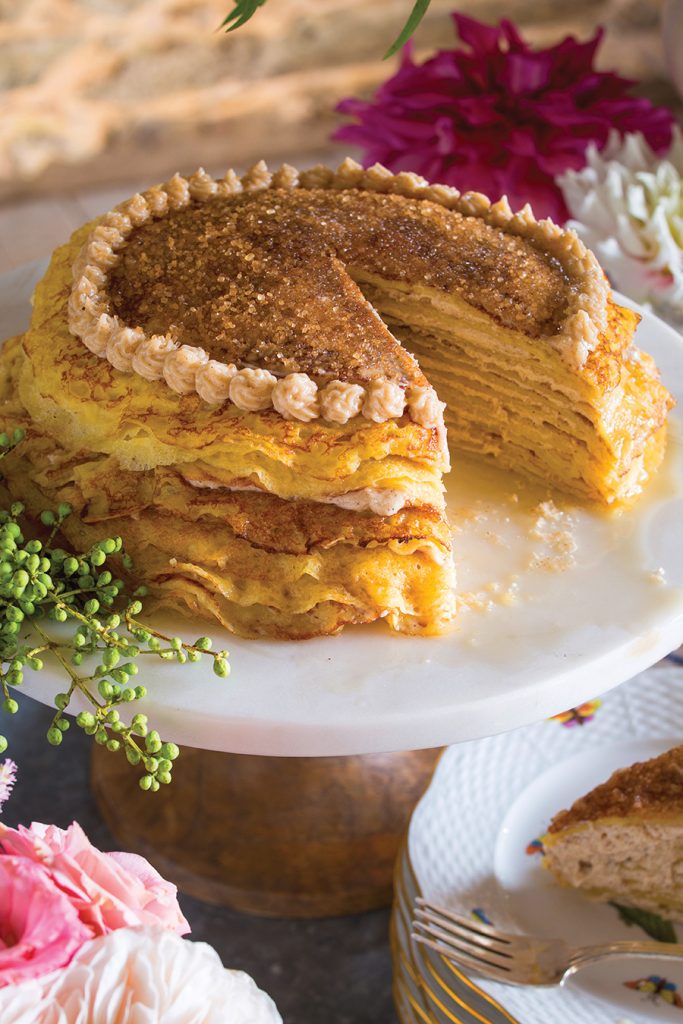 Snickerdoodle Crêpe Cake
Y=1 cake, serves 8-10 people
6 T butter
3 c whole milk
6 eggs
1.5 c all purpose
flour
7 T sugar
pinch of salt
1 batch of brown sugar buttercream (recipe follows)
For the crêpe batter:
Brown the butter over medium heat, then cool to room temperature. Heat the milk until steaming, but not boiling, then cool for 10 minutes.
Add the cooled brown butter, cooled milk, eggs, flour, sugar and salt to a blender and blend thoroughly. Blend the batter until it is very smooth. If necessary, put the batter through a fine mesh strainer. Cool, and let the batter rest for at least 1 hour, and preferably overnight.
For the crêpes:
Brush a 10 inch nonstick skillet lightly with melted butter, or you may use pan spray, then heat over medium high heat until hot. Pour in a scant 1/4 cup batter, immediately tilting and rotating skillet to coat bottom. (If batter sets before skillet is coated, reduce heat slightly for next crêpe.) Cook until underside is golden and top is just set, 15 to 45 seconds. Loosen edge of crepe with a heatproof rubber spatula, then flip crepe over with your fingertips and cook 15 seconds more. Transfer to a plate. Continue making crêpes, brushing skillet with butter or pan spray each time and stacking on plate.
Lightly oil a nonstick pan with melted butter or pan spray. Heat it until it is very hot, but not smoking. Pour in a little less than a ¼ c of batter, swirling the pan to evenly distribute the batter. Cook until the crêpe has set and can be loosened from the pan. Flip the crêpe over using your fingertips or a heatproof rubber spatula. Cook the crêpe for another 1015 seconds on the other side. Transfer the crêpe to a plate. Continue this process until you have used all the crêpe batter. Crêpes can be stacked on top of each other without sticking. Let the crêpes cool completely before proceeding with the cake assembly.
For the Brown Sugar Buttercream:
4.5 sticks butter, softened
1 c light brown sugar
2 t ground cinnamon
8-9 c confectioners sugar
1 t vanilla extract
0.5 c whole milk
Cream the butter in a mixer fitted with the paddle attachment until it is smooth. Add the brown sugar, and continue mixing until it is light and fluffy. Add the cinnamon, vanilla extract, and half of the confectioners sugar. Beat until incorporated. Add the remaining half of the confectioners sugar, and the milk. Beat until the buttercream is smooth. If necessary, you may add more confectioners sugar to adjust the temperature.
To Assemble the Crêpe Cake:
Line an 8-inch cake pan with straight sides with plastic wrap. Begin with one crêpe at the bottom, then top it with a few tablespoons of buttercream. Use a spatula to smooth out the buttercream. You only need a very thin layer of buttercream between each crêpe. Continue layering until you have used all the crêpes. End with a crêpe not buttercream.
Wrap the cake pan with plastic wrap and chill for at least 6 hours or overnight. Remove by flipping the pan upside down onto a serving platter. At this point, you can add decorations to the cake. Serve chilled.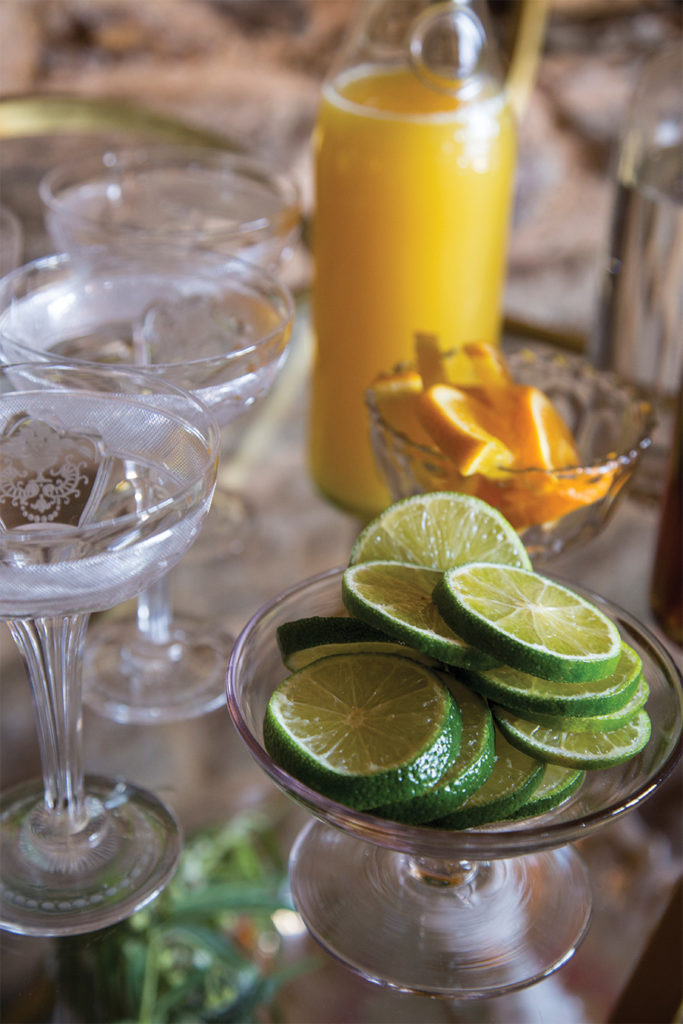 Brunch Crushes
Crushes are simple and easy–no recipe required! The key is to freshly squeeze the fruit for each drink. Just take your choice of fruit, crush it & mix with vodka. Add a bit of simple syrup, herbs, or triple sec to shake it up.
Here are three flavor suggestions:
Blueberry Lime: 2 oz vodka, ¼ oz simple syrup, muddled blueberries, & a splash of lime juice
MintCucumber: 2 oz vodka, ¼ oz simple syrup, muddled mint, 4-5 slices of cucumber, lime wheel
Creamsicle: 2 oz vodka, 1 oz triple sec, 1 orange (freshly squeezed), ¼ oz vanilla bean simple syrup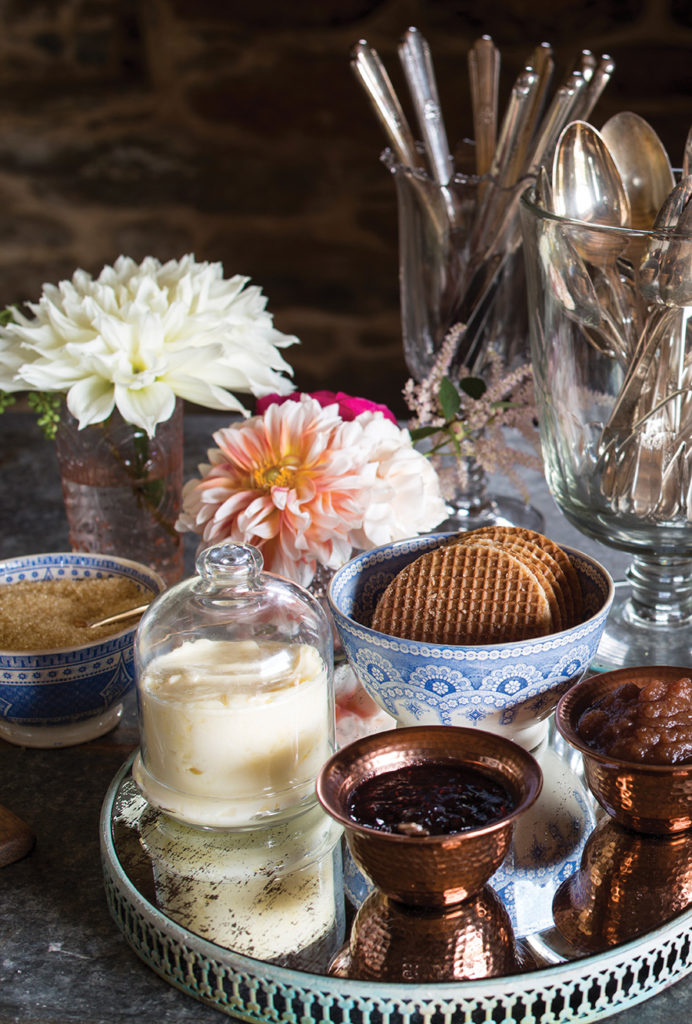 Seasonal Fruit Chia Jam
Y=2 cups
This jam can be made with any seasonal fruit and has less sugar than most jam recipes due to the magic thickening power of chia seeds.
2 cups clean trimmed fruit
2 T chia seeds
Choose the best, ripe fruit to use. Since there is no added sugar, the flavor of the fruit is the star. Of course, if you like, you can add sugar, maple syrup or agave.
Trim the fruit of all seeds and stems and wash it thoroughly. Add it to a medium size saucepan with the chia seeds. Add just enough water to barely cover the fruit.
Bring up to a simmer over low heat, then cook for about 10 minutes, until the fruit is softened.
Add the mixture to a food processor and process until it is a jam consistency.
At this point, you may return the jam to the pot and cook it down over low heat for a little longer, if you feel that it is too thin or watery.