Meet calligrapher Jessica McSweeney, the talent behind Poppy and Scooter—filmed by South of Brooklyn.
What's on the corkboard in Jessica McSweeney's studio will take your breath away. Pinned to it is a variety of stunning invitations, envelopes, programs, and menu cards, each one featuring McSweeney's signature modern calligraphy style.
Modern calligraphy tends to be looser than traditional calligraphy. It has fewer rules, giving artists room to play around with baselines. It also allows more flexibility so each artist can put his or her stamp on it. "I think the biggest compliment I ever received as I was developing as a calligrapher was that people could recognize my work," she says.
While working for a wedding planner, McSweeney's desire to write beautifully inspired her to sign up for an online calligraphy class. And over the course of working with couples to plan their weddings, she found herself increasingly drawn to paper—from the couples' stationery to their printed materials.
The turning point for McSweeney came when a couple she was working with said they needed calligraphy for their envelopes. So, she offered her services. After that, another couple asked her to do their place cards. Things grew organically from there.
McSweeney soon left the planning side of the wedding industry and began Poppy and Scooter, a full-service artisan calligraphy and stationery-design studio. It combined her love for beautiful calligraphy, timeless paper, and weddings.
It's the heirloom quality of paper she loves most. "You really know that it's going to stand the test of time—both in a tactile nature and in terms of design," she says.
"My vision that I always picture with my couples is that in 50 years, their grandkids are going to pull a box off the shelf that has some of their wedding photos and their invitations inside and start asking questions about how they met, their story, and how they came to be," says McSweeney. "To me, that's why paper is so special. It's something that doesn't fade. If it's done right, it continues to represent you for the entirety of your relationship."
Q: How far in advance should I contact a stationer? 
A: Every custom invitation designer is going to have their own preferences depending on their design calendar, but generally, it's a good rule of thumb to get serious about booking your stationer six to seven months before your wedding day. If you're going through Minted or Wedding Paper Divas—and not a custom stationer—you can probably get away with purchasing closer to four months out. If you're planning to have your stationer design your save-the-dates, too, you can get in touch even earlier. Custom designers want your stationery pieces to reflect you, and that requires getting to know you and taking the time to plan out a time line that works for your schedule, their schedule, and the intricacy of the pieces you want to create together. It may seem like a long window for paper goods, but it's better to have that time than to risk your ideal stationer being unavailable.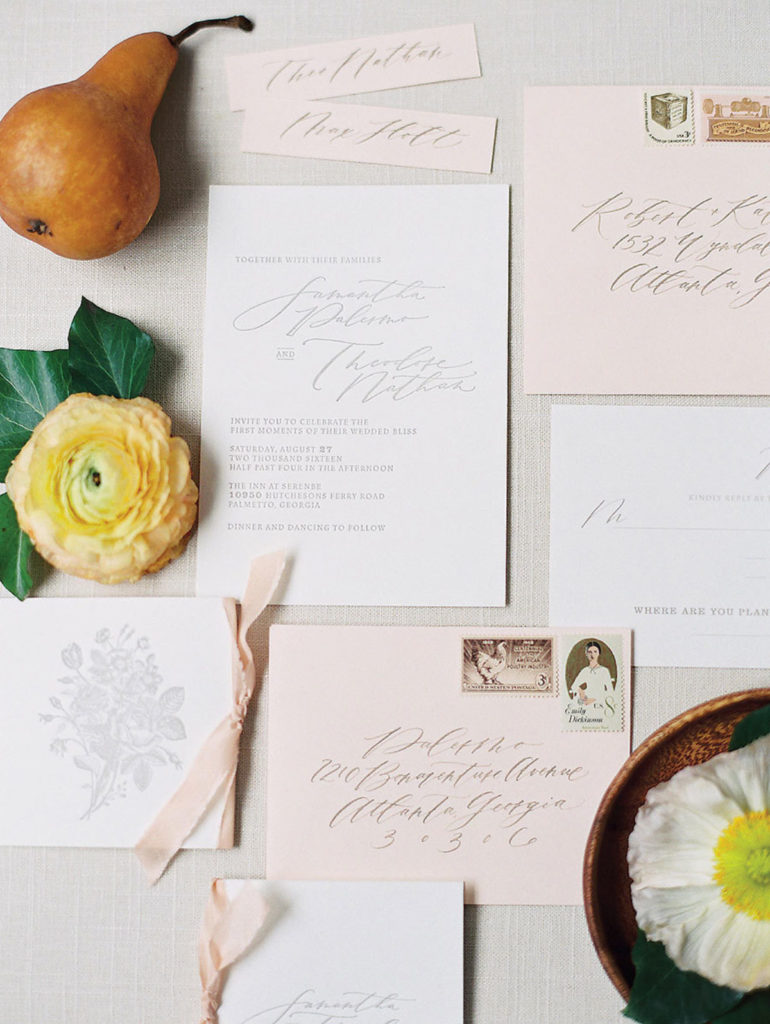 Q: Tell me about mailing. What are some ways to make the invitation stand out?
A: One thing I love to talk with my couples about when we're picking out envelopes is what it will be like for their guests to see their envelope amidst all of the bills, catalogs, and junk mail. It's hard not to imagine instant joy on their faces, and that's largely because the envelope is as much a part of building anticipation for the wedding ahead as the invitation itself. The most impactful way to make envelopes feel extraordinarily special is to have them hand-addressed by a calligrapher. If that's not in your budget, a beautiful font, or even a coordinated and specially designed mailing label, can make a huge impact. If you are working with a calligrapher, be sure to build a few extra weeks into your mailing time line with your stationer to accommodate the calligrapher's schedule. Stamps are also an incredible way to make your envelopes feel special. I'm a sucker for vintage postage. VerdeStudio on Etsy is incredible, and she's based locally in York, Pennsylvania. Vintage postage is available in just about any color palette imaginable and can be added up to your postage total or paired with forever stamps for a more budget-friendly way to dress up post-office options, which have gotten a lot better, especially this year. You can also order custom postage through sites like stamps.com or Zazzle.
Q: Okay, let's talk about the dark side of mailing. Any pitfalls a couple should avoid?
A: The U.S. Postal Service is amazing in so many ways—I certainly couldn't get a package from Baltimore to California in two to three days on my own. That said, their job is to get things where they need to be on time and not worry about how much time and money you put into making your invitations look beautiful, which means invitations often arrive to your guests in less-than-perfect condition. Hand canceling—when your postage is marked as "used" by a hand stamp rather than an automated post office machine—is a great way to keep your invitations from getting overly beat up in transit. Every office has its own policies on whether it offers that service and whether it'll charge for it because it takes a significantly longer time than the machine would. My best advice is to go to a few local post offices and talk to them before you're ready to mail. Kindness, politeness, and understanding go far. Smaller offices with less traffic may be more willing to accommodate your request, too. Beyond that, I highly recommend ordering 10 to 15 percent extra invitation suites beyond your household count, in case a few bounce back to you or get lost in the mail. Hey, it happens. If I had a dollar for every time a couple's friend forgot to tell them they moved before the invites mailed, I could probably get some really great seats at an O's game. Having extra suites and extra postage means you won't sweat it when you have to pop another one in the mail.
Q: I've seen a lot of great invites on Pinterest. Can you replicate one for me?
A: If you really love an invitation suite that you've found on Pinterest or Instagram, before anything else, you should analyze why you love those particular pieces so much. Is it the way the names are the first thing your eyes land on? Is it the color palette or the way they incorporated a lot of botanicals and flowers? Maybe it's just the size of each card. Along with the things you like, there are probably a lot of things that don't quite feel like you, either. Maybe you really love the fact that they incorporated a monogram or a sketch of their venue, but you realize that nothing else in the suite particularly feels like you. A great designer will design something that is uniquely yours (and won't cross the ethical boundary of copying someone else's work). While it's helpful to see reference points of things you like, it's more helpful to know why you like them and why you don't like them, so we can incorporate that knowledge into the unique suite we design for you.
Q: When should a couple hand over a seating chart? And what happens if there are changes before the wedding?
A: I have yet to be a part of a wedding where a guest didn't cancel or announce they were suddenly able to attend between the RSVP deadline and the big day, so please don't panic if it happens to you. It's almost like a wedding planning rite of passage, and most adjustments to your chart aren't going to throw the entire table layout into flux. I personally ask my couples to send me their seating list two weeks out from their wedding, and seating charts and escort cards are always the last items I work on before delivery, in case of last-minute changes. That said, if your co-worker cancels or your great uncle announces he's bringing a date the night before your wedding, my best advice is just to roll with it as best you can. Sometimes that means someone doesn't get a seating card, or one table only has six people while all the rest have 10. At the end of the day, the seating chart is so small in the grand scheme of the life and family you're celebrating on your wedding day. Nobody (including you!) is going to notice or care once they're drinking, eating the amazing dinner you picked out, and dancing the night away to celebrate your marriage.