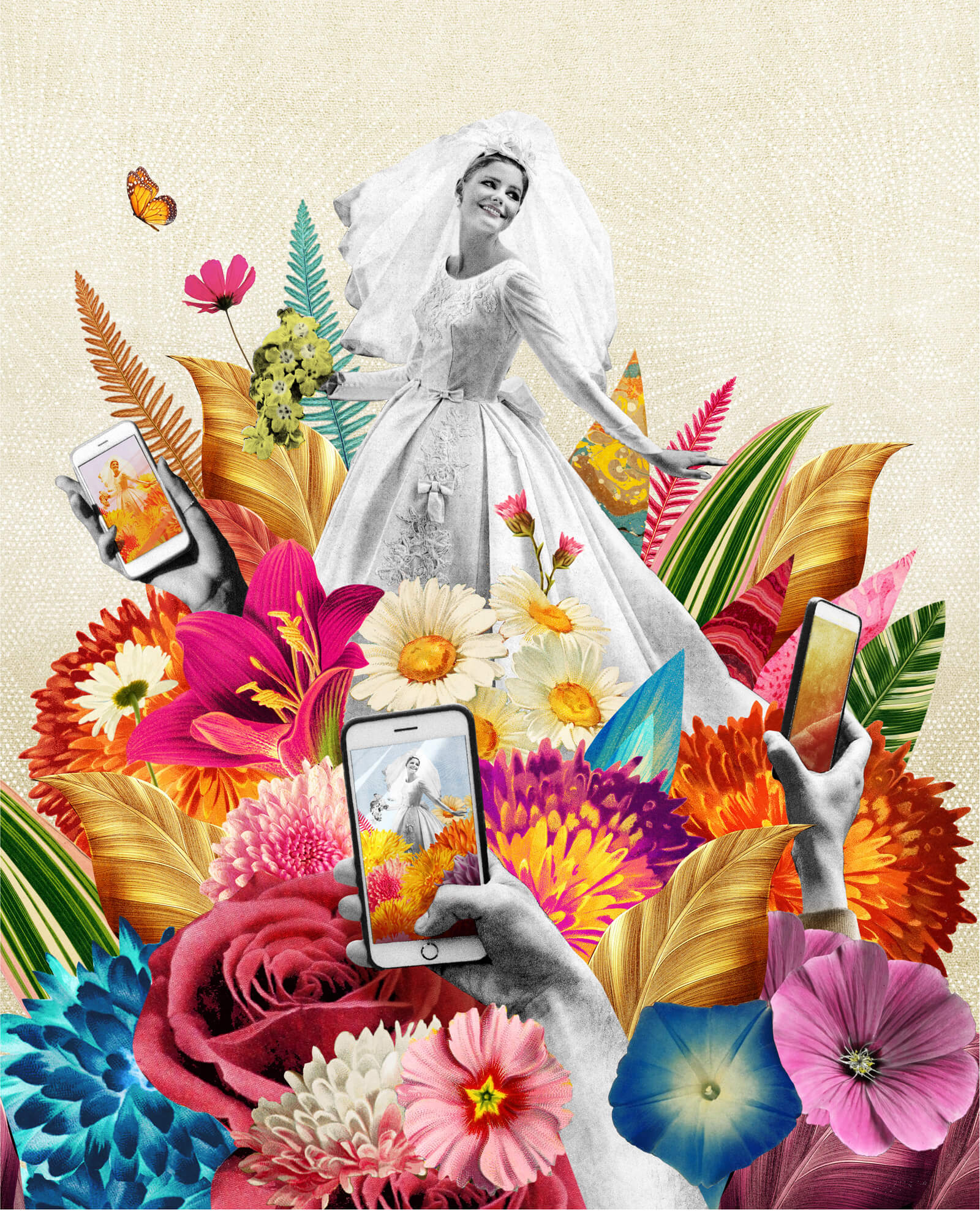 We asked couples their most pressing nuptial questions, then reached out to wedding planners and protocol experts to get the lowdown. Here's what they have to say.

Do I have to give my single guests plus-ones?
A: Wrestling the guest list is always one of the hardest parts of the planning process. Conventionally, all adult guests are allotted a plus-one for a wedding day. "But this is becoming less common as couples are having to make hard cuts on their guest list numbers," says Katie Fisher, owner and lead planner at Social Graces Events. If your budget and space permits, "Our best recommendation is that you allow all single wedding party members to have a plus-one guest if they would like to bring one." 

Who pays for what?
A: Traditionally, the bride's family pays for most of the wedding, but that's becoming less prevalent as time (and people) progress and wedding expenses increase, says Fisher. "If you would like for your parents to contribute, have a conversation with them on what they are comfortable with, and your potential hopes and expectations for what they might be able to contribute to the overall budget," she says. "Oftentimes, parents do not have an understanding of what a wedding costs to host, so giving them some insight into what you are expecting to spend overall will then allow them to be able to evaluate how much they are able to pay for." Increasingly, couples are asking both sets of parents to help pay for the wedding. But proceed with care, cautions Yosira Jamison, owner and lead planner at Events by Yosira. "The more people that are funding your wedding, the more people you'll have who feel empowered to have a say on your wedding." She suggests finding areas that aren't crucial to the planning process—a welcome dinner or a farewell brunch—and designate the expense of those affairs while you focus on the most important aspect, the wedding day itself. Morgan Mauldin, operations manager for Lemon & Lime Event Design, has even seen weddings where the pay structure is broken down by vendor. "For example, one family pays for flowers, alcohol, and music, and the other covers the remaining," she says. "But tradition is out the window here these days—more and more we see couples chipping in with their parents and families."

How do I tell our guests—in the nicest way possible—that we don't want them taking photos during the ceremony?
A: The trick is to over-remind them, says Kawania Wooten, principal consultant at Howerton+Wooten Events. Start by placing "unplugged" cards on each ceremony seat and have the officiant ask guests to put their phones away right before the start of the ceremony. "It's easy for guests to ignore an 'unplugged' sign," says Wooten, "but they can't ignore the cards in the seats." You can also give guests an incentive to stow their phones by teasing some cool reception photo-ops on the reverse of the card. Wooten says at a recent wedding those, "included a charging station at the reception along with a personalized Instagram filter." Trying to discourage guests from turning into the paparazzi can be handled with a bit of humor, too. "We have a wedding coming up where we asked the officiant to give the guests a minute, right before the start of the ceremony, to take all of the photos they want of the couple," says Wooten. "After the minute is up, they have to put their phones away."

Can I ask for cash instead of gifts?
A: "You can ask for whatever you would like—just do it tactfully," says Fisher. And never ask for gifts on the actual invitation, reminds Wooten. "Your guests may feel like you turned your wedding invitation into an invoice," she says, suggesting instead that you, "ask your family members, members of the wedding party, and your close friends to communicate your gift preference for you. You can also note your preference for a monetary gift on your wedding website." Fisher adds that couples can register through a cash registry, like Zola or Honey Fund. "We recommend that you give your guests some idea of what the cash is being used for, so they feel like they're gifting you something you're hoping or dreaming for, like a kitchen-remodel fund or scuba diving on your honeymoon," she adds.

Can I have a big wedding if this is my second marriage?
A: Whether this is your first wedding, second or, hey, maybe more, the rule is no rules. "Your wedding should be whatever you and your partner want to make it, says Mauldin. "Whether it's an intimate gathering or a full-on celebration, it's still your day." Fisher concurs that you can absolutely have a big bash, regardless of what number wedding it is. "Your love story is your own and you are allowed to revel in and showcase that love to your closest family and friends in any way that you would like,"
she affirms.

Can I ask guests to show proof of COVID-19 vaccination or ask unvaccinated people to wear a mask?
A: It is not unusual to ask guests at an event to show proof of vaccination and for hosts to ask guests to test the day of an event, says Cathleen Hanson, director of The International School of Protocol. "It is also common to ask unvaccinated people to wear masks," she says. "You want to be able to invite your 89-year-old grandmother without excess worry. You and the guests want to protect those whom they hold dear." Karene A. Putney, president of Etiquette Etiquette, agrees that COVID-19 has forever changed the way we do everyday things. "Guests will respect your decision, and that it's about the safety of everyone," she says. To ensure that all can share in the big day, regardless of their health or vaccination status, Hanson recommends, "streaming or recording the event for people who cannot attend due to COVID exposures, positive COVID tests, or who are immunocompromised and do not wish to attend social gatherings."

Should I provide meals to my wedding vendors?
A: It may feel like you're already paying to feed an army, but your on-site vendors are the most essential troops and will need to be fed at your wedding. (A lot of vendors have this explicitly listed in their contract.) Expect to feed all those who will be on-site all day—photographer, videographer, planner, DJ/band. "Your caterer will be planning to feed your vendors and will just need the meal count and dietary restrictions for vendors included with your final guest meal counts," says Fisher. To soften the budget blow, she adds, "Oftentimes your vendor meals are charged by the caterer at a discounted rate."

How do I invite the relatives I like without hurting the feelings of those I just can't accommodate or do not wish to include?
A: Oh, that dastardly guest list strikes again. There will be people who would like to attend your wedding who you don't include. "While it's hopeful that people who are not included have an awareness of limitations of budget and space, there may be hurt feelings," says the International School of Protocol's Hanson. "Keep in mind that on your wedding day, it is most important to surround yourselves with loved ones. People who you consider 'family'—the people who have shared in your lives." Putney suggests blaming the budget—and offering a conciliatory olive branch. "Say you're keeping things as intimate as possible," she explains. "Another alternative would be to have a small private get-together, like a cookout or an invite for a housewarming after the wedding."

Can I fire a bridesmaid/groomsman/wedding party member?
A: Tensions can run high around a wedding, even among close friends. If tempers rise, Lemon & Lime Event Design's Mauldin counsels that it is always best to have an open, clear discussion with the person in question before axing them from the wedding party. "But at the end of the day, it's about you and your comfort level on the wedding day and celebrations leading up," she says. "So, yes. If you've exhausted all of your patience and energy on that person, it is absolutely your right to excuse them from the wedding party." Similarly, she says you do not need to feel obligated to put someone in your wedding party simply because they had you in theirs. "Relationships ebb and flow, and your wedding party should only consist of the people you want surrounding you on the happiest day of your life," she says.

My uncle isn't too LGBTQ+ friendly. Do we invite him to our same-sex wedding?
A: This is your wedding day, so ultimately you choose who gets an invitation. Start by having a conversation with your partner to make sure you both feel comfortable extending the invitation, says Hanson. "If you do decide to invite the uncle, have a conversation with him," she recommends. "Tell him of your love and commitment to your partner and to marriage. Ask him if he is uncomfortable with your impending union and if he would be uncomfortable at the wedding. You may find that your uncle surprises you." You've also given him the opportunity to decline gracefully. If he refuses to opt out, despite his evident misgivings, it's appropriate to let him know that you only want people who fully support the nuptials in attendance.

My divorced parents don't get along. Any tips for keeping the peace at the wedding?
A: Not all weddings end in marital bliss, and it can be hard when parents can't shelve their acrimony for your special day. Wooten recommends having a conversation with each of your parents before the wedding. "Let them know how important it is to you that they are present at your wedding, and that they feel like the VIPs that they are," she says. Hanson adds that you can seat them at separate tables or away from each other at the head table. "Call on favors from your most charming guests or attendants to sit next to each parent and keep them engaged and distracted with interesting conversation," Hanson offers, with the reminder to make sure each parent is honored in the toasts. Speaking of parents, don't forget the stepparents, particularly if they are special to you or your partner. "Brides can opt to be walked halfway down the aisle by a stepparent with a hand-off," suggests Jamison. She adds that stepparents can be included in everything from formal dances and toasts to the invitation. "Finally, be sure to include your stepparents in your thank-you speech," she says. 

Who do I need to tip at the reception?
A: "The wedding industry is a service-based industry, so everyone from the servers to the photographer to your planner is providing you a service, which means, like any other service, you can tip them," says Jamison. "That said, tipping is always at the discretion of the couple for service that is above and beyond." Fisher agrees that while all vendors would be grateful for a tip, "Some vendors are expecting a tip on the wedding day." Social Graces has a guide on its website to clarify industry best practices on tipping, but Fisher adds, "If they have done a wonderful job and treated you well as a client, you should show your gratitude with a monetary tip if you are able."

What are the benefits of having a friend officiate our wedding?
A: Friends and family officiating weddings have become extremely popular, says Jamison, and they add an extra layer of personalization to the wedding ceremony, since they can move away from the traditional readings into a personal anecdote. "Don't hesitate in asking your friend to officiate your wedding," she says. Not only are they as legitimate as any judge or member of the clergy, "but they can also make your ceremony much more memorable."

I'm on a tight budget—can I still have a nice wedding?
A: The answer here is nuanced. First, the determination of what is "nice" is subjective. Ultimately, you and your partner are the judge of that, and Mauldin suggests prioritizing what matters most to you. "Whether you are foodies who want a five-course meal that takes your guest on a culinary excursion, or you love all things flowers, high-end paper details, and perfect place settings—prioritize your budget and invest where it makes most sense for you," she advises. She adds that the guest count is really the determining factor when it comes to the budget. "The more you're able to scale down the guest count, the more you'll be able to invest per person," she explains.

An invitation suite is a big investment. Is it worth it or can I send a stylish online invite?
A: "Your invitation is truly the first impression of your wedding day for your guests," says Fisher. "Your invitation sets the tone, the vision, the color scheme, and the overall feel of your wedding day for your guests. I would highly recommend a paper invitation, and pulling in as many design elements from your overall wedding day into your invitation suite." That said, an electronic invitation can be useful to convey an informal and casual wedding day. Plus, it makes RSVPing much easier.

Should I have gifts for my wedding party and spouse the day of my wedding?
A: While you do not need to give gifts to anyone, Wooten says it is always a kind gesture. Gifts don't need to be expensive to show you care. "The members of your wedding party probably invested in attire, shoes, transportation, and a hotel room for your wedding, so let them know you appreciate that by giving each of them a token of your appreciation," she says. It's also not a requirement that you get a gift for your partner, but it's smart to discuss this in advance to avoid an awkward situation of one of you giving a gift and the other one leaving empty-handed. "If your budget has been stretched to the limit, consider writing a heartfelt letter or note to your soon-to-be spouse," says Wooten. "It will mean so much to them on the wedding day and for years to come."