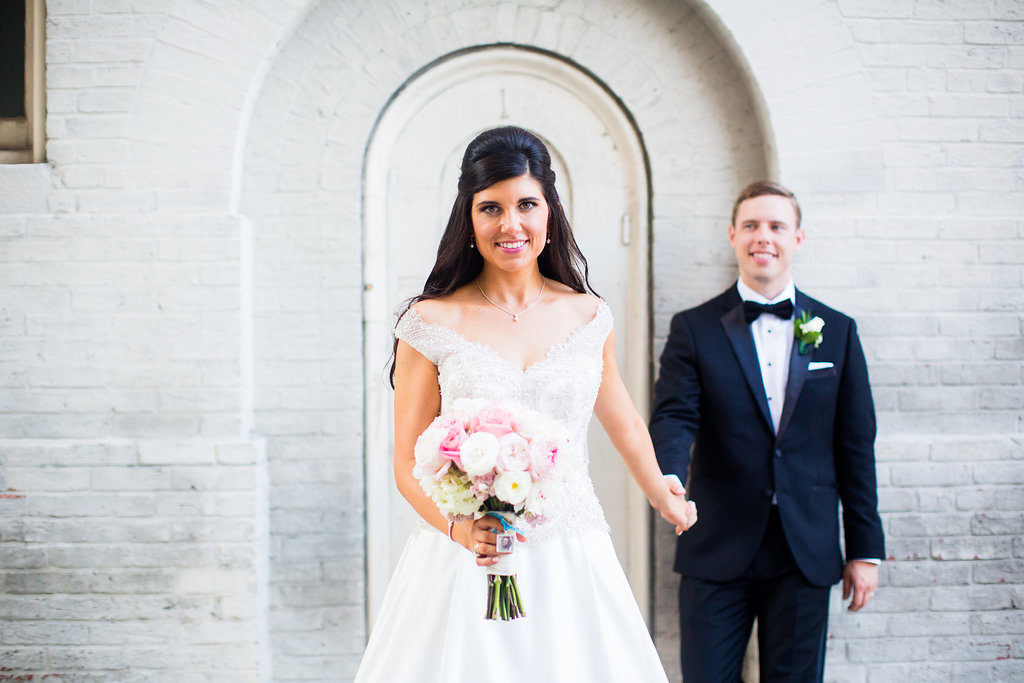 Occupations Nicki is a real estate attorney; Brandon is an operating partner at Chick-fil-A
Wedding date July 18, 2015
Number of Attendees 8
Number of Attendants 8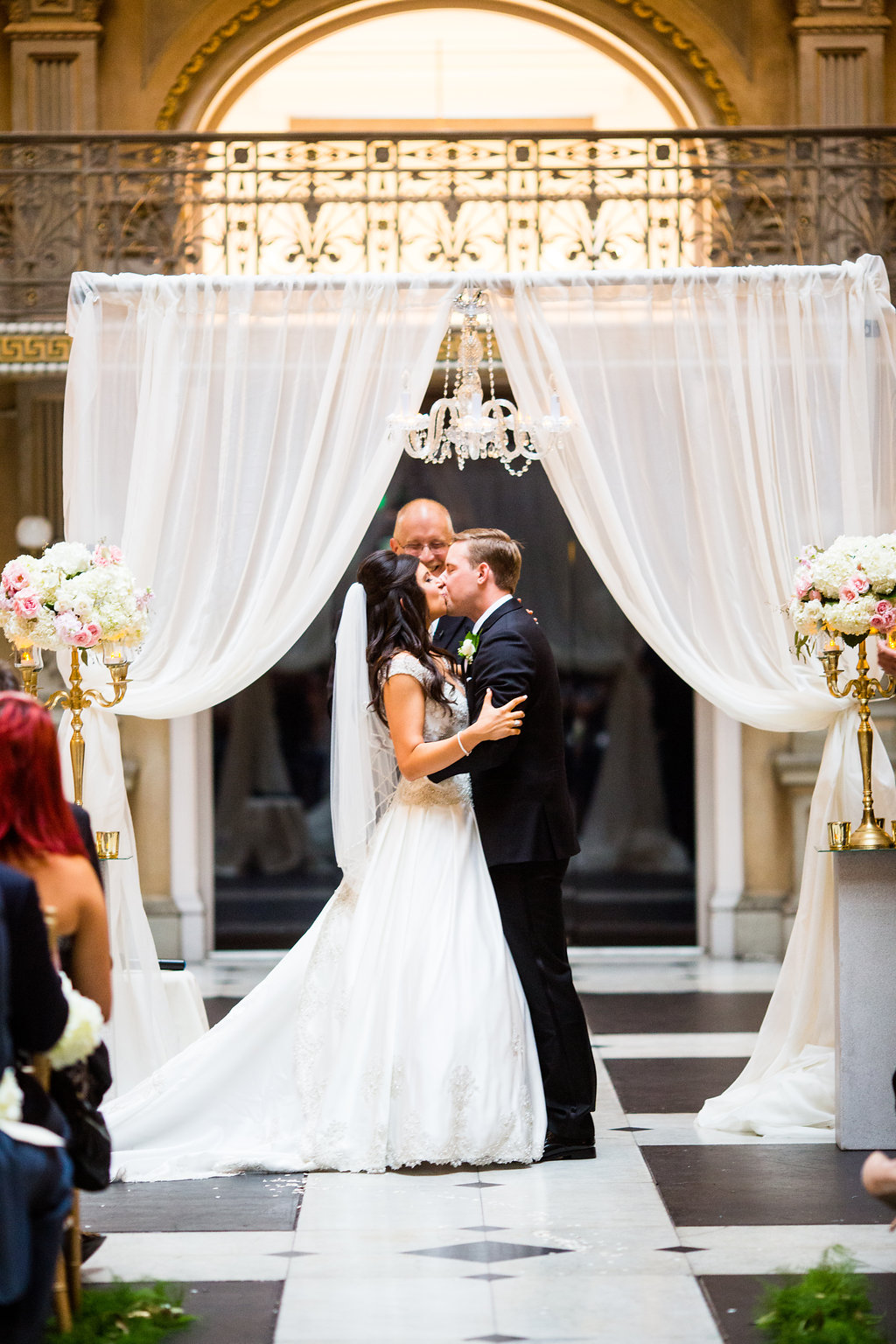 How You Met Like most great love stories, Nicki and Brandon's started online. After witnessing friends successfully navigate the world of online dating, both Nicki and Brandon signed up for Match.com. They connected when Match suggested Nicki's profile to Brandon and he unknowingly signaled to her that he "approved." Nicki then broke the ice by sending him a message. After several weeks of texts and even a few phone calls, they had their first date at Sauté, a bar located in Canton, Nicki's home turf. One drink turned into several more as Brandon and Nicki chatted like old friends and after bar-hopping in Canton, they ended the night fist-pumping at their favorite Baltimore hot spot, Stalking Horse. This ended up being a good indication of what was to come . . .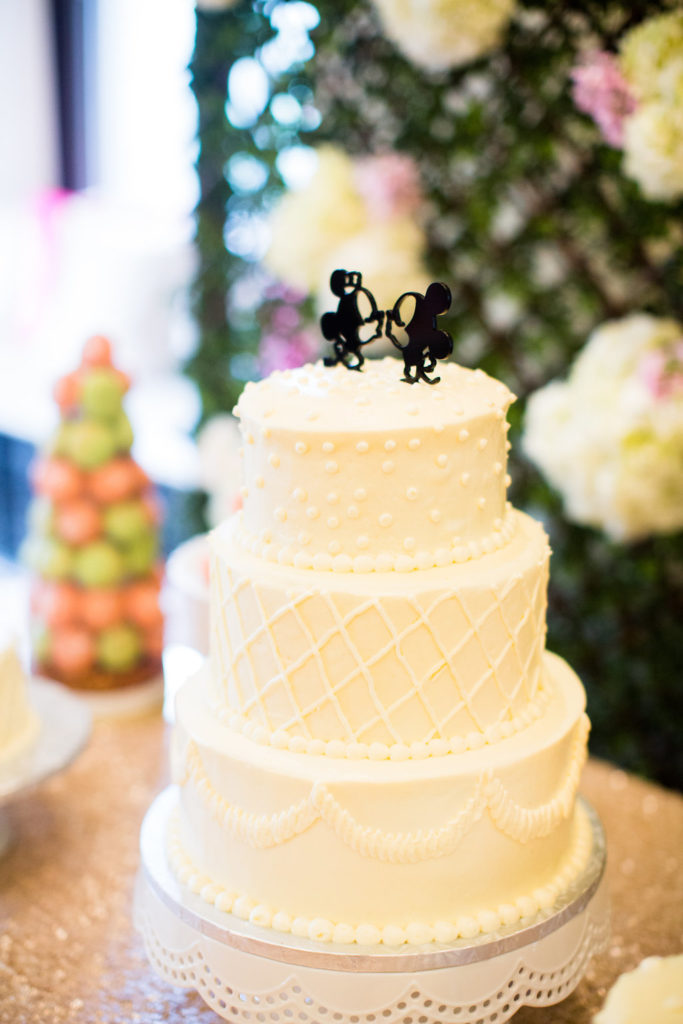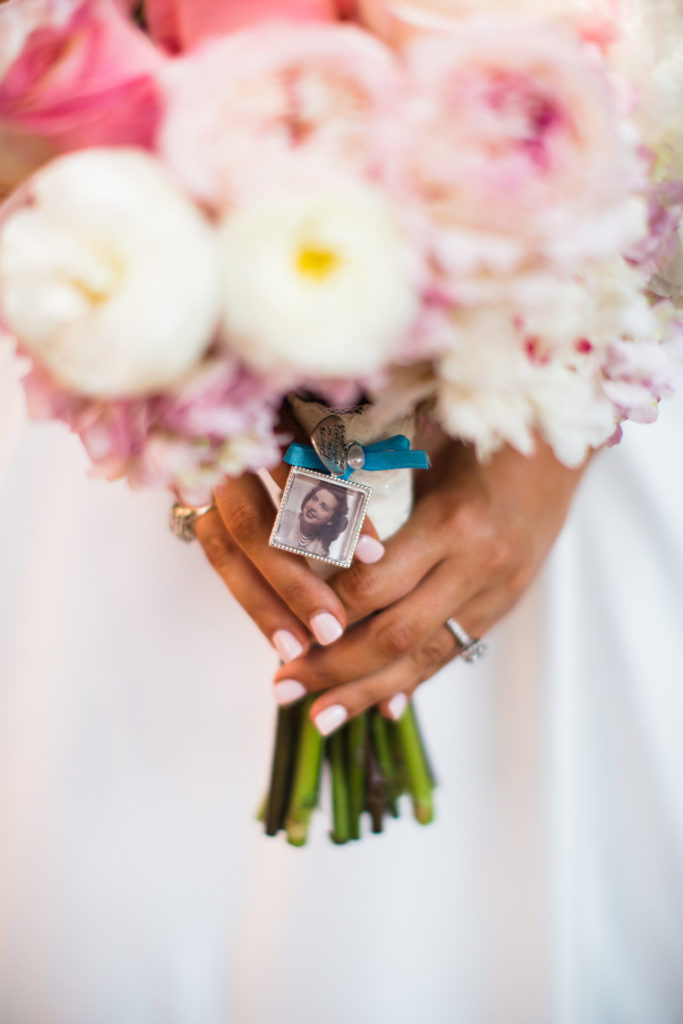 The Engagement After approximately three years of trying, Nicki finally managed to convince Brandon that Disney World was amazing place for two people in their late-20's to spend a week's vacation. Nicki had never been to Disney World and had wanted to go since Full House ventured there in 1993 (remember the one where Michelle got to be princess for the day instead of Steph??) In the weeks leading up to their trip, everyone (literally everyone) told her that Brandon was definitely going to propose to her. Nicki tried to ignore all this, not wanting to ruin Brandon's surprise, if there was, in fact, going to be a surprise.
On their last full day at the park, Brandon led Nicki to an area in front of the castle known as the Rose Garden. There, a Disney employee was stationed taking pictures of people with the castle in the background. Nicki's heart started pounding as they stood in line for a photo (unbeknownst to her, Brandon was also on the verge of passing out as they stood there.) Finally, it was their turn. After a few smiling shots, Brandon took Nicki's hands in his and said many nice things, before getting down on one knee and asking her to marry him. Shocked, amazed and hands shaking, Nicki said yes! They kissed and the small crowd that had gathered started cheering.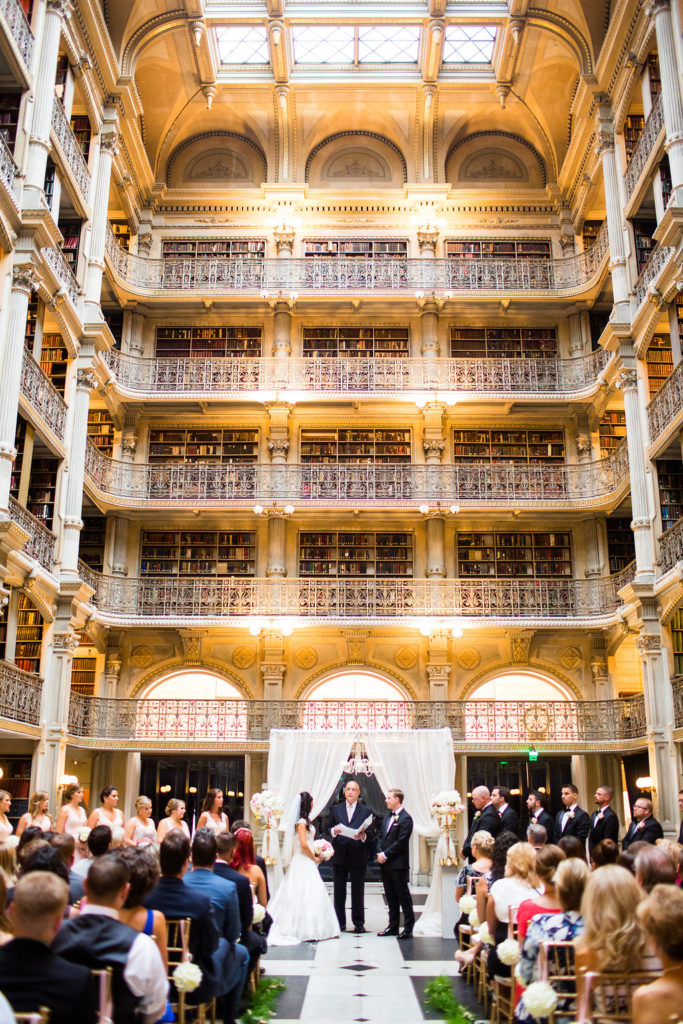 Wedding Design Inspiration Our biggest inspiration for the wedding was our venue itself. The Peabody Library has such stunning architecture. Our invitations, menus and programs had a border that matched the design of the tiers of ornamental cast-iron balconies. The balcony design was also incorporated into our monogram, which we put on everything from our place cards to drink stirrers. We also played homage to the height of the room (61 feet tall!) with our tall centerpieces.
Although the library inspired us, I did not want to have a "library themed" wedding. Rather I tried to incorporate little library touches here and there. Our place cards were bookmarks with the quote "True love stories don't have endings." We utilized card catalogs as decor at the escort card table and gold books for our table numbers. Instead of flower petals, our flower girl tossed heart confetti cut out from old law books–fitting because I am a lawyer!
In addition to being a bibliophile, I am also a Francophile and I knew I wanted as many French details as possible. Macaroons are my favorite dessert and made for beautiful décor in addition to being a tasty treat. We had a macaroon escort card display and encouraged guests to 'eat dessert first" as they found their seats. My mother painstakingly collected mismatched floral china over the course of engagement that we served dinner and dessert on. My wedding planner Elle had an amazing idea to incorporate boxwood balls in the centerpieces and around the cocktail hour.
One of the biggest design challenges was the cocktail area space. The Peabody is a functioning library and museum and we were limited in what we could do, décor-wise. The solution to our problem came in the form of a huge hot pink couch, rented from White Glove Rentals. It completely transformed the room and was definitely one of my favorite elements of the entire wedding. The other thing that we did to soften up this room was to place pillows in the tall window seats.
The person who helped me the most was without a doubt my mom. She was my second set of eyes and ears and was just enthusiastic about attending vendor appointments as I was! She was there every step of the way and my style is heavily influenced by her's–classic with a touch of elegance and femininity. I absolutely could not have done any of the DIY elements of the wedding without her. First, because I am hopeless when it comes to hands-on projects and can't even cut in a straight line and secondly because I work long hours at my job and did not have any extra time in the months leading up to the wedding! Although I designed them, she constructed our escort cards, place cards and other paper products. She also made the bridesmaids' bouquets and collected the mismatched floral china that I love. She truly made my wedding dreams into a reality. When, two weeks before the wedding, we decided we just had to have over 30 pillows for the cocktail area window seats, she found the most beautiful fabrics and made the pillows from scratch!
The second person that I could have not have planned this wedding without was my wedding planner, Elle. She was indispensable and read many a long email from me as I painstakingly deliberated over caterers, flowers, etc. I chose Elle as my planner because I loved her aesthetic – lots of gold and mint and pretty things! She had so many great ideas for my elegant girlie library lovefest! With so much inspiration out there, Elle made sure that I always stuck to my vision for the wedding and that my wedding did not turn into a Pinterest mash-up. Her recommendations were spot-on and I am so glad that I had the opportunity to work with her.
I am a very visual person and especially in the beginning of the planning process, I relied heavily on blogs like Baltimore Bride's, to collect images that I liked and to really narrow down what visual story I wanted to tell with my wedding elements. Beyond, I absolutely loved looking at photos from real weddings. I loved seeing the way the couples' personalities shown through in the choices they made and so much love shining through the photos of the bride, groom, their families and friends. I also learned that there really is no right or wrong way to have a wedding–as long as you stay true to yourselves as a couple and plan an amazing time for your guests!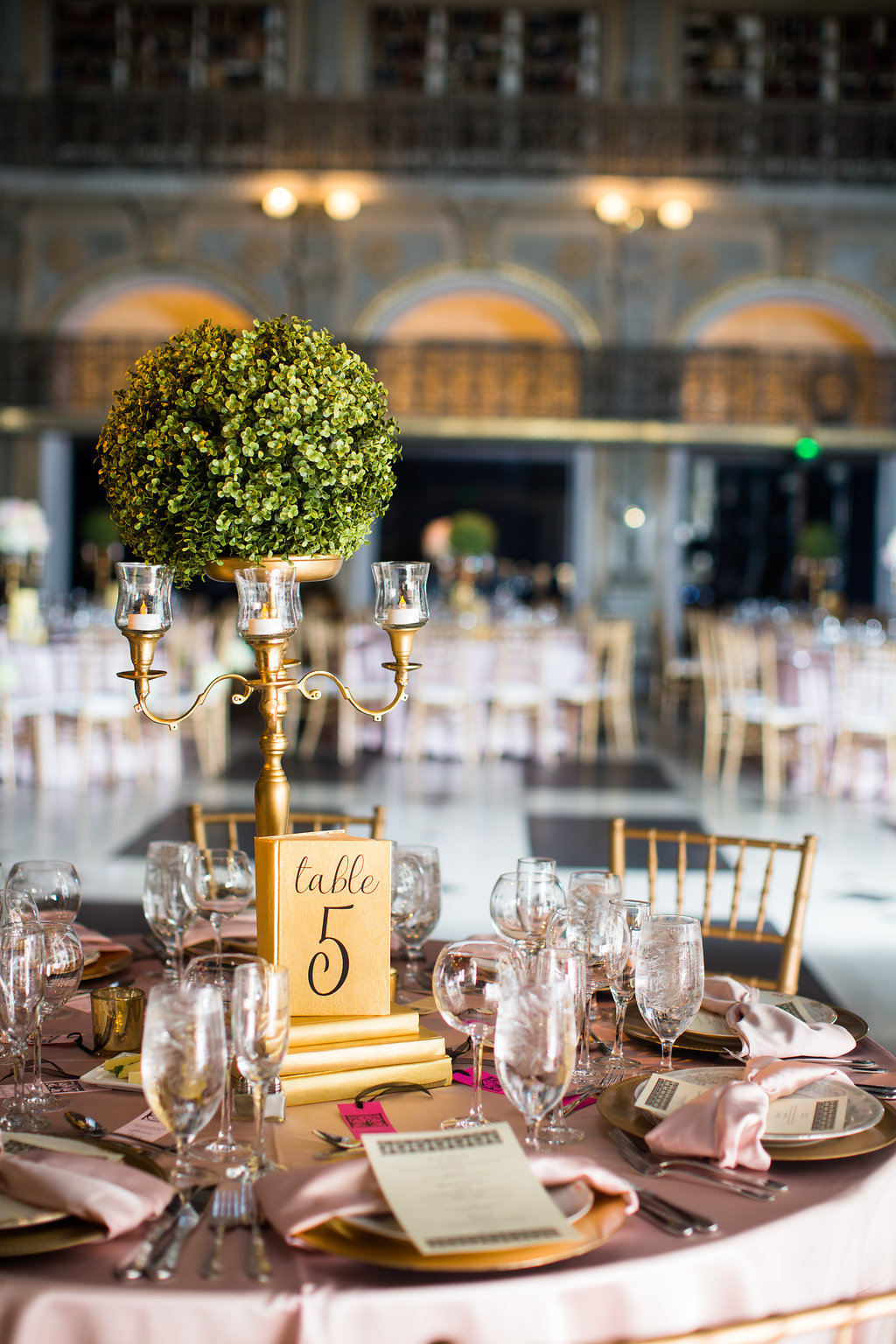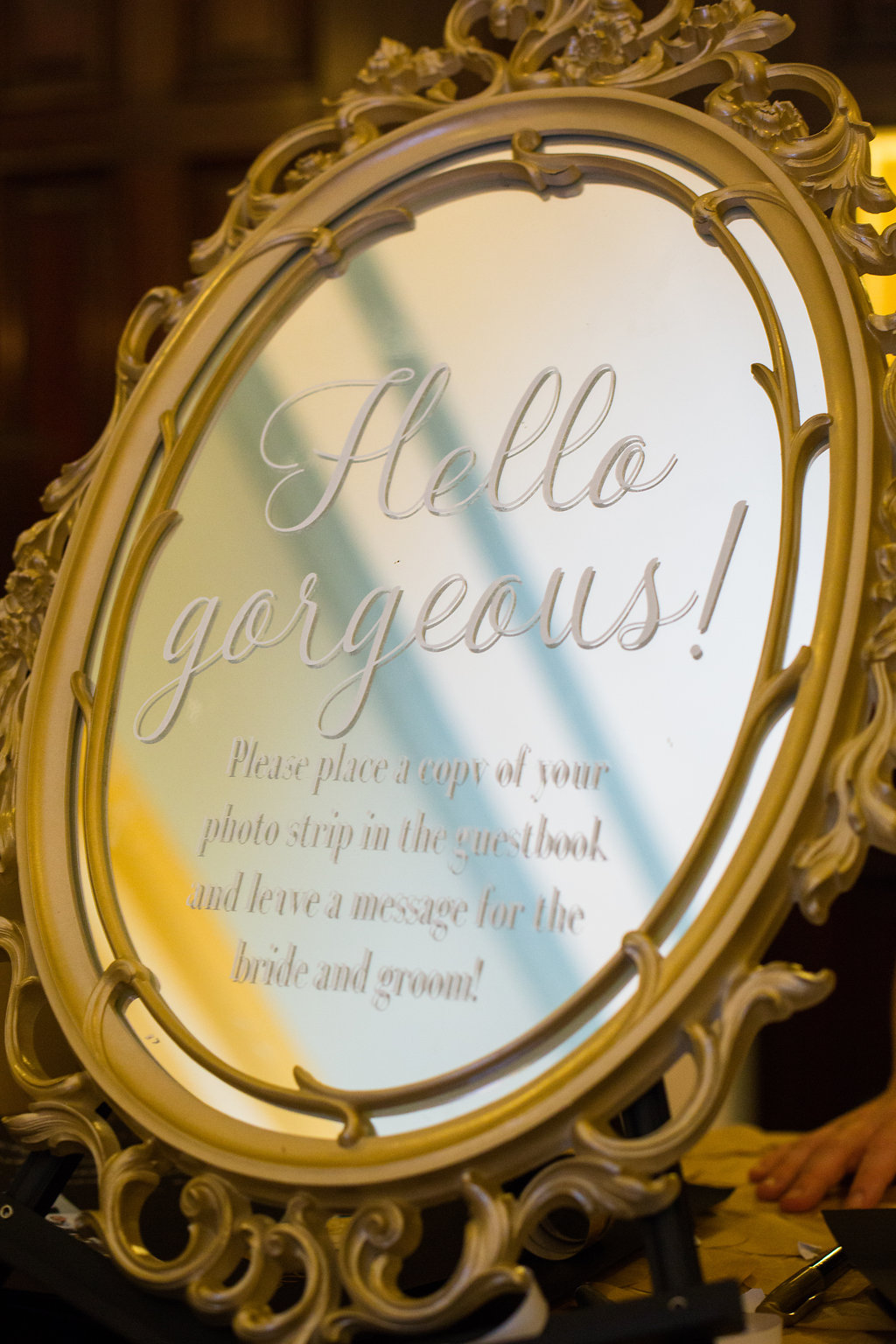 What Was Unique And Special About Your Wedding Second Line: I knew I wanted to have a grand exit of some sort but sparklers were out of the question due to city ordinance. New Orleans is a place that Brandon and I visited together in the past and I loved their tradition of the "second line." With our after party location being just two blocks away, we decided to have a Baltimore-style second line and lead our guests there in style! At the end of the wedding, jazz musicians entered the library and rounded everyone up. Guests were given handkerchiefs, ribbon wands and handheld cymbals and followed Brandon and I to the tune of "Seven Nation Army," a fan favorite at Ravens football games. It was an amazing way to keep the party going and based on our guests' feedback, they loved participating in our little parade!
Grooms's Cake: I surprised my husband with a groom's cake that encapsulated all of things he loved. It was Natty Boh, wearing an Orioles hat, Ravens jersey, and WWE championship belt–and holding a lacrosse stick (he played in college) and a can of Natty Boh beer. He loved it!
Although most couples don't make a speech at their own wedding, we knew from the beginning that we wanted to. We wanted to pay tribute to our parents, whose own marriages were amazing examples for us and who we hope to emulate. We also wanted to thank all of our guests, the people who mean the most to us, just in case we didn't get the opportunity.
My something old was lace from my mother's wedding gown, wrapped around my bouquet. My dress was something new. For my something blue, my sister/Maid of Honor gave me a beautiful Tiffany's bracelet with a tiny blue heart charm . . . what she didn't know was that I had gotten her the same exact bracelet, but with a pink charm to match her bridesmaid dress! My something borrowed was a dinner ring of my grandmothers that I had admired since I was a child. It was an honor to wear it but I gave it back to her before heading to the after party to be sure I didn't lose it!
I was very close to my paternal grandmother, who passed away a few years ago. I had a locket with her photo tied around my bouquet. In this way, I felt that she was truly with me the entire day.
We had an anniversary dance and I was tickled that my maternal grandparents (and the only living grandparents between Brandon and I) won! I presented my bouquet to my grandmother as the prize.
My dress: My dress was a satin ball gown, with illusion off-the-shoulder lace straps and allover lace applique. It had a cathedral train and I wore a fingertip veil so that the beautiful back details were still visible. The dress itself wasn't super unique but dress shopping was the most surprising part of wedding planning for me. I figured I would be one of those brides that you see on TV, trying on their 1000th dress and still unable to find the perfect one! Right after I got engaged, I went to David's Bridal just to try dresses on for fun and hopefully narrow down at least the style a dress I wanted. I never in a million years thought I would actually purchase my dress that day. I tried to have an open mind when it came to dresses but I was certain that I did NOT want a ball gown. You can imagine my surprise, after some cajoling by my mom to try on the dress that she liked the best, to find myself completely in LOVE with a ball gown. When I walked out of the fitting room, my mom, sister, and grandmother all started crying. Even the saleslady teared up. We all knew that this was the dress that I would wear down the aisle–and it only took me 30 minutes to find it! My takeaway from this is that, much like finding your soulmate, when it comes to wedding dresses, when you know, you just know. Don't doubt your intuition or waste time trying on tons of the dresses once you find the one you love.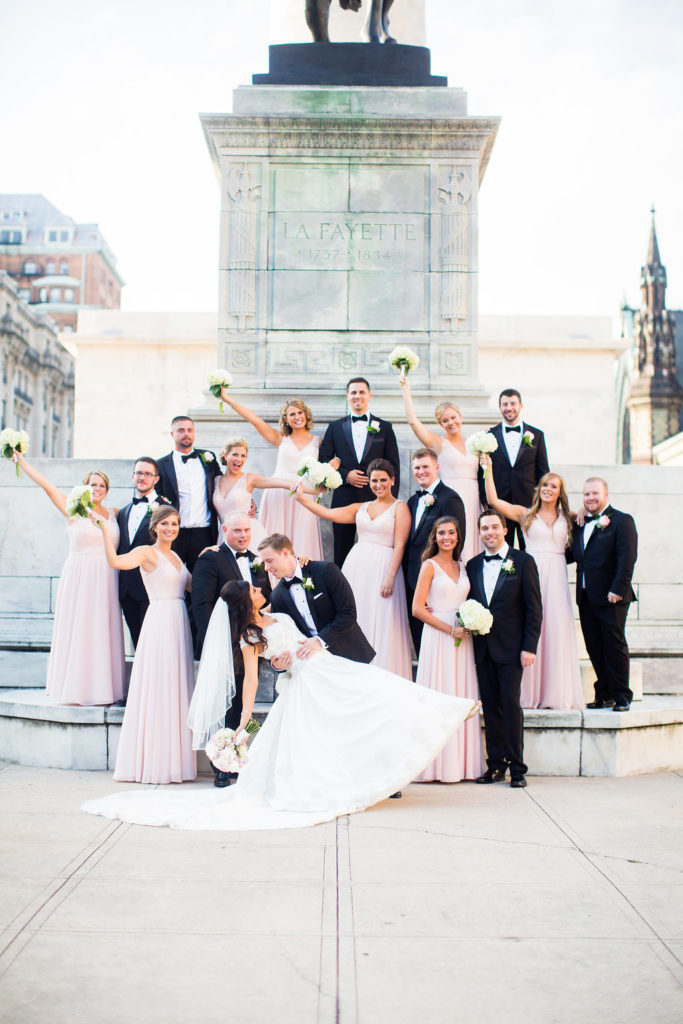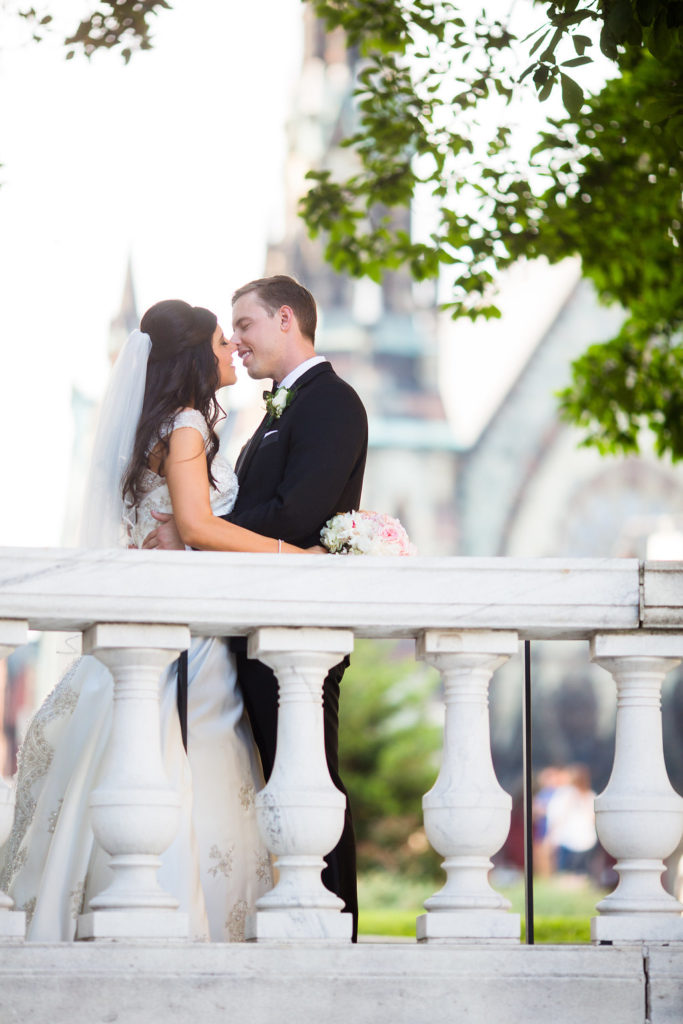 Favorite Details
The macaroons
Our second line!
The hot pink couch
Our table numbers–gold books my mom painted
My sparkly gold shoes
Our Mickey & Minnie cake topper – just a tiny nod to our engagement
My getaway dress–as much as I loved my wedding dress, it was such a relief to put on something lightweight (and pretty and sparkly!) at the end of the night.
We did not see each other before the ceremony. We were both very adamant about this. We were sad to miss cocktail hour with our guests to get photos taken but this had an unintended bonus. That time, right after becoming husband and wife, when Brandon and I walked around the city, taking photos, laughing, and talking, was so special and ended up being my favorite part of the day.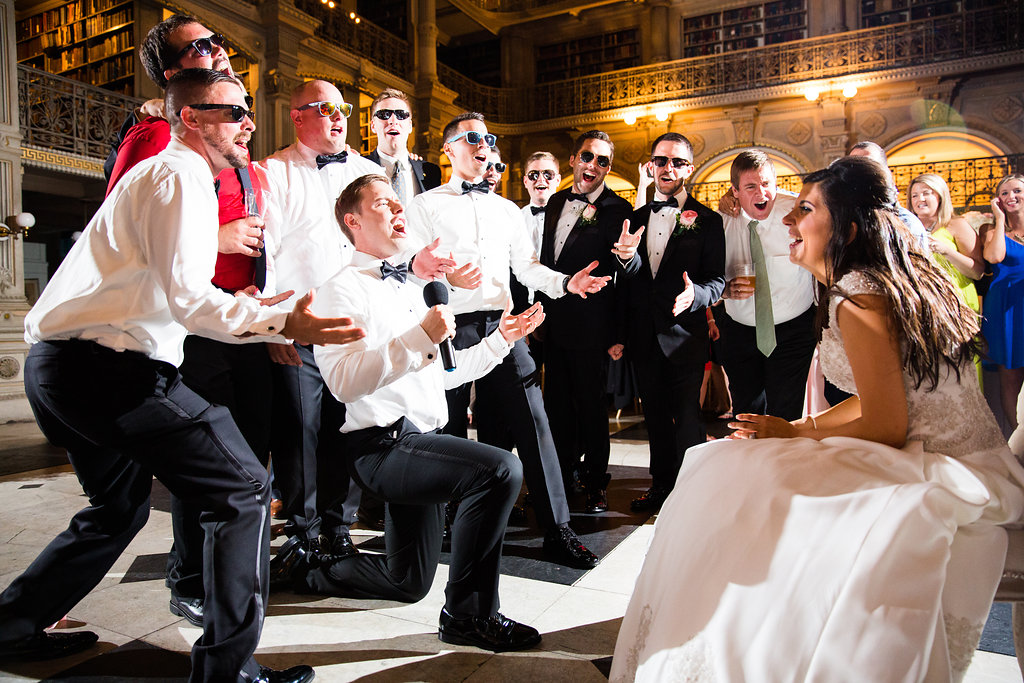 Piece of advice You will hear this many times, but the day will fly by. No matter how hard you try, it is impossible to slow time and take it all in. For this reason, I think that every couple should invest in a videographer who can be there to capture all the big moments, but also all of the small ones that you may miss. A video is the closest thing you can get to reliving the day over again–and trust me, you will want to!
There will probably never be another time where ALL of the people who mean something to both you and your significant other are under the same roof. Enjoy it!
Finally, from my amazing wedding planner – this is the first party you are throwing as a couple, make it a good one!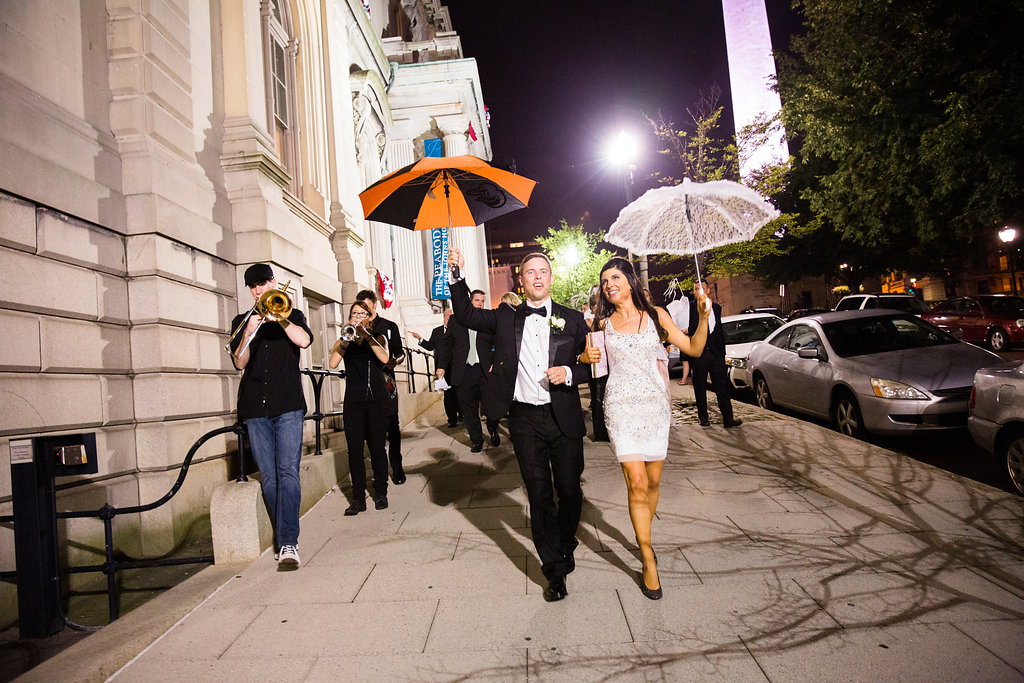 Most Unexpected Event on the Day of the Wedding Right before the garter toss, as I sat down, my new husband took the mic. I didn't know what was going on until he looked me in the eyes and said "Nicki, I think you've lost something . . ." Then I knew! My crazy Top Gun-obsessed husband began to serenade me with, "You've lost that loving feeling" and as he sang, his groomsmen and friends started to emerge from the tables, all wearing sunglasses, to join in. By the end of the song, I was surrounded by at least 20 of my favorite guys, belting it out. It was so funny. I don't know what I was more impressed by, that my husband sang a solo or that he managed to surprise me when I thought I knew every last detail of our wedding day!