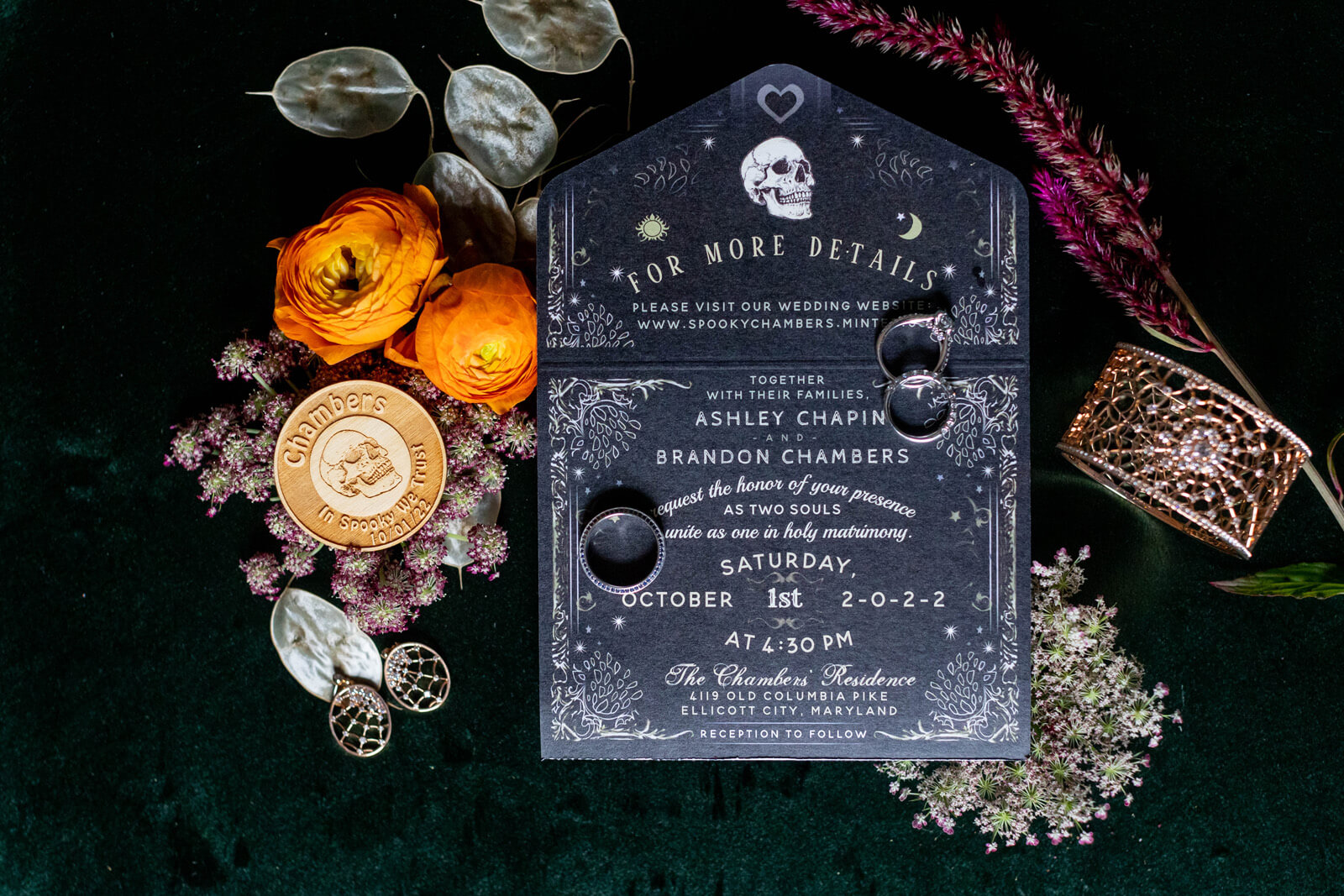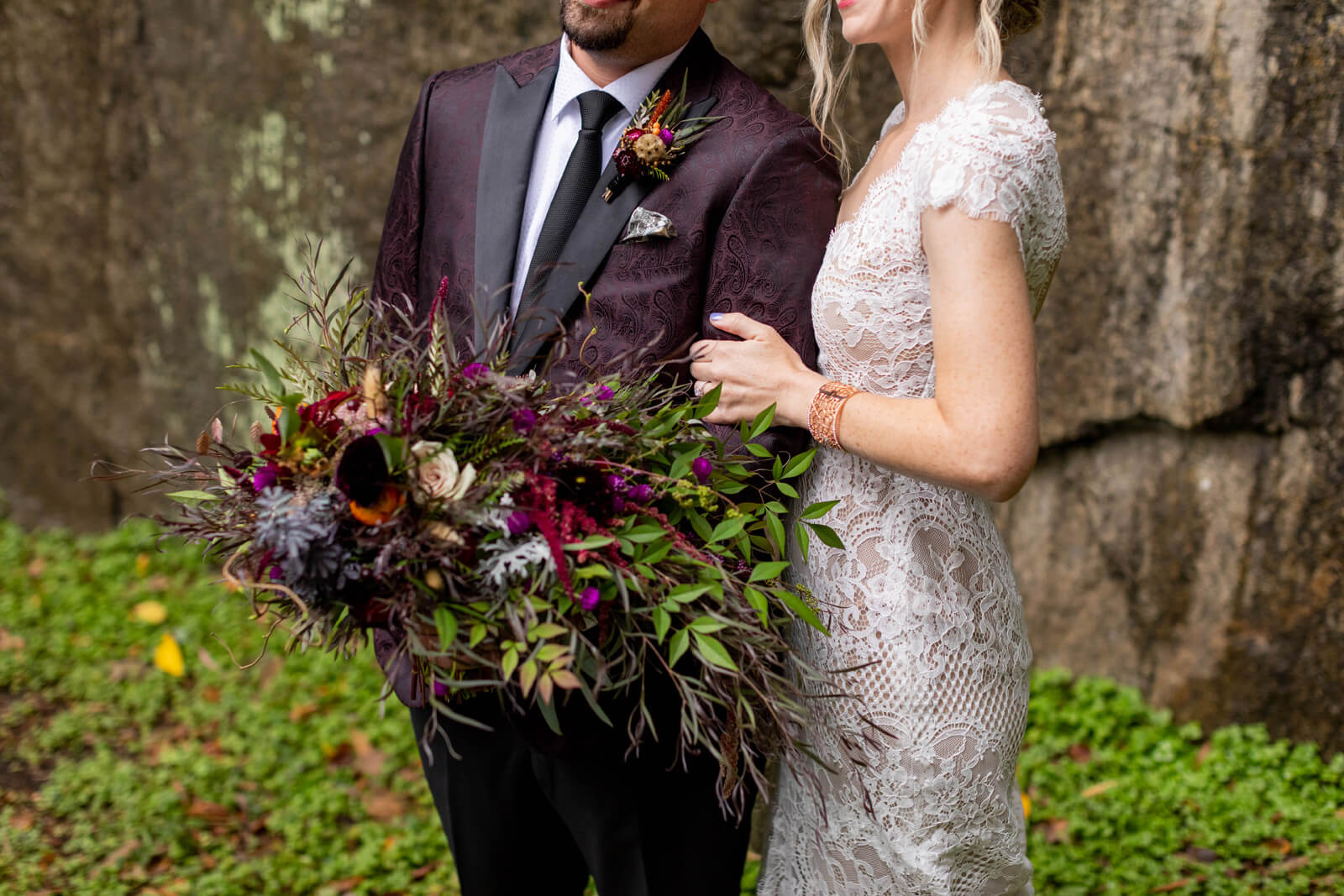 Occupations Ashley is an instrumental music teacher; Brandon is a mechanical engineer
Wedding date October 1, 2022
Number of Attendees 80
How You Met Ashley found Brandon's MySpace / Facebook profile back in 2010. They were both 21-year-old college graduates, just starting their lives. Ashley messaged Brandon to see if he would be interested in meeting up; she was looking for new friends in the area, as she had just moved to Maryland from out of state and didn't know anyone. It was a truly random occurrence, one that started something magical 13 years ago and will now last a lifetime.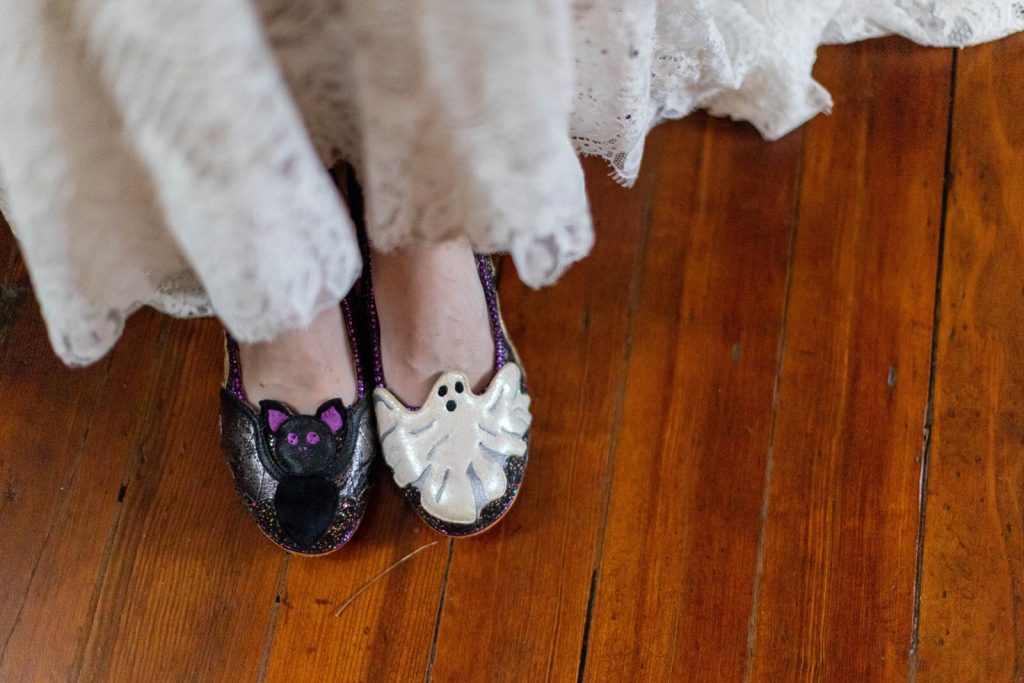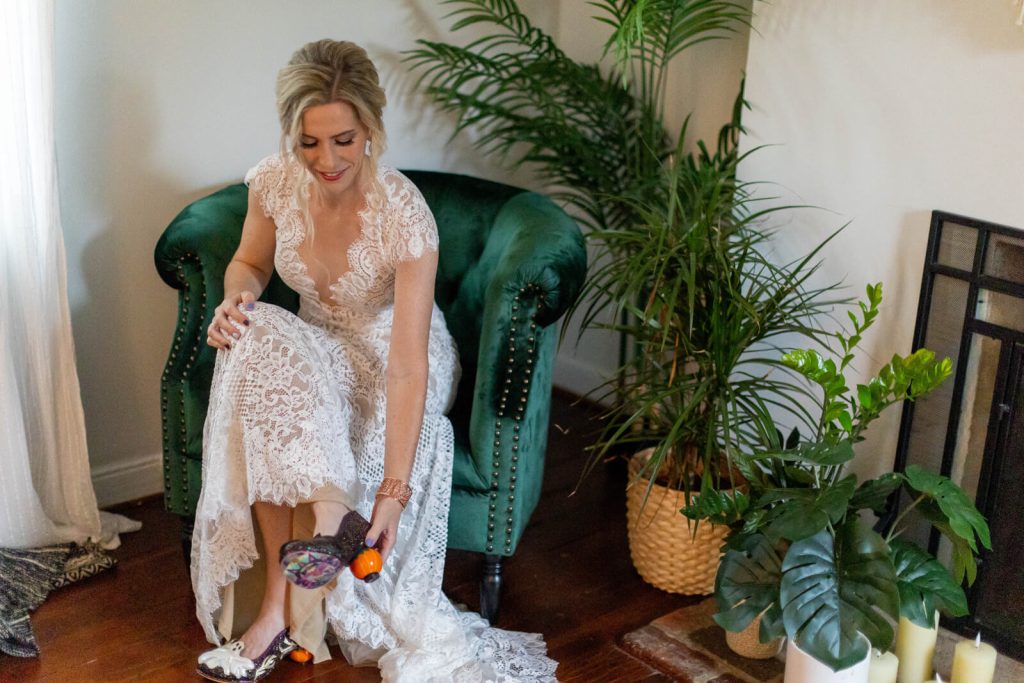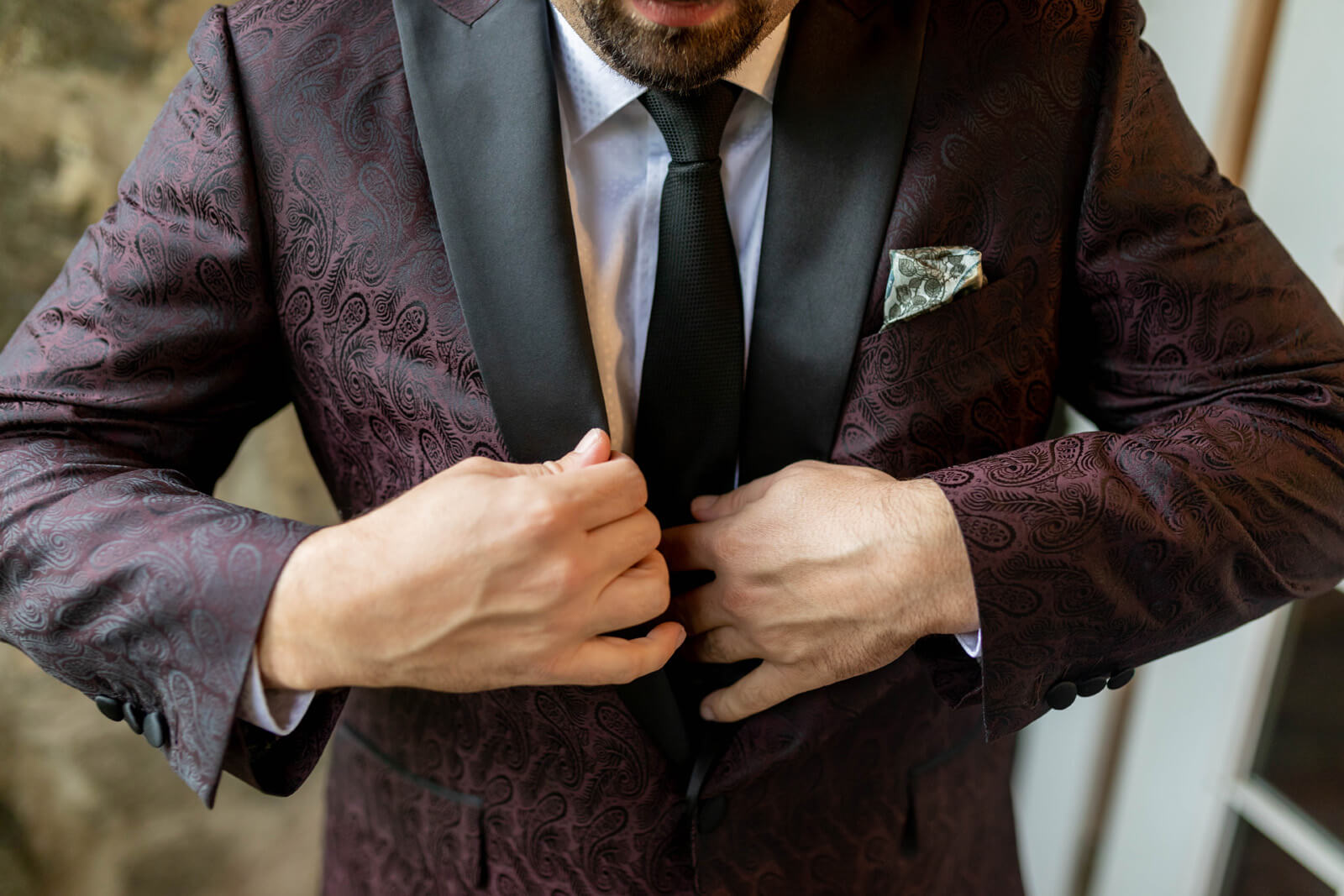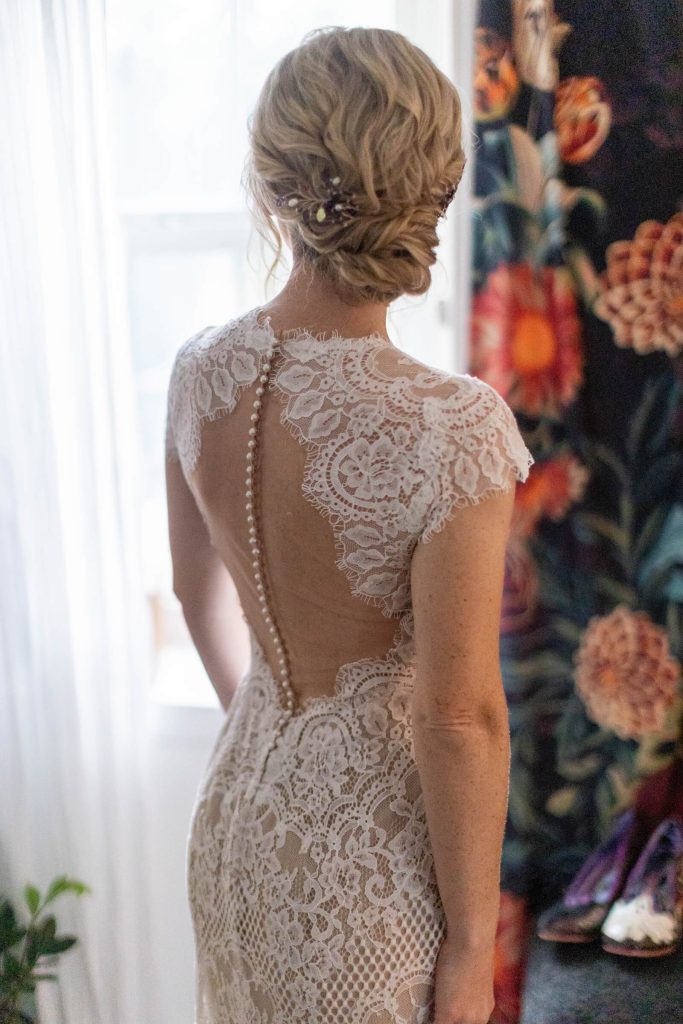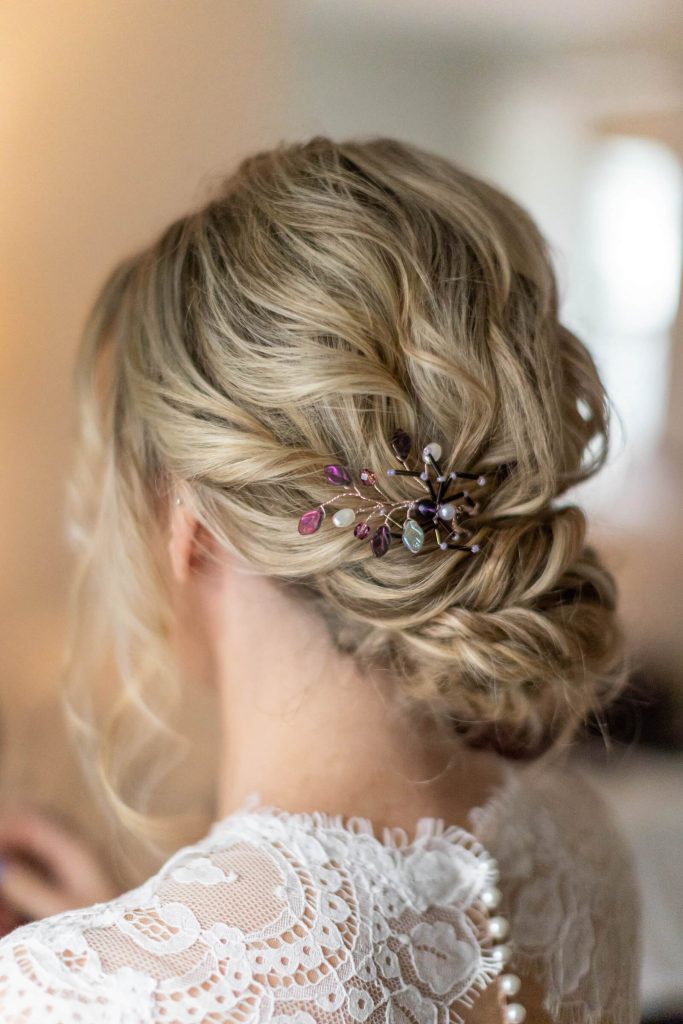 The Engagement Brandon "popped the question" at The Bygone on our 10th anniversary together February 4, 2020.
Wedding Design Inspiration We are true lovers of Halloween, specifically all things Tim Burton and moody vibes. Ideally, aimed to make our big day authentically whimsical and just truly delightful for all who attend, centered around our favorite time of year: Spooky Season!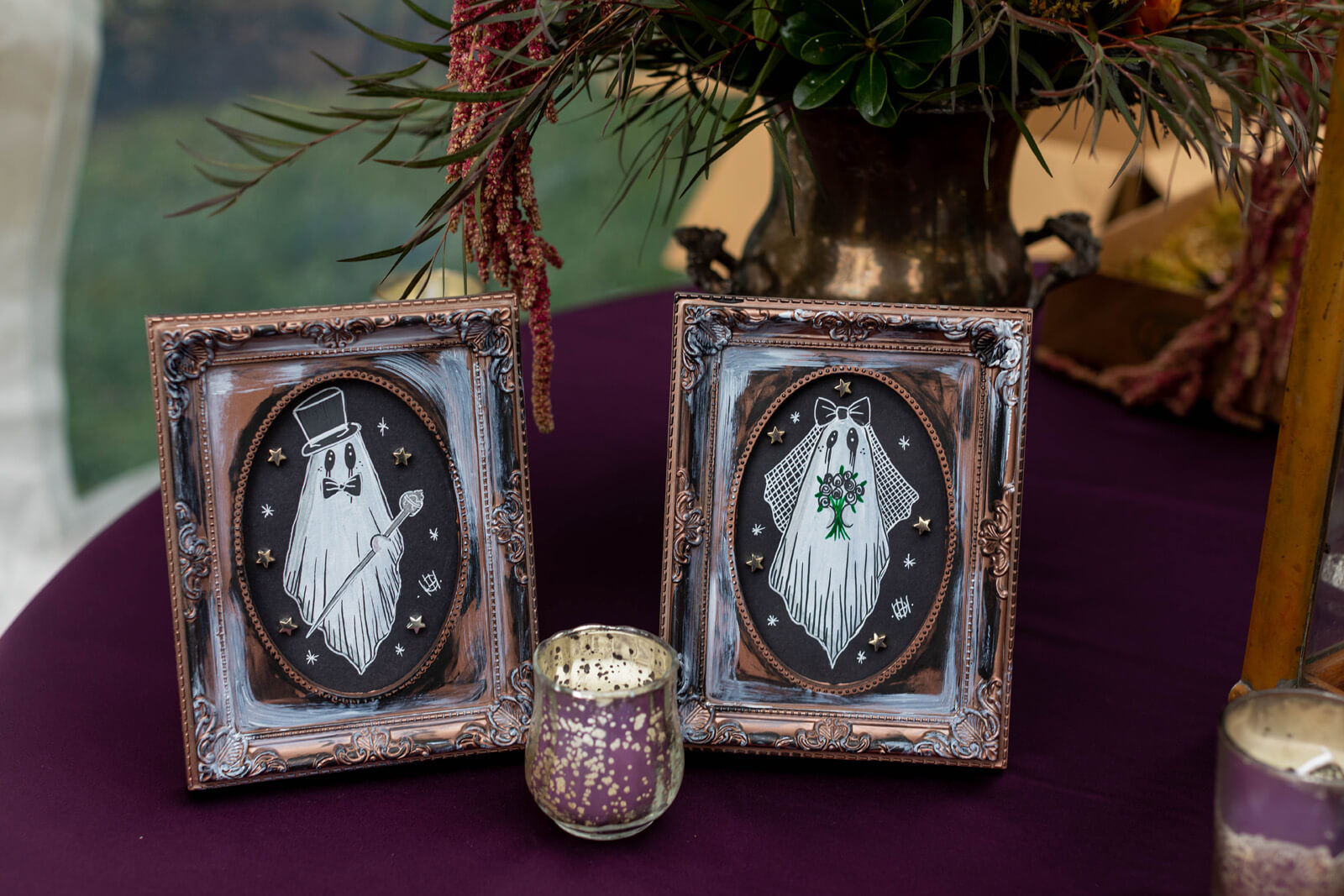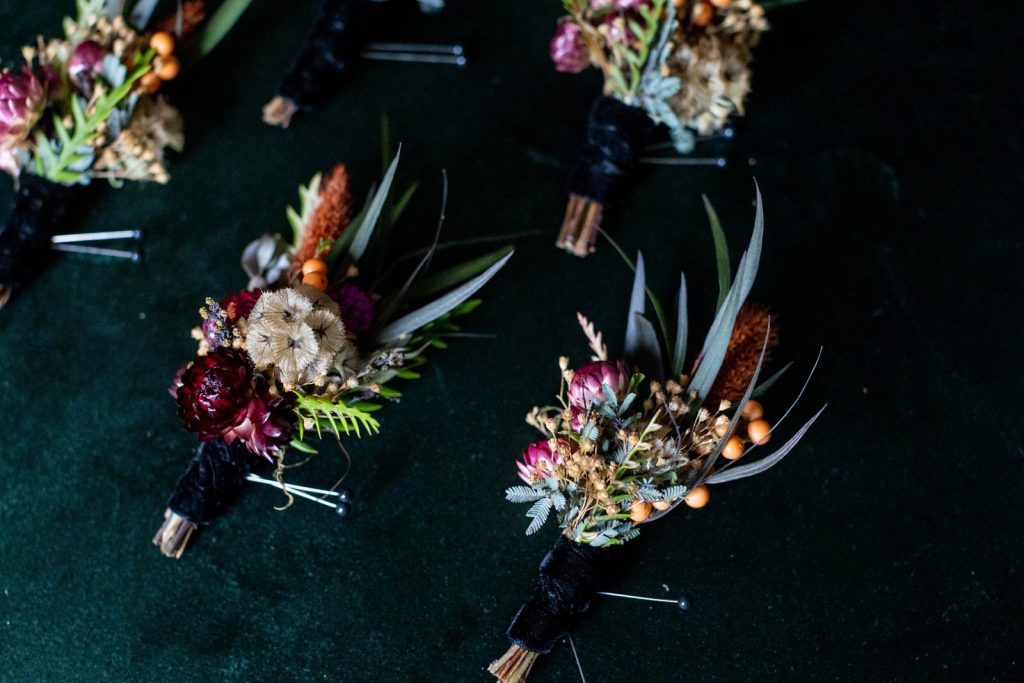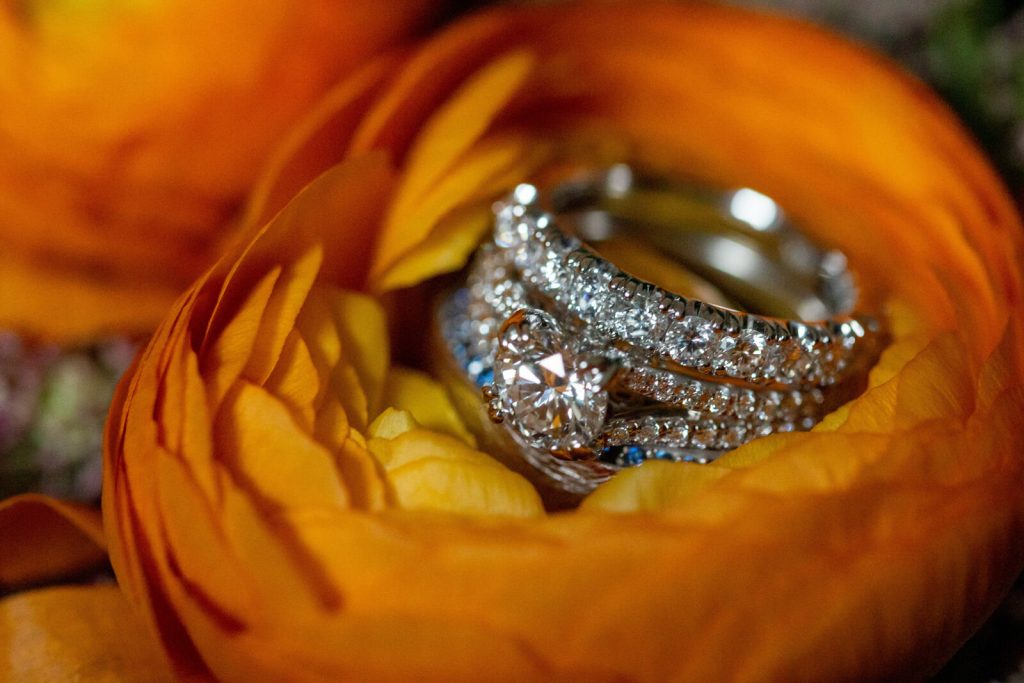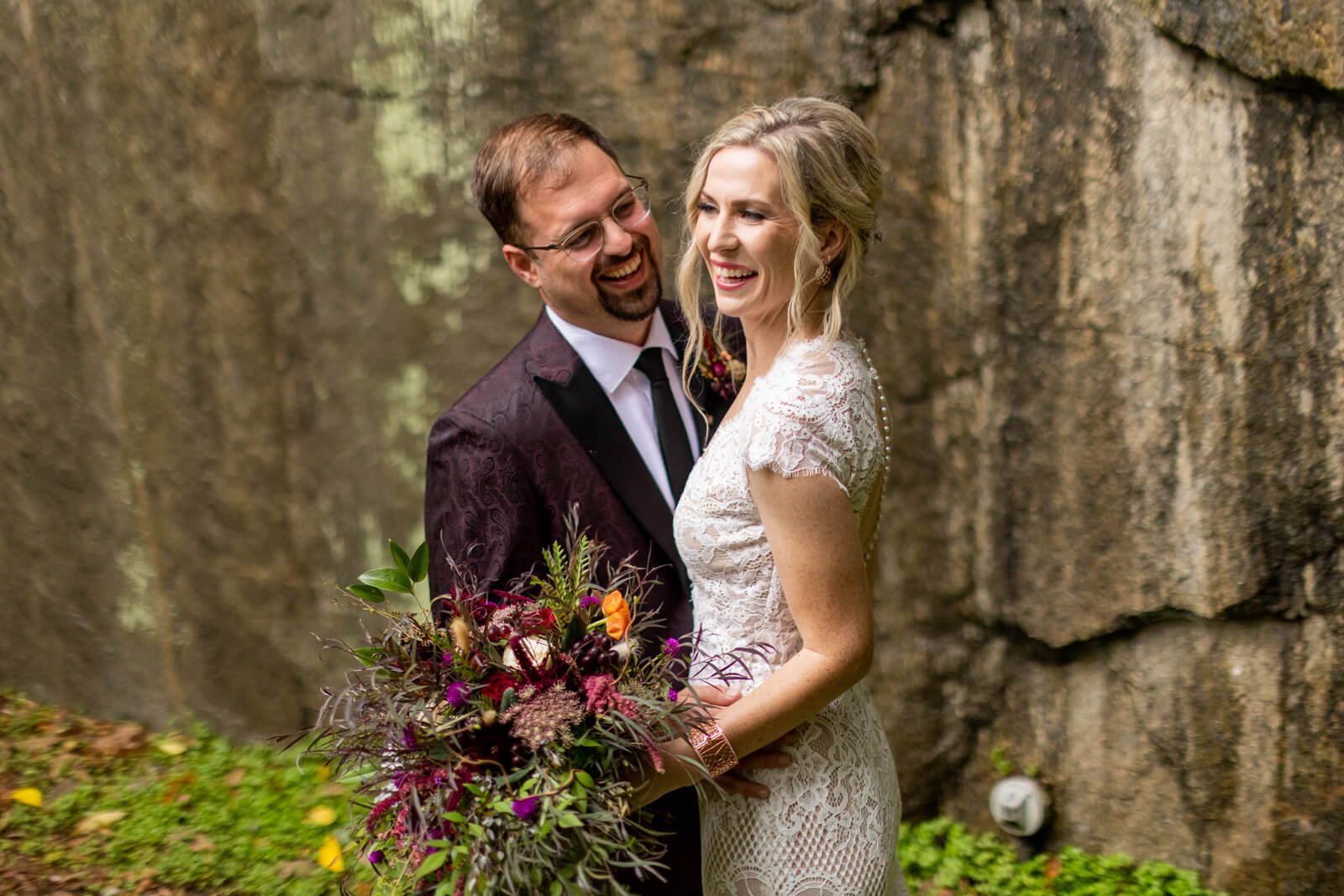 What Was Unique and Special About Your Wedding Day ALL. OF. IT! From start to finish, there was something fun to see and experience all around, for everyone! Our attention to detail was one of the most complimented parts of the event. Brandon and I spent roughly two years planning our event, as we were in no rush—we had already been together for 10 years, so two more was a breeze. We wanted to ensure that all elements were tied together with a kind a grace that you simply cannot achieve from flying through the process.
We thought about other weddings we had been to in the past, specifically considering all the things we liked and may not have cared for, all which allowed us to zero in on our vision. We decided to focus our energy on making the vibe centered around four elements: inclusiveness, a quirky/whimsical energy, smiley laughter, and lots of love. We spread spooky goodness all around by using lots of décor items that we already owned and/or had been collecting especially for the big day. All items used in the space belong to us, and we will cherish it all.
We went as far as to have Halloween doormats at the fancy restroom trailers, which were stocked with Halloween hand towels and Bath & Body Works foaming hand soap in Ghouls Best Friend and Vampire Blood scents. The most unique part of our day had to be our vow ceremony. We did not want the typical ooey-gooey, mushy ceremony where we called each other "my best friend"; instead, we opted for the vows from the Tim Burton classic, The Corpse Bride. We had a great time adding theatrics to it all, with magic potions to drink (thanks to Brew Glitter) and the delivery of the rings via a hawk (Wedding Doves for Love). There were other birds at the ceremony for people to see, including an owl and a falcon. It was all so surreal.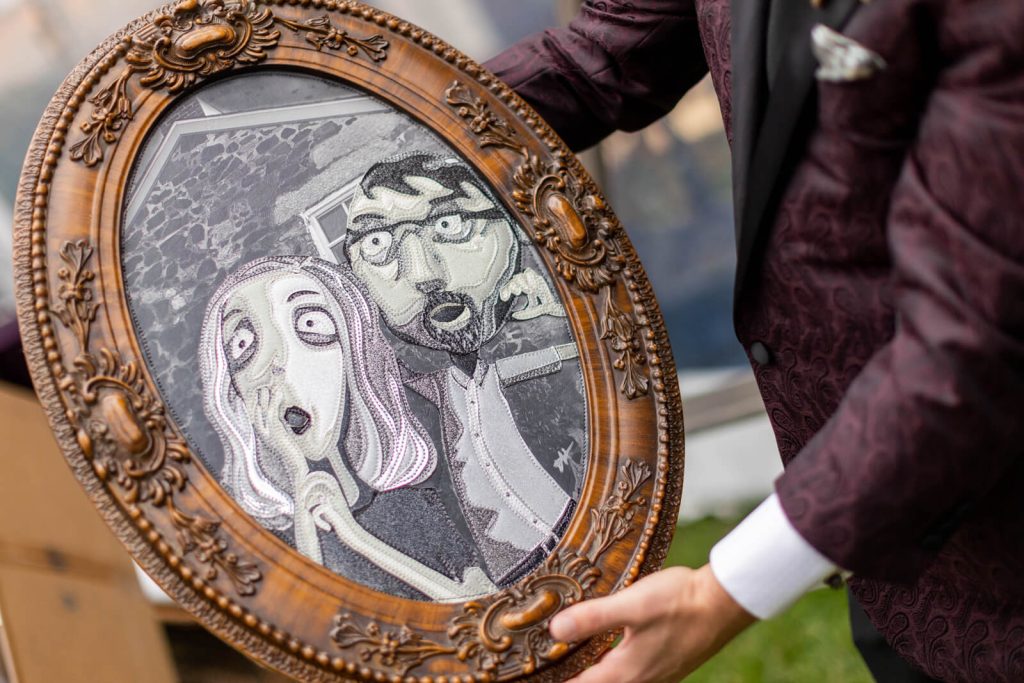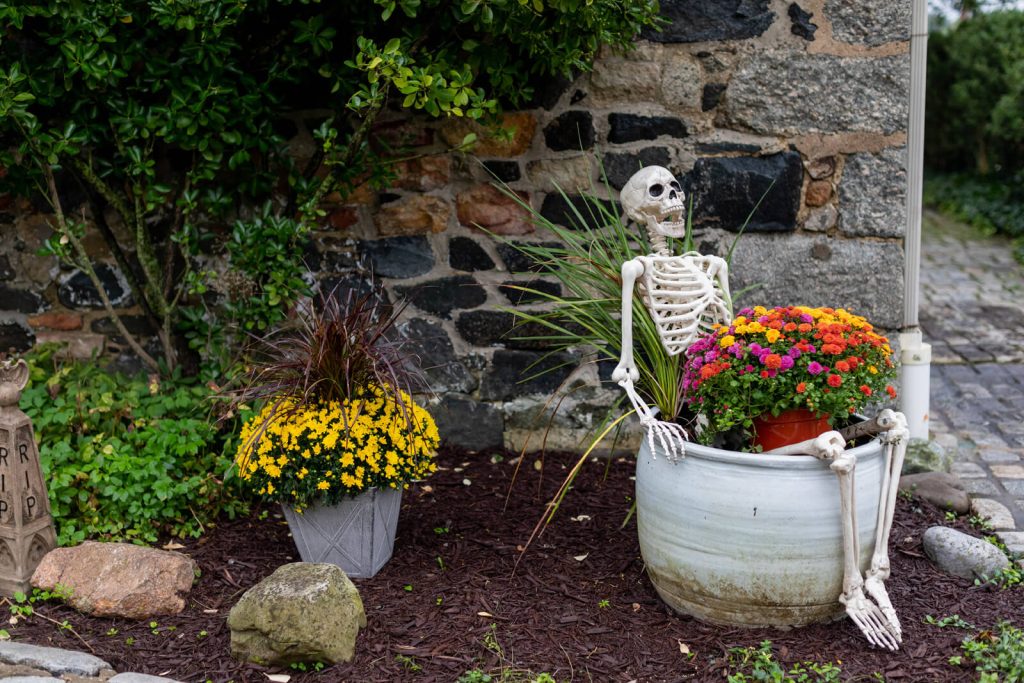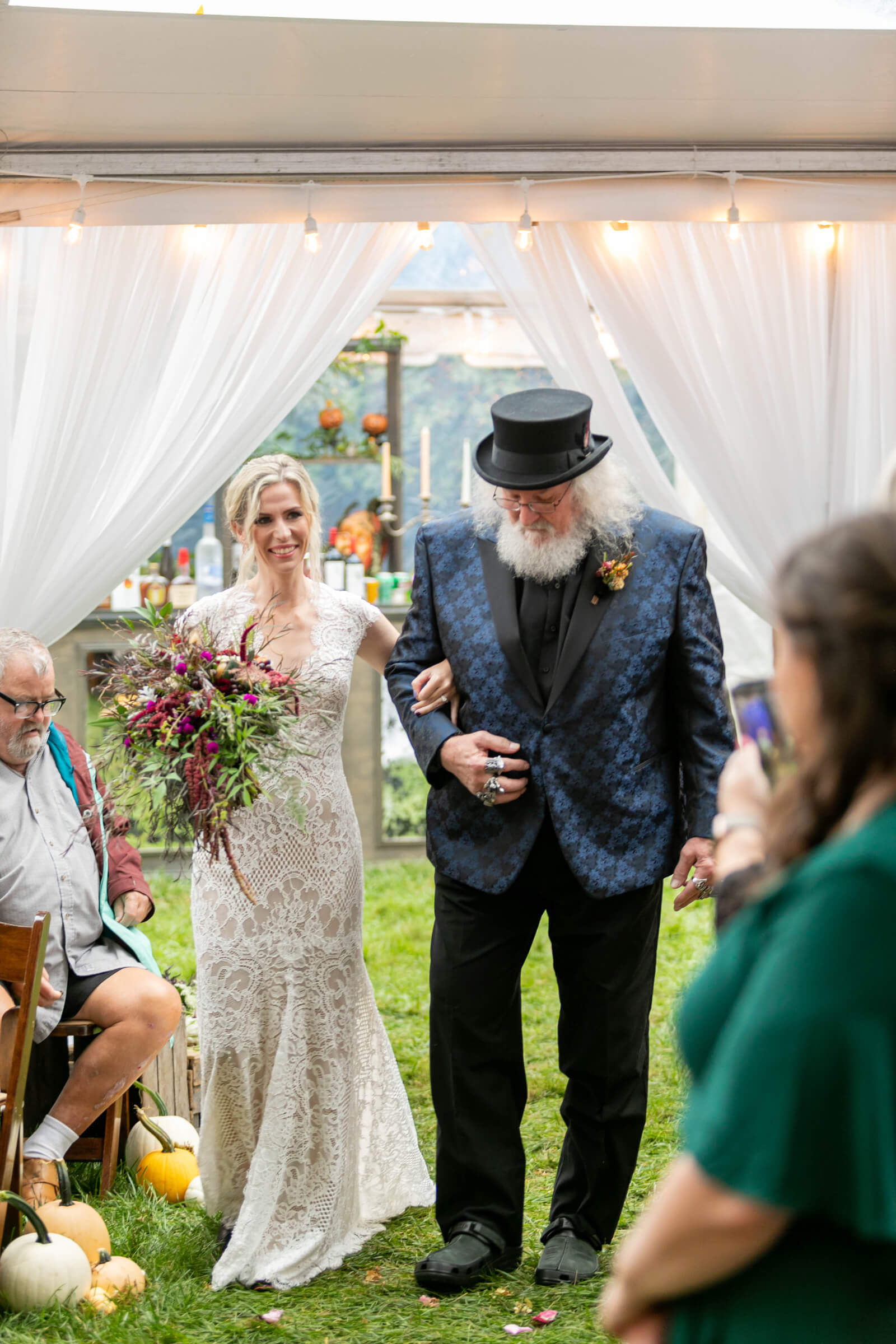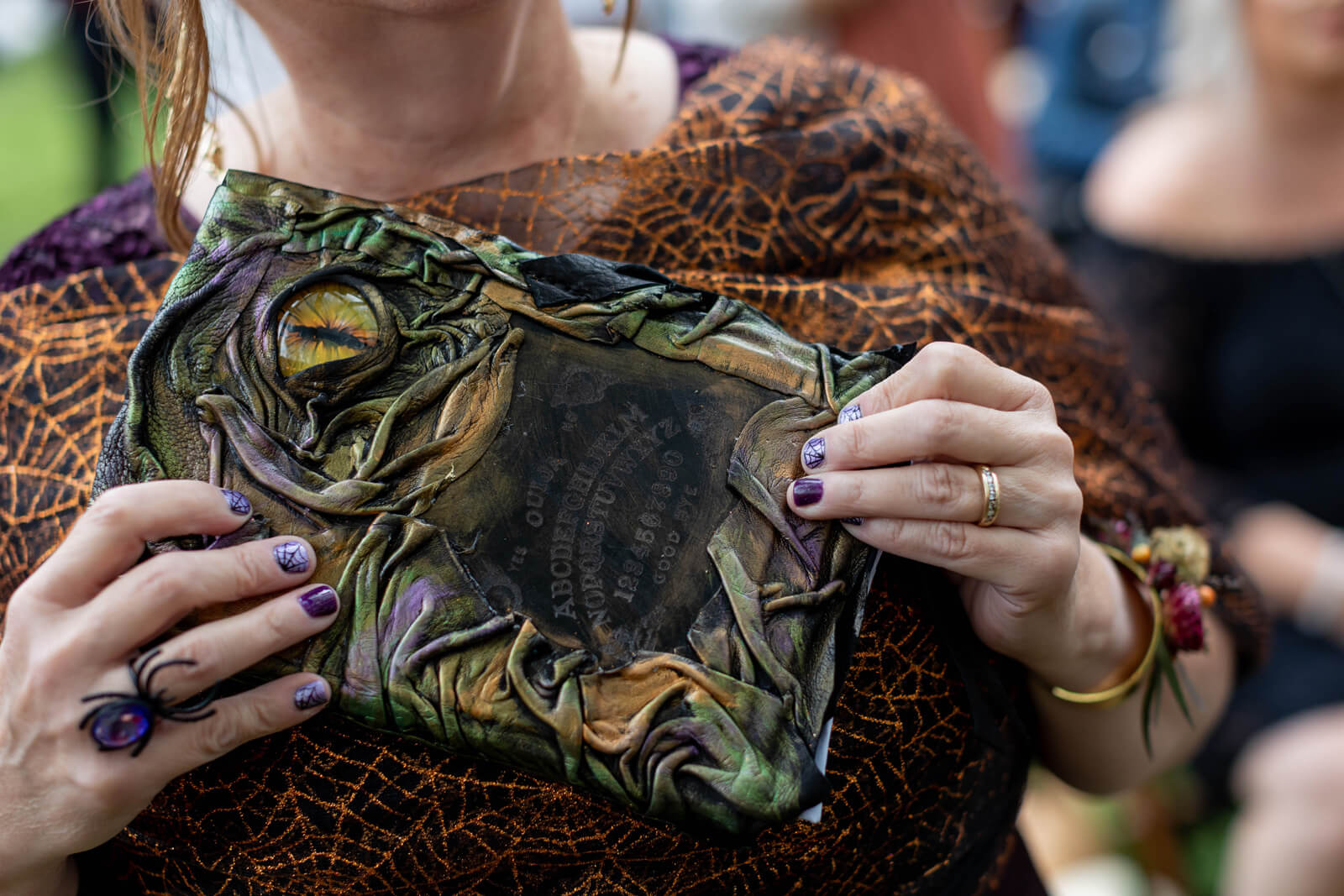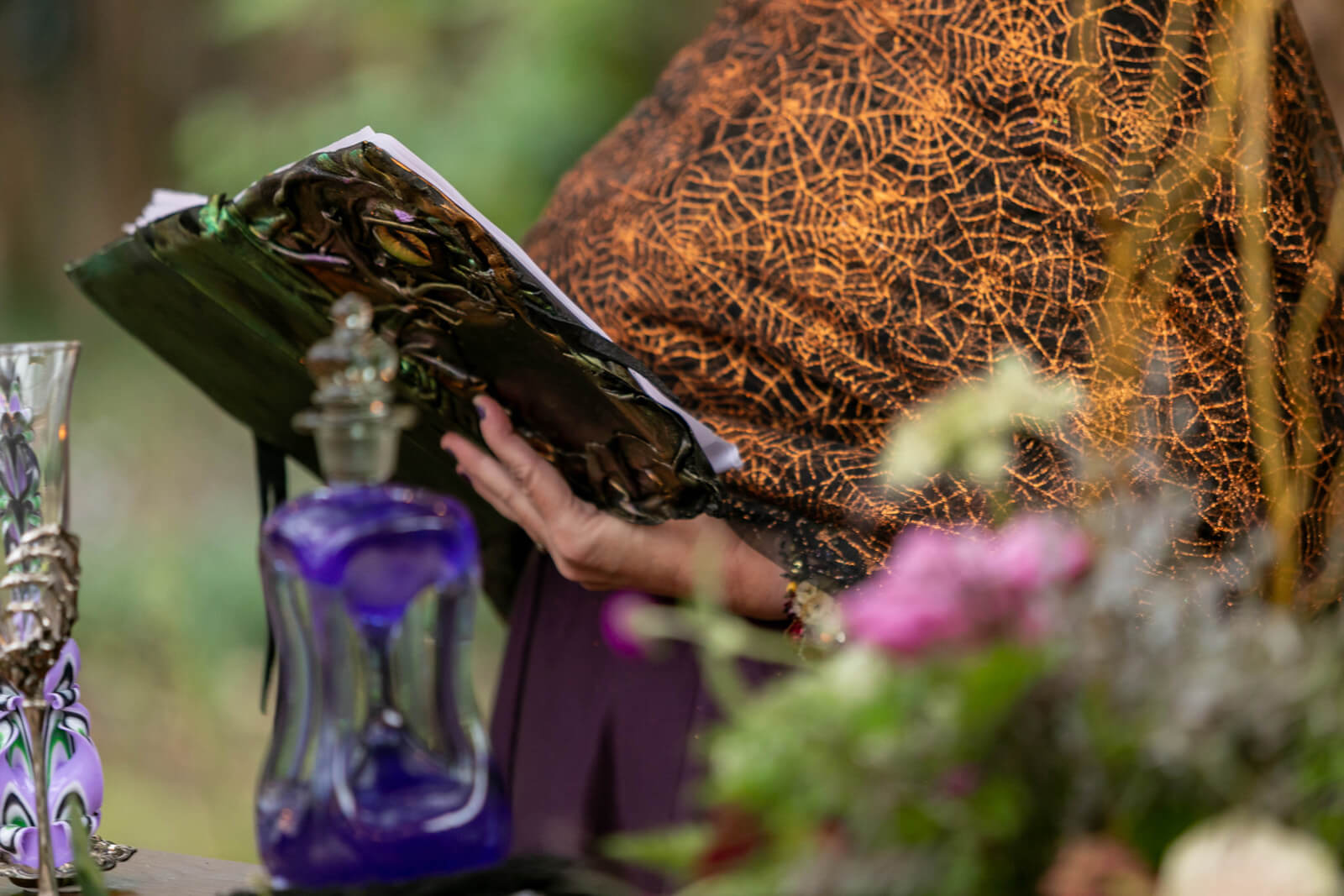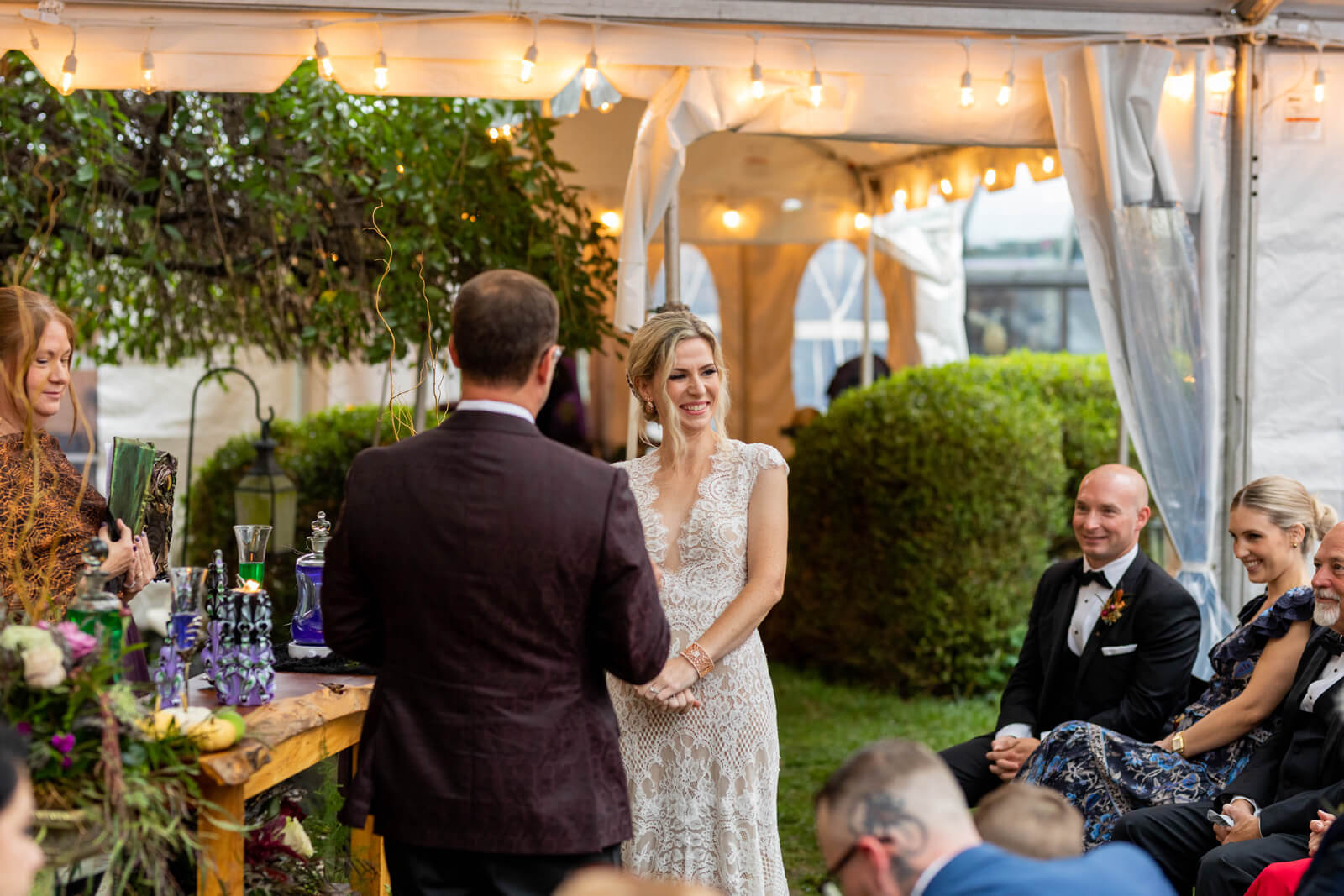 Favorite Details Custom Skull Centerpieces made by Etsy creator Creative3DByBen. Also, the vendors artistic integrity. We made a simple request for nearly every vendor, and it worked out beautifully: do your art, unbounded. We literally asked that they do what they do best, and we did not micromanage them. Nearly everything we got to experience on our big day was a surprise, from the flowers to the tablespaces to the placement of our selected décor items by our wonderful planner's team.
Most Unexpected Event On Your Wedding Day Hurricane Ian! Ashley was not expecting a major weather incident, especially not a hurricane. Brandon had low-key tracked the storm for two weeks leading up to the wedding and was handling delicate conversations with the rental company—Grand Rental Events—and the planner, totally unbeknownst to Ashley. We had to change a lot of our floorplan, in every area we were using on our property, mere days before the event to accommodate the potential for rain to protect everyone. We were extremely fortunate to have Grand Rental Events and Heather St. Clair by our side. Together, they worked to secure MANY more tents, making a small compound in the backyard, to make everything sound. Also, the Howard County Police! Some neighbor called the cops on us—but it was okay. They were very nice about it.
Piece of Advice You do you, boo.