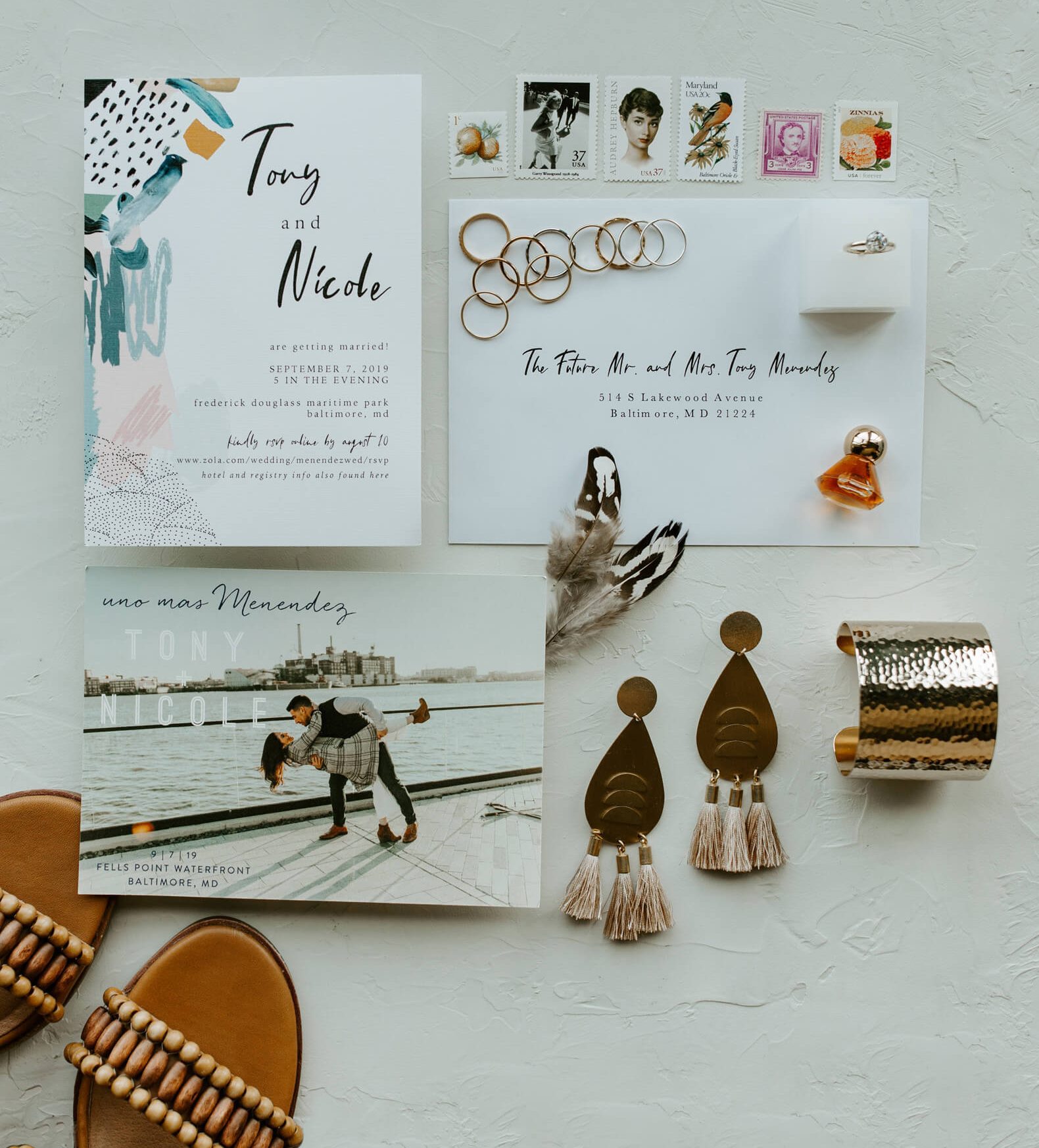 Occupations Nicole is a virtual assistant with Menendez Virtual Assistant and a Pilates instructor at Solidcore; Tony is a regional sales rep for AV equipment.
Wedding Date September 7, 2019
Number of Attendees 130
Number of Attendants Six bridesmaids, six groomsmen, two flower girls, and two ring bearers.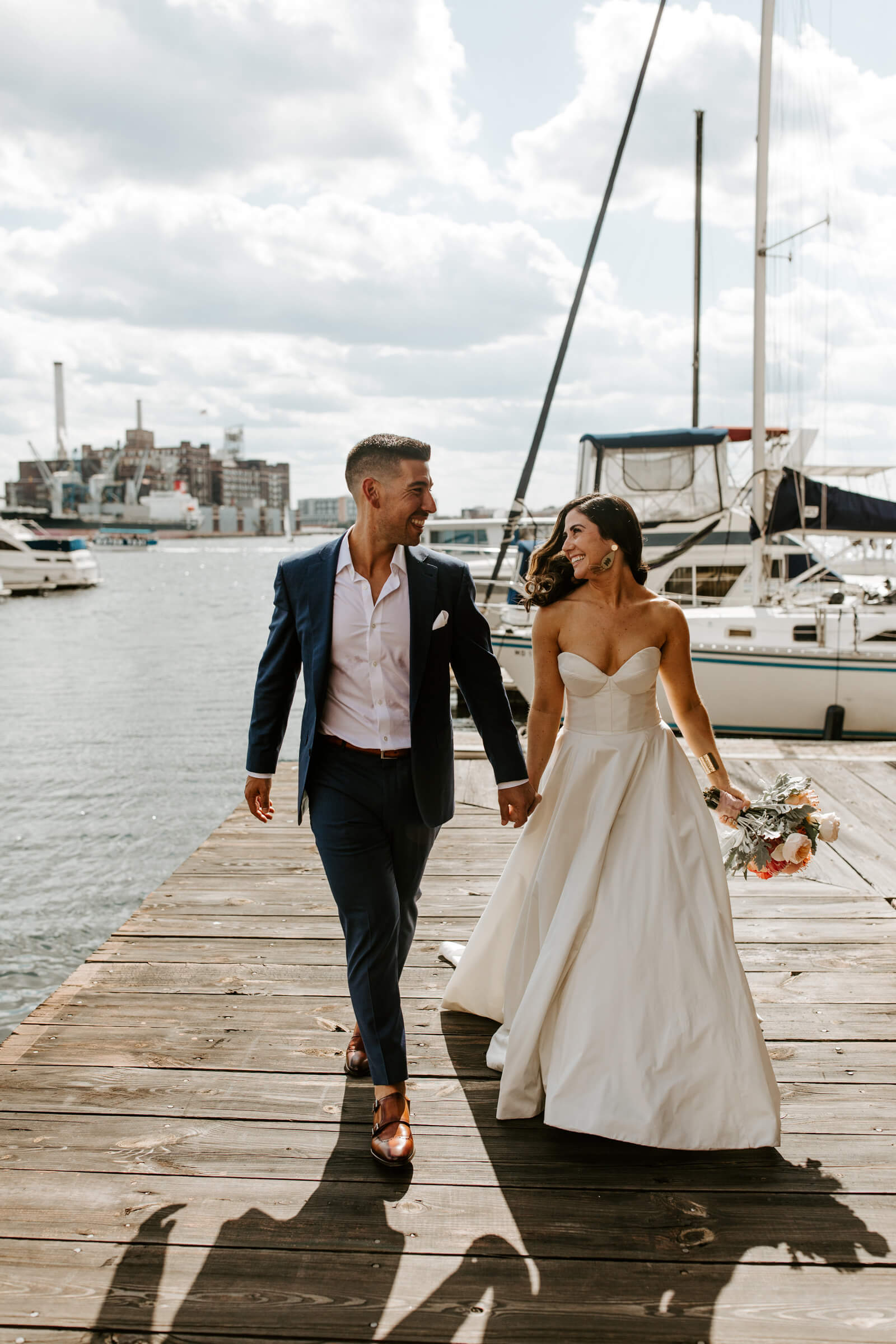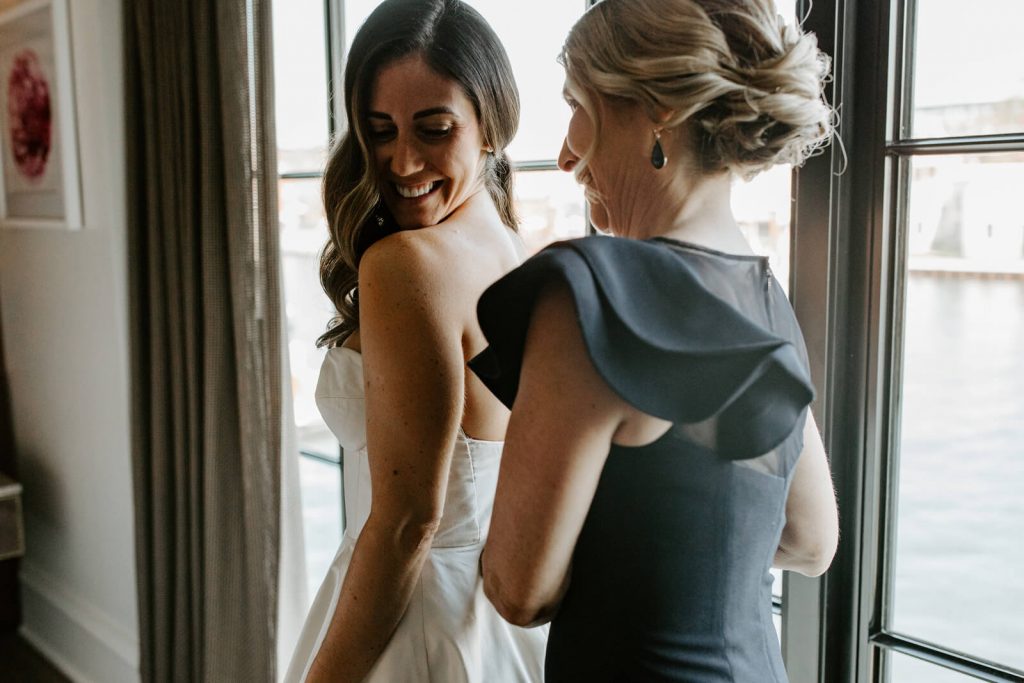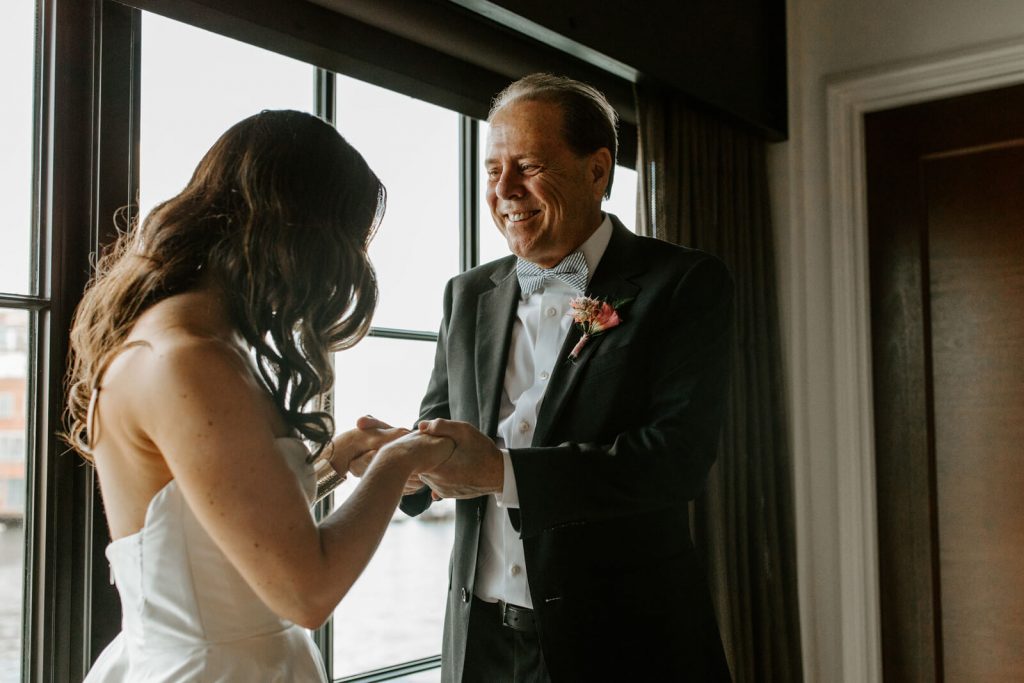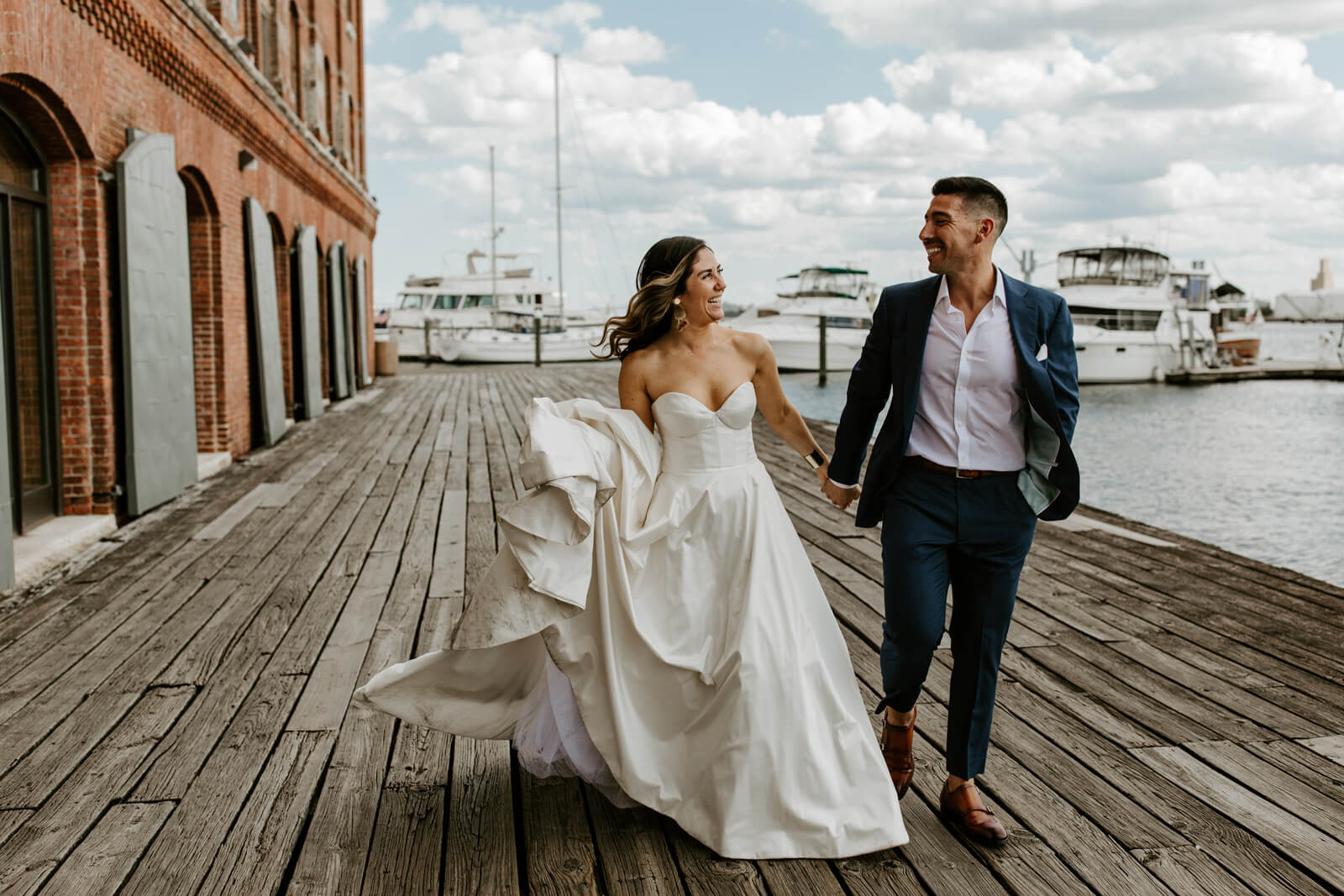 How You Met Tony and my brother were in the same circle of friends in high school, but our paths never crossed until a few years after I graduated college. We went out for my sister-in-law's birthday in Bel Air (where we both grew up) and I was immediately attracted to the mystery tan guy in the green shirt. After some liquid courage kicked in and all the girls were on the dance floor at Magerk's, I sent Johnny (one of our groomsmen) to go get Tony from the bar to come dance. I watched the whole thing go down, and then watched as Johnny came back by himself. Cool. Tony would interrupt me now and say it's because Johnny couldn't be trusted. Either way, he later approached me, and we eventually talked and danced for a while. I left and he didn't get my number. A month later, the same crew was together at the beach and I was also there on vacation with my family. My sister-in-law was out with everyone, including Tony, and gave him a hard time for not getting my number and asking me out. I woke up the next morning to a Facebook message from him and we began messaging. After a work trip and a canceled date, he eventually offered some great seats at an Oriole's game. We got bacon on a stick and crushes at Dempsey's Pub before the game and ended the night in Federal Hill and then Canton Square with some Nacho Mama's pizza.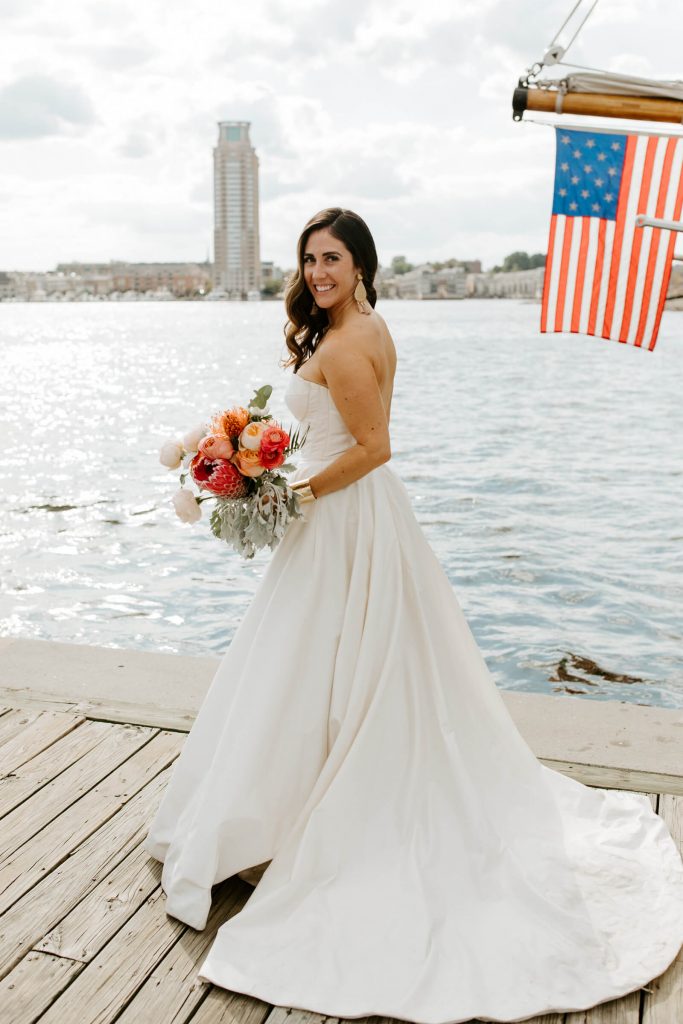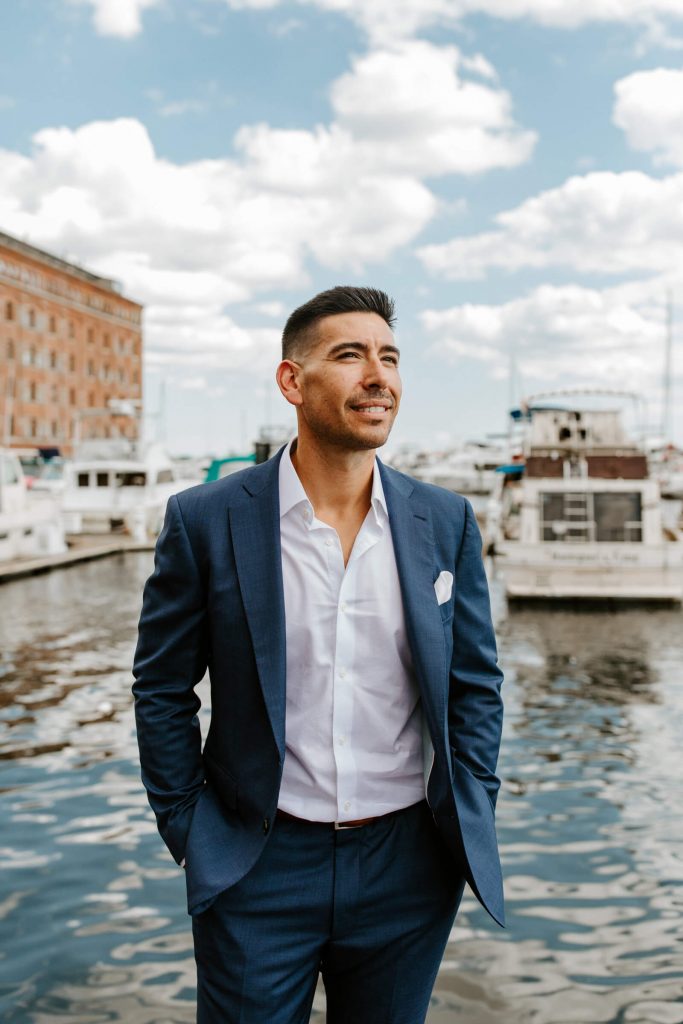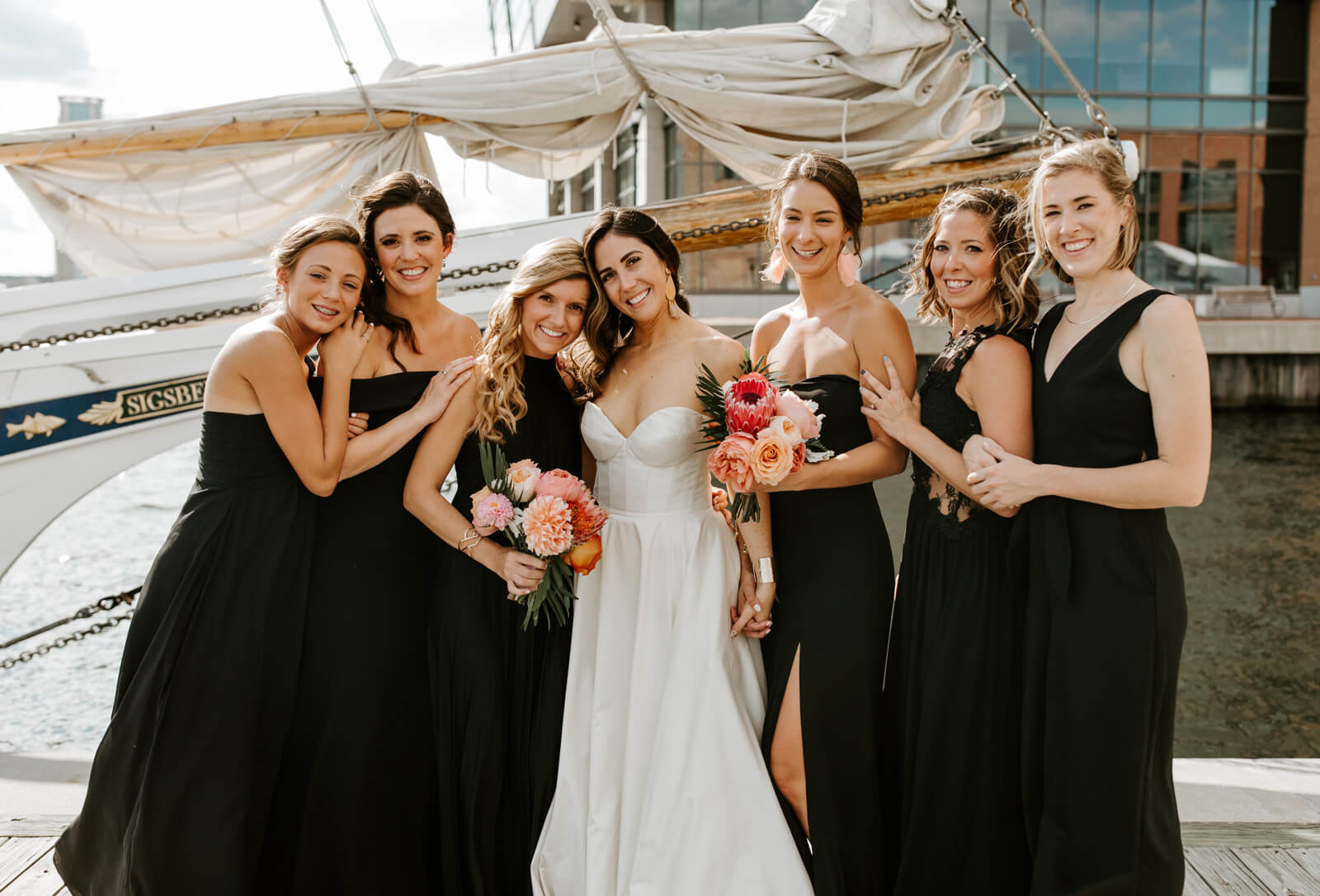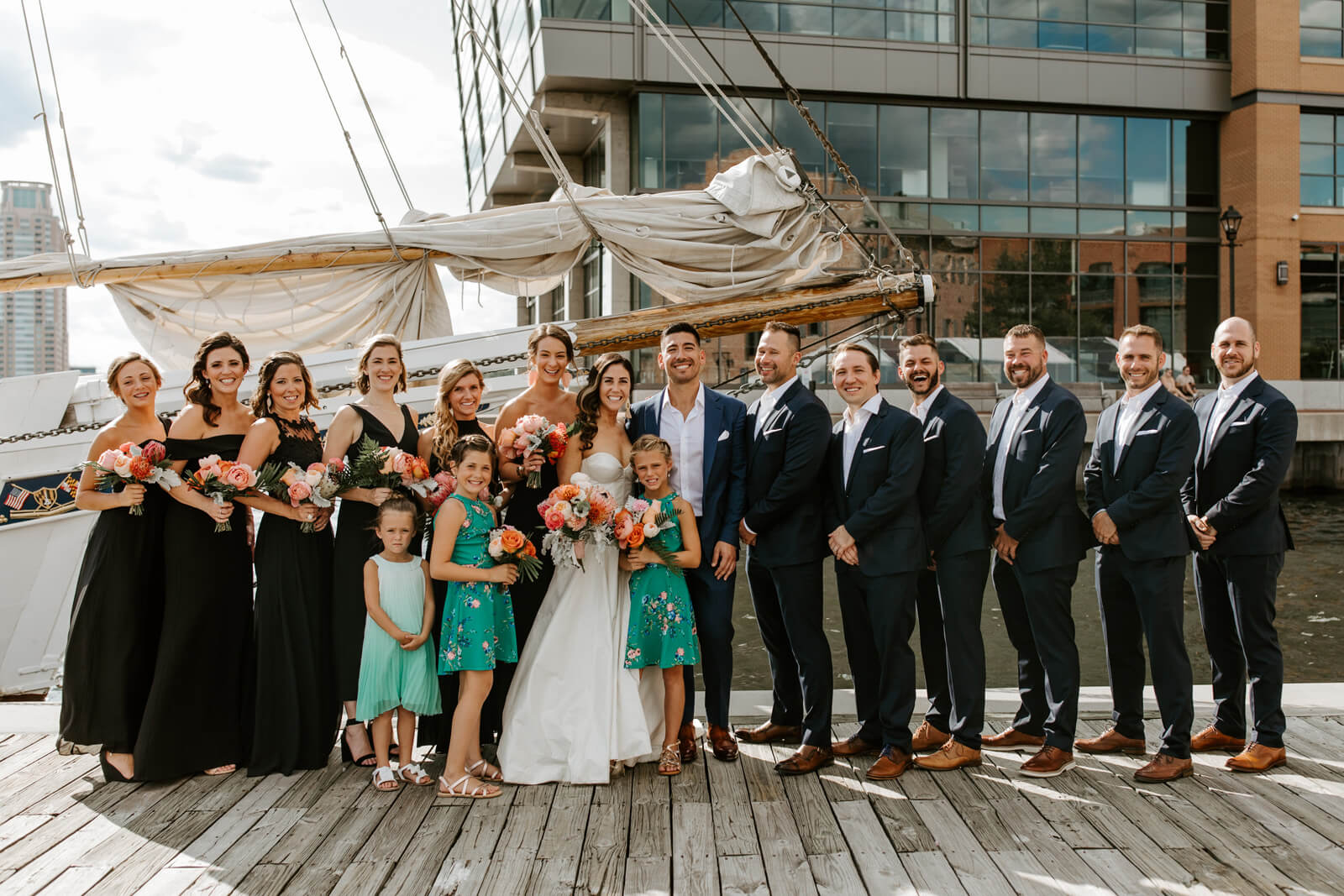 The Engagement I jokingly not jokingly had told Tony months (years?) before that he better propose before we hit the five year mark—late July of 2018. Tony works on his own timeline so I assumed he would ignore me, and our five-year dating anniversary was only a few weeks away. I was at work right before we left for the beach over the July 4th weekend, and out of nowhere I told my coworker I had a weird feeling Tony was about to propose. I couldn't see him doing it at the beach, so I wasn't sure when, but I could feel it coming. I may or may not have been refreshing my wedding Pinterest boards at all the red lights on the way home. When I got home, Tony came downstairs with our cat, Scotty, and told me to check his collar because it was twisted. I took a quick look and decided it was fine, but he insisted I keep looking. The light from the bezel set diamond of my dreams caught my eye and I backed all the way up to the kitchen. He maintains the fact that I never actually said yes . . .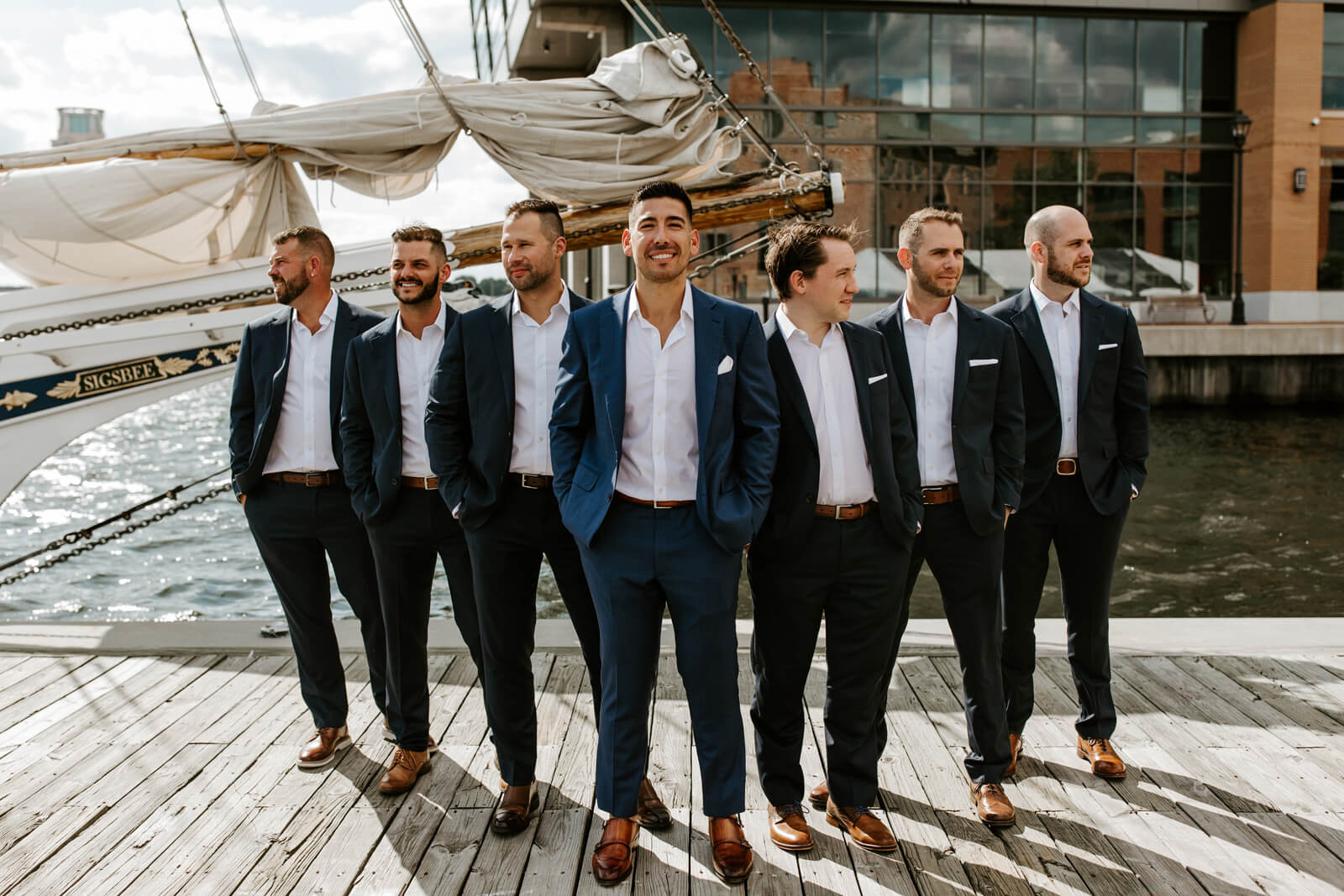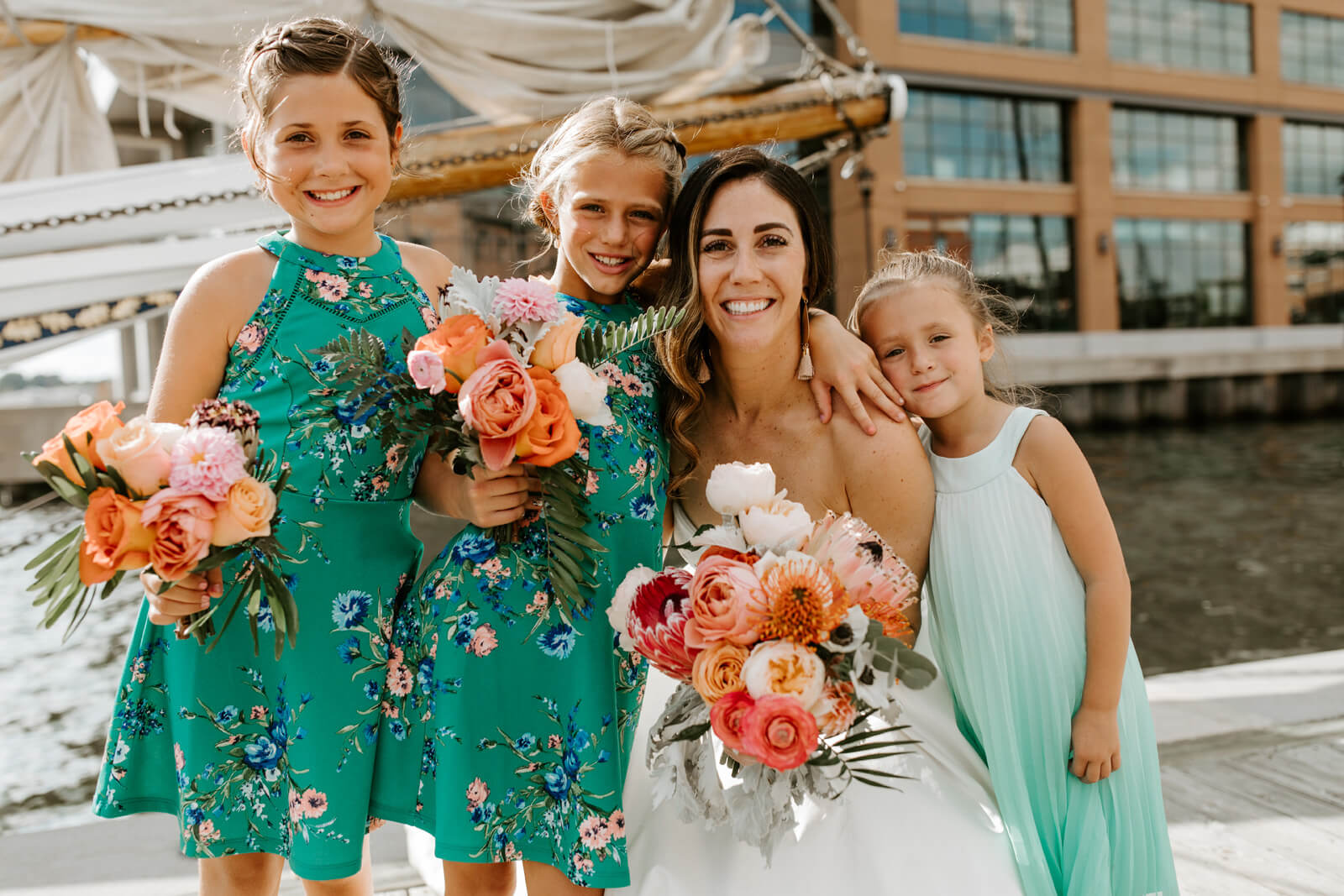 Wedding Design Inspiration I always dreamed of getting married on the waterfront in Fells Point, in the city where Tony and I dated, lived together and got engaged. We wanted everything to be walking distance so the party could easily flow to the bars after our reception. Frederick Douglass was the perfect venue for this. We loved the idea of an outside wedding, so we opted for a ceremony on the pier, followed by a cocktail hour and tented reception. FD was a completely blank slate, which was amazing, and I knew it needed some rentals to fill the space and add dimension.
Aesthetic was super important to me, and I took a long time selecting a palette. I found some prints from Nordstrom that spoke to me, and eventually found a website that had those same prints that let you order different items with the print. I bought a tray and my maid of honor surprised me with a pillow, both of which we used in our sweetheart's lounge.
I looked at a few different rental companies and landed on Paisley & Jade. Perkins was amazing, and they have some amazing pieces. She really helped capture the vibe I was going for: kind of boho, kind of preppy, kind of chic. We rented the triangle arbor, the cutest high top cocktail tables with umbrellas, a floating farm table perfect for charcuterie, lawn games, and more. We rented a copper bar for beverage service, and DJ Sal spun on a barrel bar. Tony and I sat on a coral-colored couch and we incorporated some boho chairs, poufs and other fun elements in more soft seating around us, between all of the tables and adjacent to the dance floor.
We kept linens clean and white and incorporated some navy and teal as accents under the tent. Everything was perfectly accented by the work of the brilliant Carly Thurman and her amazing team who took my hodgepodge of tropical/colorful floral ideas and totally ran with it.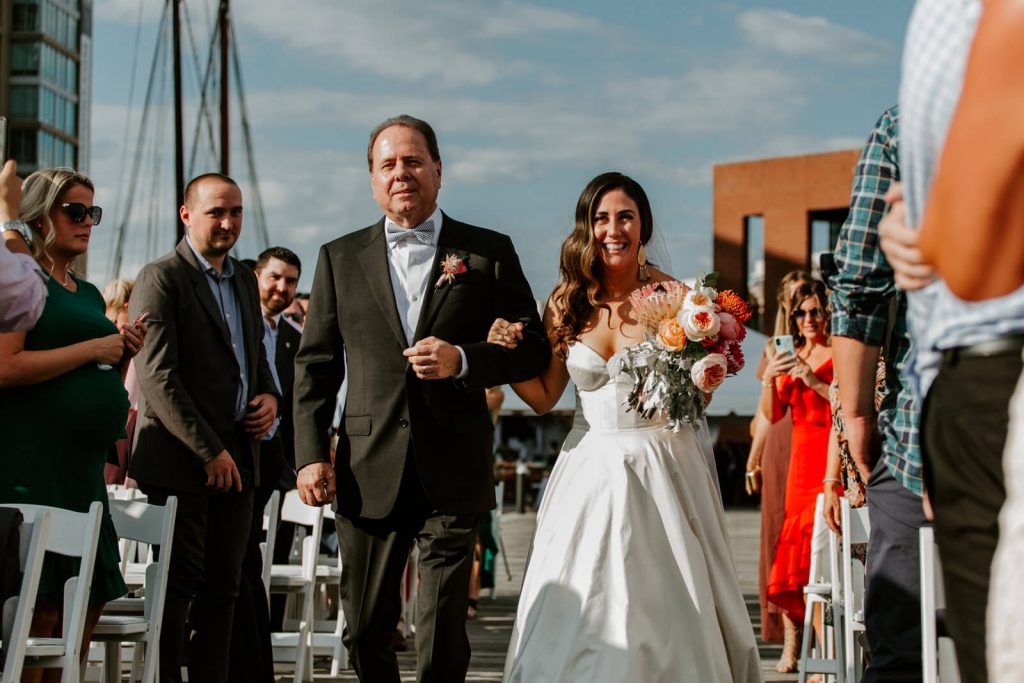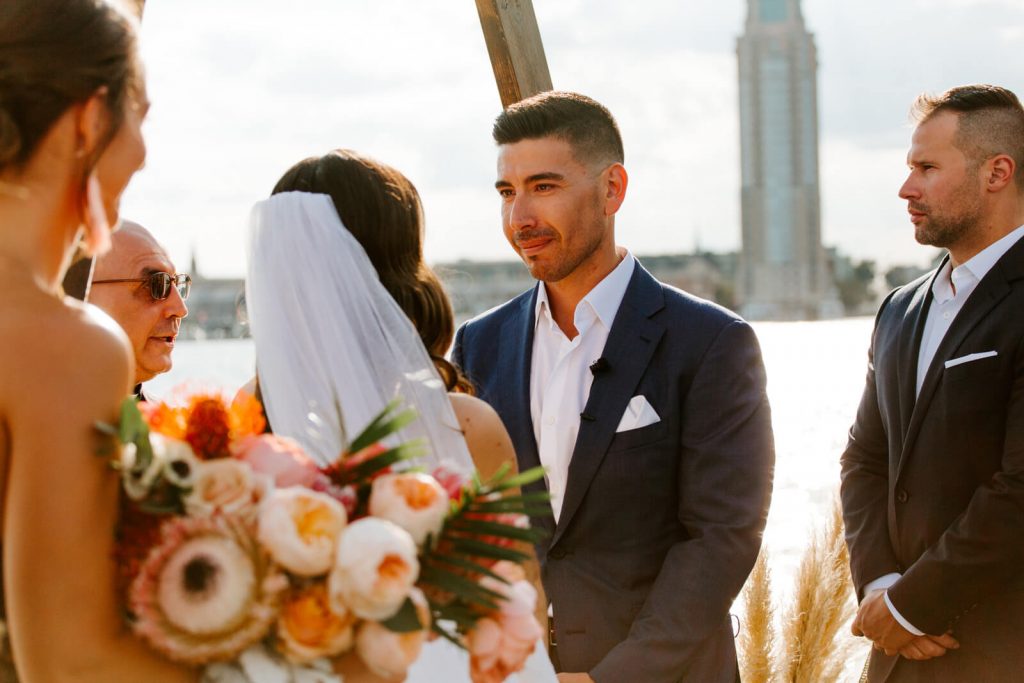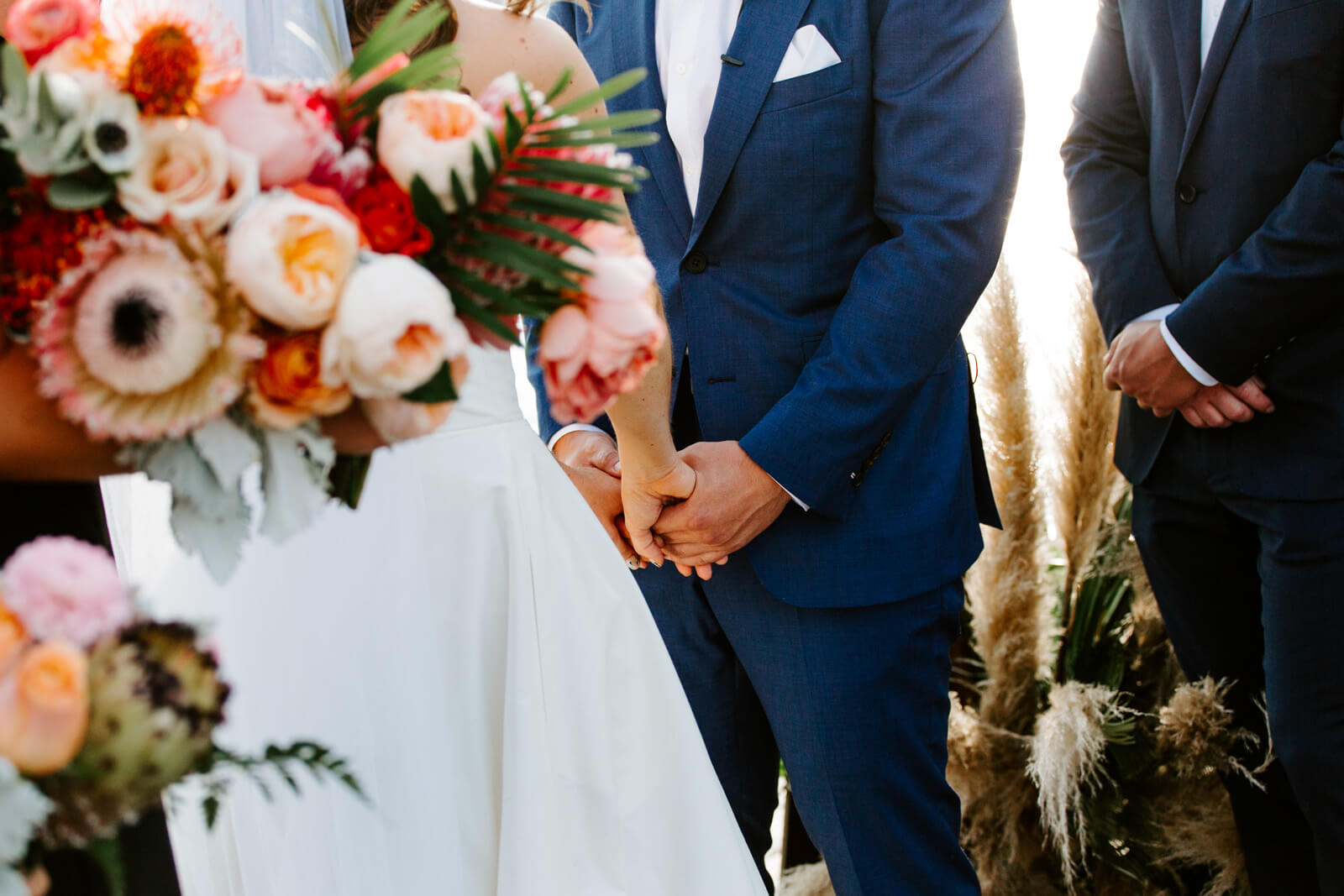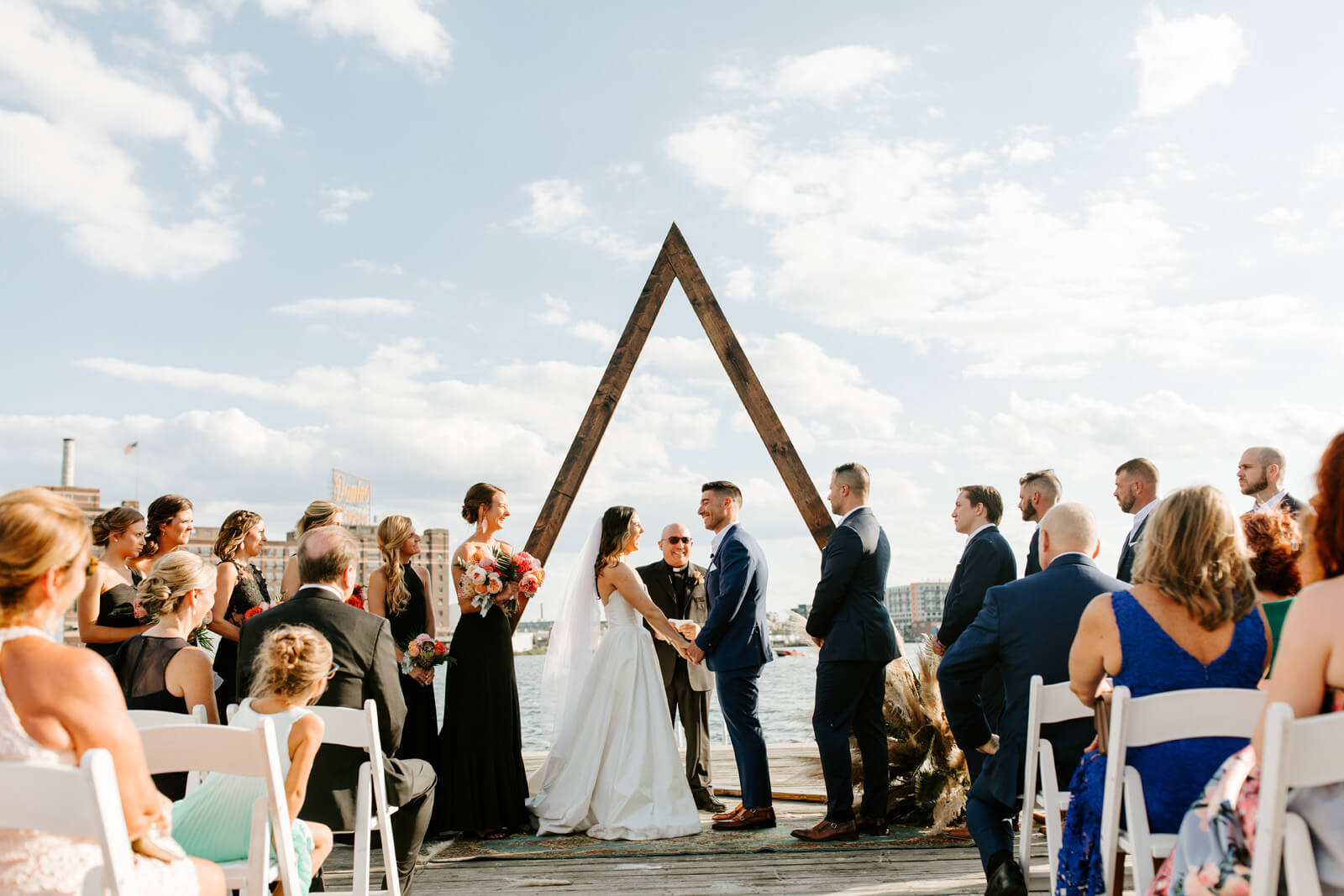 What Was Unique and Special About Your Wedding Day We truly enjoyed every second thanks to vendors that felt like family and really went above and beyond to make our day amazing.
Favorite Details Overall, we focused on the day and the details being 100% "us." We didn't care about traditions or trends and we didn't want anything to scream "wedding." We wanted the aesthetic, food and music to feel like you were at a party in our living room.
Copper Kitchen helped us pick a menu that was so truly us. After orange crushes pre-ceremony, we had paella arancini and ceviche on plantain chips (nods to Tony's Spanish and Peruvian roots) and charcuterie (my go-to) for cocktails. Dinner was a taco station and Greek station, our two favorite meals to cook and eat out. Dessert was simple finger foods like key lime tarts and cookies (both of our favorites), to keep everyone dancing.
We spent a lot of time making individual playlists for our pre-ceremony, cocktail hour, dinner and reception. With DJ Sal's help, we wanted the music to flow naturally and build through the night. After some Florence + the Machine and Maggie Rogers for cocktails, we went for some vibey EDM remixes during dinner. By the time guests were finished with dinner, they headed straight to the dance floor. It was amazing. Also, Tony picked our first dance song (Here on Out by Dave Matthews Band) which I loved.
In addition to the florals, I loved the idea of adding warmth and texture through greenery. My mom is a big plant lady, so she plantscaped the tent! She nailed it, and my parents still have some of the plants we used.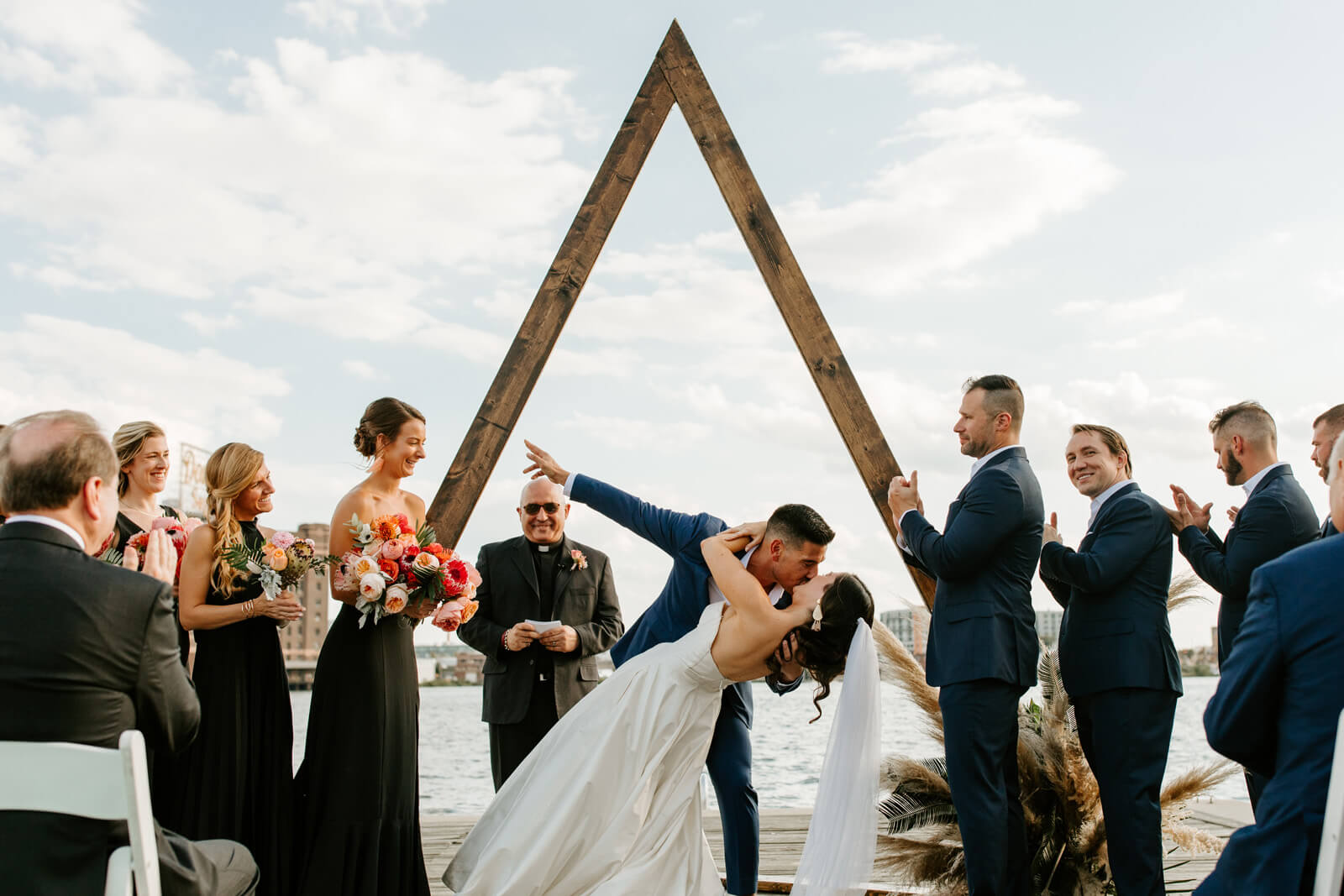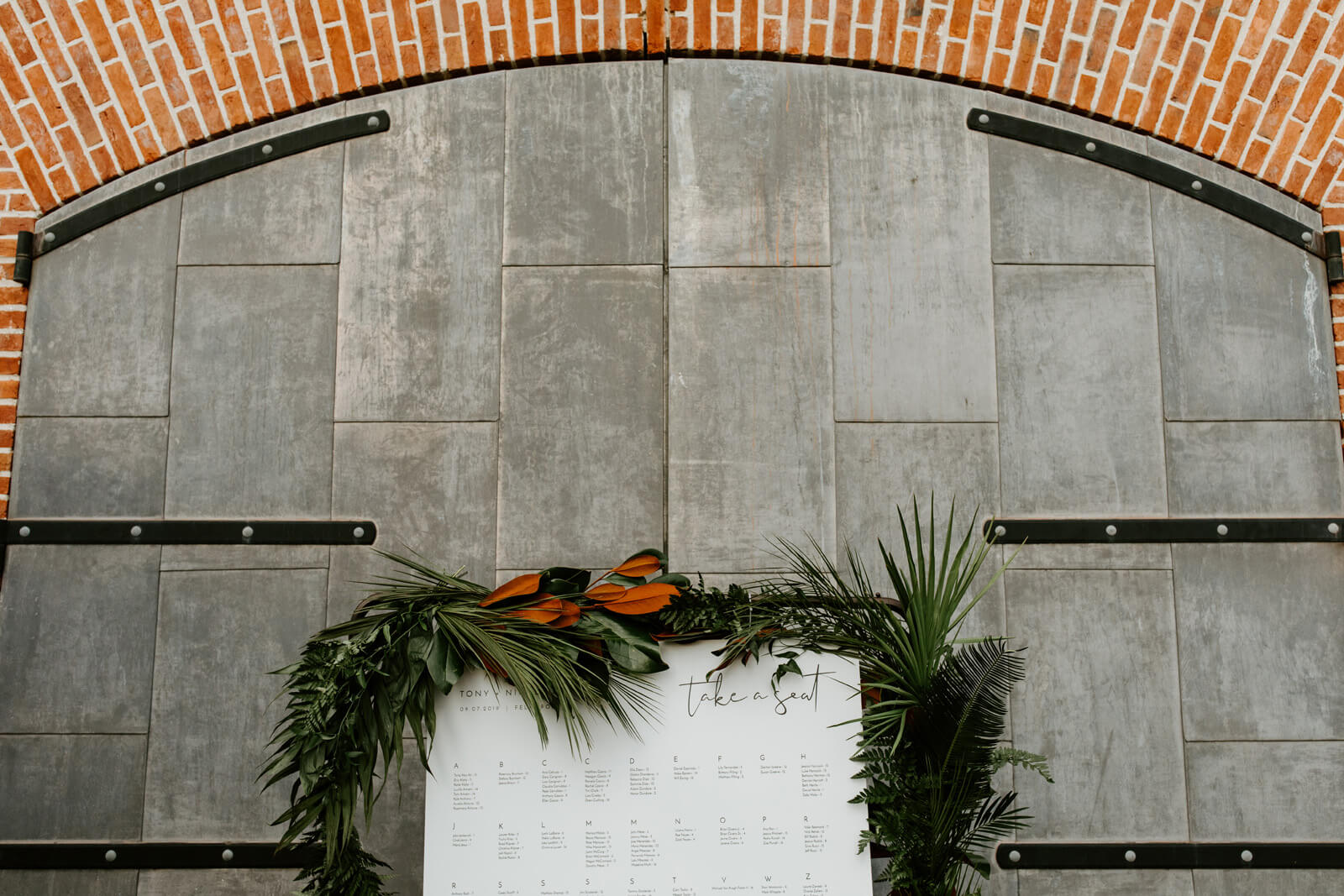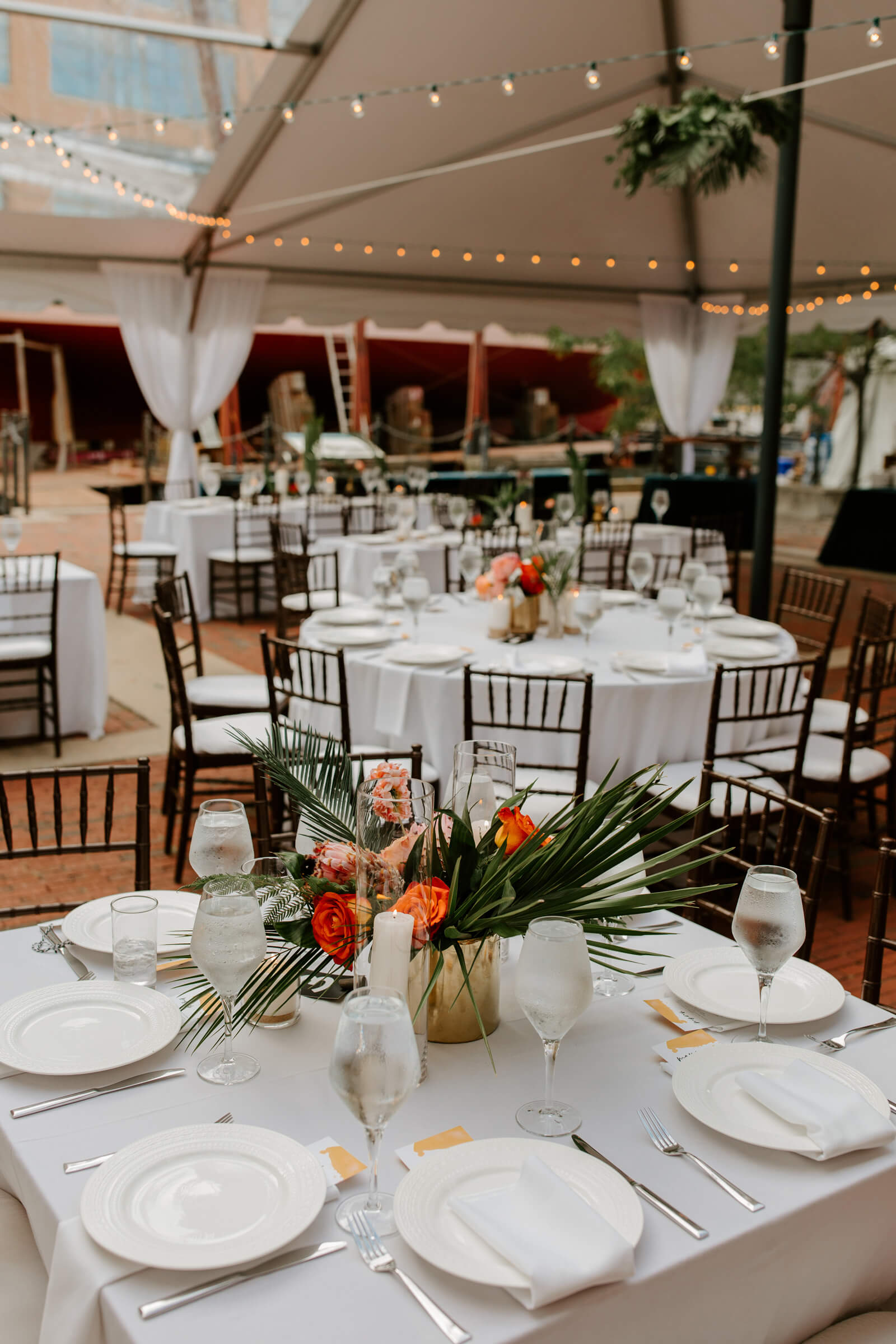 Most Unexpected Event On Your Wedding Day The bottom half of my dress got ruined during our first look on the pier and my poor girls were on their hands and knees, sweating in the tent trying to scrub it clean before the ceremony. Thank god for our amazing photographer, Corinne, and her editing skills.
Being at a public venue downtown, we had wedding crashers! Tony didn't even notice, but luckily they hit the photo booth before they got kicked out, so we have evidence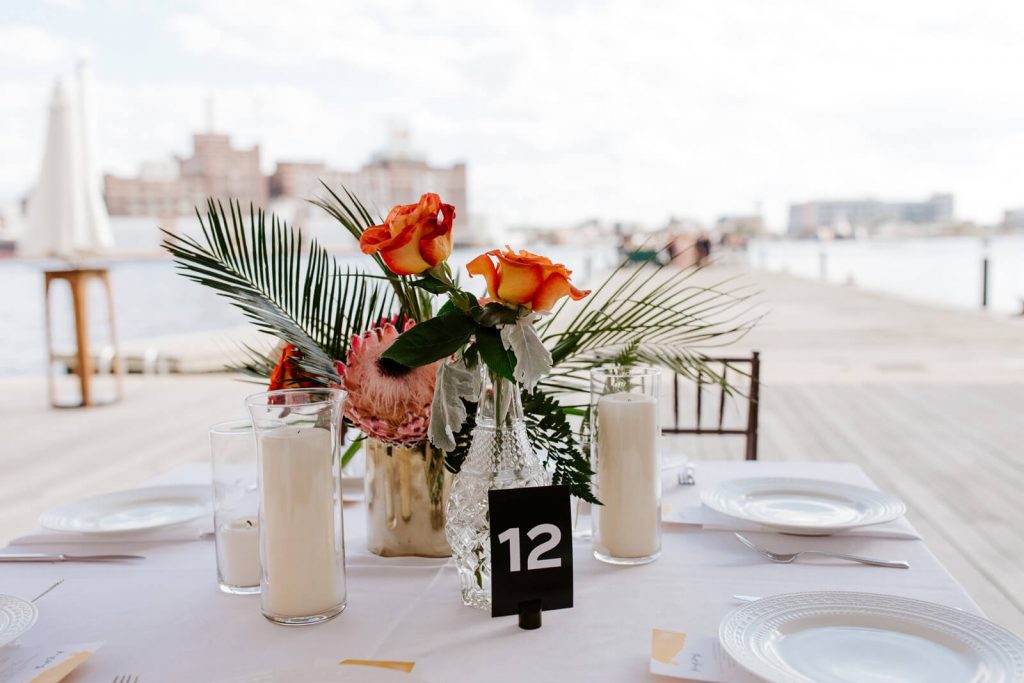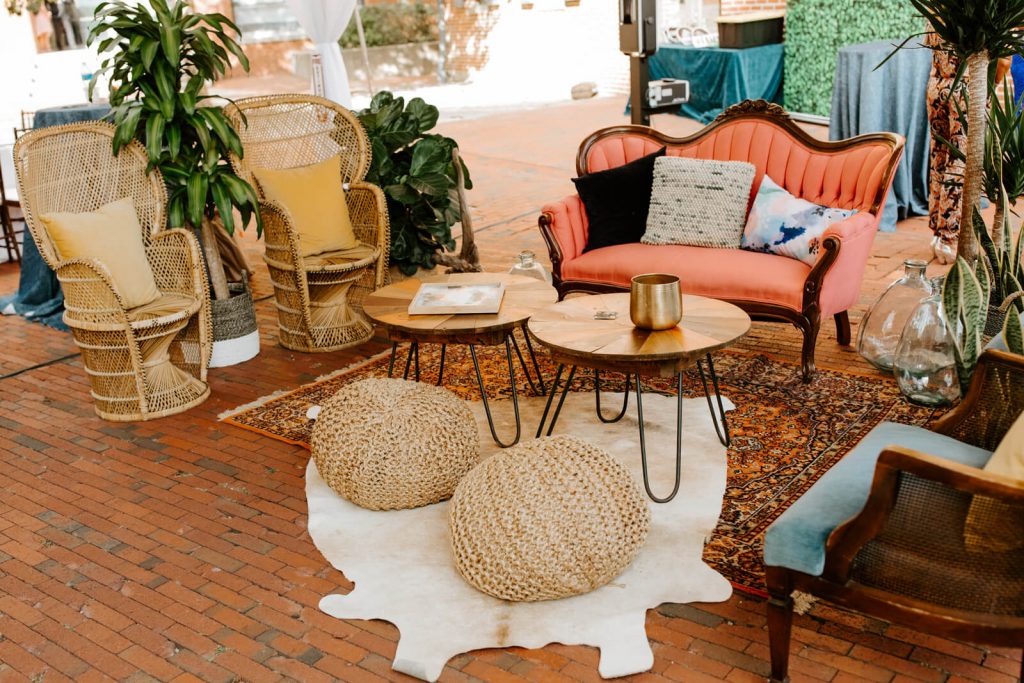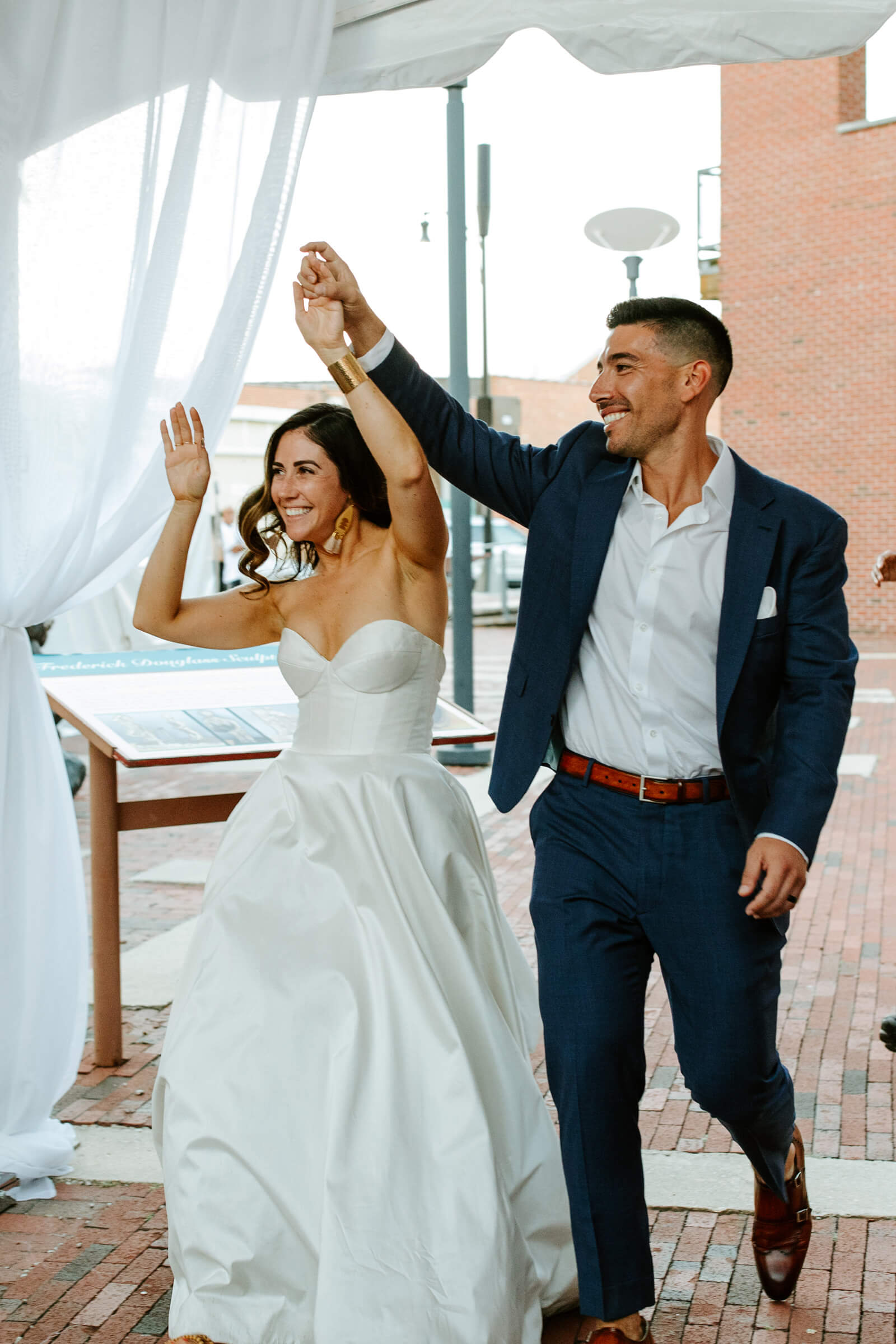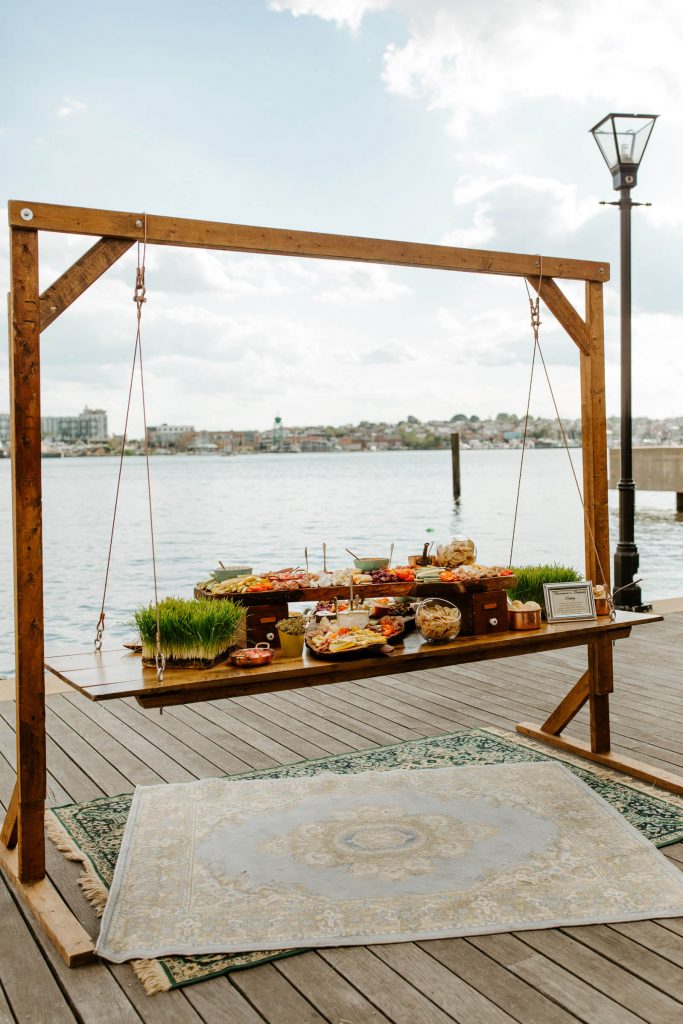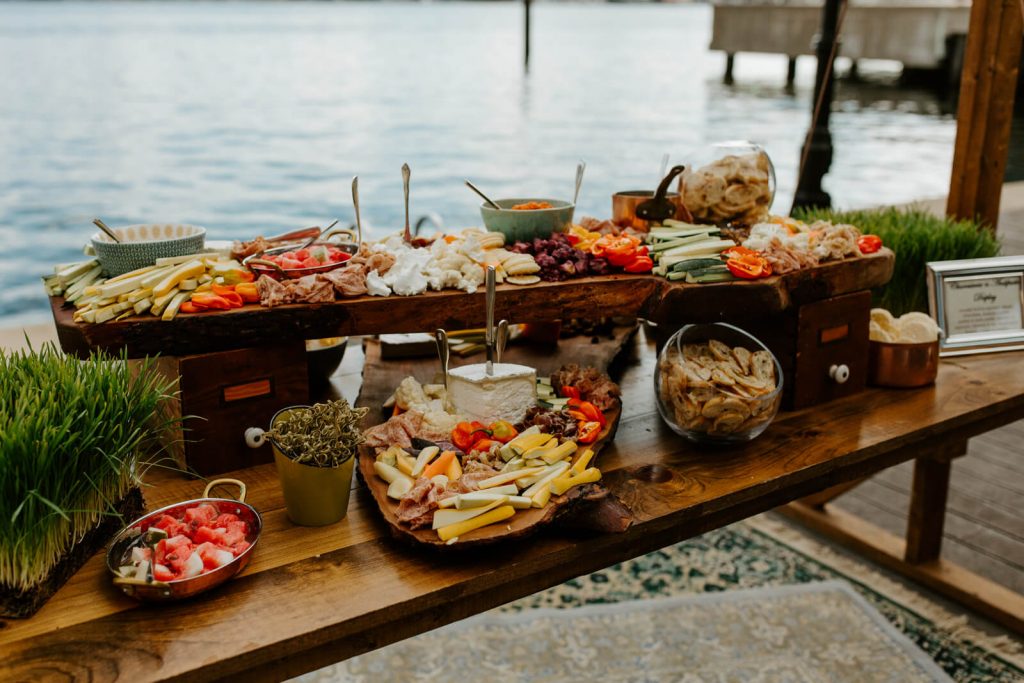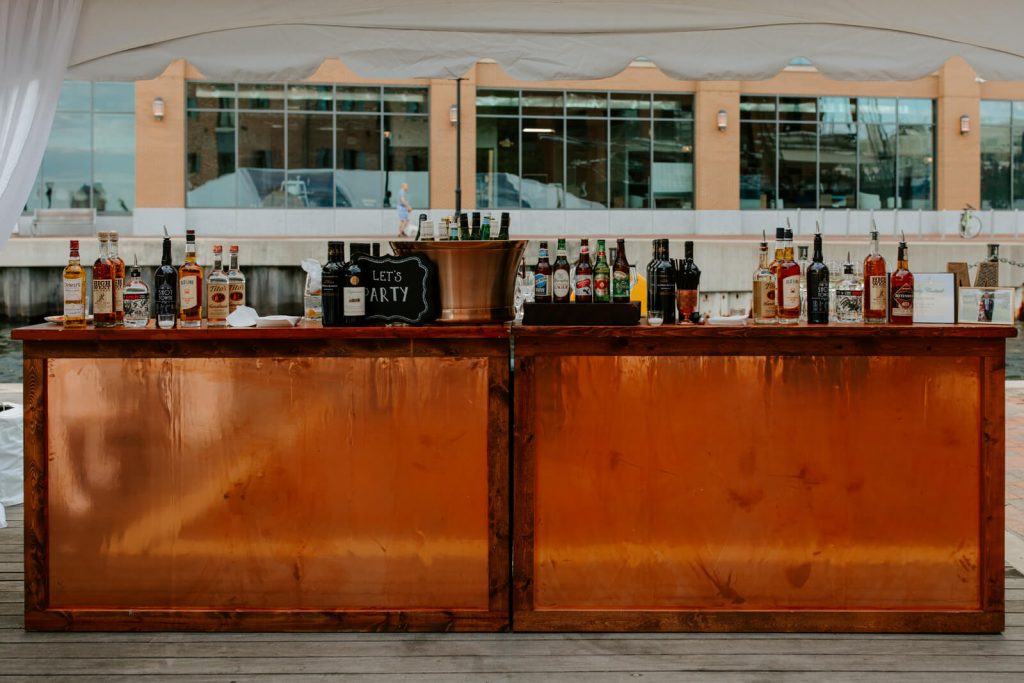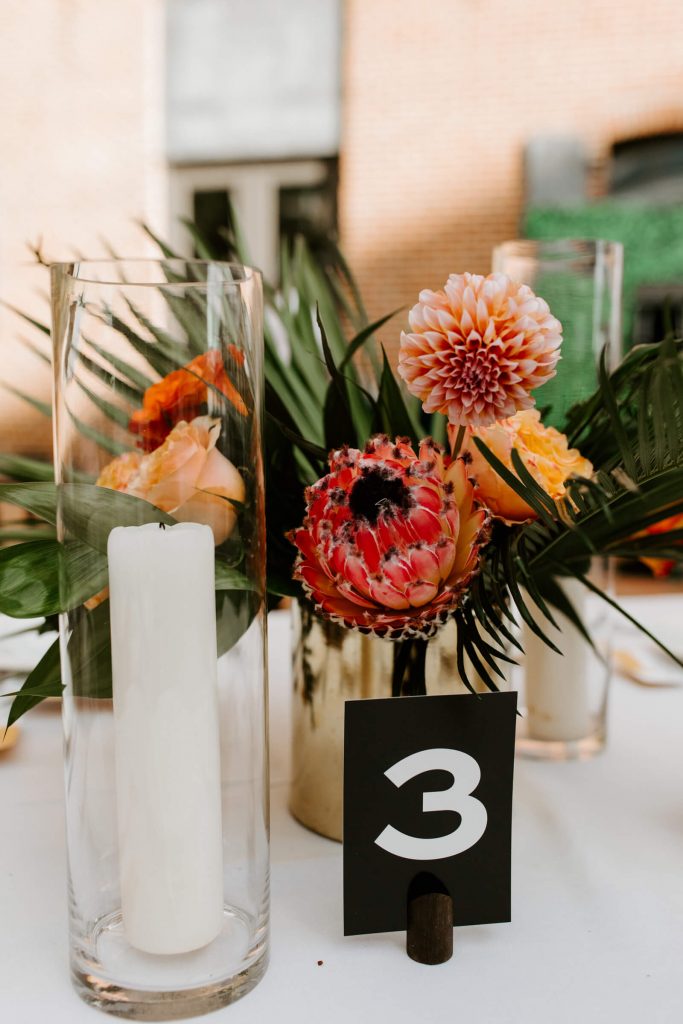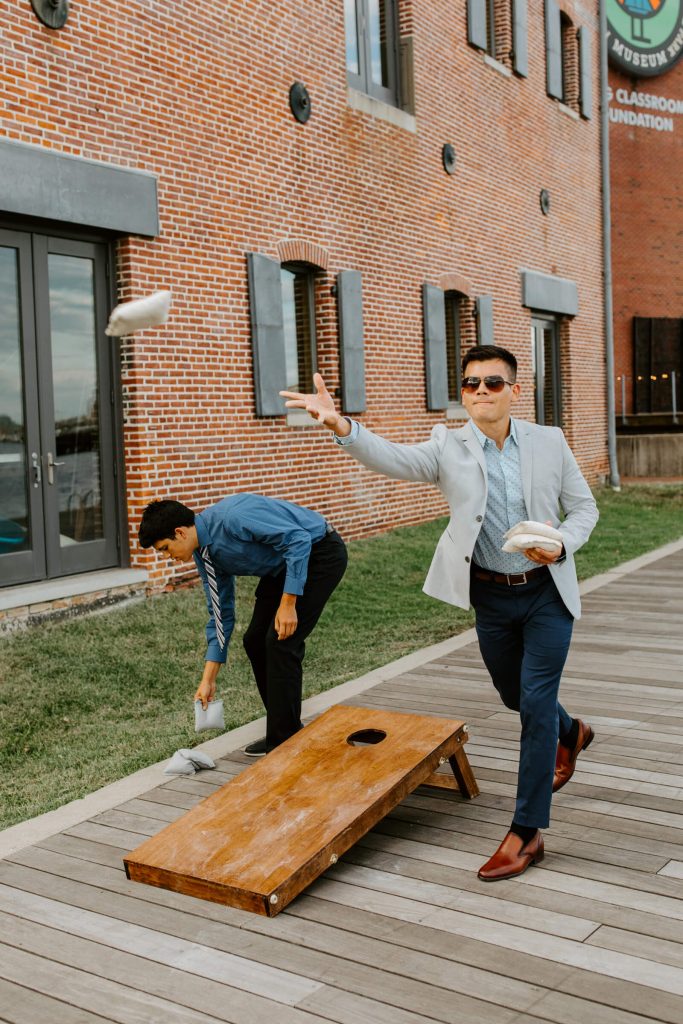 Piece of Advice My biggest piece of advice is to ignore trends and expectations and do what feels special and unique to you and your partner. Pick vendors that truly speak to you and don't be afraid to go outside of the vendors you always see at your venue to mix it up. They become your dream team.
Also, I know paying for another vendor once you've maybe already planned your entire wedding is a really tough pill to swallow but hire a month of or day-of-coordinator so you can enjoy every second of the day. Courtney was amazing and we truly couldn't have done it without her.
Lastly, don't be afraid to splurge on things that are important to you, while cutting back on things that really do not matter. For us, the splurge was a tented waterfront venue and a lot of the fun details (food, rentals). We cut back on things like my dress (bought used), veil ($10 from Amazon), rings and shoes (Madewell), and table numbers (Michael's). Don't feel like everything you use on or around your wedding has to be specially purchased new, or from a wedding-specific website or store where everything is priced super high.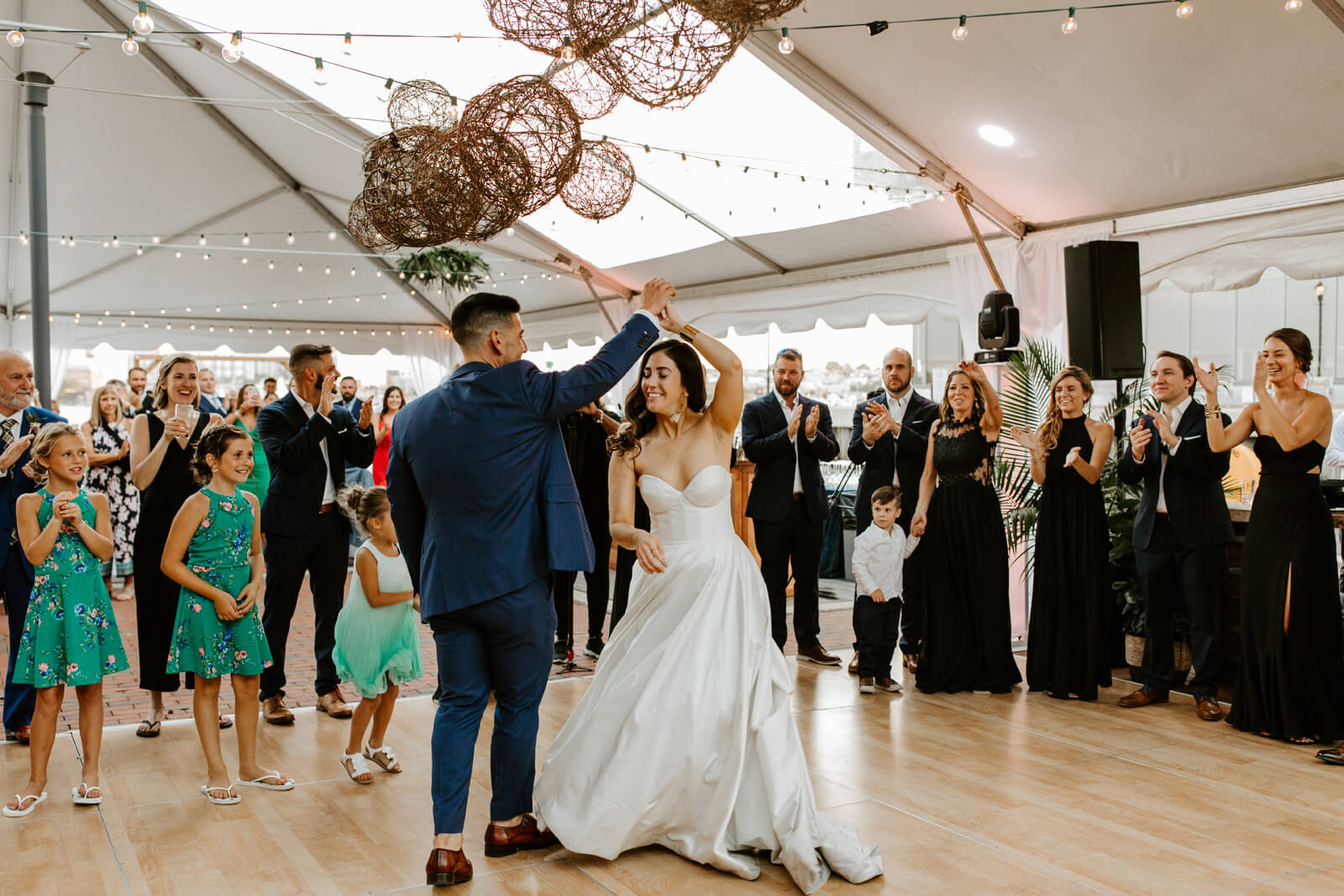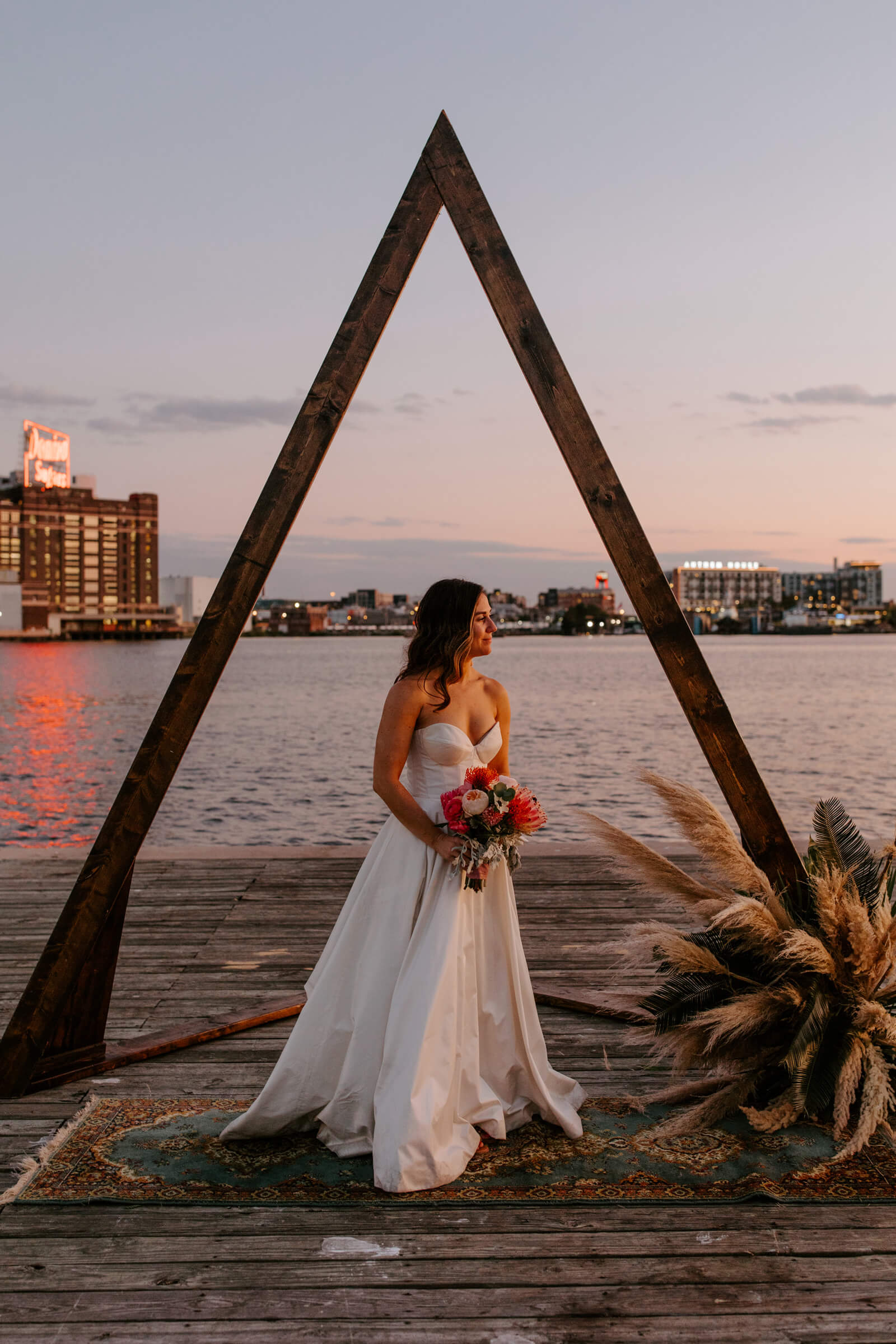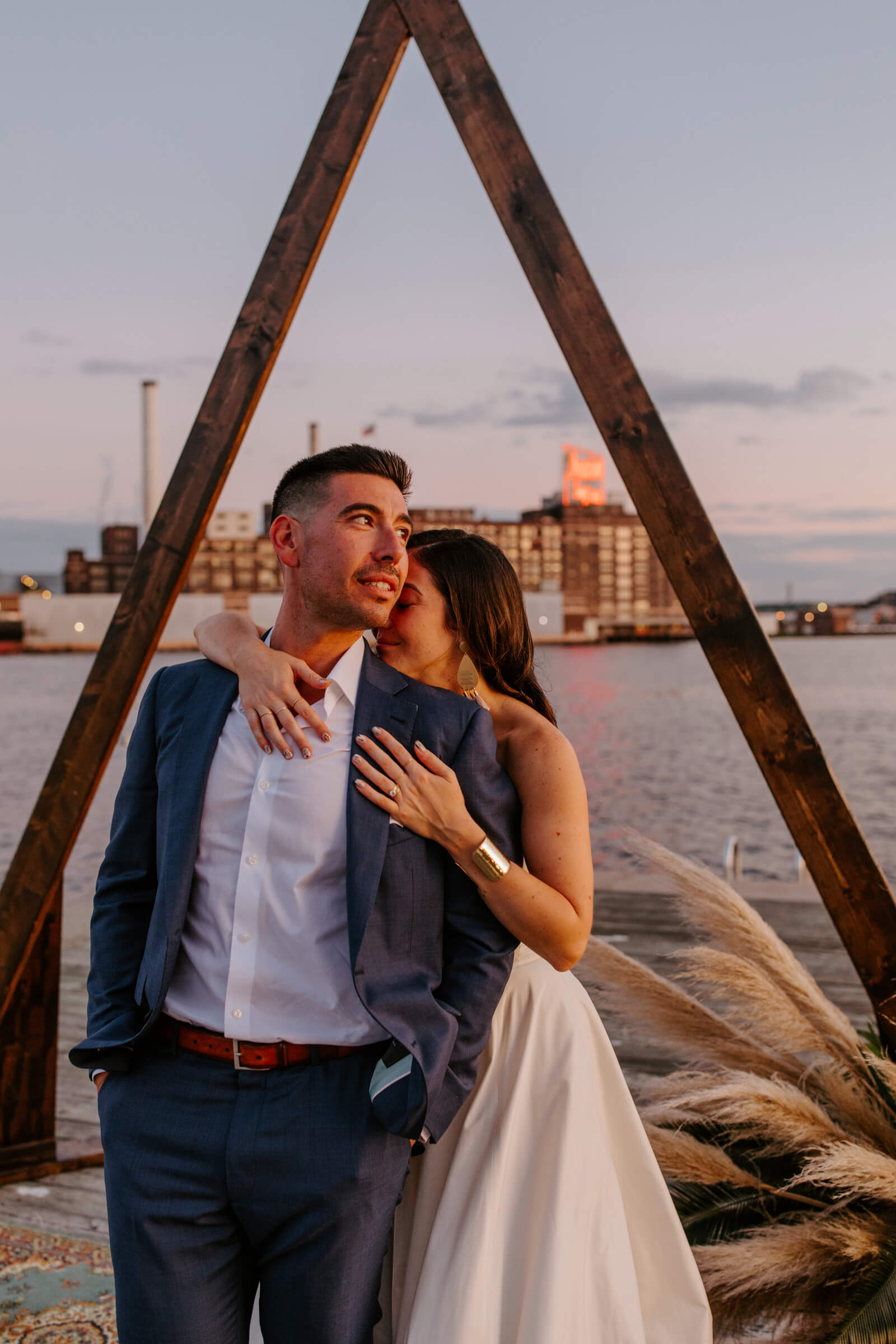 Aesthetic Rentals Paisley & Jade Beauty Studio 921 (makeup) and Angel Marie Hair (hair) Bridesmaids They picked their own. They were all long and black in different silhouettes, from shops including Fame & Partners, Asos, and Lulus. The little girls' floral and ombre dresses were from Nordstrom. Caterer & Desserts Copper Kitchen Floral design Thurman & Fig Groom & Groomsmen Alton Lane (groom); Bonobos (groomsmen) Honeymoon We did a mini-moon in Chicago the next month. Our 2020 European honeymoon was postponed indefinitely due to Covid, then we had a baby in 2021. Invitations Kelsie Wolfley Designs did invitations and menus Location Frederick Douglass Maritime Park Music, Lighting and Photobooth DJ Sal Flip and Active Photo Booth Plantscaping ACS Plantscaping, owned by the bride's mom Officiant Tony's stepbrother, Sammie, got ordained to marry us Photographer Love to the Core Photo Plantscaping ACS Plantscaping, owned by the bride's mom Tent & Catering Rentals Select Event Group Videographer Love in Color Films Wedding Dress I fell in love with a Romona Keveza dress, but it was double my budget, so I found a pre-owned one at  preownedweddingdresses.com. My going out dress was a casual, short, ruffly dress from Rent the Runway. Wedding Planner I did all of the design and planning, Courtney Shaw from Moore & Co did our month and day of coordination