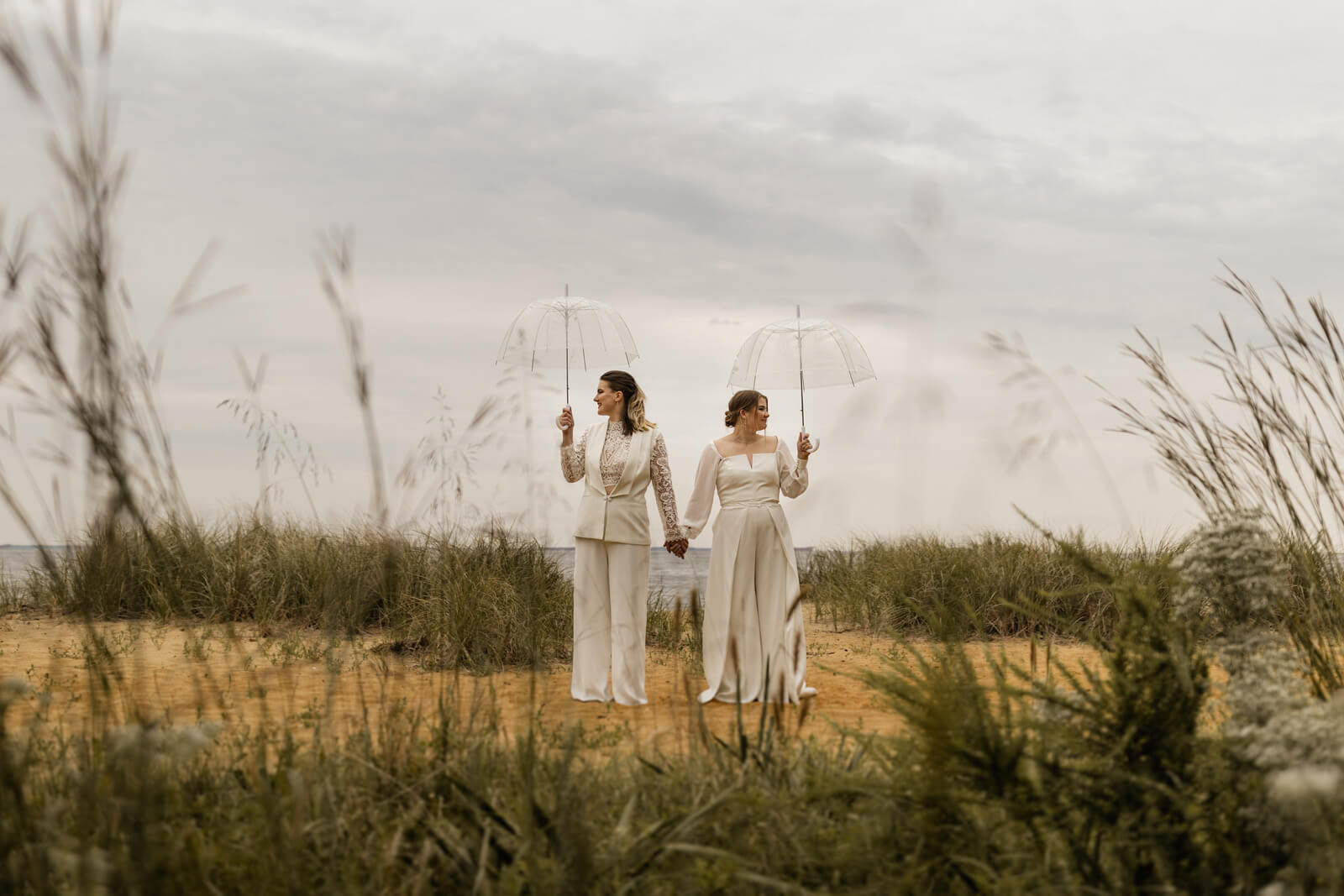 Occupations Jane is a doula; Meredith is a marketing and communications specialist.
Wedding date September 5, 2021
Number of Attendees 165
Number of Attendants 15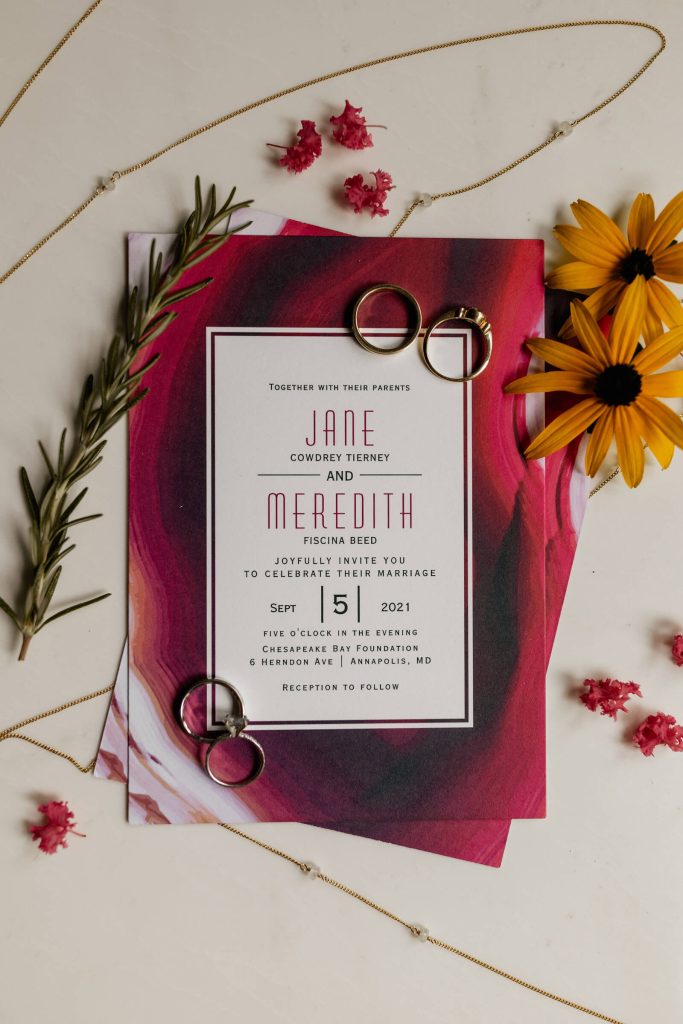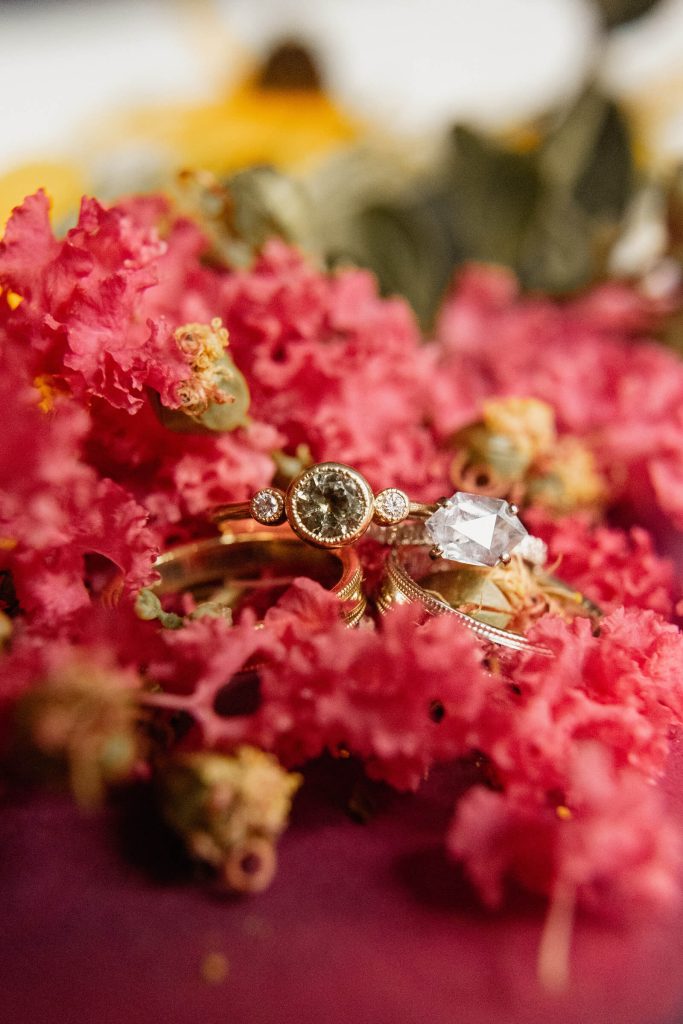 How You Met We met our senior year of college out in Indiana where we went to school. Despite being at a very small school, and having a ton of mutual friends, we had never crossed paths or been aware of each other. When we did meet for the first time, we both felt a sneaking suspicion right away that we understood each other and operated on the same wavelength. There was an immediate connection and trust.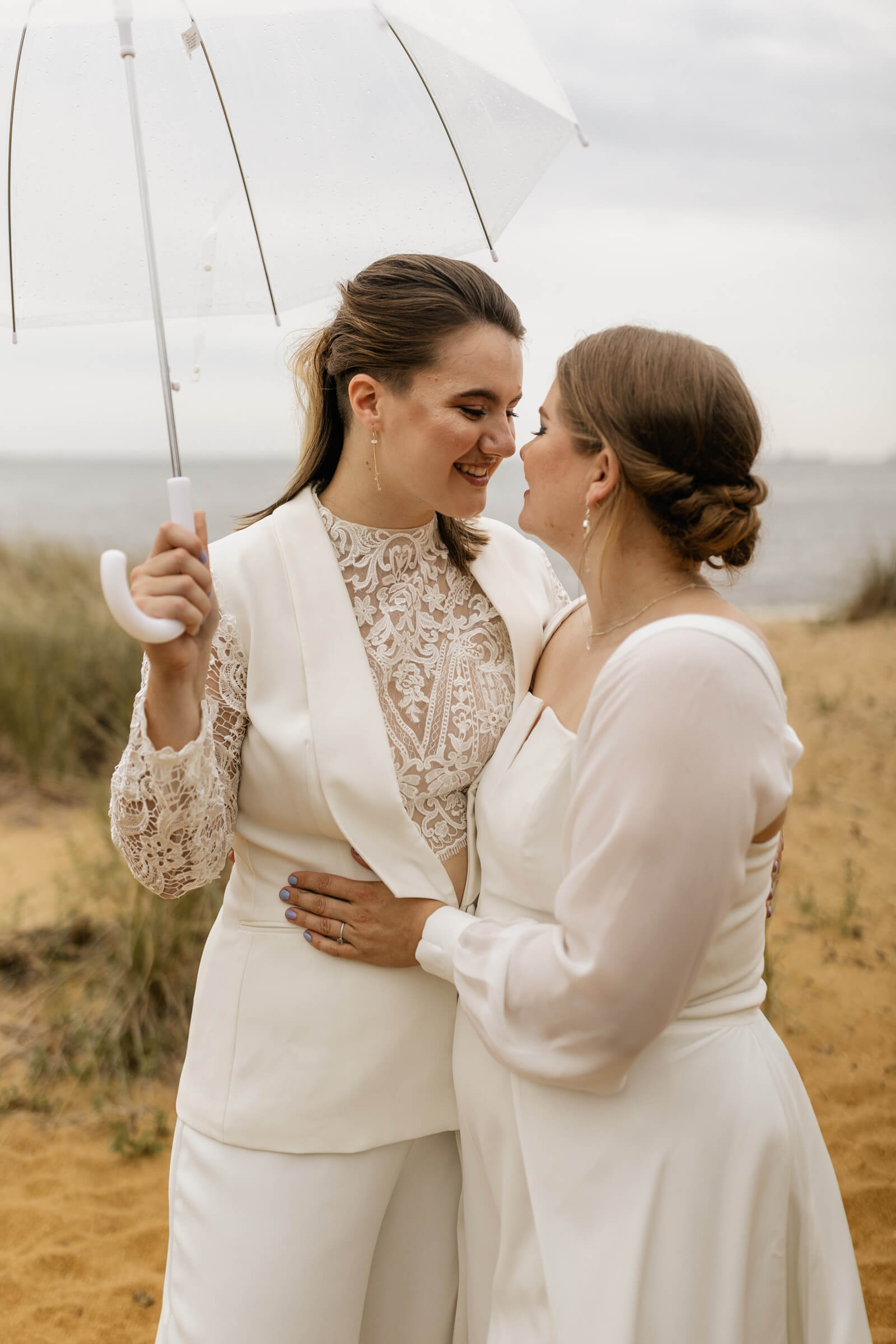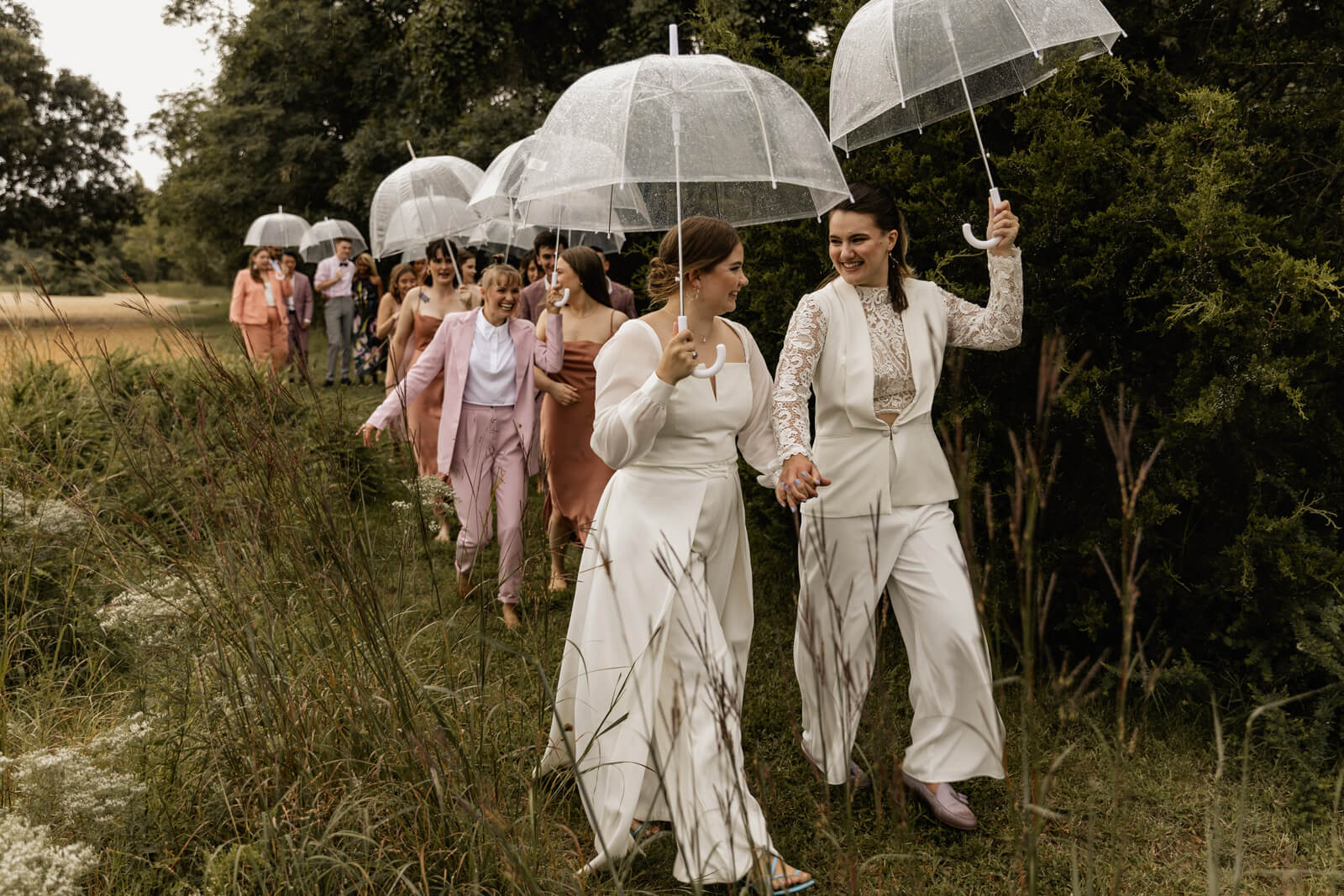 The Engagement We talked openly about getting engaged and married before buying sapphires at the Tucson Gem Show, where we were living at the time. We sent them off to a family member who made them into rings for us while we each thought of how we would like to propose and be proposed to. Months later while visiting Meredith's family in Annapolis, a package arrived with two small boxes inside. We looked at each other and thought "should we . . . do it now?" Feeling spontaneous, we ran down to the bay with our dog, got down on a knee in the sand and shared what we love about each other and all the things we see in our future together.  Then together we popped the question at the same time. (Obviously, we said yes!) It immediately started downpouring and we ran into the water.  Moments later a rainbow appeared across the sky.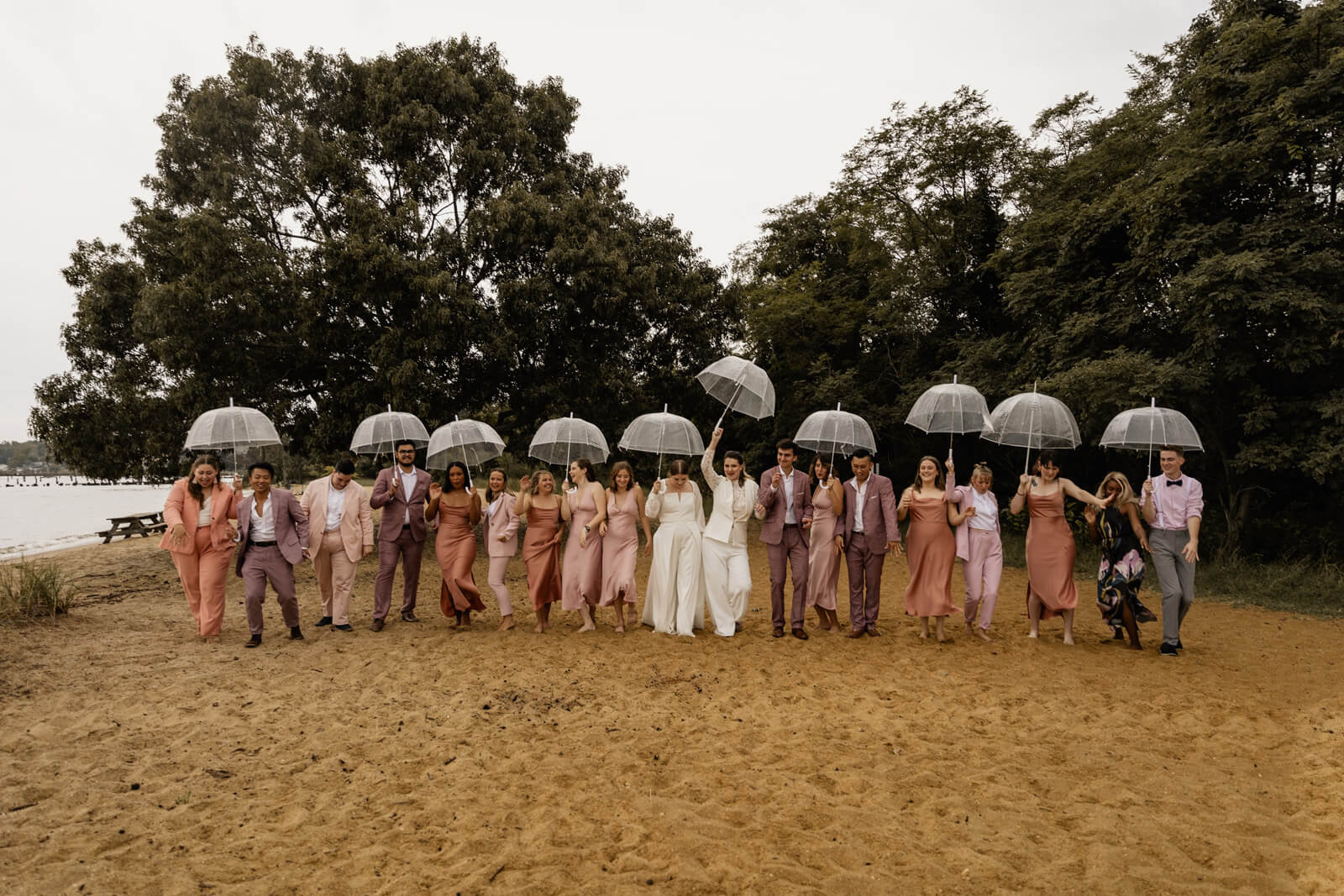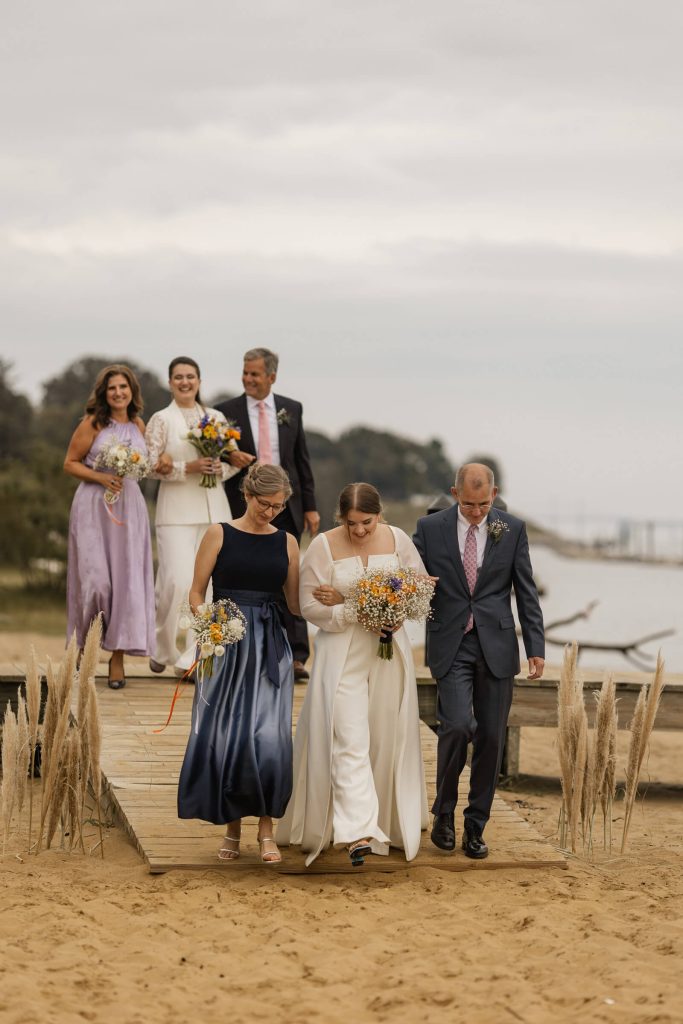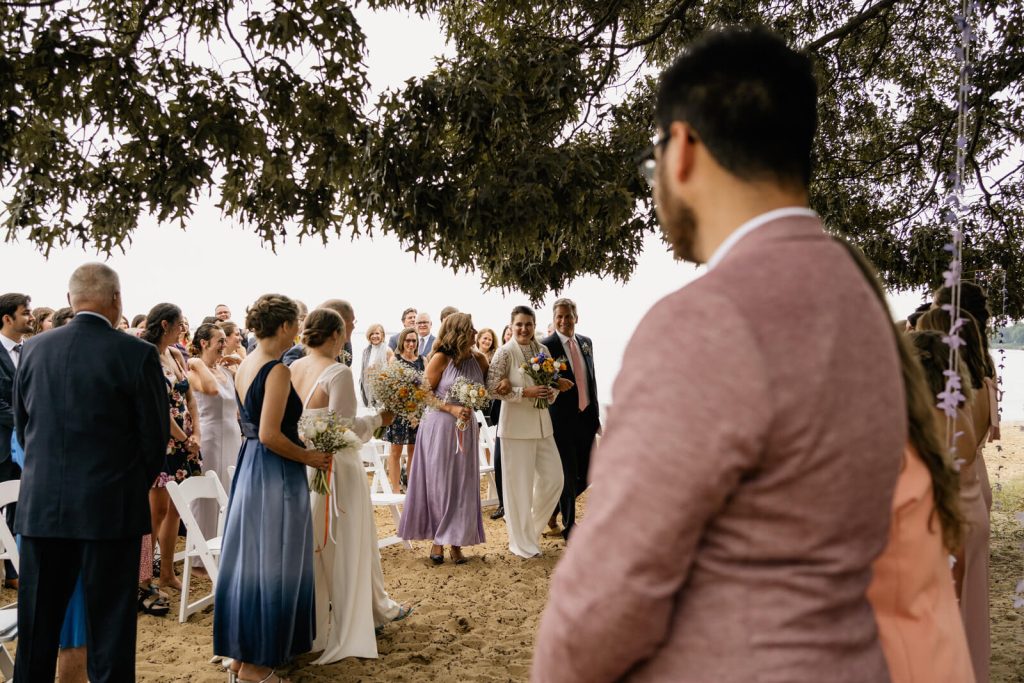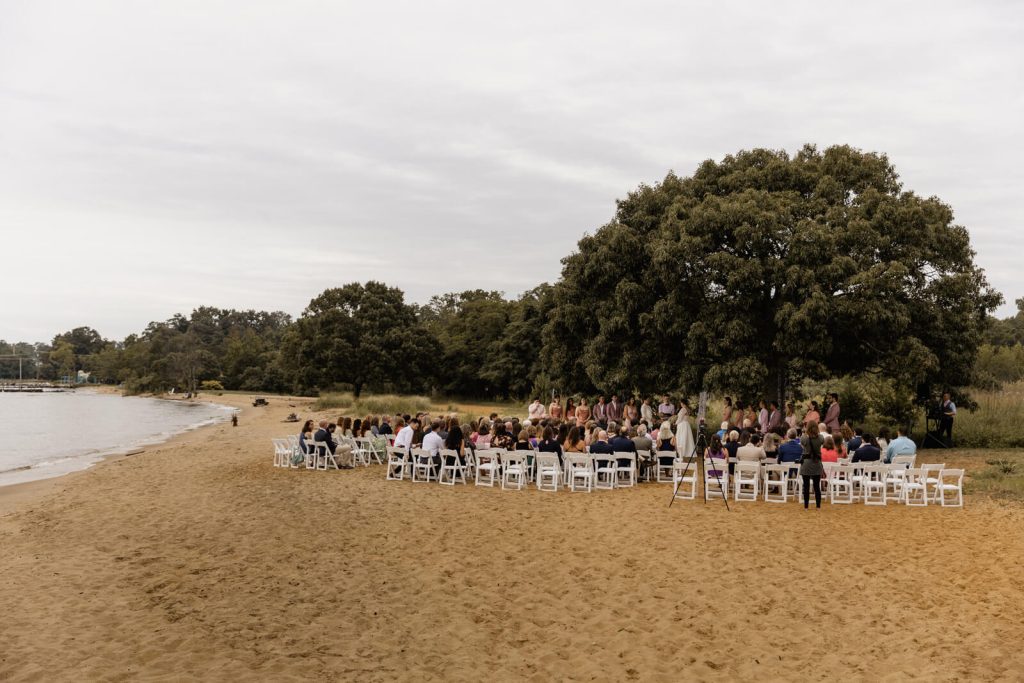 Wedding Design Inspiration We were inspired by all the wedding photos in the WLW magazine Dancing With Her. We just wanted it to be fun, creative, and glam. We didn't want a strict color palette, but we love sunset colors, so we went with various shades of pink, purple and orange. We chose several textures in these colors from a fabric store and Jane's mom sewed pillows for the seating areas at the reception and we hung disco balls throughout. Jane also created the backdrop of the ceremony by twisting lavender streamers into bunches of hanging wisteria which hung from the tree we were married in front of.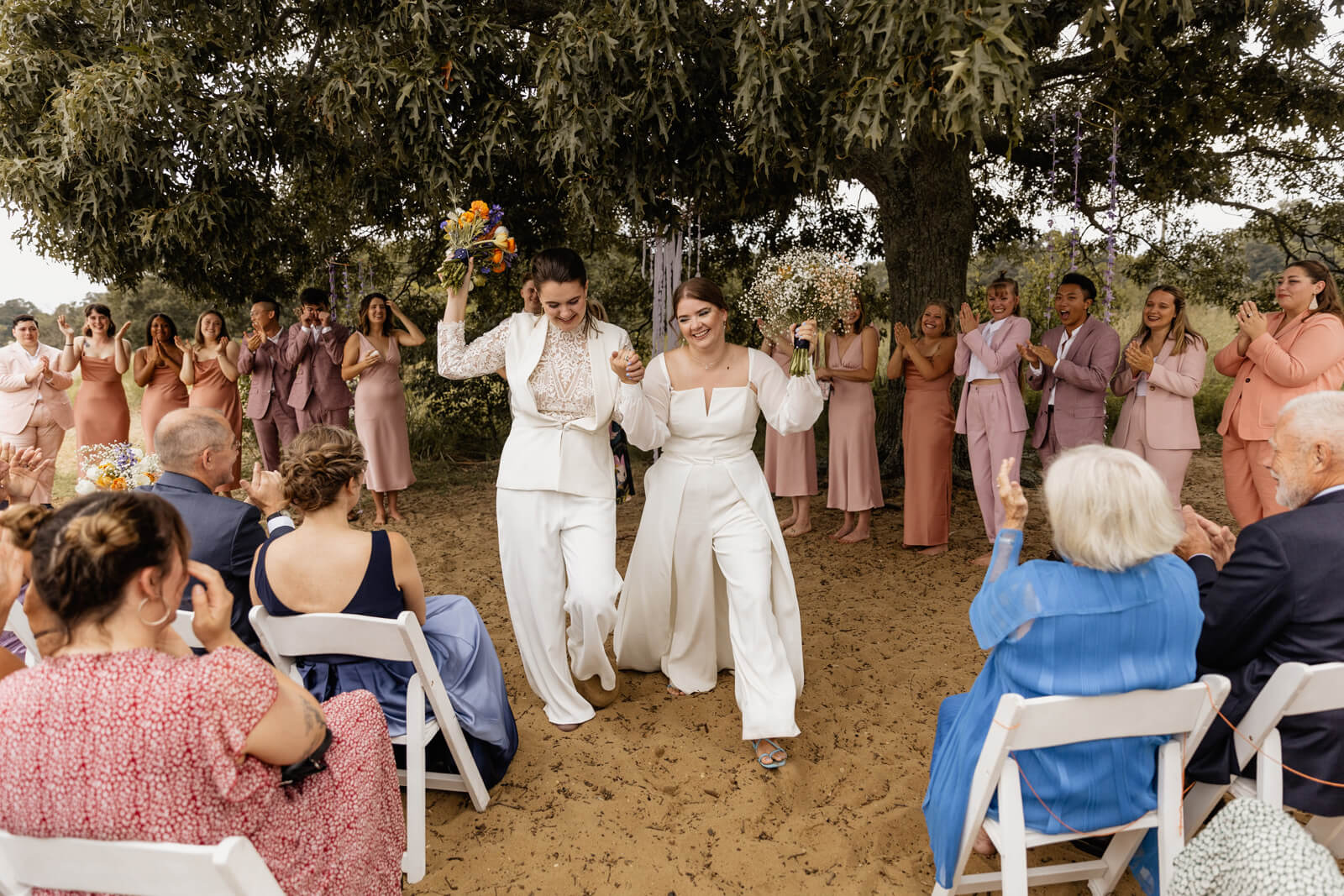 What Was Unique and Special About Your Wedding Day Having two of our friends as our officiants, it being a beautiful joining of our two families, writing our own vows, and being surrounded by so much gay/ queer love from our incredible friends.
Favorite Details Our carefully curated playlist and having two aisles that joined in the middle so we could walk down the aisle at the same time, meet in the middle and walk the rest of the way together.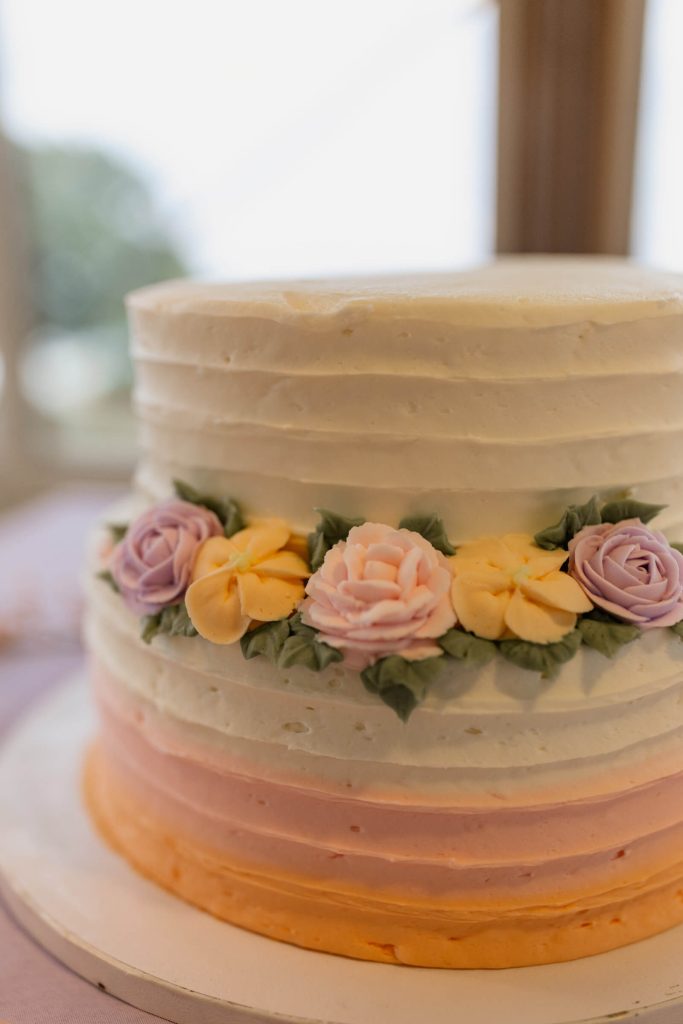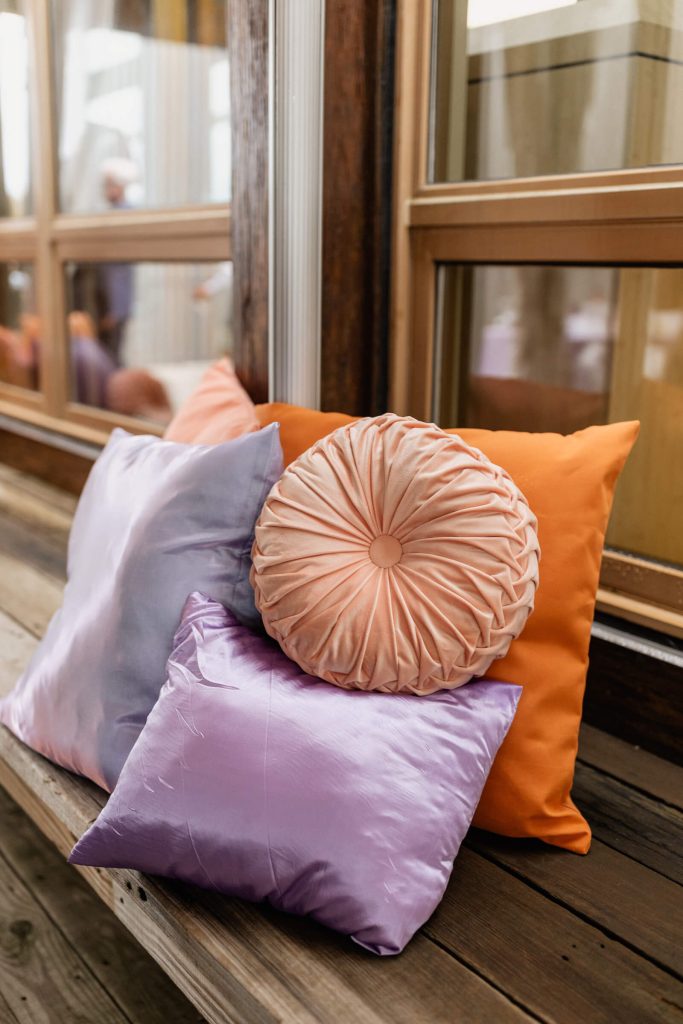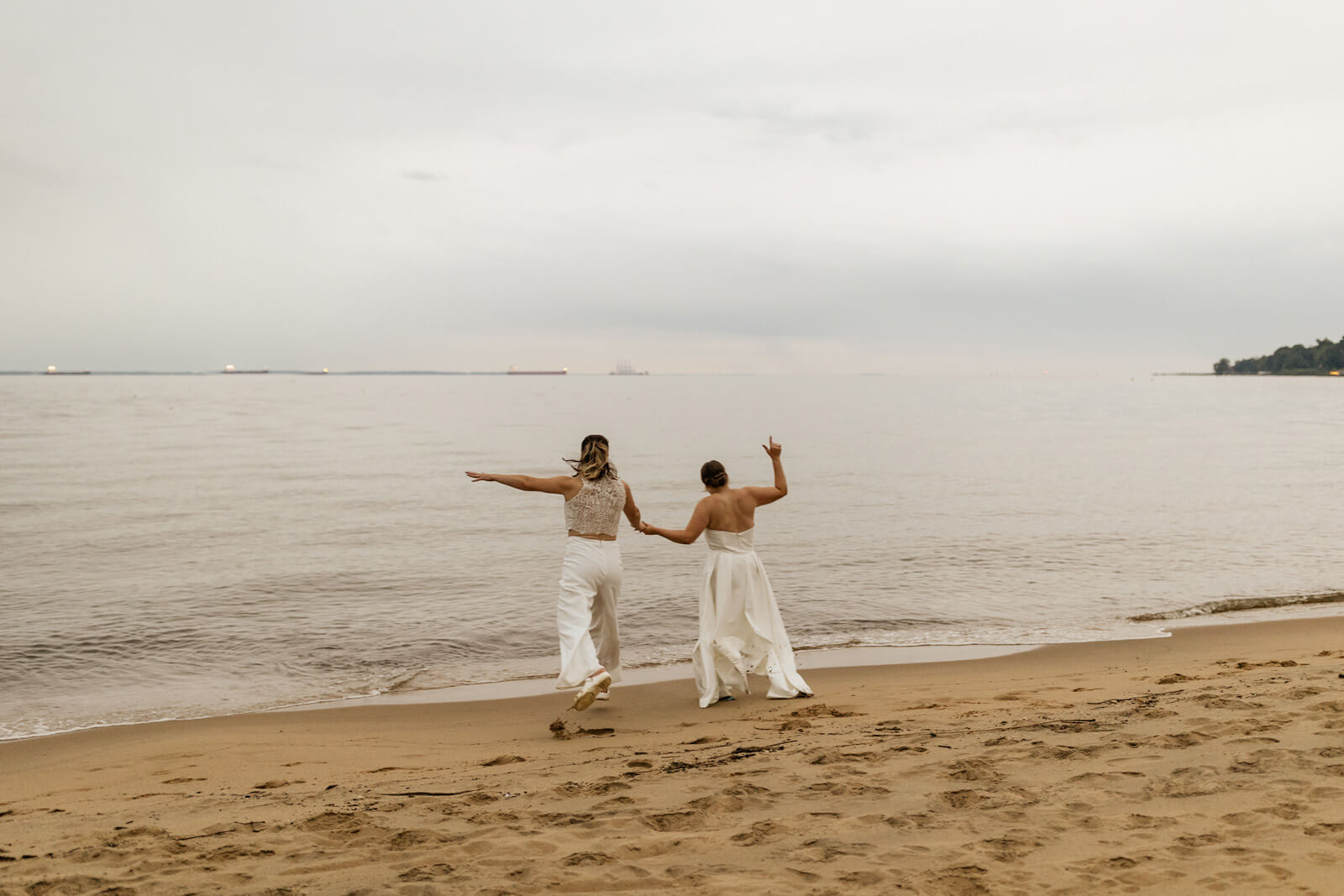 Most Unexpected Event On Your Wedding Day There were a few hectic unexpected happenings that day—the makeup artist we booked canceling the morning of, getting locked out of the venue before needing change into our outfits, a rainstorm that hit while we were taking pictures before the ceremony and realizing after the ceremony that we'd forgotten to give our bridal party their bouquets. We just rolled with it and laughed it all off.  Truly none it changed how wonderful the day was.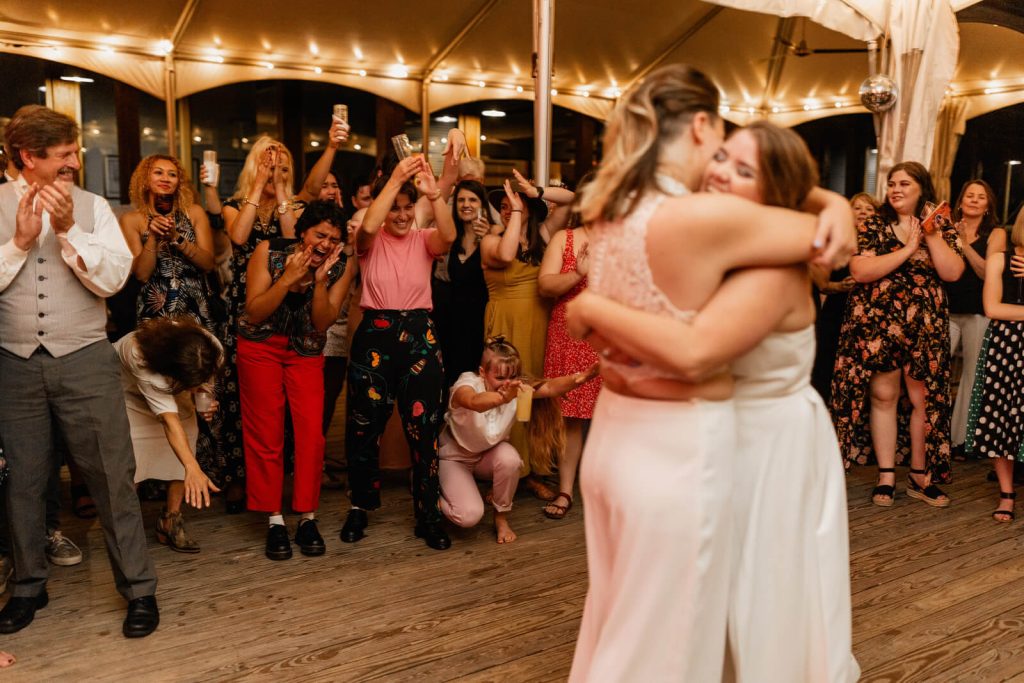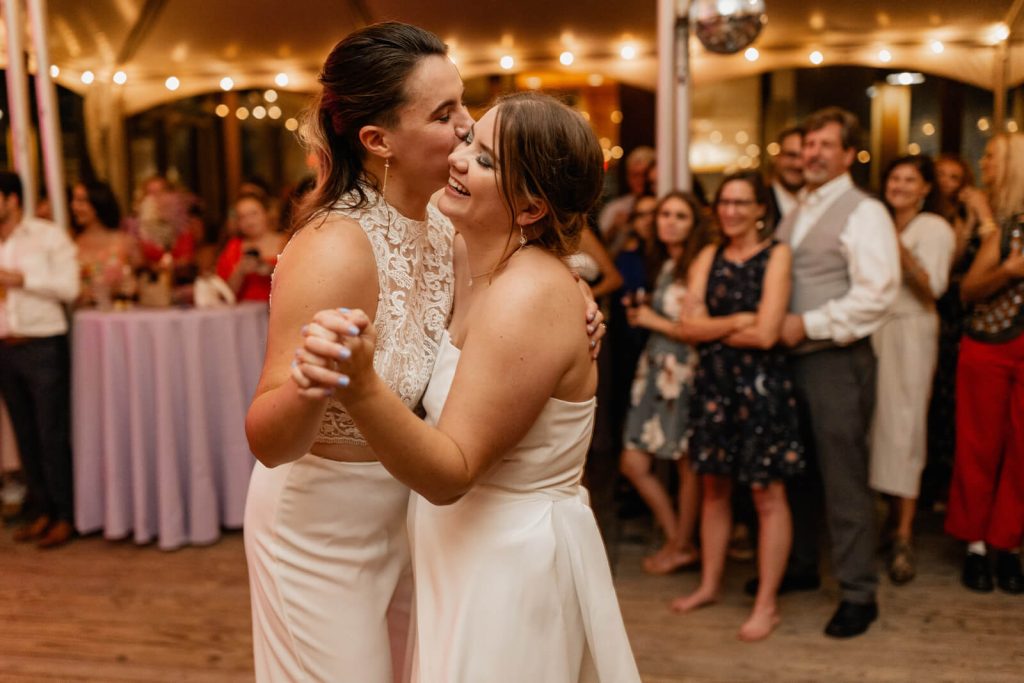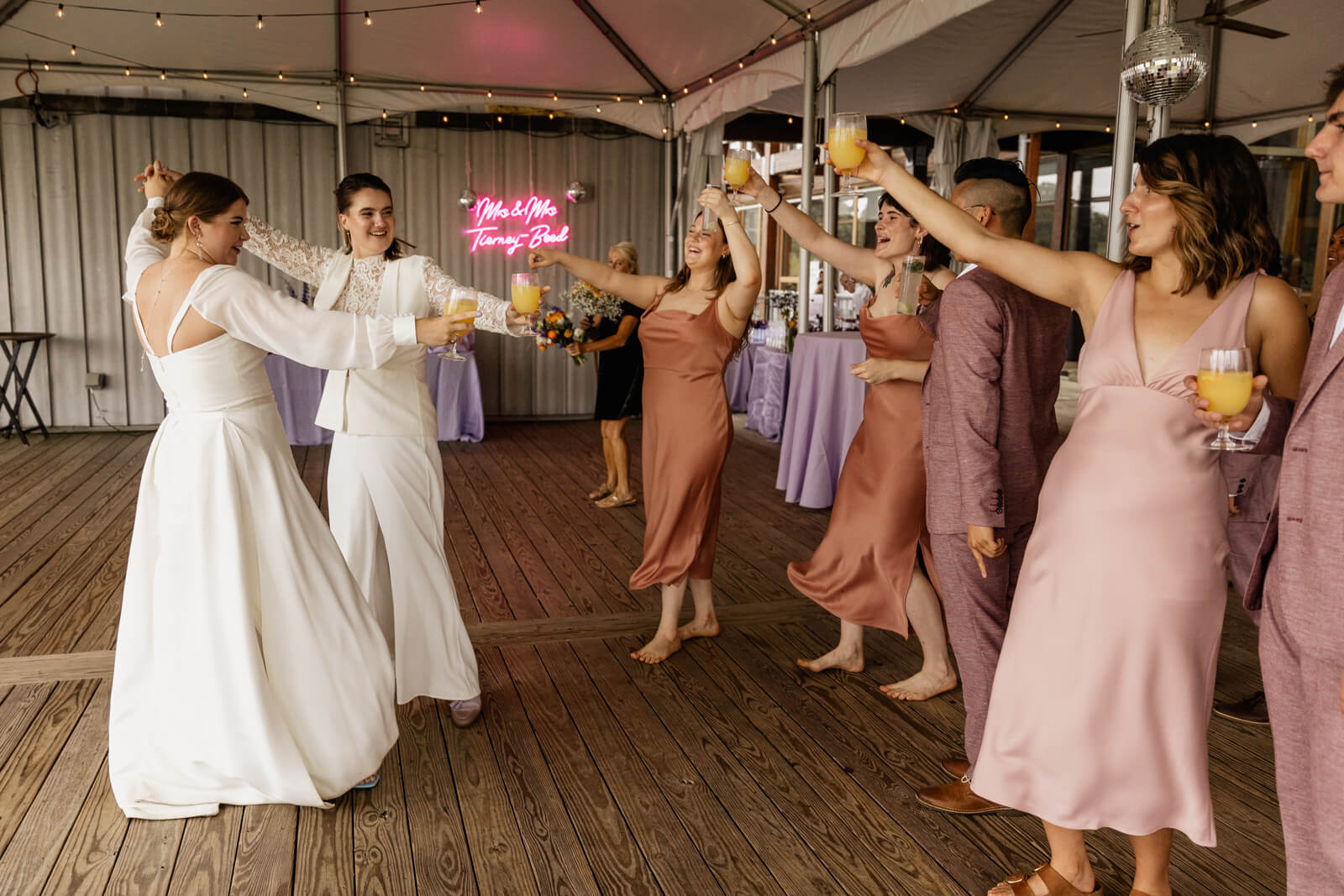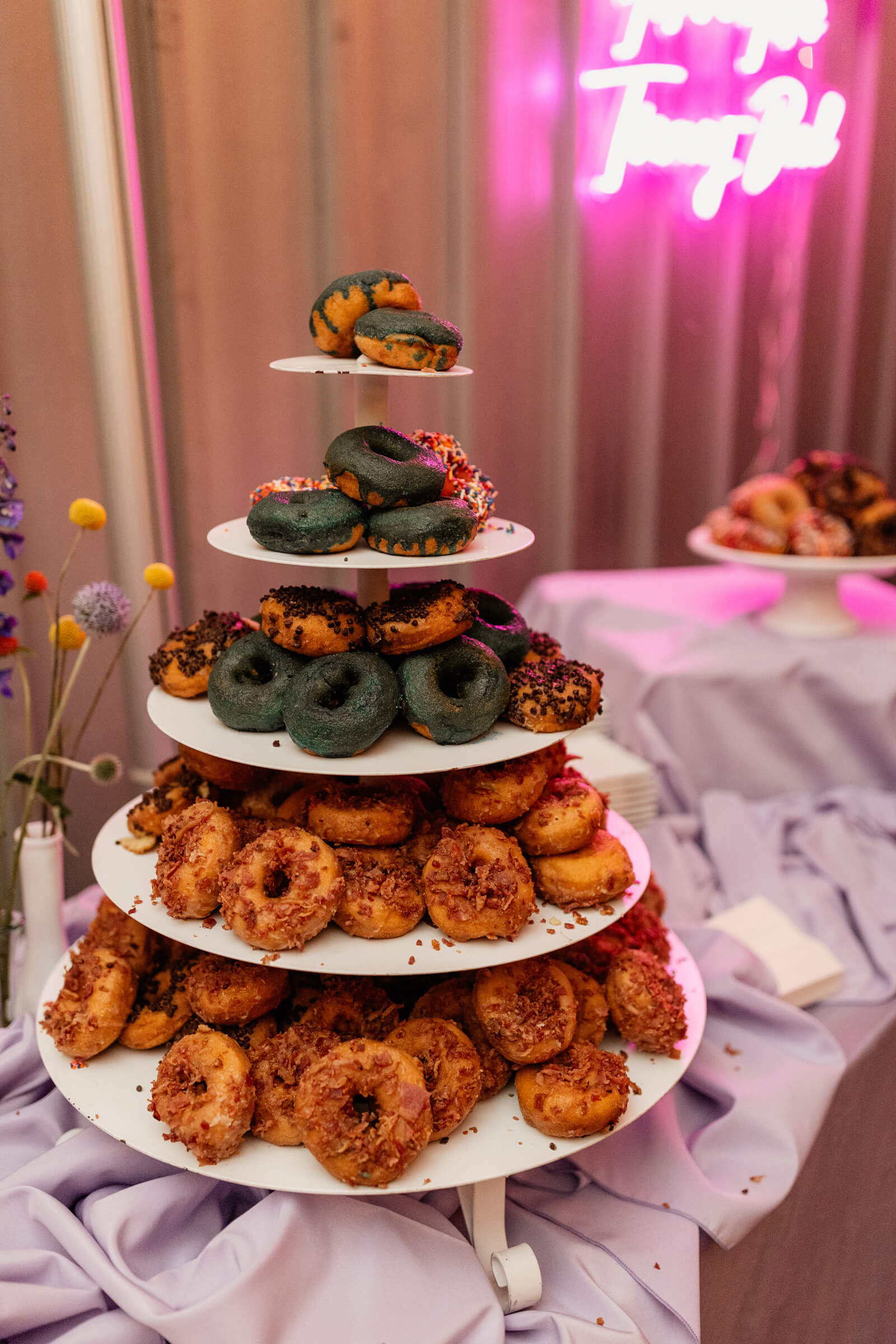 Piece of Advice Don't hesitate to put your personality and creative preferences into how you do your wedding. Rearrange or disregard traditions and make things your own if that's what feels exciting and good.  Also, if you can, hire a day-of coordinator who's only focus is to take care of all the logistics and behind the scenes details. Regardless, have fun and embrace each moment; allow yourself to let go of everything going according to plan, and make room for fun and spontaneity.