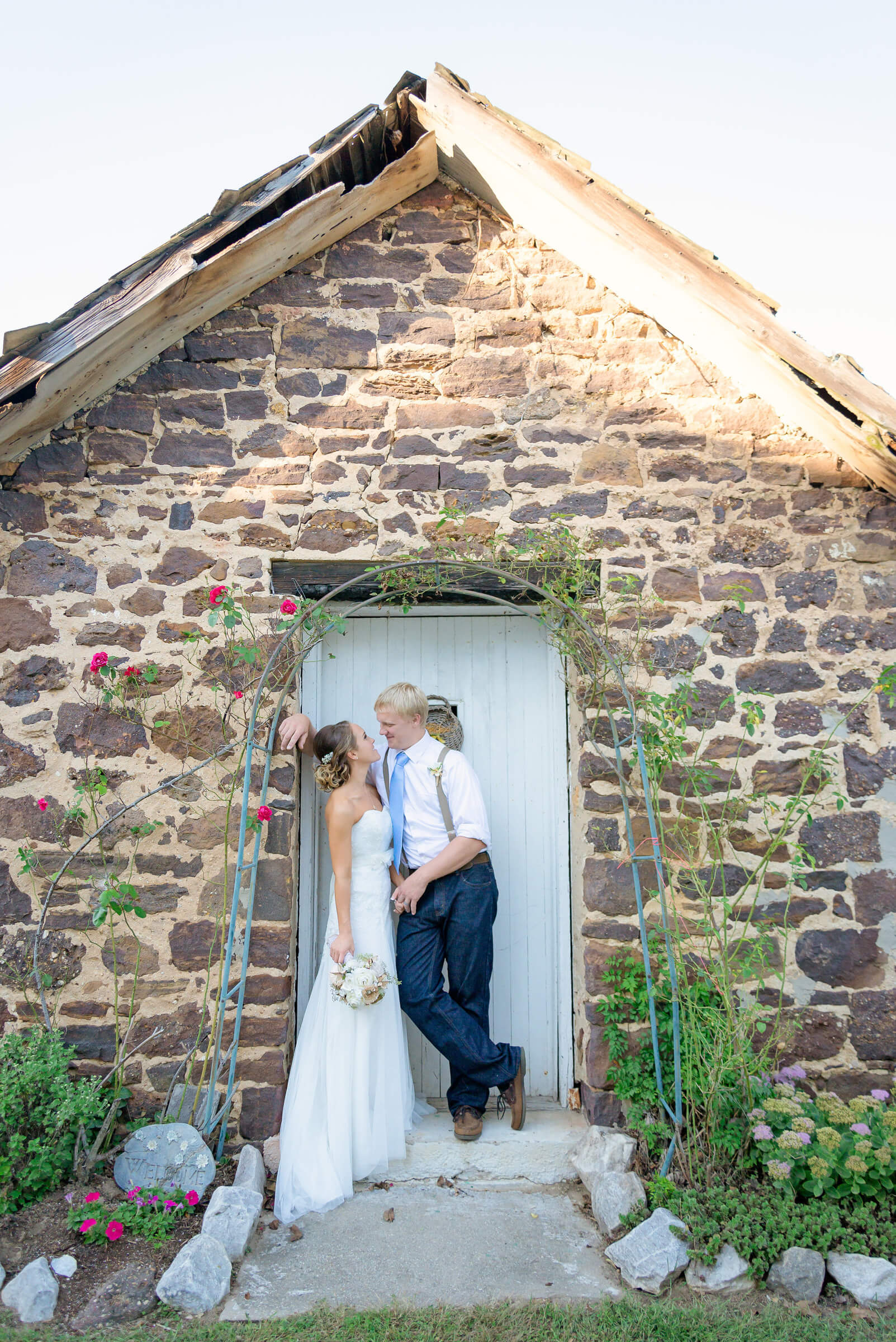 Occupations Lisa is a hairstylist at Up Do's for I Do's; Tim is a technician at Safeware Inc.
Wedding date September 27, 2014
Number of Attendees 100
Number of Attendants 10 total: four bridesmaids, four groomsmen, a flower girl and a ring bearer.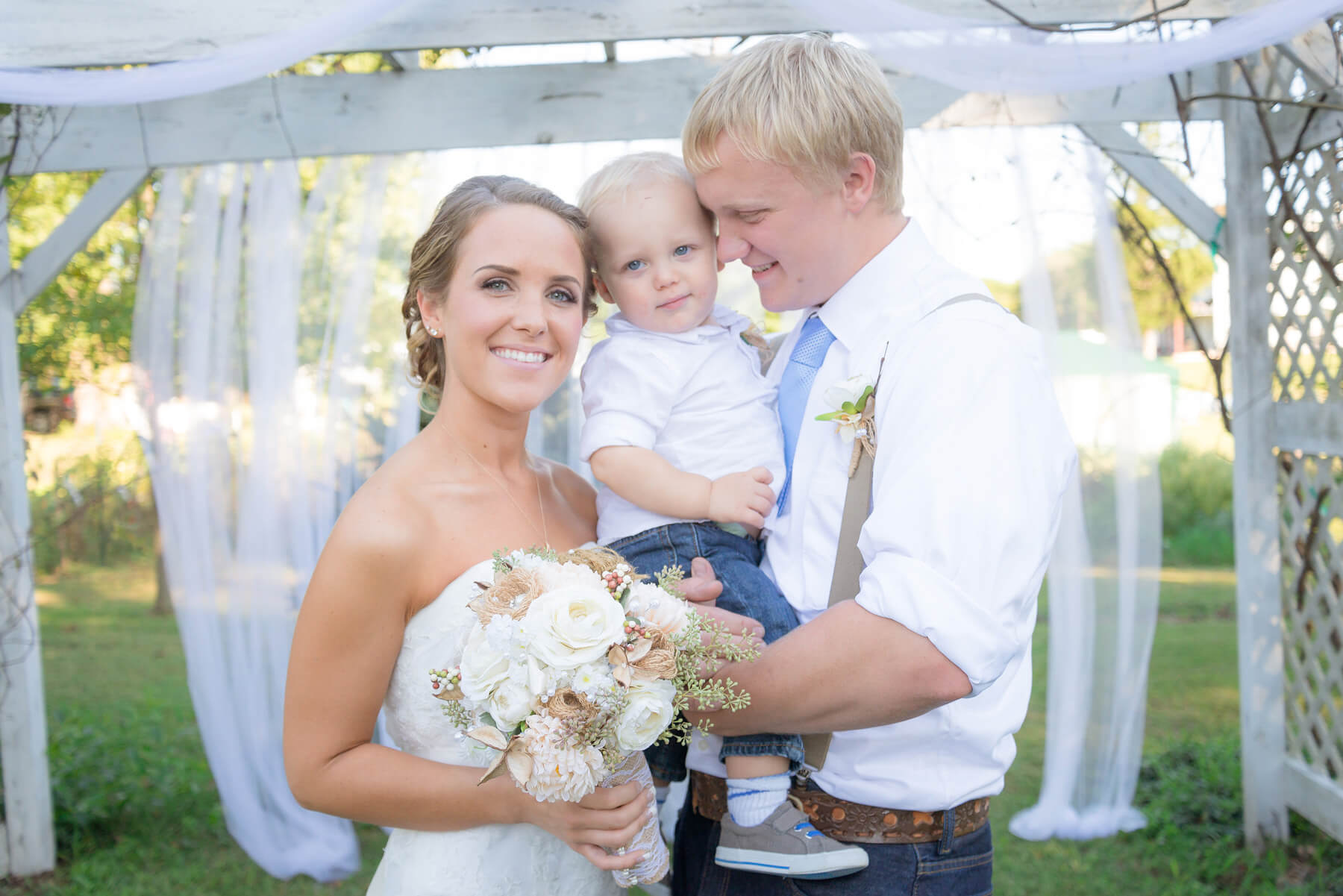 How You Met At a mutual friend's apartment during Lisa's first year at Howard Community College in 2008. Although Lisa had heard of Tim and seen a photo of him, she had yet to actually meet him. As more guests arrived, Lisa realized she recognized no one, and turned her attentions to her phone for a couple of minutes. Suddenly, Lisa looked up and saw a man who had a familiar face– and had just entered via the second-story balcony in a flourish. Lisa and Tim introduced themselves to each other, and although the couple exchanged a handful of looks the rest of the evening, Lisa says, "There wasn't a ton of chatting." After the party, Lisa and Tim spoke more frequently, and went out on their official first date about a month after their initial meeting. They drove around in Tim's car for three hours, playing 20 questions and getting to know each other. Lisa remembers going through Tim's iPod in his car and playing her favorites from his playlists. Tim was impressed at Lisa's vast knowledge and they both noted their shared taste in music.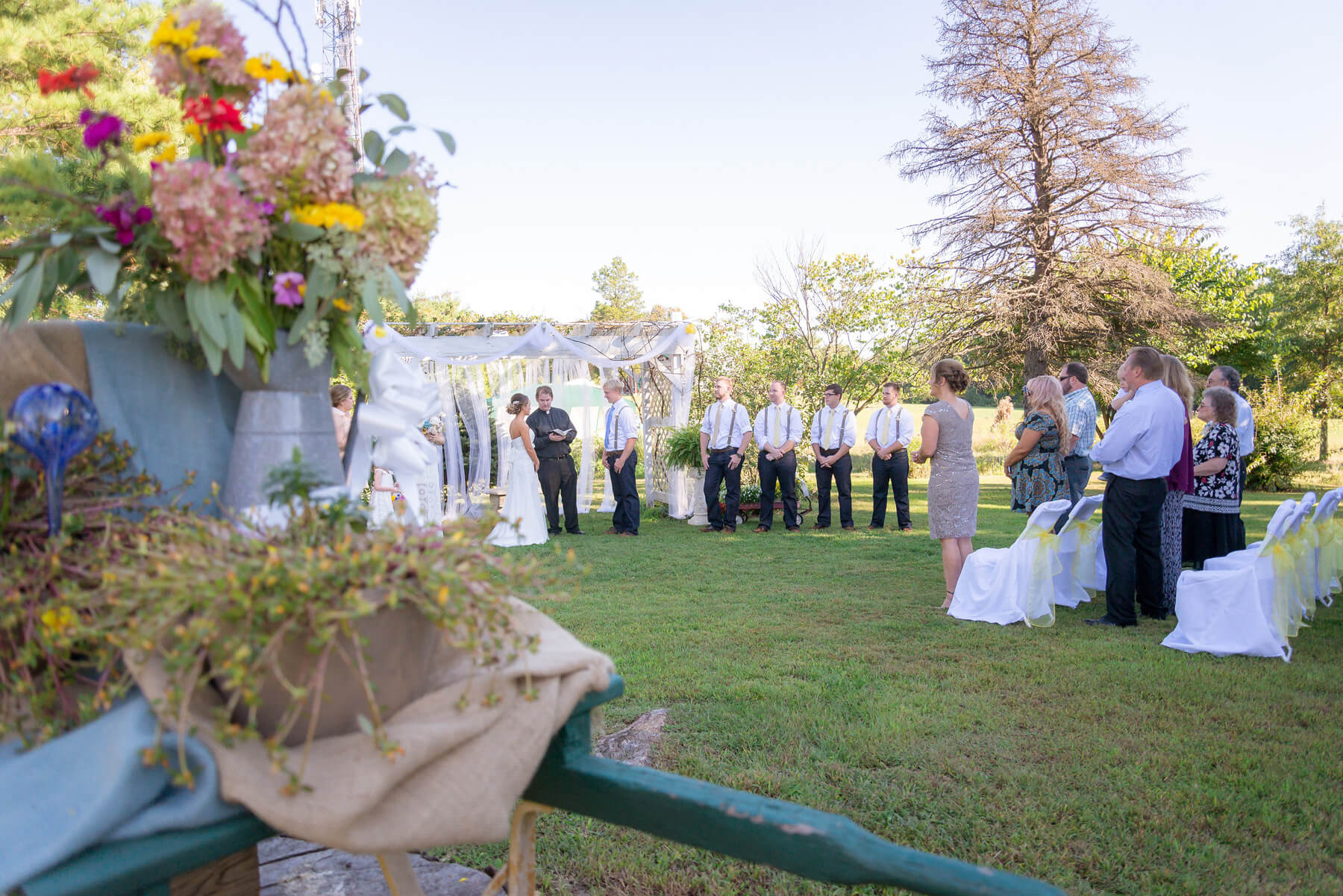 The Engagement To celebrate Lisa and Tim's five-year dating anniversary—which is New Year's Day—Tim planned a special dinner the next day. Lisa had no idea where Tim was taking her, but he continued to drop hints on their drive to the mystery destination. Lisa didn't realize it at the time, but Tim had put together a playlist of songs that the couple had shared over the years. Lisa remained stumped until she and Tim pulled into the parking lot of The Chart House in Annapolis. Tim wasn't acting any differently, and in fact, from Lisa's perspective it seemed like any typical dinner they had shared together during their previous anniversaries. Lisa remembers sitting at their table, which overlooked the water, and she and Tim discussing taking a stroll onto the dock after dinner. Magically, during dinner it began to snow, which quickly covered the dock, but it didn't stop them. Tim escorted Lisa out onto the dock, looked at her and said, "Let's play a game of Pictionary. I'll draw a picture in the snow and you have to guess what it is." Once she agreed, he said, "You have to turn around so you can't see as I'm drawing." After Tim finished, he walked over to Lisa, had her close her eyes, and slowly guided her over to his drawing. Tim gave Lisa the okay to open her eyes, and when she looked down she saw the words, "Will you marry me?" written in the snow, with Tim down on one knee and a ring in his hand. Lisa says, "It was the most amazing evening that I will never forget."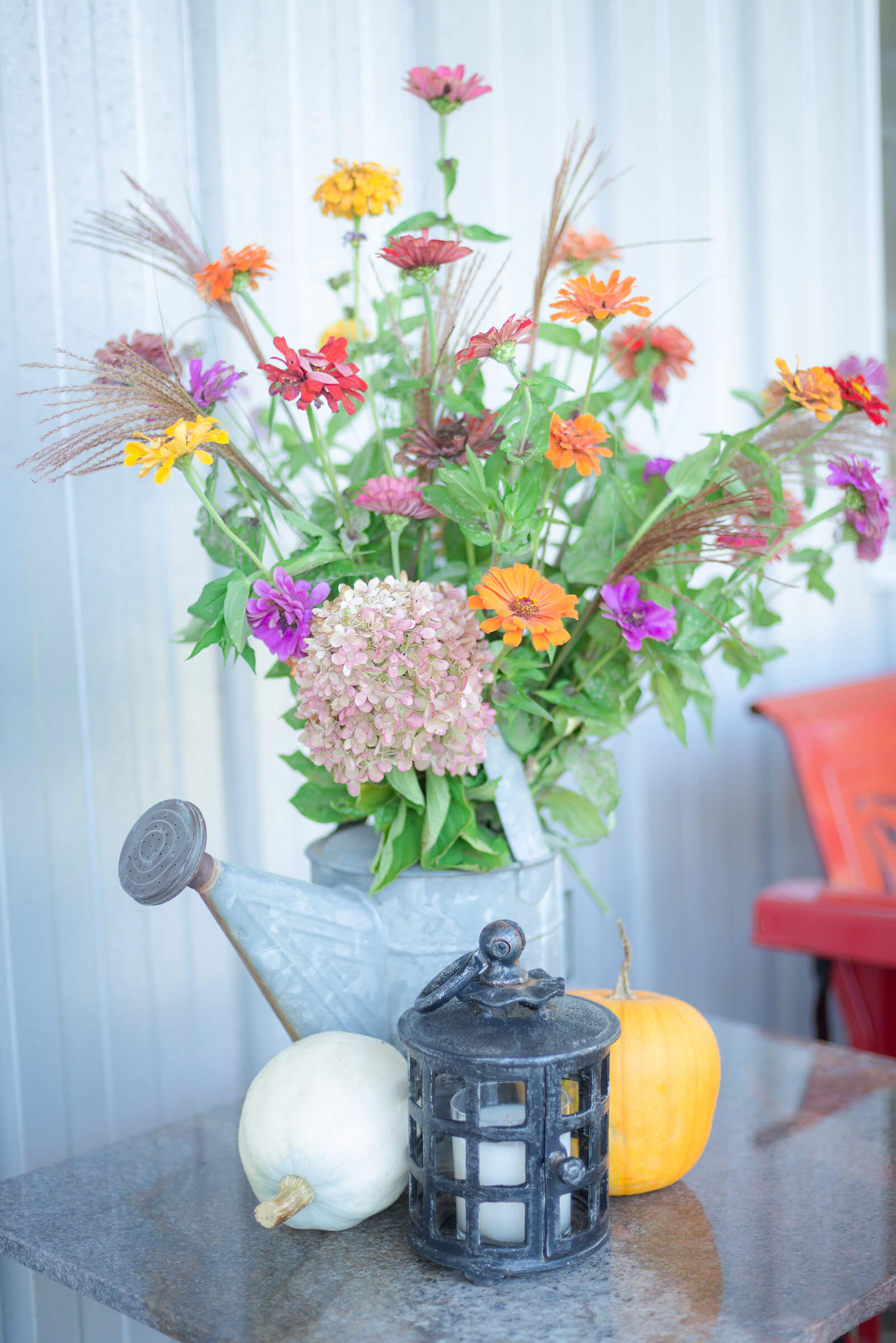 Wedding Design Inspiration Simple, cozy, and fun. Because the wedding was held at Tim's family farm that that has been in the family for years, it was important for Tim and Lisa that the guests truly felt like they were at home too. For the couple's bonfire inspired reception, Lisa and Tim played up the seasonal surroundings by setting up hay bales as seating for the guests with warm blankets to create a laid back feeling.
What was unique and special about your wedding Lisa and Tim were very DIY. Everything from the food, to the décor, to the flowers. For instance, Tim's mother along with her sisters created handmade "flower" bouquets out of burlap. For Lisa and Tim's wedding ceremony, they couple chose to keep things very intimate by only inviting the couple's parents, grandparents, and bridal party to attend the service. After the ceremony concluded, the close-knit group enjoyed a private dinner; afterwards, they joined the larger circle of 100 included extended family and friends at the bonfire inspired reception.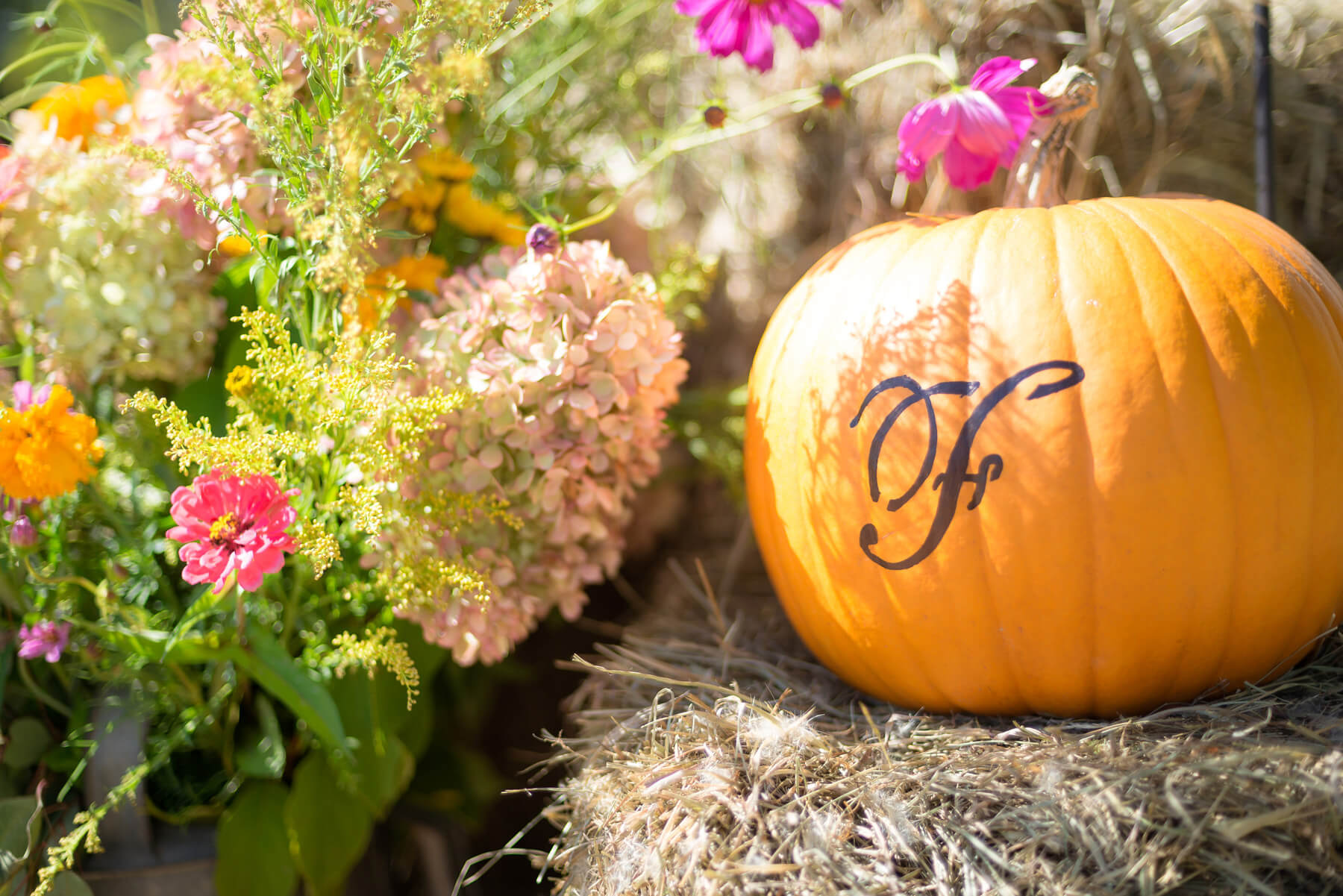 Favorite Details The DIY wedding décor and the bonfire. Lisa loved how all of the guests at the reception huddled around the bonfire together and roasted marshmallows.
Most unexpected event on the day of the wedding The weather. At the rehearsal dinner the night before it was windy and freezing. Lisa remembers thinking, "Please don't let this be a preview." She knew everyone was coming in the following night and although there was the bonfire for warmth, a windy evening would dampen the experience. Luckily for the couple, the next day was absolutely perfect: sixty-degree weather during the day, and just the right amount of "coolness" in the evening during the reception. "Everyone wore their one layer of clothing and were fine, but it was cool enough for the bonfire to be appropriate."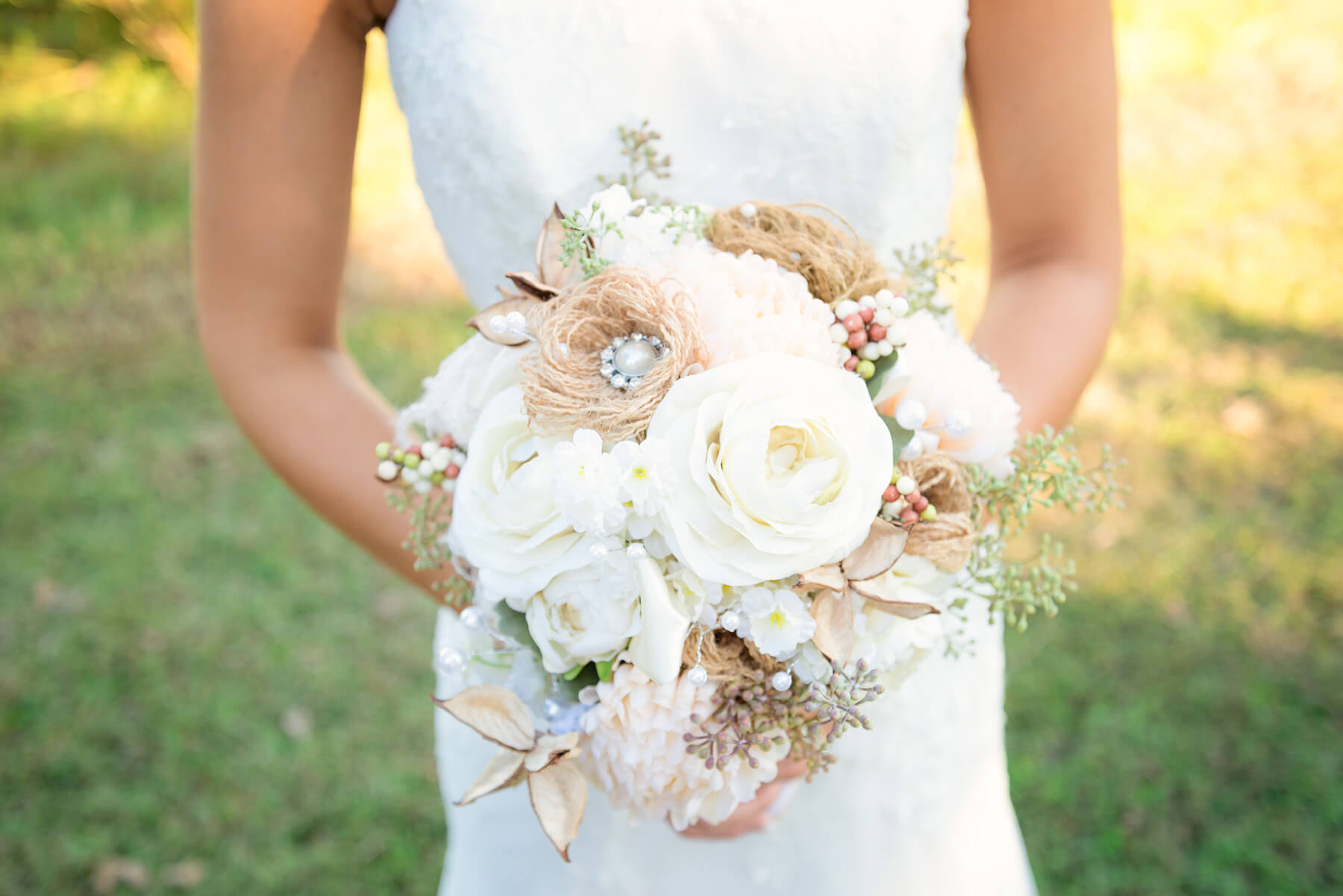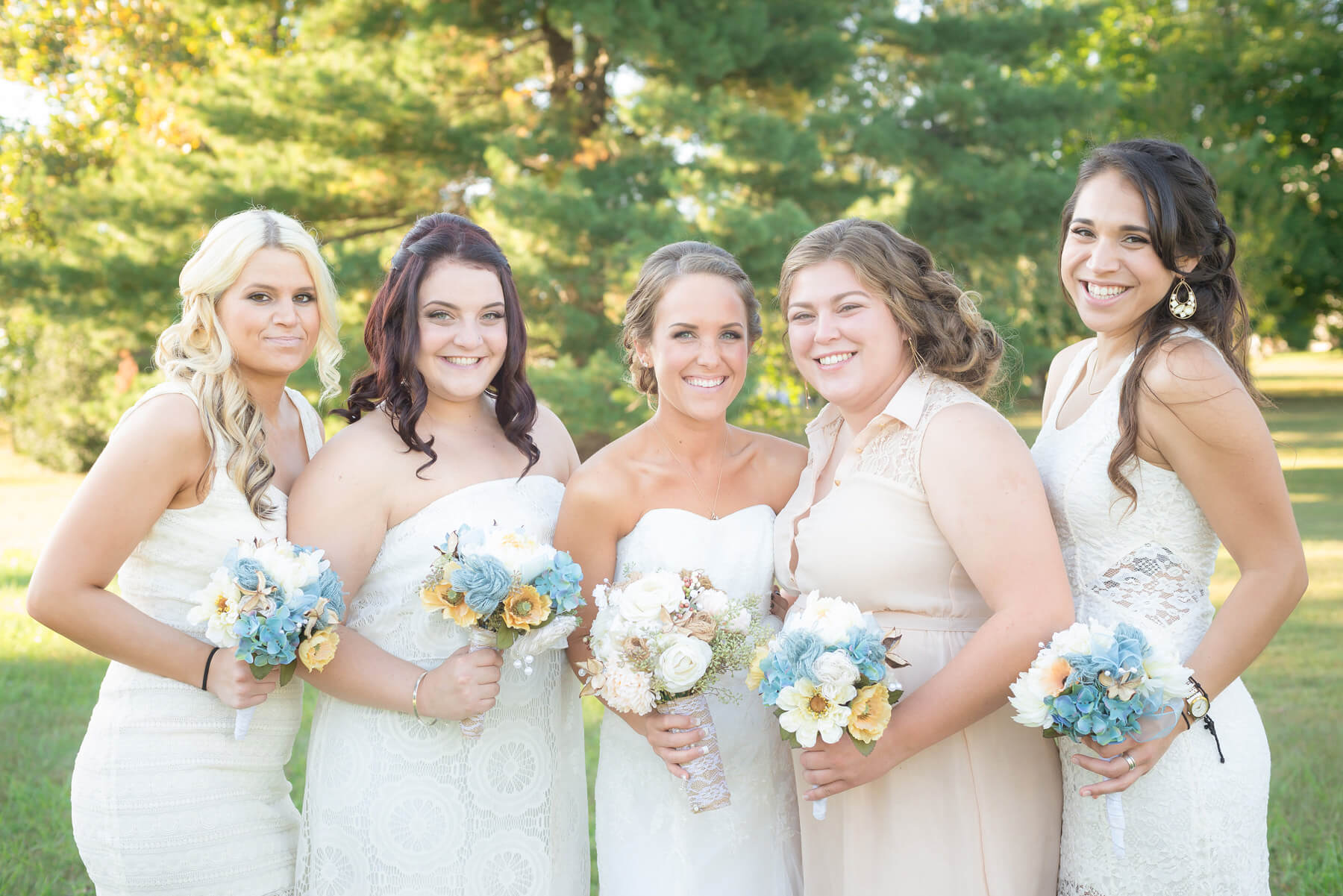 Piece of advice Leave a moment for yourself to take it all in. Before you know it, the night is over and you wonder where the time went.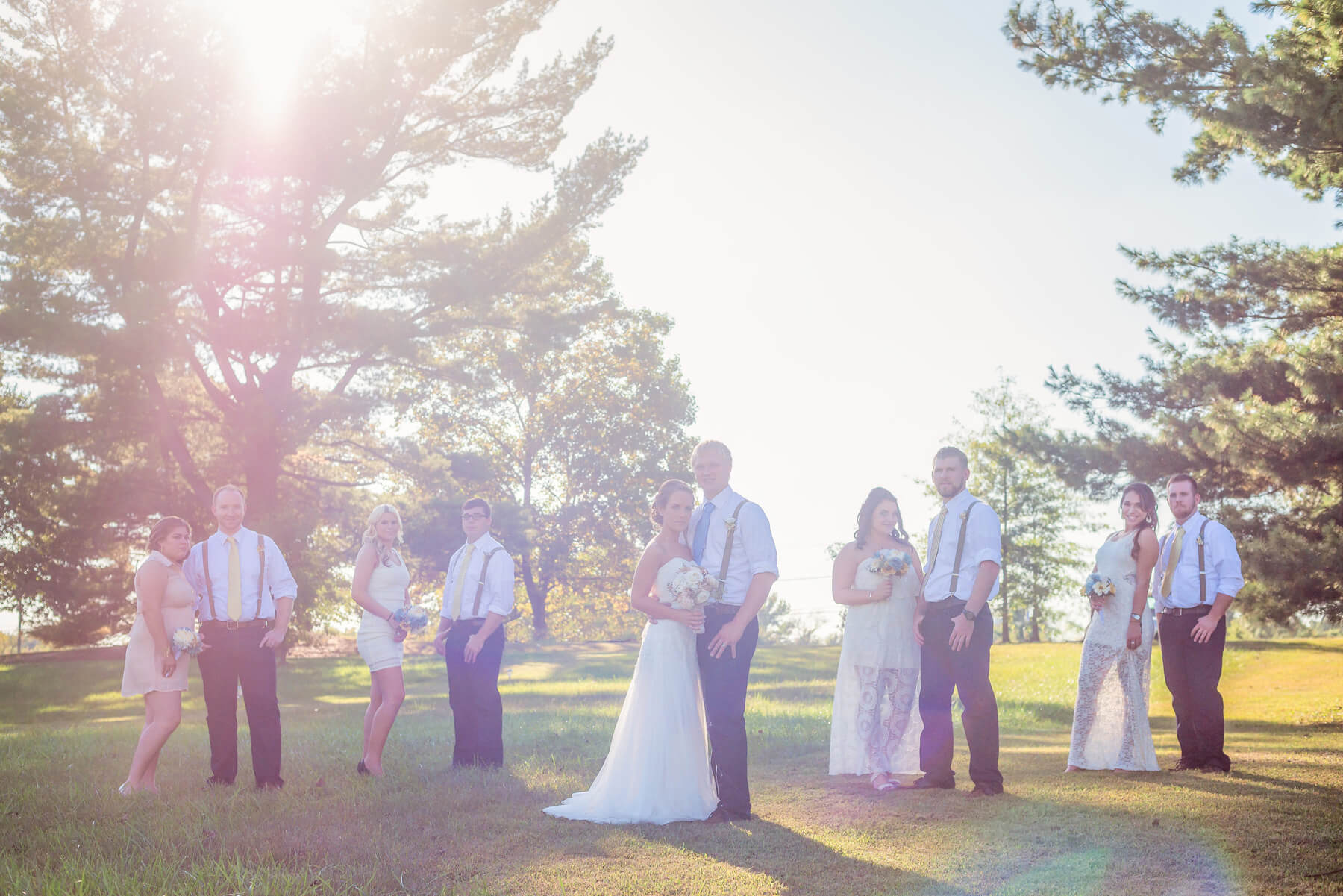 Beauty Katie Gunning (hair); Melissa McNicholas (makeup). Bridesmaids' attire Assorted: each bridesmaid handpicked their own dress for the big day. Lisa wanted her bridal party to feel comfortable and thought it gave her wedding a unique touch. Cake Cakes Plus Caterer All the food was prepared by family and friends. Flowers The couple's burlap flowers were handmade; Lisa and Tim picked out a few of the details for the bouquets and boutonnières and asked the amazing florists at Forget Me Not Flowers & Gifts in Glen Burnie to assemble. Groom and Groomsmen's attire The groom and groomsmen shopped on their own for jeans, white dress shirts, suspenders and Sperry's. Lisa picked out the ties for the gentlemen to wear and Tim wore a special tie to distinguish him from the rest of the party. Invitations DIY, made by couple. Location The couple's family farm located in Jessup. Music Turn the Table Entertainment Officiant Father Travis of Grace Episcopal Church in Elkridge, MD Photographer Meghan Elizabeth Photography Wedding Dress David's Bridal