This originally ran in the 2019 Local Love supplement in the June issue of Baltimore magazine.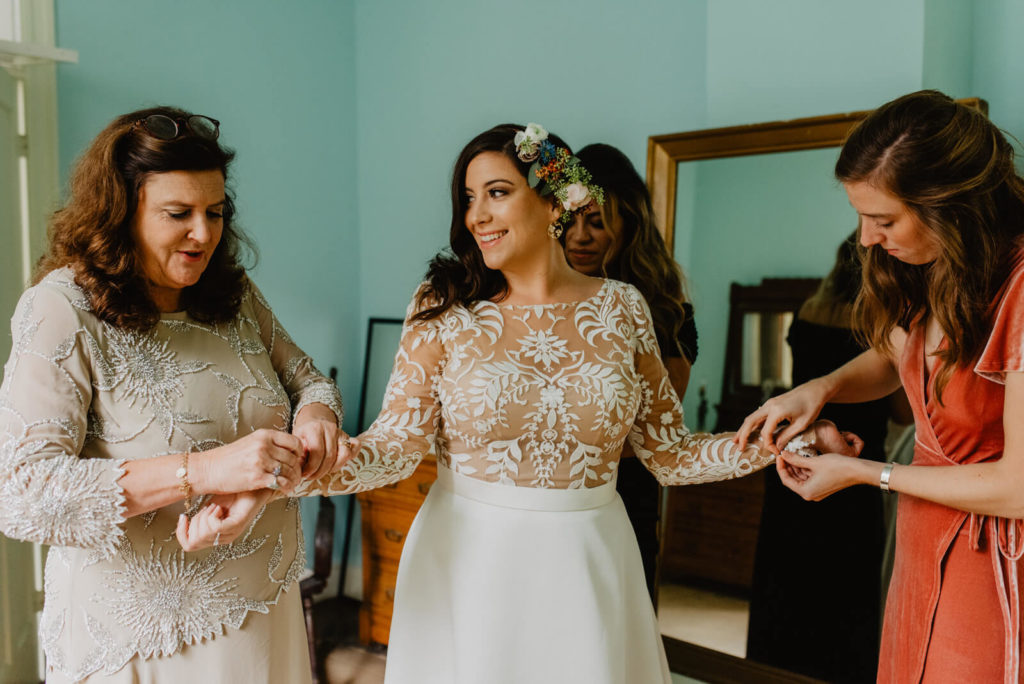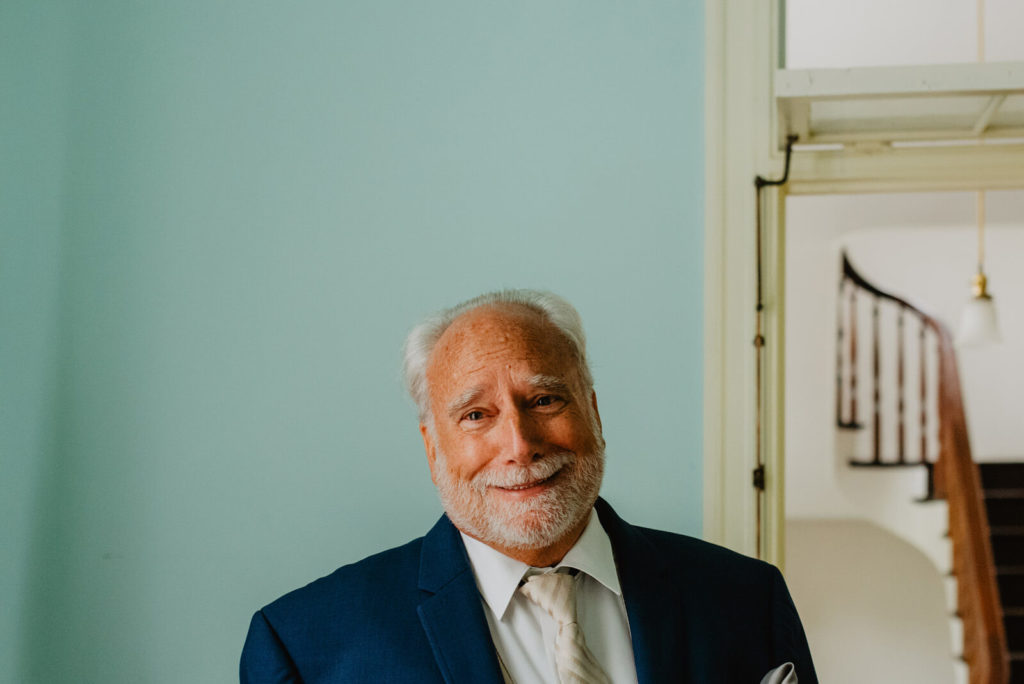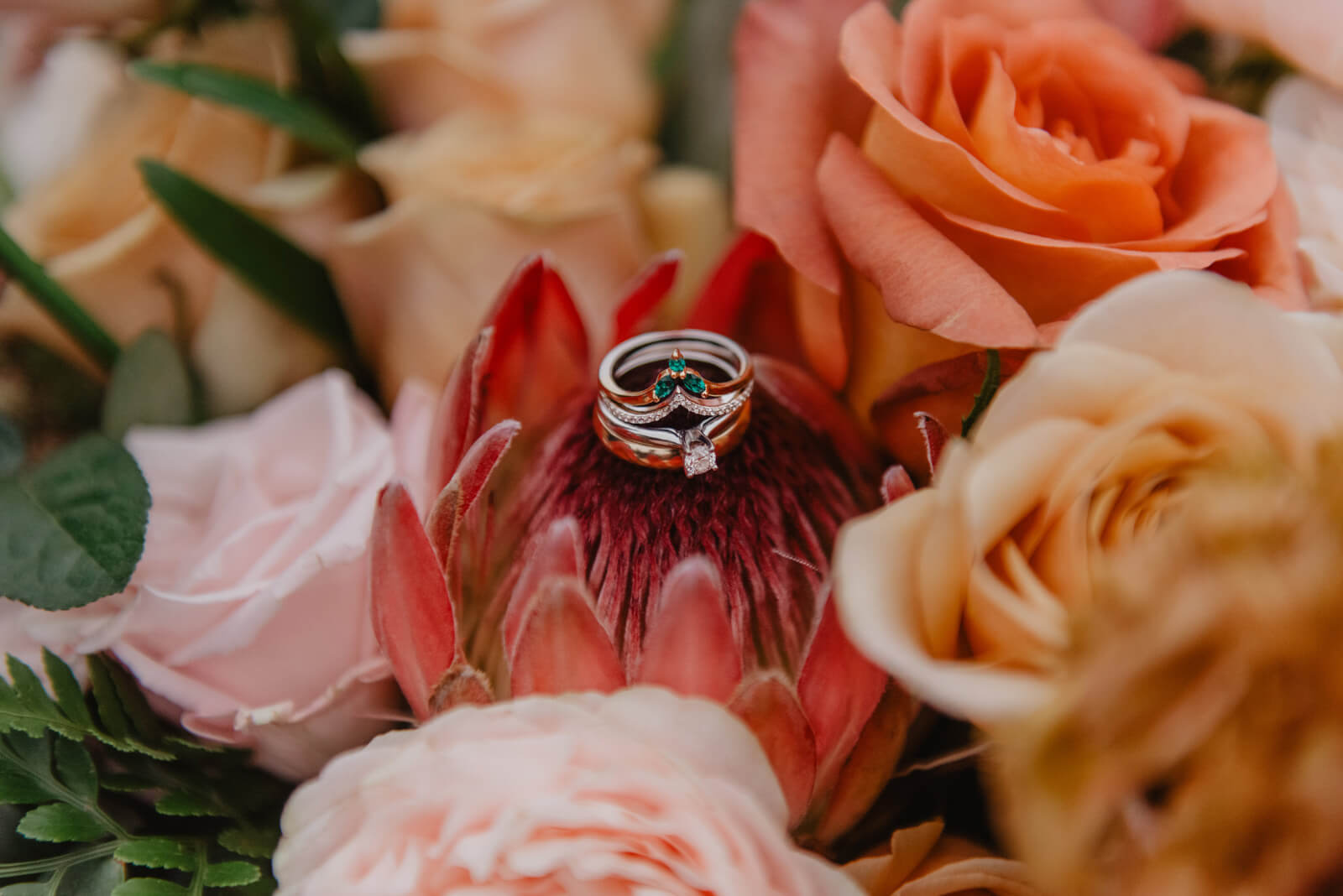 WEDDING DATE October 6, 2018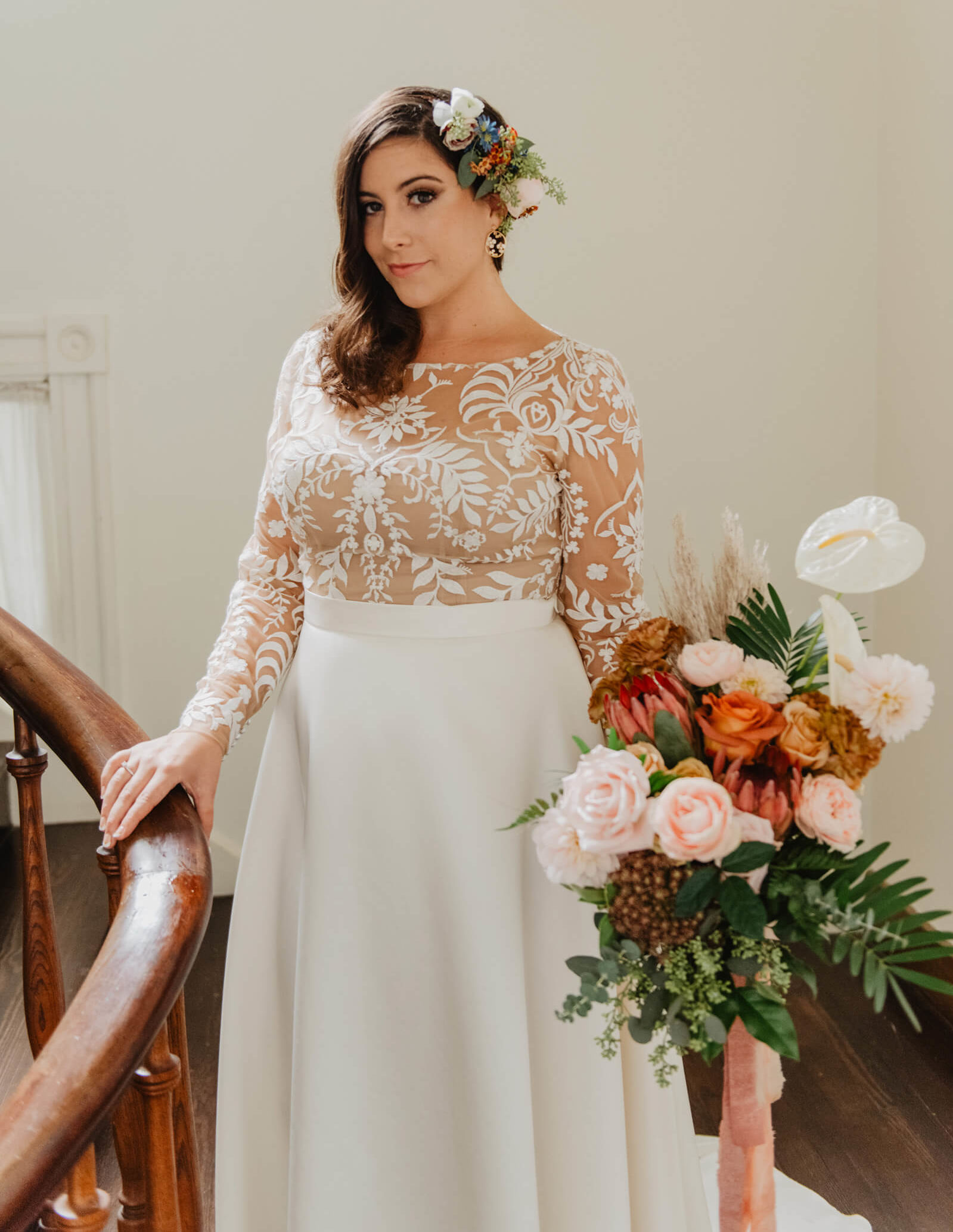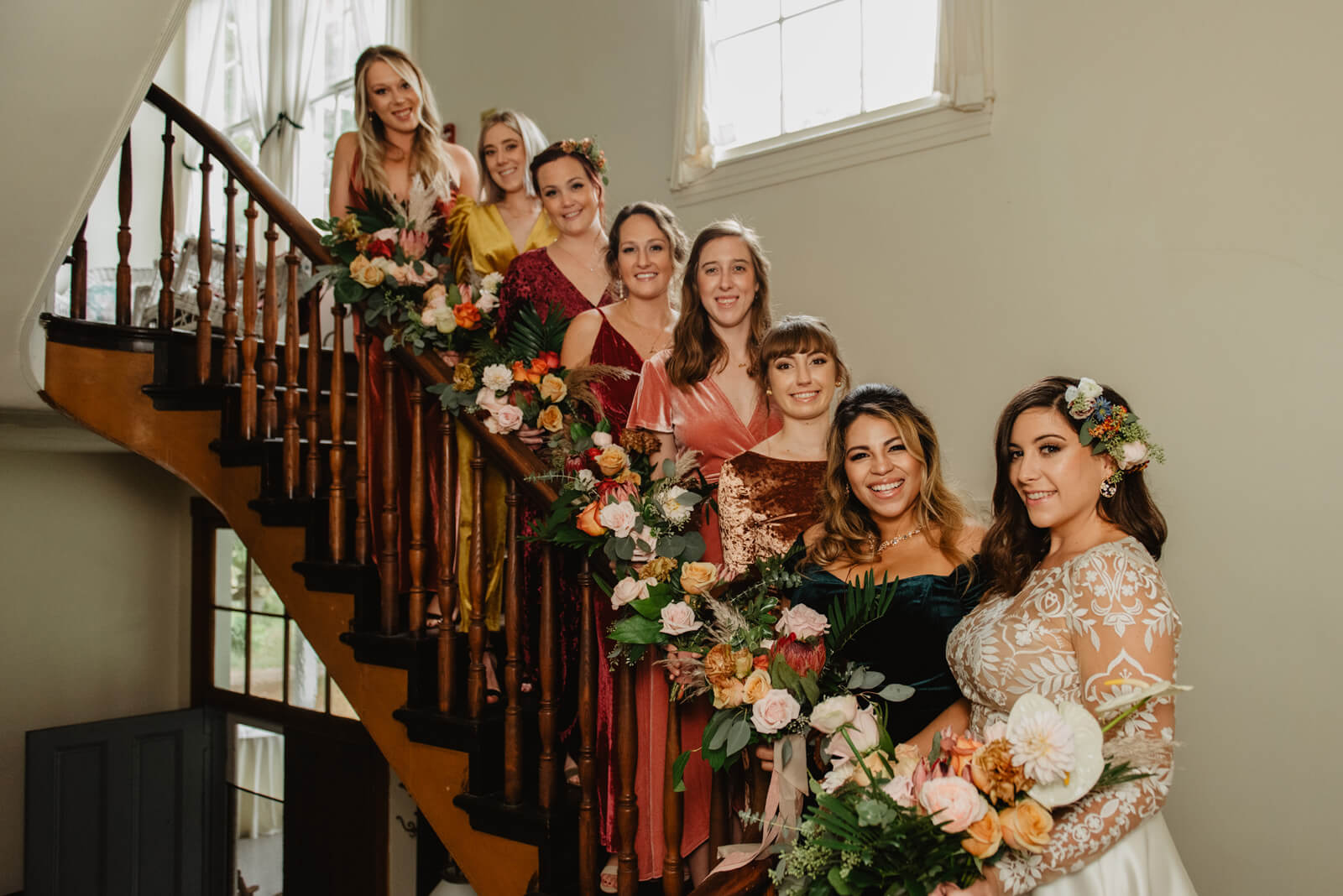 The night Kaylyn Gray agreed to a first date with Thomas Montanye, she saw a beautiful red fox near her parents' home on the Jersey Shore. "As we started to get more serious and I began spending more time in Maryland, we noticed that every time we would see a fox it was something special," says Kaylyn. The night Thomas proposed, she was driving home from a long day at work and a road closure sent her completely out of her way. As she turned onto an unfamiliar street—you guessed it—a fox crossed her path. "I sat there staring at it for a couple of minutes," she says. As she finally pulled into the driveway, another fox ran across their property, and she was still thinking about it when she walked into the house and saw a homemade sign directing her to the backyard. It was completely dark outside until Thomas plugged in two electric cords, revealing a pathway of lights leading out to the middle of the field. They walked together and when they reached the center, he got down on one knee and asked her to marry him. "It turned out to be a great omen," says Kaylyn.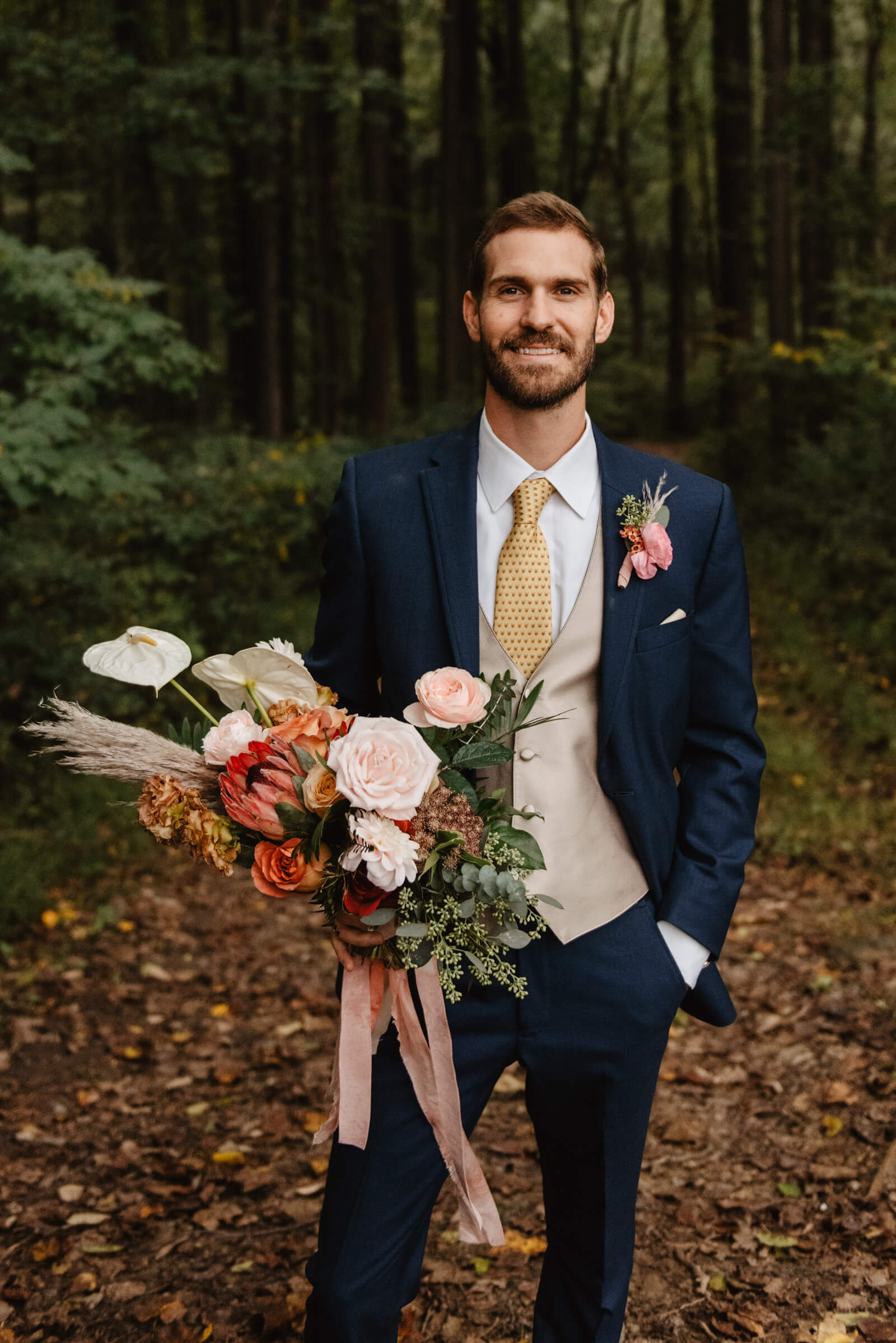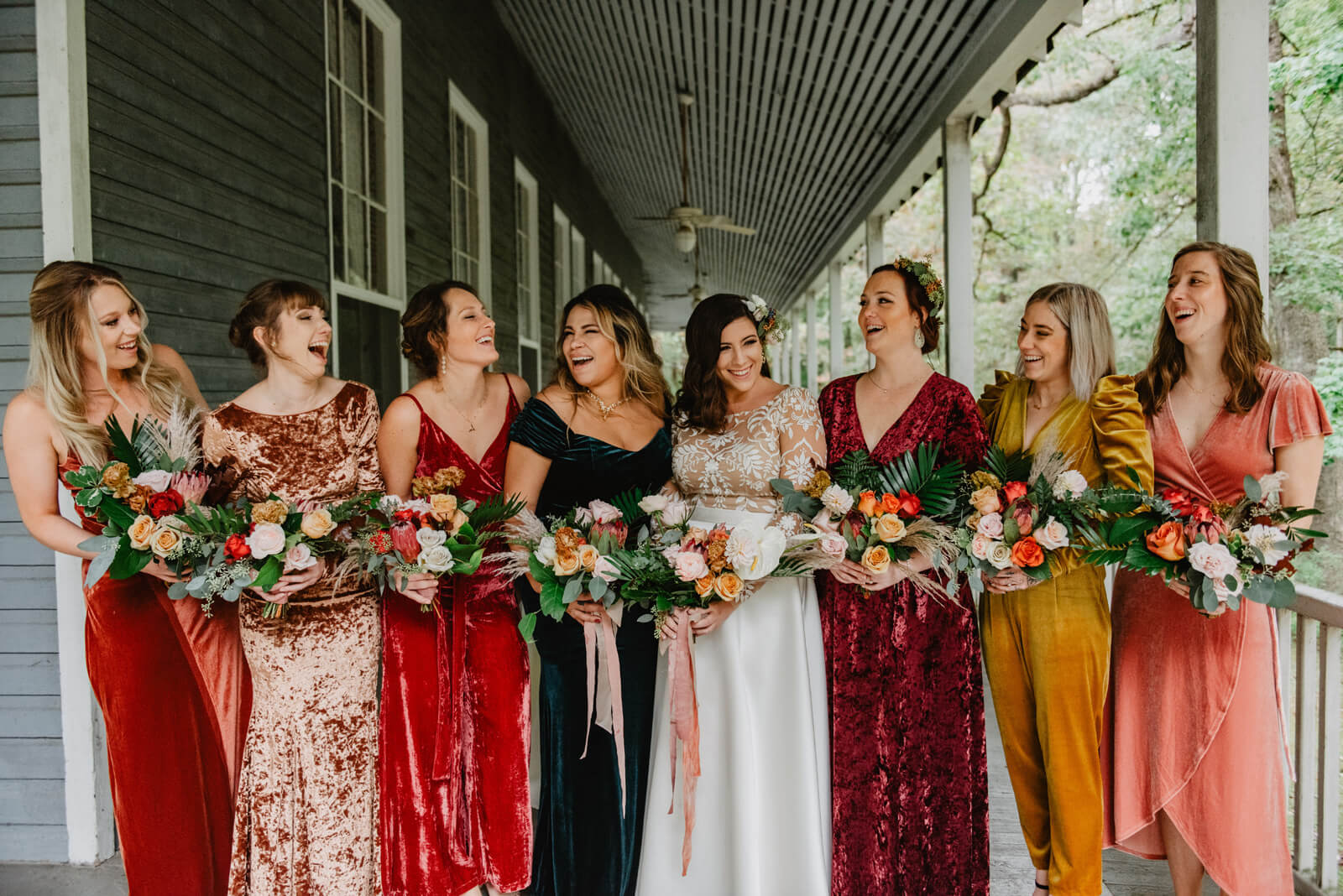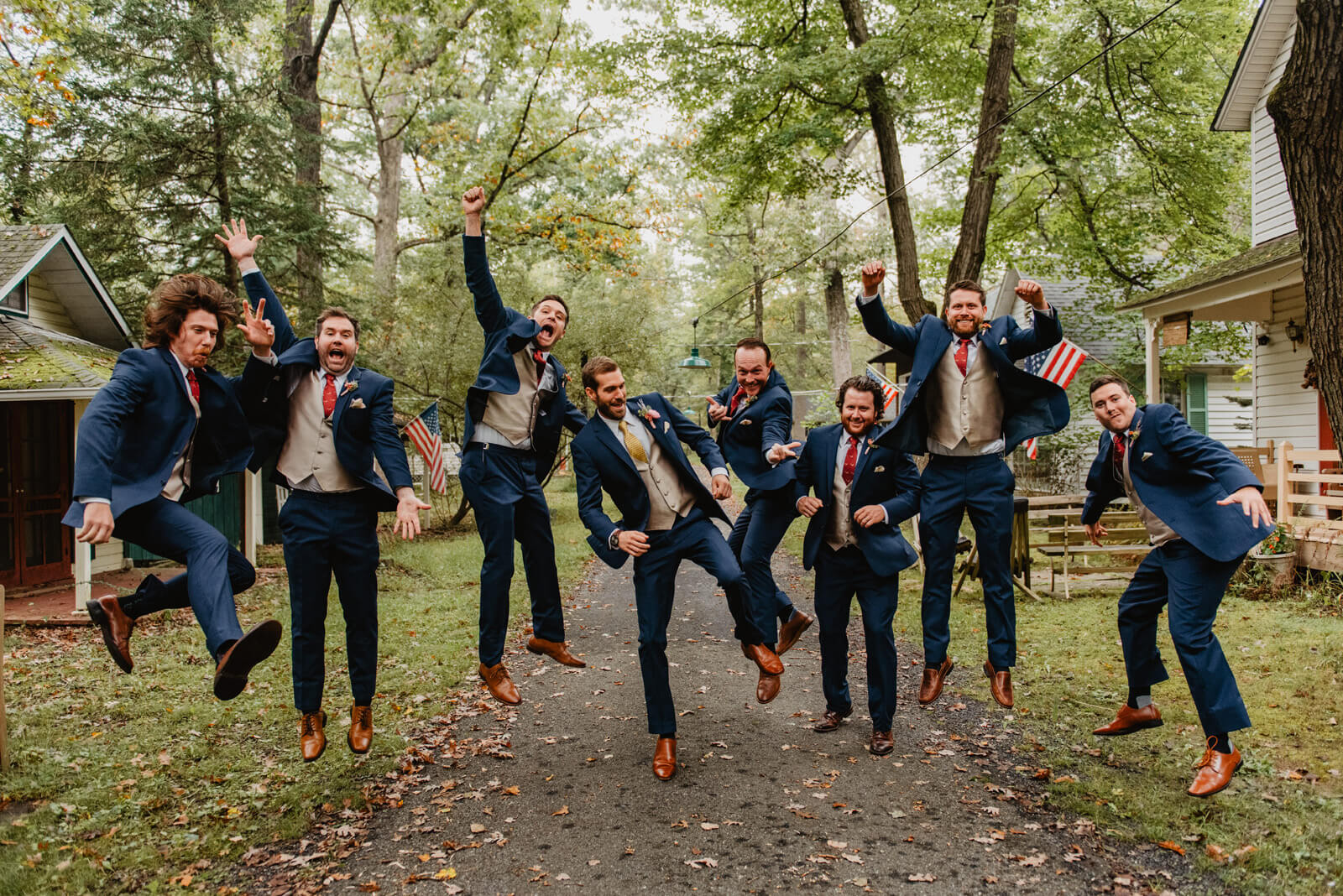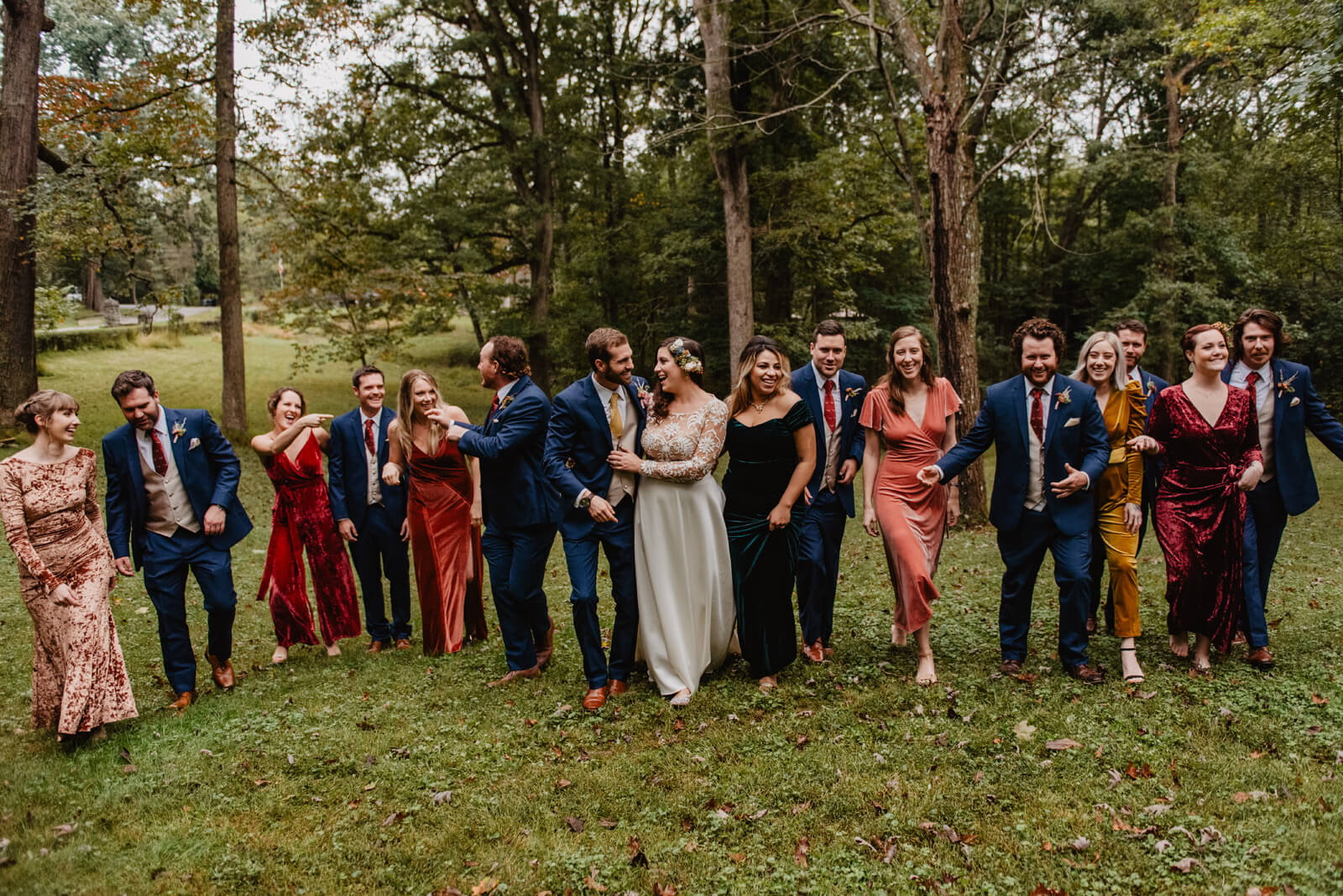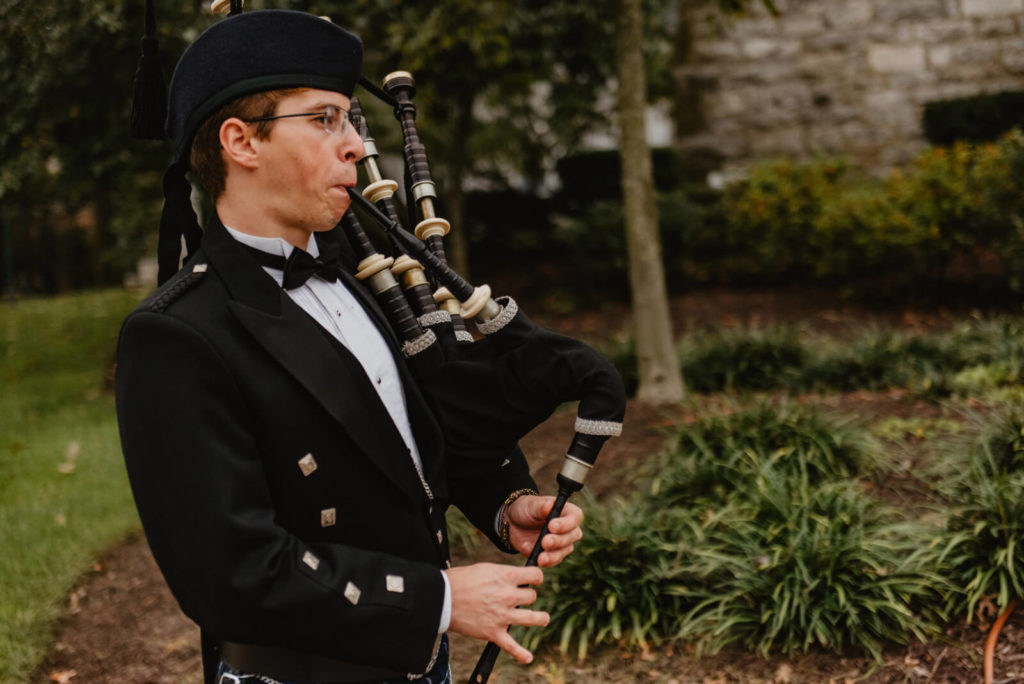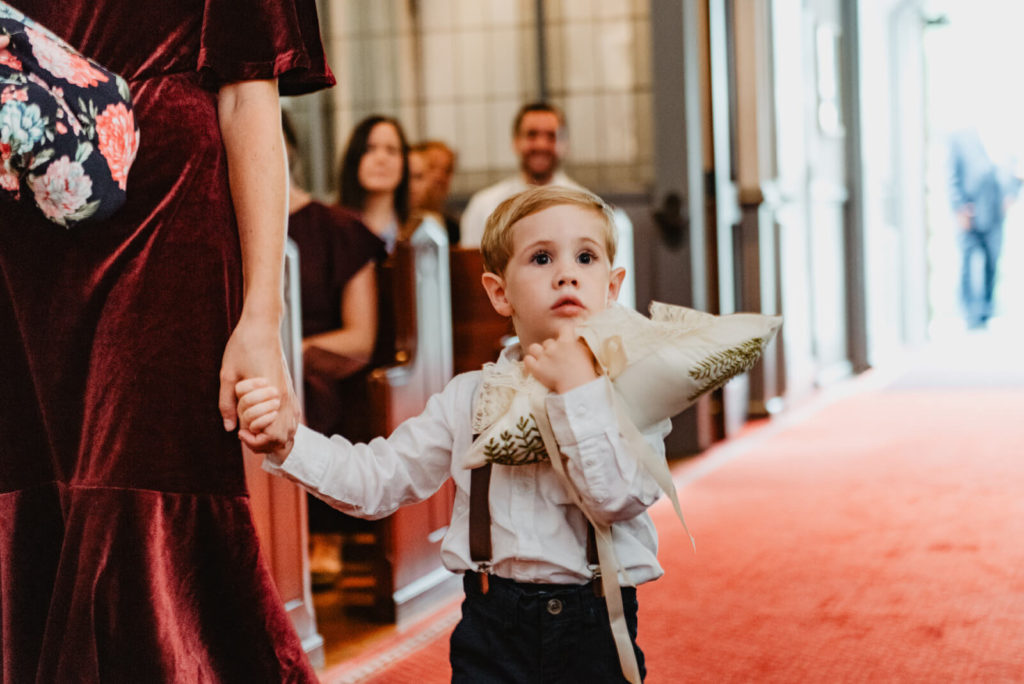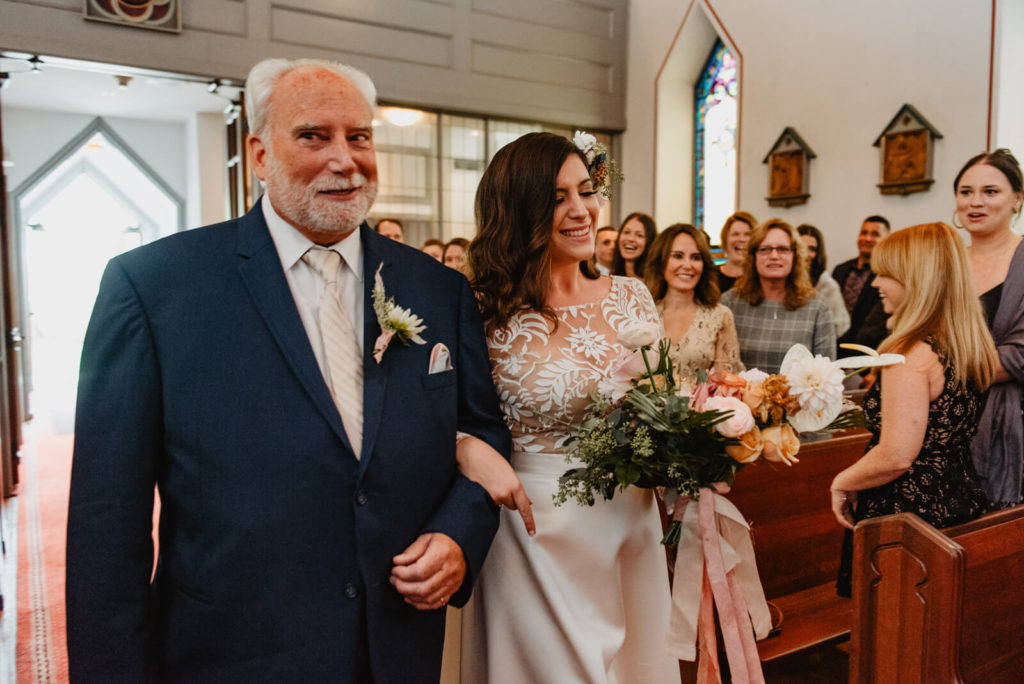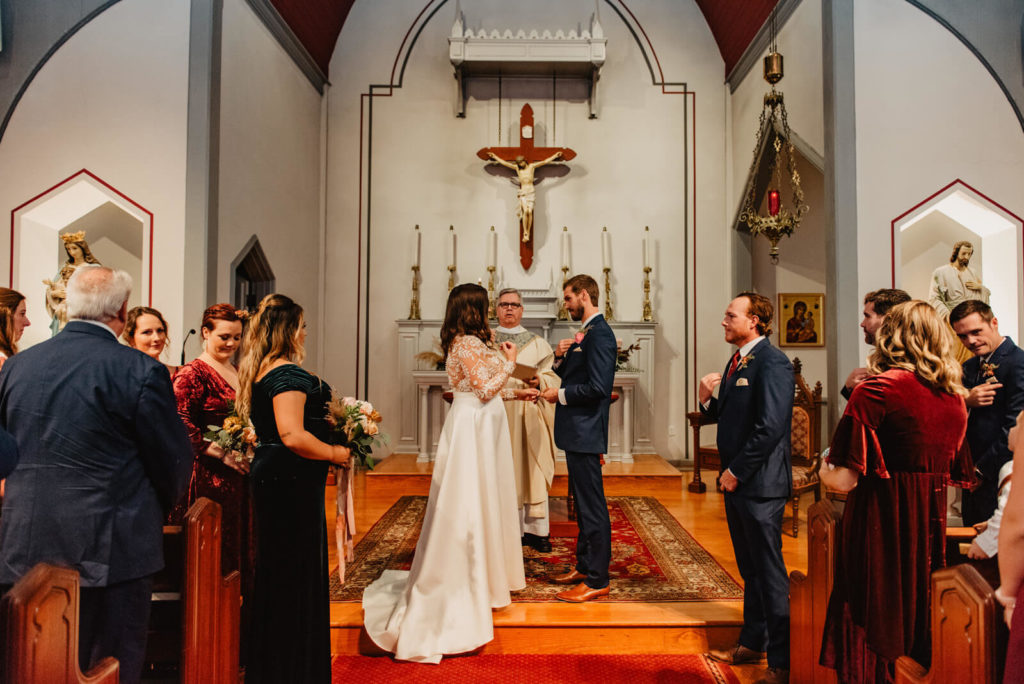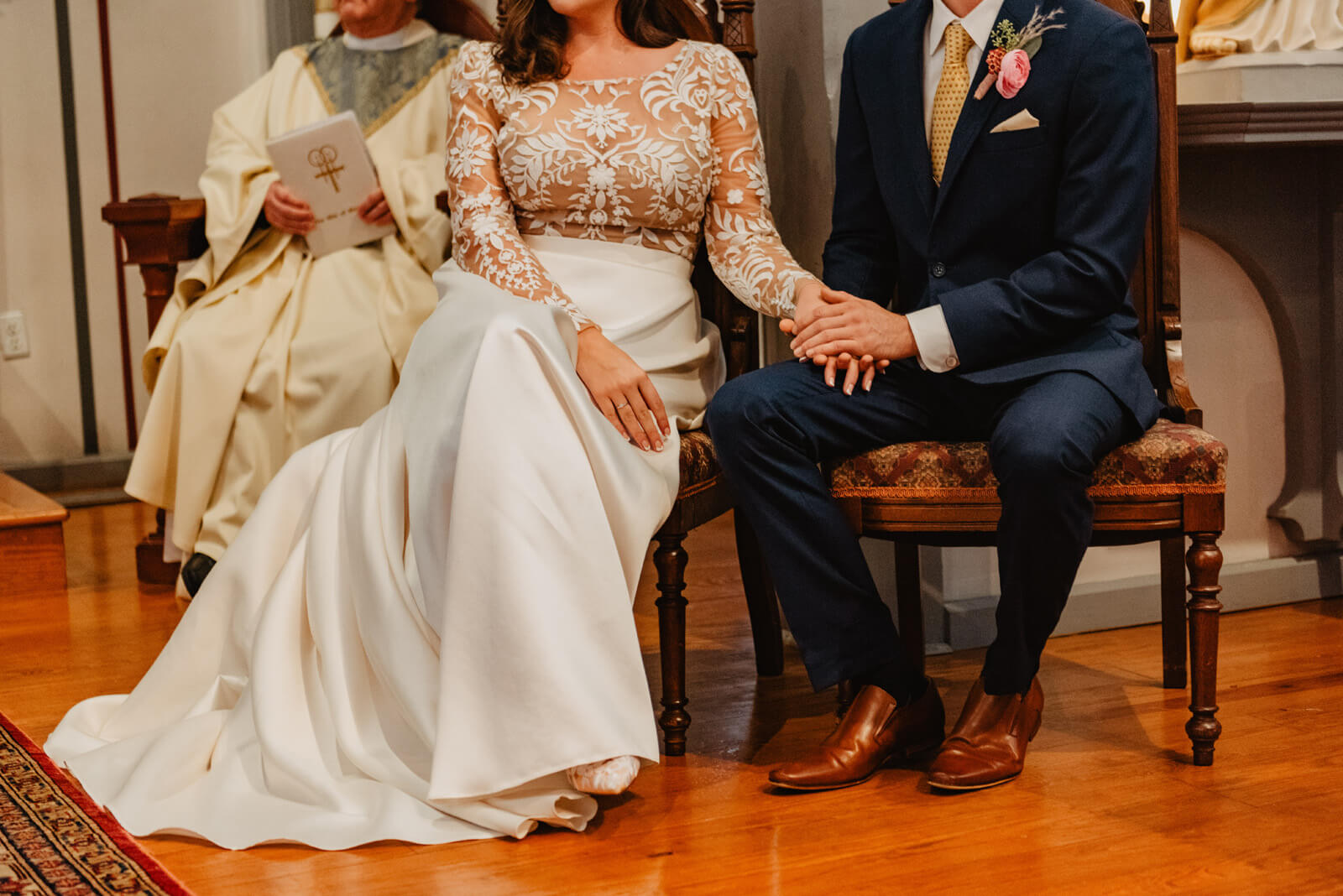 So, no one was surprised when their wedding theme became "Foxes & Ferns," with Kaylyn, an artist and house manager for events at the Baltimore Museum of Art, creating a family crest that portrayed their initials, their dogs Lola and Cora, and, of course, a fox and a fern. One revelation for the guests, including Kaylyn and Thomas, was a bagpiper. "My father surprised us by hiring a bagpiper," says Kaylyn. "Being a Scot, he wanted to keep the traditions of his ancestors alive at our wedding." The whole wedding felt special and personal. Their venue, Emory Grove Hotel, was built in 1868 and is just through the woods from Kaylyn and Thomas' home. It felt intimately connected to their relationship. Because of her job and passion for visual arts, Kaylyn took on the role of wedding planner. "It was definitely a lot and very stressful at times," she says of the task. That included sourcing 150 plates for the reception. "Each one I hand-selected while thrifting for 10 straight months before the wedding." She also collected 100 bottles and about eight deer skulls for the florist, Thurman & Fig, to play with. Other elements included fox ties for the groomsmen purchased at the BMA gift shop, mismatched rich fall colors of the bridesmaids' velvet gowns, and Kaylyn's hand-drawn invitations that included portraits of Thomas, the dogs, and their ceremony venue, Sacred Heart Little Church. It's easy to get lost in the details, says Kaylyn. But "remember why you are getting married—the planning process can be stressful, but taking the time to reflect on how much you love each other goes a long way," she says. "It was a special sentiment that made us realize everything is okay and we are here. We made it."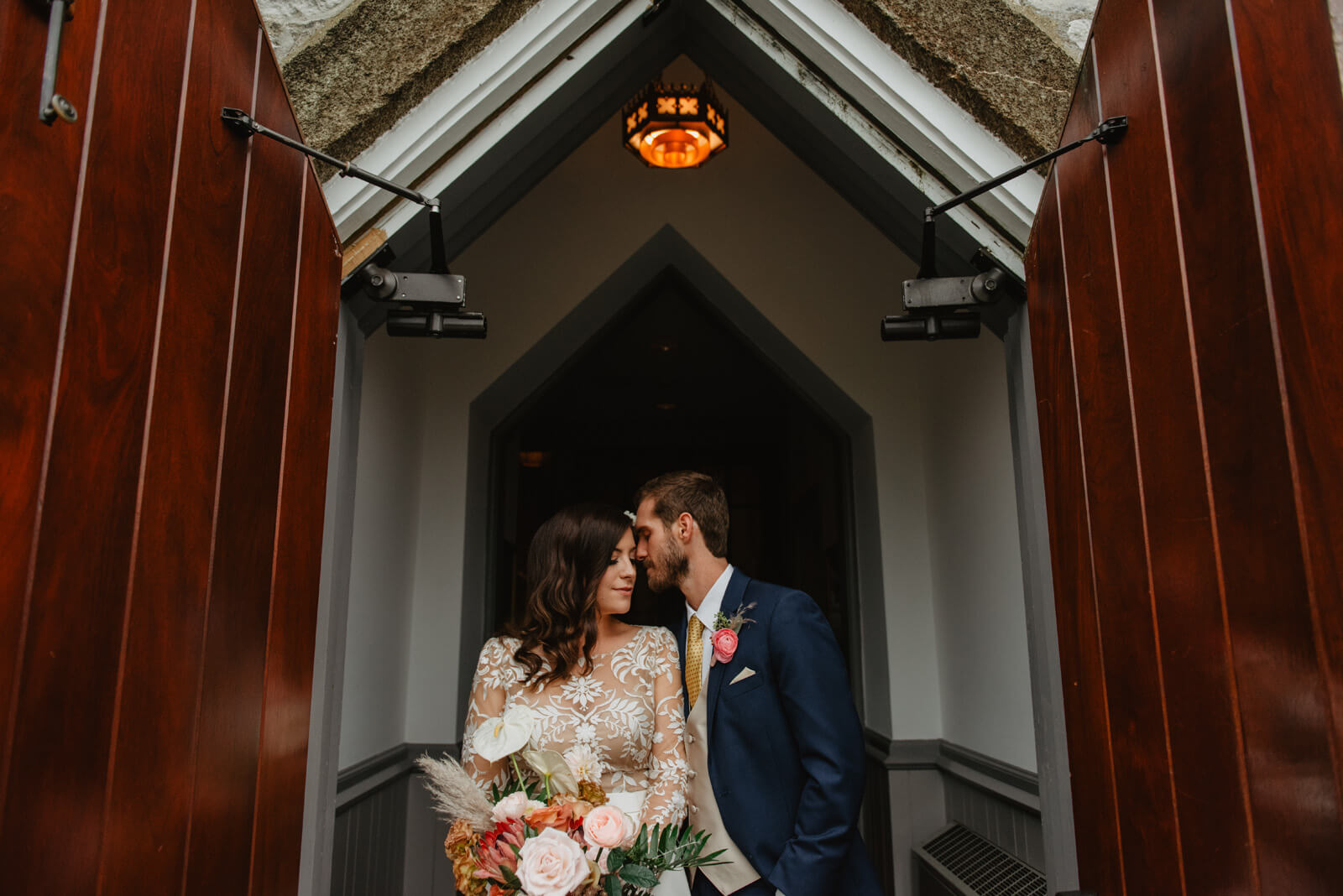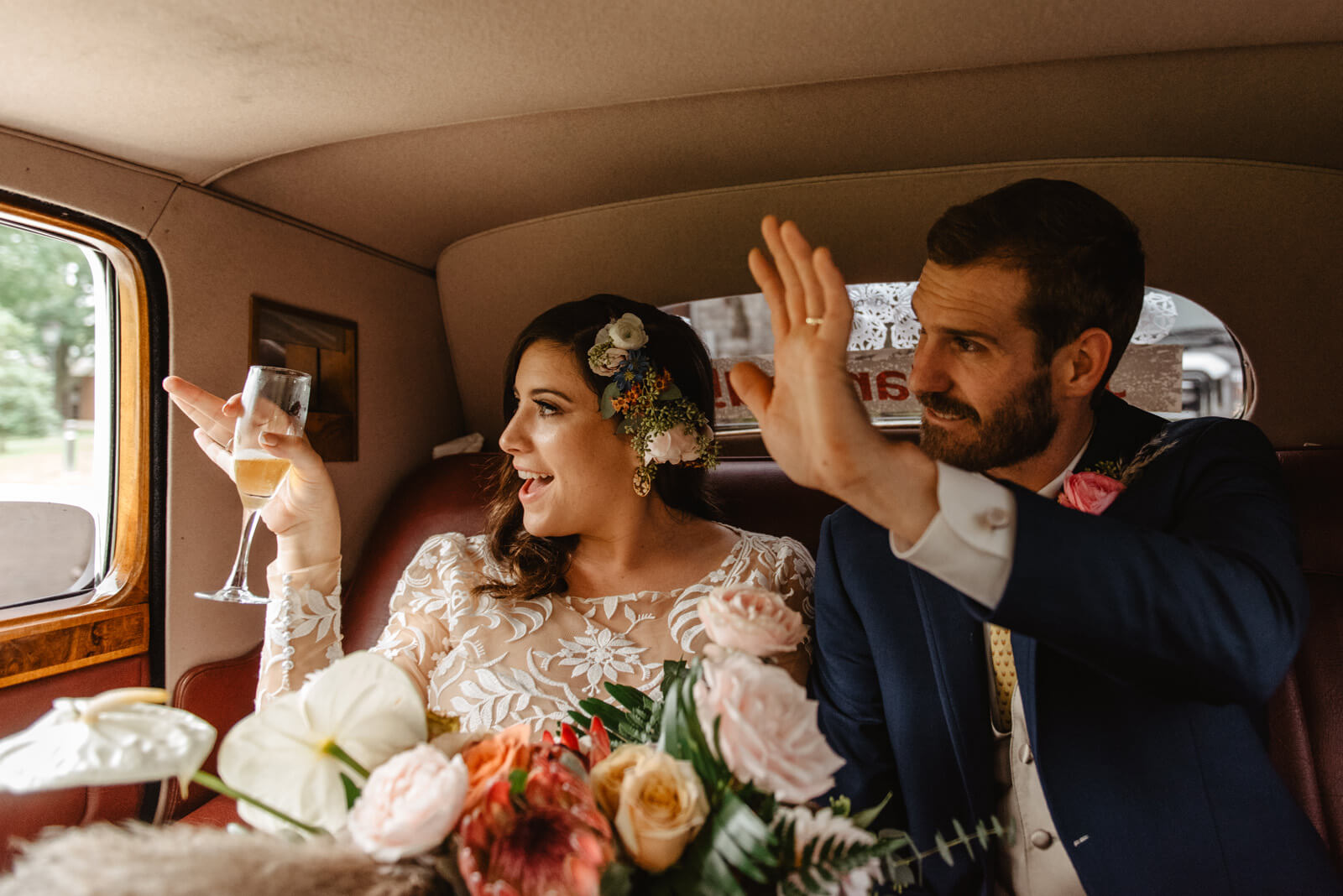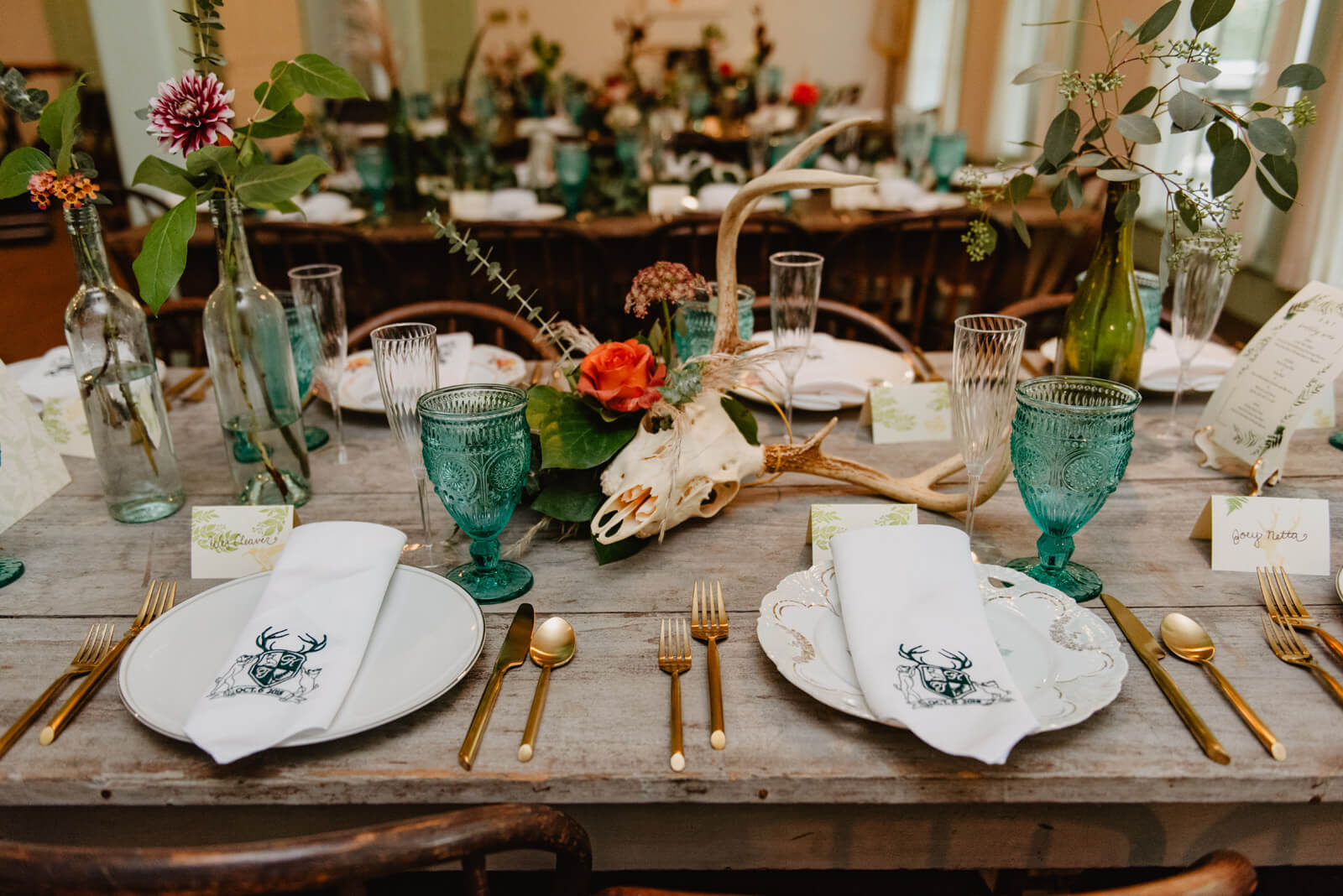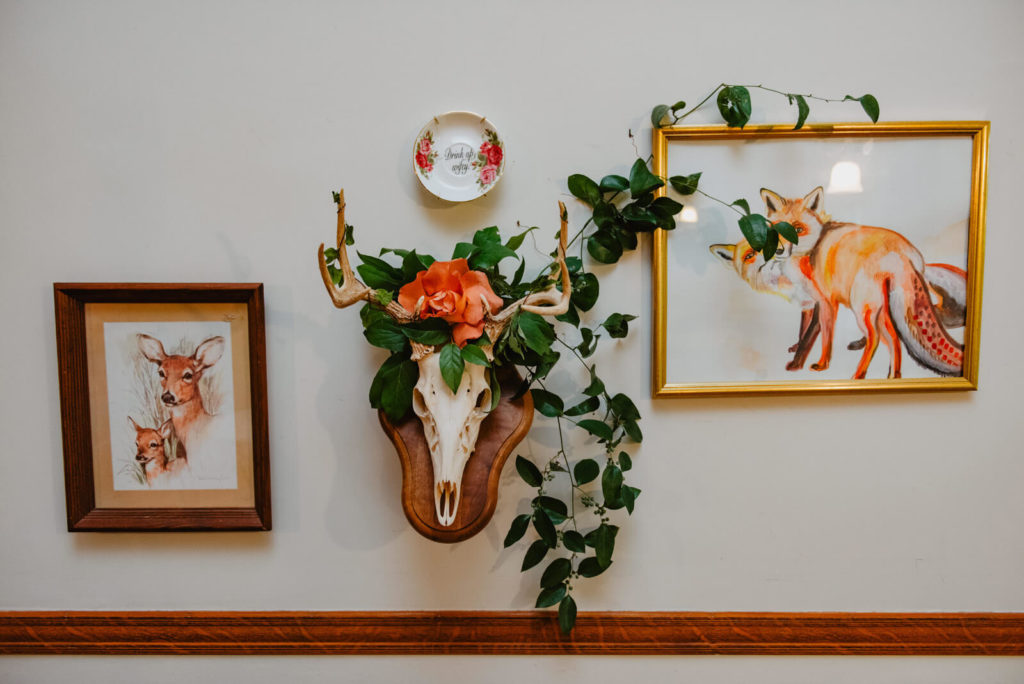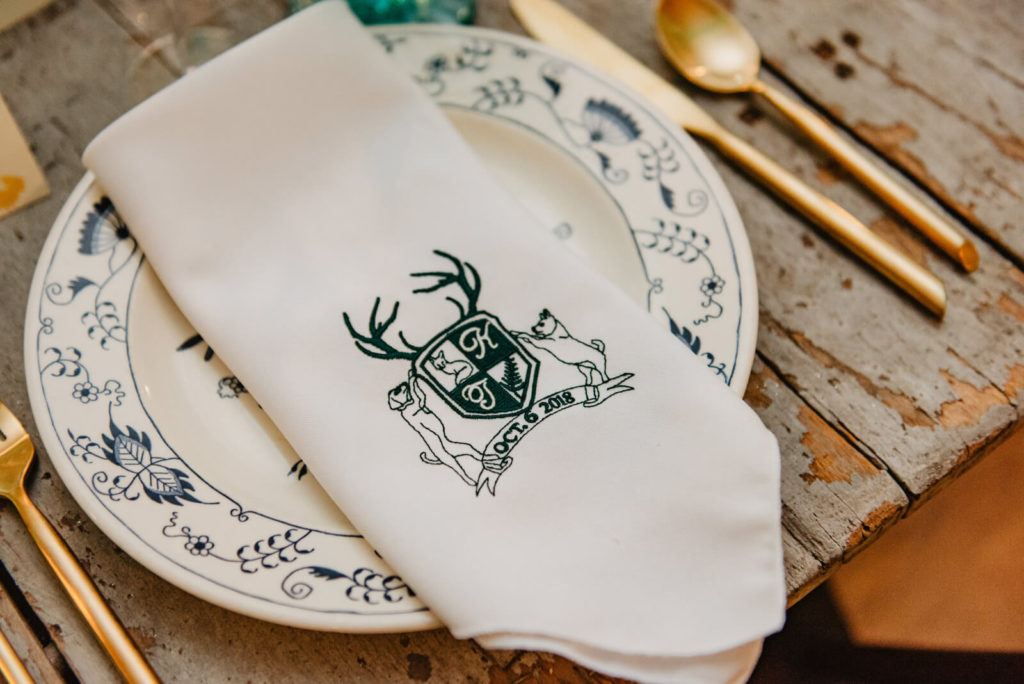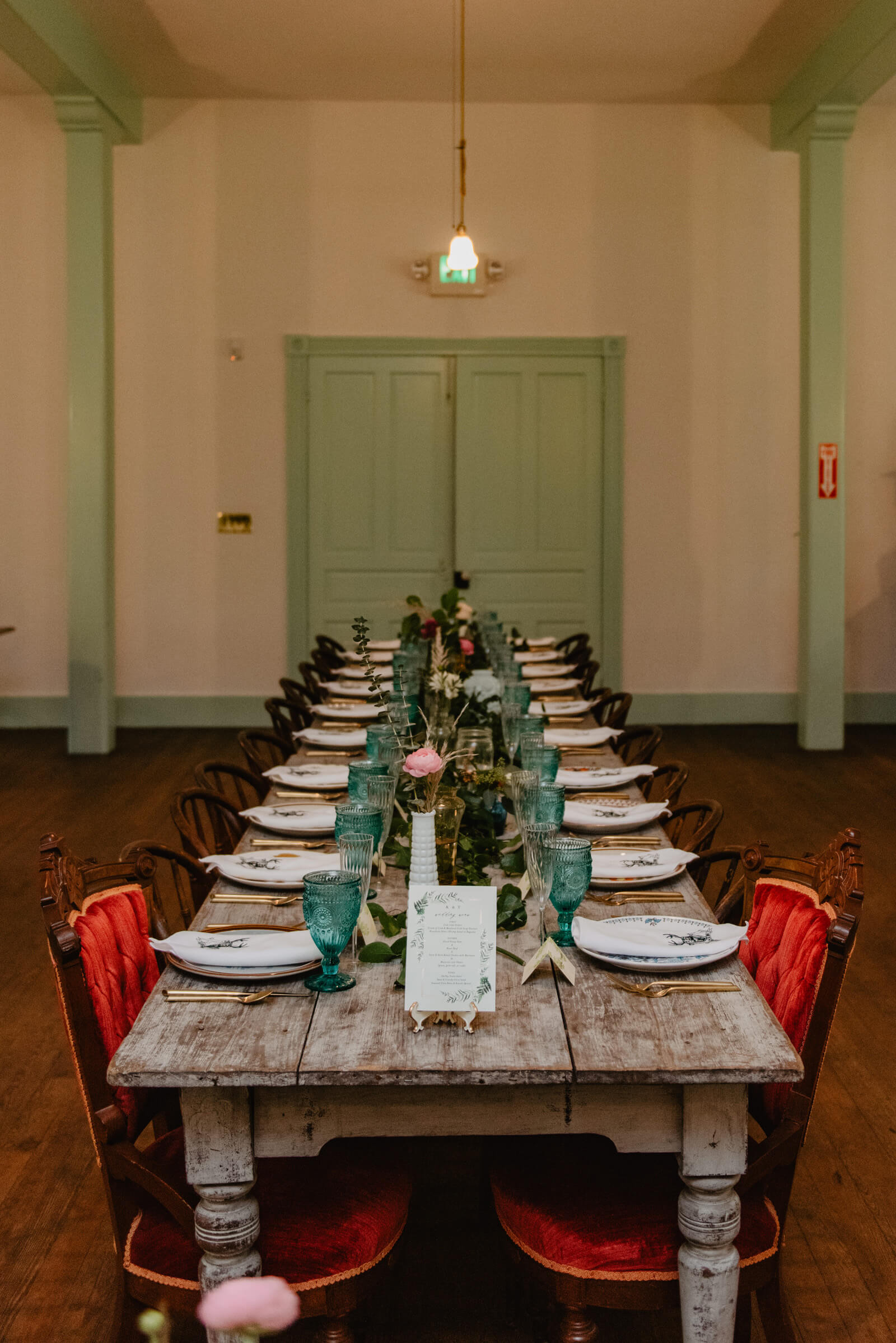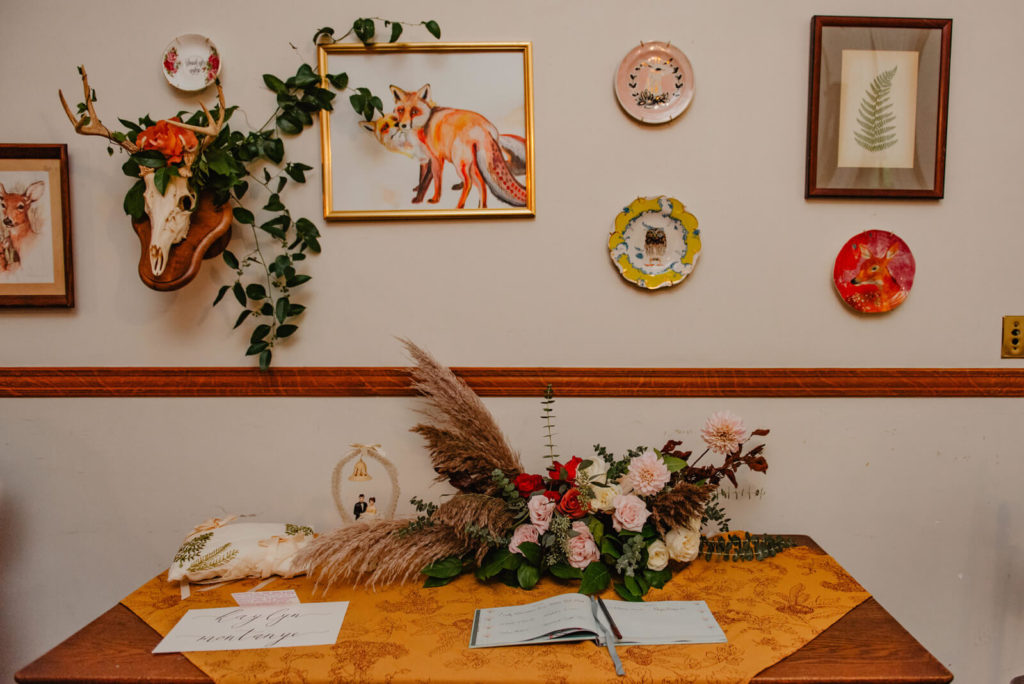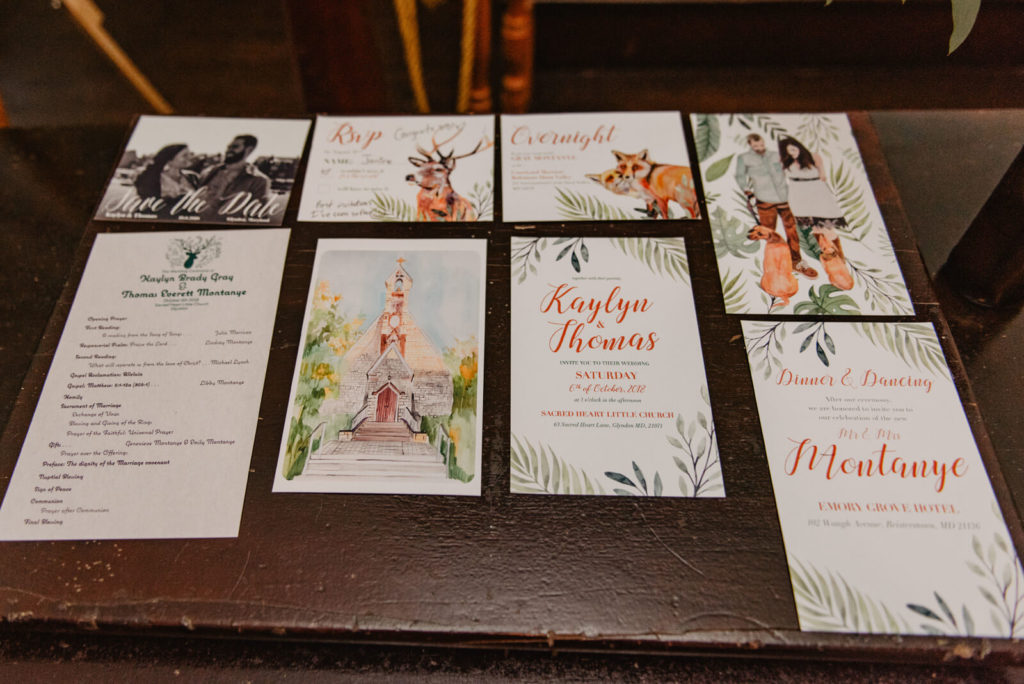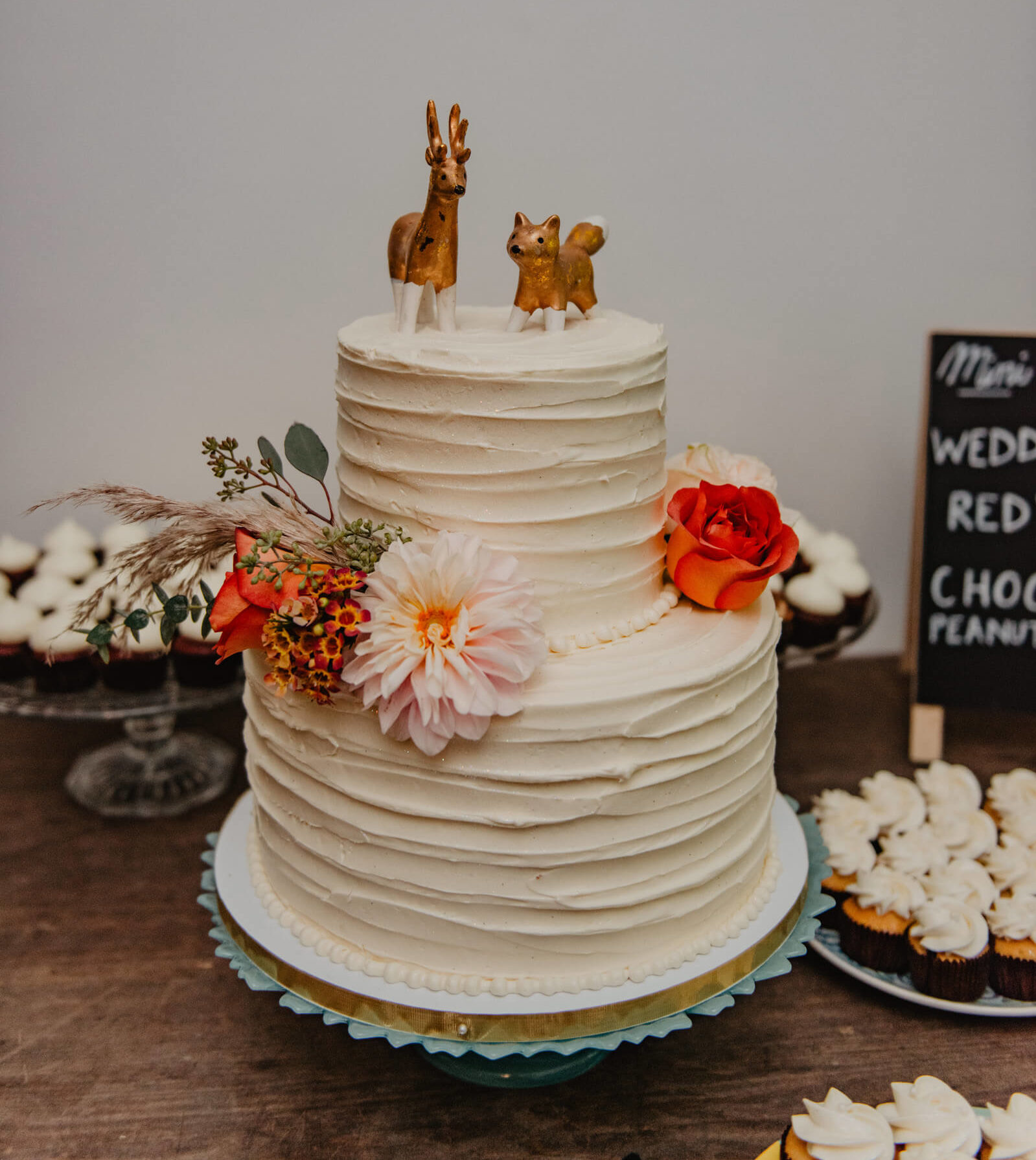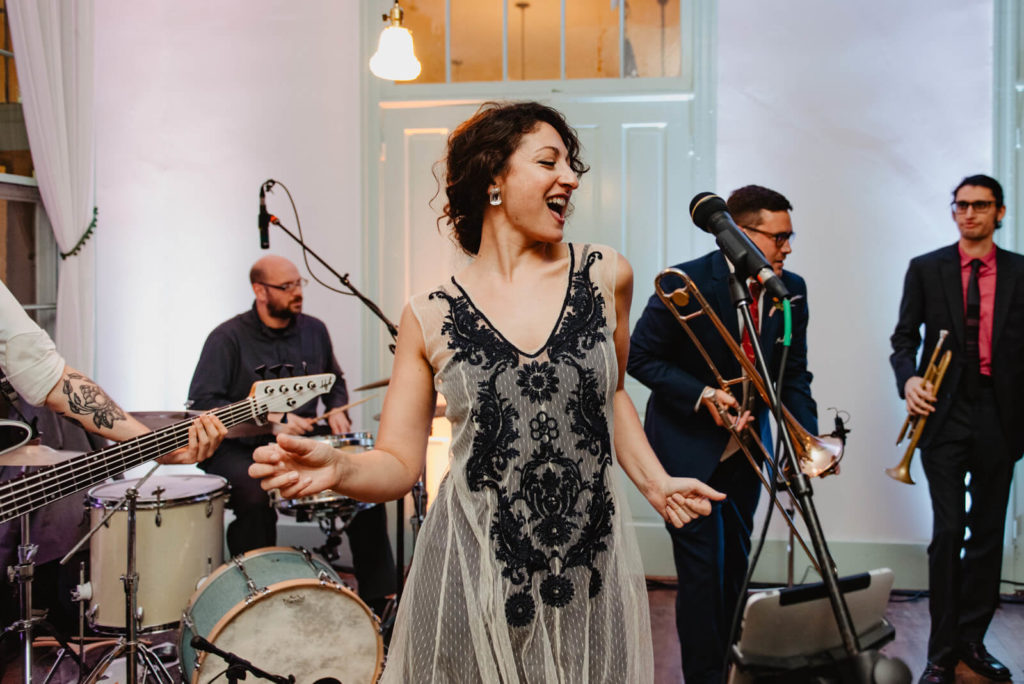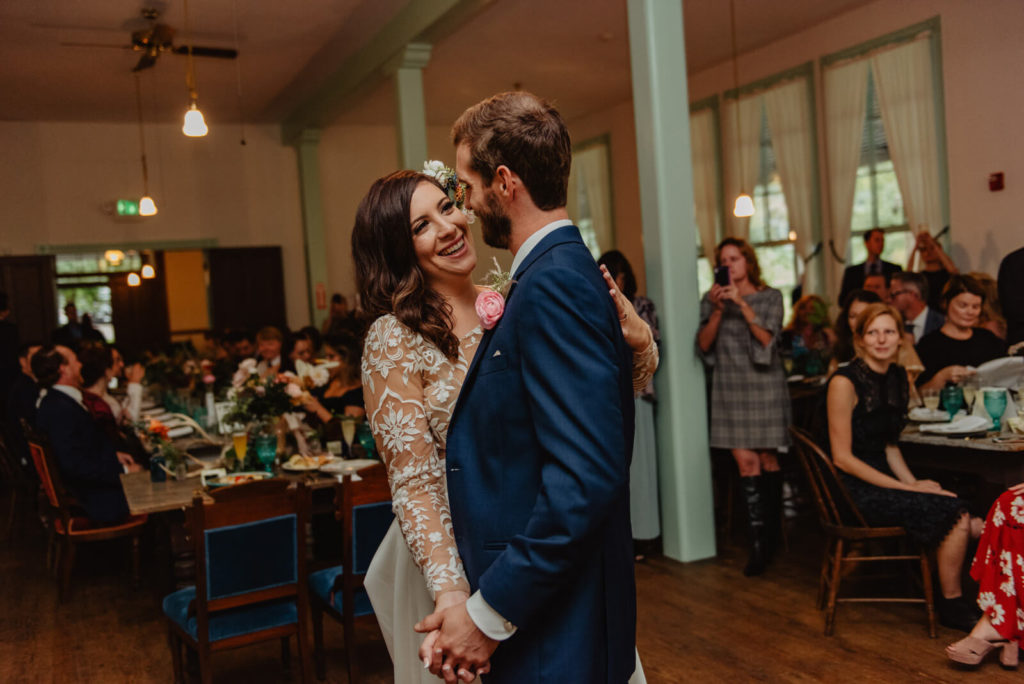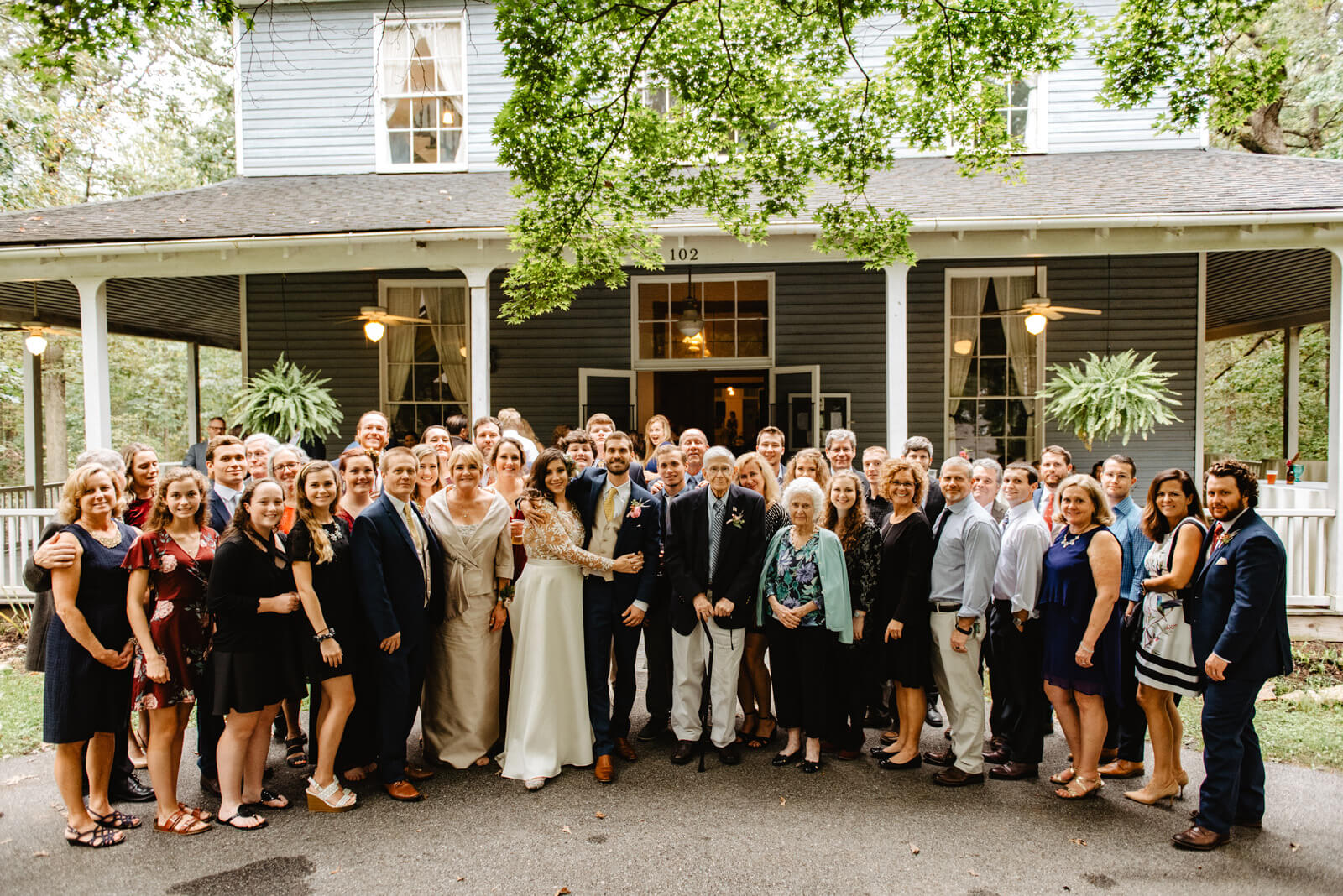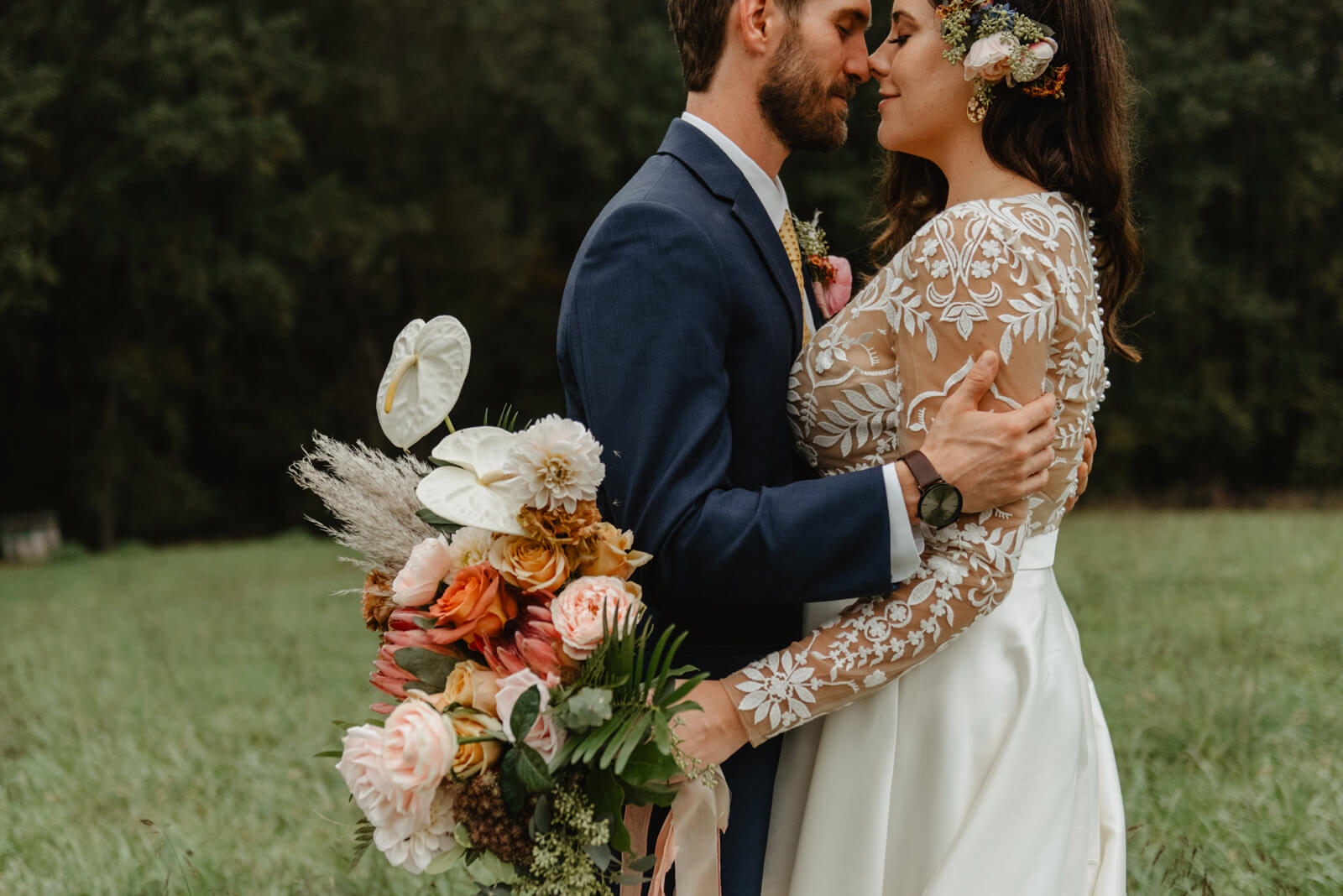 Beauty Briana Farriella and Liz Marotta from Lambs and Wolves Bridesmaids Velvet dresses from BHLDN, Free People, ASOS, Saks Fifth Avenue & Forever 21 Caterer Mamma Mish's Homemade Dishes Dessert Flavor Cupcakery Floral Design Thurman & Fig Groom and Groomsmen Men's Wearhouse Honeymoon Spain & France Invitations Illustrations by the bride Kaylyn Gray Montanye, designed by MICA student Chloe Phan Location Sacred Heart Catholic Little Church in Glyndon (ceremony); Emory Grove Hotel, Glyndon (reception) Music The bride's twin brother, Ian Gray, put together a group of musicians for a wedding band and curated the playlist Officiant Father Lloyd Aiken PhotographER Love to the Core Photo Rentals Party Plus Transportation Lasting Impressions white and maroon 1951 Bentley Wedding Dress BHLDN