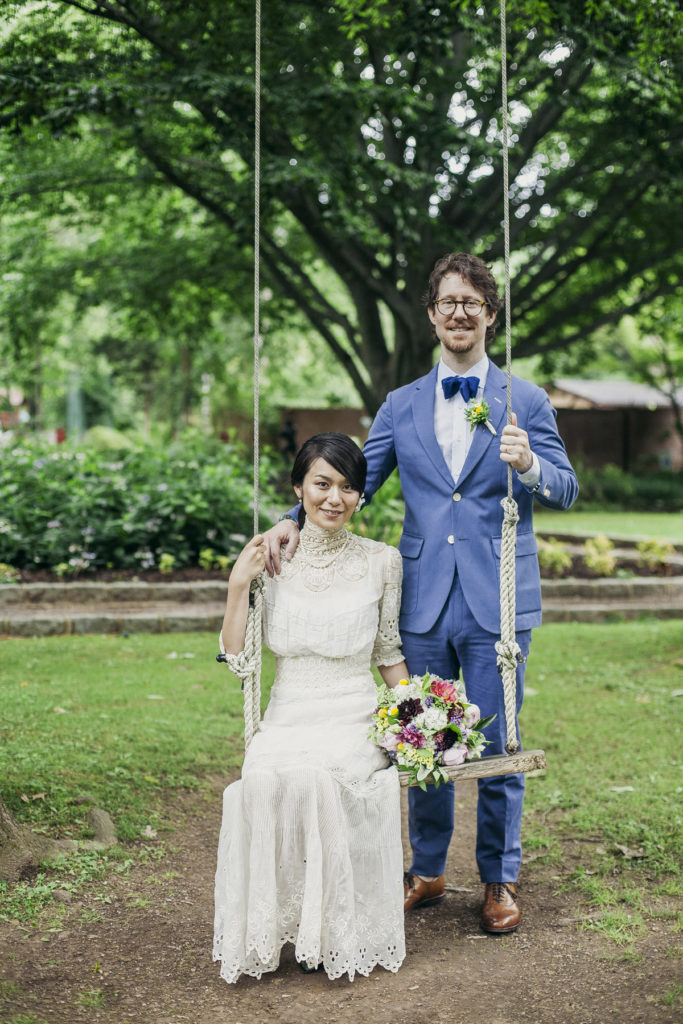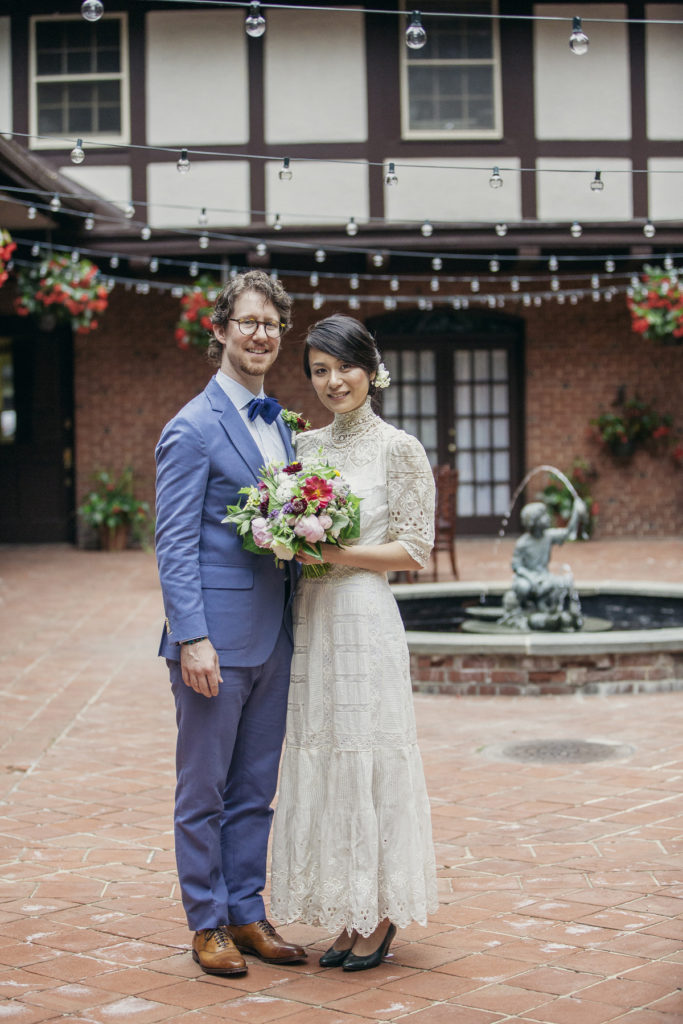 Occupations: Nobuko is a nurse; Michael is a biomedical researcher
Wedding date: June 25, 2015
Number of Attendees: Seven guests, so a total of nine people including the bride and groom.
Number of Attendants: There were no bridesmaids or groomsmen, but Mike's older sister was the "flower girl" and she escorted the ring bearer, Mike and Nobuko's little boy, down the aisle.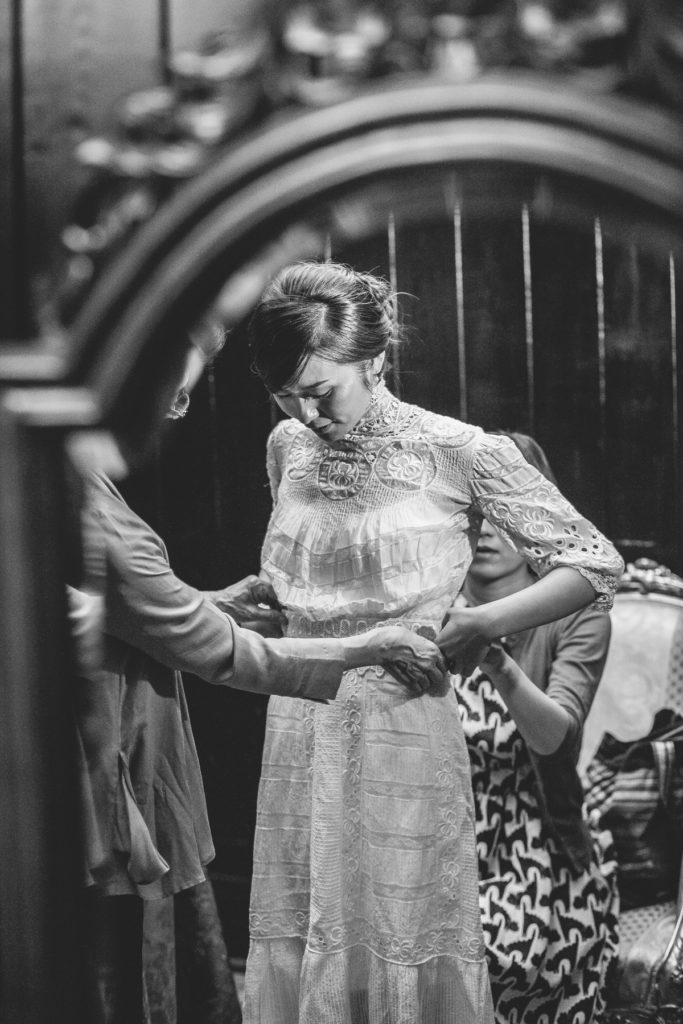 How You Met: The couple were introduced by a mutual coworker and friend while working at same hospital in Tokyo. Mike remembers what Nobuko was wearing that first day: "a long dress and cerise colored cowboy boots." The two had their first date three weeks later and have been inseparable since.
The Engagement: April 28, 2013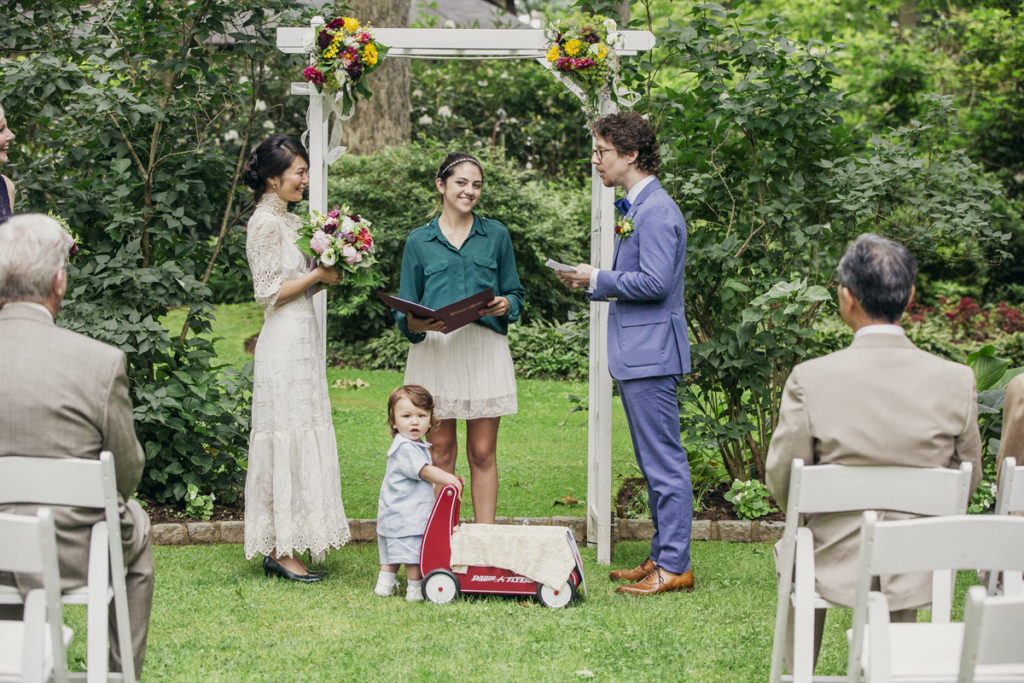 Wedding Design Inspiration: Vintage
What was Unique and Special about your Wedding: Intimate. Nobuko and Mike's families had few chances to meet due to the distance between the US and Japan, so the couple wanted their immediate families in an intimate setting conducive to conversation. The couple sought an atmosphere like a small tea party. So that all guests could understand, Nobuko and Mike delivered their vows and dinner speeches in both English and Japanese. The wedding decor was DIY from their own collection of trinkets, etc., which made them feel at home, surrounded by their favorite things.
Favorite Details: Vintage dress, flowers. Nobuko wore an authentic and delicate, vintage 1910 era lace dress purchased from Etsy. She also made some repairs and crafted a belt for the dress. Small glass-fish ornaments and test tubes were repurposed as vases to reflect the couple's love for nature and research biology. For flowers, Nobuko chose several wild flowers, including Queen Anne's lace because she first saw it in Mike's hometown during her first visit to West Virginia in June of the previous year.
The bride and groom admire the Amish and shop at the Timonium PA Dutch Market and took the opportunity to order their cake from the bakery. Nobuko and Mike wanted a homemade and simple cake topped with fruit and flowers. Of working with the bakery, the couple says, "it was a pleasure and they created just what we wanted." The bakers topped the cake with fruit and their florist, Local Color Flowers, did finishing floral decorations.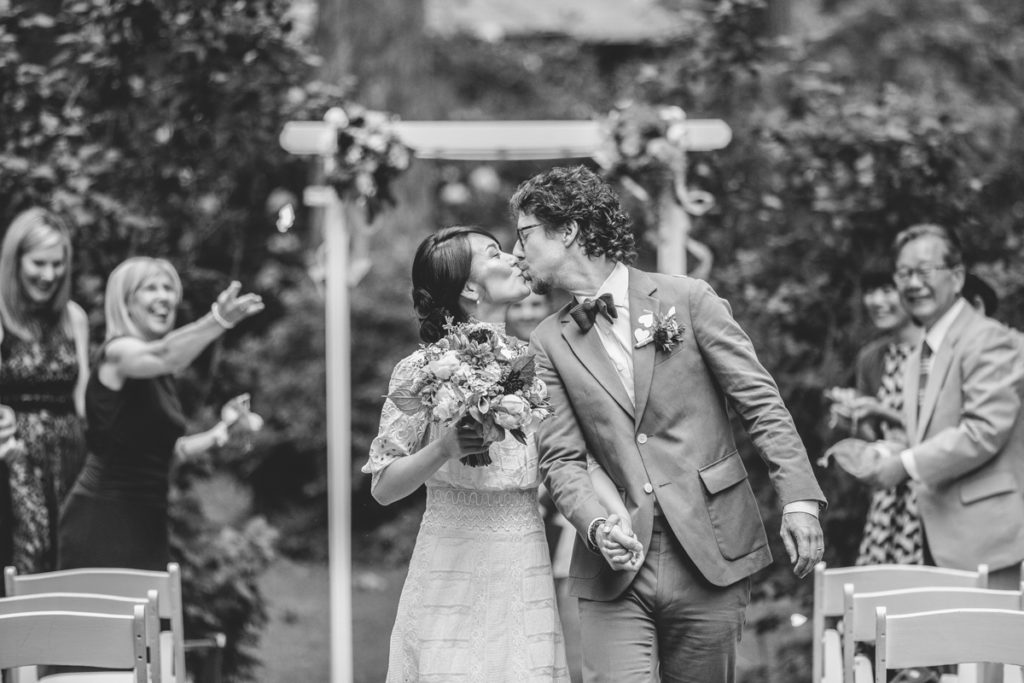 Most unexpected event on the day of the wedding: No officiant. Nobuko and Mike mistakenly assumed an officiant was included in their wedding plan, and didn't think to reserve an officiant. Luckily, Mike says, "we were lucky that a Gramercy Mansion officiant was present and grateful that she offered to officiate on the spot."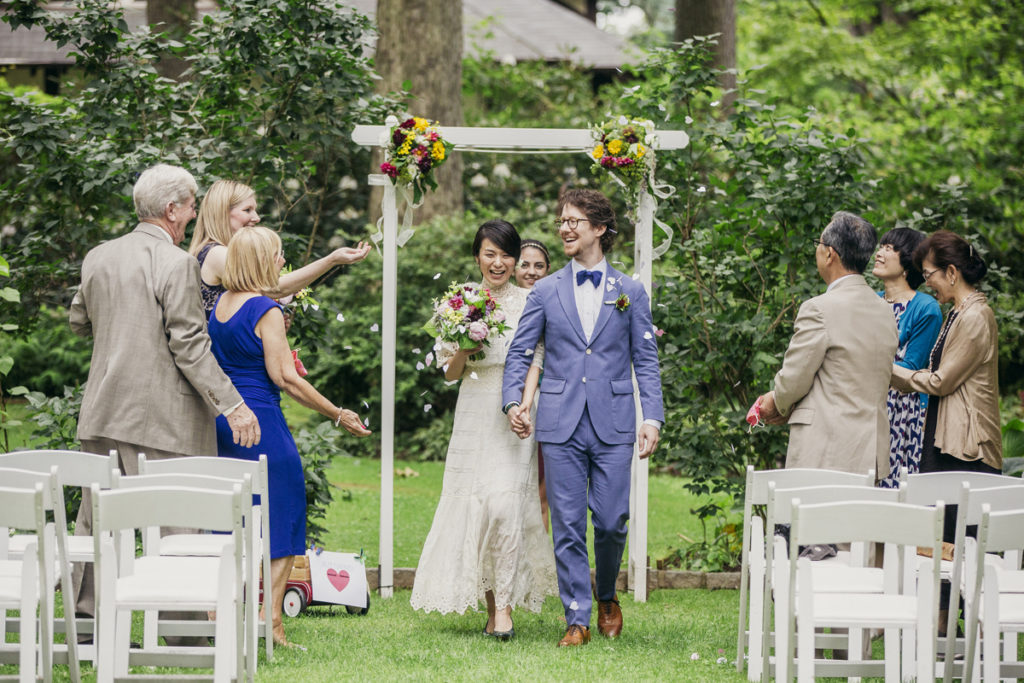 Piece of advice: Realize your vision for your wedding, and support local businesses. Mike says he and Nobuko realized their vision of an intimate, DIY wedding by keeping things small and simple, yet detailed by incorporating effects that reflect their interests. Although both he and Nobuko are new to Baltimore, they chose to support local and small businesses for their distinct styles.
Cake Aunt Erma's Bakery located at PA Dutch Market in Timonium Caterer Sacha's Flowers Local Color Flowers Groom's attire: Gant located in Georgetown Hair & Make-up Ms. Shawna at Bee Chic Bridal Invitations:Zazzle Location Gramercy Mansion Music Played from a laptop with small external speakers, the couple made a mixed music CD of classical wedding includingBach: Arioso; Air on a G String; Jesu, Joy of Man's Desiring; Wagner: Bridal Chorus; Mendelssohn Wedding March. Officiant Impromptu provided by Gramercy Mansion Photographer Elisha Maria Coleman of Lovelife Images Wedding Dress Miranda's Vintage Bridal