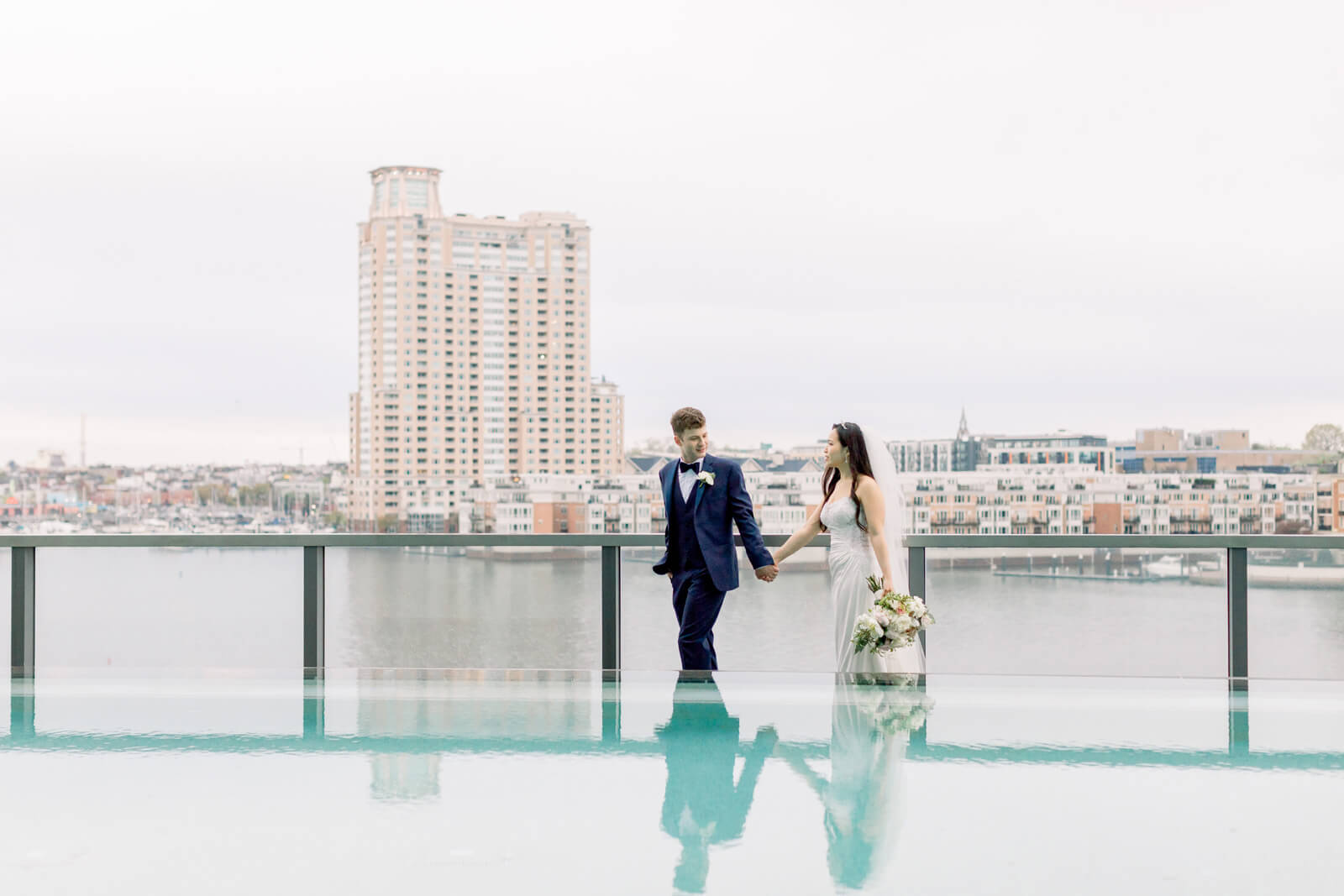 Occupation Jiyoon and Justin both work in tech.
Wedding date April 9, 2021
Number of Attendees 40
Number of Attendants Eight total including four bridesmaids and four groomsmen
How You Met We met on Tinder. I took her out to Korean BBQ not realizing she was Korean back then. We had an amazing time together and the rest was history.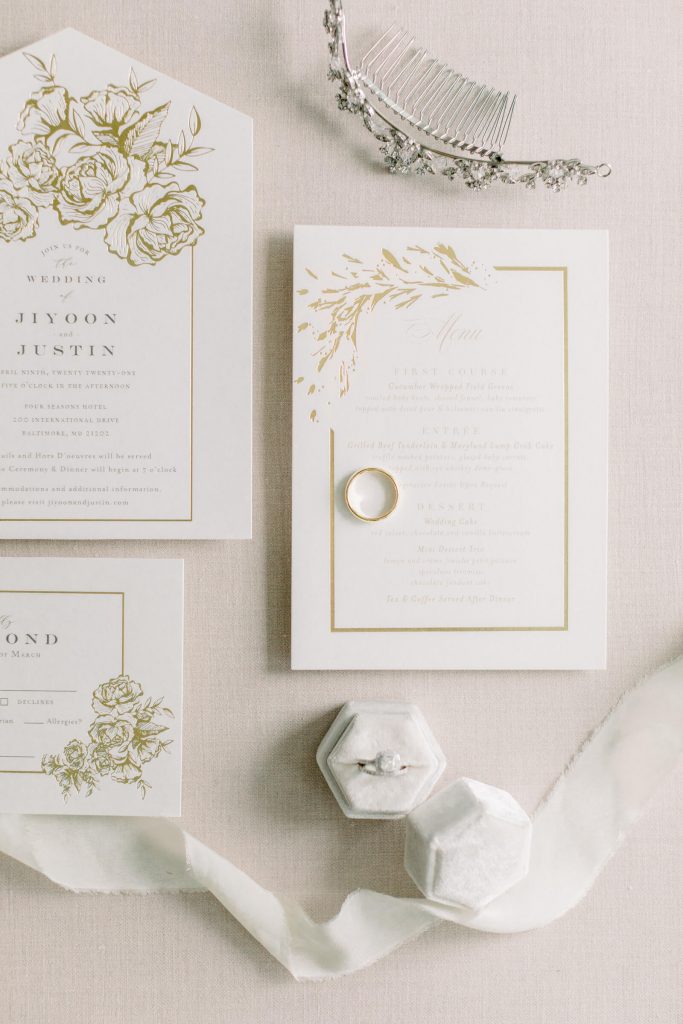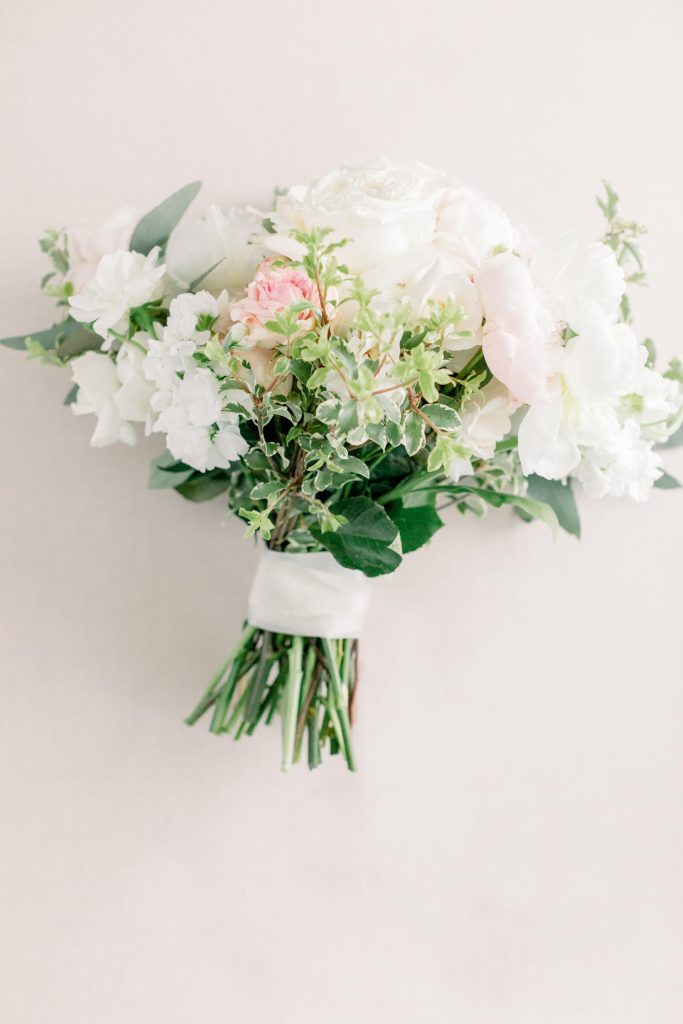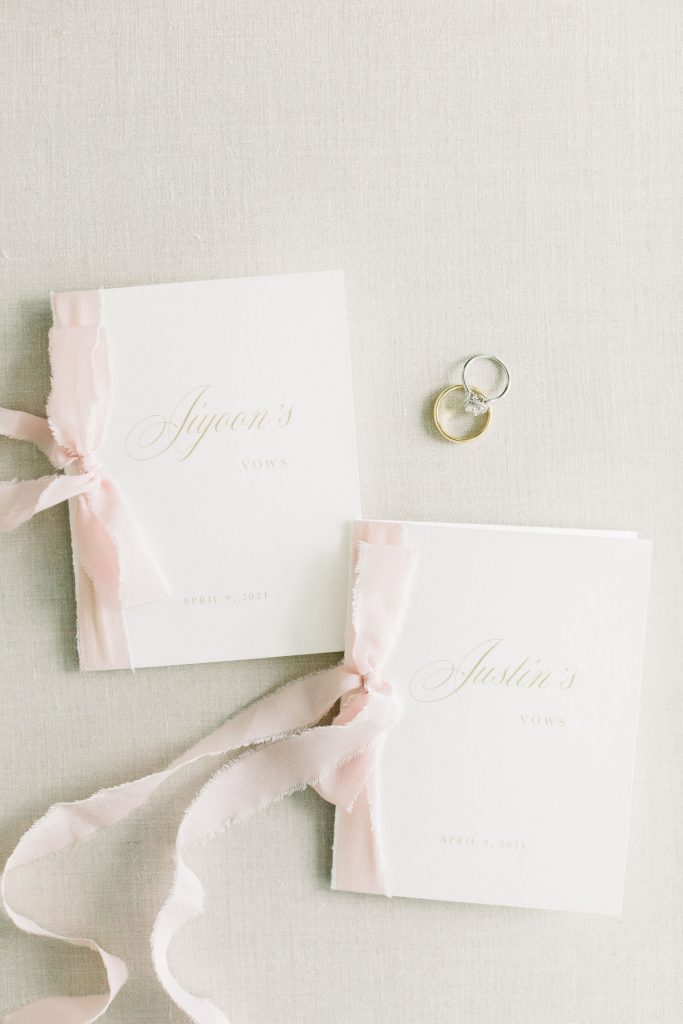 The Engagement I surprised Jiyoon with a staycation in Baltimore at the Four Seasons. After dropping her off at the spa in the hotel, I coordinated with the hotel staff to setup my proposal. The suite was decorated with rose petals, champagne, there was a large bouquet of roses by her bedside, and chocolate covered strawberries. After the spa treatment, I took Jiyoon to dinner at the top of the hotel and when we returned to the room, she saw the romantic scene. It was then that I played for her a video I edited of all our trips we had taken together during our relationship and at the end of the video I put in three of her favorite Japan-based YouTubers leaving a special custom video message for her. All of them hinted at something that I was about to do. Once the video ended, I proposed to Jiyoon and we were engaged!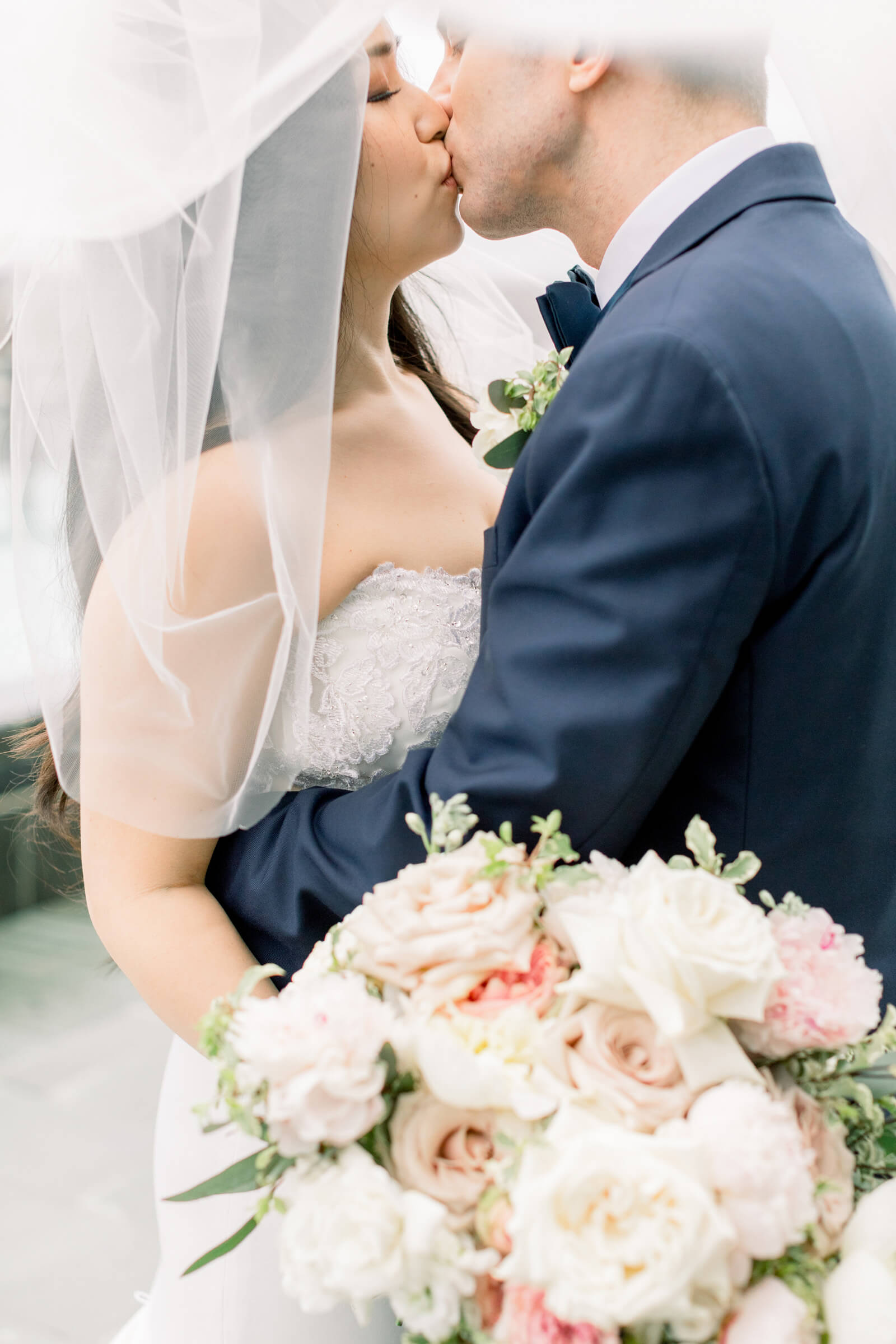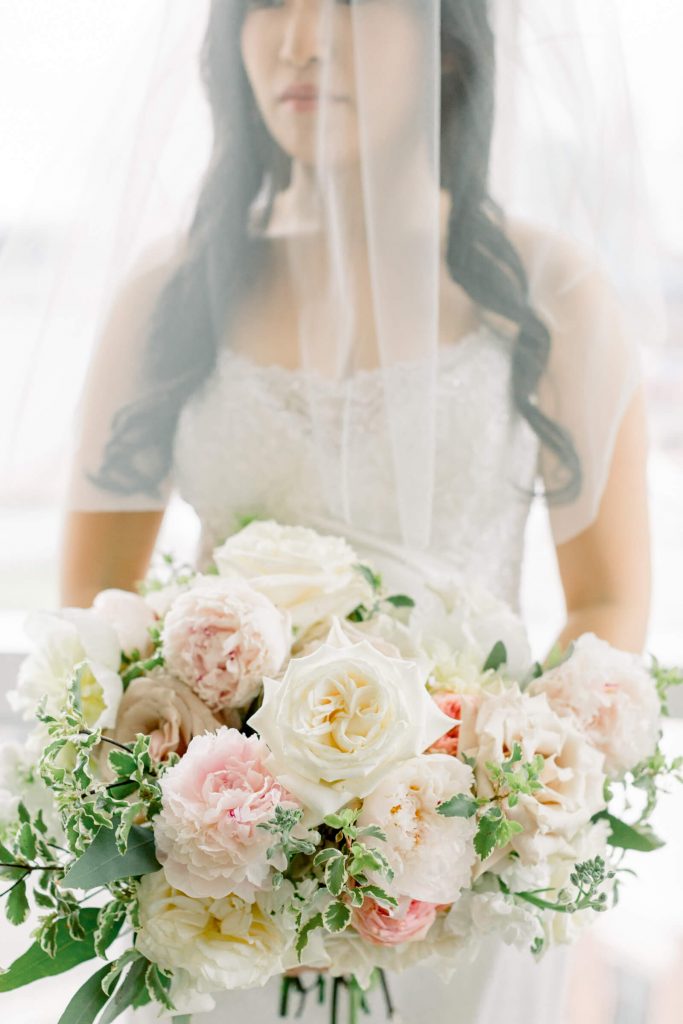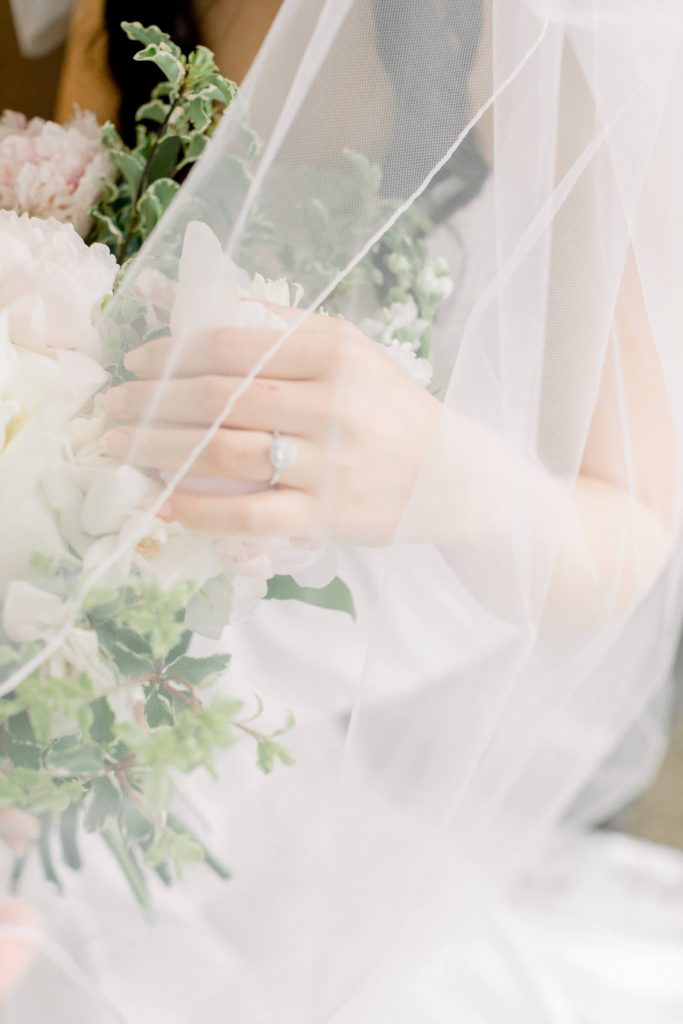 Wedding Design Inspiration Cherry Blossoms. Justin and I both love traveling to Japan and we wanted to incorporate the season of "hanami" into our April wedding. We decided to use white and blush themed florals with the recommendations from our lovely florist. She used quicksand roses, blush garden roses, white beach roses, blush peony, white stock flower, white spray roses, white hydrangeas, white peony accents and assorted lush foliage and vine pieces. One thing I really wanted was a lush floral arch for the ceremony. I got quotes from seven florists because I needed someone who could do the job well and when I found Amanda with A. Morgan Floral Design, I knew she was the one who could bring my vision to life. We wanted everything else to be white with a natural ambience to highlight the florals. So, we decided to use the venue's ivory linens and cushions, silverware, and wooden chairs for the ceremony and reception and to have white draping in the reception but not cover the beautiful windows showing the harbor. We also had uplights placed around the ballroom to give a warm candlelight glow in the evening.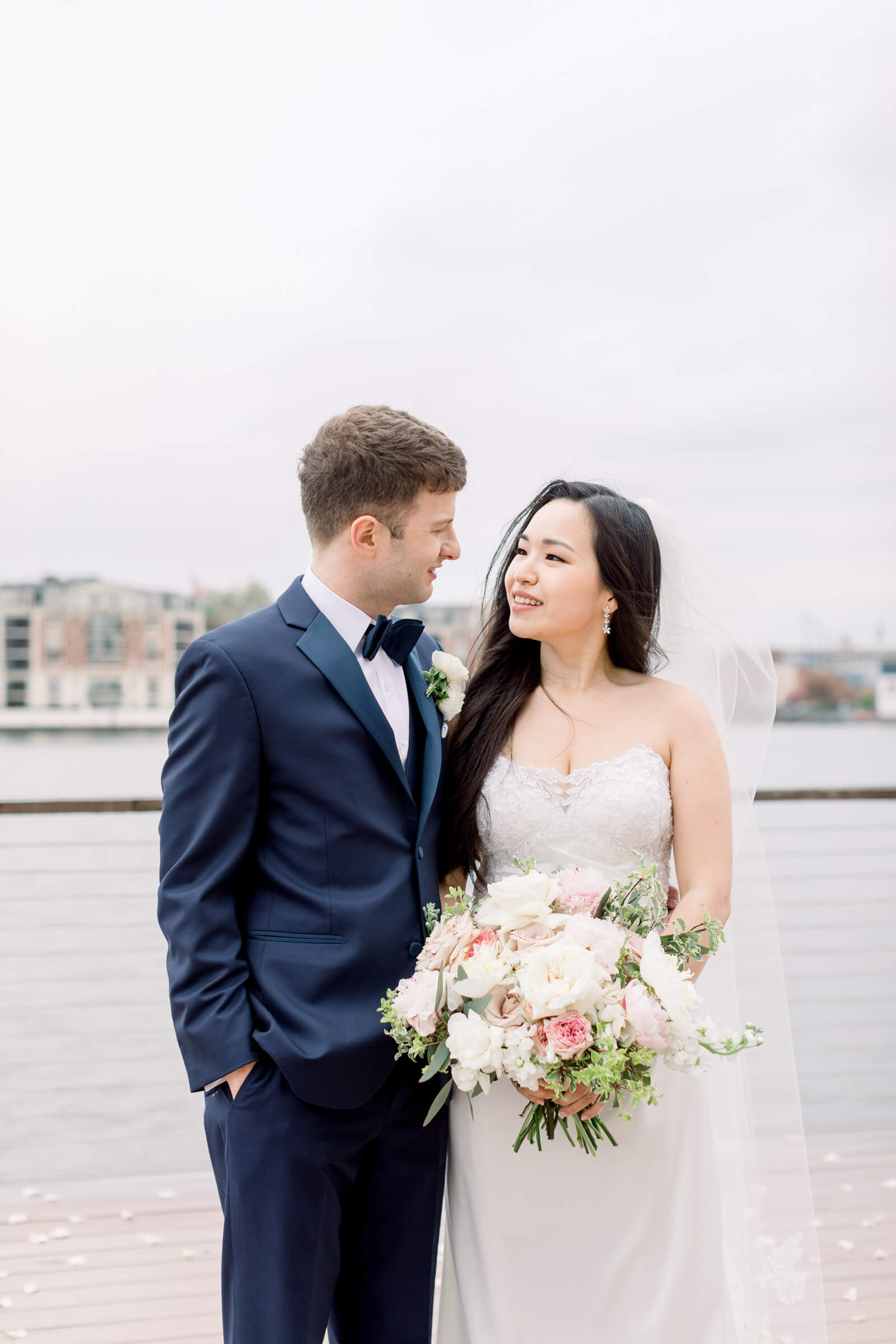 What Was Unique and Special About Your Wedding Day Justin was adamant about celebrating my Korean heritage, so we decided to also hold a Korean Ceremony during our wedding. We did it right after dinner, me and Justin had to leave dinner early to get changed and was introduced back into reception to hold the Korean Ceremony. It was a lot more fun than I expected and I am glad we got to celebrate it with everyone. Traditionally, a Korean Ceremony is a private event where only the family would attend but we thought it was too pretty and fun not to share with everyone.
Favorite Details Whenever we fly, we like sipping on a miniature liquor bottle to relax on the flight so we wanted to give out miniature Soju bottles (a popular Korean liquor) as favors to everyone, but we couldn't find any. So, we ended up creating them ourselves. The label was printed with our last name in Korean.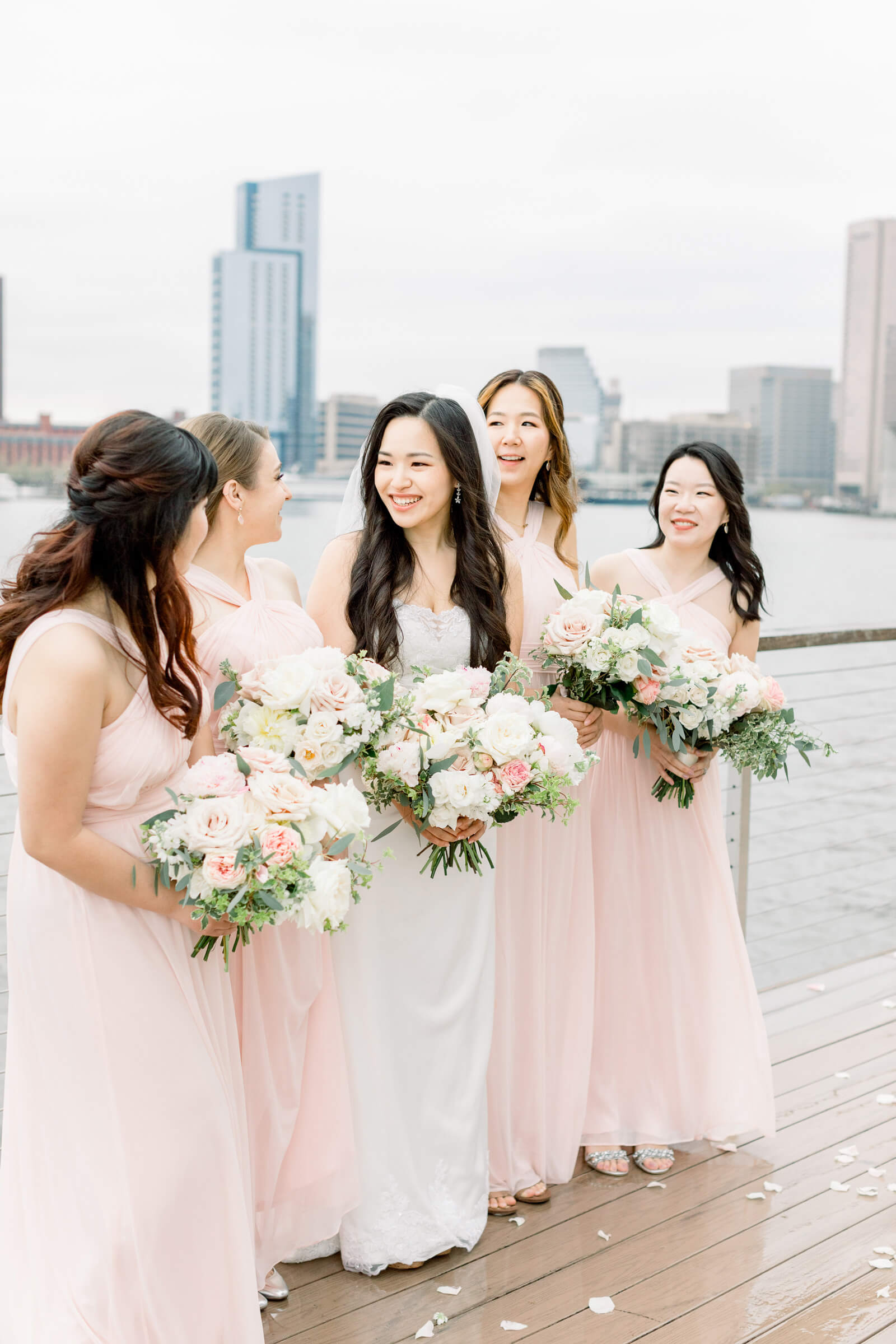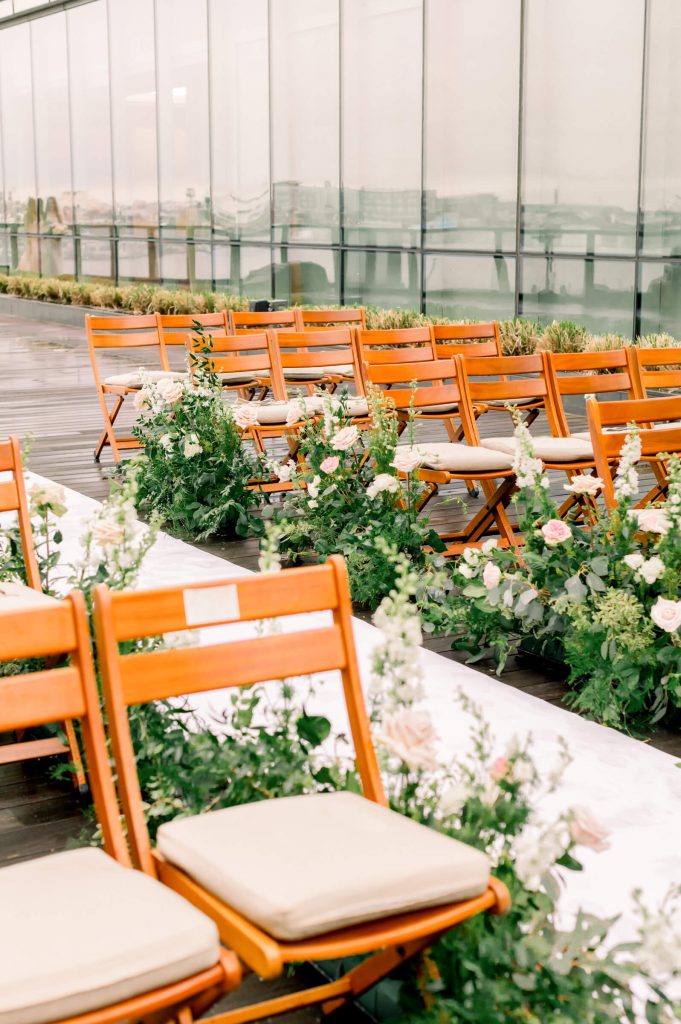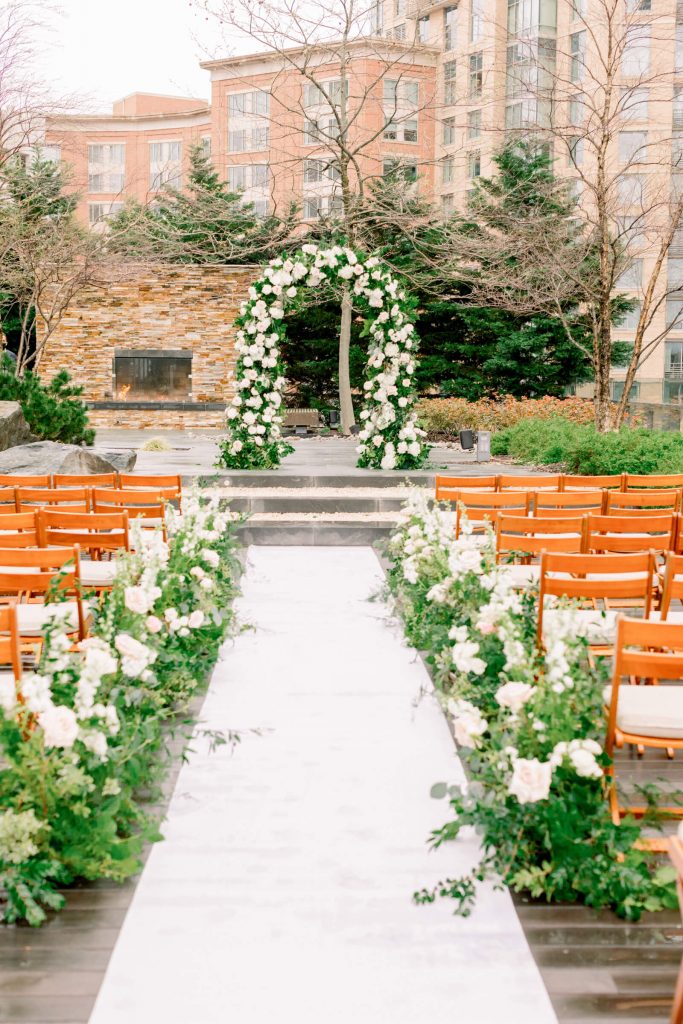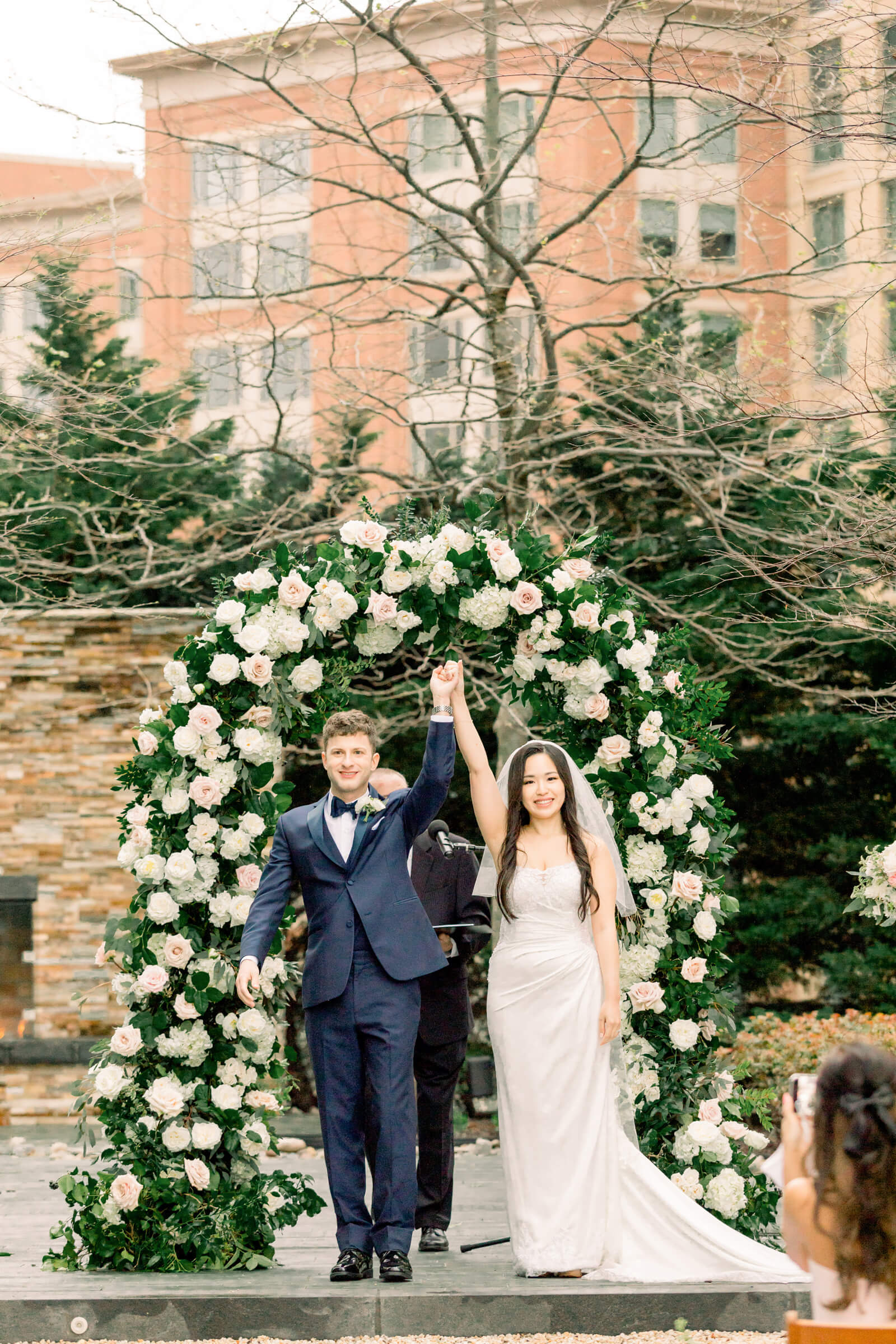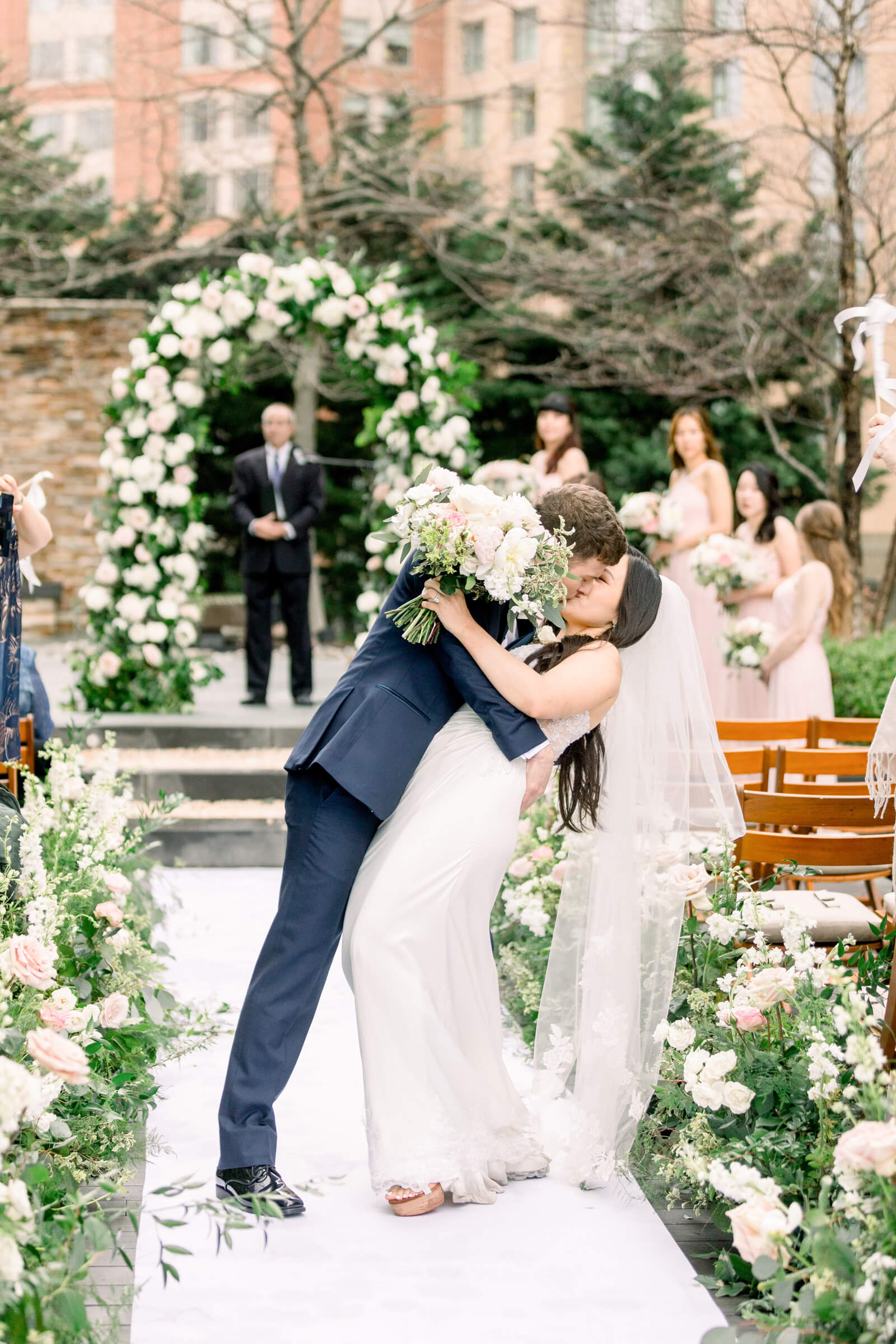 Most Unexpected Event On Your Wedding Day It was raining in the morning so we weren't sure if we could hold our ceremony outside as planned but the rain stopped right before the ceremony and started back again when everyone had gone back inside for cocktail hour. We were lucky.
Piece of Advice You only have one wedding day so make it count! Do your research and make informed decisions. Don't leave things to chance. Also, don't forget to enjoy your big day.