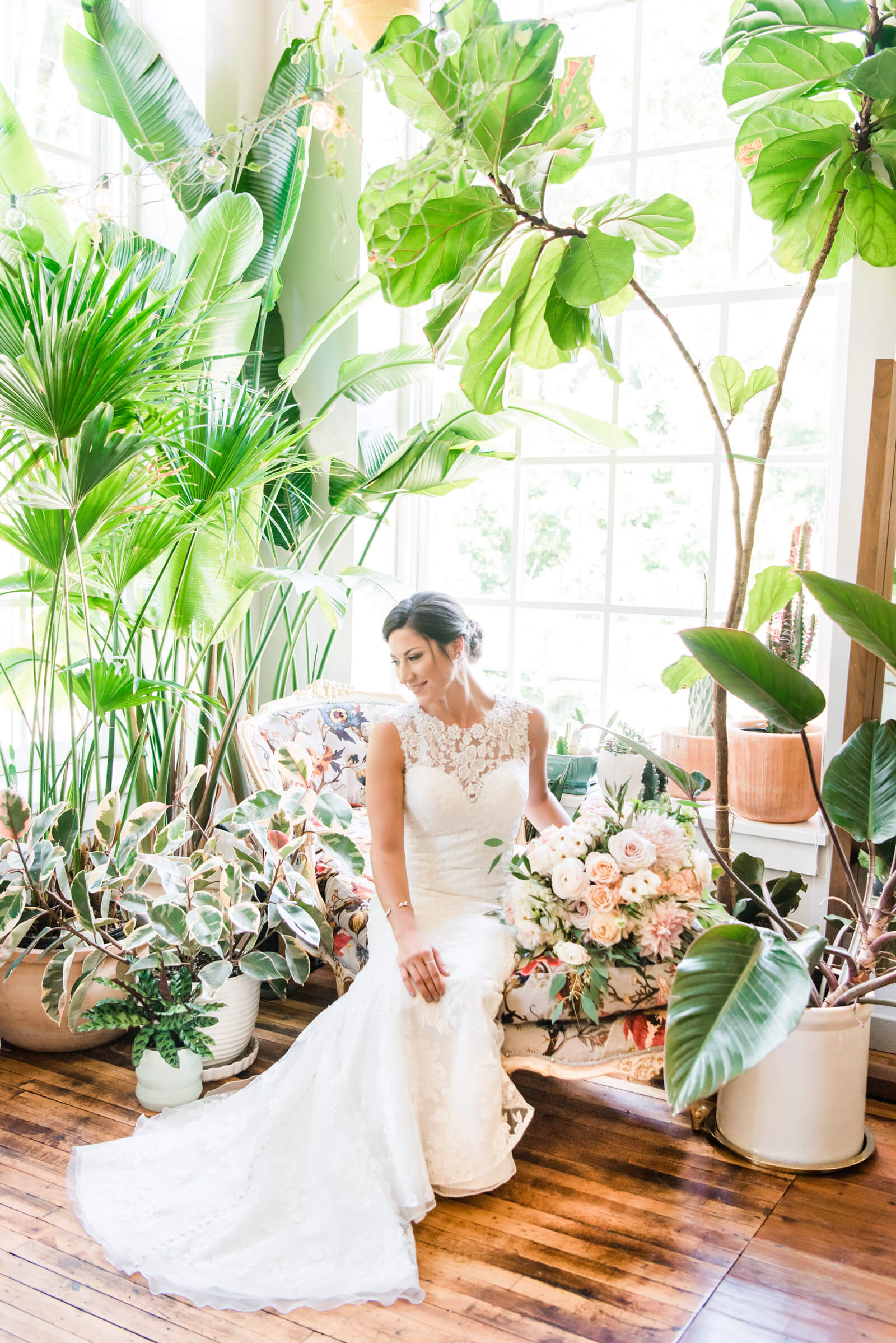 Occupations Kim is a full-time nanny and part-time DIY'er; Alex is a senior retail marketing specialist at Under Armour.
Wedding date September 20, 2019 
Number of Attendees 130 guests
Number of Attendants 16 (including two flower girls and three ushers)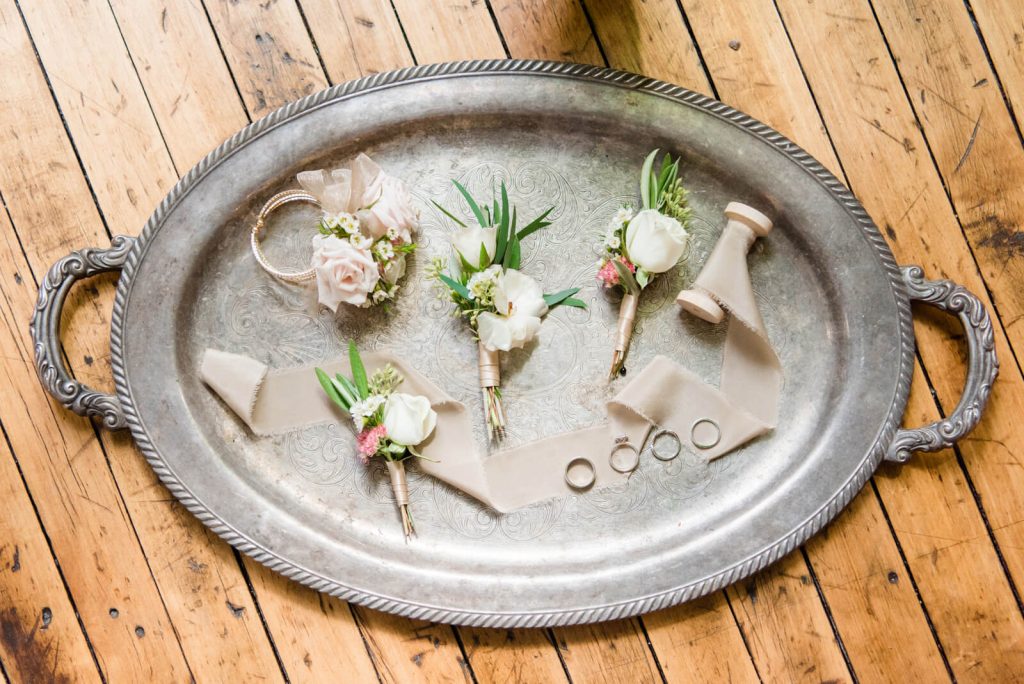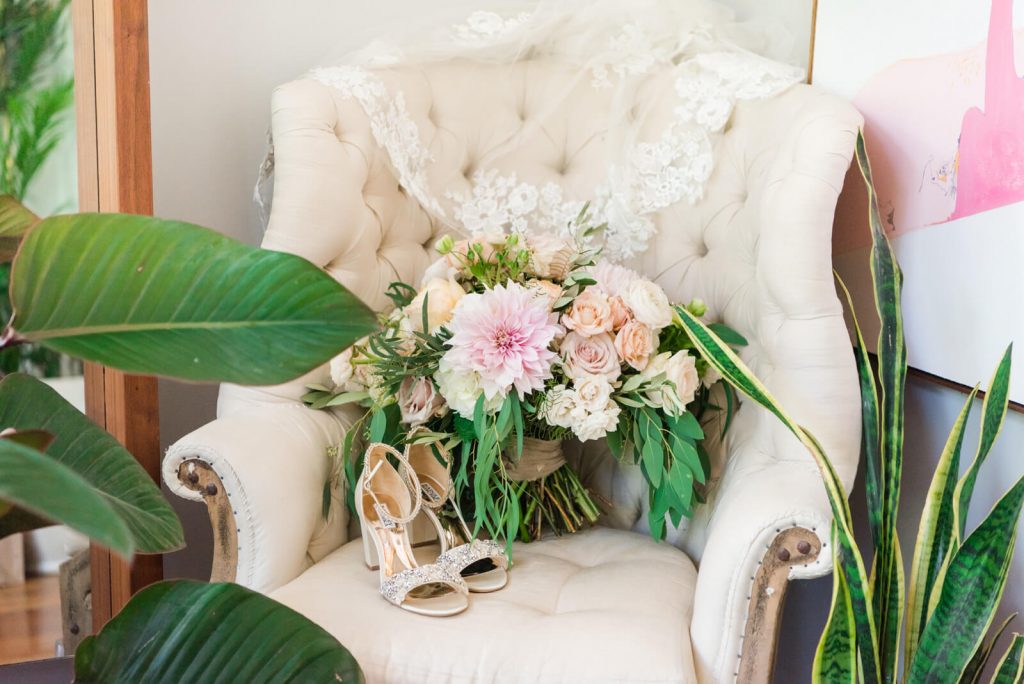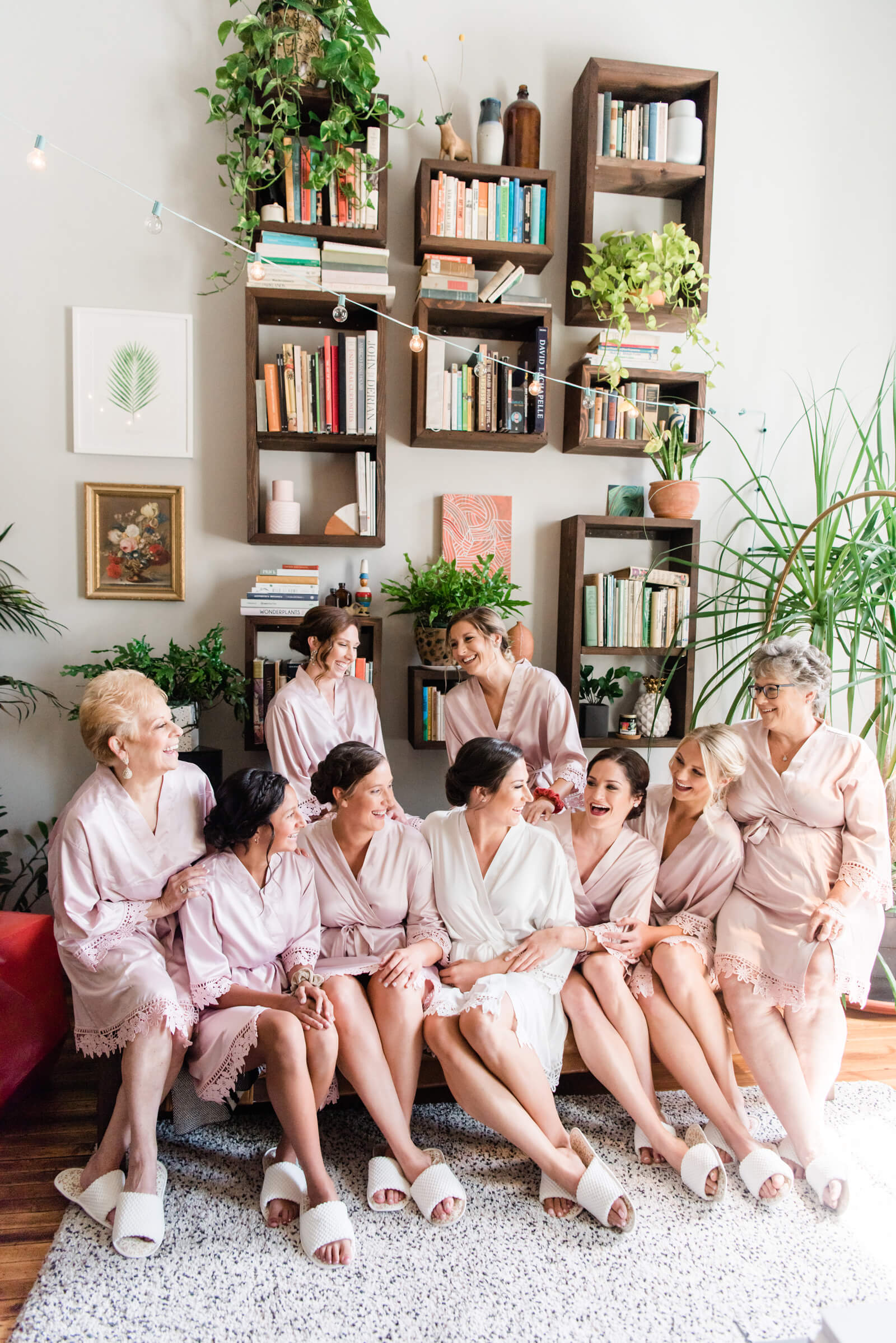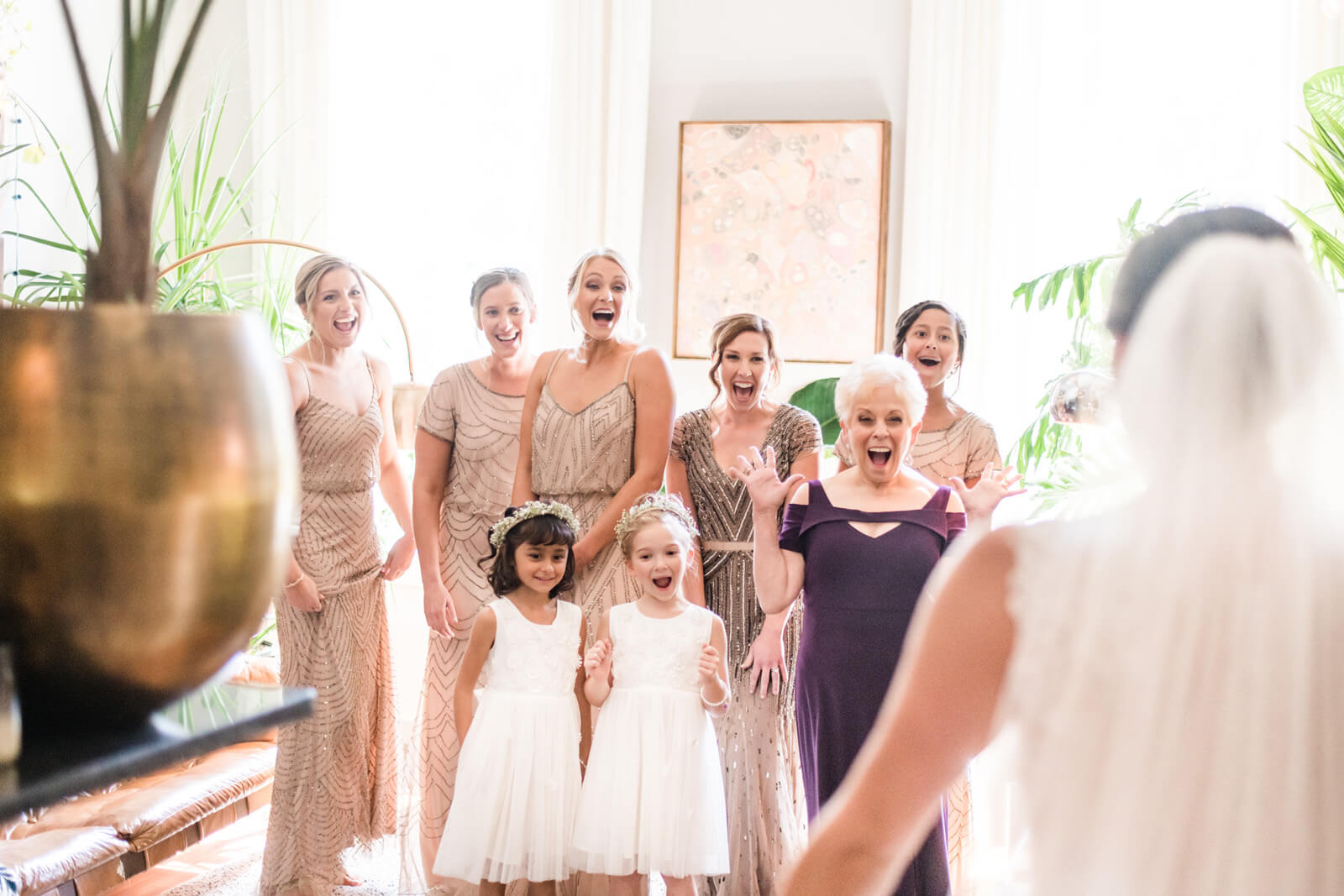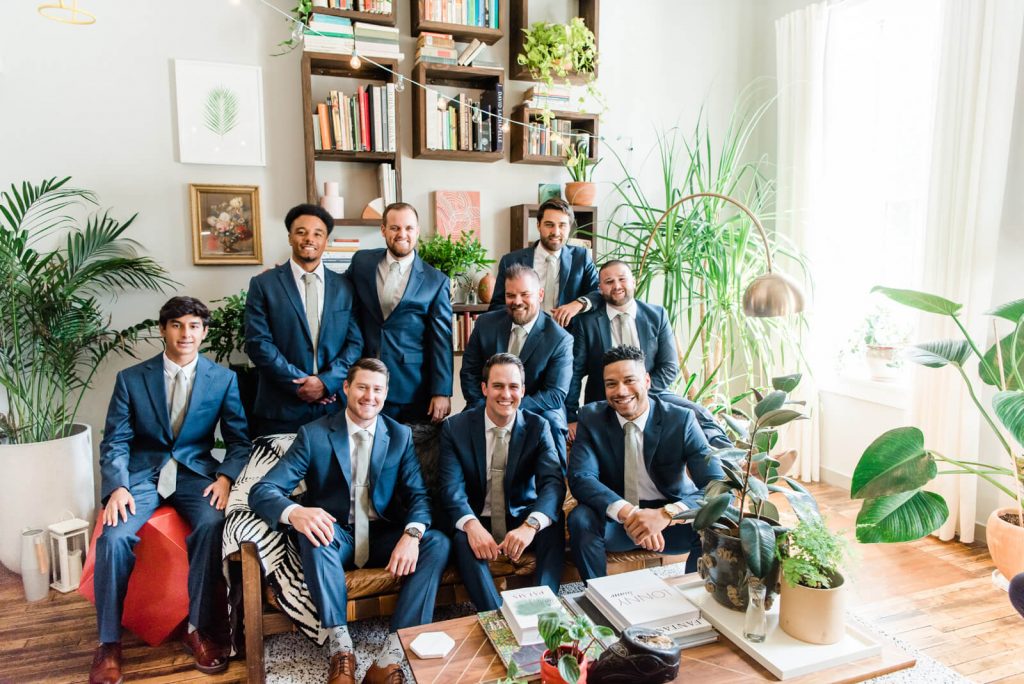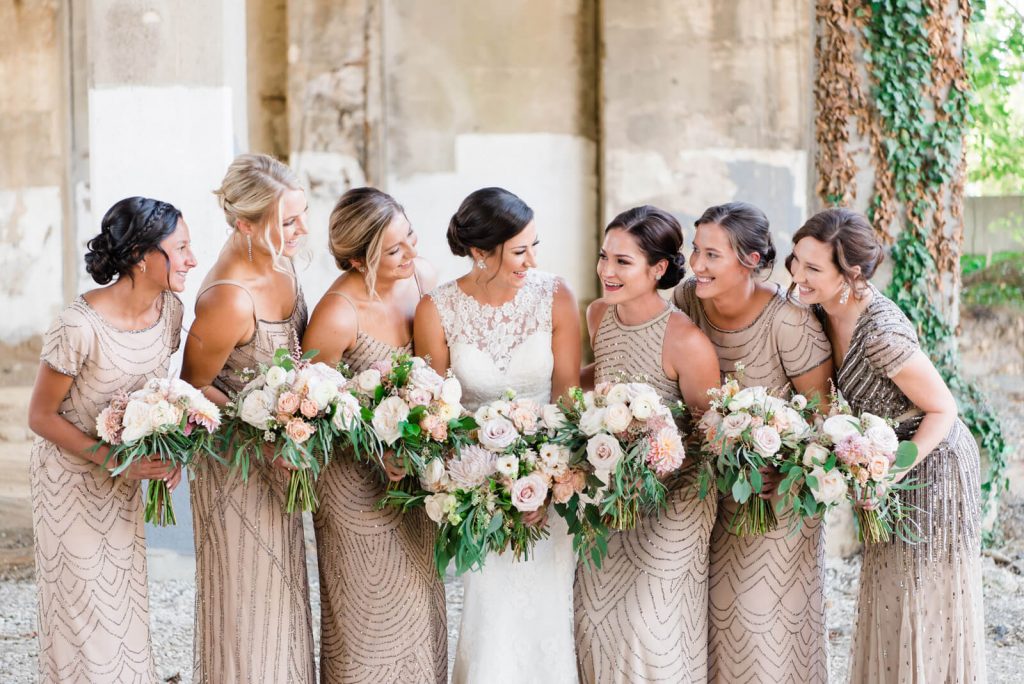 How You Met We first met in 1997 on our first day of kindergarten at Mary S. Shoemaker Elementary School in Woodstown, New Jersey. Of course it wasn't exactly love at first sight because at that age boys for sure have cooties. We again found ourselves in the same classroom one year later. For Halloween that year Alex dressed as a pirate, eyepatch and all, and in line right behind him I was dressed as a cute little bride. Maybe a bit of foreshadowing, but hey, the universe works in mysterious ways. We really cherish our 90's home videos for this very reason. Fast forward to high school, we started spending more time with each other whether it was belly laughing with friends or sitting in a classroom goofing around, it was always fun and there was always laughter. Senior year was memorable—we attended senior prom together and shared our first kiss on our senior trip to Disney World. High school came to an end and we were both set to attend Stevenson University in the fall, as friends (Alex still swears I followed him there!) Freshman year started off great. We lived on the same floor in the same building—what were the odds of that happening?! We remained friends until senior year when we thought it was about time to make things official. Our relationship has been nothing short of adventurous while making memories and laughing day after day, excited as ever to continue doing life together in tandem.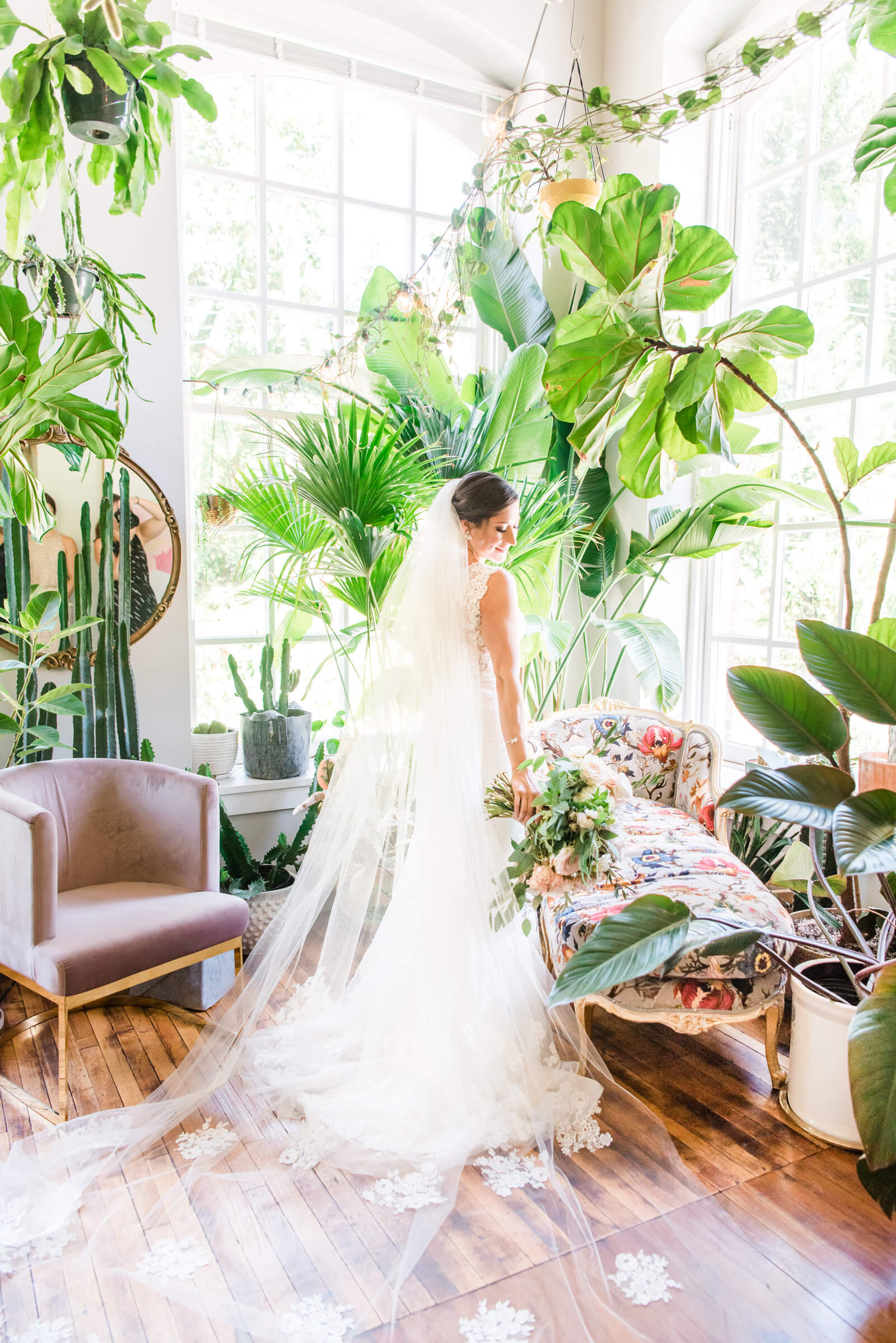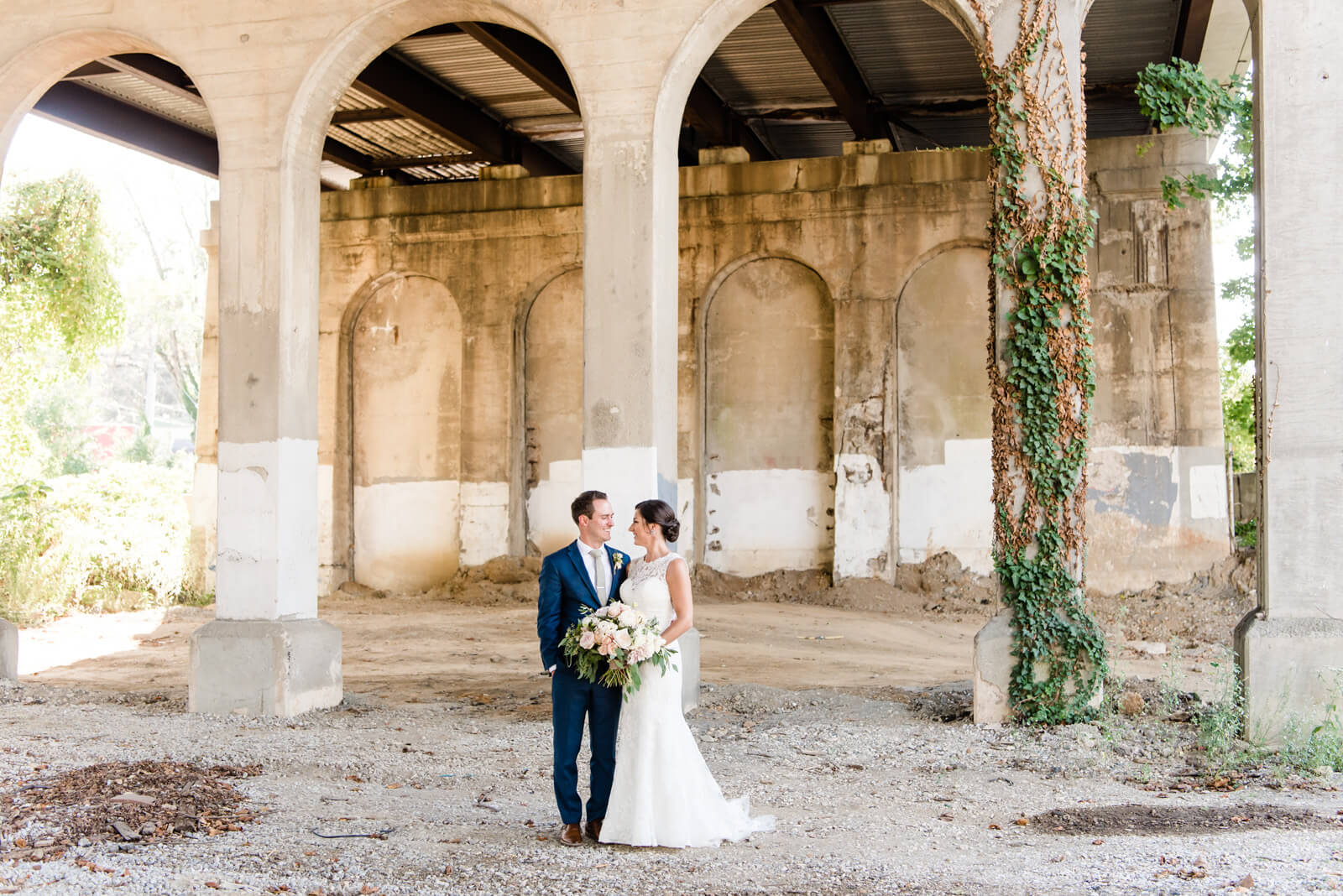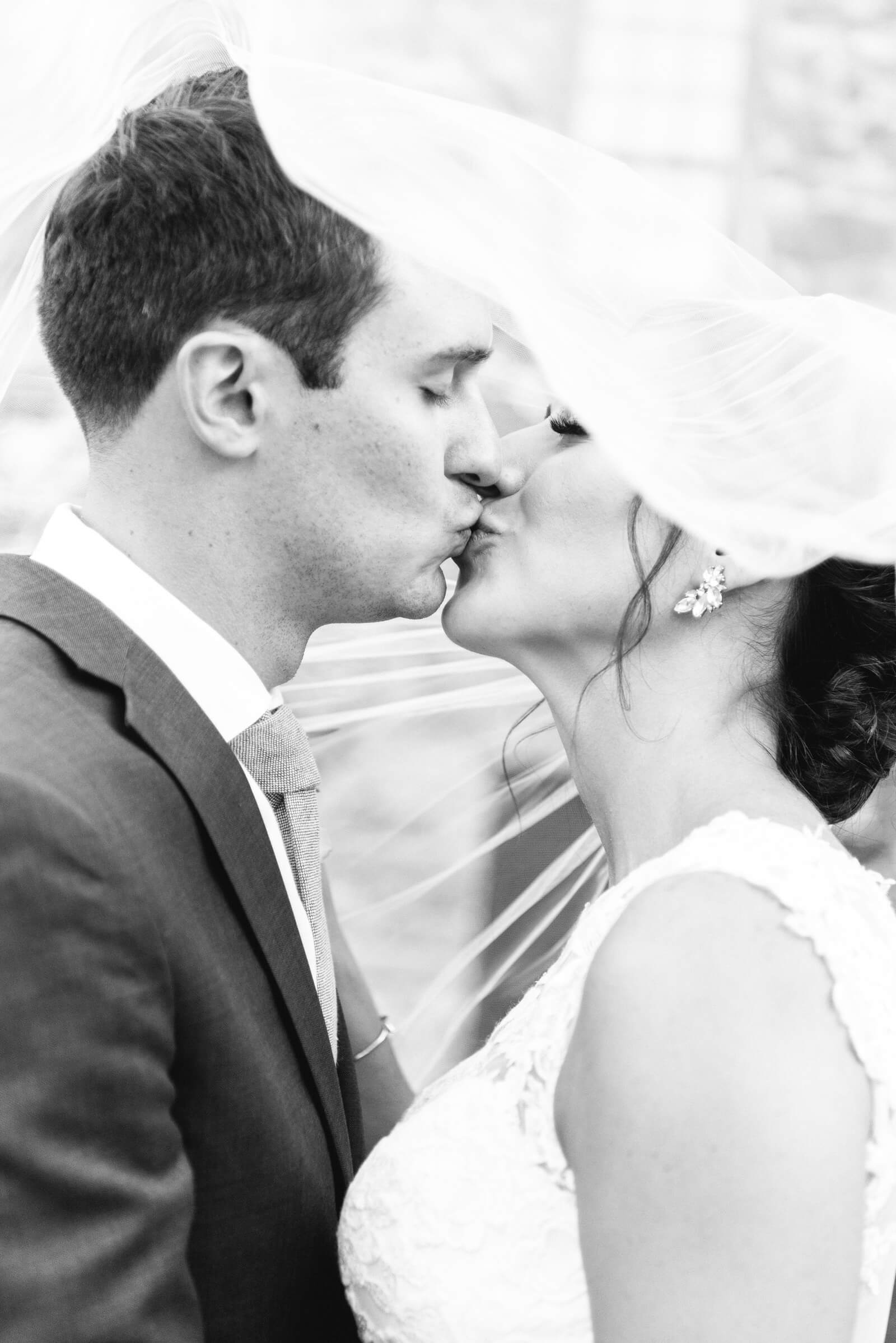 The Engagement I grew up traveling to Sanibel Island, FL every year to visit my grandparents who successfully escaped the chilly northern winter months. Sanibel is my happy place that I introduced to Alex early on in our relationship. We rented a tandem bicycle on his first trip and yes, we laughed way too hard trying to get going, but the whole process of working together resonated with us. On March 18th, 2018, we rode our tandem bike to the Sanibel Lighthouse, a Sanibel tradition, and Alex got down on one knee and proposed—we've been doing life in tandem ever since.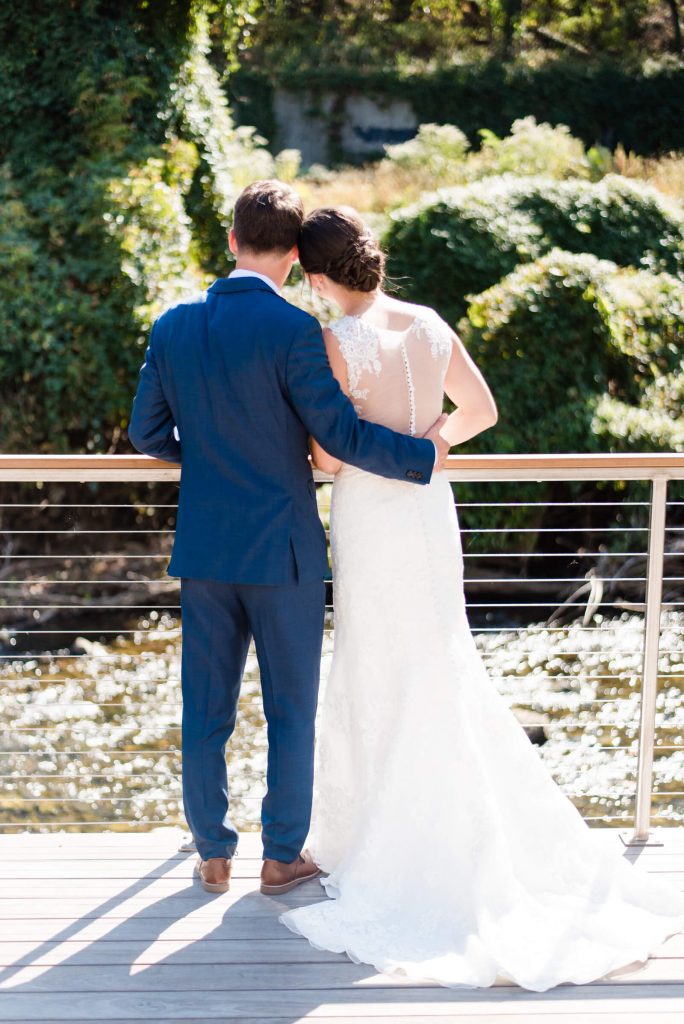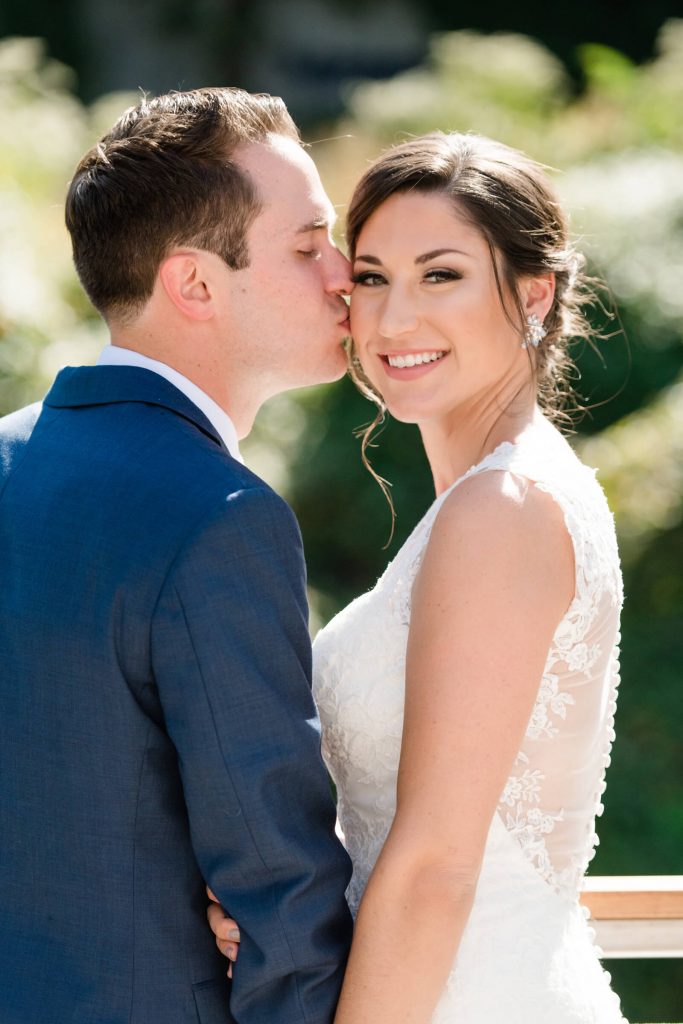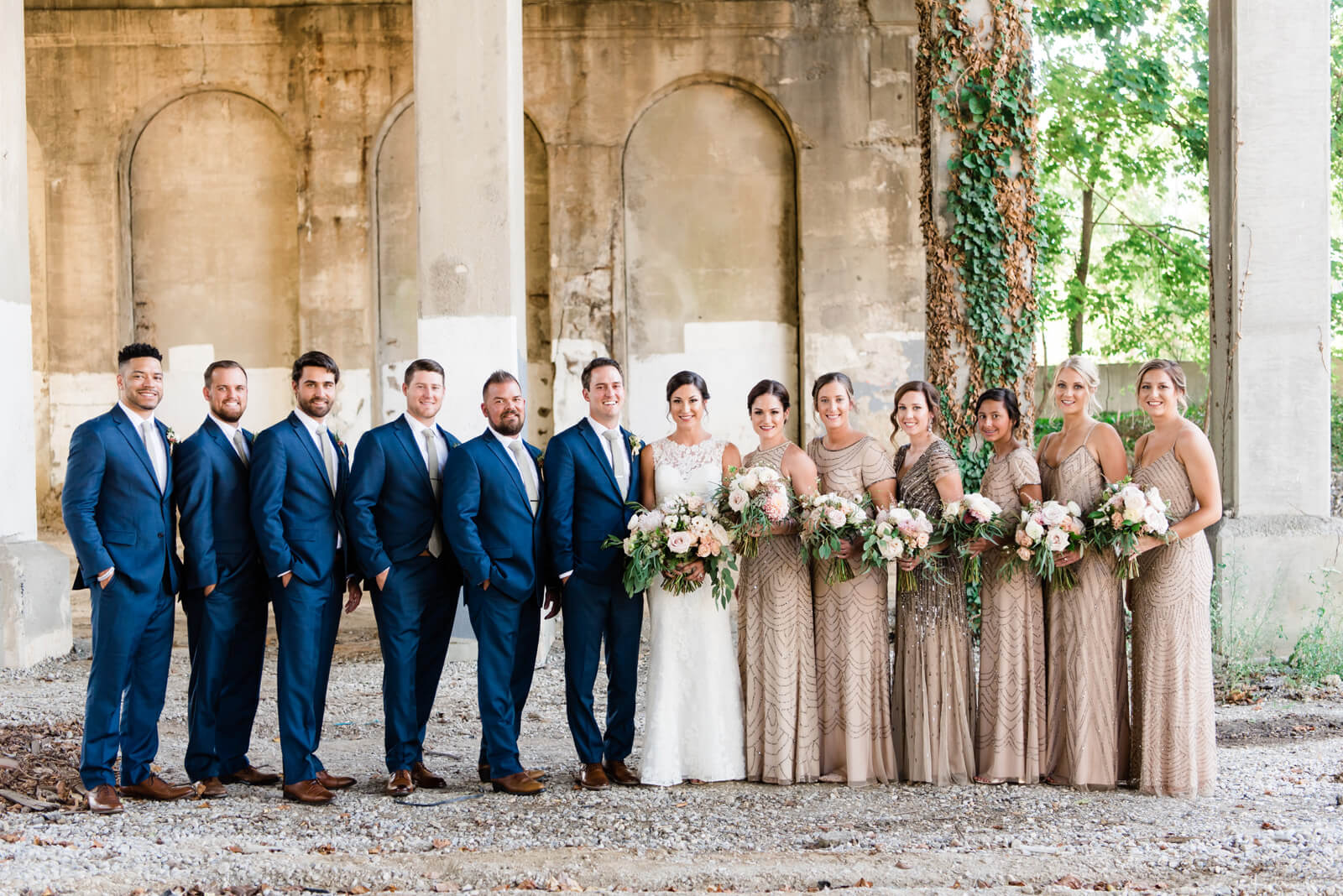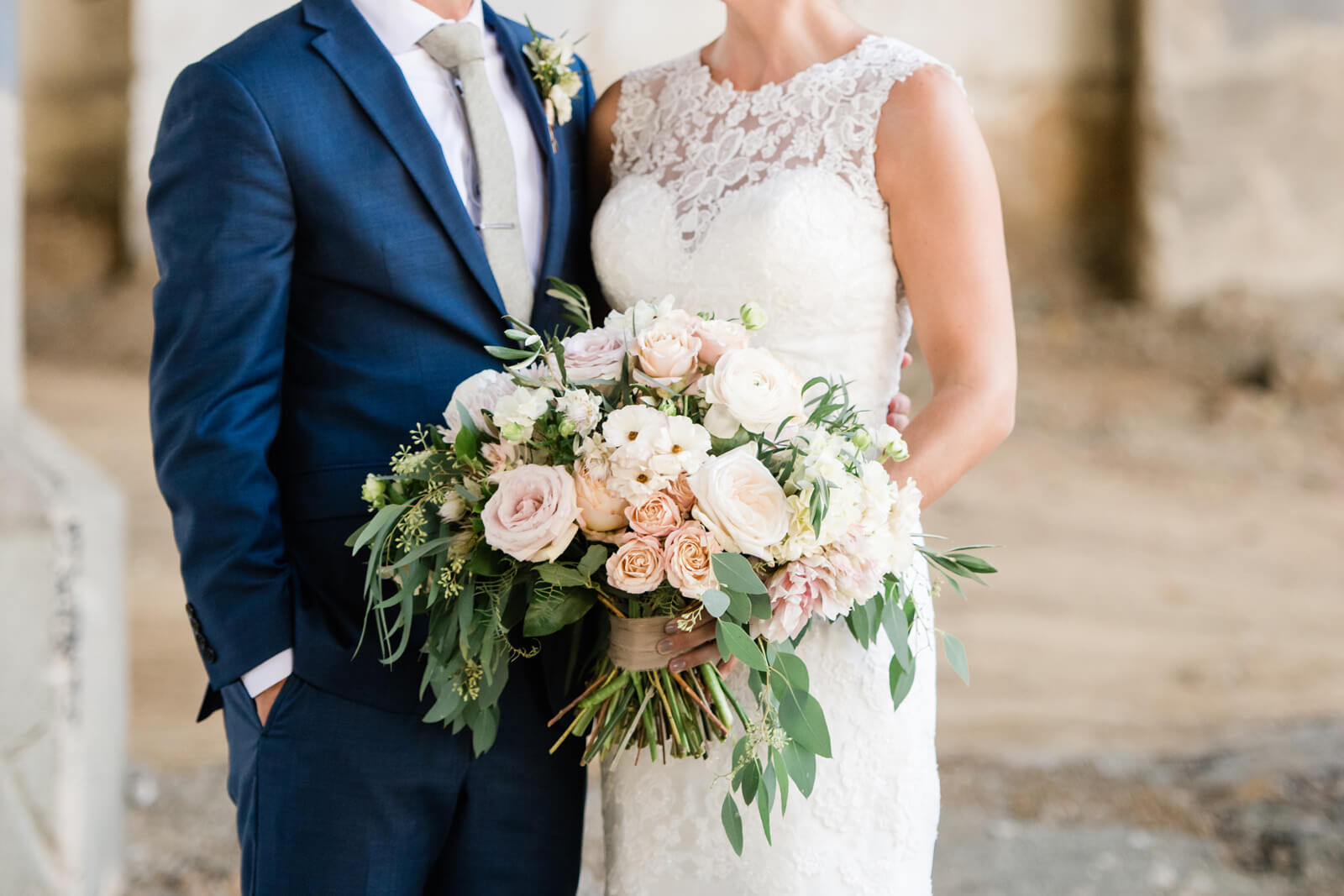 Wedding Design Inspiration The Mt. Washington Mill Dye House was on my hidden Pinterest board for years. After touring the space we were sold, and our vision evolved into a rustic chic style. As avid DIY'ers we knew we wanted to make most, if not all, of our decor. Honeywood Event Rentals provided farm tables and whiskey barrels that gave a rustic feel while Event Dynamics provided lush fabric curtains and café lighting strung throughout the venue to give a chic and romantic feel. A balance like no other. All of the florals were arranged by family friends who once owned a floral shop—their attention to detail and ability to put an entire Pinterest board to life was unwavering.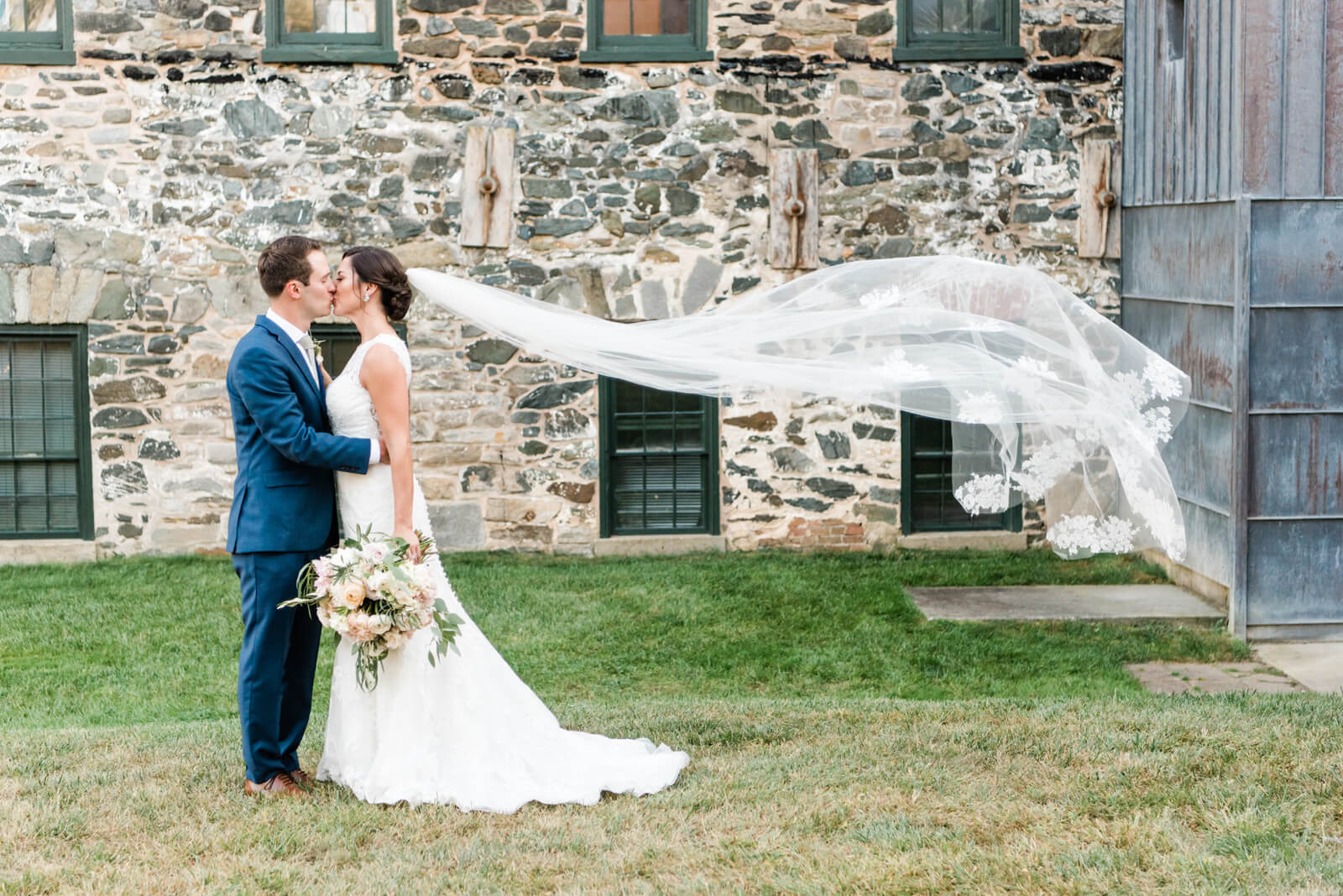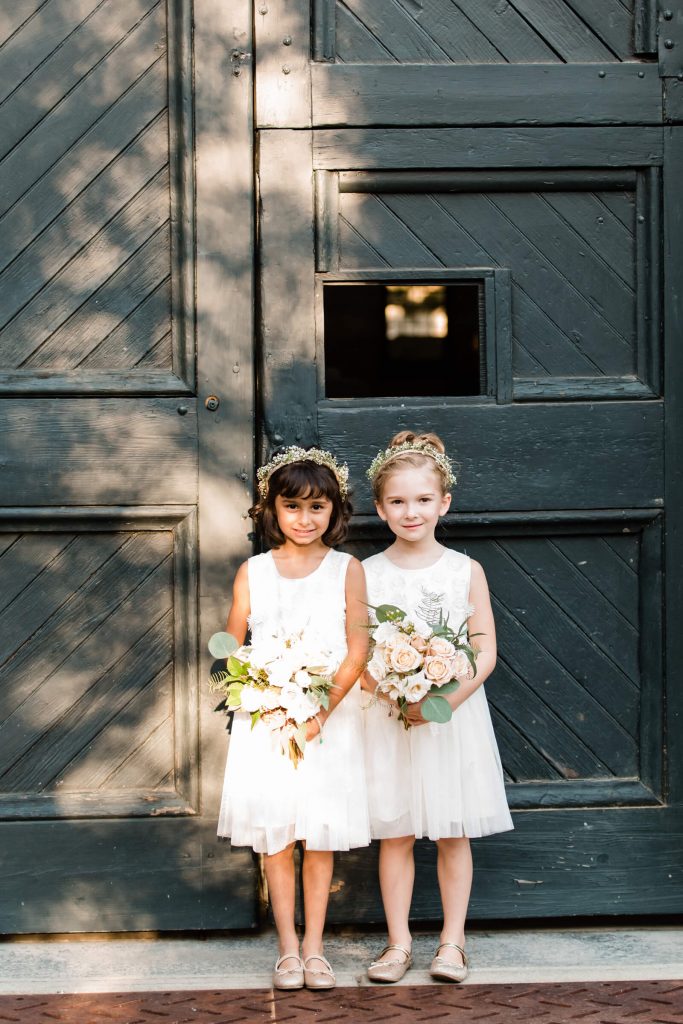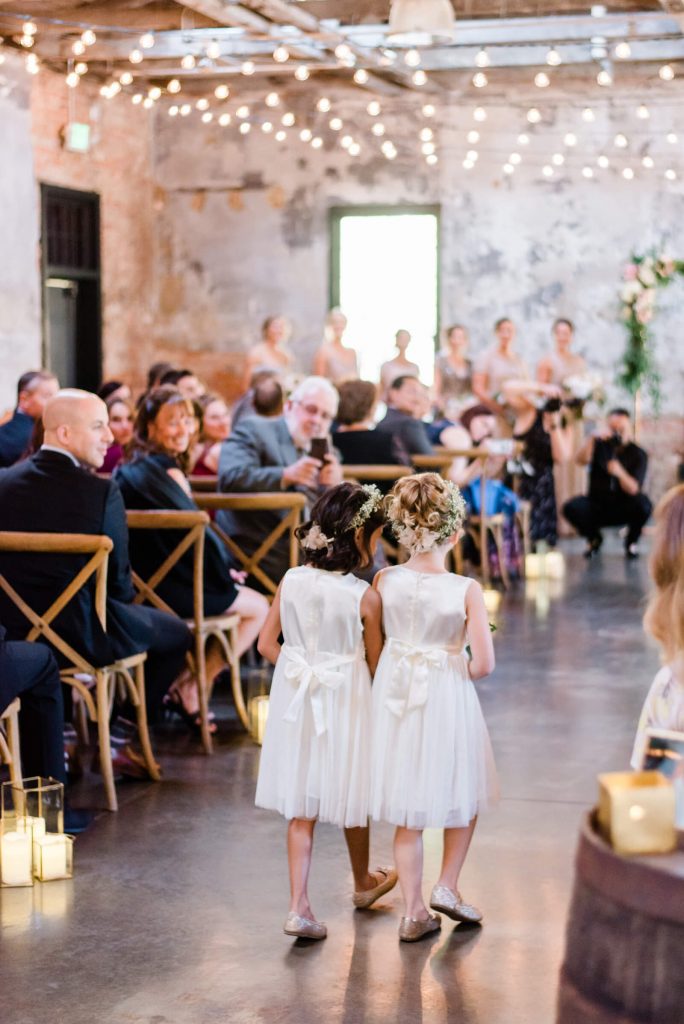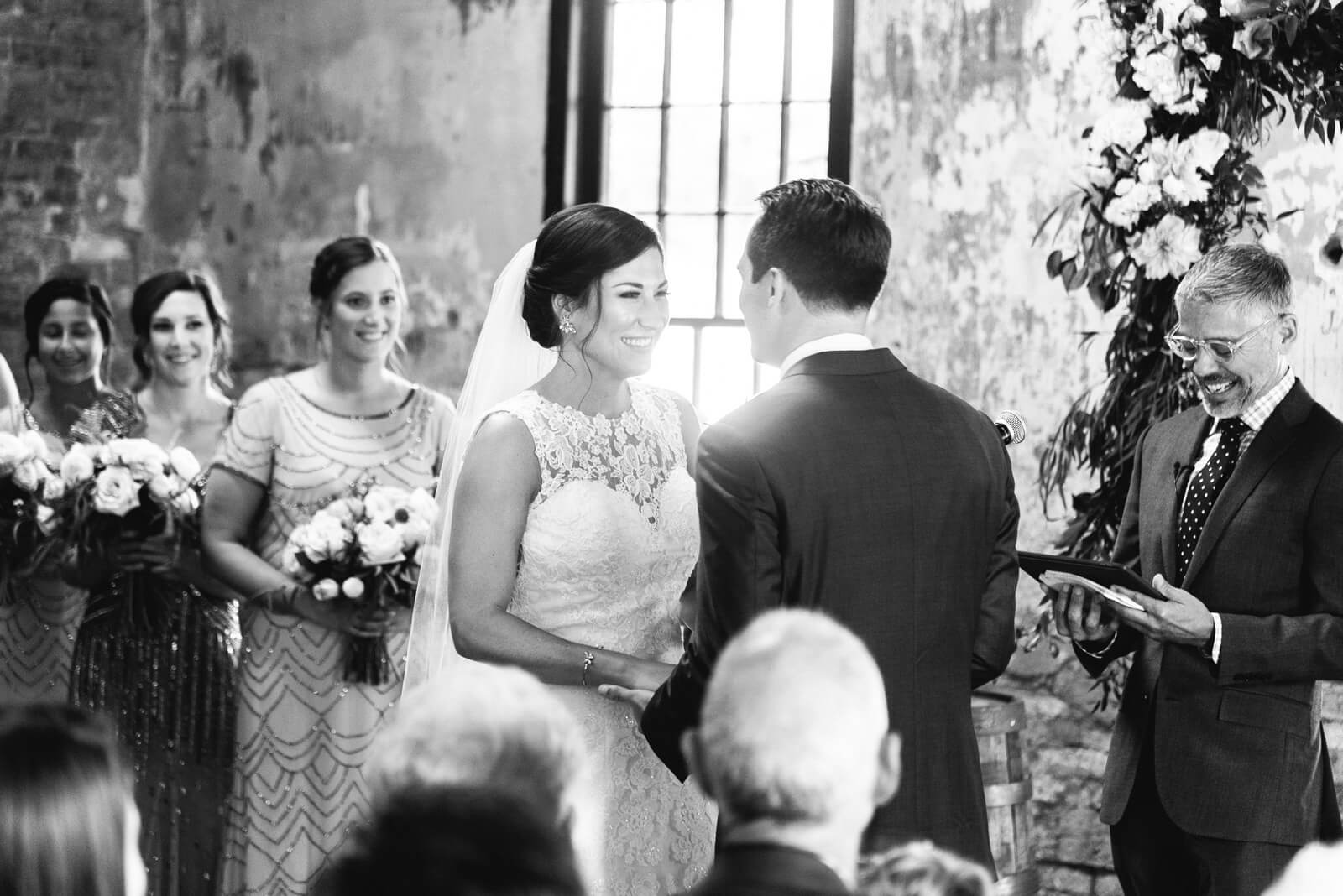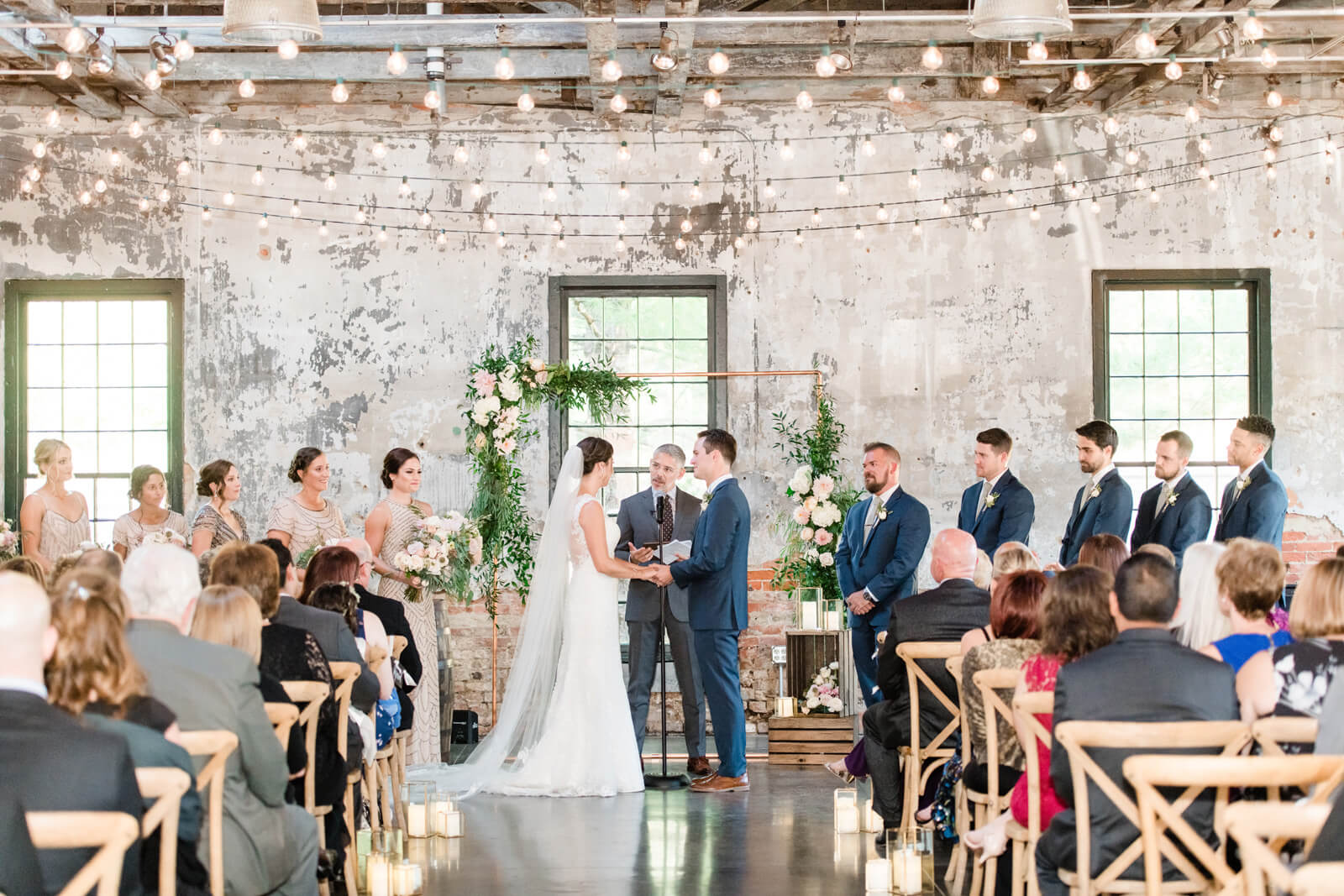 What Was Unique and Special About Your Wedding Day One of my favorite parts of the day was getting glam with my girls, giggling and sipping champagne in a hidden Baltimore gem dubbed Jungle By The Falls. Plants of every size and shape fill the space created by artist and author Hilton Carter. Photos don't even begin to justify the awe of what you're walking into. There was something extra special about that moment of stepping into my dress with my sister, Karen, and my mother, Barbara, by my side. We are very lucky to have been able to meet Hilton and are so thankful for the memories we planted within those walls on our special day.
We were honored to have Katie DiDio, our kindergarten teacher, speak at our wedding. We are very lucky to have had such an inspiring and supportive individual in our life for so long. We are nearing our 30's but Katie will still refer to her 1997 class as her "babies".
I was a very proud daughter standing next to my dad in uniform. LCDR Michael J. Maley, USN (Retired) served for 34 years and made sacrifices that I've only begun to fully understand as an adult. I'm not sure who was prouder to walk the other down the aisle.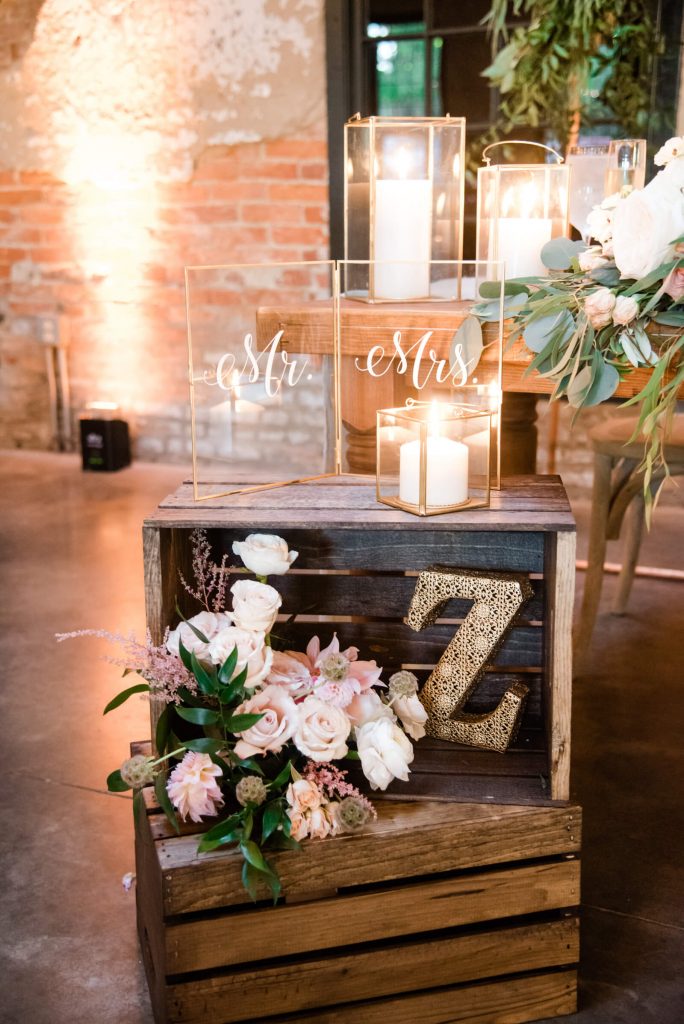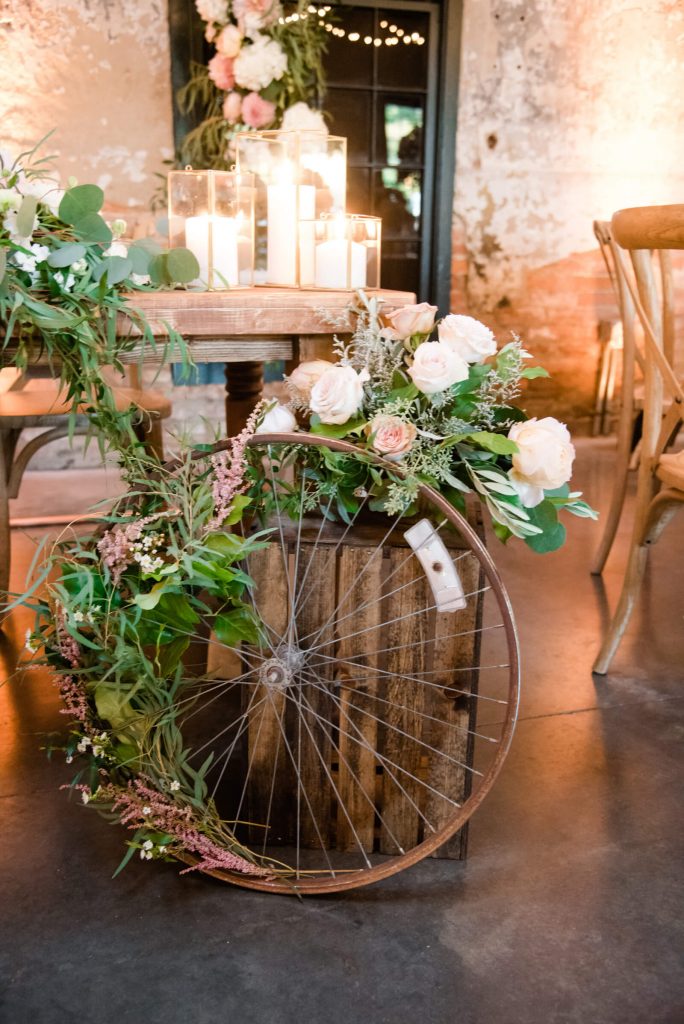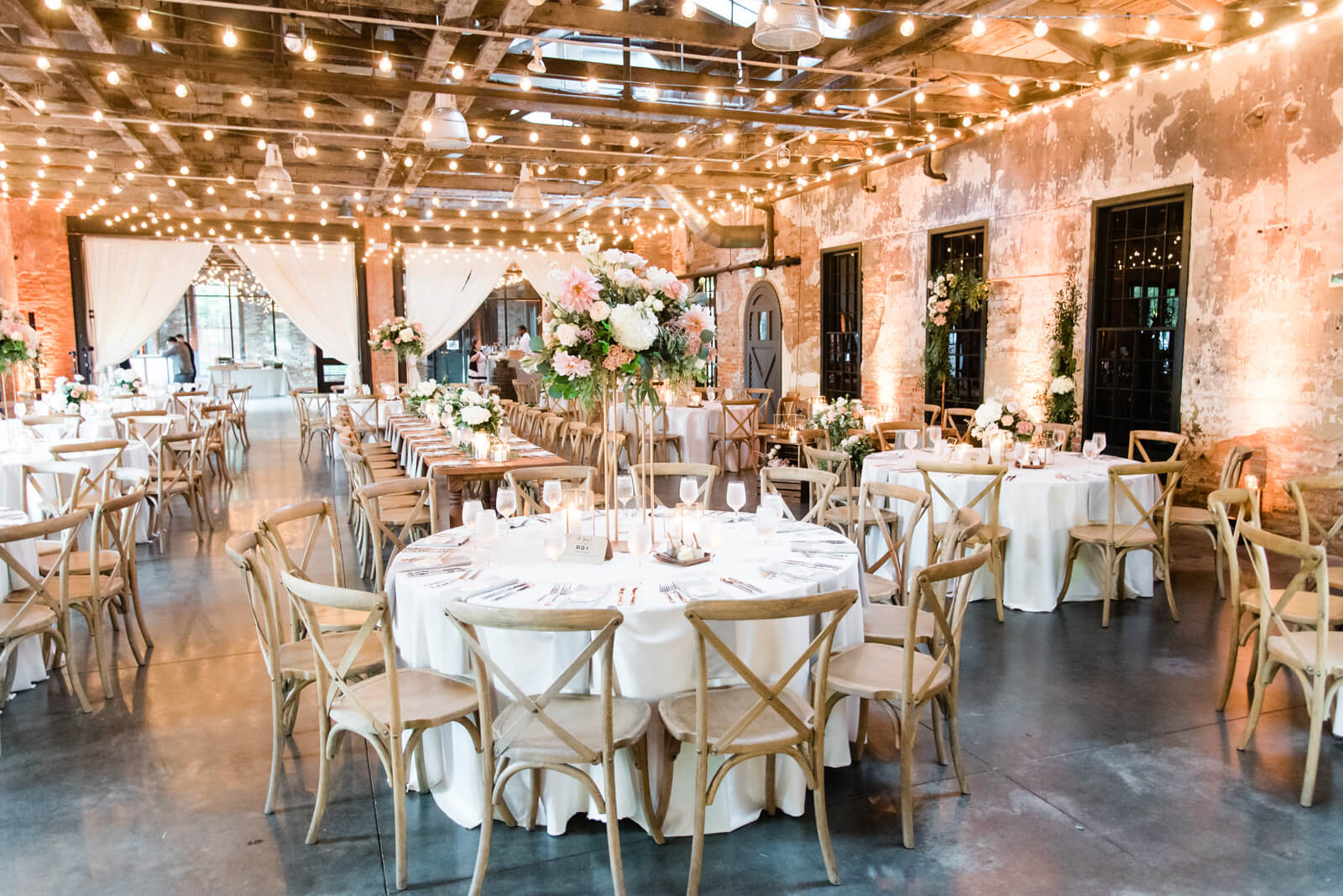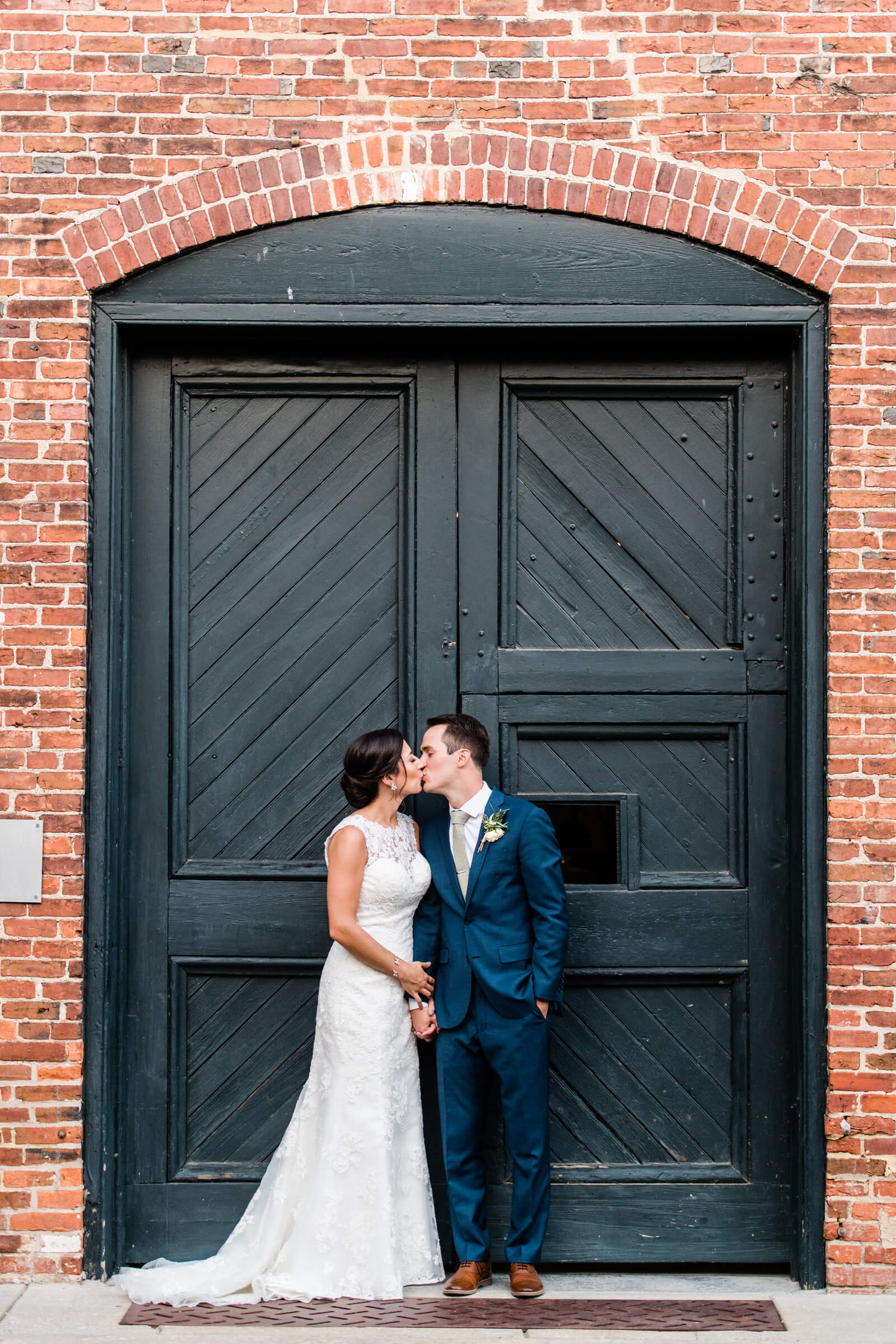 I have had an incredible run as a nanny thus far as far as finding the most amazing, loving and thoughtful families. It was so very special to have all three kids from my very first nanny family be part of our day. Alex, the oldest, was one of our ushers, Bella was a junior bridesmaid, and Adriana was one of our two flower girls.
Our ceremony was very unique and special because we incorporated a lot of personalization. We attached a photo strip to each program giving guests a snapshot of our relationship starting with a 1997 kindergarten field day photo where we were sitting, playing in the grass. The next picture from our high school senior trip to Disney World followed by an image from the day Alex proposed. The last photo is from our engagement session in historic Fells Point. We also wrote our own vows (highly recommend!) It was a surprise to everyone when we unknowingly wrote the same opening and closing (although a sure sign we were on the same page!) Our officiant, Rick Zambrano, owner of REV Cycle Studio captured our relationship and personalities precisely through his message. As mentioned before, Katie DiDio, our kindergarten teacher, was honored to be a part of the ceremony. Paul Kranz, a hometown friend and Alex's high school drama club director, provided ceremony and cocktail hour tunes. Pastor Erik Zeidler, Alex's Uncle, provided the days bountiful blessings – and beyond blessed were we.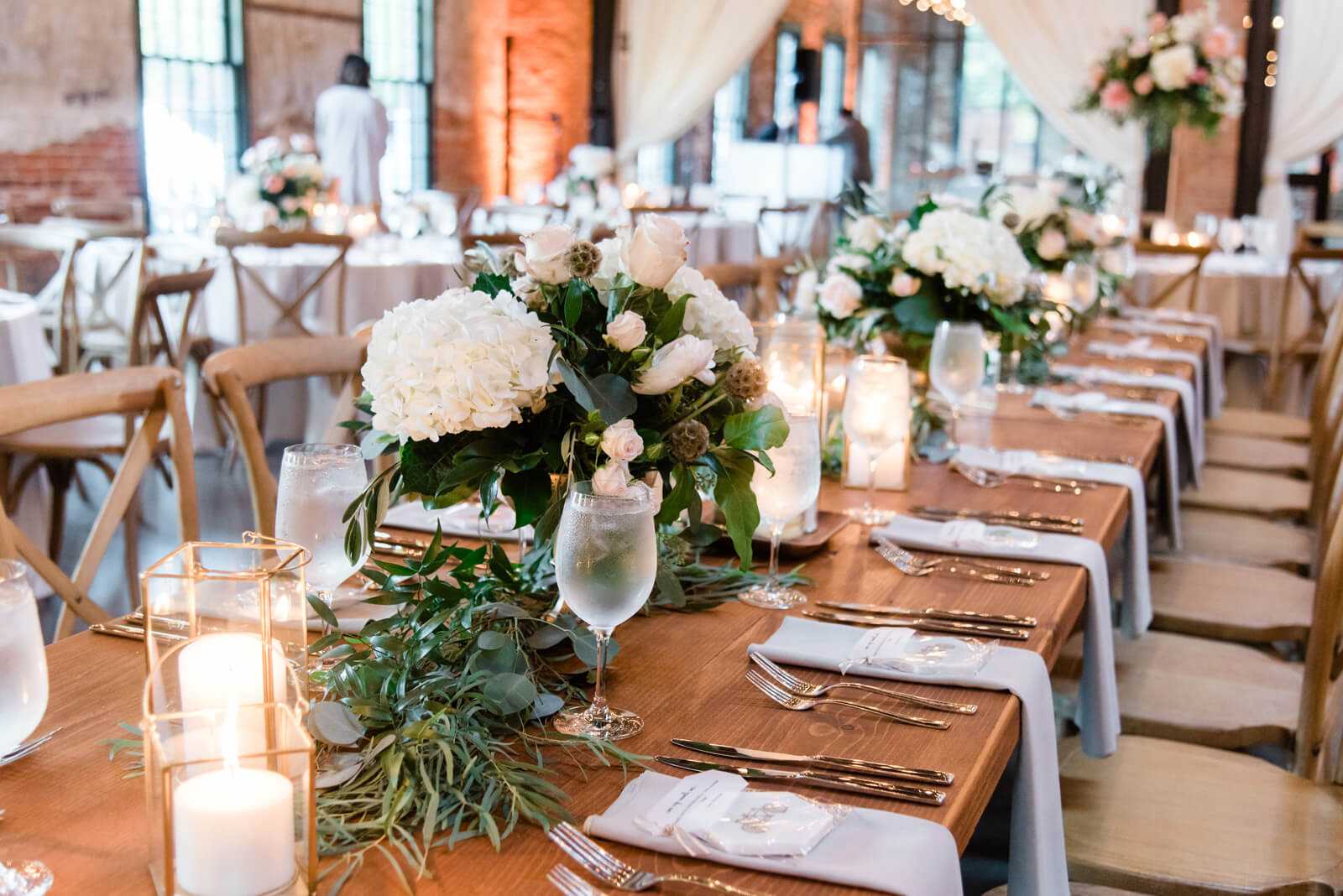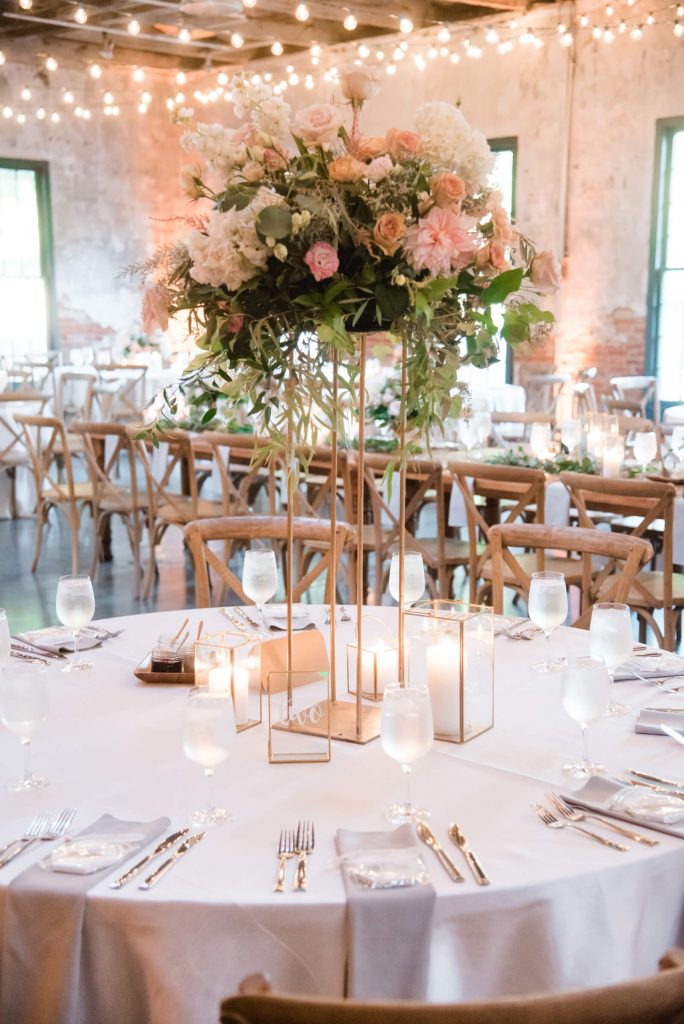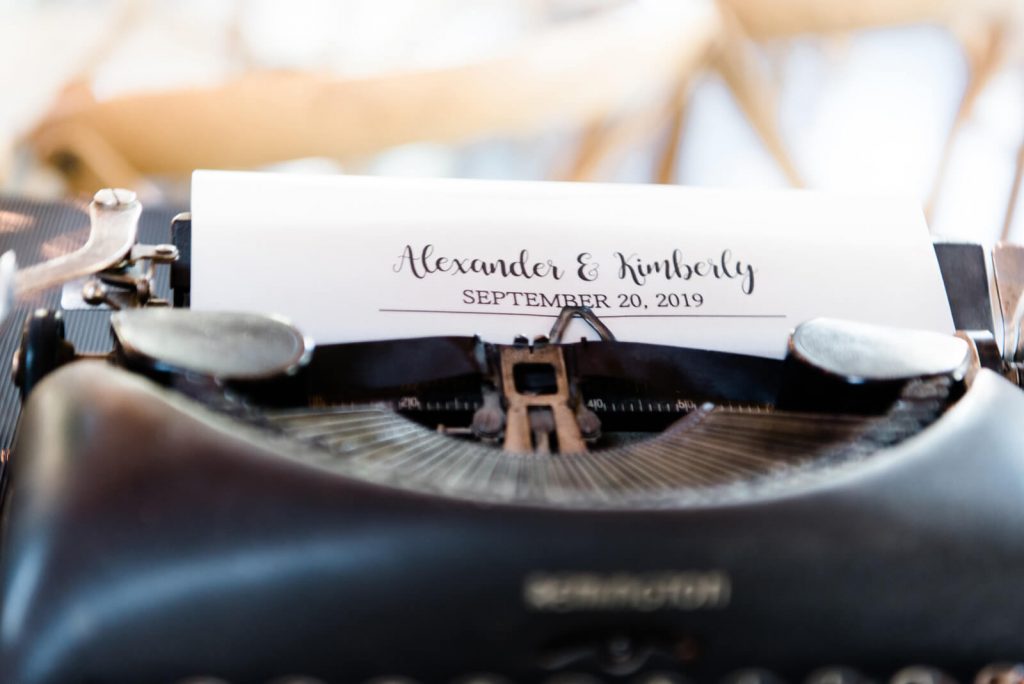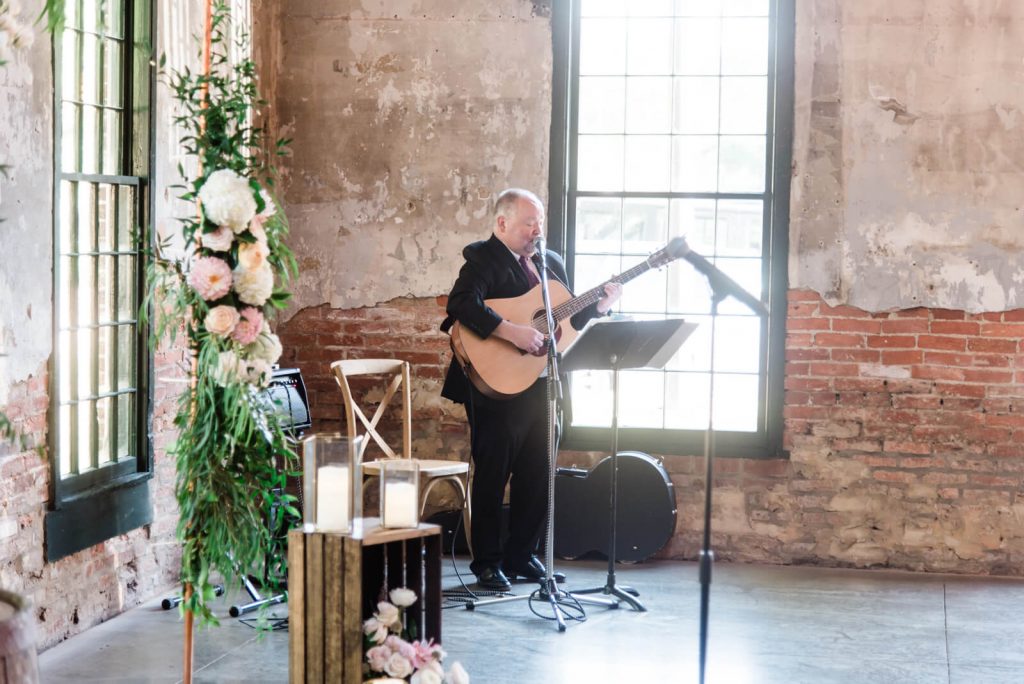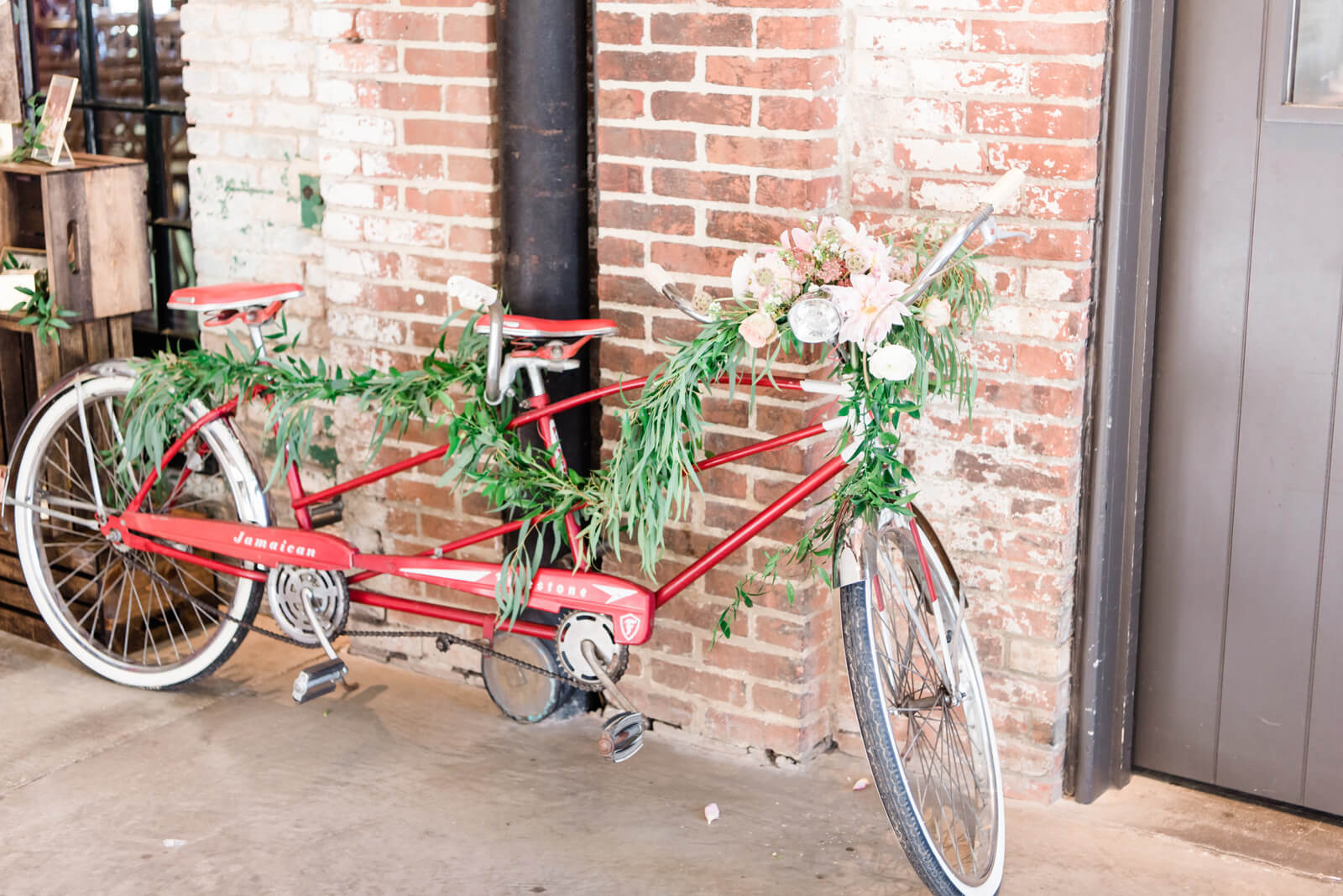 Our reception was one to remember—one where you could find literally every guest on the dance floor, even the people who swear they "don't dance"—major props to DJ Nick Spinelli at SCE Event Group. Copper Kitchen Catering and longtime friend, Kathleen Clancy, worked incredibly hard and diligently to make the day as seamless as possible. We kept our cake cutting clean and classy by slicing a piece of boiled milk cake made by my Aunt Maureen which was topped with a handcrafted wire tandem bicycle. A special pizza delivery late into the night gave guests a second wind of energy to keep the celebration going. As it goes, all good things come to an end and guests were bussed back to the hotel, conveniently located steps away from Italian Disco—hello after party.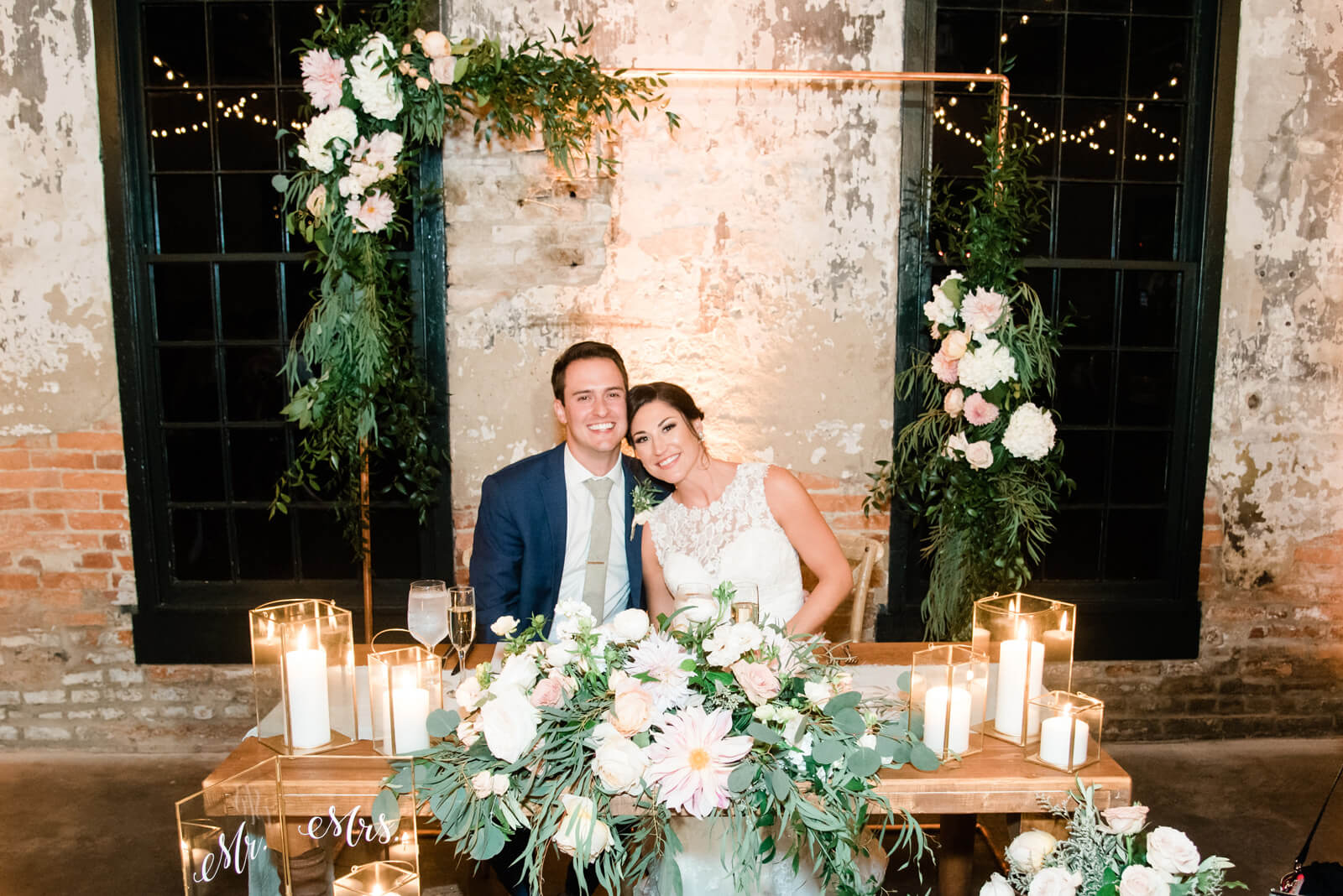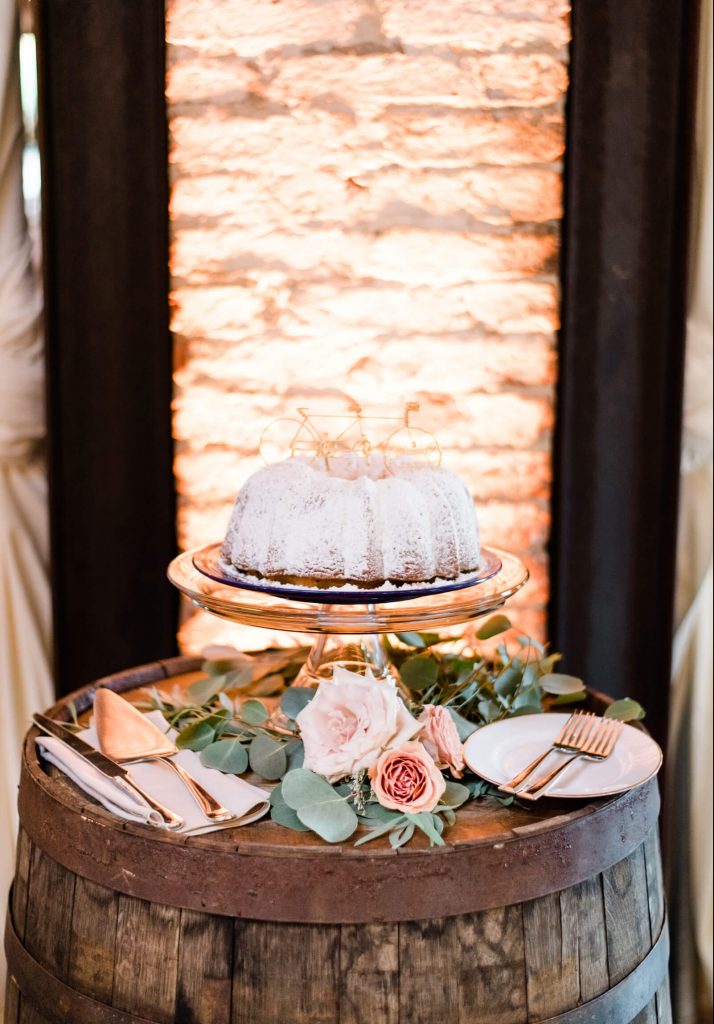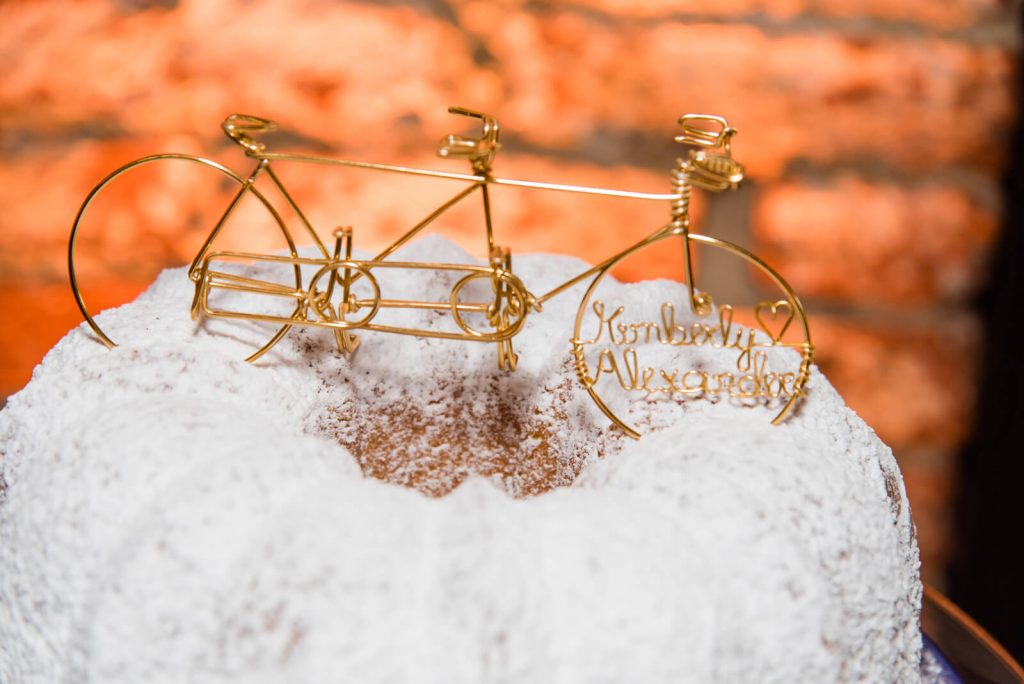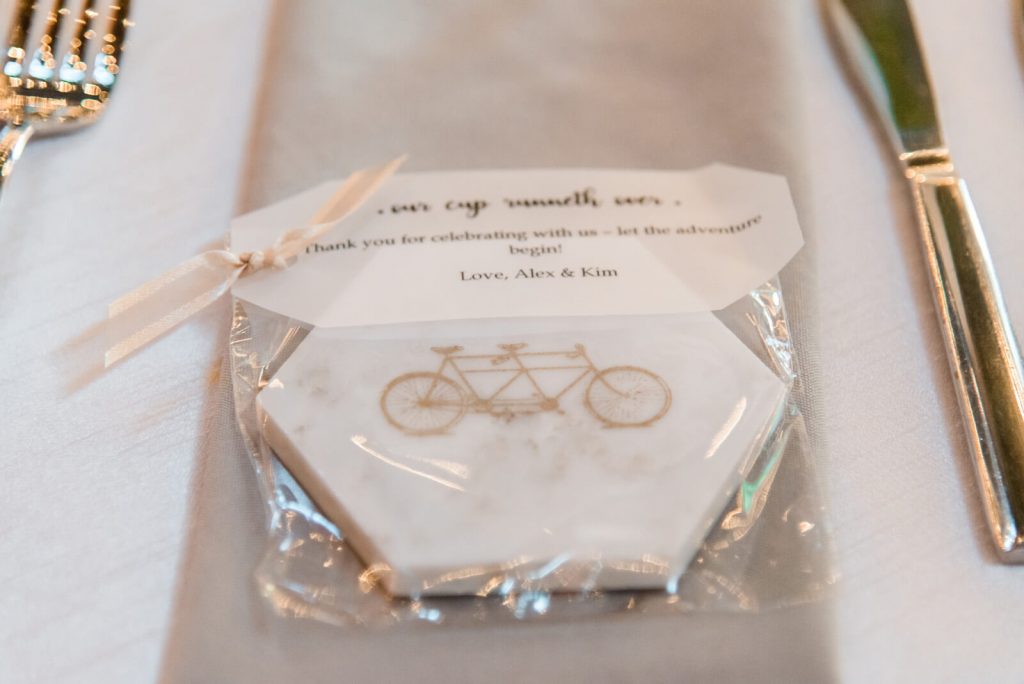 Favorite Details One of our favorite details was our unique guest book. We invited guests to "sign in" utilizing my late grandfather's typewriter—our something old.
We loved that we incorporated a tandem bicycle into our decor and design as it's been a symbol of our relationship from the beginning. Our guests each took home a marble coaster stamped with a golden tandem bicycle. Our cup truly runneth over from all the love we felt that day.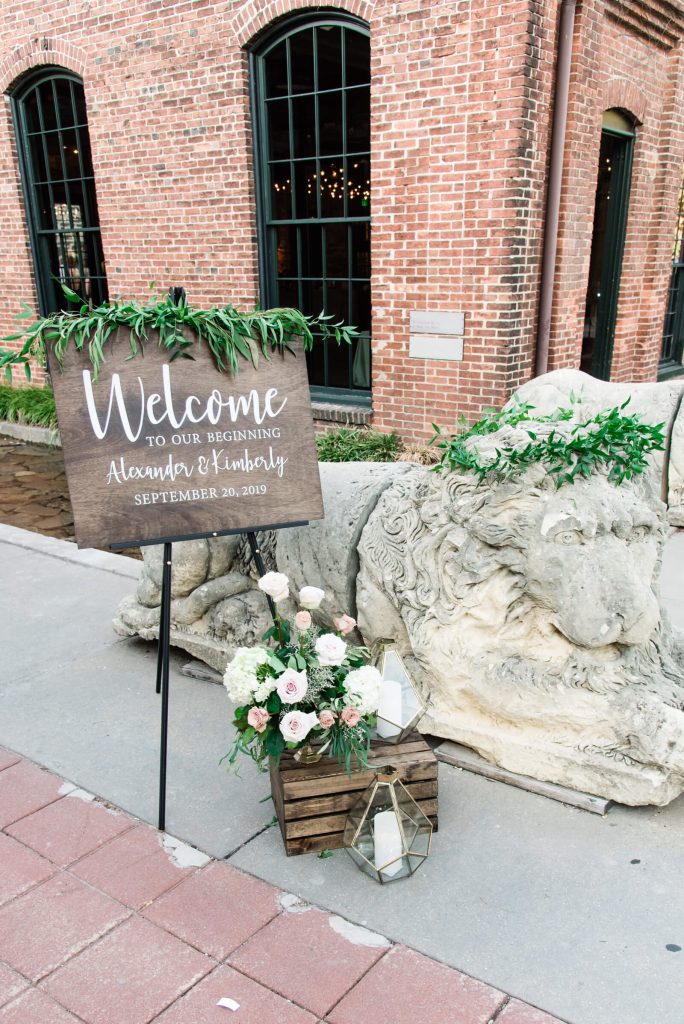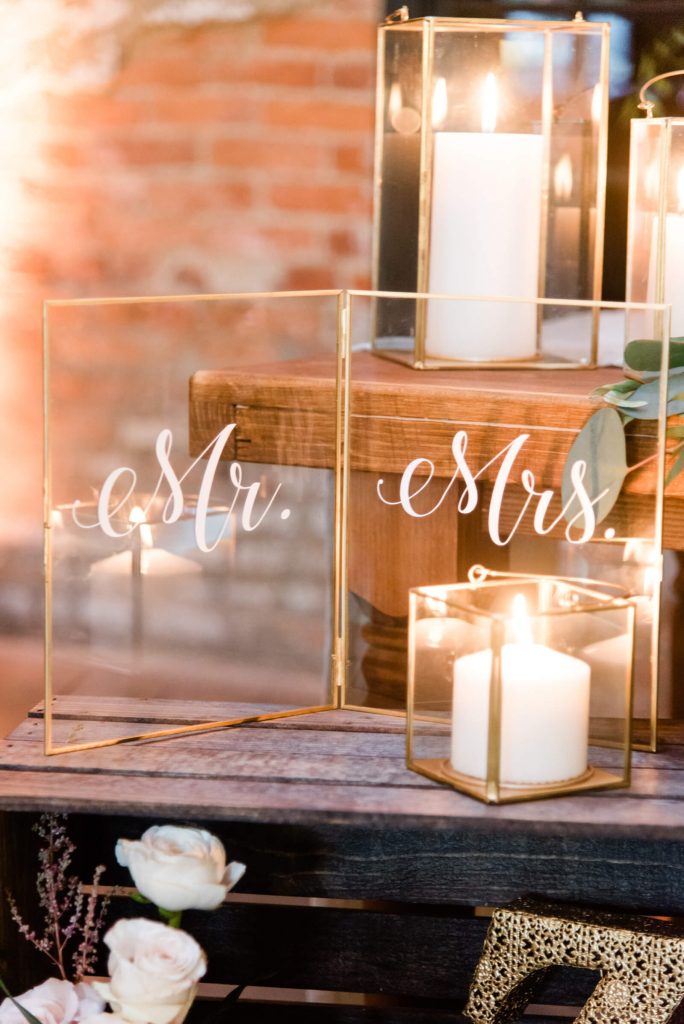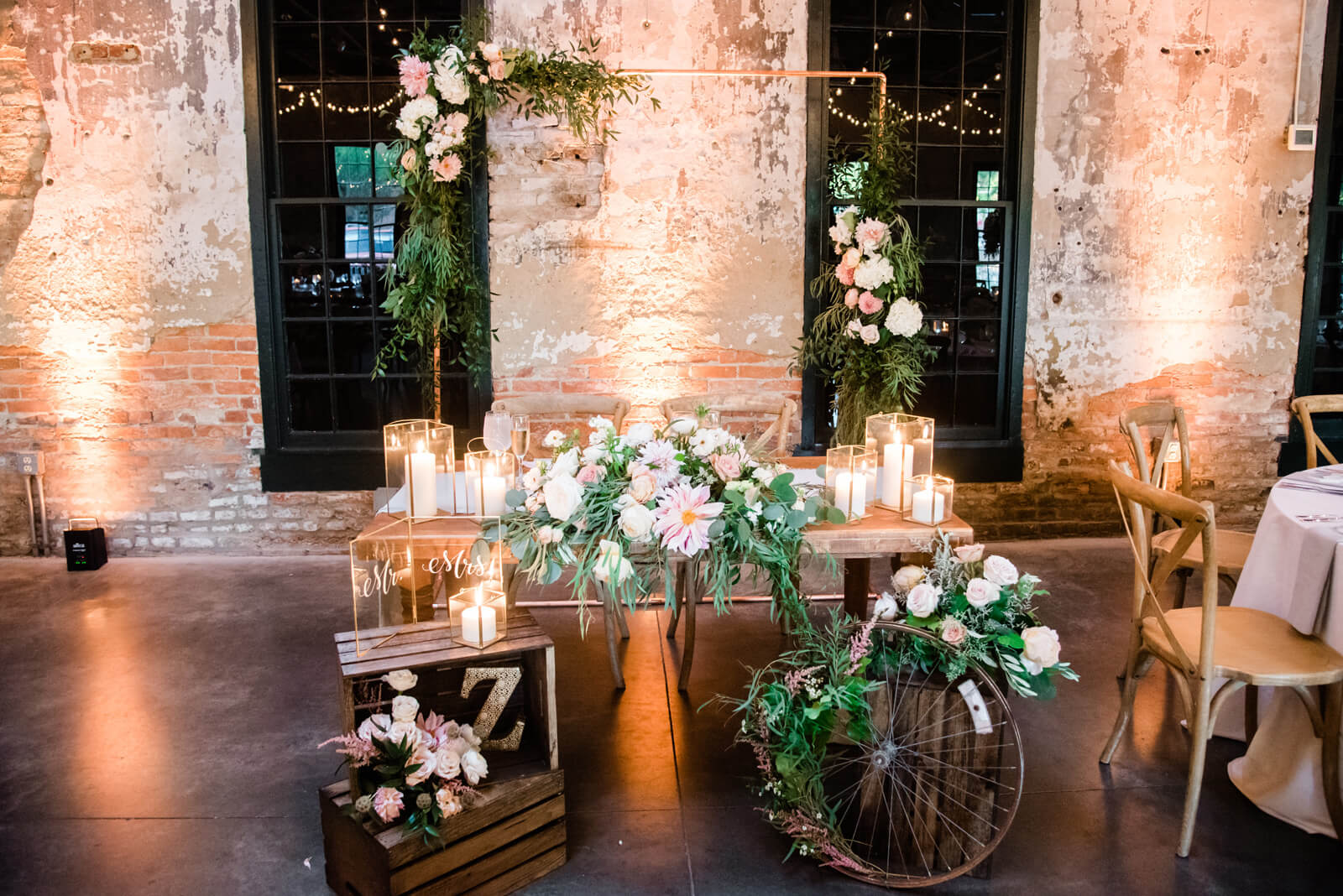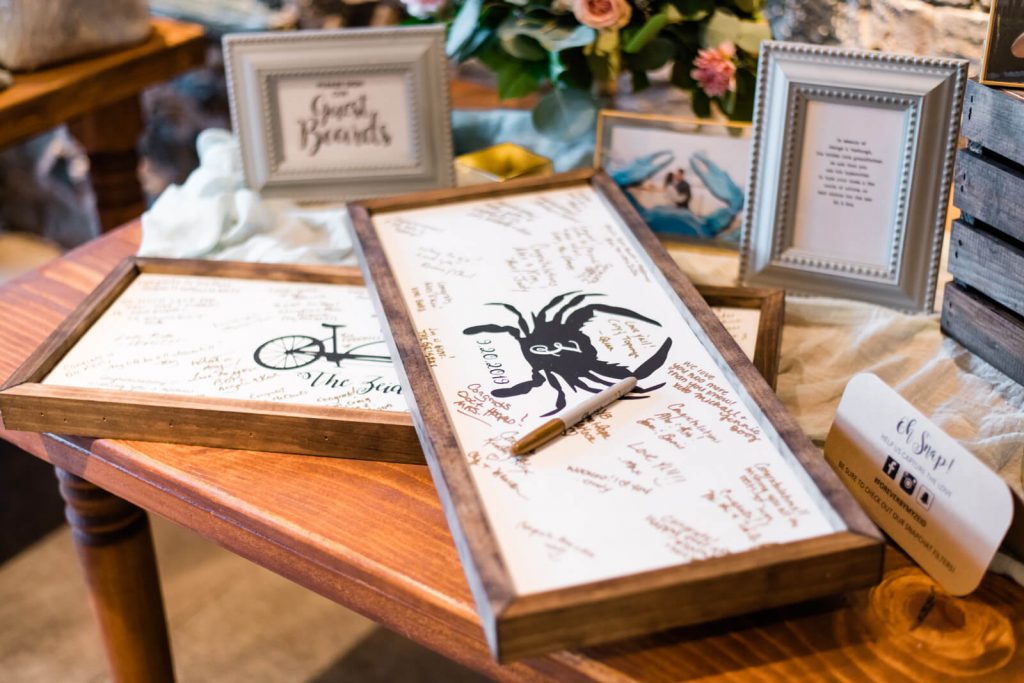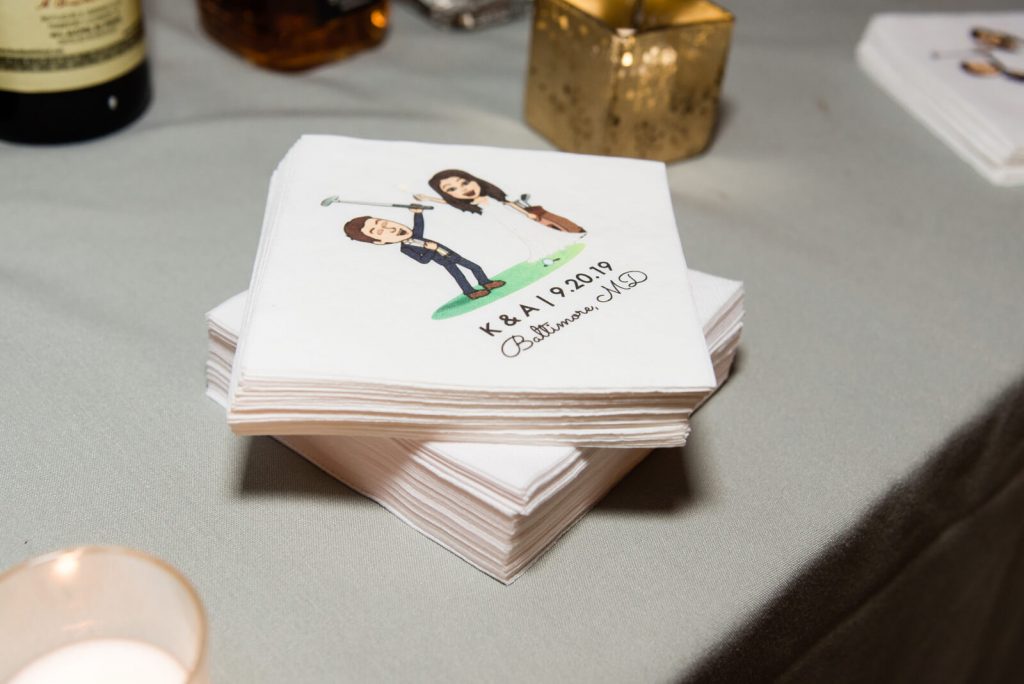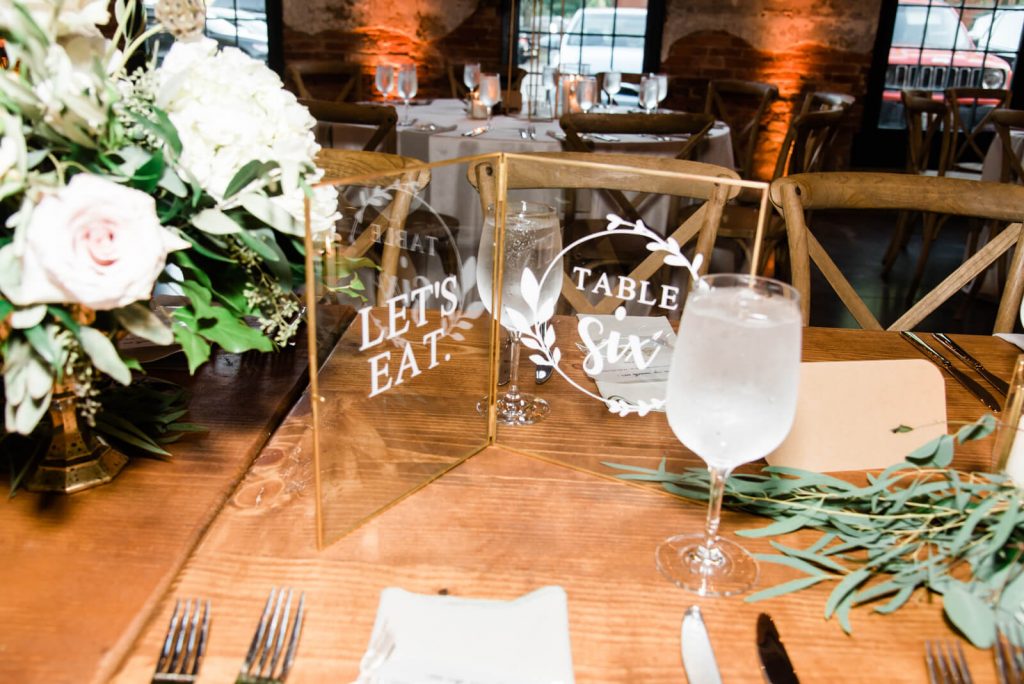 Most Unexpected Event On Your Wedding Day During dinner we were surprised with a performance by Evan, Alex's brother, and Paul Kranz, Alex's high school drama club director. They covered the song "Earth Angel" from Back To The Future—Alex and Evans' all-time favorite movie.
Piece of Advice Our piece of advice to everyone on their special day is to step away for a minute and look at everything from the outside in. Take it all in. All of your favorite people in one place. All of the smiles. All of the hand crafted decor. All of it. And then never forget the joy you felt in that moment. We sure never will.