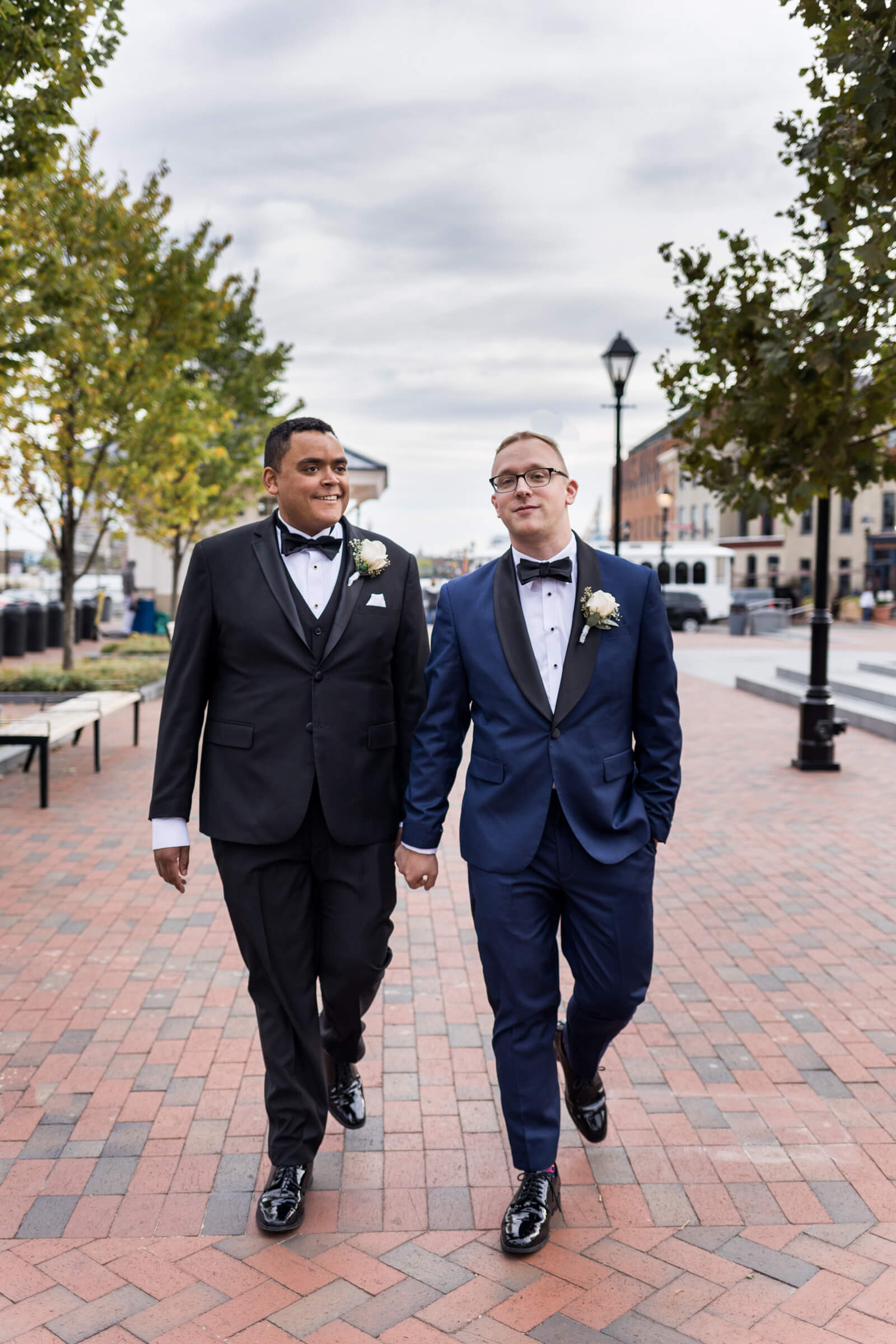 Occupations Physician; Scientist
Wedding date Oct 19, 2019 
Number of Attendees 245
Number of Attendants 13
How You Met At Max's Taphouse in Fell's Point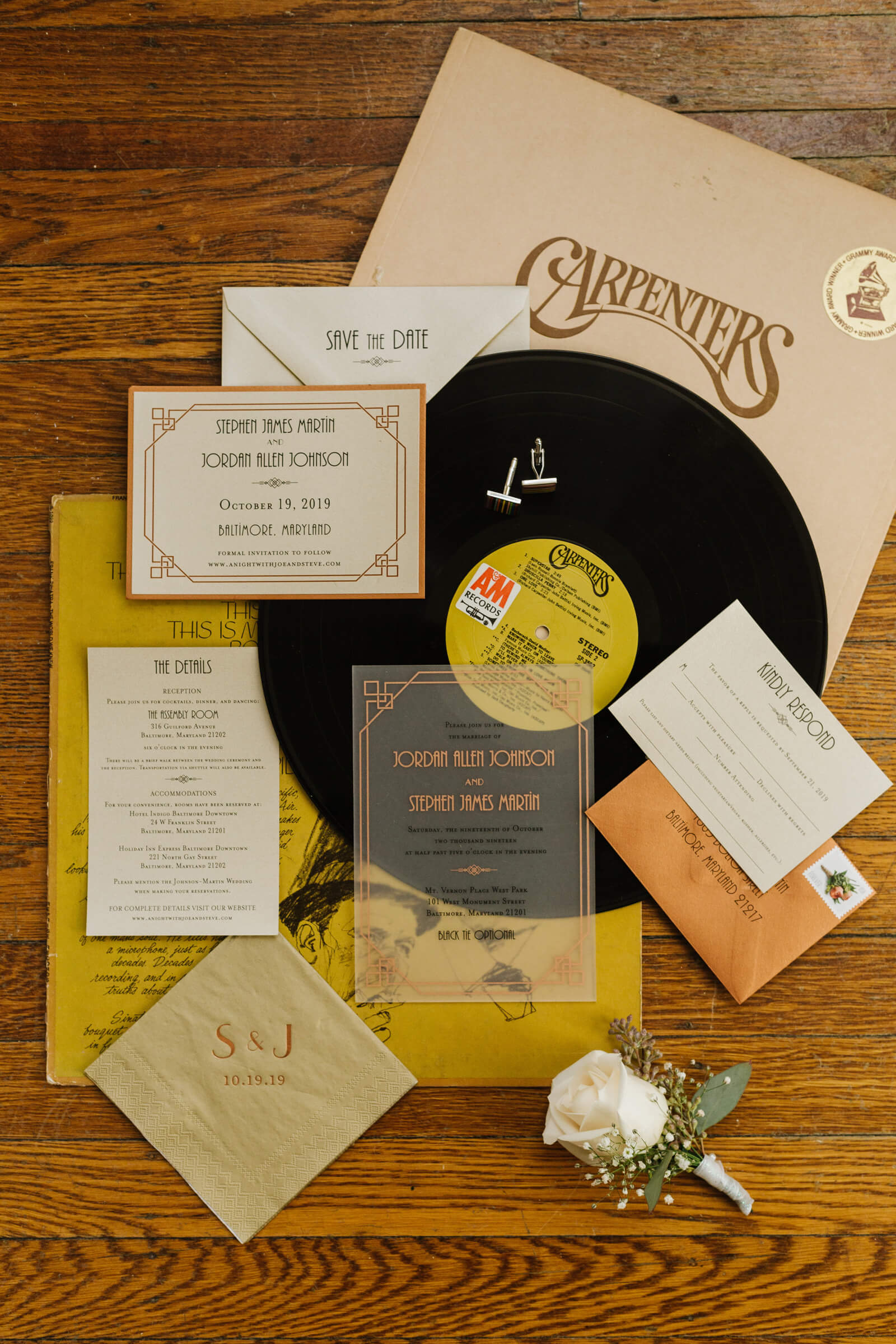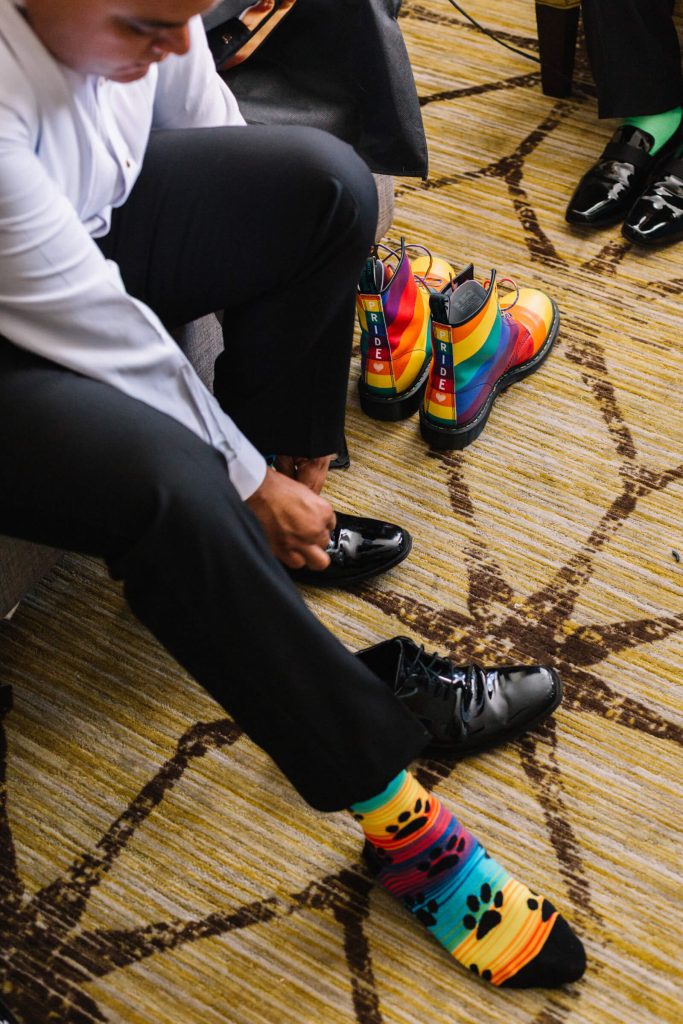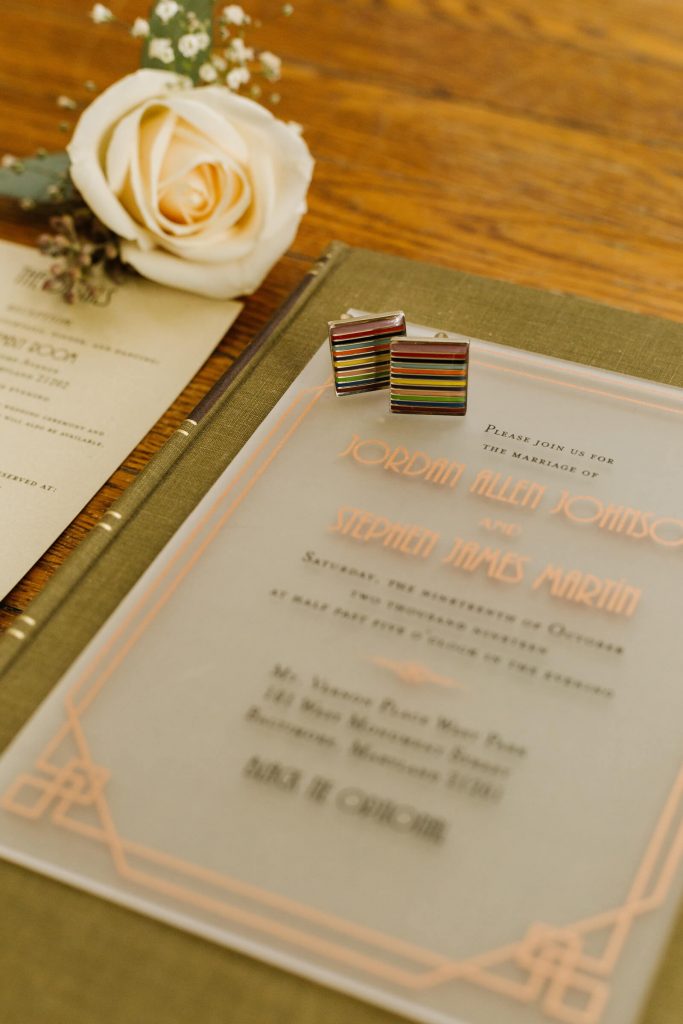 Wedding Design Inspiration We were really inspired by the city of Baltimore and showing off our home that we love. For the ceremony, we love Mt Vernon and have spent a lot of time there as the historic center of the gay community in Baltimore. Our groomspeople all wore colors from the pride flag, each symbolizing an important aspect of queer life. Naturally, we needed a parade to lead us to the next venue afterward! For the reception, we showcased some Baltimore images from local artists including Charlie Barton, Kelly Walker, & Shawn Theron and took advantage of the exposed graffitied brick walls in our venue. On the dance floor, we framed our favorite vinyl album art to set a disco-y mood. We also wanted a more formal party with a 1920s/30s Art Deco feel with strong clean lines. Copper accents and homemade gourd centerpieces played up our autumn feel in Baltimore.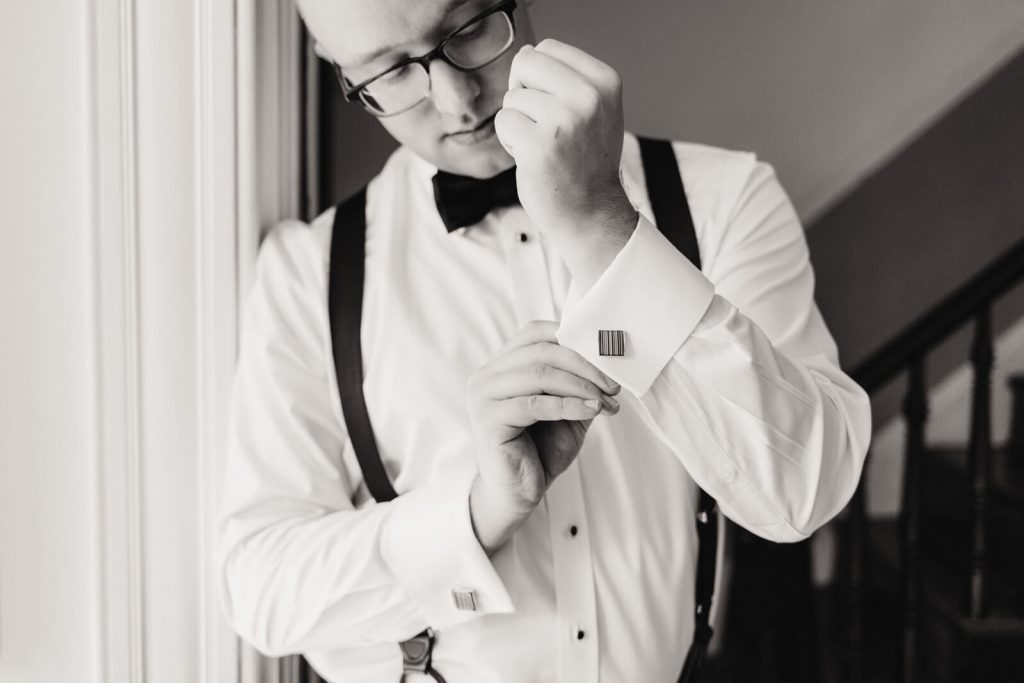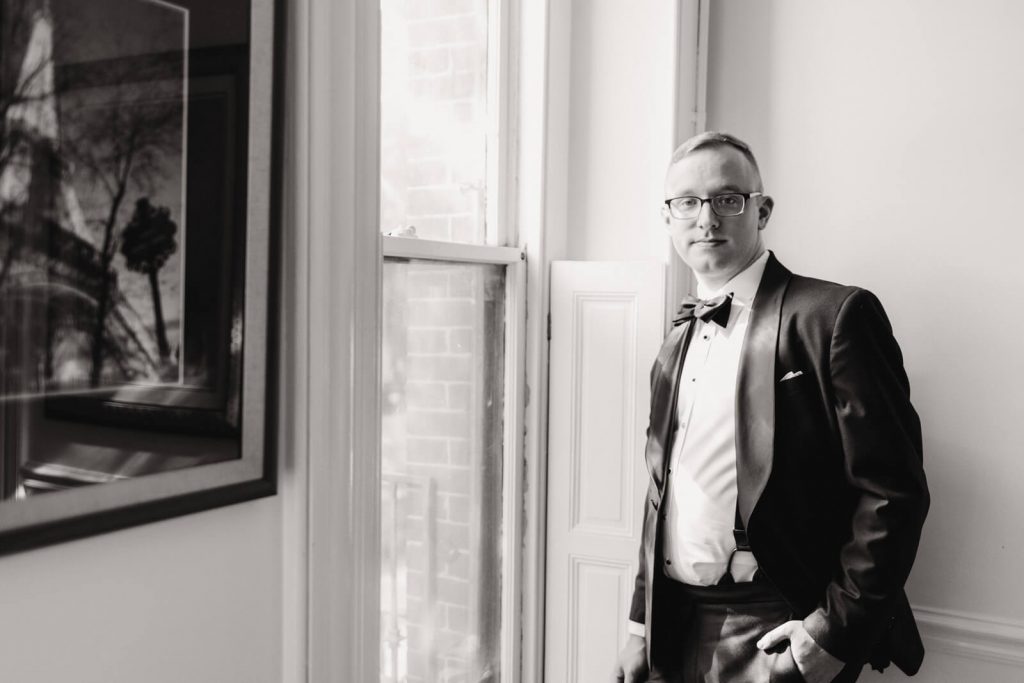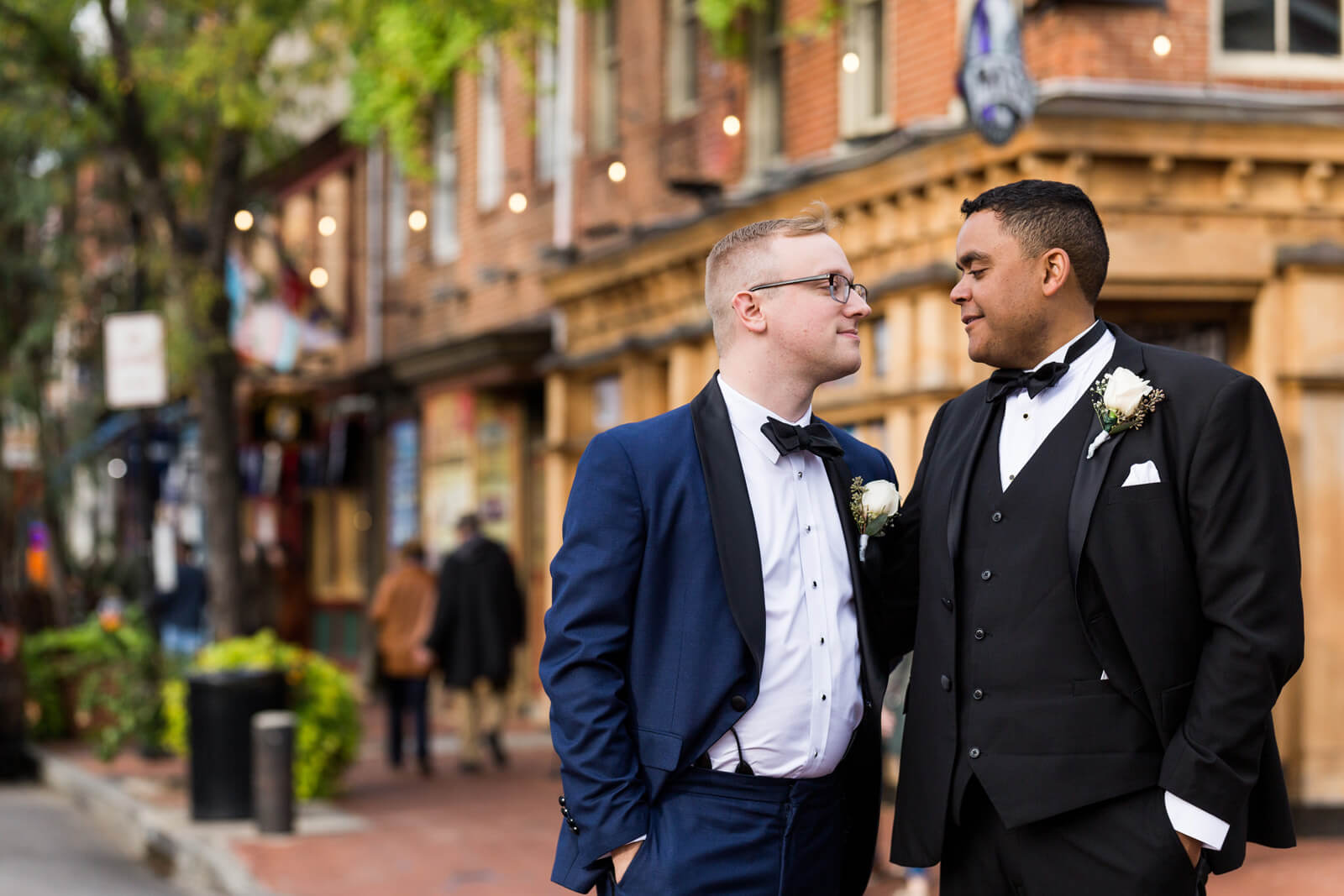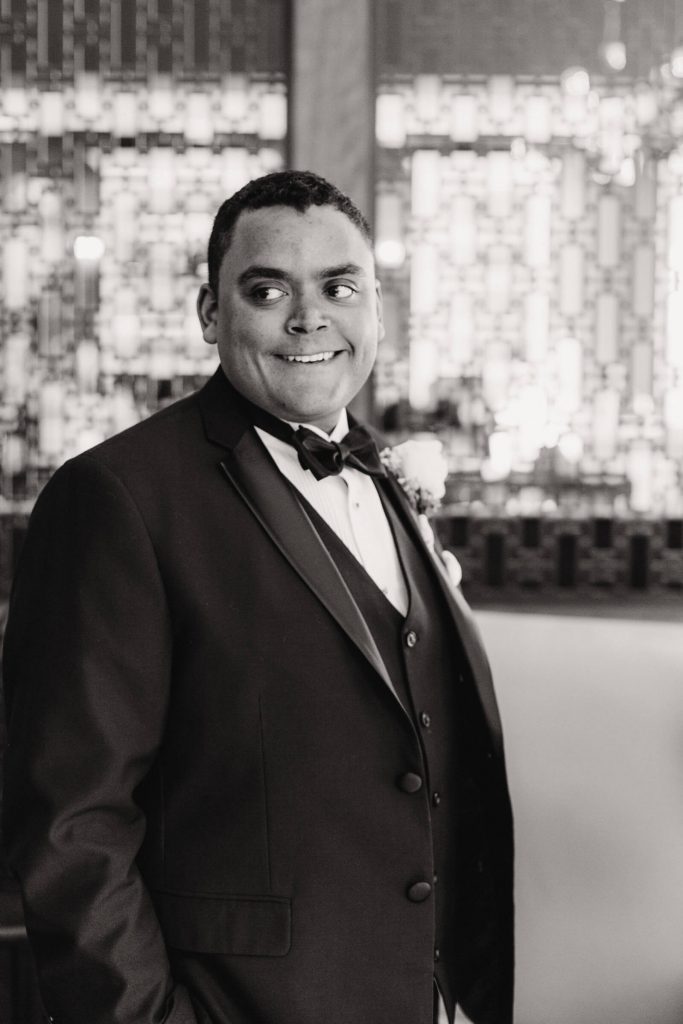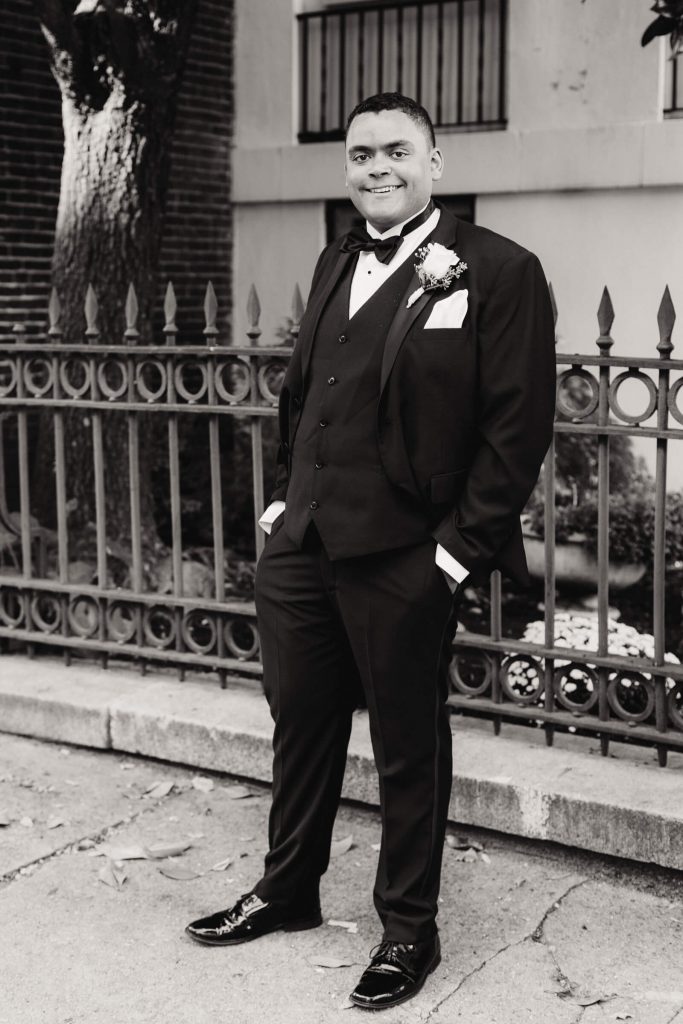 What Was Unique and Special About Your Wedding Day We were married outside in front of the Washington Monument in West Mt. Vernon Place Park, one of our favorite neighborhoods. To get to the reception, almost all of our wedding guests paraded through the streets, dancing to music, and then down the hill to The Assembly Room.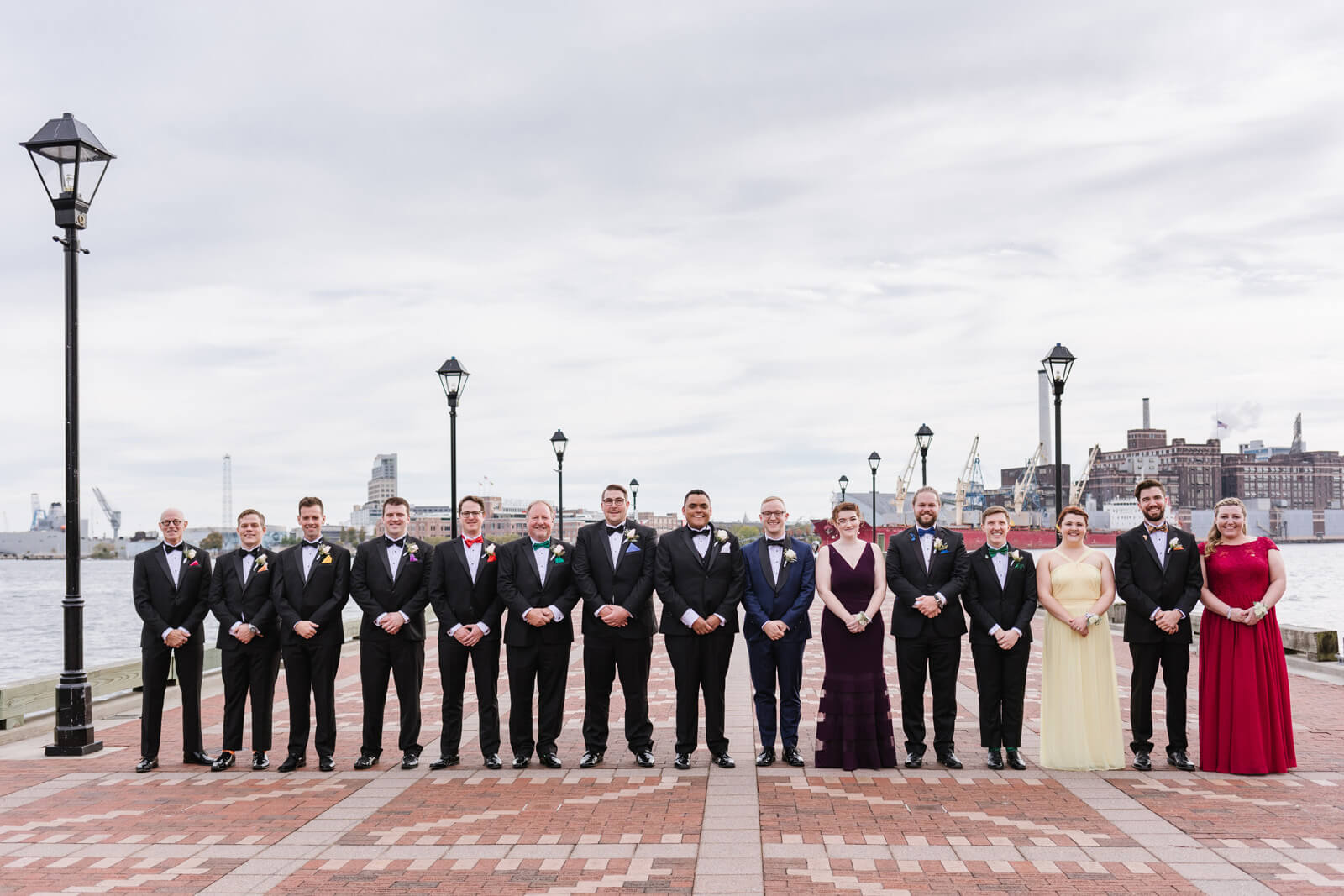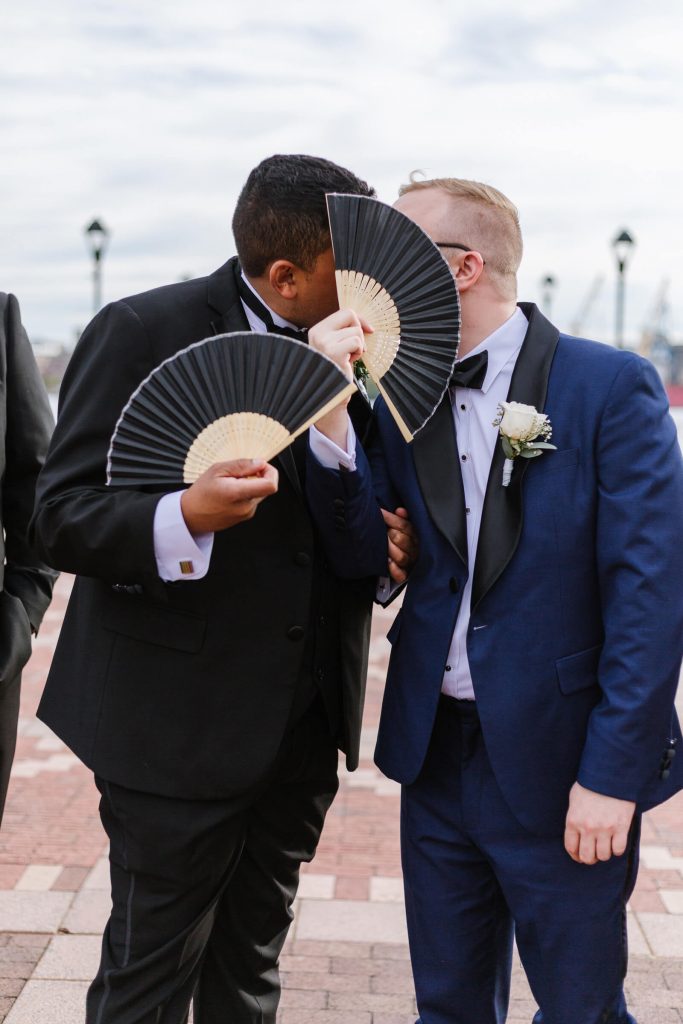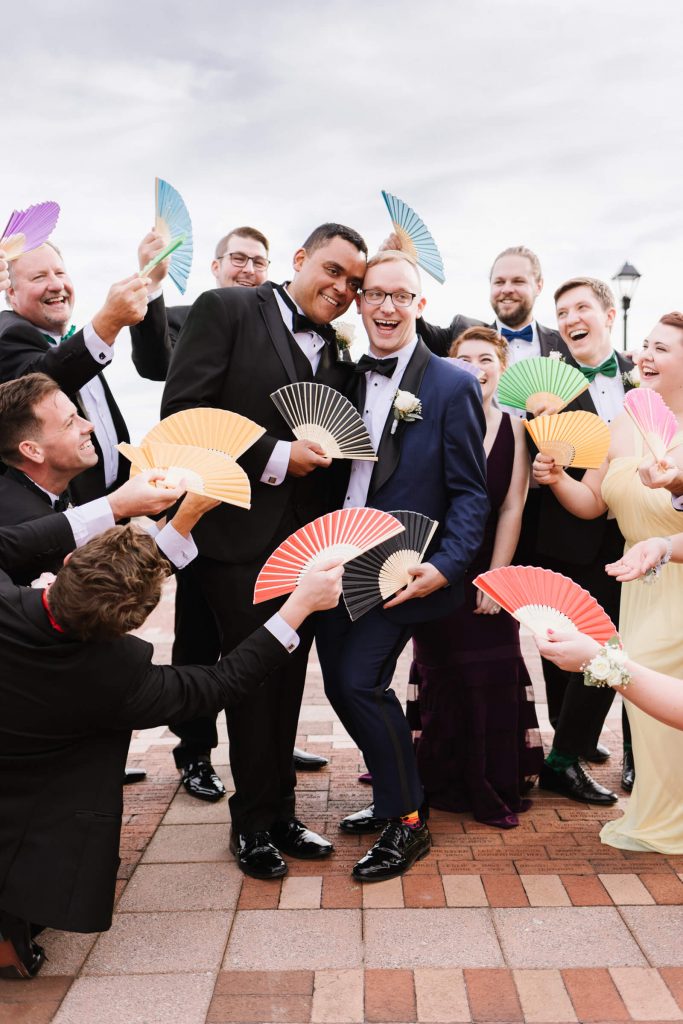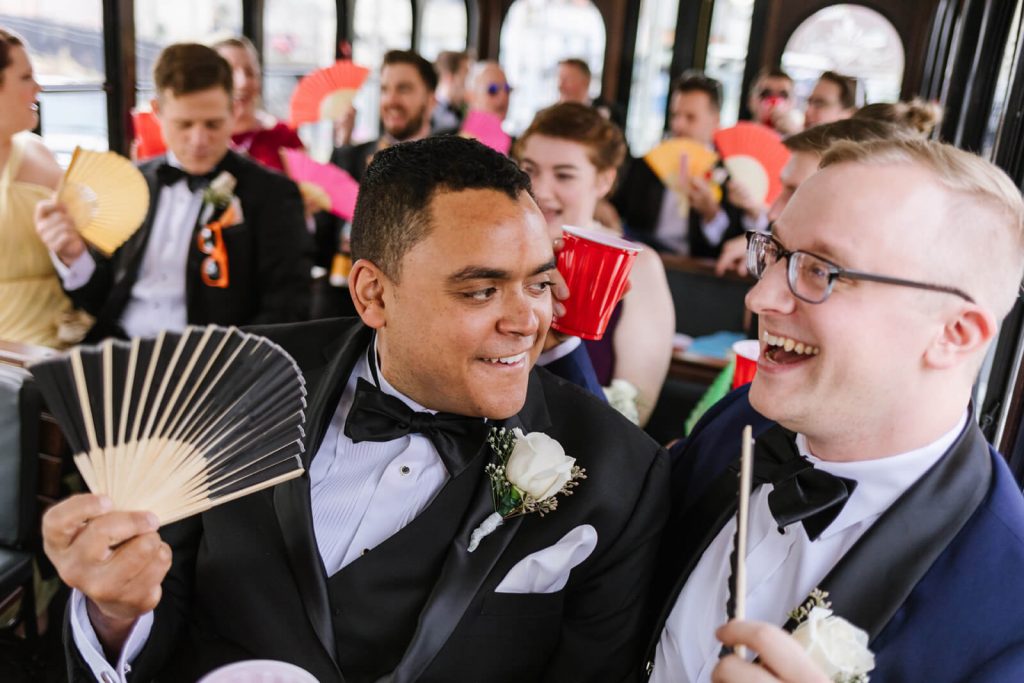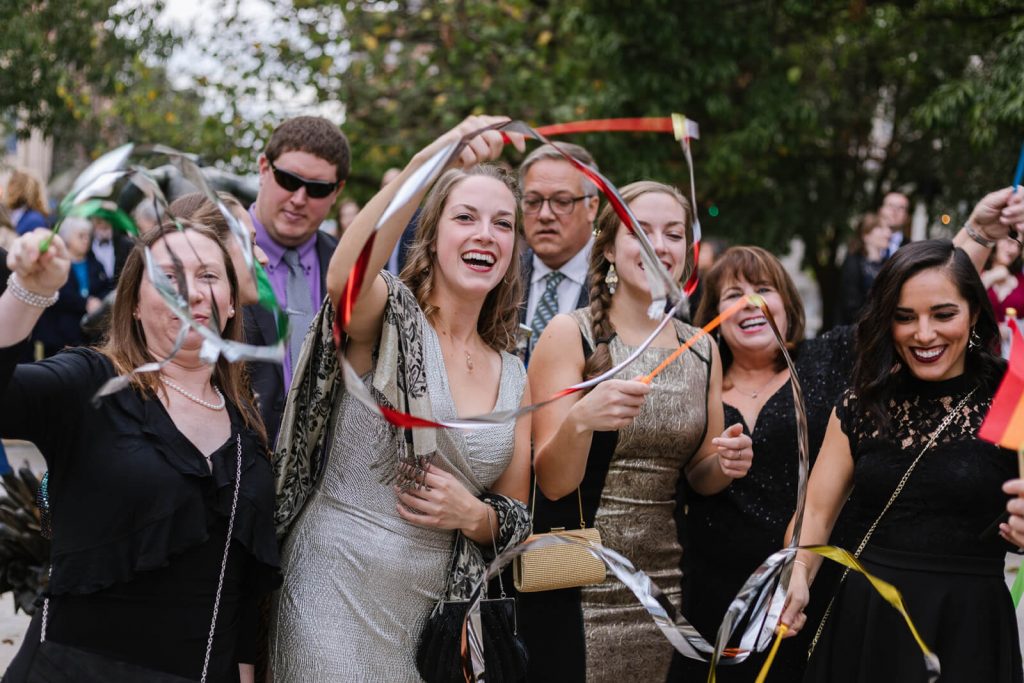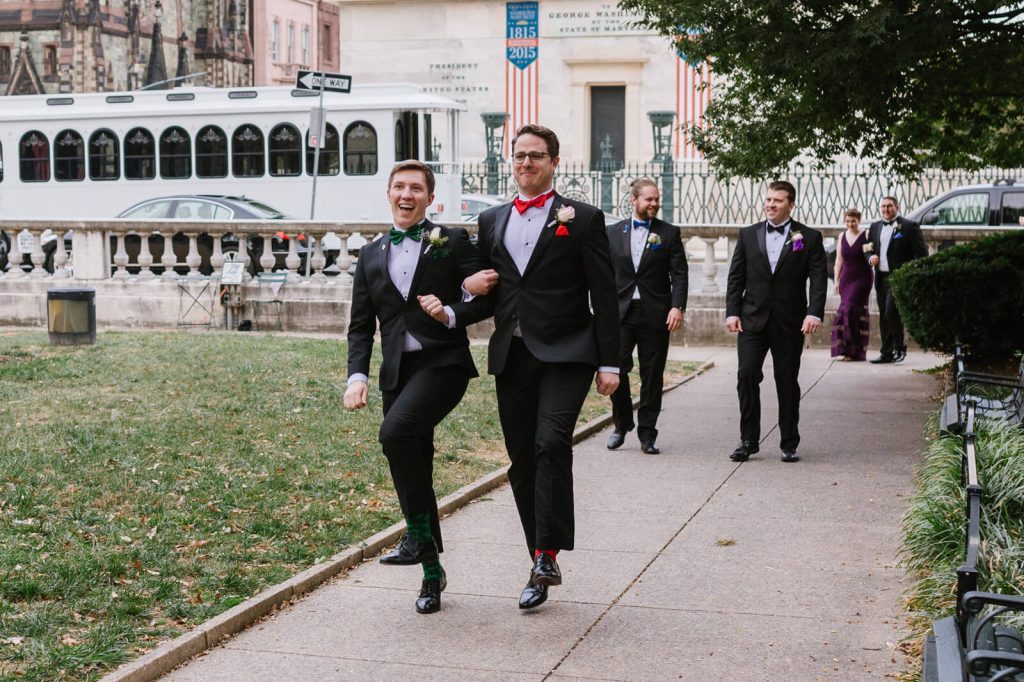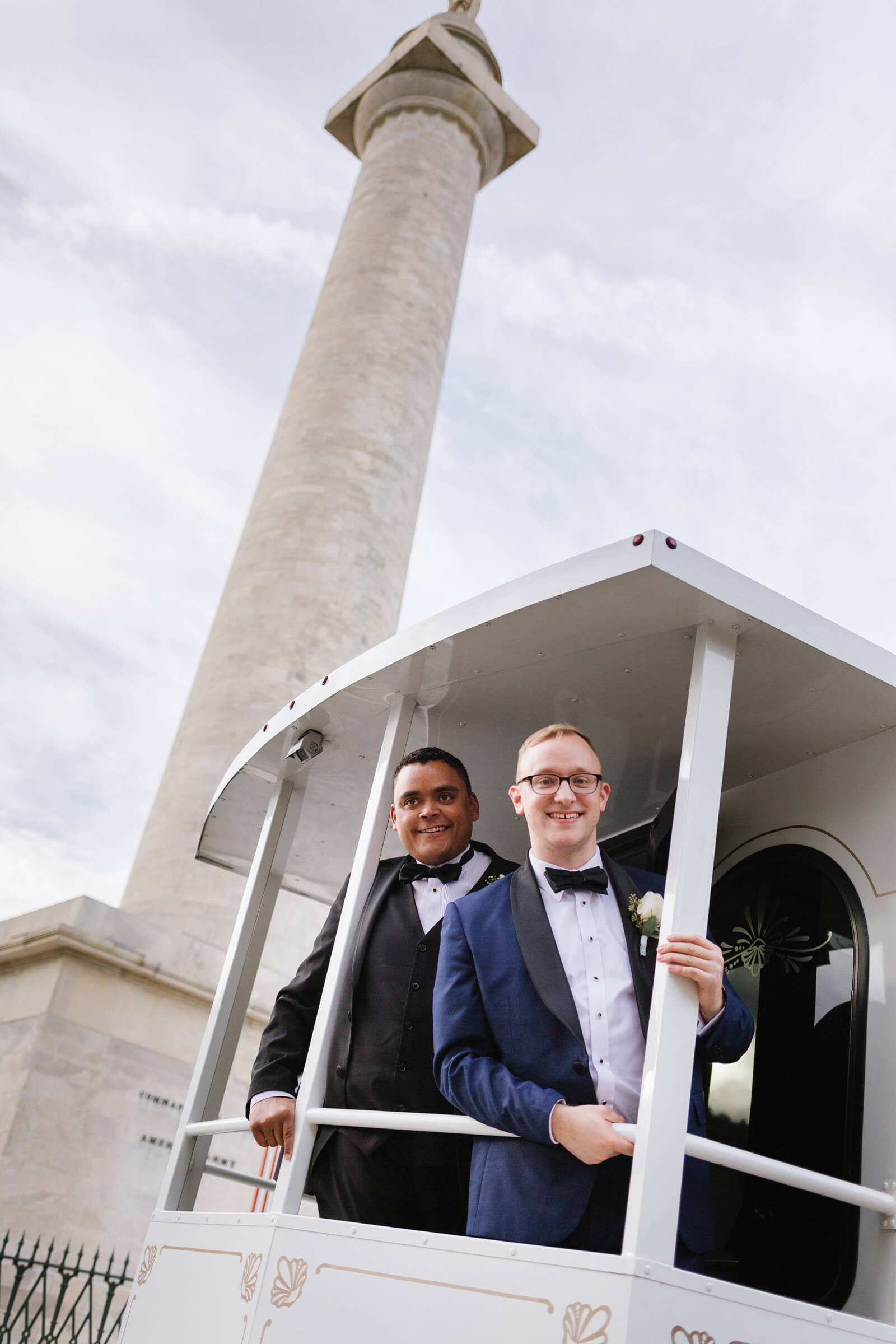 Favorite Details Costume change! Prior to our first dances, we both swapped out our jackets. We went from plain black and blue tux jackets to more offbeat burgundy and sequins—it's our day we should sparkle like a disco ball! Our walk under the Orleans Street bridge was also serendipitous – the tunnel under the bridge was lit with a kaleidoscope of rainbow colors! Not even planned!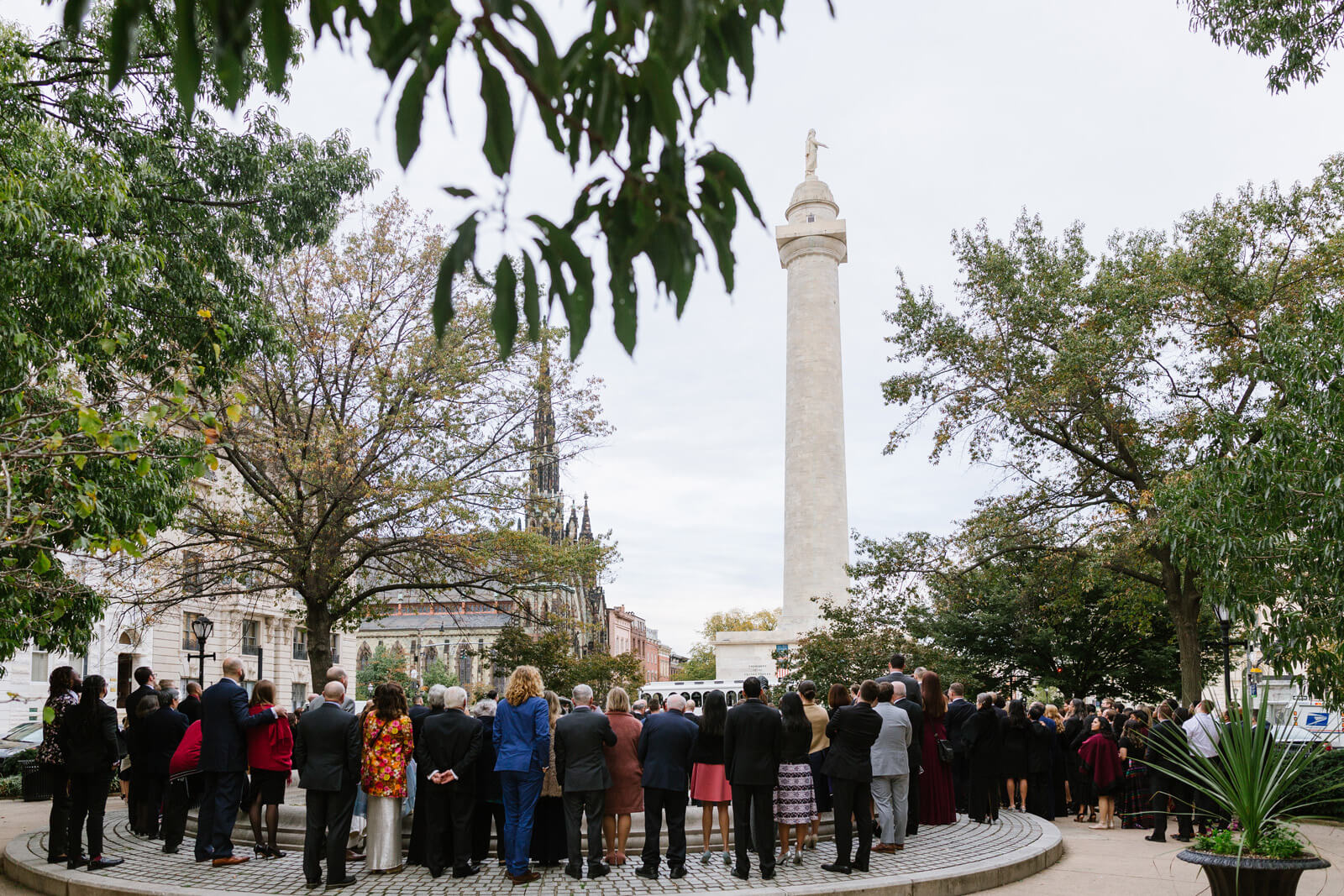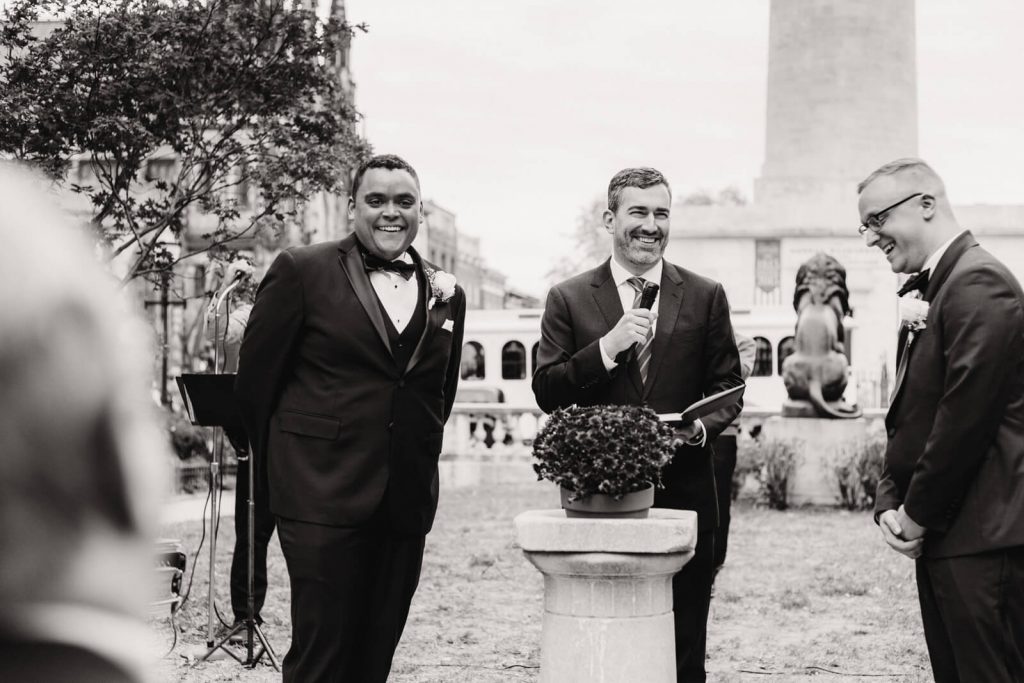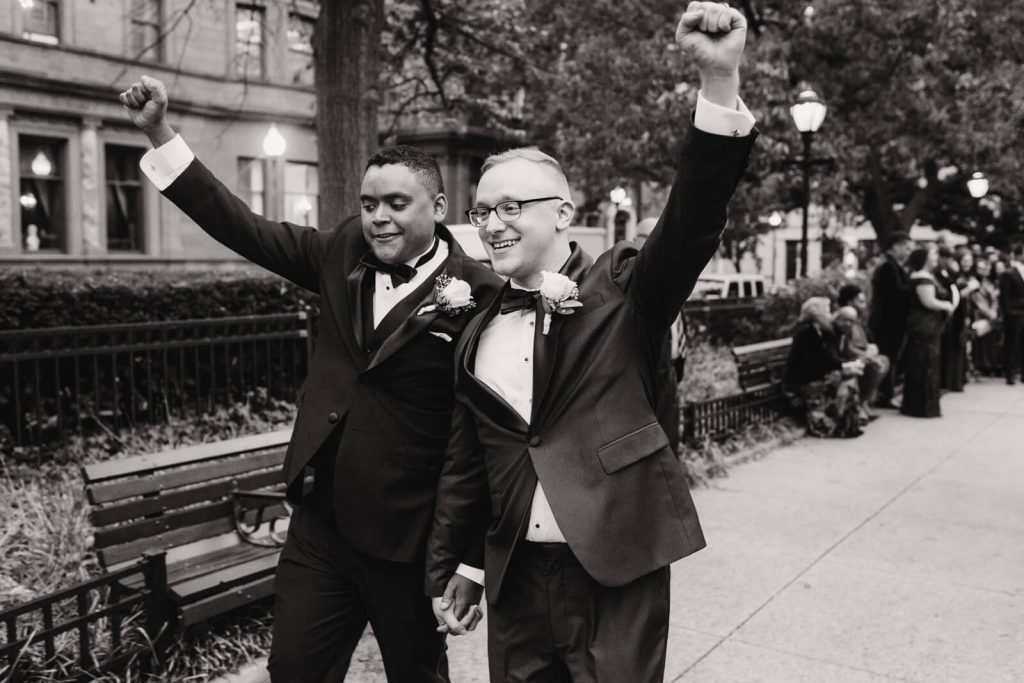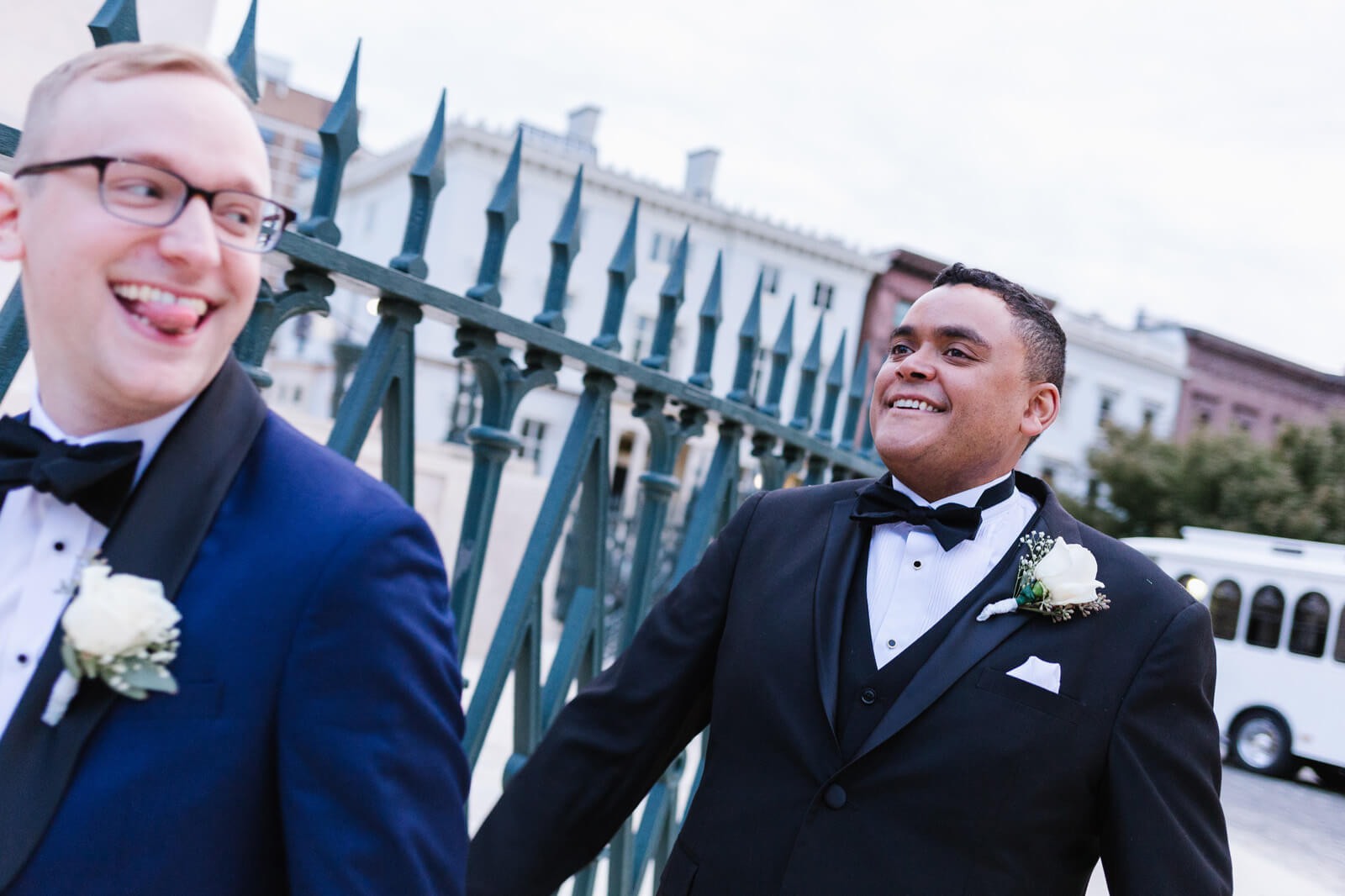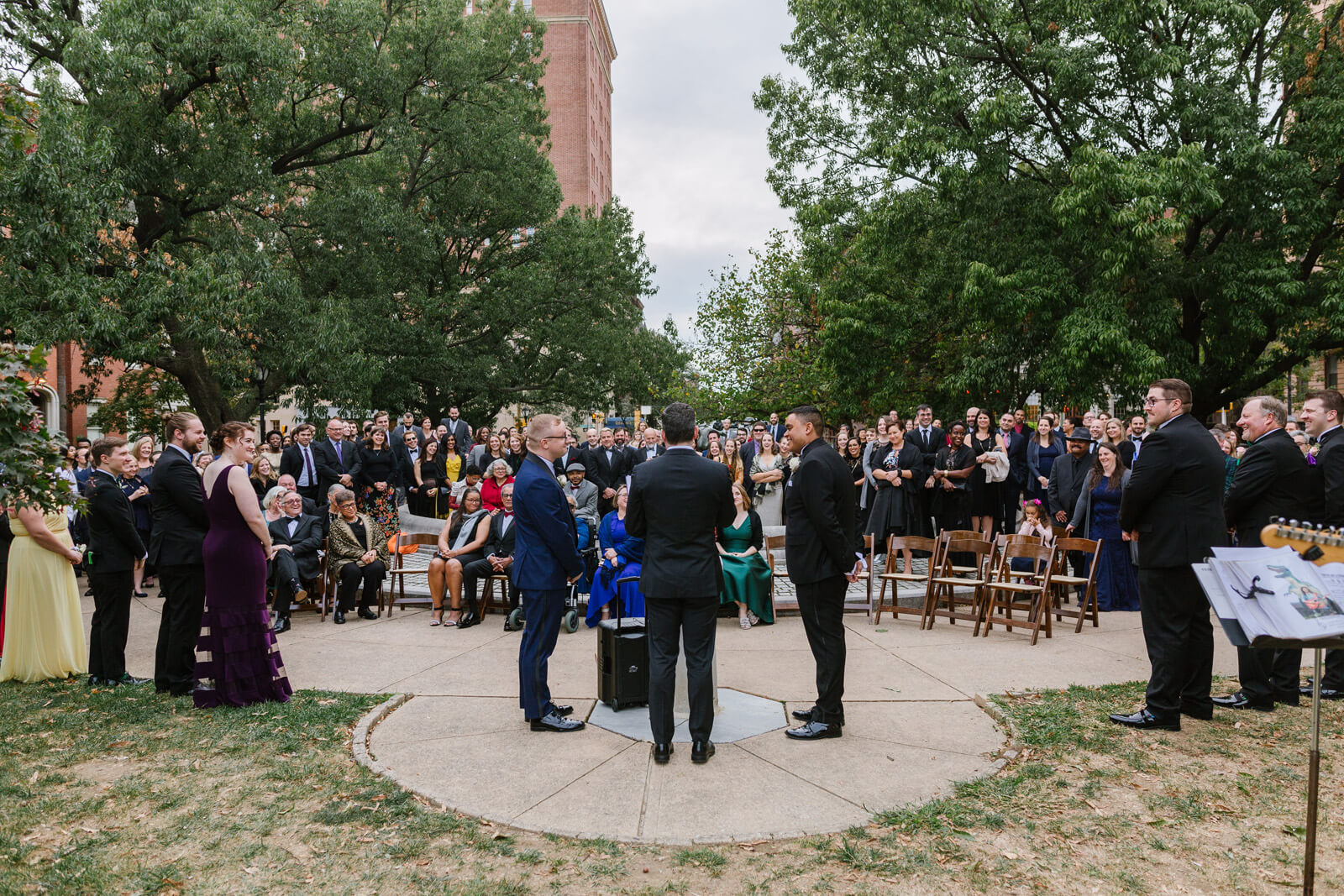 Most Unexpected Event On Your Wedding Day How much we had missed people. Friends came from all over the world, and we only got a moment with each of them, but it was so lovely to even have that precious little time with those people who are special to us. And we got to show off our city and everyone fell in love with Baltimore just like we did.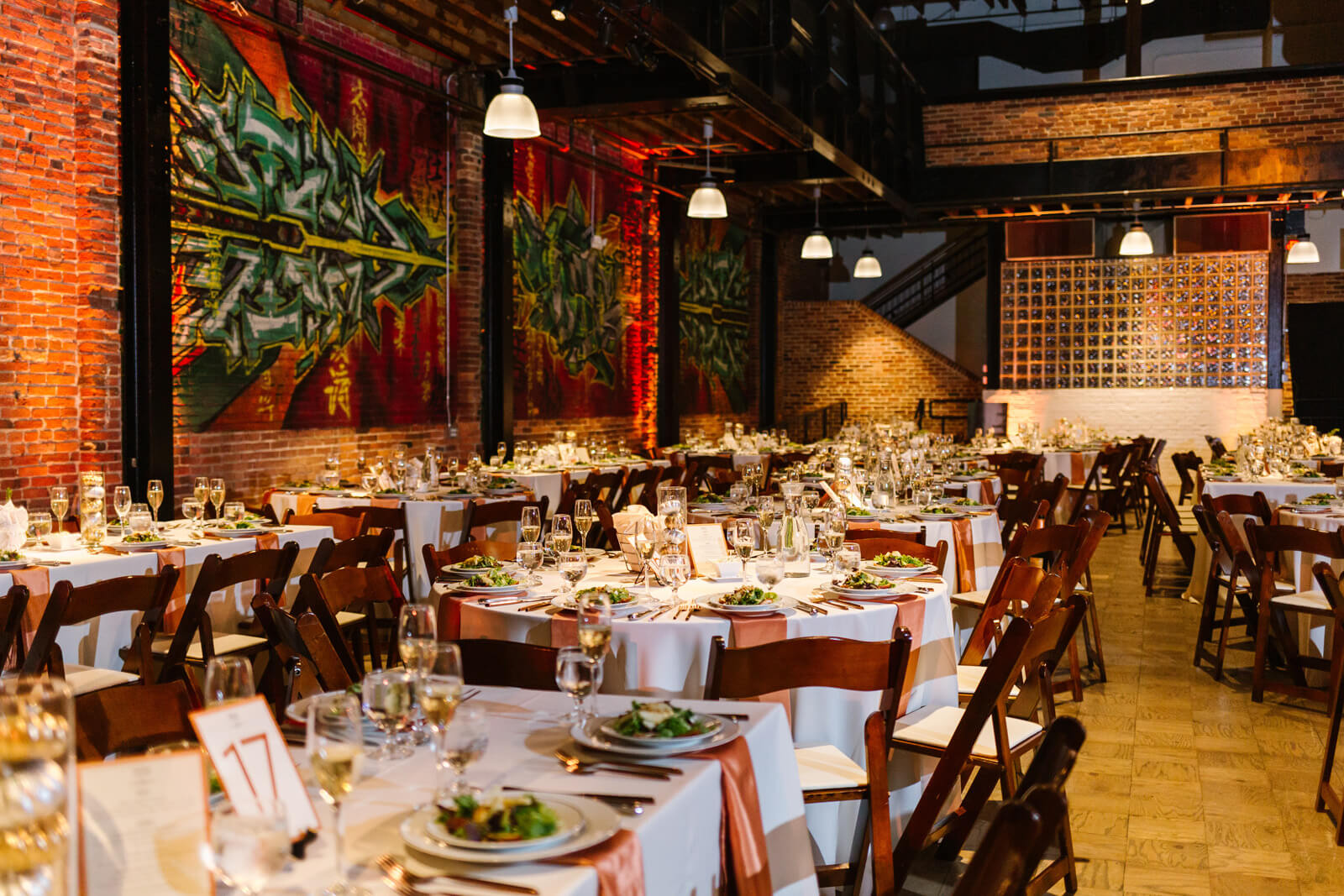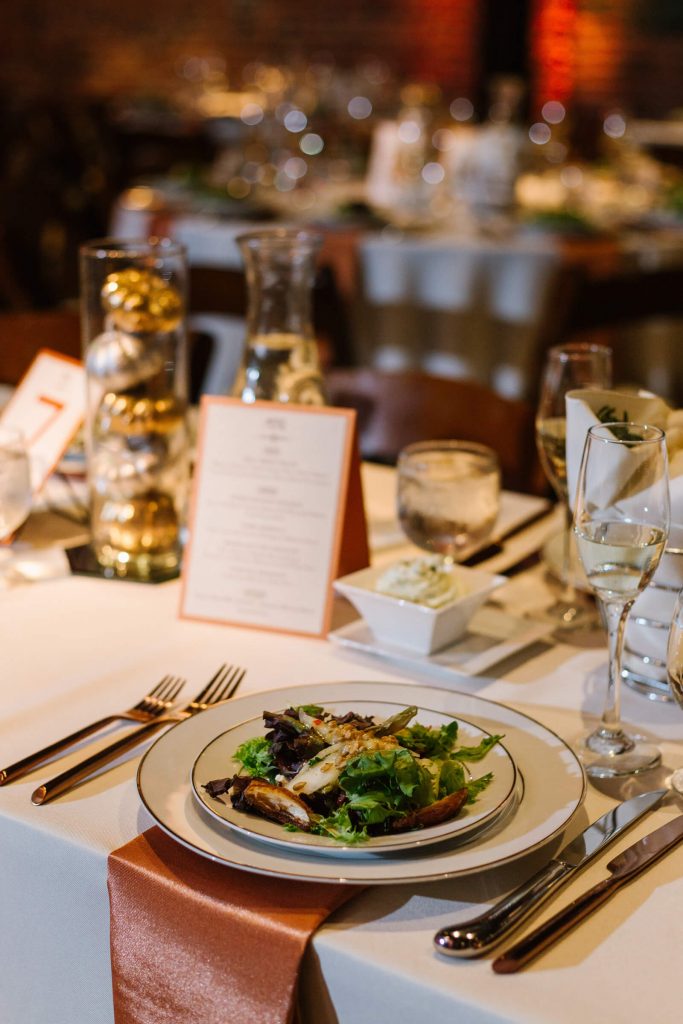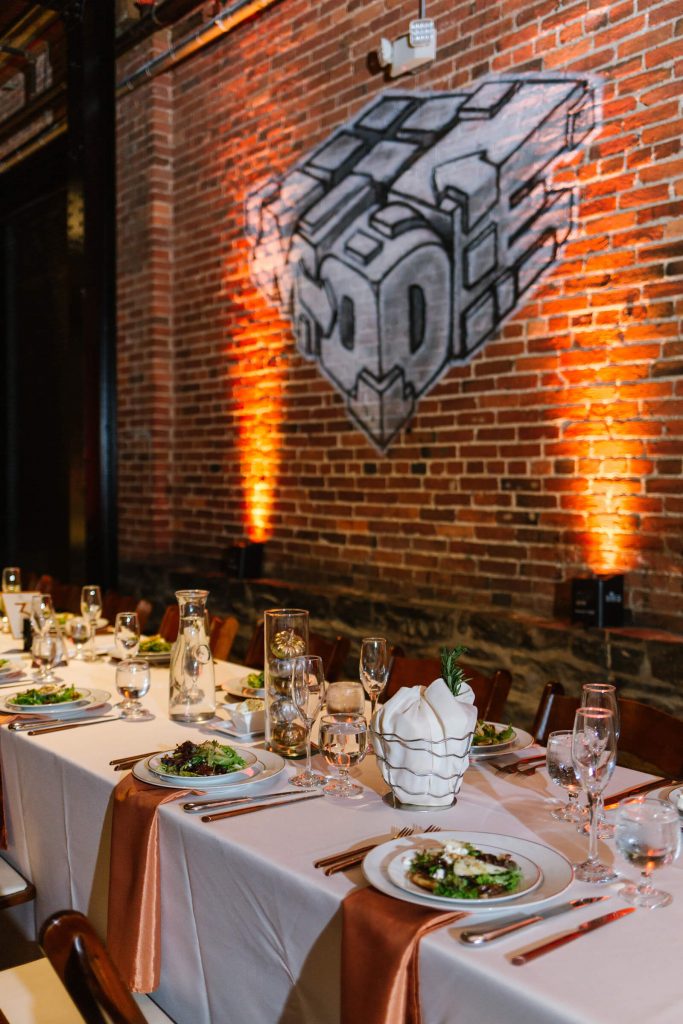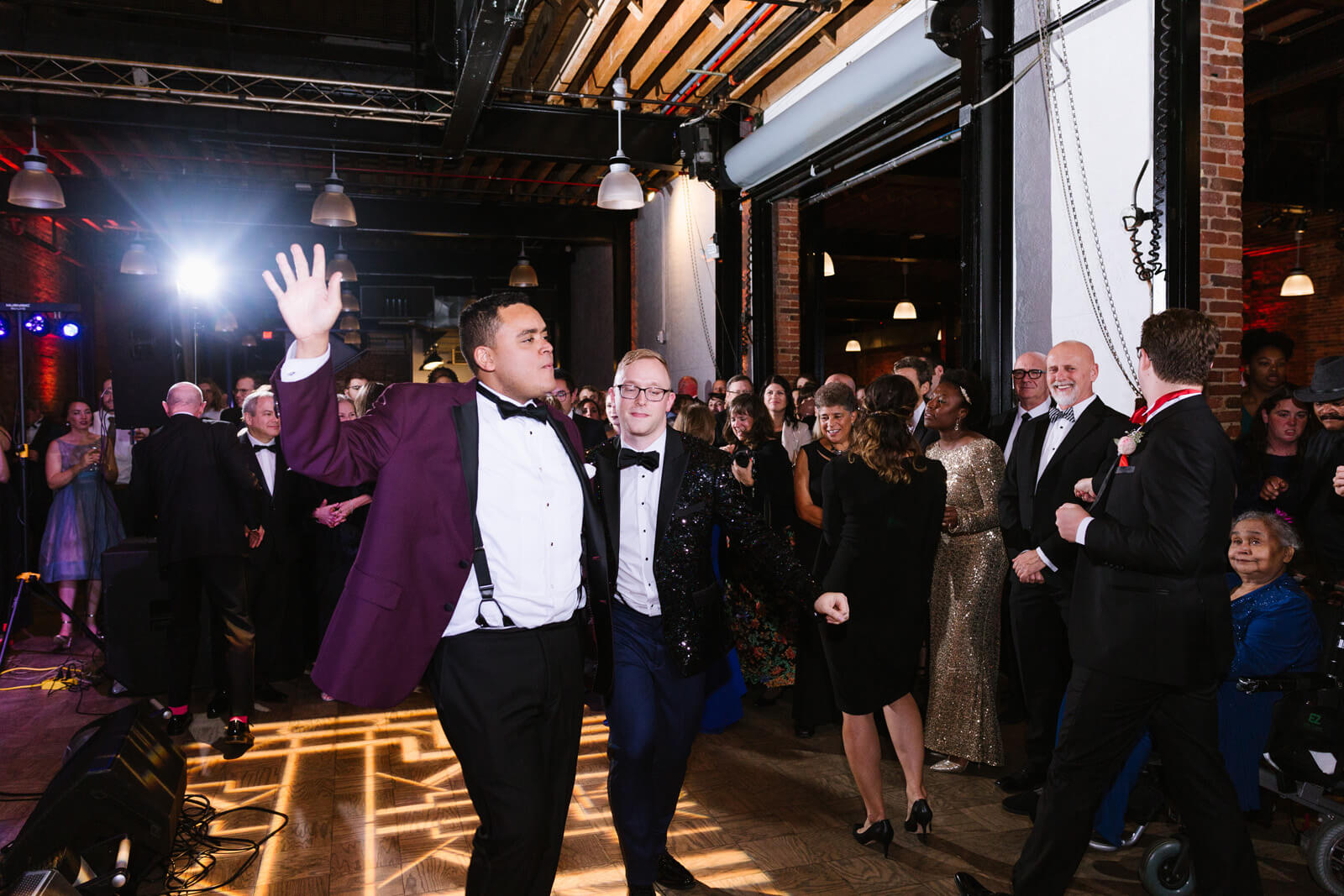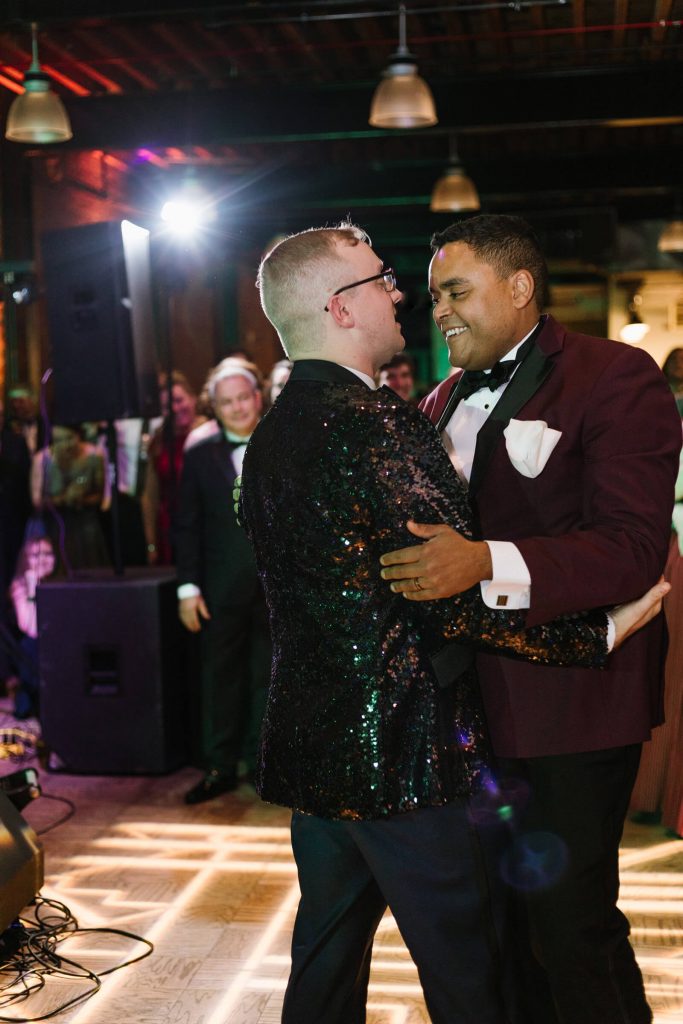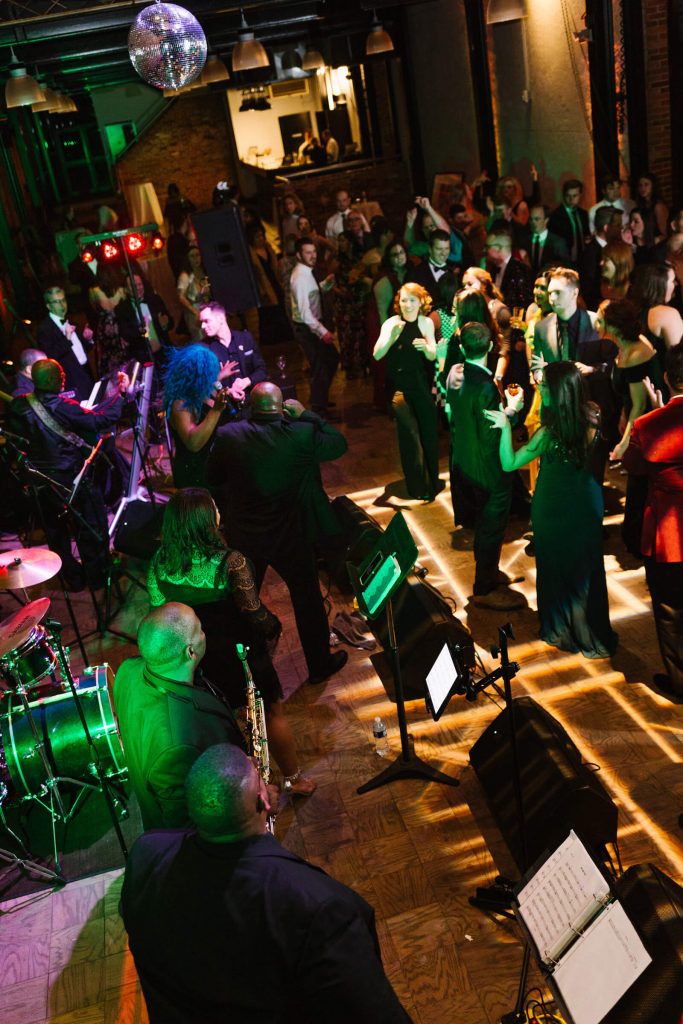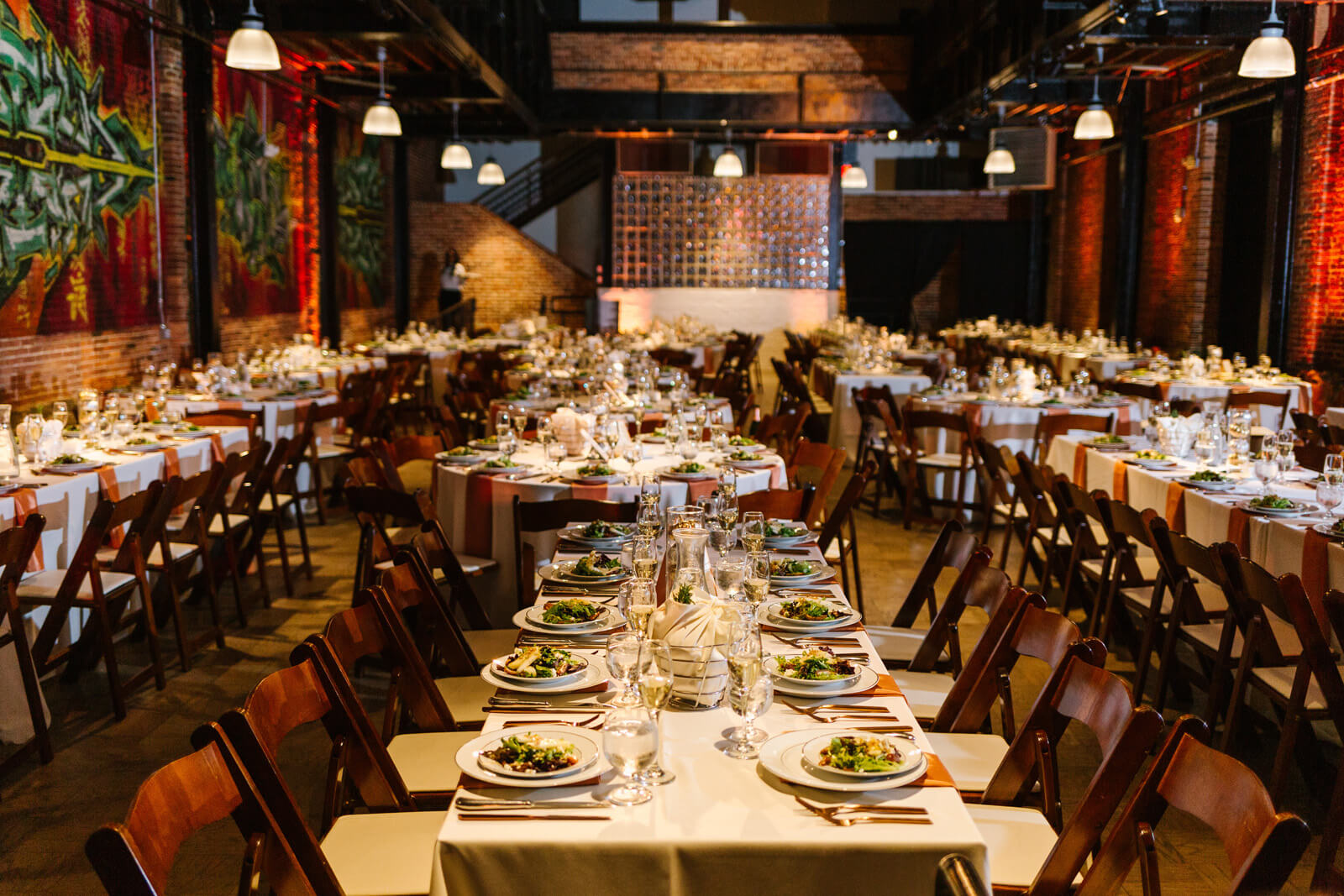 Piece of Advice Eat early and go with the flow. Maybe you run out of time for XYZ thing – it's ok. The day is special because you are and because you're around people you love. All the rest is just gravy.