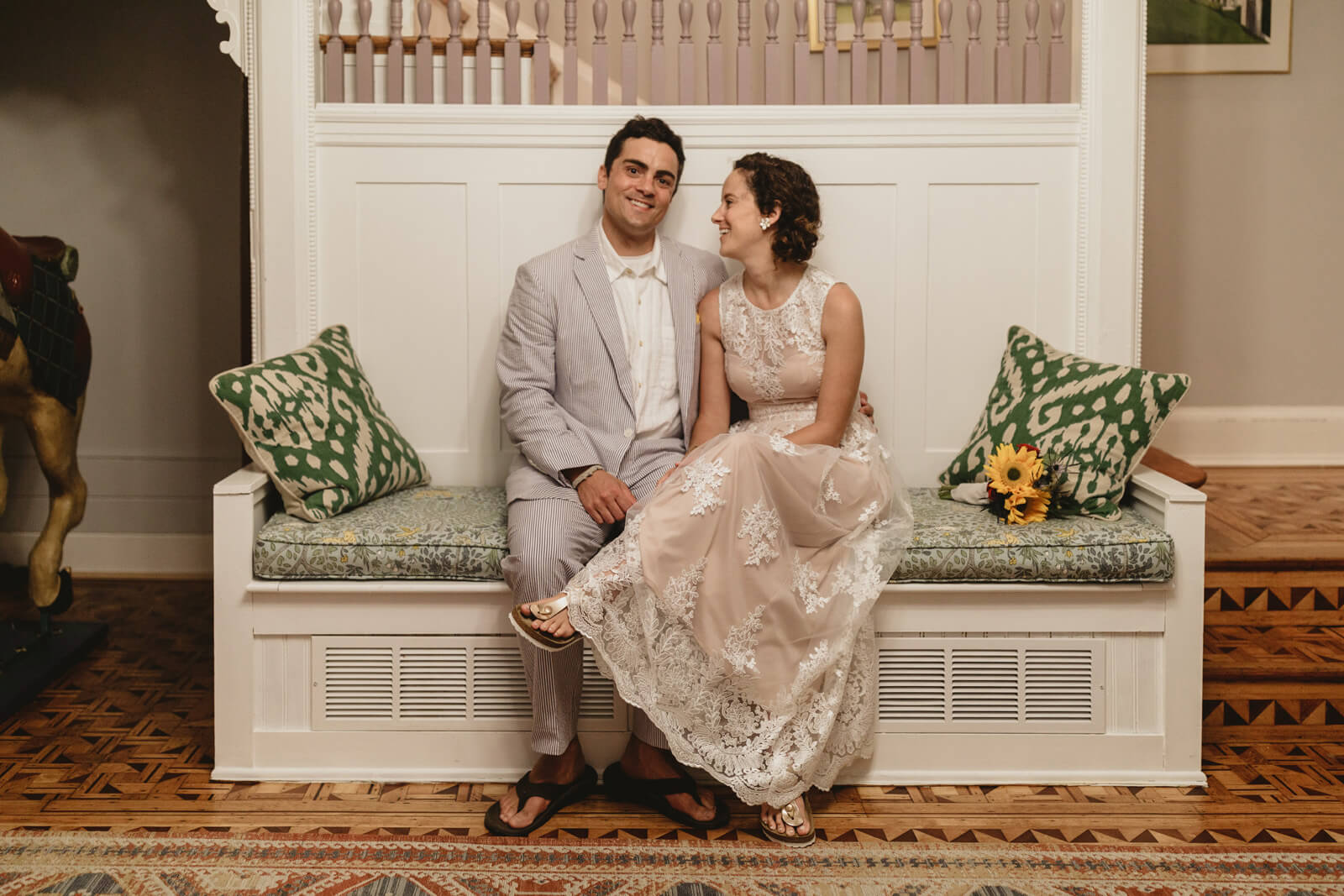 Our quarantine wedding felt less like a fairytale and more like getting caught in a thunderstorm.
Chris and I met in March of 2018 and six months later we found ourselves planning a life together. We did what any couple does after dating for a mere six months:  We bought a 125 year old house with no plumbing, no working heat, 18 cracked radiators and a basement that would fill up with two feet of water at the slightest rain shower—a real fixer upper, if you will. Again, more of a thunderstorm situation than a real estate fairytale. Letitia VanSant's "Gut it to the Studs" comes to mind and was definitely part of our "transform this foreclosure into a home" renovation playlist. The 1986 film "Money Pit" starring Tom Hanks and Shelley Long also comes to mind. Chris came into our relationship with three children from a previous marriage and, building a home for his kids was a top priority. We just needed it to stop the flooding first . . .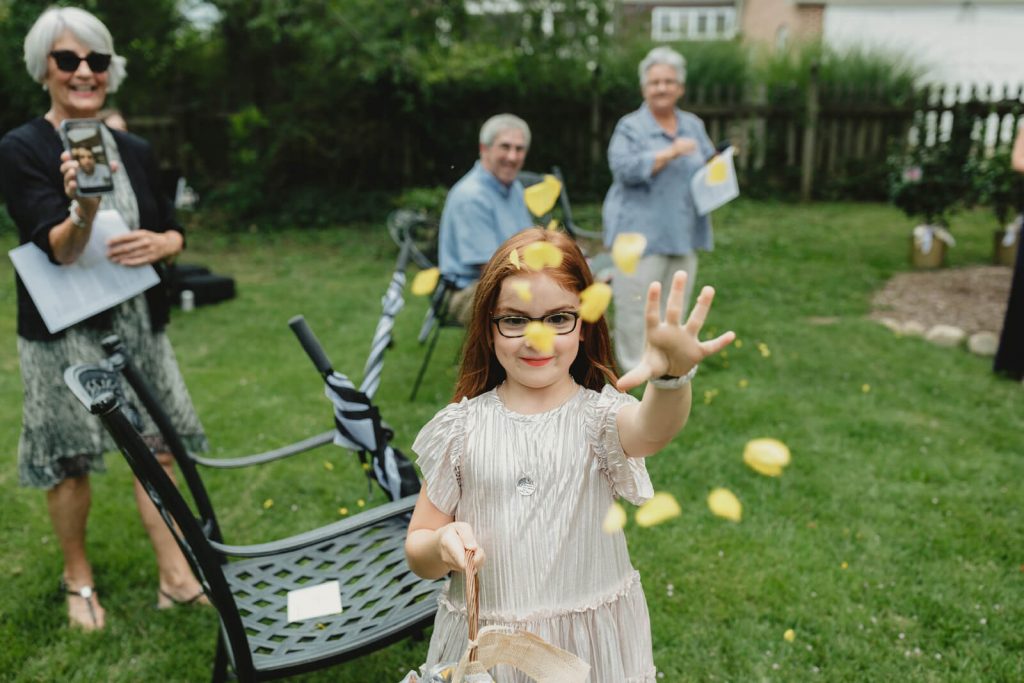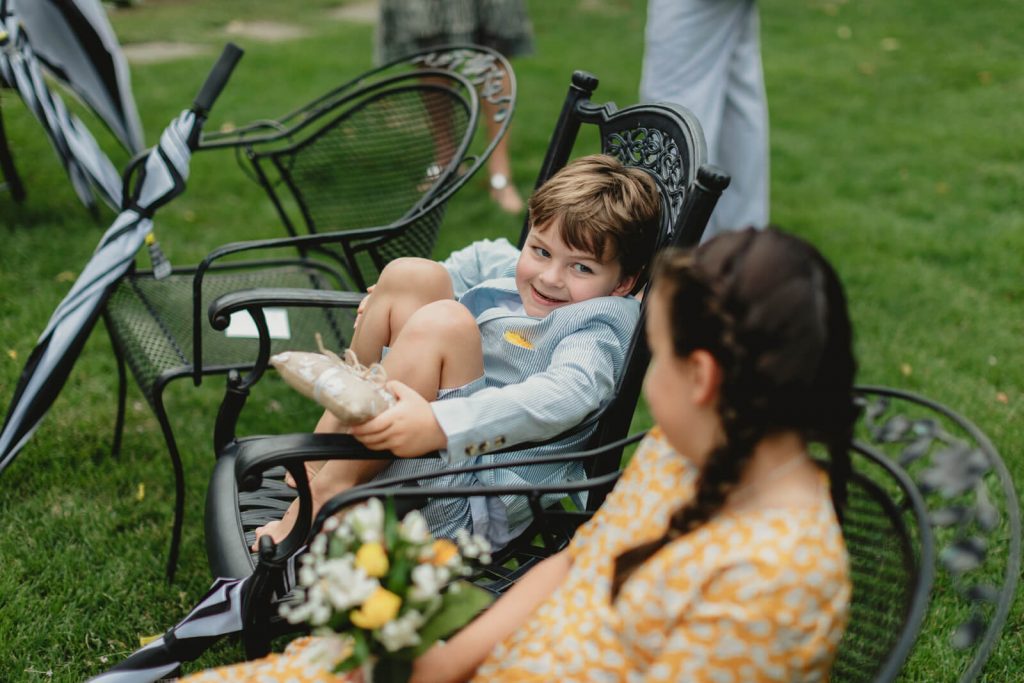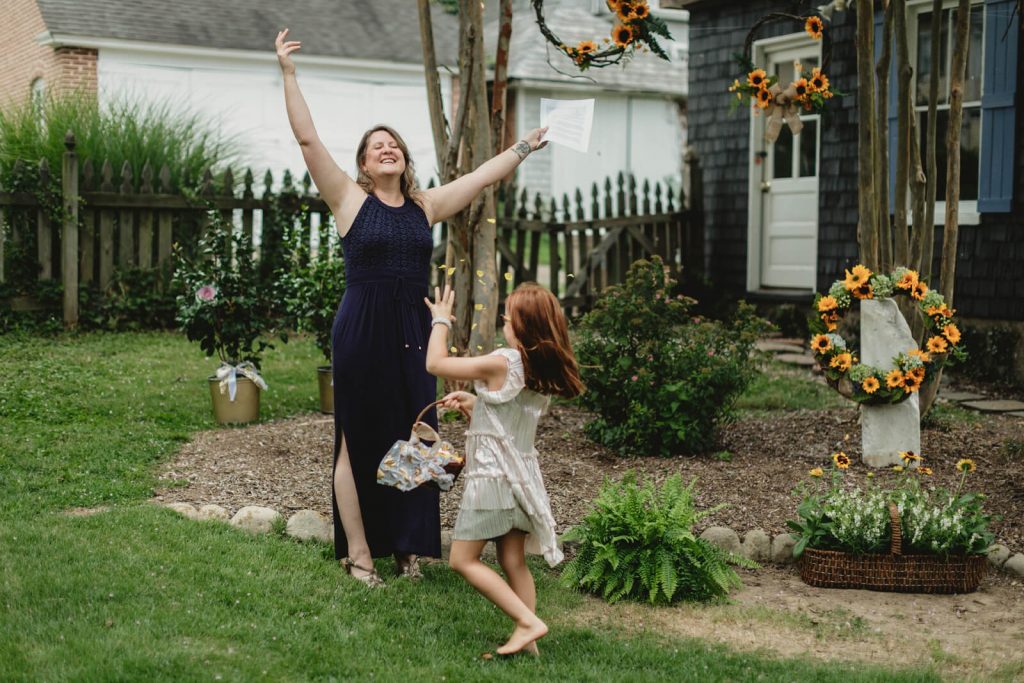 I knew from the first day we saw this property with our realtor that I wanted to marry Chris in the backyard. Last spring, at the beginning of the lockdown, Chris reached out to my parents and told them that he wanted to propose. We drove down to Virginia on a Tuesday and met them halfway between our homes in a random park off Skyline Drive. This detail stands out to me because it was the beginning of the pandemic and everything seemed so new and scary. I missed my parents and was thrilled to sit with them outside, in a random park, for a few hours just to be together. And what do you know . . . my dad brought an engagement ring for Chris. My great grandmother's engagement ring from 1910. The next day we were back home, and Chris decided to run the idea of marriage by the kids. Just a soft lob. Nothing concrete. No set plan for a proposal. The kids apparently took this incredibly seriously and demanded that Chris propose right then and there. He wanted to wait until the weekend. He wanted to wait ten minutes. He wanted to wait until I had gotten out of the shower. That is how I came to find myself being proposed to, with my great grandmother's ring, in a towel in my bathroom by Chris and his three kids.  I believe my dog was in the bathroom, too.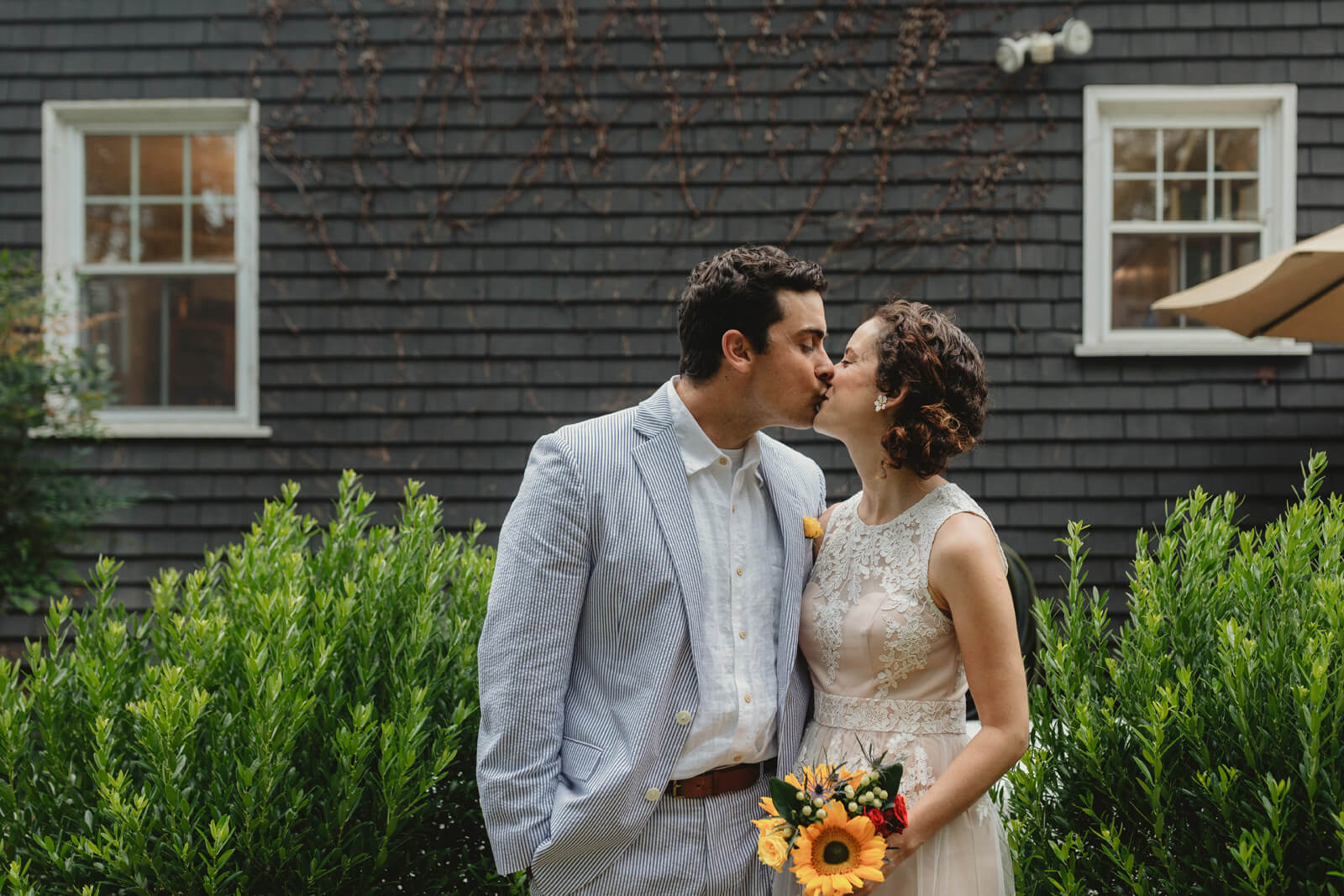 We decided to plan a wedding for the following spring—the spring of 2021. I used to work in the event planning industry (as a photographer) and started reaching out to some of my favorite vendors. Rachel Hoffberger of Plan It Perfect helped me plan the entire thing over the phone. From the sailcloth tents, the stage by the pool for the band, how we would get enough power out to the garage for the caterer, to transportation and parking. We even discussed childcare for the out of town guests' kids. I had the yard measured for the tents and I ordered a dress. I felt fully prepared to pull off a wedding the following spring.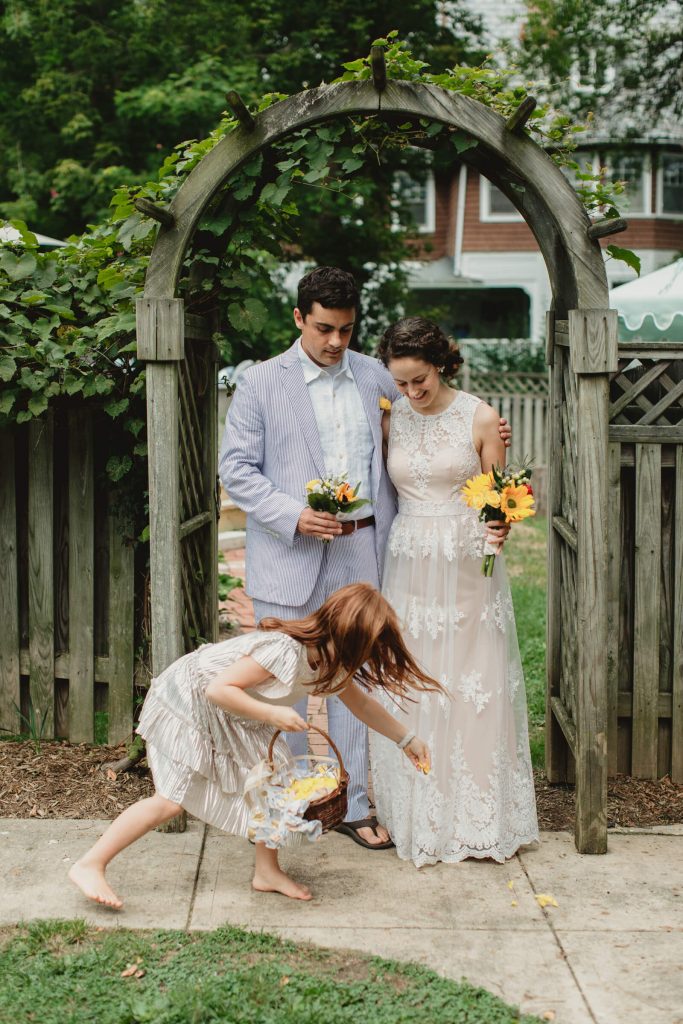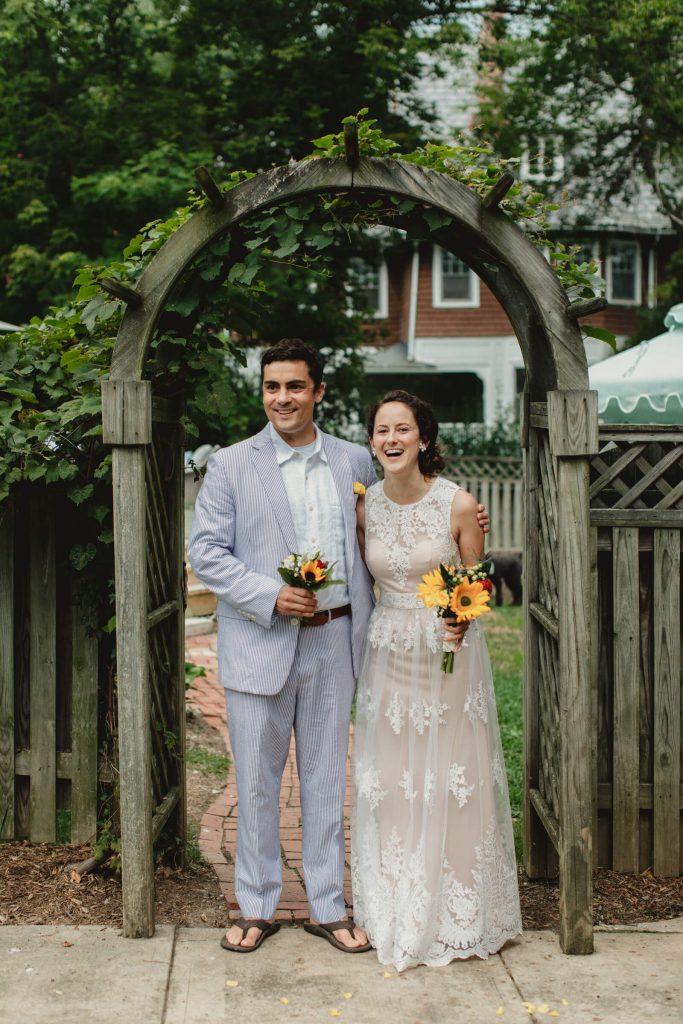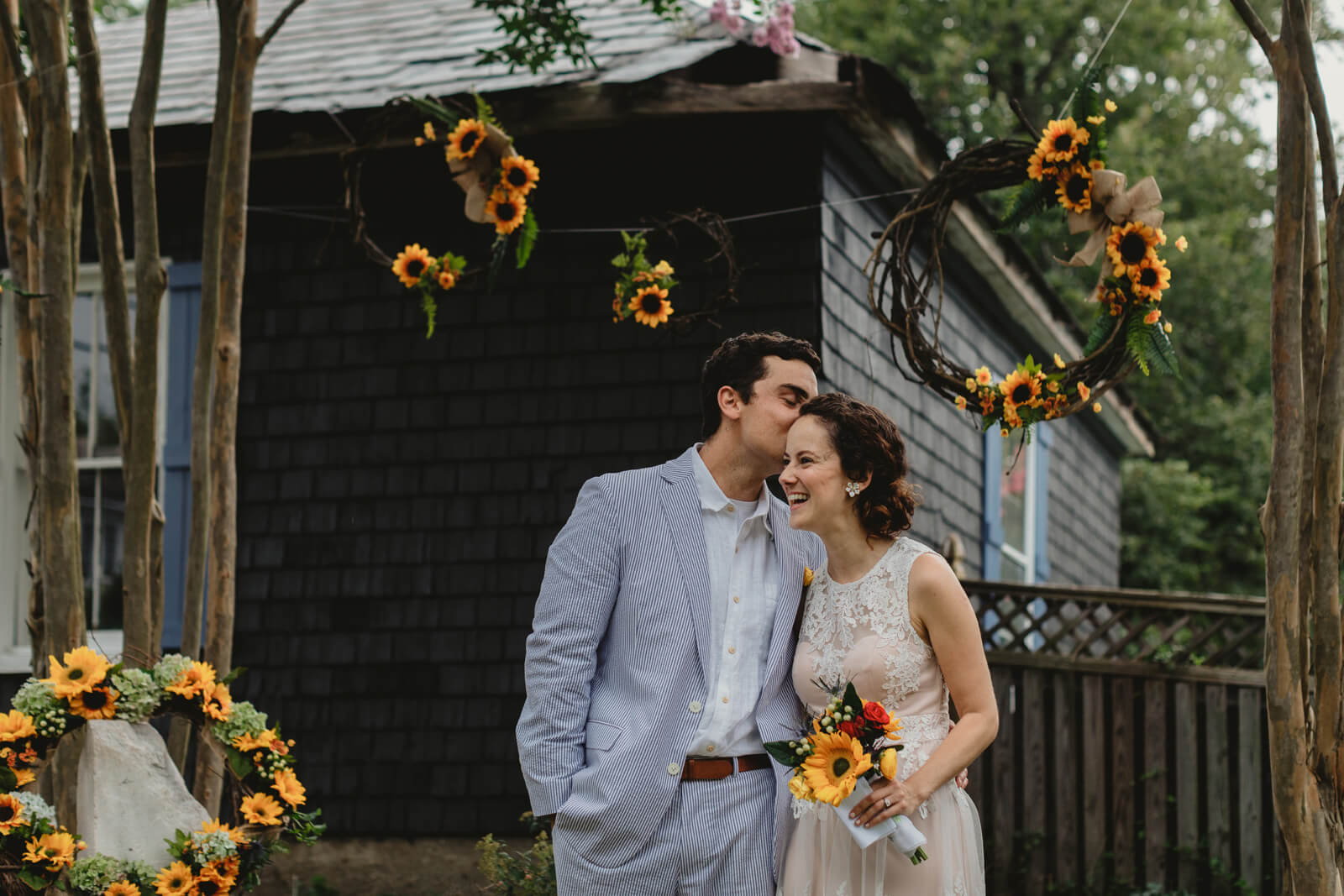 The pandemic ensued. We were both working from home. We rarely left the house. Our priorities shifted. I began dreaming of sump pumps over bands and catering. I was ready to call Chris' kids "my step kids" rather than "my boyfriend's kids". We were ready to call each other husband and wife. We had friends and family members who were forced to cancel or postpone their weddings and I just wasn't up for going through all of that planning and having to postpone. We decided to get married at our home, in the backyard that summer with just our parents and the kids and, three weeks later, we did just that.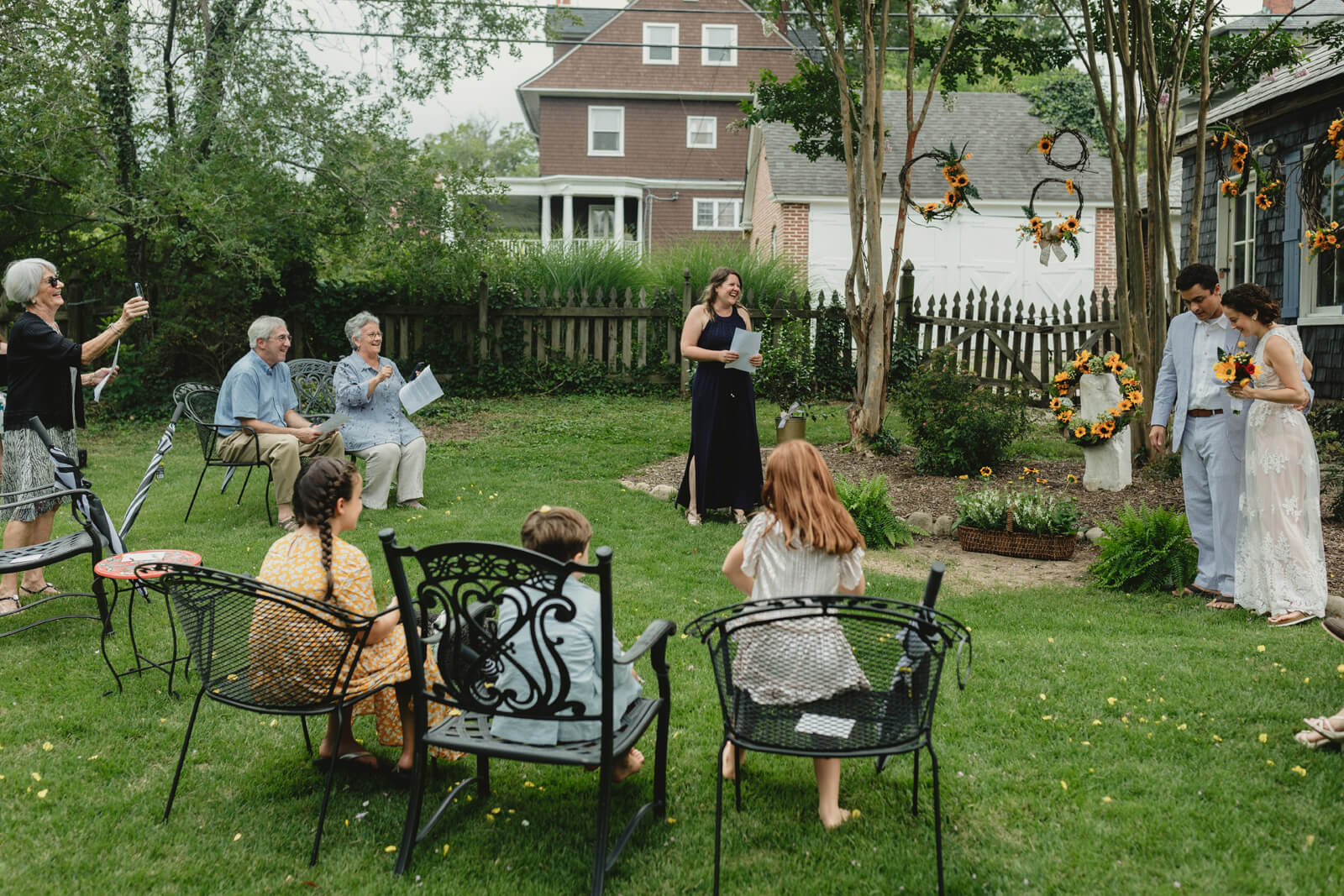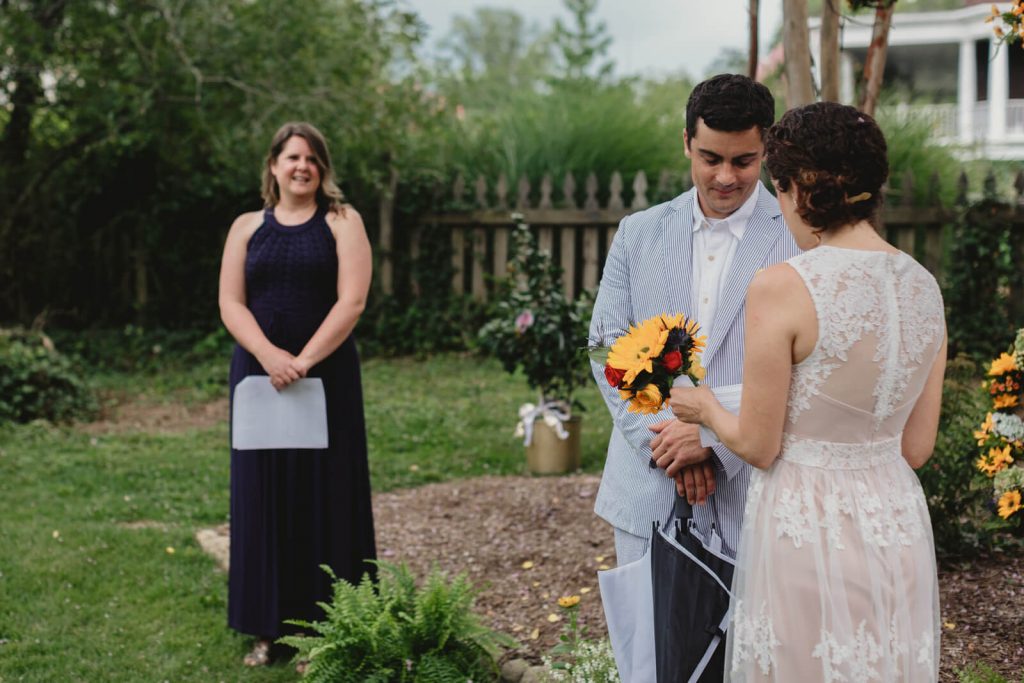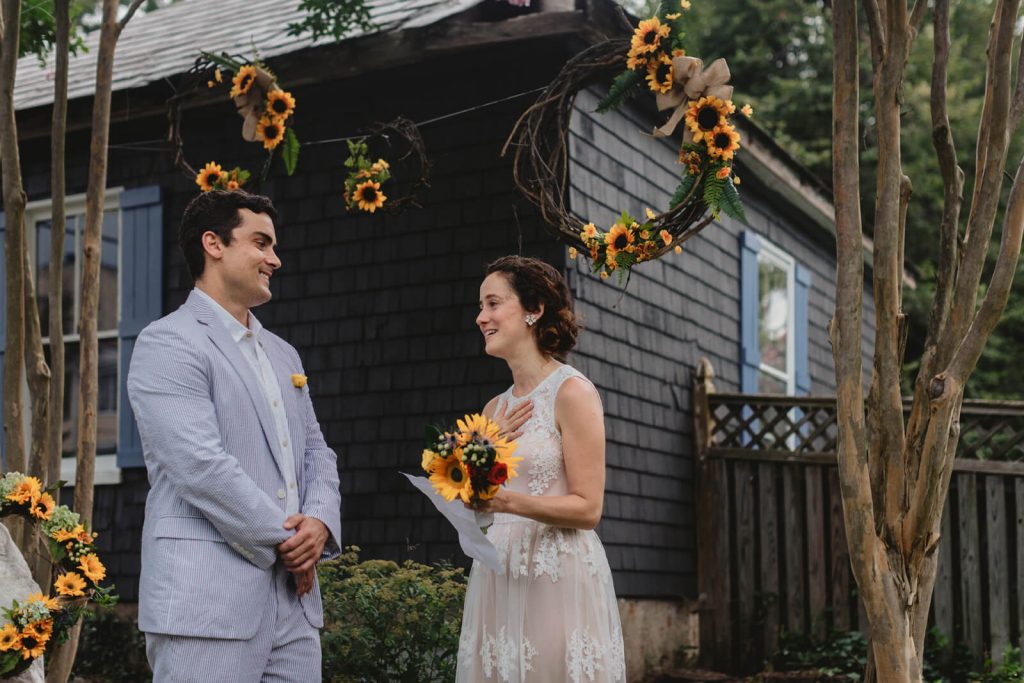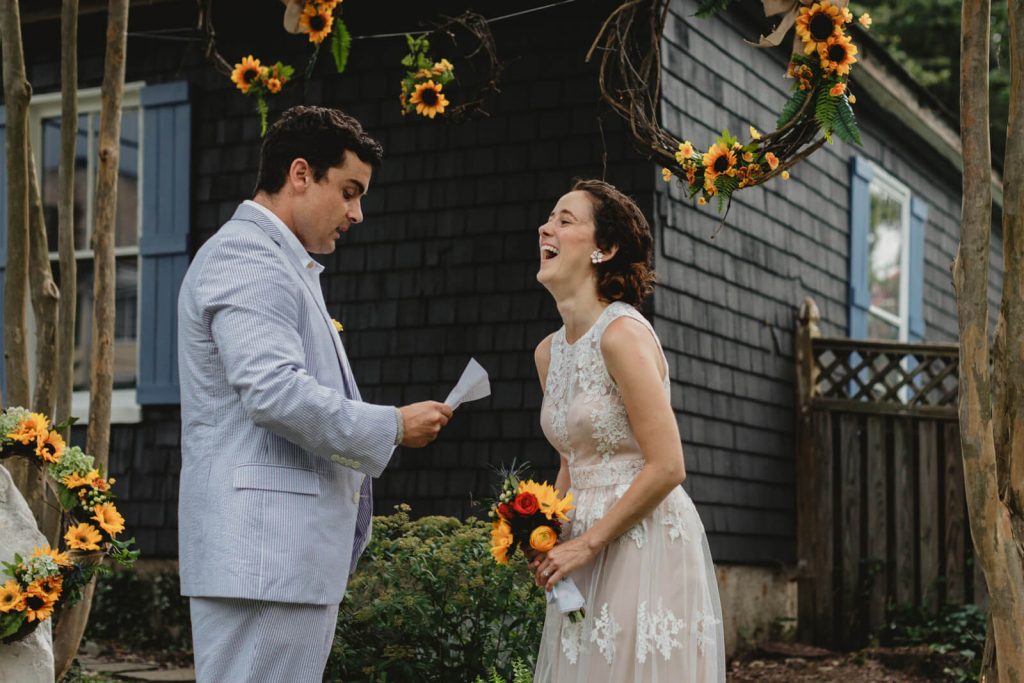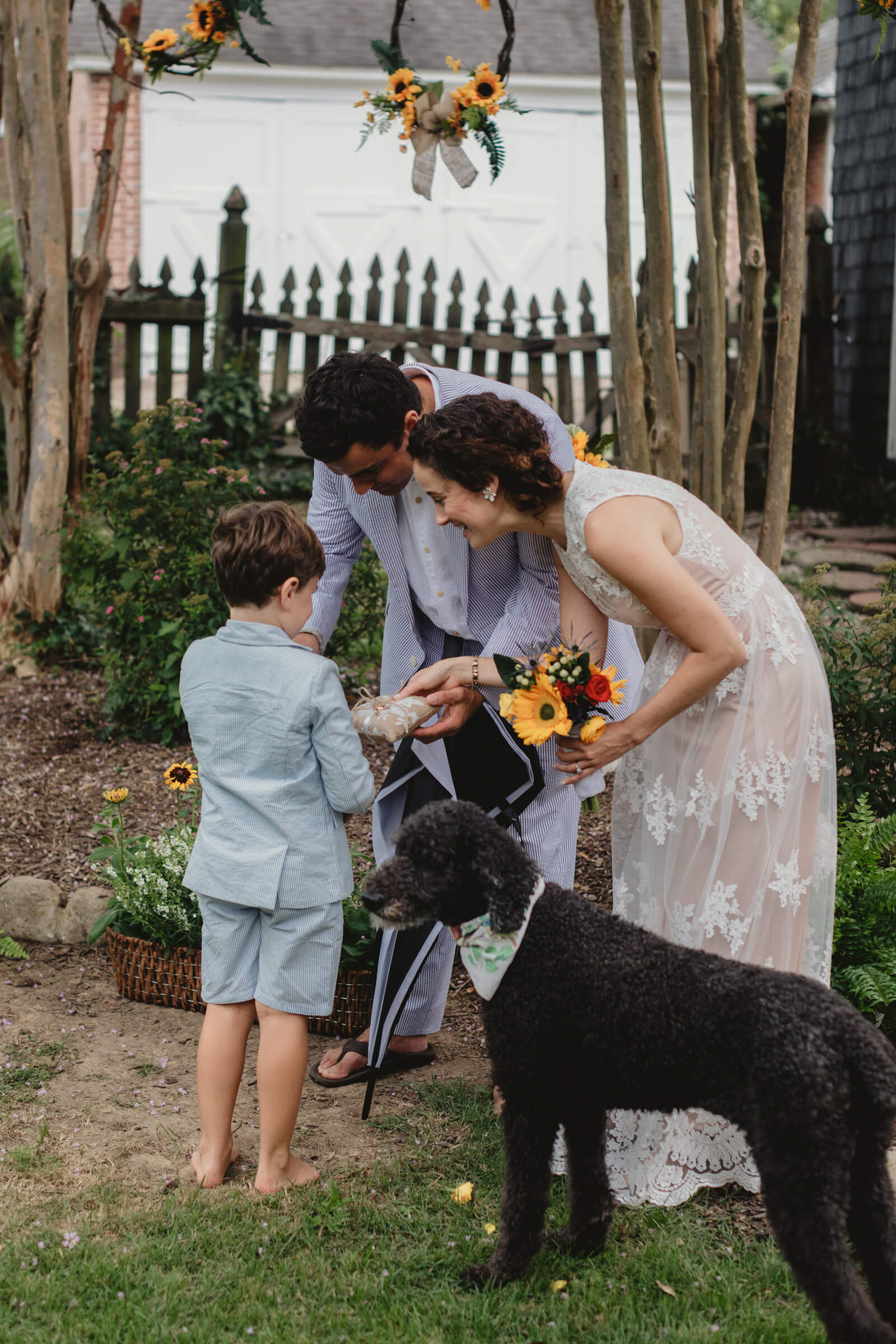 The venue was set, I called Petite Louis and placed an order for deliver for ten people, and we asked my friend Erin to marry us. My aunt sent cake pans and I made two three-tiered cakes that barely fit in the refrigerator. It was far too much cake for ten people. My parents would be driving through Baltimore, from Maine, on a Wednesday and, in quarantine land, a Wednesday seemed just as good as any other day of the week for a wedding. The morning of, we checked the forecast. It did not look good. Chris ran out to find golf umbrellas and his aunt came over to decorate our yard with sunflowers. That afternoon, I put on a white dress, our parents arrived as planned, and we got married in the corner of our backyard. Chris and his six-year-old son wore matching seersucker suits and I didn't realize, until I looked at photos after the fact, that none of the kids put shoes on that day.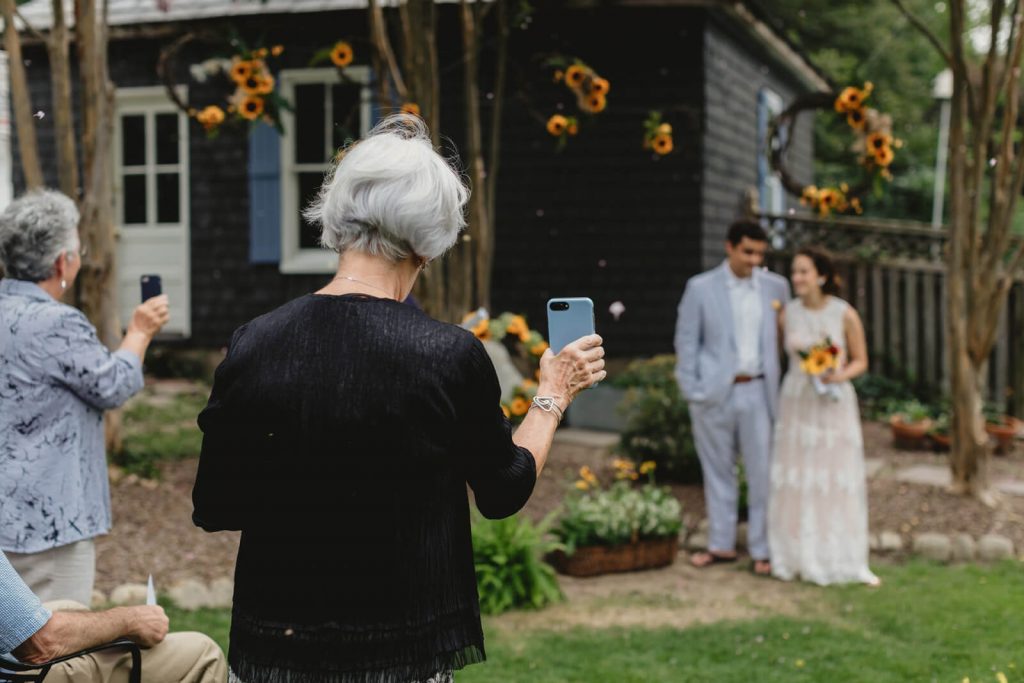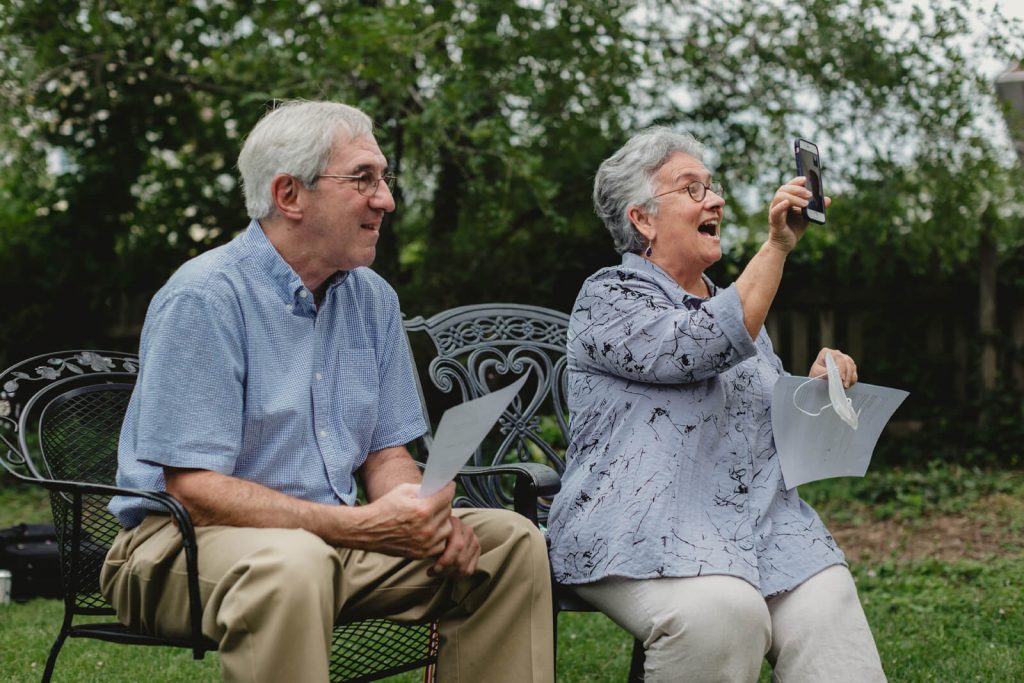 Chris surprised me by having my friend Audrey Hamilton show up and play beautiful tunes on her mandolin. The rain and thunder held off until we were saying our vows. The golf umbrellas did their job and we all made it inside, masked up, before the storm got violent. The delivery man from Petit Louis was not so lucky and had to forge the storm to deliver our delicious dinner for ten. Kate Thompson of Betty Clicker made the trip up from Richmond to photograph our Wednesday afternoon wedding.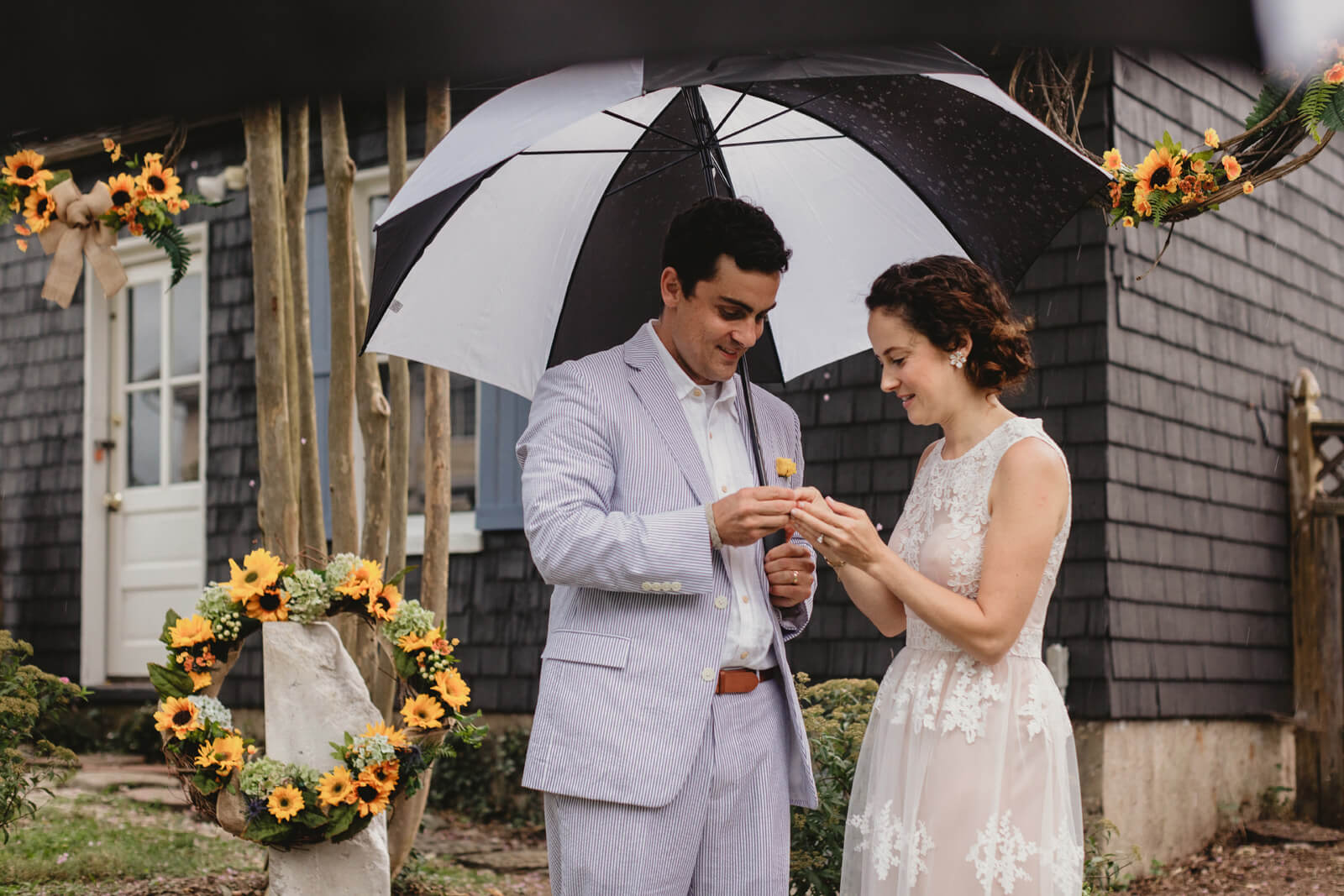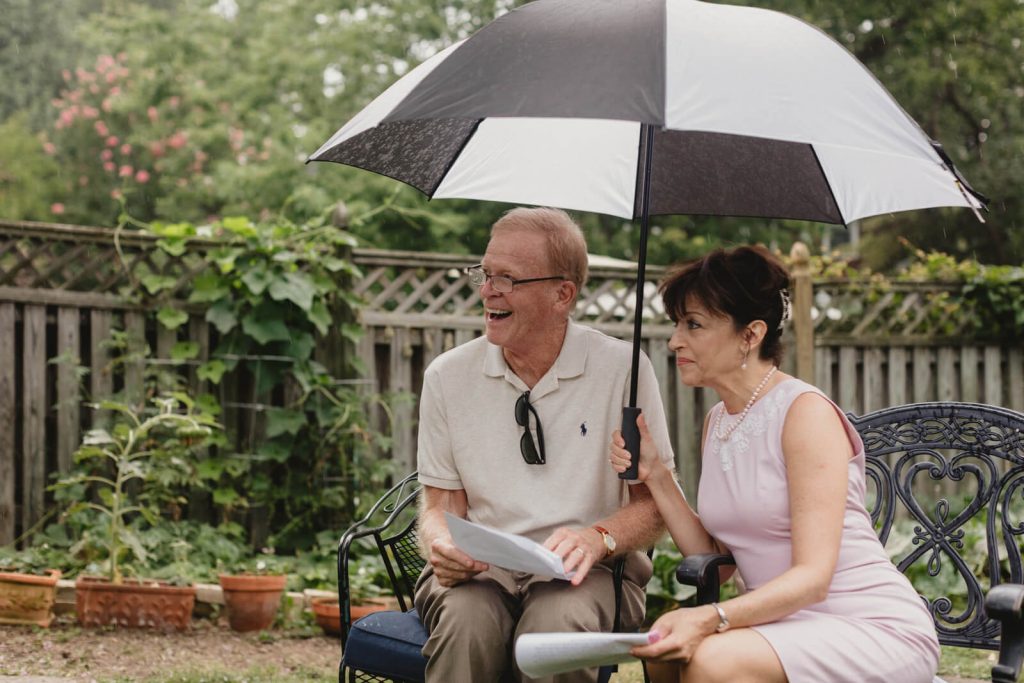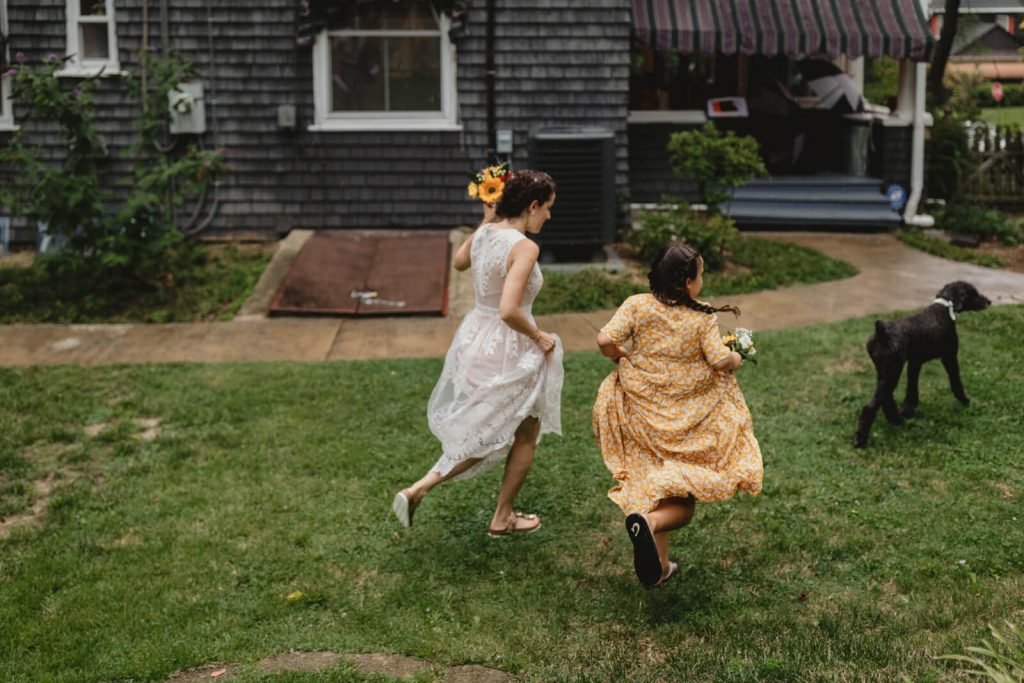 Of all the things I decided not to spend money on for our wedding, photography was not one of them. Our rainy, chaotic ceremony came and went within the span of about twenty minutes, but we can look at Kate's photos for the rest of our lives. She captured moments that I didn't even see myself. Our eight year old flower girl running around in circles throwing flower petals in our parents' faces, the dog relieving herself during the ceremony, our brothers joining via FaceTime on our parents' phones, the girls engaging in a fist fight and then hugging it out a moment later. I'm beyond grateful for every moment of that day and equally grateful to have photos to remember it all. The rain continued throughout the next day, but our basement didn't flood because, instead of booking a honeymoon during a pandemic, we had a sump pump installed.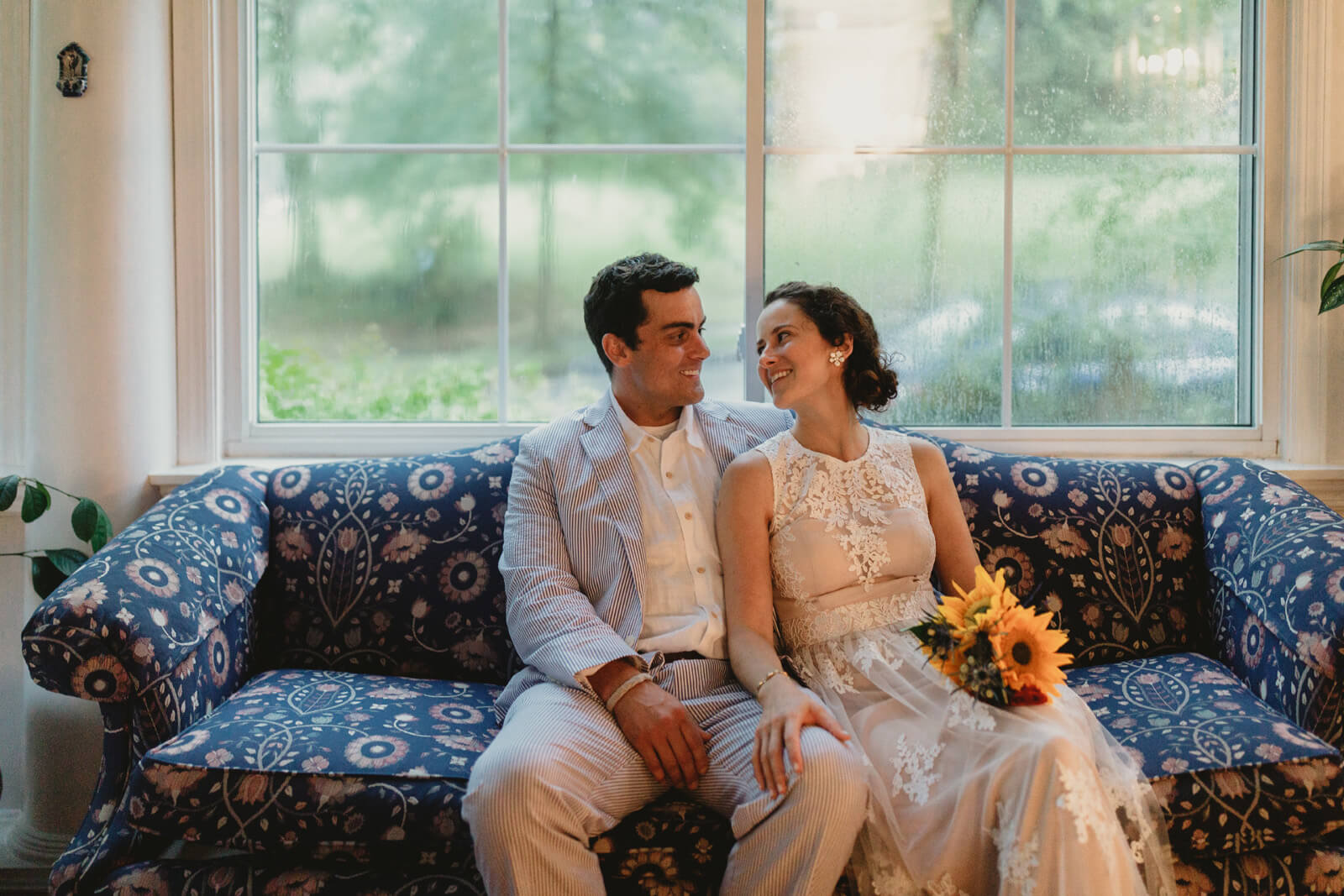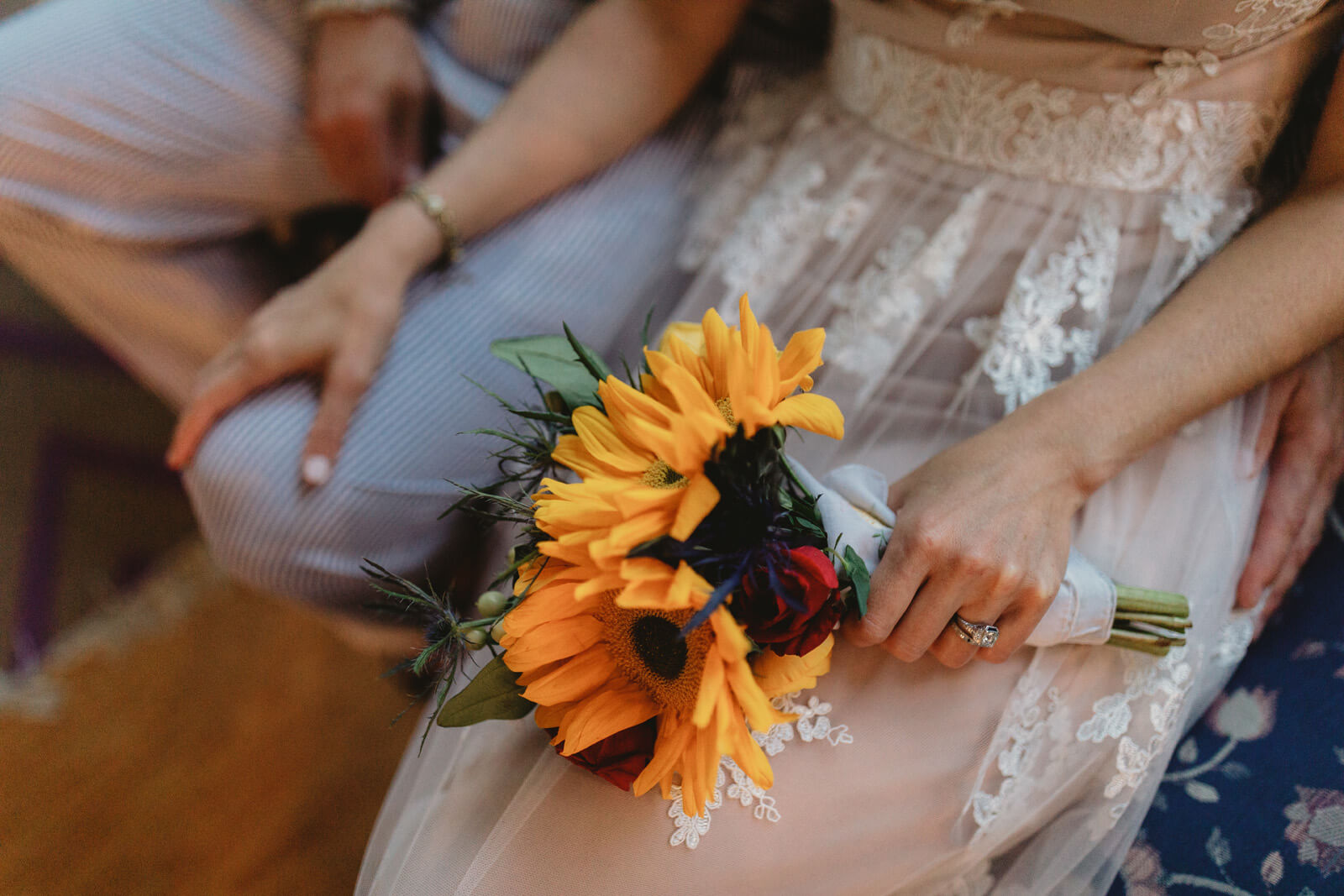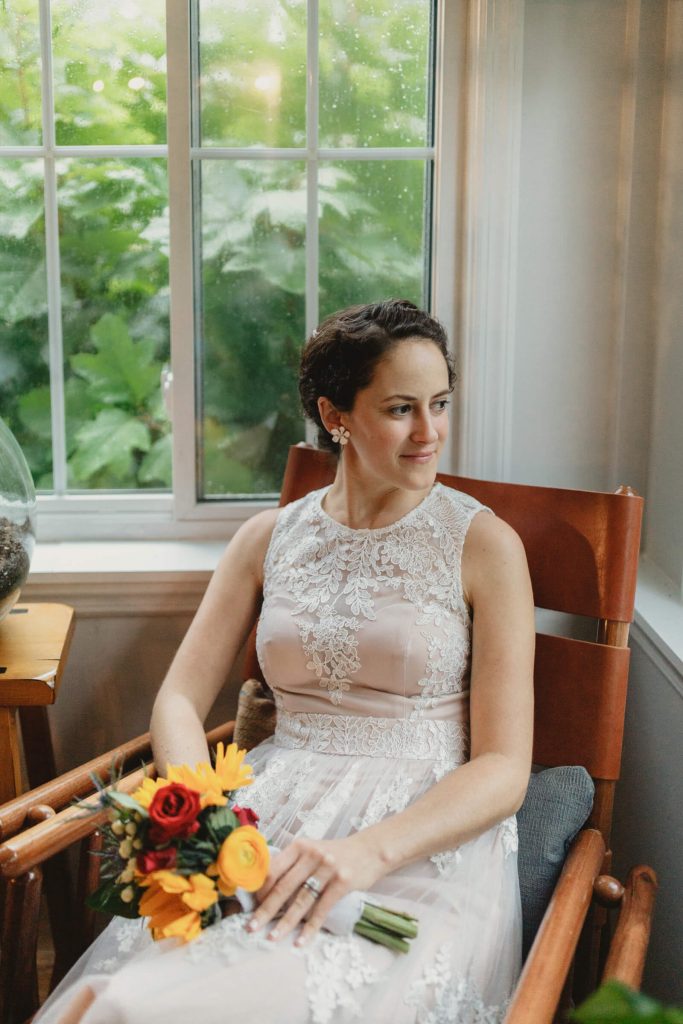 Our wedding story might not sound like a fairytale or like everyone's cup of tea, but it was at our home and perfect for us and it made us a family. I think readers will also be pleased to know that over the last three years we have completed all major renovations and our blended family now enjoys working central air and a fully functioning plumbing system.
As a side note, if you do decide to have tents and a caterer and more than eight guests, I do highly recommend reaching out to Plan It Perfect. In an alternate, non-pandemic universe we would have been thrilled to have a big celebration with extended friends and family and a band and a bartender. Maybe for a post-pandemic anniversary down the line.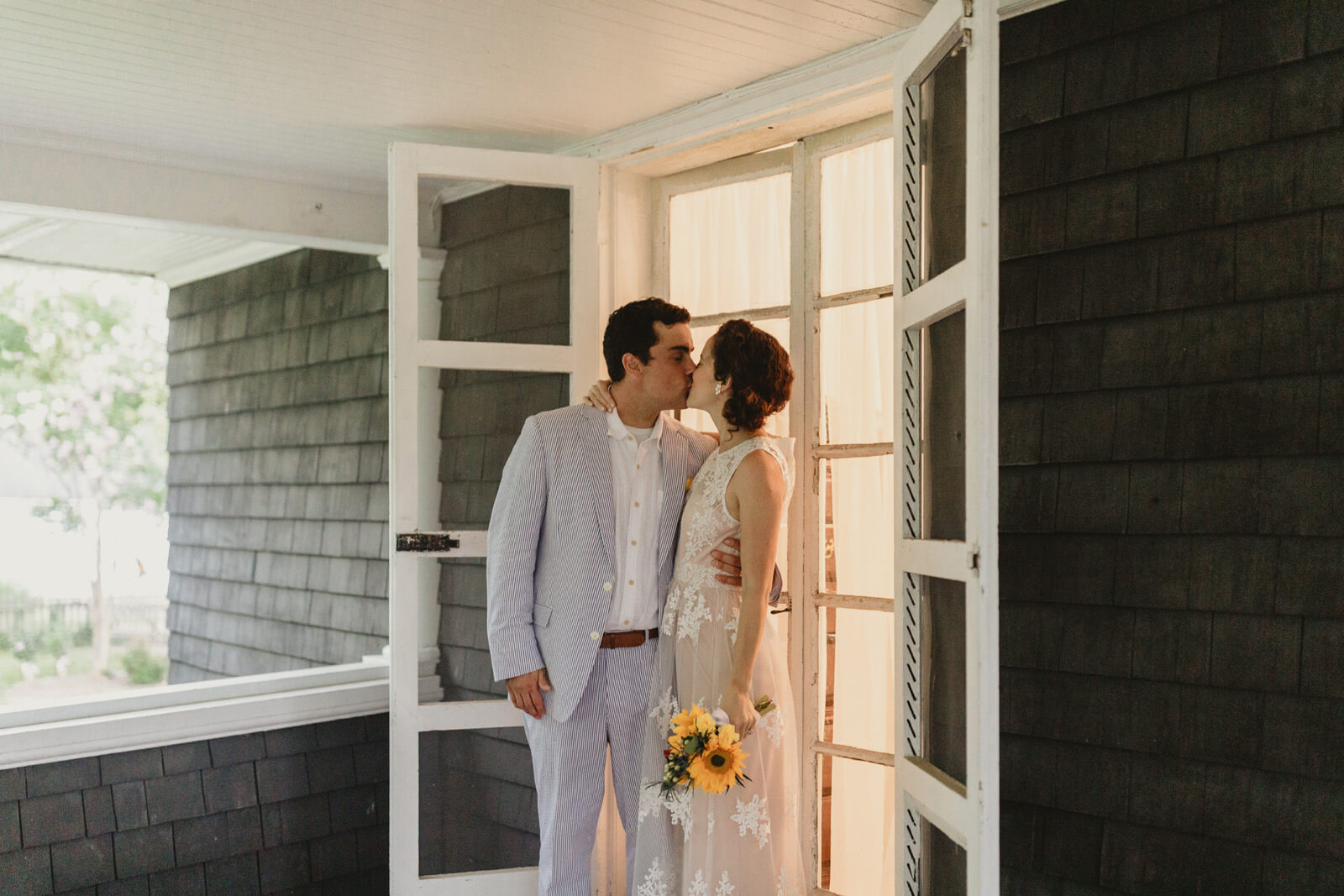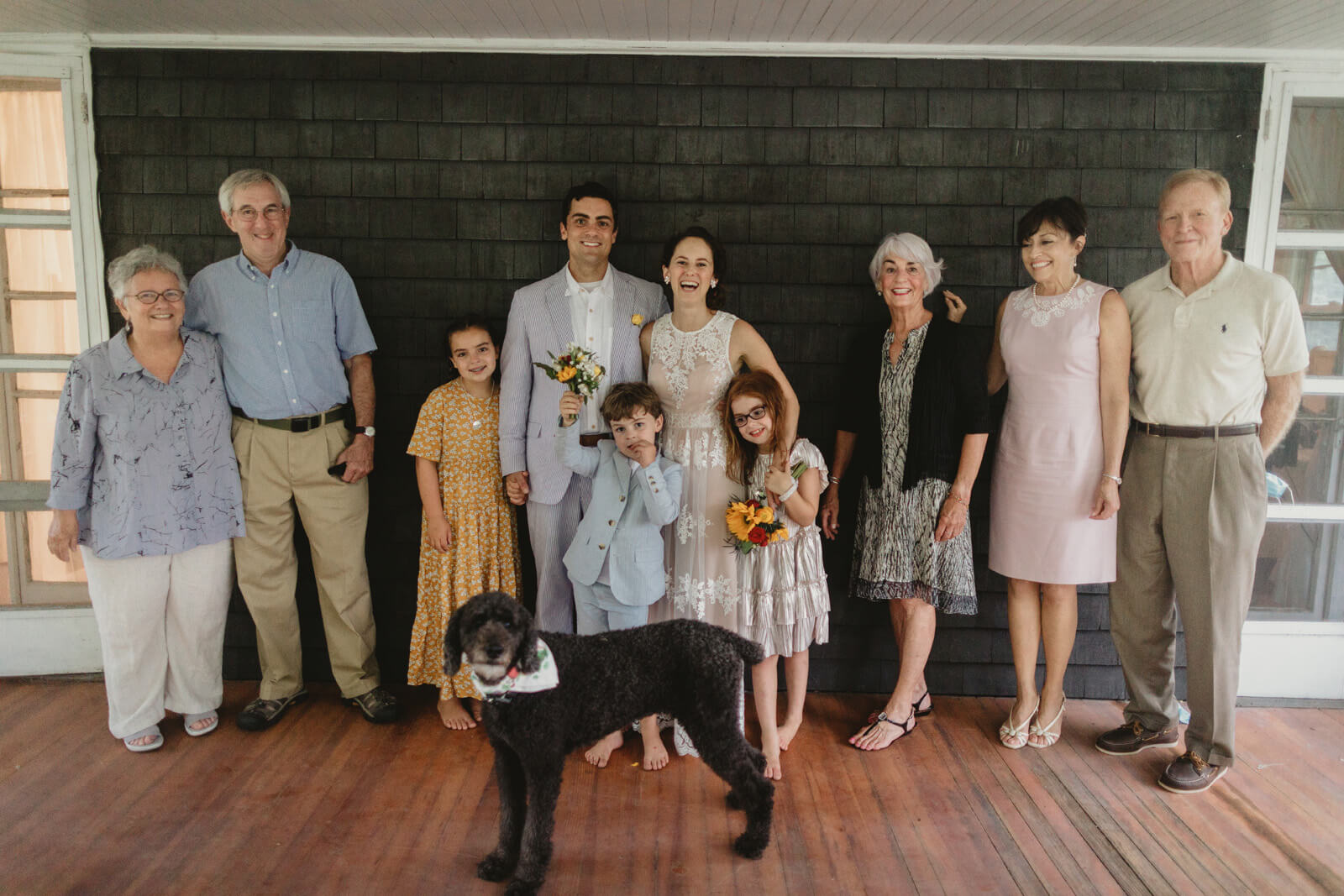 Cake Bride Caterer Petit Louis Flowers Aunt Corky Honeymoon Our pool the next day in the rain with the golf umbrellas Location Our backyard Music Audrey Hamilton, on mandolin Officiant Erin Drew, friend of the couple Photographer Kate Thompson of Betty Clicker Wedding Dress BHLDN Wedding Planner Bird, the dog