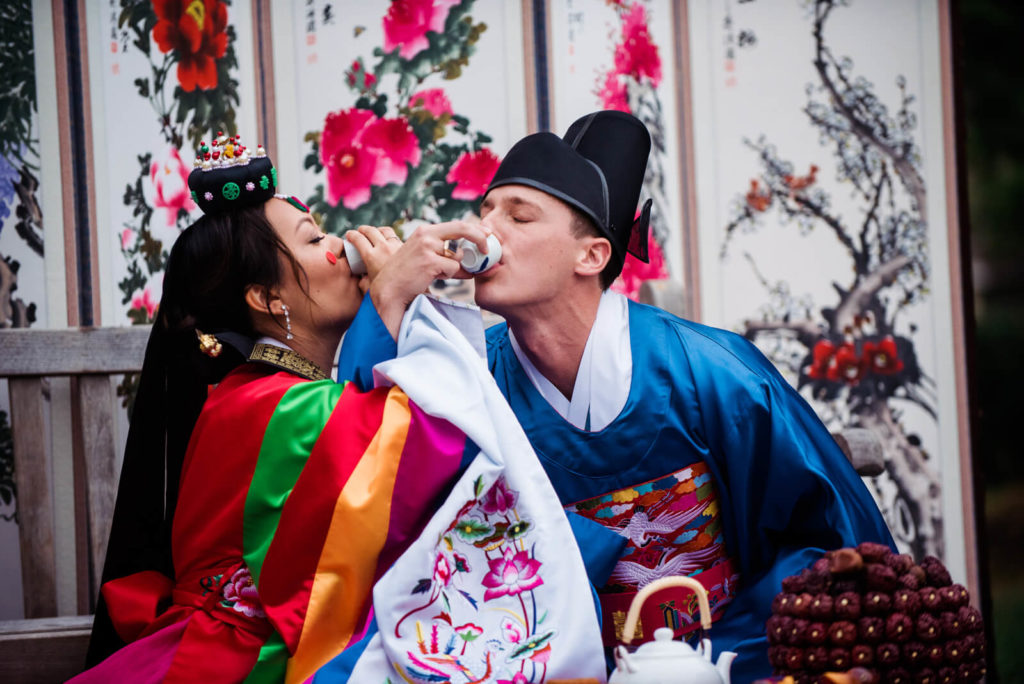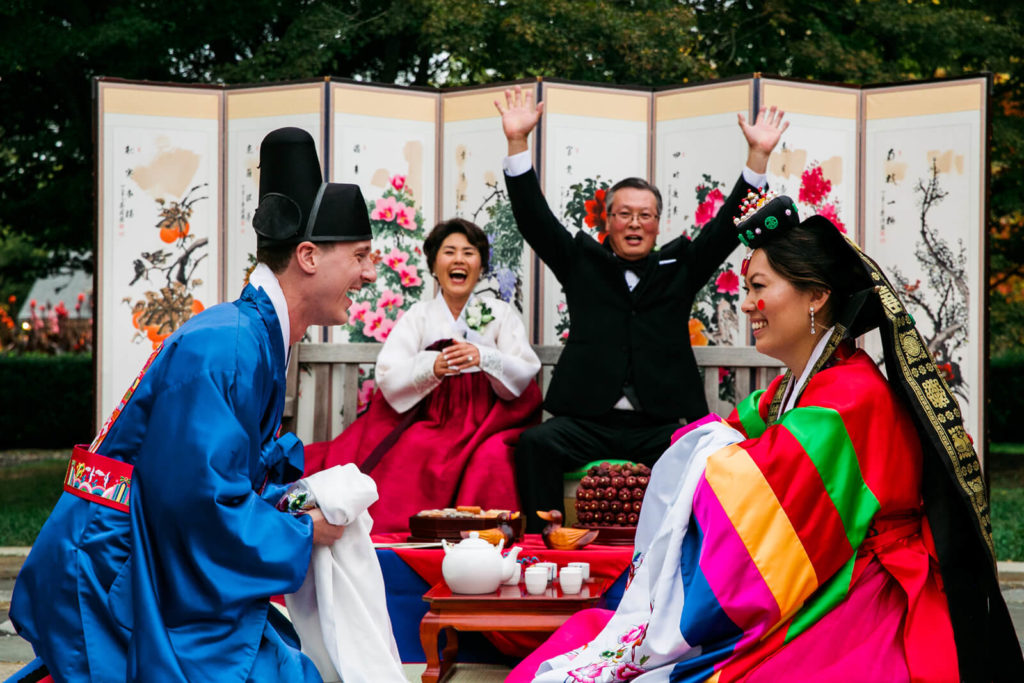 Occupations: Lily is a marketing project manager; Craig is a retail manager
Wedding date: October 28, 2017
Number of Attendees: 180
Number of Attendants: Six bridesmaids, six groomsmen, and a flower girl
How You Met: Nothing like meeting your future husband in workout gear, a top bun, drenched in sweat. Craig and I both had signed leases in other parts of the city, but somehow ended up breaking those commitments and settling at the Hanover Brewers Hill Apartments (now the Porter). We fully took advantage of the amenities and regularly used our apartment complex gym. Since we hate a crowded gym, we both ended up going at odd hours to avoid the crowds. I was running on the treadmill around 9PM and noticed that there was only one other person in the gym but didn't think too much of it. Craig came up to me after I was done and asked if I was training for a marathon (sweet pick-up line, FYI I was not), striking up a conversation. The rest is history.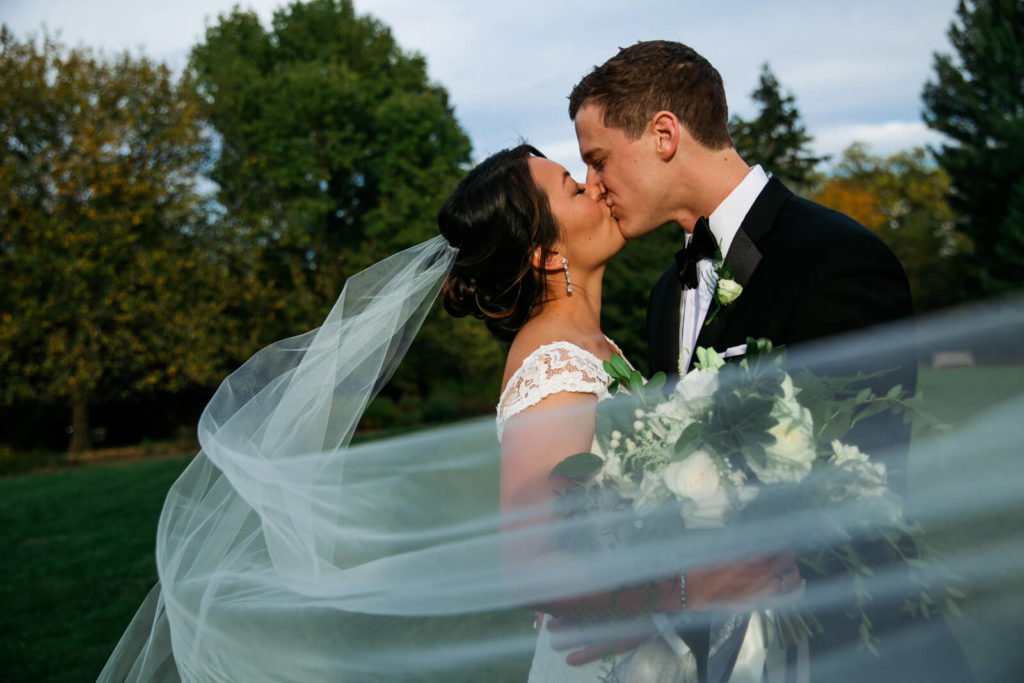 The Engagement: I'd like to think that I'm a fairly slick person . . . Craig however is not. We had plans to go to the outlets on December 10, 2016 and I was wearing my "about to shop hard outfit." Craig immediately said that I should change into something fancier just in case we wanted to stop and get dinner in Annapolis. After I changed, he then said maybe I should pack an overnight bag . . . just in case we have one too many to drinks and need to stay somewhere overnight. Our outlet trip ended within thirty minutes. He said that there was a great restaurant nearby, so we drove to The Inn at Perry Cabin (crab cakes and football, that's what Maryland does!) in St. Michael's. He told me to wait in the car to see if we could get dinner reservations. He came back saying that we magically had a room booked. We were in a gorgeous corner suite with a beautiful view of the water. We decided to go the bar and order a couple of drinks and instead of waiting for them at the bar, he asked the bartender to bring our drinks outside so we could take a walk around the grounds. I could see that he was nervous and when we got outside, a large group celebrating a birthday stopped him and asked him to take multiple photos for them. At this point I could tell he was just annoyed (poor guy). Finally, we walked by the water at sunset and he started his speech a little teary eyed, I immediately started sobbing and he asked me if I would marry him. While it wasn't exactly a surprise, it was perfect and I, of course, said yes!
Wedding Design Inspiration: We wanted our day to be cozy, romantic with a little bit of a modern edge. The Cylburn Arboretum was the perfect venue for us to design our dream wedding. We loved the classic mansion, the gardens and the fall foliage to give that romantic feel we wanted for the ceremony and then the transition to the Vollmer Center gave us that modern flair we wanted for the reception.
What Was Unique and Special About Your Wedding Day: The most unique part of our day was our Korean Tea Ceremony, hosted by BDK Mint. Being Korean, it was important to me to have this be a part of our day, to not only reflect who I am, but to also welcome Craig into our big Korean family. It was amazing to have all our family and friends be able to experience the tea ceremony with us. I'm sure it was hilarious to see Craig giving me a piggy back ride in a huge hanbok.
Favorite Details: Some of our favorite details were the ones we didn't have to plan. The gardens were absolutely beautiful, and the foliage was just starting to change at the Cylburn. It was the perfect backdrop to our photos. I am a huge fan of candles and lighting and I wanted them to be everywhere to create this magical, cozy room. From the gorgeous chandelier over our sweetheart table, to the candles on every single table, to the lights on the trees outside that you could see while you were partying inside, I'd say that the day was truly lit (pun intended).
Most Unexpected Event On Your Wedding Day: As part of the Korean tea ceremony, both sets of parents throw chestnuts into the bride's skirt and however many land in her skirt are how many future children they would have. Craig's parents threw in 18 chestnuts and my parents threw in 9 chestnuts. Craig and I certainly were not expecting to have 27 kids (STILL NOT EXPECTING THIS).
Piece of Advice: I know this is so cliché, but really give yourself a moment to take in the day, whether it's before you walk down the aisle, or when you're looking out at all of your guests at the reception. The day you have planned for months or years is finally happening and what they say is true, it goes by quickly. You're pumped up on adrenaline, you're chatting it up with your guests, you're dancing, you've caught all of the feels and then boom, it's done. Try to give yourselves some time to really drink it in, so that you can remember that perfect moment years from now.