This originally ran as a Local Love in the 2021 issue.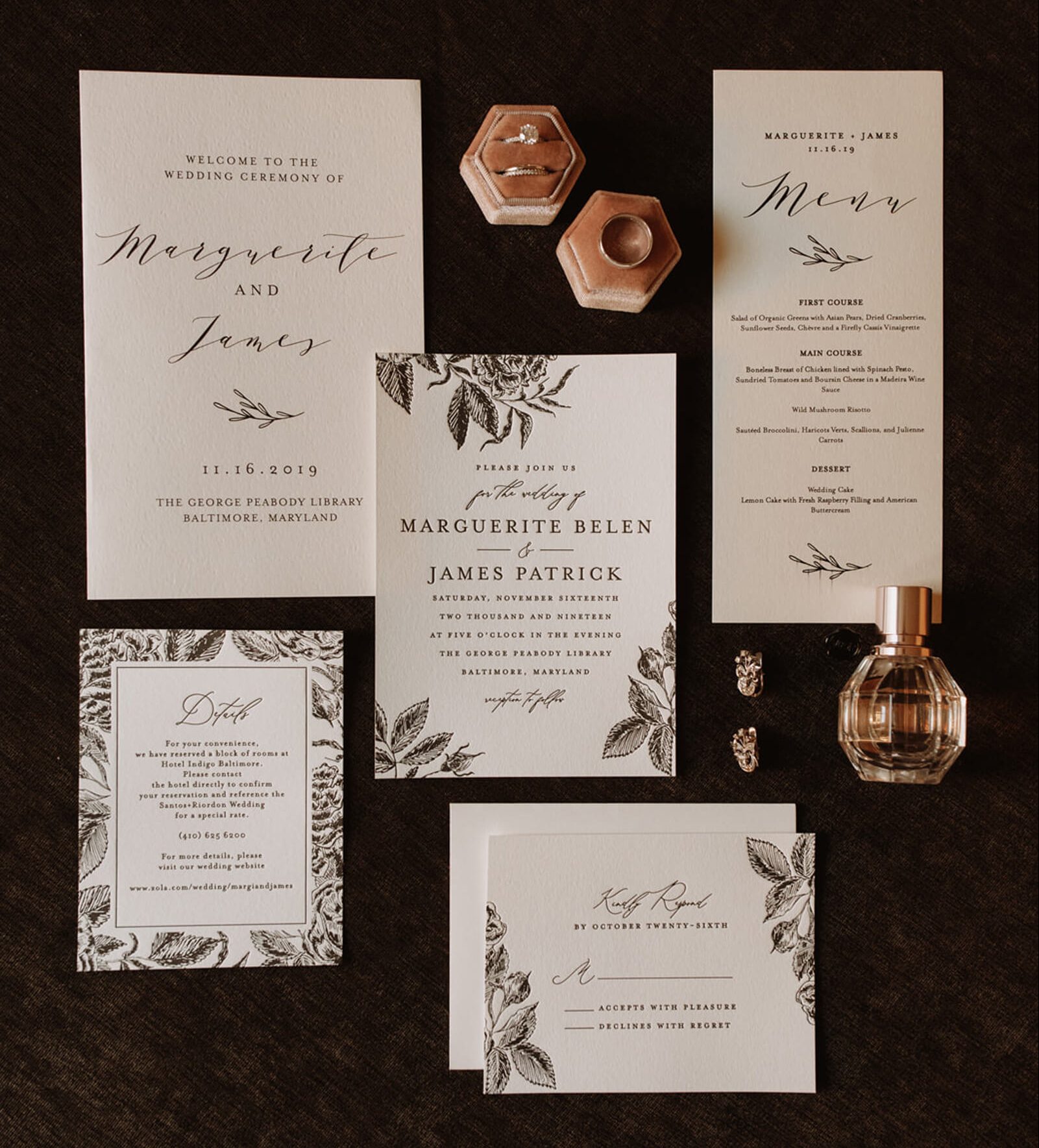 WEDDING DATE November 16, 2019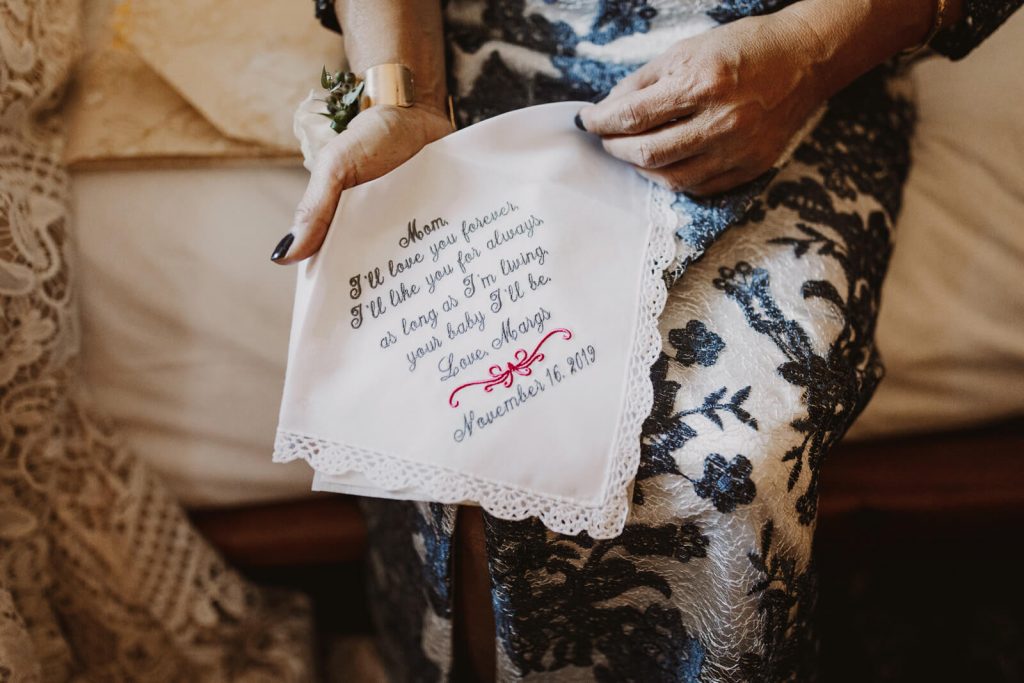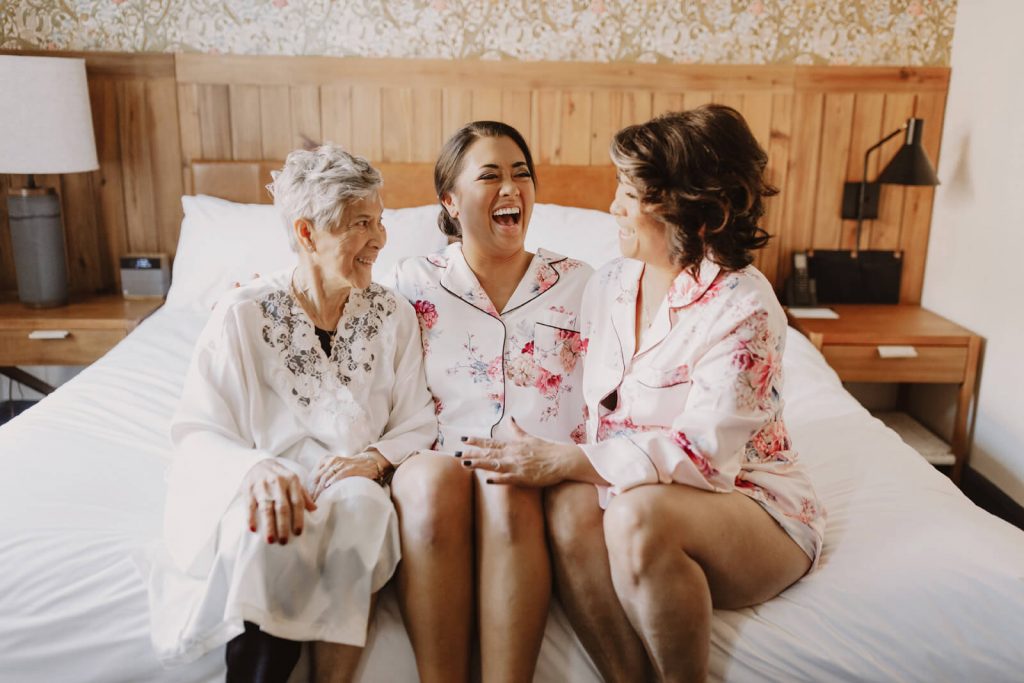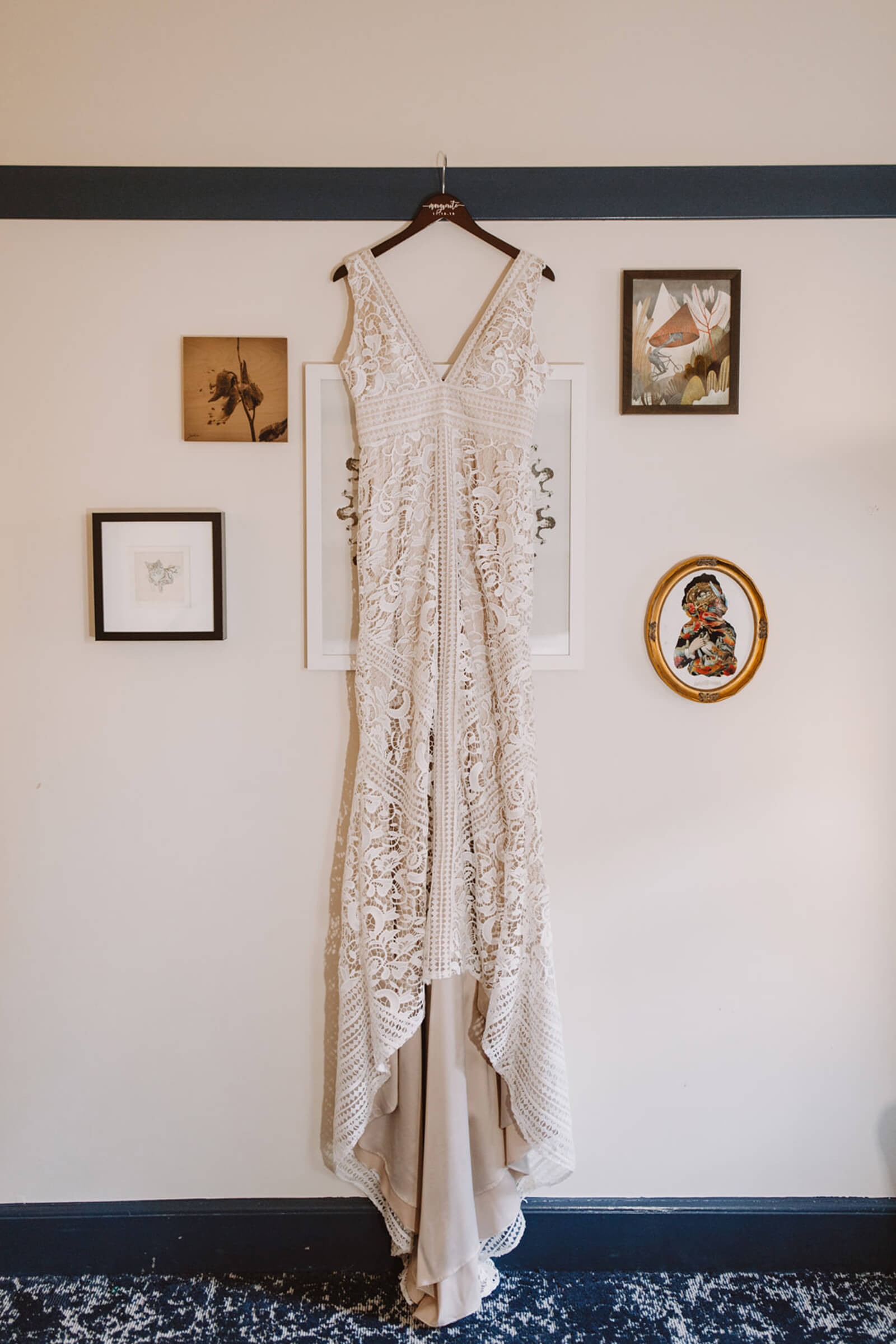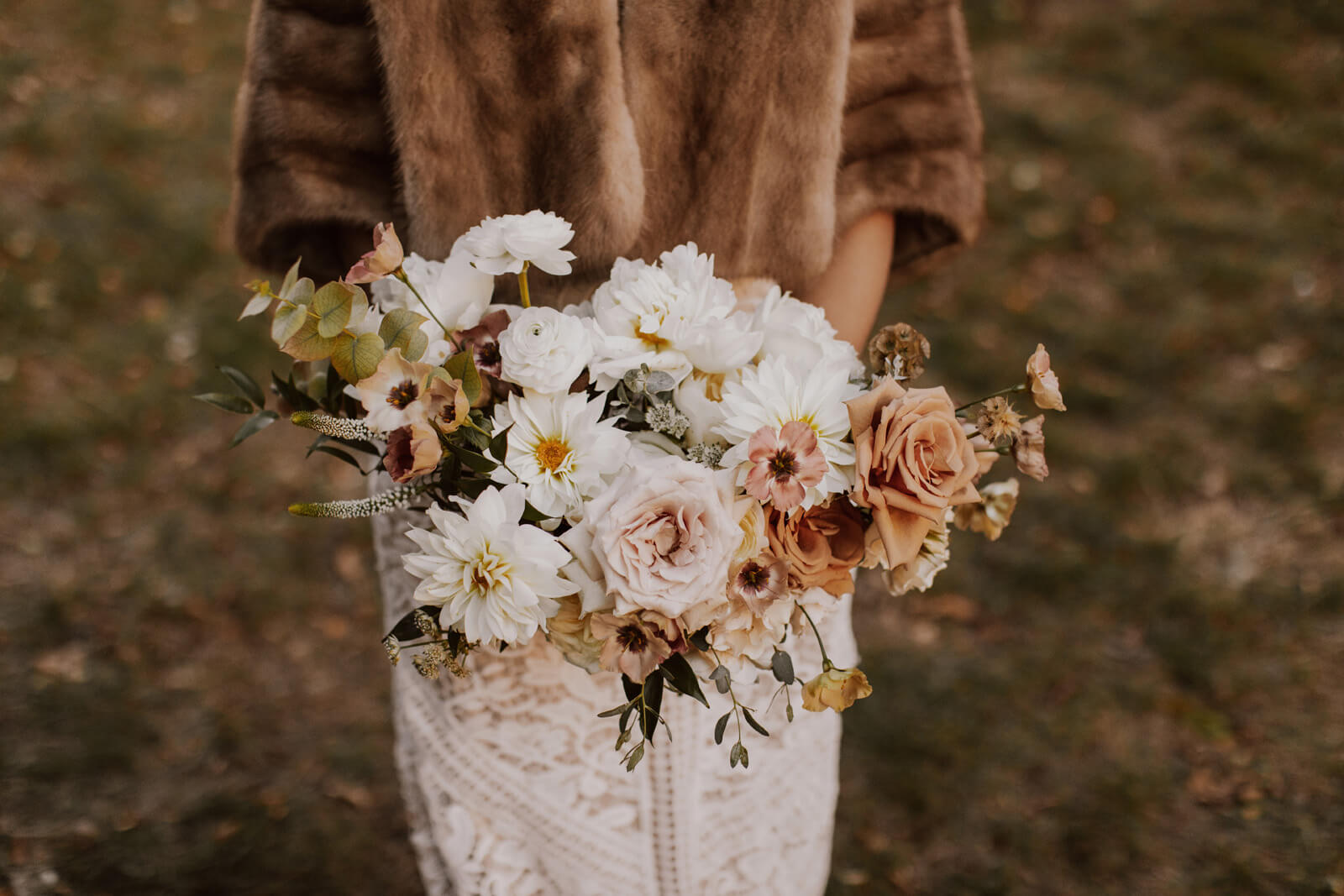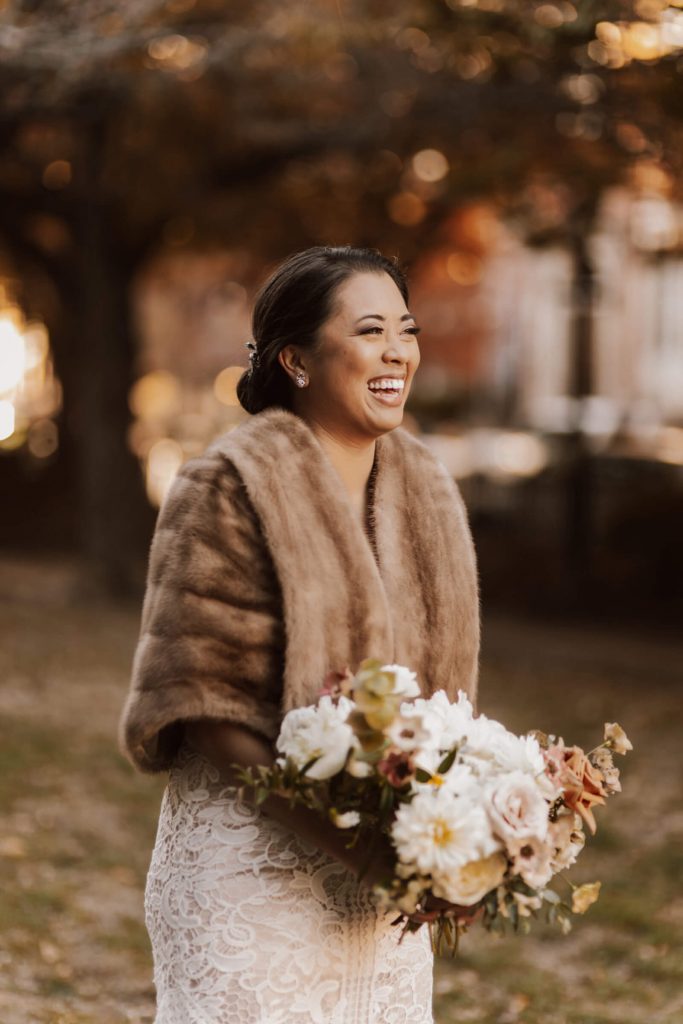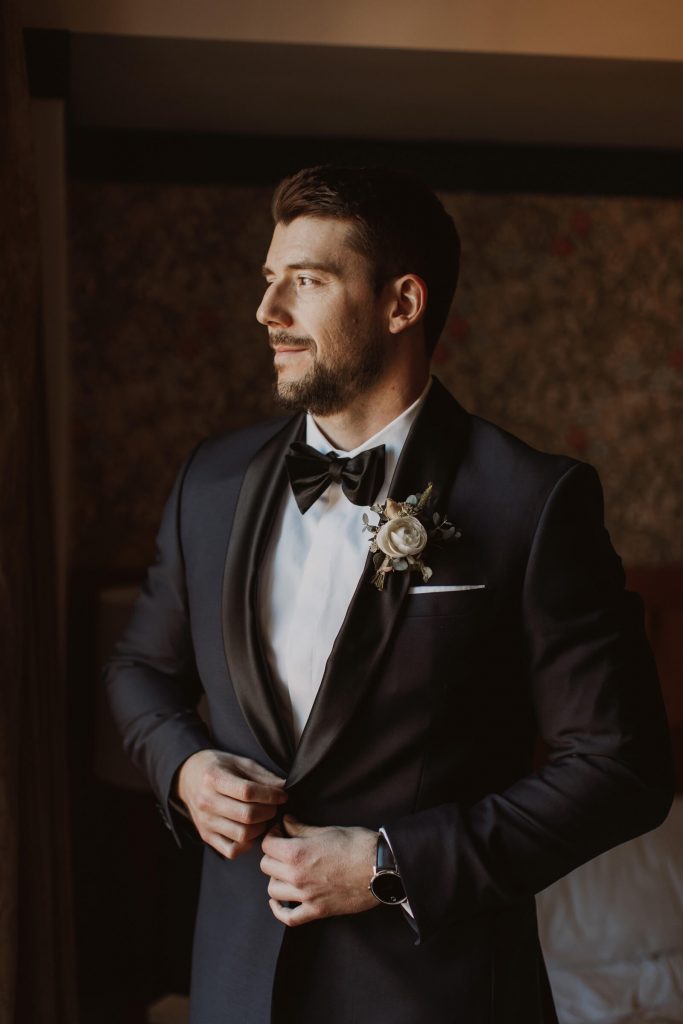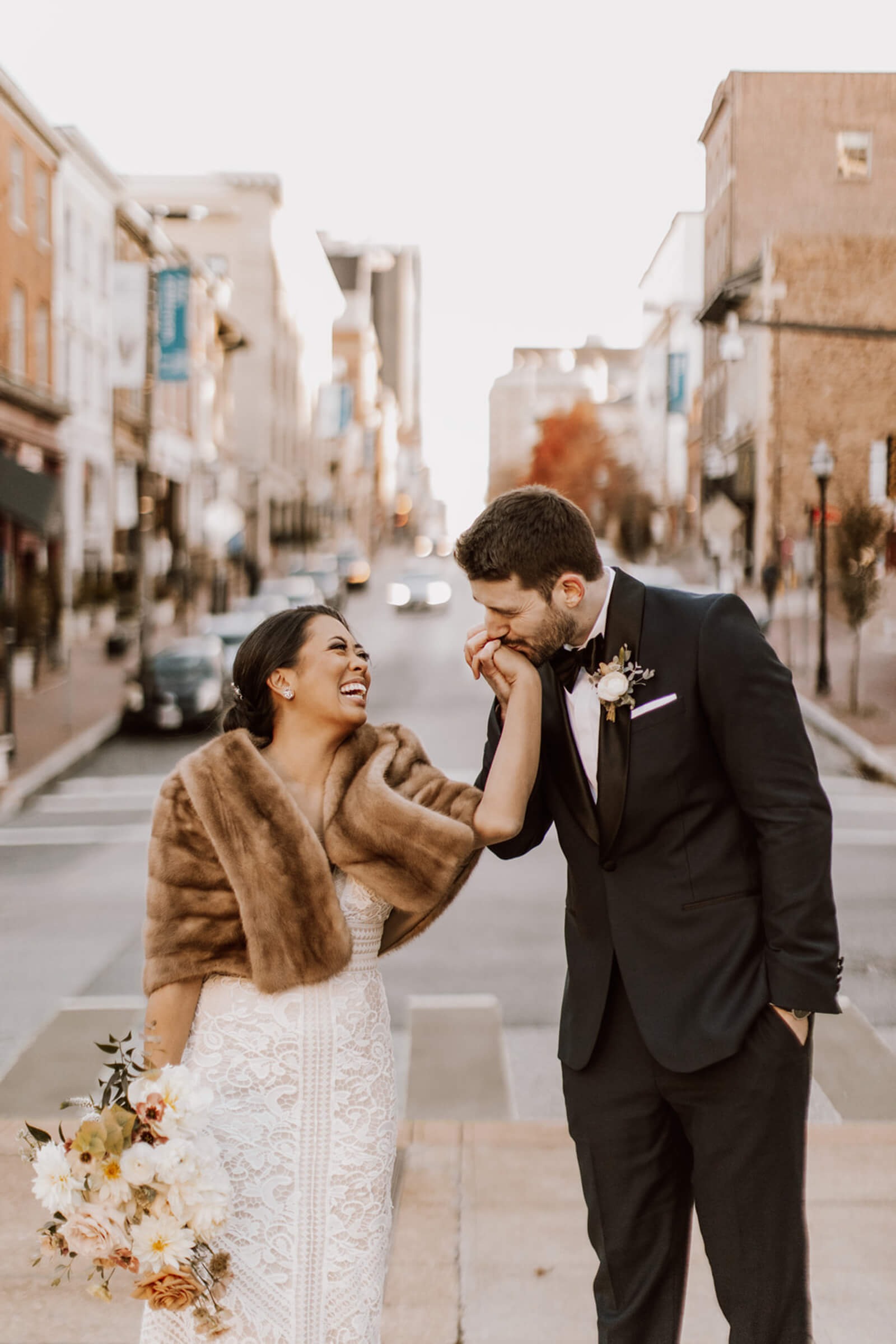 In a tale as old as time, Marguerite "Margi" Santos and James Riordon's love story began at a bar. Friday night at R.J. Bentley's, a popular watering hole at the University of Maryland, College Park, might be better known for its drink specials than its matchmaking credentials, but after hanging out with groups of friends all night, James finally built up enough courage to ask Margi for her phone number. The attraction lasted longer than the hangover, and eight years after they met, James proposed to Margi during a staycation at the Sagamore Pendry hotel. After dinner at the hotel's Rec Pier Chophouse, their waiter suggested a midnight stroll through the courtyard to see the hotel's Christmas lights display. Under the moonlight and flanked by rows of lit trees, James got down on one knee and asked for Margi's hand in marriage.
The two quickly settled on the George Peabody Library as their venue. "Our parents would love to say that we met at the library and not at a bar," jokes Margi. "But at least we got married in one." As their wedding planning progressed, Margi and James focused on four key words: connection, intimacy, texture, and greenery. Connection for Margi meant incorporating wedding traditions from her Filipino heritage into the ceremony and involving all of their younger siblings. Their bridal party included James' three sisters and Margi's three brothers, affectionately dubbed "bridesmen" and "groomsmaids." And perhaps the biggest connection—Margi served as a flower girl in the same spot 25 years earlier for her aunt and uncle's wedding. (Her uncle even planned a small, surprise vow renewal for her aunt towards the end of the night.) And while the Peabody, with its soaring ceilings and 300,000 tomes, would never be described as "intimate," it was important for the couple to stick to their vision. "I really wanted a wedding that juxtaposed the grandeur of the Peabody with the texture of a small garden," says Margi. That meant an aisle lined with loose, overgrown greens, a beautiful arbor draped with flowers, and a cake that positively bloomed.
And while the entire day felt romantic, there were also elements of fun. One of their signature cocktails at the reception was called "The Kima," after their Sheepadoodle. (The dog Kima was, of course, named after The Wire's Kima Greggs.) As the wedding wound down, everyone headed to Hotel Indigo's Poets Modern Cocktails for the after-party. And there, completely by chance, was Sonja Sohn, the actress who played Kima. "We were shocked," says Margi. "She was super kind, chatted with us and our guests, and was gracious enough to take some photos. Our Kima may not have been able to be there, but she was there in spirit . . . kind of," laughs Margi.
That was just the perfect end to a day they remember as absolutely flawless. That, says Margi, is the point. "Every wedding is the best wedding. Our wedding day is our favorite memory, and we still talk about it, probably, every three days."