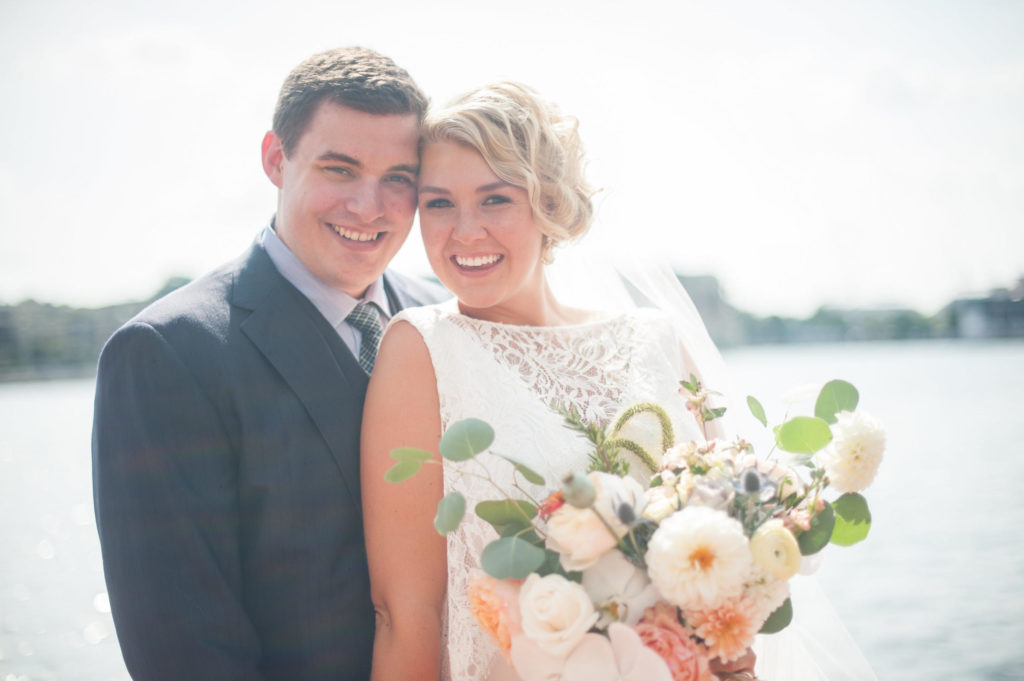 Occupations: Jess is a Collegiate Sports Marketing Manager at Under Armour; Doug is an IT Project Manager at BGE
Wedding date: September 5, 2015
Number of Attendees: 190
Number of Attendants: 5
How You Met: Mutual friends while living in downtown Baltimore.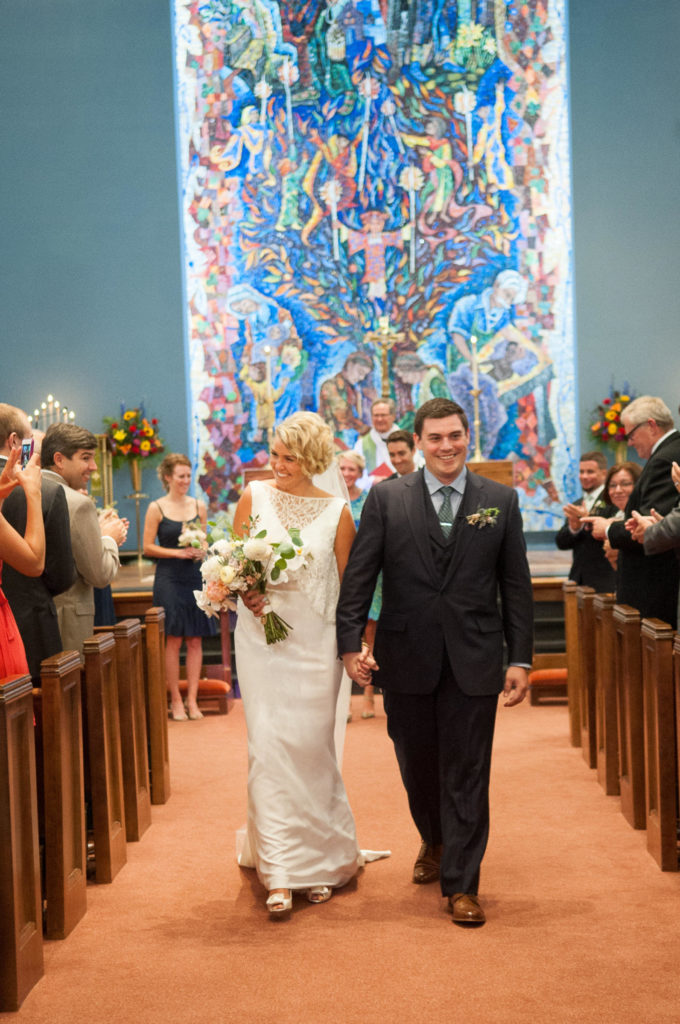 The Engagement: Doug surprised Jess with a trip down to St. Michaels when she returned home from a long work trip. During a walk along the docks, Doug stopped to propose.
Wedding Design Inspiration: They both loved their years spent living in Baltimore City and have always loved being by or on the water. They wanted to celebrate their wedding downtown along the harbor and for their wedding design to reflect all those other loves in their lives.
What Was Unique and Special About Your Wedding Day: They took a boat to their reception and docked right at sunset at their cocktail hour to the tune of Jimmy Buffett (the bride's favorite). Their dog came to meet them for pictures right before they hopped on the boat to head to the reception. This hour provided some of their favorite pictures of the weekend.
Favorite Details: Hard to pick! Each of the unique table settings, tablescapes and numbers were so fun to plan. The flowers were perfect for what they wanted, each distinctive and their florist even mixed in some fishbowls with live fish on some cocktail rounds. They loved the way their soft vintage seating area on the dock turned out. The food was incredible and they themed the stations to their parents' places of birth (Maryland, Virginia, New York). We also had a slow motion photo booth, full of nautical props, which provided for some hilarious footage! When listing their favorites, they have to mention Spectrum Band because they were incredible and their friends and family continue to reminisce about how amazing and fun they were. Everyone was on the dancefloor the whole night!
Most Unexpected Event On Your Wedding Day: Because they had the best wedding planners with Lemon & Lime Event Design, there weren't many surprises to share. The night before their wedding, they rented the USS Constellation in the harbor and invited all their guests to a cocktail reception so that they had a few hours to visit with them the night before their wedding. Doug has always had a soft spot for short sleeve button down shirts while Jess has (long before knowing him) felt differently. They have decreased in his wardrobe over the years but all of their guy friends showed up on the ship Friday night wearing them to celebrate him!
Piece of Advice: Have fun and make your wedding a reflection of everything you and your partner love. Following this motto allowed them memories and laughs for years to come.