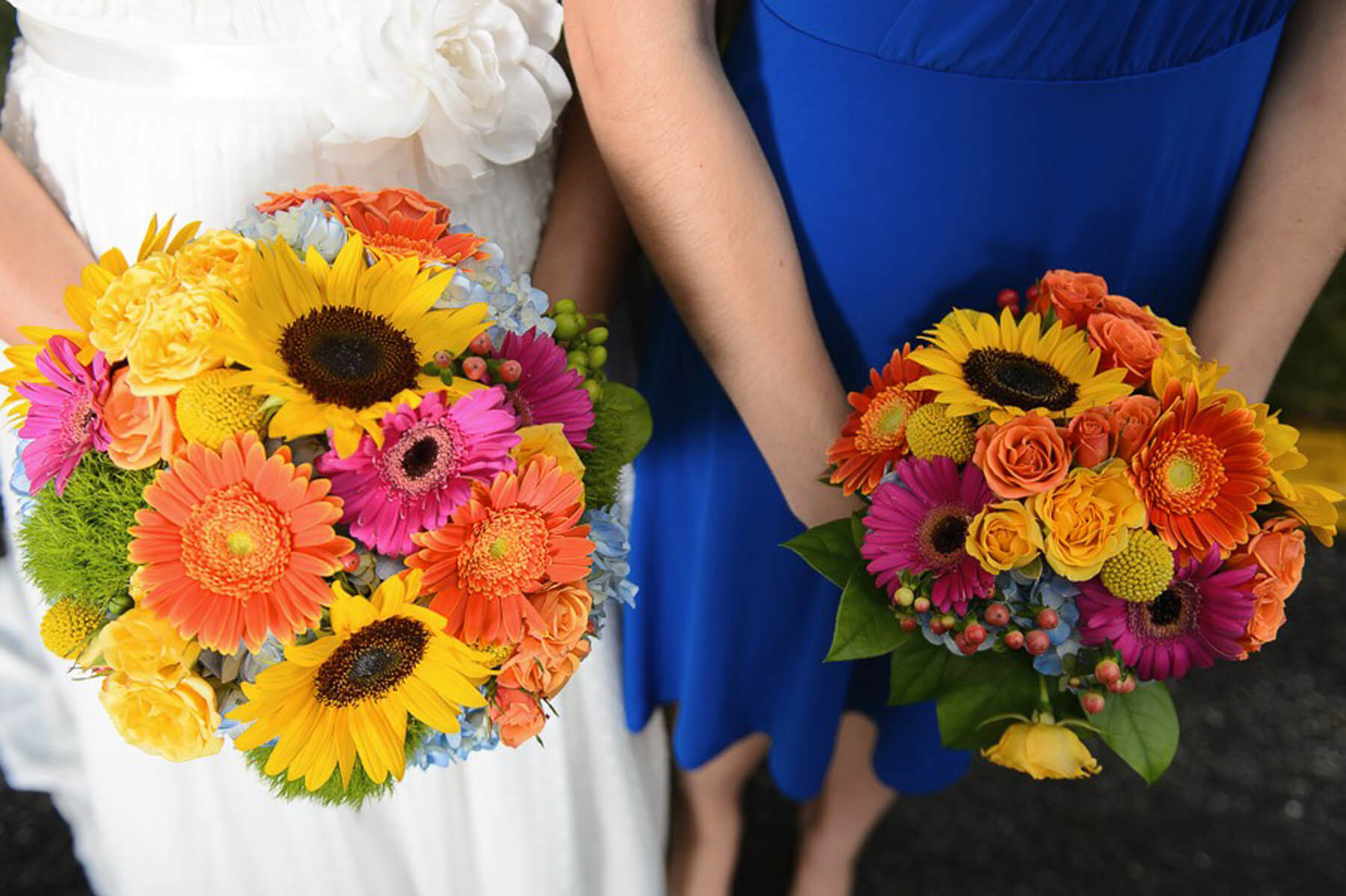 Occupations Claire is a 6th grade English teacher in Harford County; Brenden is a salesman for Rosedale Roofing.
Number of Attendees 107
Number of Attendants 12, including a flower girl and ring bearer.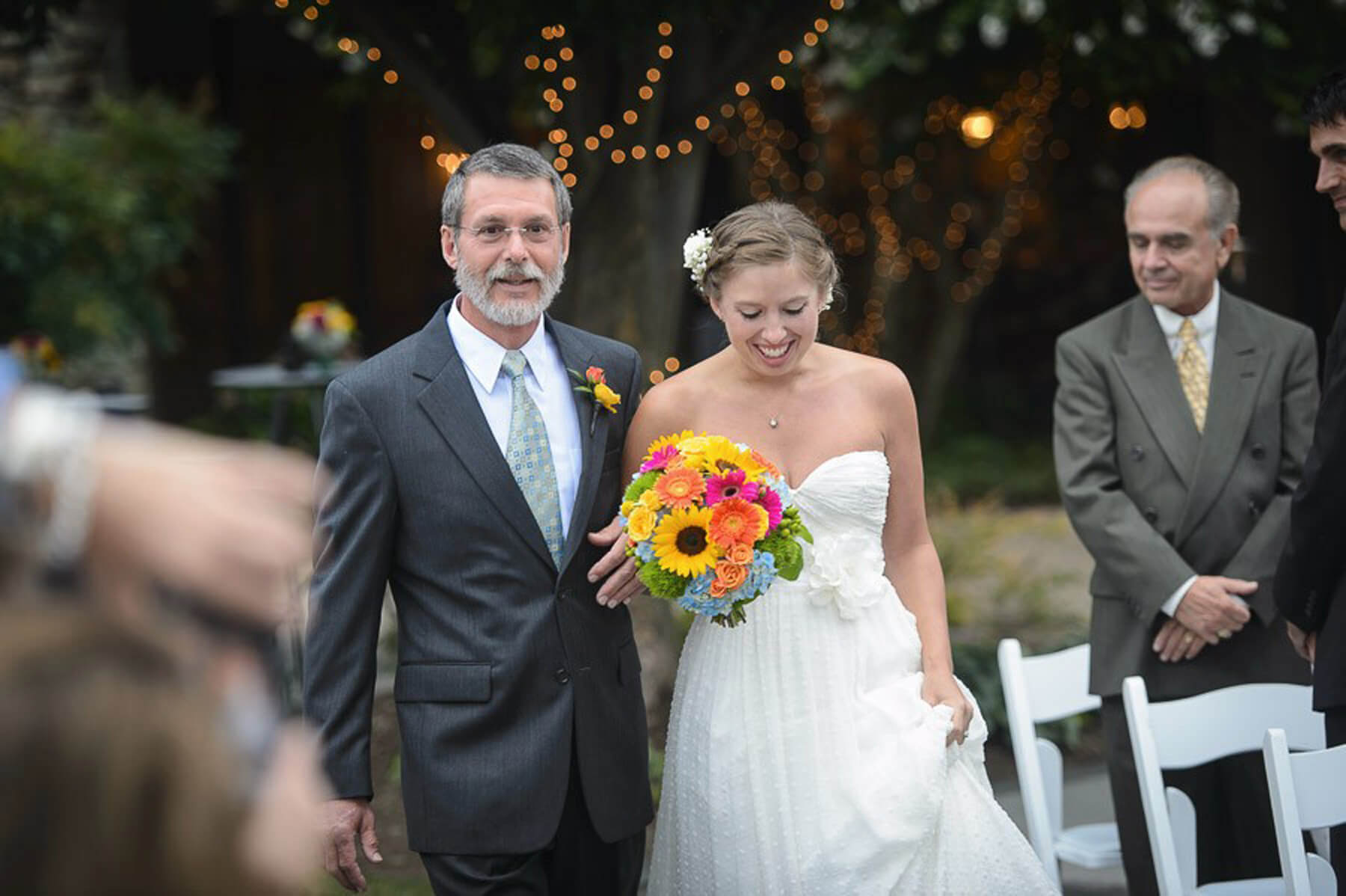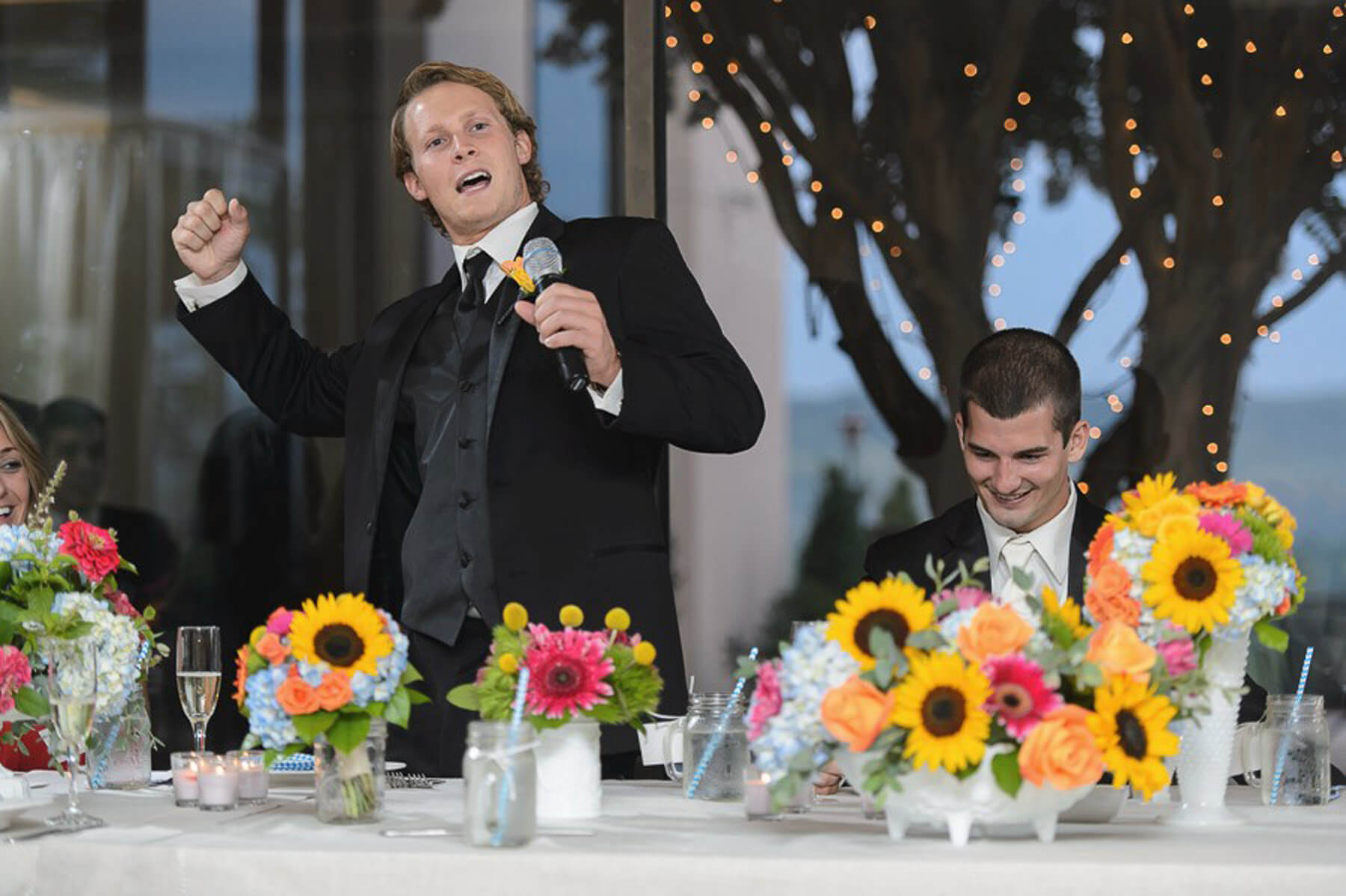 How You Met Brenden and Claire met on vacation in the Bahamas in January 2012. They got married in the summer of 2013. Whew! When you know, you know! J
The Engagement Brenden and Claire settled on their house in December, 2012. He proposed immediately after she walked through the door! He had everything planned in advance: his godmother took Claire out to lunch after the settlement meeting so he could prepare, he arranged flowers all over the house, and he had Taylor Swift playing on his iPod. She was so surprised to the point where she forgot to say, "yes" right away!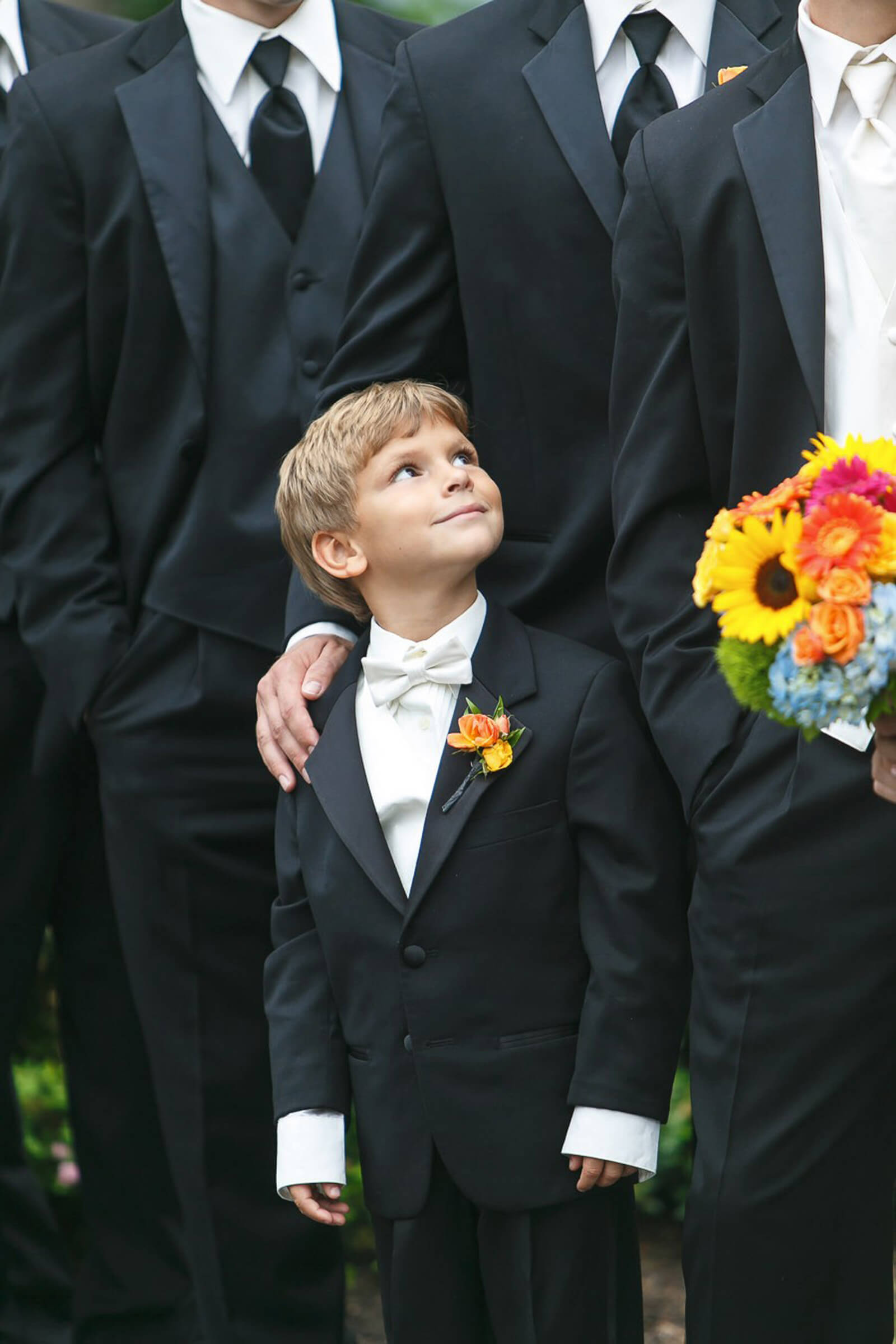 Wedding Design Inspiration Claire knew she wanted a wedding that emulated a summer garden party: white lights outside in the trees, bright flowers everywhere, a mix of patterns, textures, and colors – just like summer! Towson Golf and Country Club fit with her vision because the ceremony was outside on the deck, overlooking the picturesque countryside, and the reception was inside with air conditioning, with an outside deck attached. Claire is so fortunate to be the niece of Elizabeth Bailey of Elizabeth Bailey Weddings and Events. With the help of her aunt and her talented, kind, and FUN team, the ballroom at the country club was transformed into exactly what she pictured! She wanted it to feel like a wedding but not be stuffy. Claire loved how all of the contrasts worked – country club and mason jars, tuxedos with blue Pumas, milk glass and mismatched napkins, high heels and breakdancing, a s'mores bar and champagne!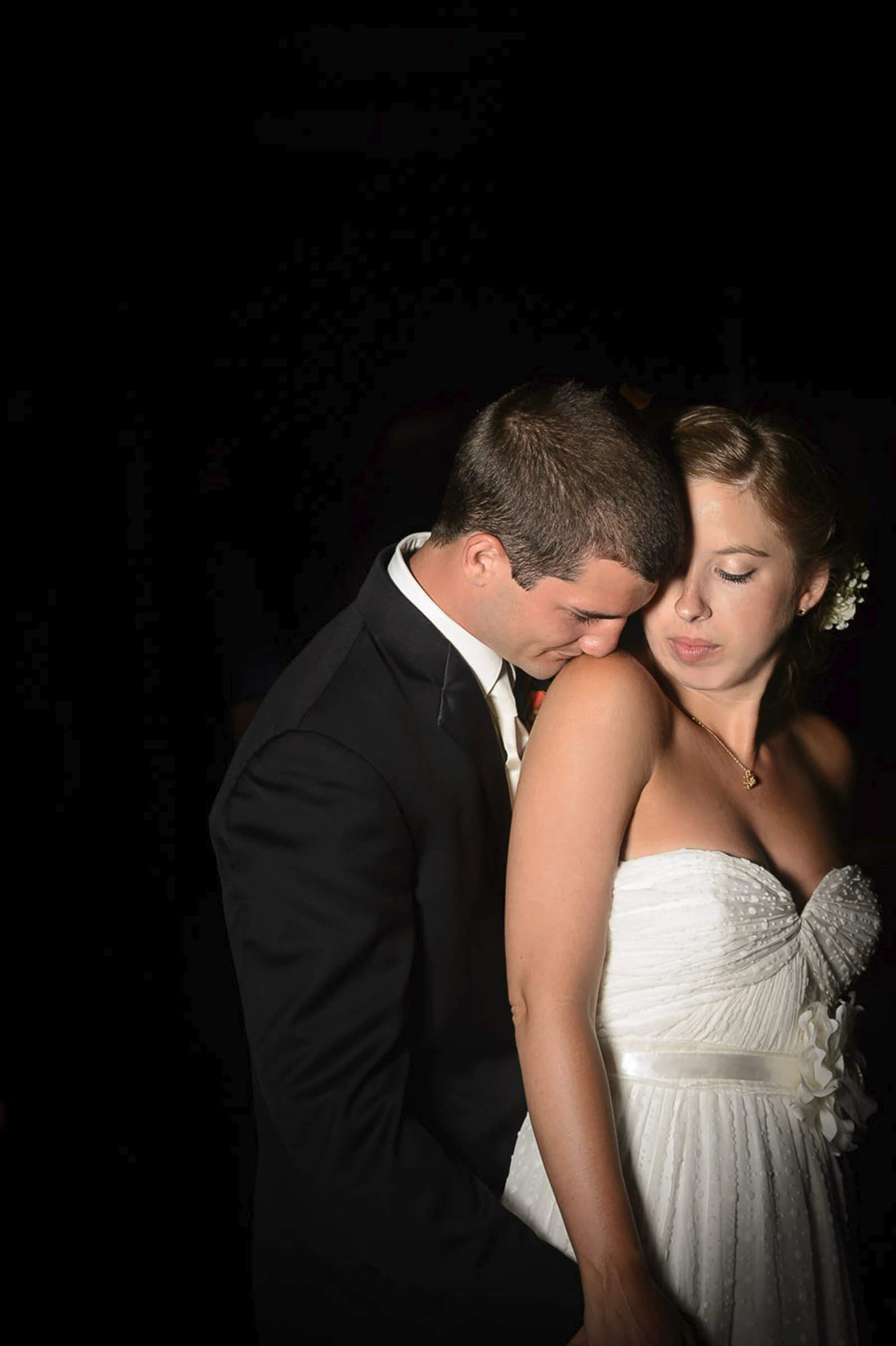 What was unique and special about your wedding Brenden's mom, Angela, passed away from cancer at the age of 46 in June 2013. They decided to have a family ceremony in his grandparents' backyard on June 8th so she could see them get married. Claire wore her pin as her something borrowed on June 8th, and I wore it on her sash on their wedding on August 3rd in memory of her. Claire's mom said Angela, "had my back" for the wedding day.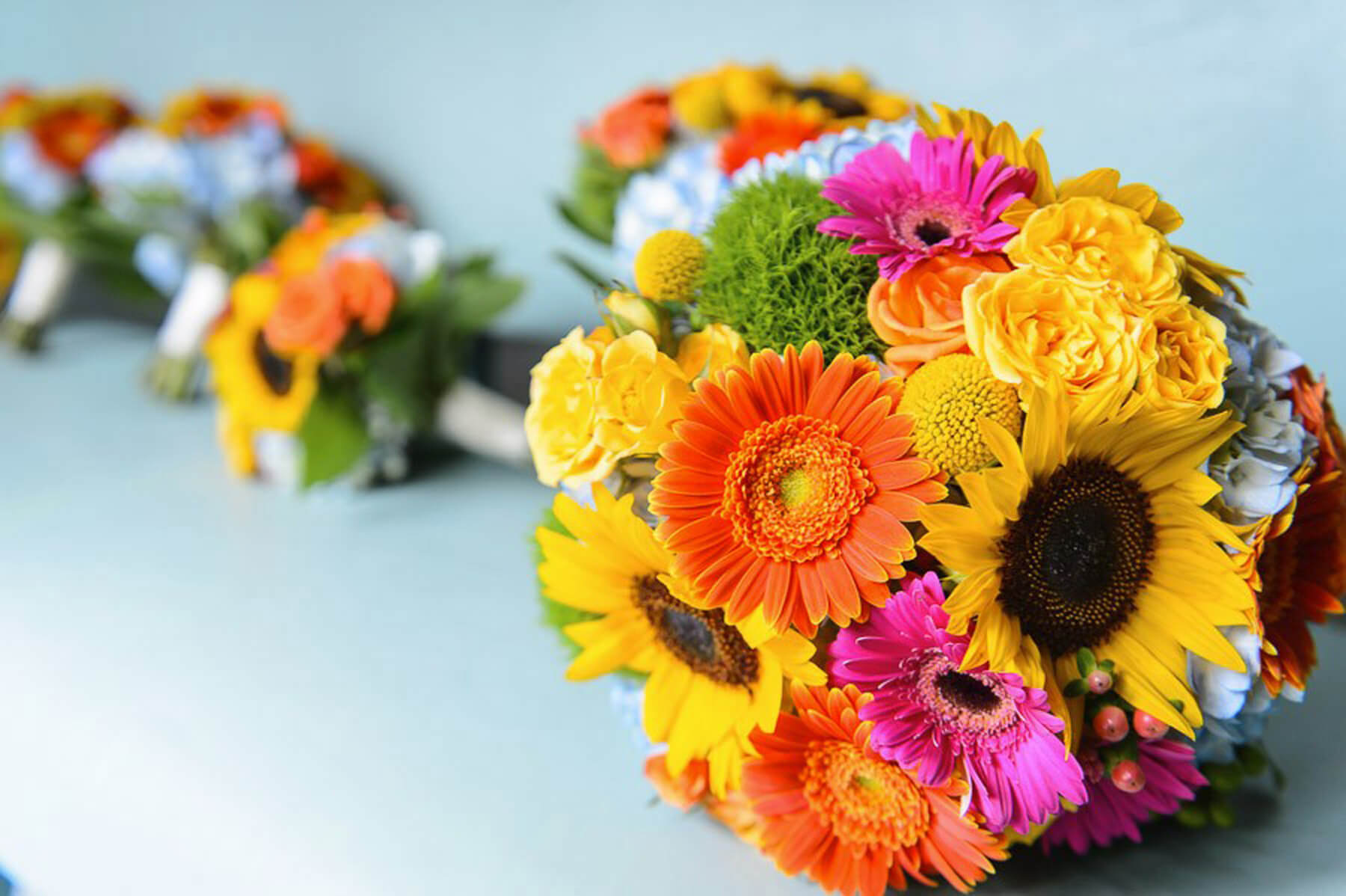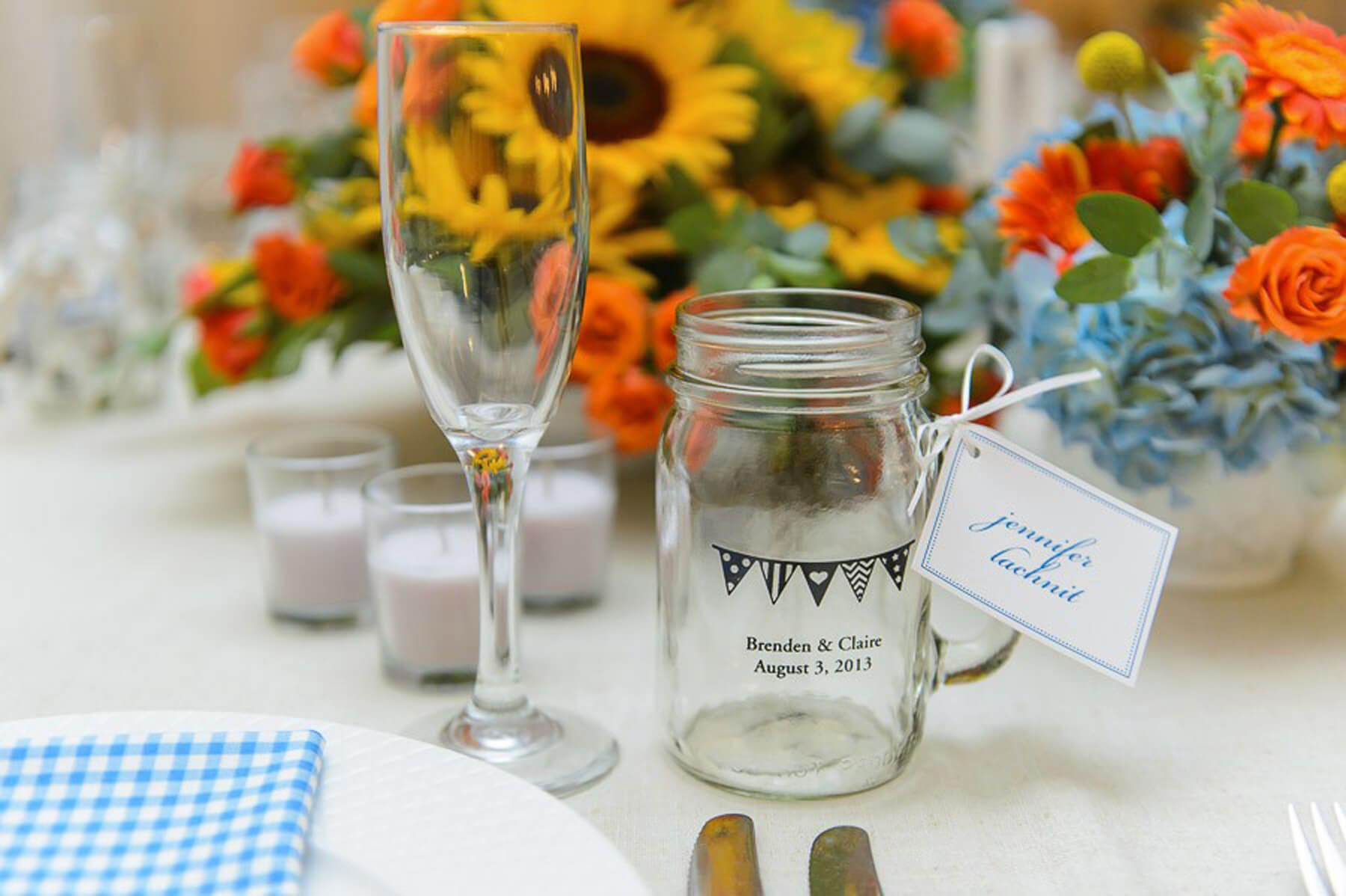 Favorite Details Her favorite details were all of the elements that were handmade or reflected Brenden and Claire. Her dress was Swiss dot material, the same kind her mom wore on her wedding day. She made the pennant banners for the s'mores bar, DJ booth, and escort cards. Brenden and the groomsmen (including the ring bearer!) wore blue Pumas to reflect his love for soccer. Claire has a hobnail obsession, so her mom hunted for months to collect all the white milk glass pieces they used as flower vases. They gave sunflower seeds to their guests to plant in honor of Brenden's mom, since they were one of her favorite flowers. Their guest book was a Loch Raven Reservoir photography book by David Simpson because they live close to the reservoir (shout out to David Simpson, who graciously let Claire come to his house in Canton and get a new book jacket when she ripped the first one opening the package from Amazon. Ha!)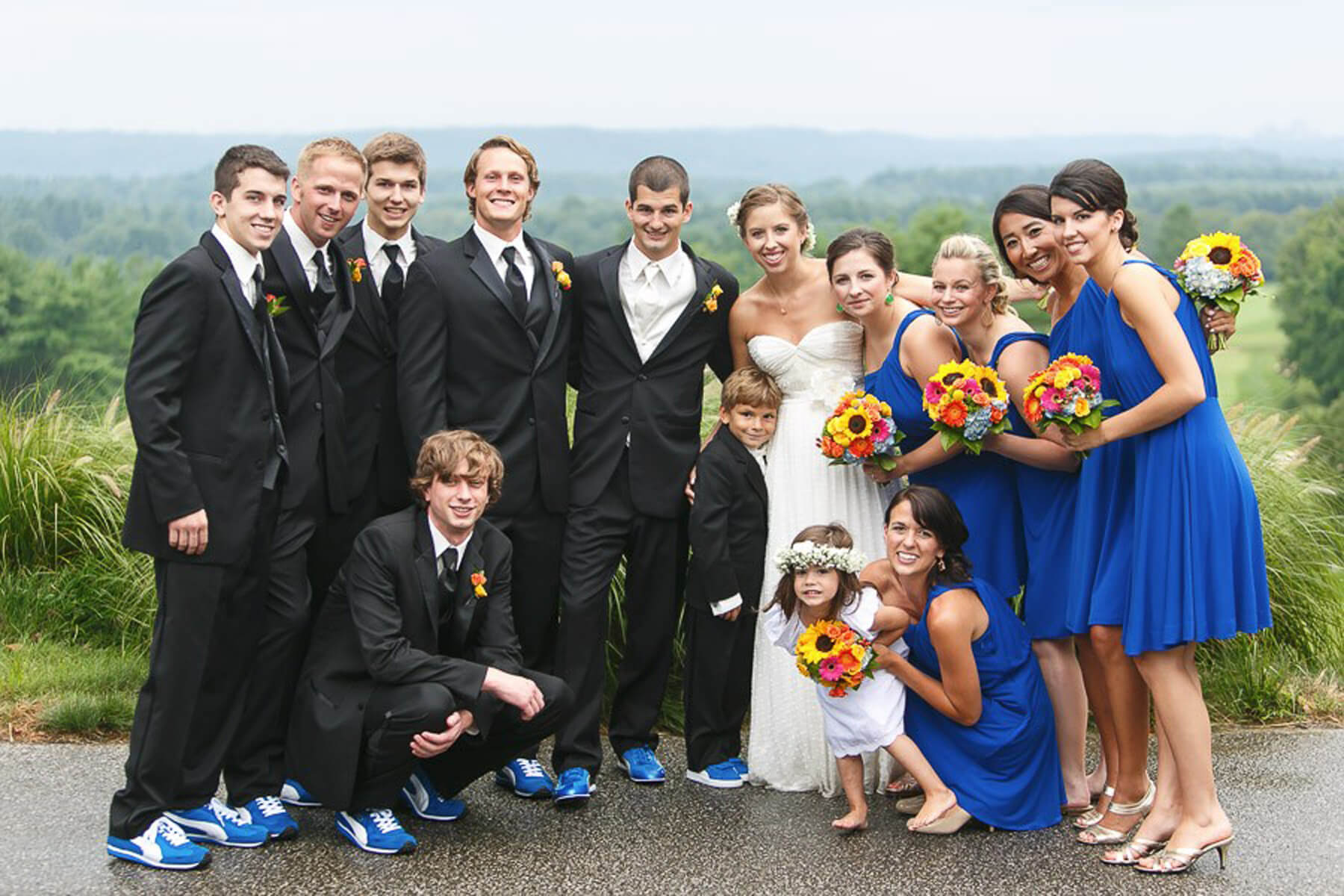 Most unexpected event on the day of the wedding One of Claire's dad's duties on her wedding day was to greet the guests at the beginning of the reception. Weeks before, when her dad told her mom he was going to write his greeting, she said he was only to say hello, thank everyone for coming, and tell the guests to have a good time. Apparently her dad decided to disregard these instructions, because he delivered the most heartfelt and eloquent speech Claire has ever heard. There was a lot of laughter, a lot of love, and not a dry eye in the room! At each new topic, her dad would jokingly start his sentence with, "Now, if I could say more than three sentences, I would say…" and then he would continue. Her mom said afterwards she was so happy he didn't listen to her instructions, and she wholeheartedly agrees.
Piece of advice Your wedding day is your fiancé's wedding day, too. Get his input on decisions that matter to him, and make him feel like he is part of the planning process, if he wants! Remember that your wedding day is one day, and then it's MARRIAGE – so compromising when planning your wedding day will help you learn how to compromise with your husband for the rest of your life. A more fun piece of advice: no matter what stress you had leading up to your wedding day, make sure to have a BLAST at your reception! You're married!