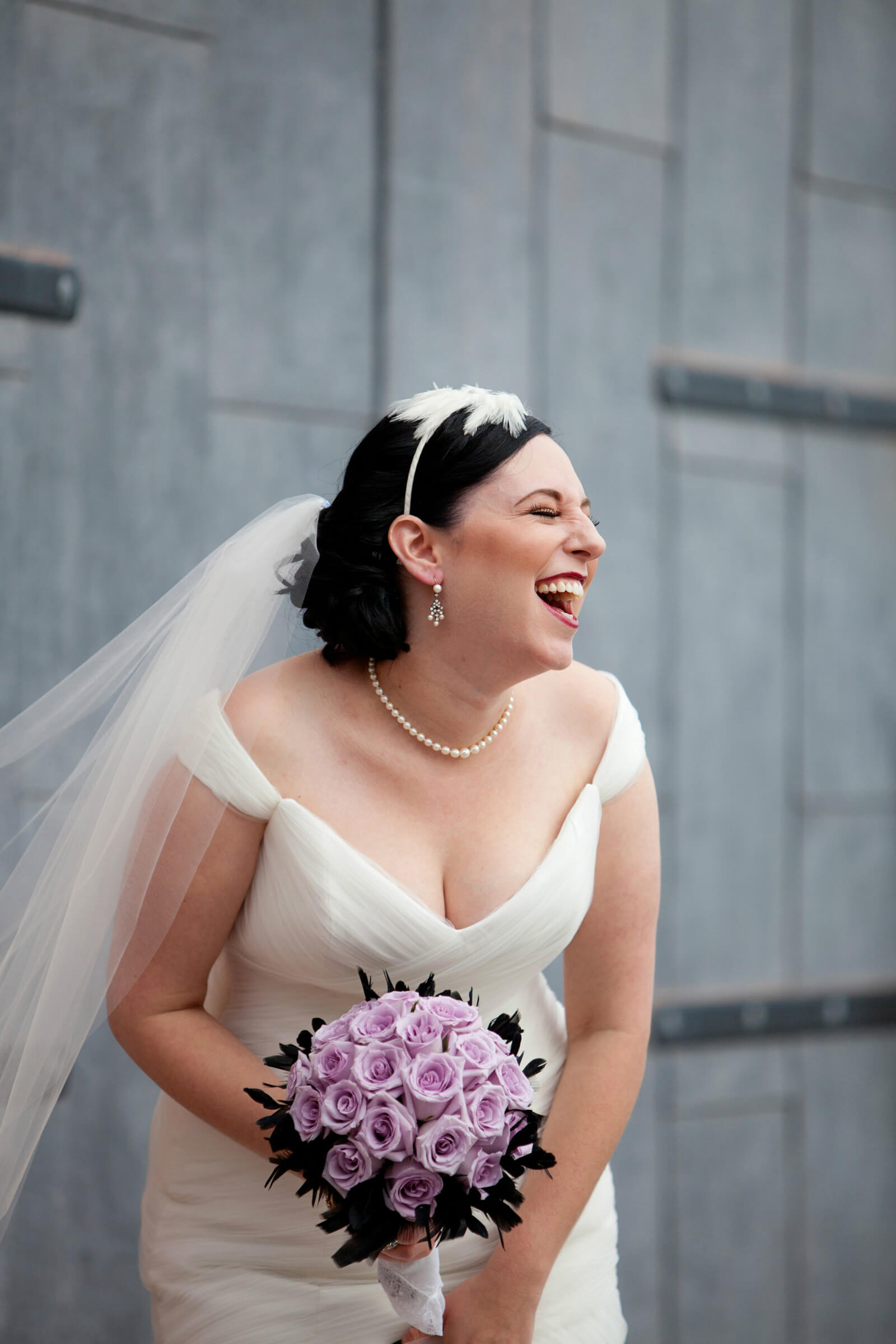 Wedding Date October 27, 2012
Occupations Marielle is a Color Analyst at Under Armour; Ben is a Patent Examiner at United States Patent and Trademark Office.
Number of Attendees 175
Number of Attendants 6 (3 bridesmaids & 3 groomsmen)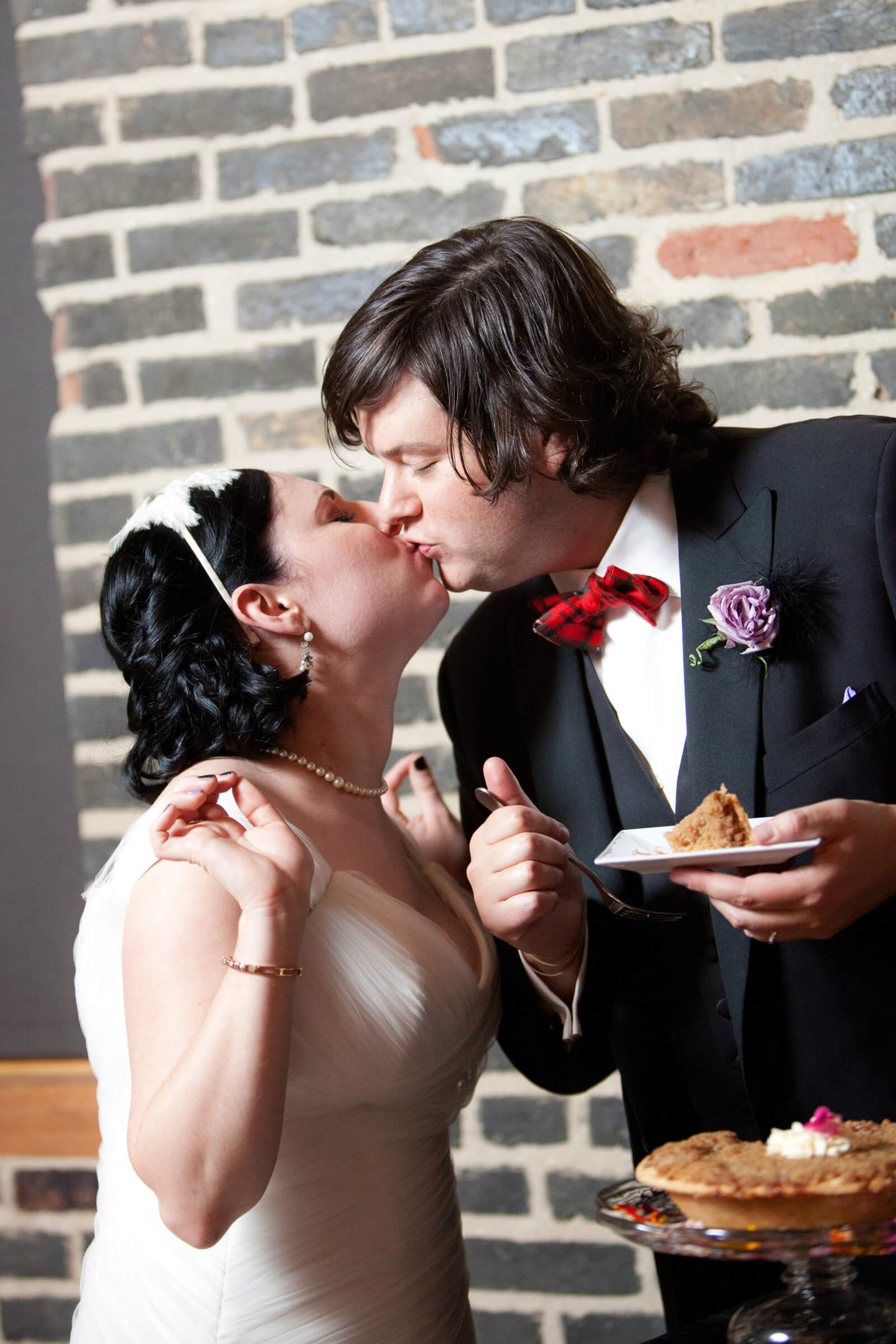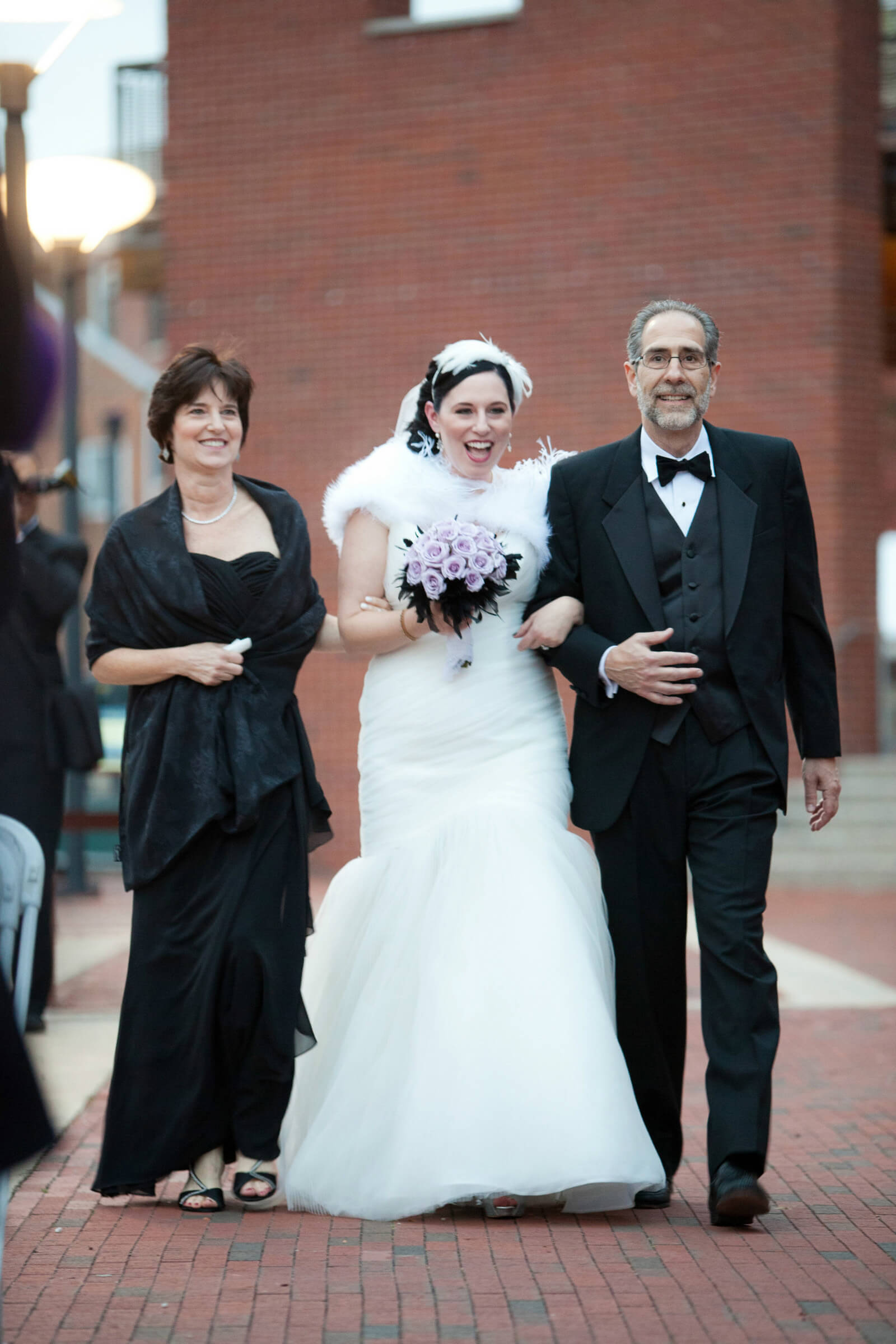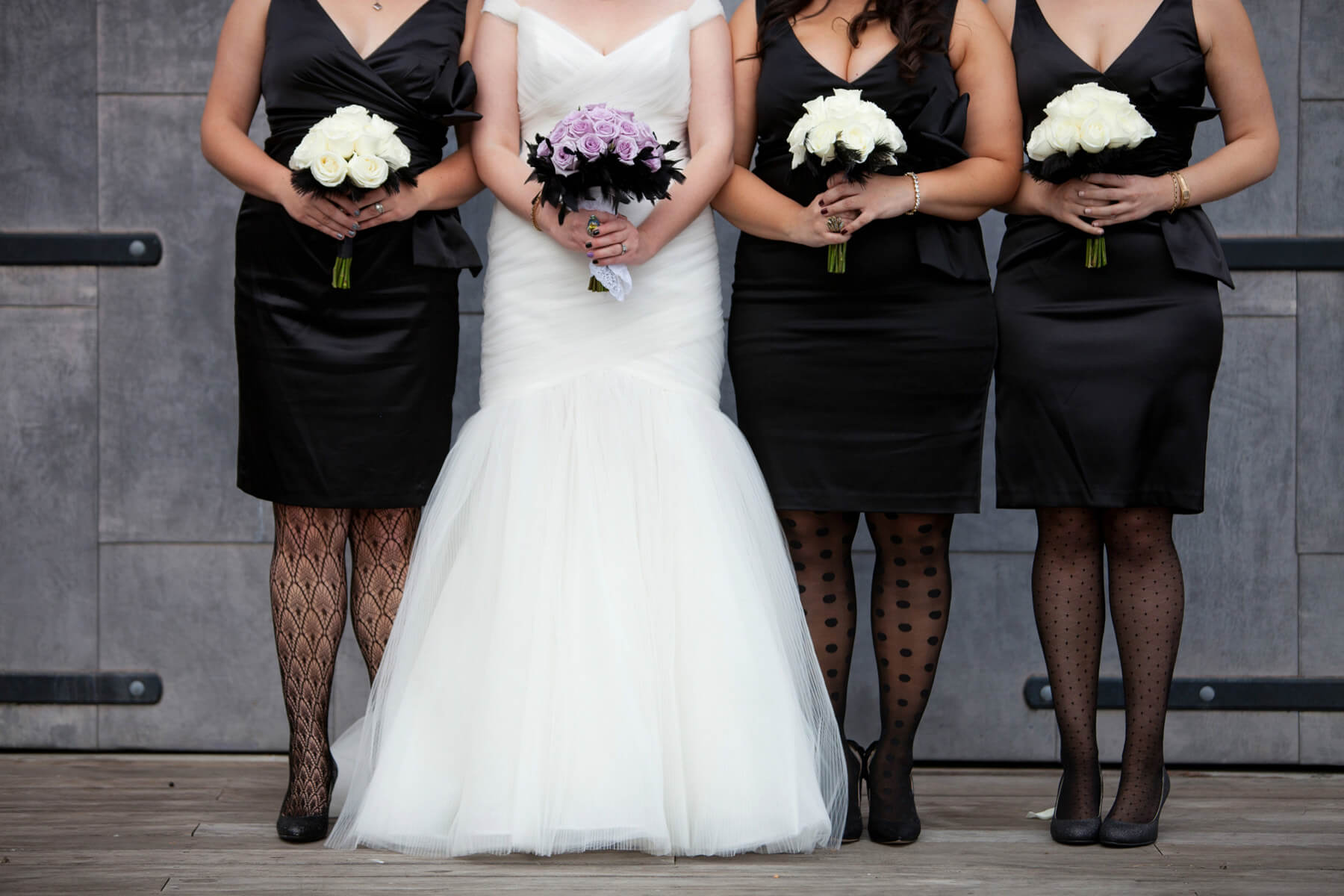 How You Met Their college dorm rooms were next door to each other at the University of Delaware.
The Engagement Ben wanted to surprise Marielle, so he popped the question on a random Thursday night after work. It was a super-hot summer day in Baltimore, and she arrived from her walk home to find Ben hanging out on the couch as normal. Heading upstairs, she discovered notes, postcards and cards hanging from the ceiling, leading into the office. Each item was a note or letter that she had sent to Ben over the years of dating. As she entered the office, there were more notes everywhere – hanging from the ceiling, on the bed and on the floor. In the middle of everything, hanging from the fan was the ring! Ben got down on one knee and proposed, and they listened to one of their favorite Wilco songs.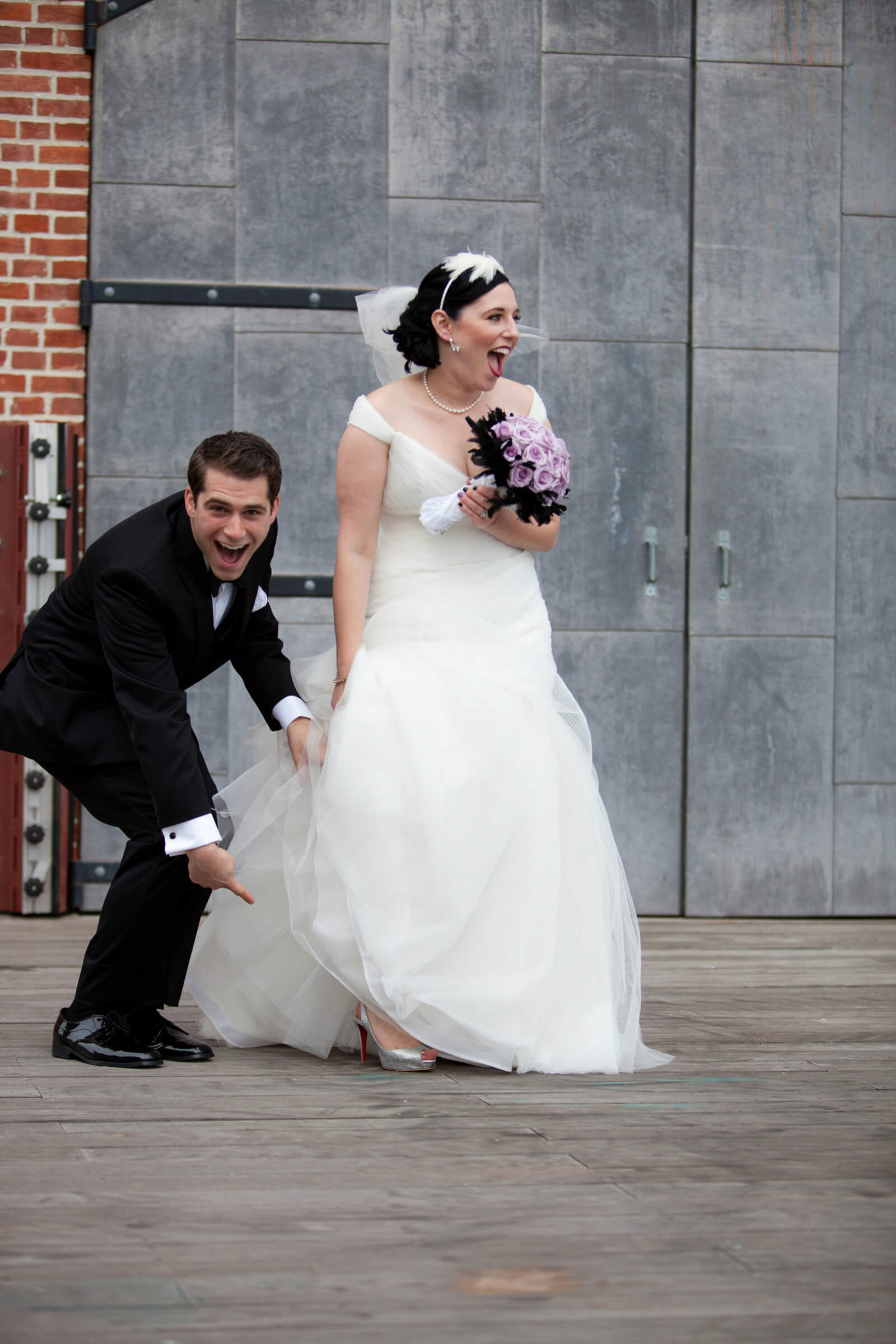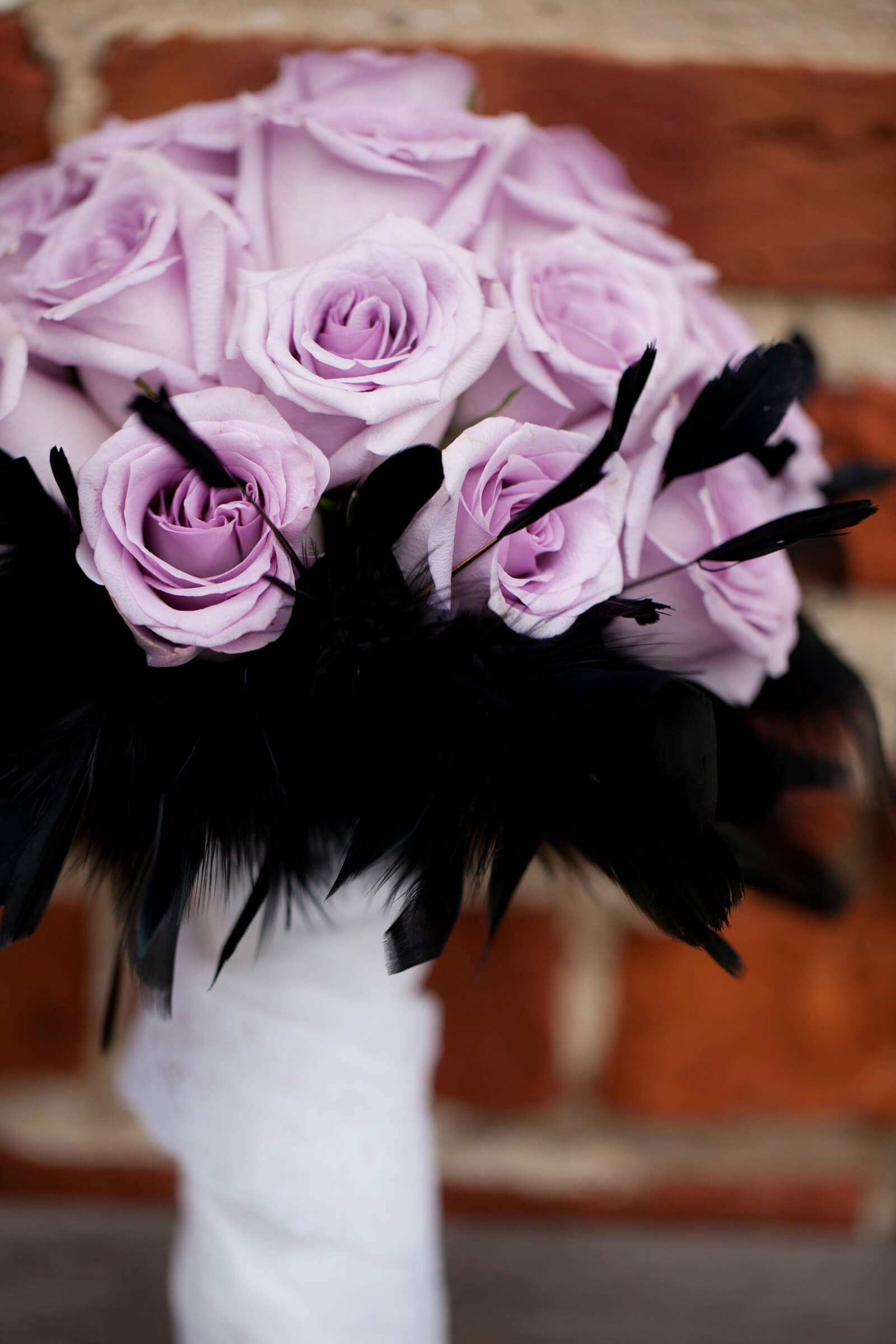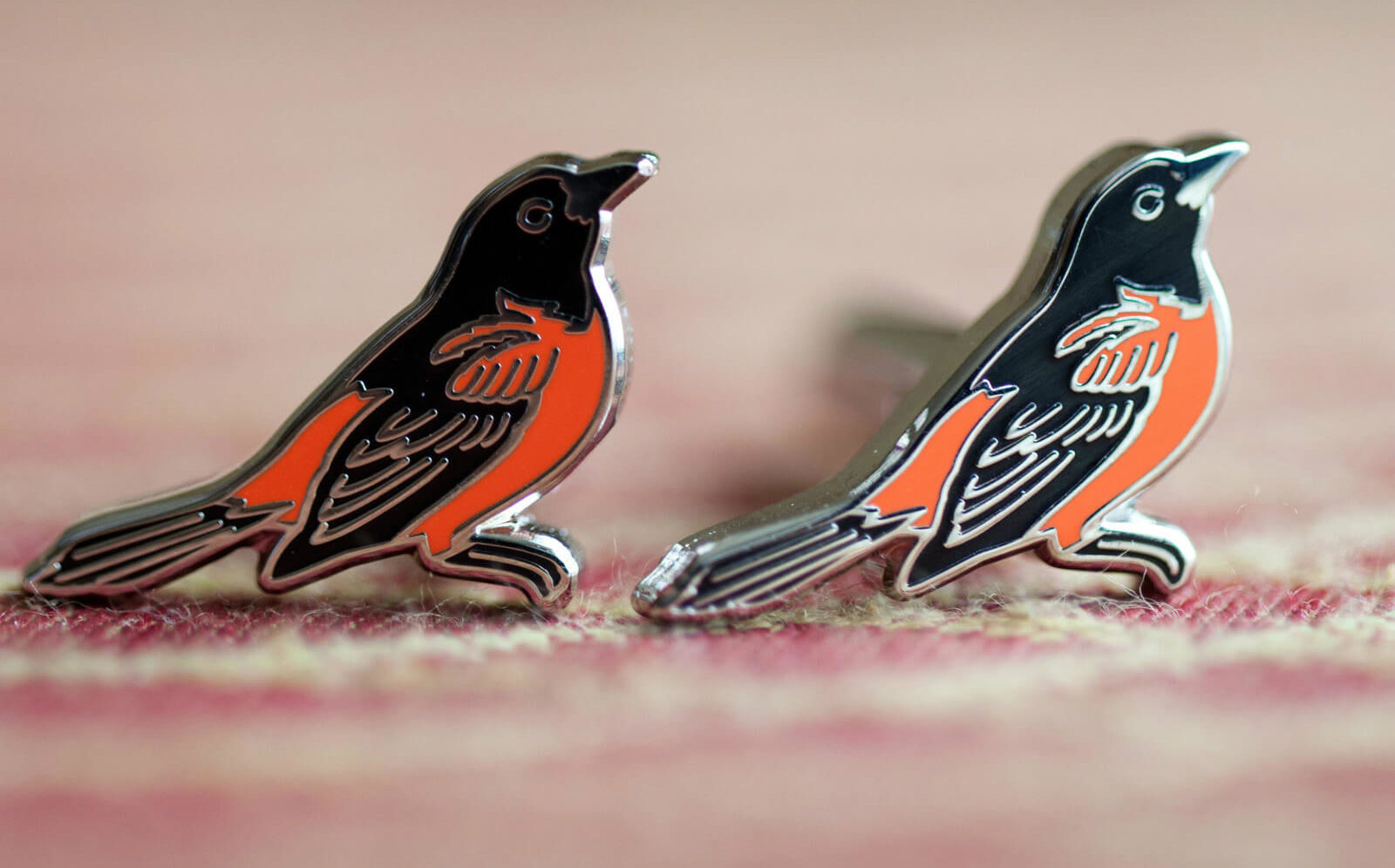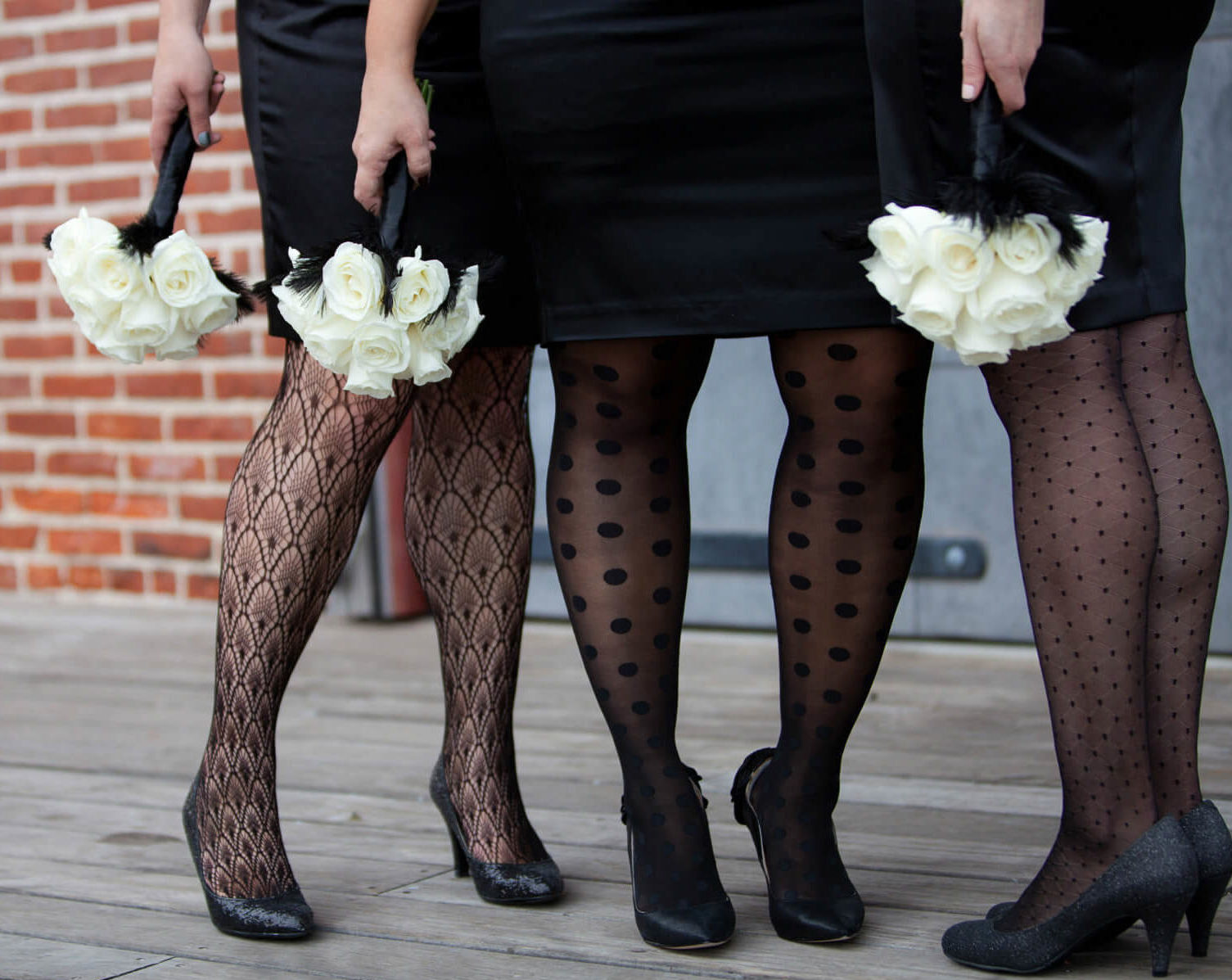 Wedding Design Inspiration Birds and feathers. While they were planning their wedding, they realized that birds were very meaningful: Ravens, Orioles and Blue Hens!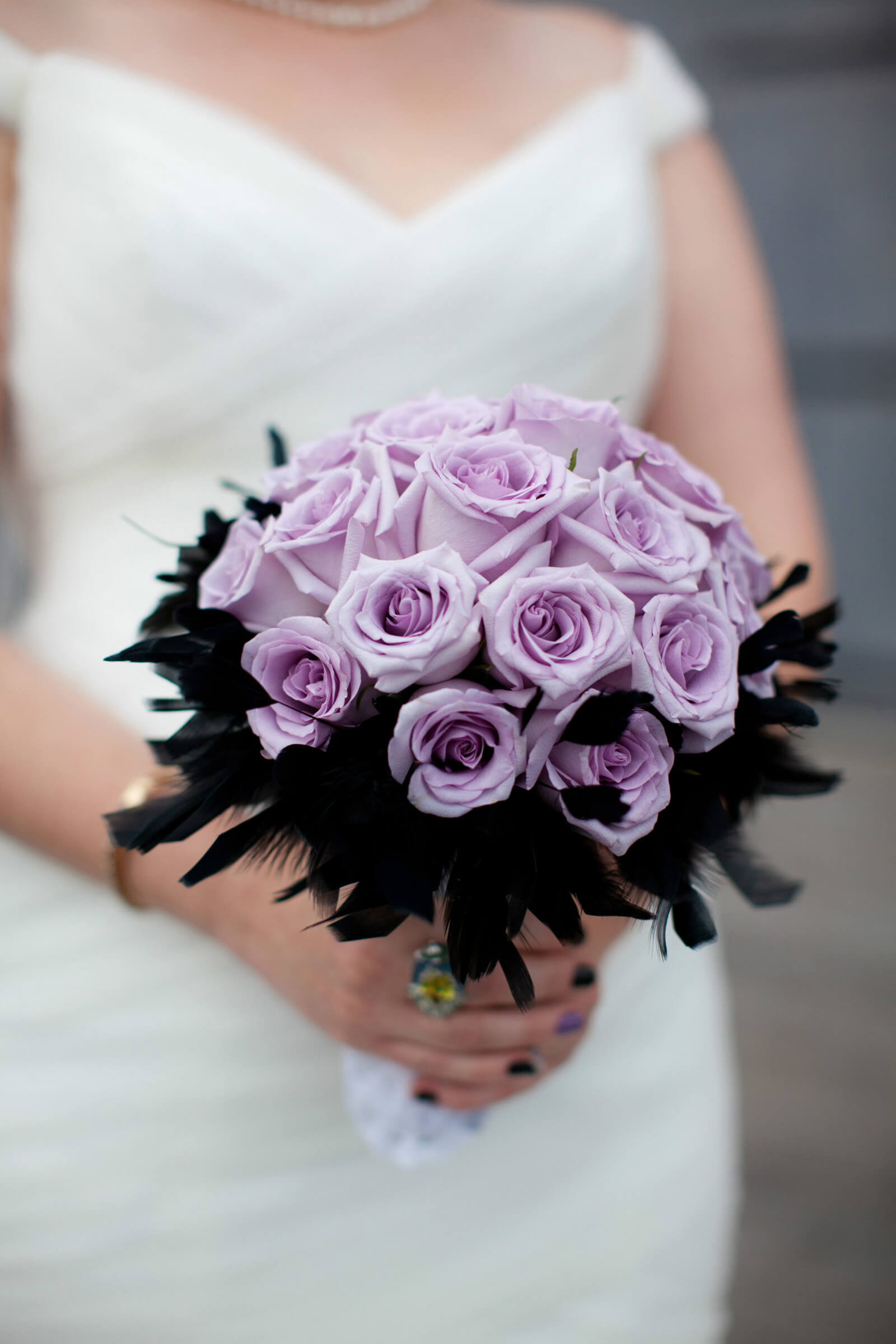 What was unique and special about your wedding They really wanted the wedding to reflect them and their interests. The feathers were a nod to the important birds in their lives. They had pie instead of cake. Ben wore Star Wars accessories, and she had a bride Hello Kitty & groom Dear Daniel as the "pie toppers." They also served Ben's home-brewed beer.
Favorite Details Feathers! She wore a feathered wrap and headband. They also had feathers in the centerpieces, bouquets and boutonnieres.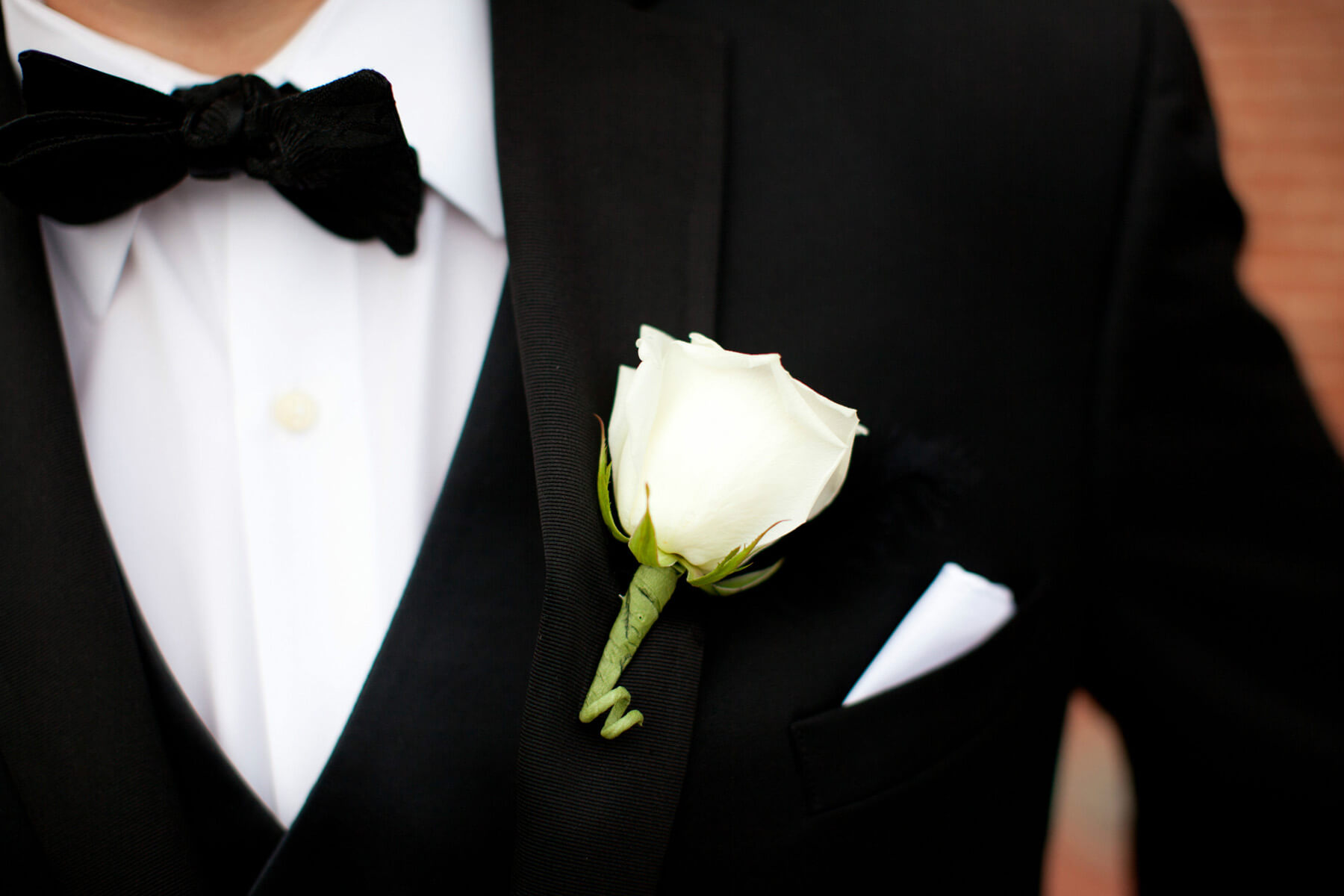 Most unexpected event on the day of the wedding Their ceremony was on the water in Fell's Point, and during the ceremony the Urban Pirates cruise passed right behind us, blasting the Black Eyed Peas and full of loud drunk people! It was hilarious, especially since this was one of the things they told the DJ that he wasn't allowed to play . . .
Piece of advice Pick your battles (especially if someone else is paying)!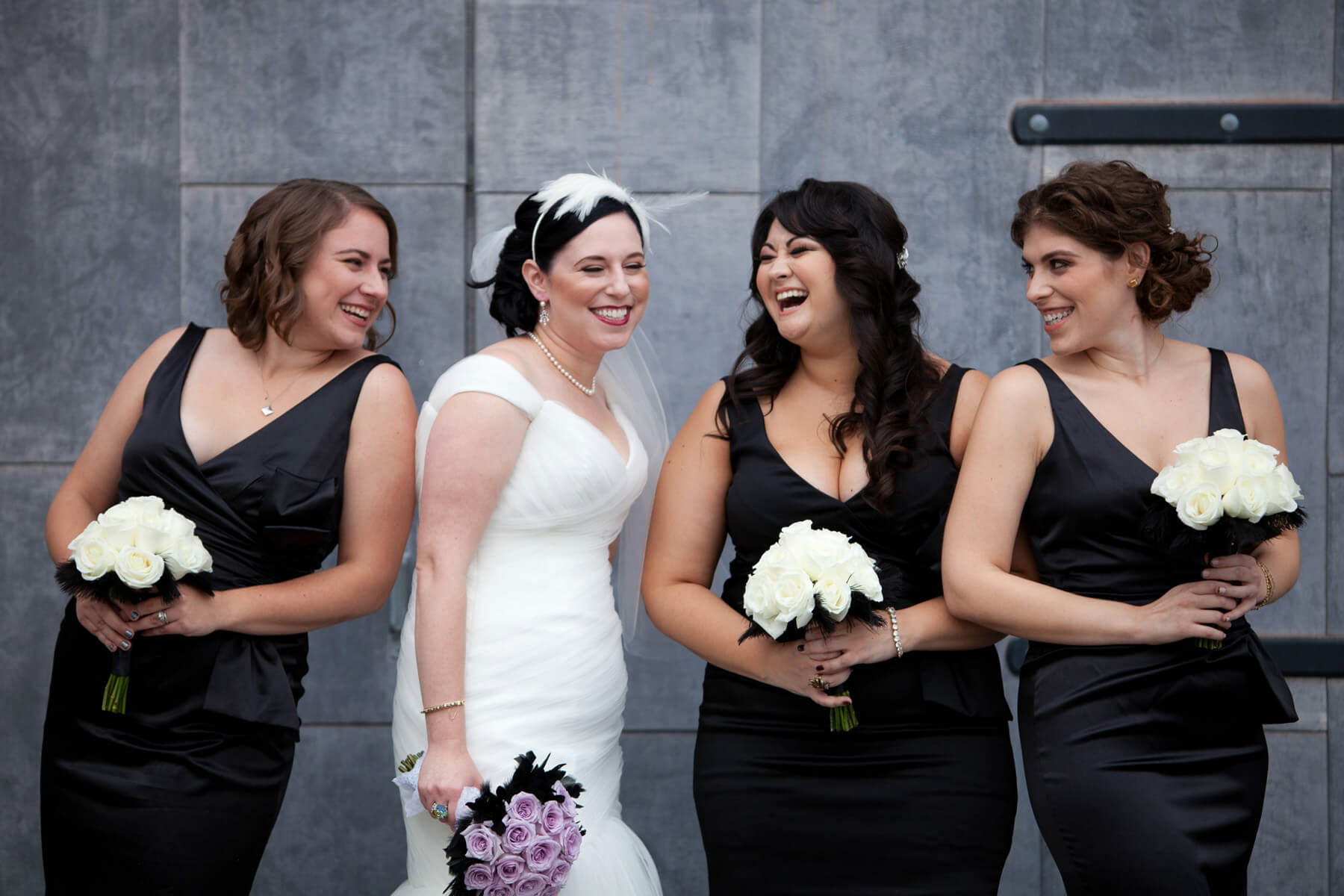 Honeymoon destination They went to Eastern Europe for two weeks in the spring following their wedding. They visited Budapest, Vienna, Cesky Krumlov, Prague, Dresden and Berlin. Bridesmaids' attire Black, knee-length satin dresses from Nordstrom Cake Instead of cake, they had pie. They had a full-size strawberry rhubarb pie, and their guests each had mini pies. Caterer Rouge Fine Catering Flowers Divine Design & Events Groom and Groomsmen's attire Ben wore a tuxedo from Brooks Brothers with Star Wars cufflinks, pocket square and socks. The groomsmen wore tuxedos. Ben, the groomsmen, and the dads wore custom bow ties from Knot by Tiffa. Hair & Make-up Angel Ratliff, Studio 921 (hair); Russell Borns, MAC at Nordstrom (makeup) Invitations The invitations and save-the-dates were custom designed by Jackalope Heart Location Frederick Douglass – Isaac Myers Maritime Park in Fell's Point Music Aron, Ridiculous Entertainment Officiant Cantor Ann Sacks, Baltimore Hebrew Congregation Transportation Trolley from ZBest Limousine Wedding Dress Bliss by Monique Lhuillier from Betsy Robinson's Bridal Collection Wedding Planner Regina from Rouge Fine Catering was our day-of coordinator and she was amazing! PHOTOGRAPHER Liz and Ryan Bower