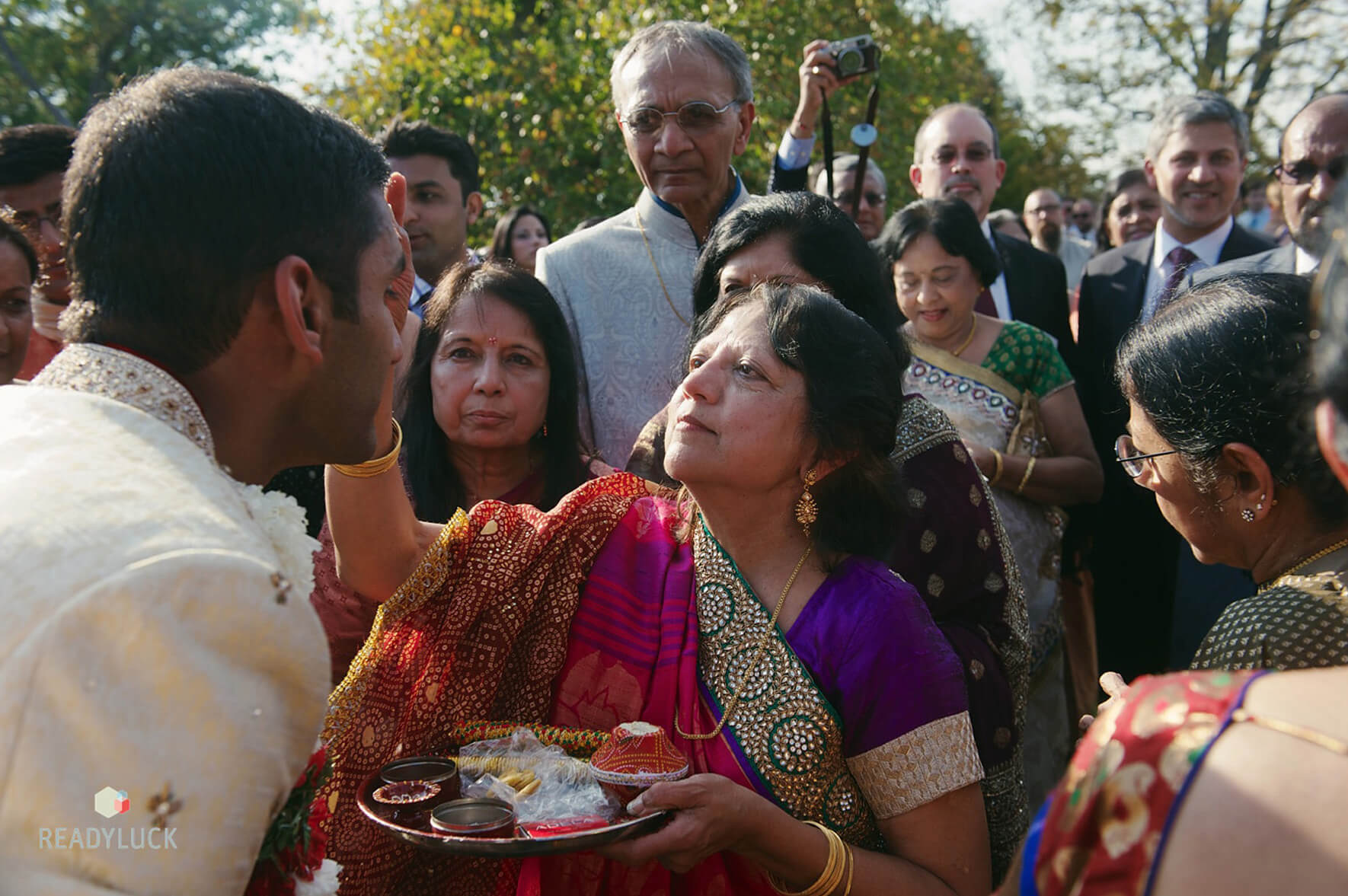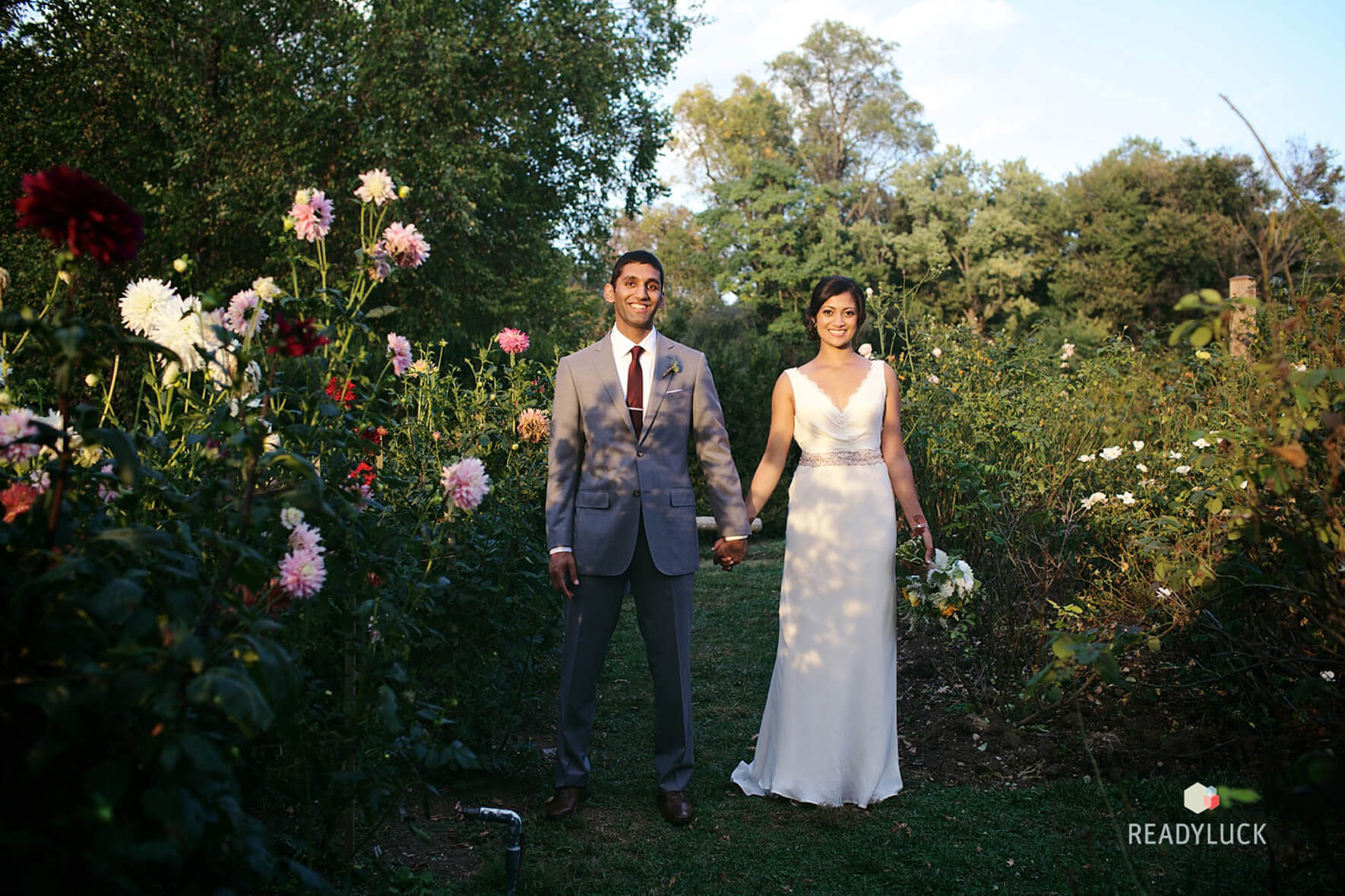 Occupations Nilam is an Artisan relations manager at artizone.com; Rick is a Founder/CEO at Dashfire.com
Wedding date October 10, 2013
Number of Attendees 375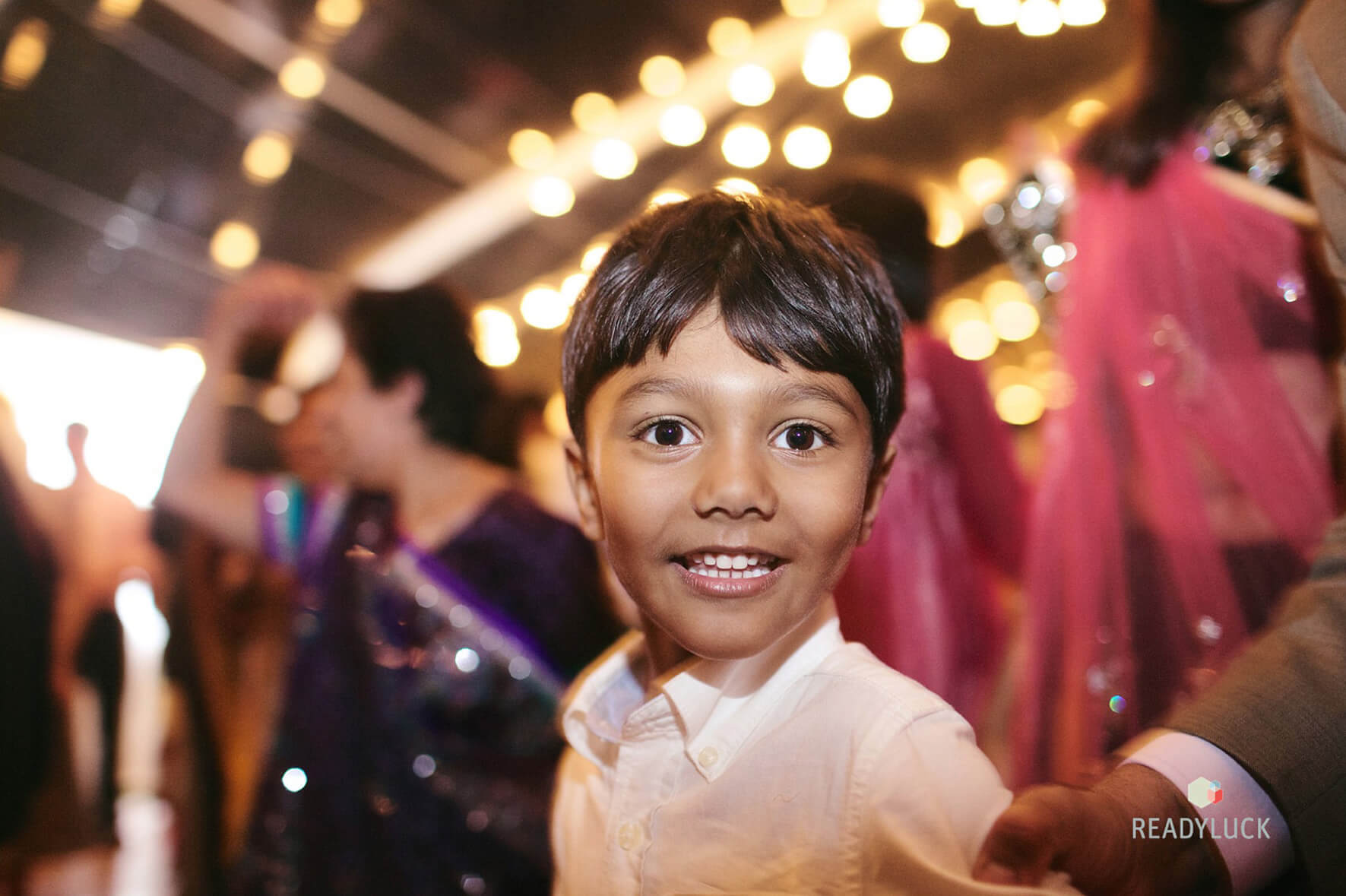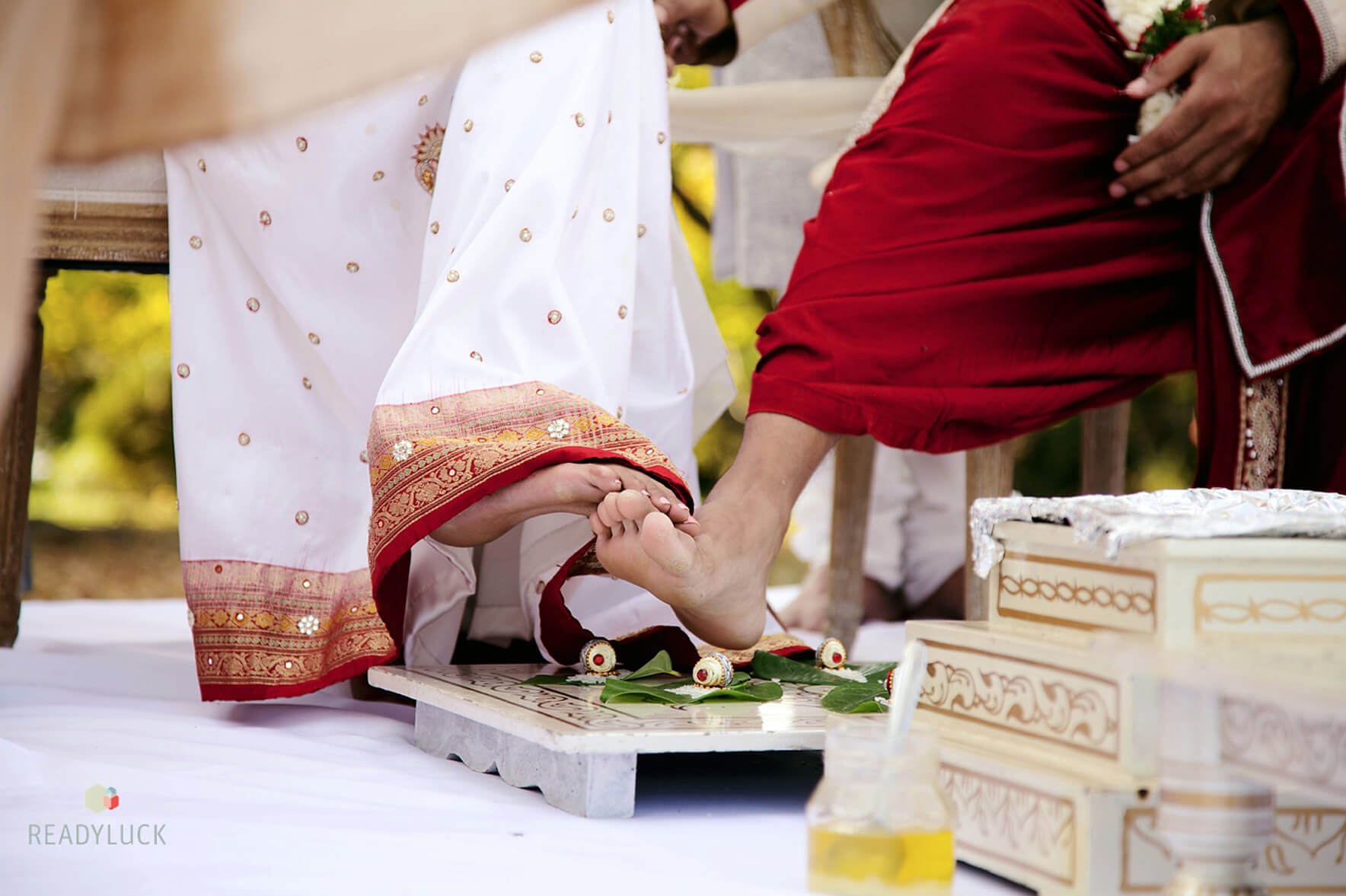 How You Met Nilam and Rick met in September of 2002 at Georgetown University when Rick was a junior and Nilam was a sophomore. After college, Nilam and Rick remained in touch and friends, talking on the phone once a month or so to catch up on life. The couple began dating in late 2011, and by early 2012, Rick confessed that he and Nilam would be great "on the same team" and the couple has been winning ever since.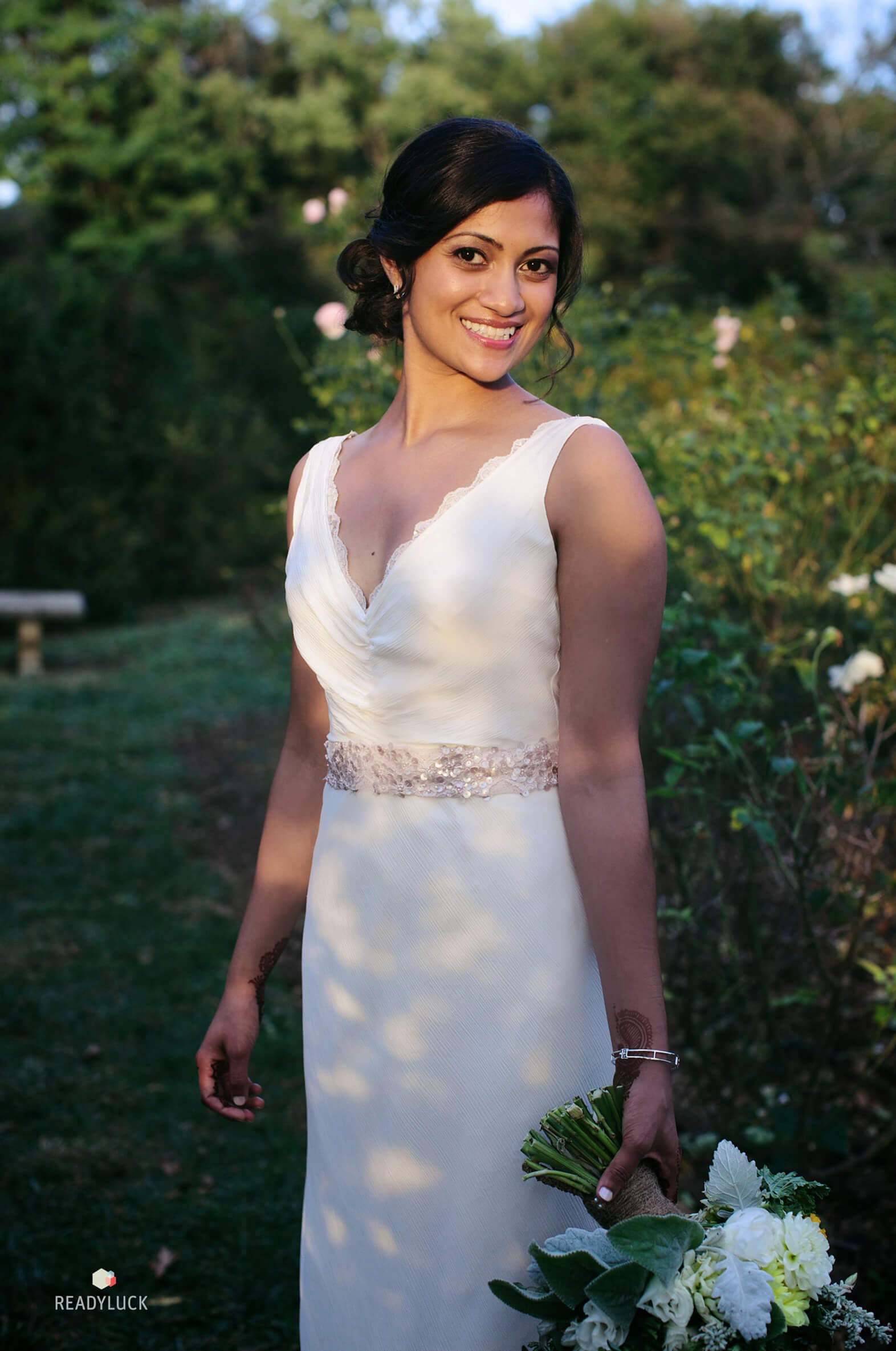 The Engagement Rick proposed on December 7, 2012.  In the weeks before, Rick would repeatedly ask Nilam to "carry" him during their routine activities and to keep her on her toes. Rick and Nilam have date night every Friday and the week of the engagement was Rick's week to plan. He told Nilam that they would be visiting the Lincoln Park holiday lights and then head to dinner at Girl & The Goat. Before heading out, Rick poured some wine in a pair of mason jars that Nilam was collecting. Surprised that Rick (not an avid wine drinker) kept pouring refills, Nilam soaked it in, enjoying the moment. While drinking her third glass, Nilam glanced at the bottom of the glass and read the words "Nilam, Will you carry me?" engraved on the bottom of the mason jar. Rick proceeded to formally propose and gave Nilam a necklace (the same way that his father proposed to his mother), and followed it up with an engagement ring. They invited their closest friends over and Rick then shared with Nilam that they would be traveling to Baltimore to celebrate with her parents the next morning. On their way to the airport, they stopped at Rick's sister's house. When Nilam walked in, she was surprised by her parents, her sister and brother in-law, and Rick's parents, sister, and cousins.  They spent the day eating brunch and wearing bright blue Rick & Nils t-shirts!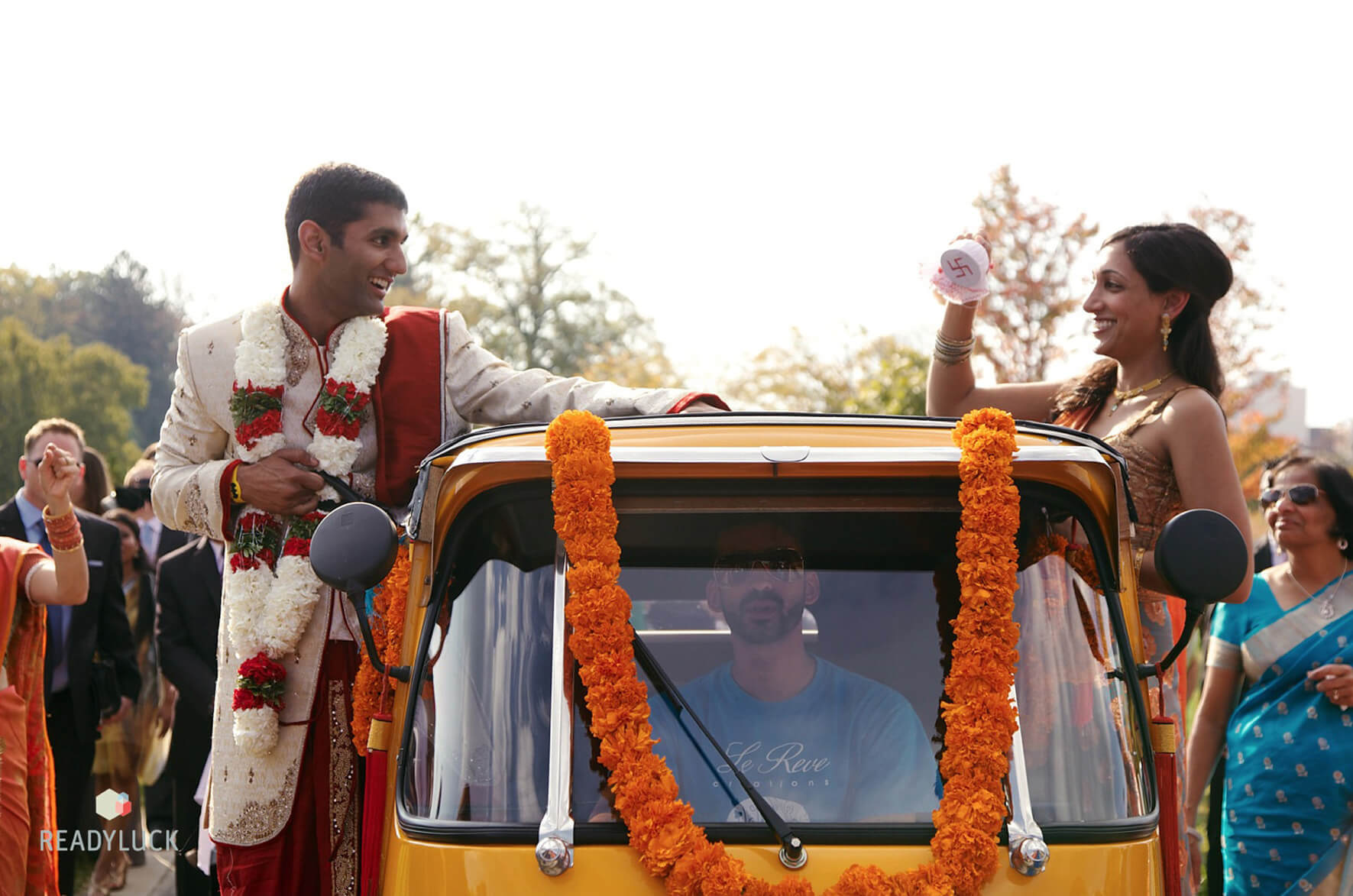 Wedding Design Inspiration The couple's main vision was to celebrate their guests. With that in mind, Nilam and Rick centered everything around three themes: sharing their love, rustic and natural, and partying our pants off.
What was unique and special about your wedding Nilam and Rick's core concept was to celebrate the surroundings. They couple had the most magnificent canvas, the arboretum, so their decorations could bring nature to life. Nilam and Rick asked Ellen from Local Color Flowers to integrate the flowers of the season while highlighting the colors the couple chose: navy blue and yellow. Time and time again, Nilam and Rick always came back to keeping the night casual, welcoming, and relatable. They did this in a few different ways:  the couple brought in a tent to keep their guests in the great outdoors; they asked their brother-in-law to officiate the wedding; the couple worked with two different caterers to give their guests an "East meets West" food experience. In lieu of the traditional musical ceremony the night before the wedding, Nilam and Rick invited all of their friends and family to Townhouse for an old fashioned roast, bar food, and a chance for everyone to just reconnect.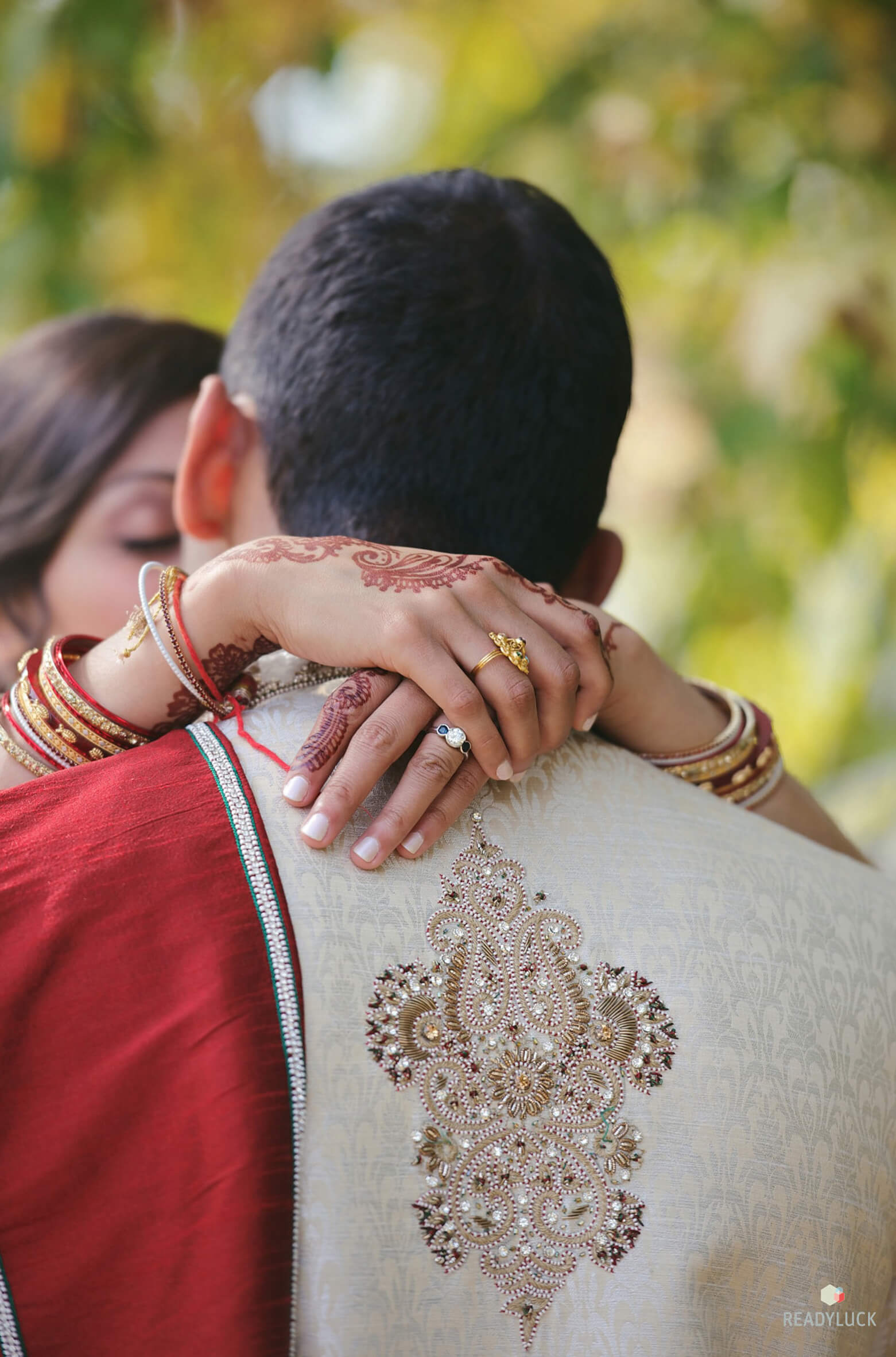 Favorite Details THE JEWELRY, told by Nilam: "For my jewelry, I asked all of the influential women in my life to lend a piece of jewelry to me. I actually wore the necklace my grandmother wore when she got married, a beautiful gold chain from my mother, earrings from my aunt, a bracelet from my sister (who is actually my cousin but I will always call her my sister), and bangles from my deceased grandmother on my father's side. The day before the wedding I was gifted the jewelry set my father-in-law gave his late wife and the mother of my husband. It was an extremely emotional moment as I couldn't believe something like this was handed down to me. I felt unbelievably honored to wear the ring he gave her when he proposed to her and felt like a piece of her was there with us during the ceremony."
THE CEREMONY Raised Hindu, both Nilam and Rick wanted to understand the significance of the traditional Indian Hindu wedding. They first asked Nilam's brother-in-law, Sushil, to officiate the wedding. Sushil was ordained online and together the three of them learned the intricacies of the Hindu wedding ceremony. Sushil dictated the wedding in English, in part to help explain the wedding to majority of native English speaking guests. They elected to only include the religious elements and decided to infuse their own cultural elements, including their own wedding vows, an uncommon practice in Hindu weddings.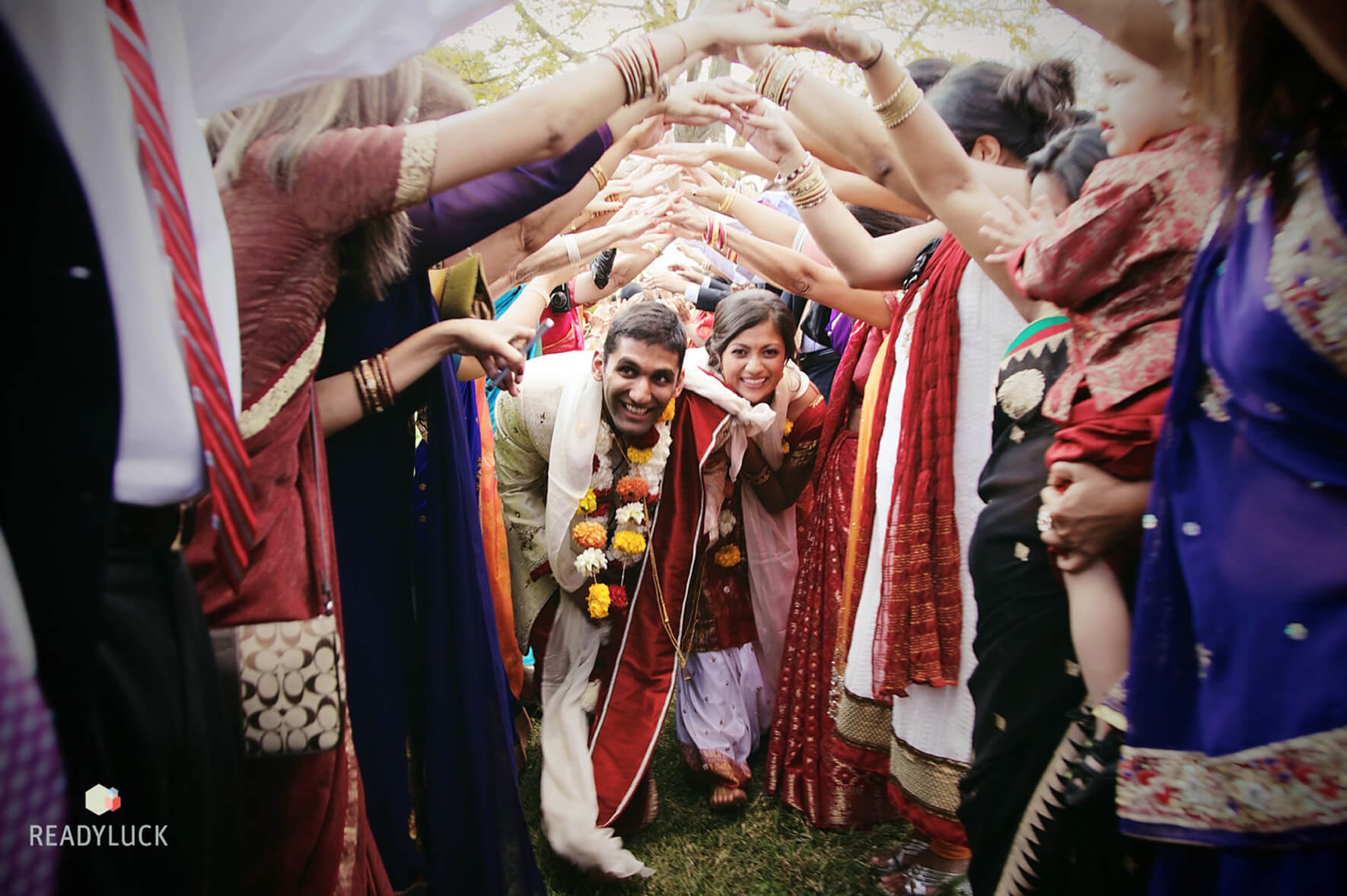 A Hindu wedding is initiated by a Baraat, a procession of dancing and music where the groom's family and friends enter the wedding ceremony. Recently, grooms have entered in fancy cars, horses, or even elephants, but Rick chose to enter in on an auto rickshaw.  Accompanied by his sister Priti, the auto rickshaw tailed Rick's family and friends who danced through the Cylburn before meeting Nilam's family. Rick was then greeted by Nilam's mom and after a traditional clay pot breaking ceremony, Nilam's parents escorted Rick to the Mandap, the wedding altar.
Rick spoke his vows to Nilam first. But when Nilam concluded hers, she looked to the DJ who queued up the background music to "I Want it That Way" by the Backstreet Boys. As Rick likes to end every bar night in Chicago with his own rendition of the classic song "I Want It That Way," Nilam proceeded to sing the last words of her vow to Rick using this as the background music and blew Rick and the crowd away!
THE WALK DOWN THE AISLE In a Hindu ceremony it is traditional for the brother of the bride's mother to walk the bride down the aisle. Nilam's uncle flew to Baltimore from India to honor this tradition. Nilam also grew up with her dad's brother as her second father. "I couldn't NOT ask him to be a part of this as well. So I had both of them walk me down the aisle," says Nilam.
THE RECEPTION Nilam says she and Rick, "danced and danced and danced and danced. All of the guests were dancing the entire evening and that is exactly what we wanted."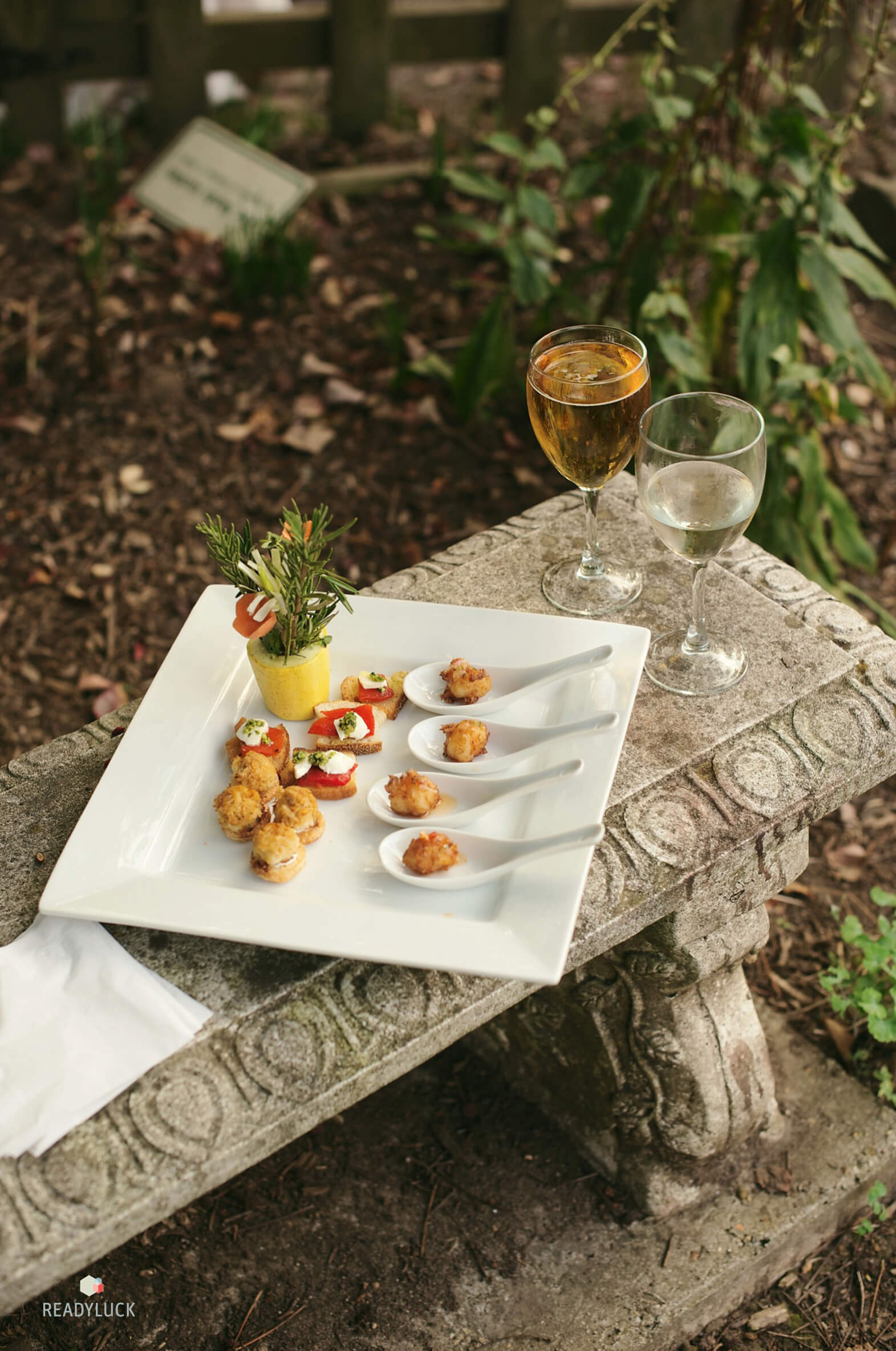 Most unexpected event on the day of the wedding After the ceremony was over, Nilam and Rick left the stage (mandap), and all of their guests created a bridge for them to run under toward the rickshaw. Before the wedding, the chalkboard sign on the back of the rickshaw read "Almost married" and after the ceremony the sign read "Just Married." The newlyweds ran through the human bridge of hands to the rickshaw and then drove off (really just drove in a circle) as a married couple.
Piece of advice TEAMWORK. Both of them said this in their vows, "To always remember that we are coming from a place of best intention." It is key to remember that your spouse never wants to intentionally hurt you, so with this mantra it holds us together on the same team through hurdles and challenges. We experience these together rather than on opposing teams.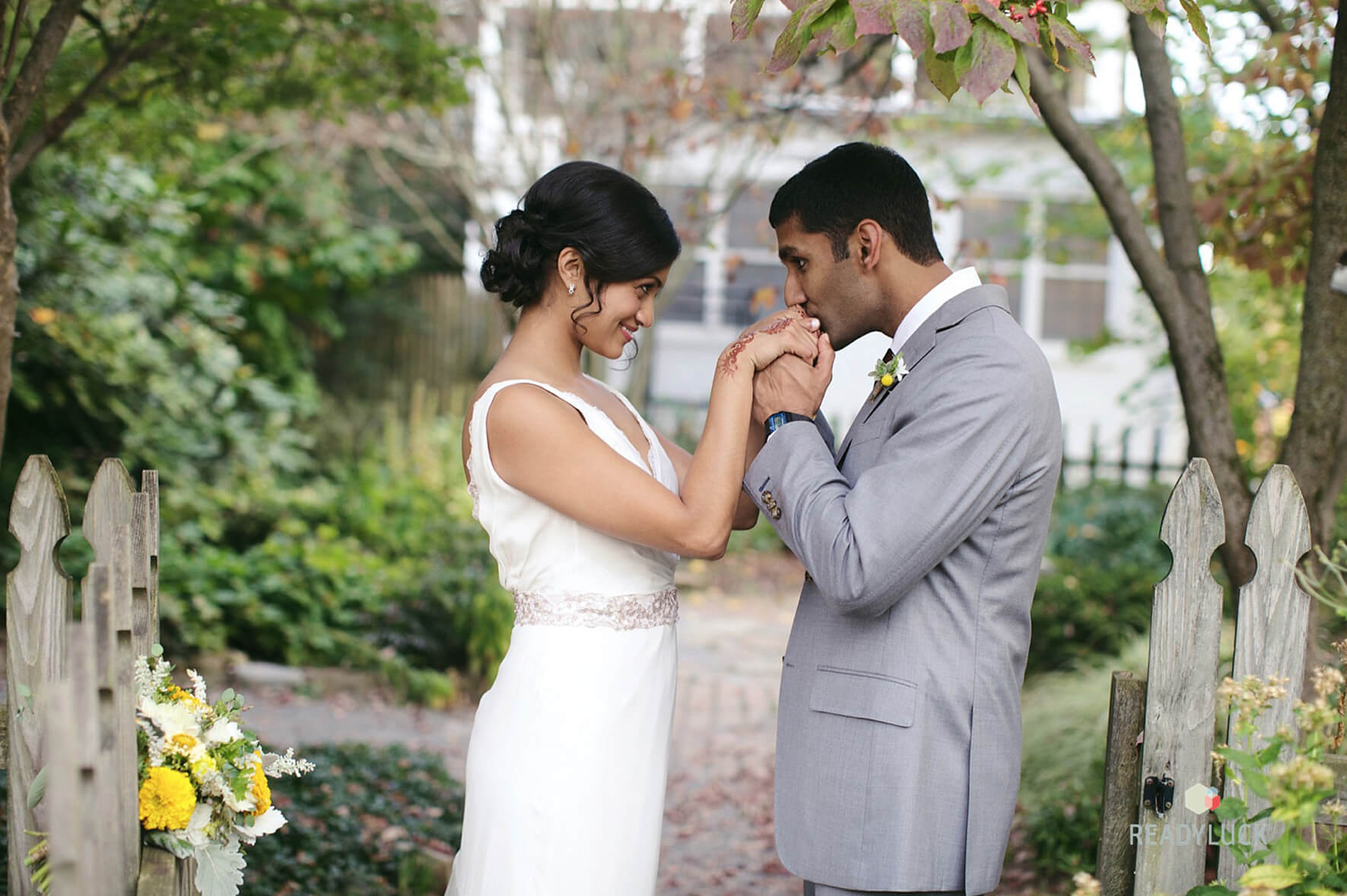 Beauty Bridal Hair Design Caterers IndAroma and Linwoods  "They worked so well together!" Nilam: We worked with both a contemporary American and contemporary Indian catering company. The provided high-quality, gourmet food for all of our guests. It was delectable and creative and we wouldn't have it any other way. For late night food, we asked our wedding planners to transport 100 hot sandwiches from our favorite sandwich place in Georgetown to the venue. The catering company heated them up for us and we began passing them out about an hour before the end of the ceremony. You could see the Georgetown people slowly finding out about Wisemiller's sandwiches and gravitating toward the catering table. We even had a few friends grab some for the road and eat them the next day at the airport. Thanks Ellen for picking these up! Flowers Local Color Flowers "All flowers were local and in season. Lots of sunflowers!" Groom and Groomsmen's attire For the wedding ceremony, Rick wore traditional Indian clothing.  For the reception, Rick wore a custom suit designed at Trunk Club. During the ceremony, Rick carried a small dagger that is traditionally handled by grooms in Hindu weddings. On the back of his tie, he wore a custom patch that read "Carry Me Always 10-5-13" that Nilam had gifted him that week. Mid-way through the night, he and Nilam slipped into orange sherbet BucketFeet to match Rick's groomsmen. Rick gifted his groomsmen pairs of BucketFeet, brightly colored artist-designed sneakers.  Rick's company helped launch BucketFeet in 2010 and Rick has been wearing these shoes to weddings ever since. The groomsmen and other close family and friends rocked them throughout the wedding evening. Honeymoon destination Patagonia, Argentina Invitations The couple designed the invitations themselves and asked their friend, Mira Gohil, founder of Weldonberry put the final touches on it. Location Cylburn Arboretum Music Aditya Desai of Absolute Entertainment Officiant Bride's brother in law, Sushil Mody Photographer Jacqueline Schlossman of READYLUCK Rentals Loane Bros., Inc. & Rusty Love Vintage Rentals Videographer Adora Wedding Films Wedding Dress Custom designed dress from a wedding dress designer Mignonette in Chicago. Nilam: I tried many dresses on but couldn't find one that fit my style. I finally found a vintage custom wedding dress designer who worked with me to design, craft, and create my dream wedding dress. We worked together from the start. She and I sketched a design together, we picked out the fabric and lace, and then after multiple fittings she handed me the dress that I would wear during my first dance as a married lady. I have to say it was the most personal and rewarding part of the wedding planning process. Wedding Planning & Design Lemon & Lime Event Design "THE BEST PEOPLE EVER!!!! Our wedding was perfect because of them. We loved working with them and we talk about them to this day. They are fantastic, if I could hug all of them right now I would," Nilam says.