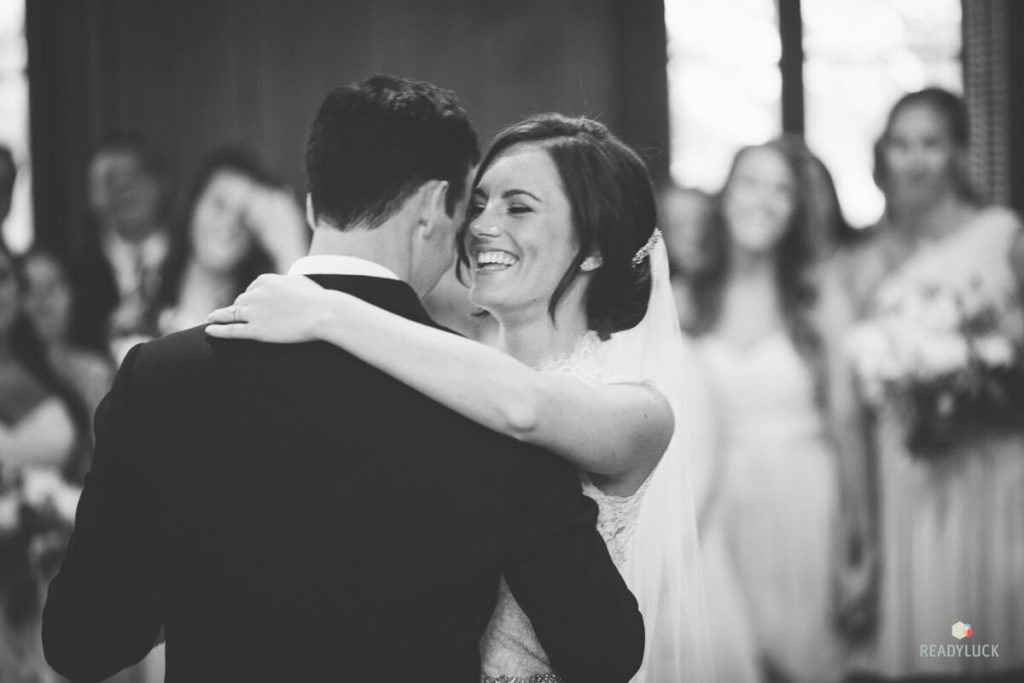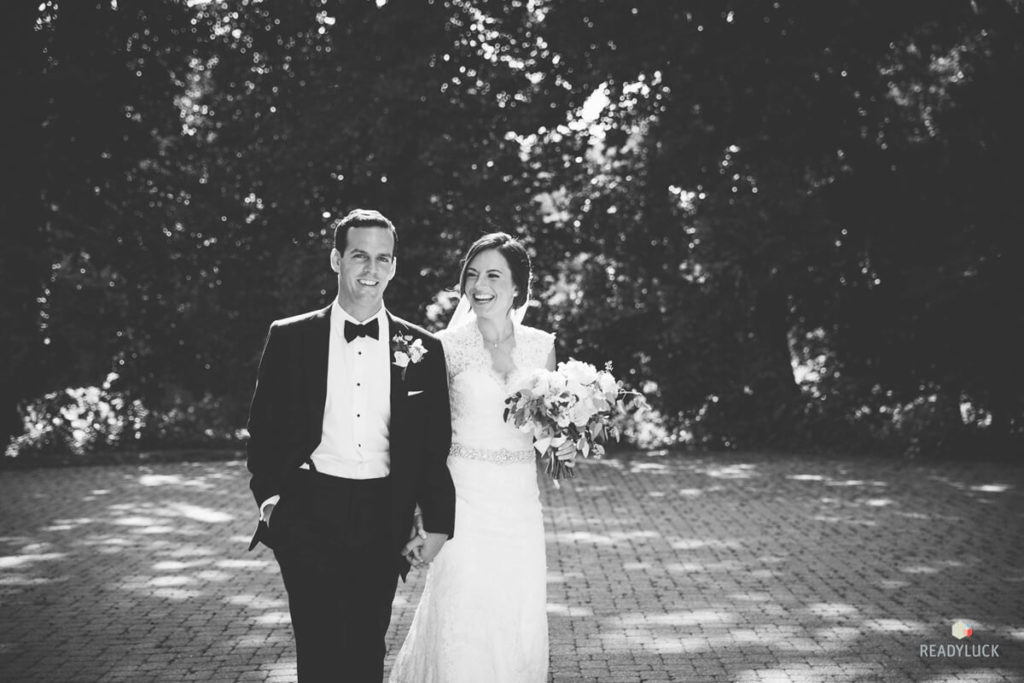 Occupations Jennifer owns a custom stationery design company Penny Luck Creative; Braden is an account executive with Bloomberg LP.
Wedding date August 15, 2015

Number of Attendees 120

Number of Attendants Five bridesmaids and five groomsmen

How You Met We met while student at Loyola University, where we were neighbors.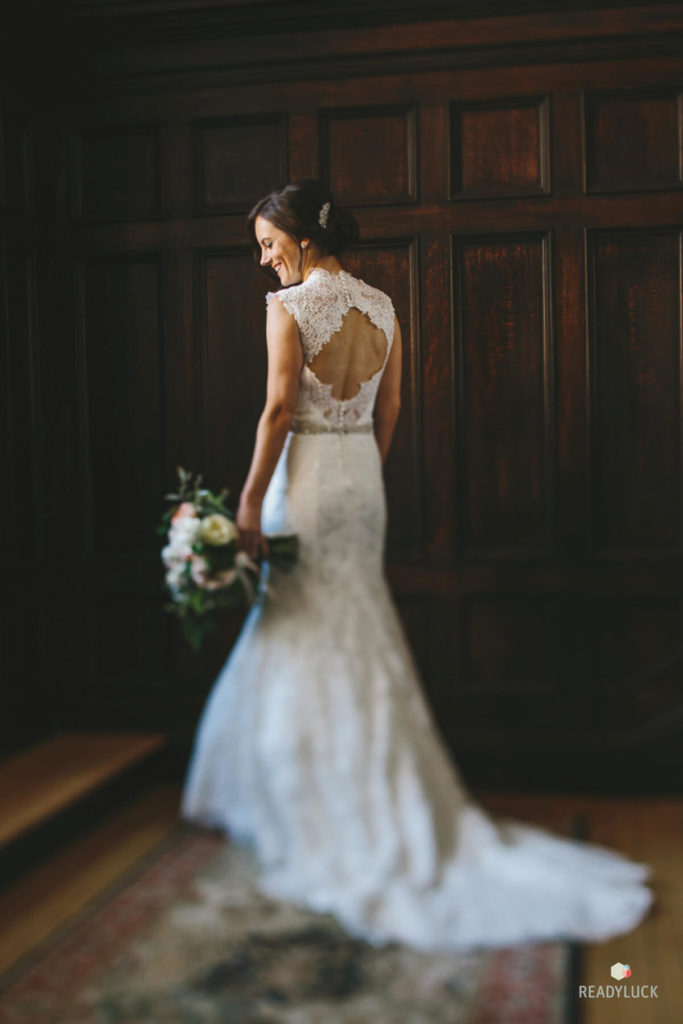 The Engagement Our engagement was the most wonderful day of our entire lives next to the day of our wedding. I woke up on a rainy October morning, to find Braden in our kitchen with a big bunch of white hydrangeas, an iced coffee, and a new addition of a map to our gallery wall in the living room of our 700 sq. ft. apartment in Hoboken, New Jersey. As I inspected the new addition to the wall with plenty of curious questions, I realized that the map included scribblings all over it. A closer look revealed that Braden had identified many of the placed that were special to us, including where we met, where I grew up, where he grew up, etc. in addition to some not-so-significant places like Kokomo, IN next to which he wrote: is this really where the Beach Boys sang about? Typical Braden humor. At the top right of the map was a list of wineries, the date 10/4/14, and an additional note that read, "We'll have a lifetime together." I turned around to find him on one knee. We spent the day visiting a number of wineries throughout Hudson Valley, New York, and spent the night with a surprise dinner with my parents at my favorite local Hoboken restaurant. It was a perfect day.
What Was Unique and Special About Your Wedding Day Seven years prior to our wedding, while seniors at Loyola, I accompanied Braden to The Evergreen Museum and Library to help him with a project for a photography class. The Evergreen was a hidden gem, rarely discovered by the students at Loyola, despite the fact that it was almost immediately visible from the freshman dorms where Braden and I both lived, next door to the library where I worked throughout the four years of college, and on the road to the school's fitness center where Braden would play basketball with his friends. Passing by it and each other for years, we had no clue how close we were to finding one another, or that one of the most treasured days of our lives together would be celebrated so close to where we were.
Having never been the type of girl who really dreamed of the details of her future wedding, I was surprised to find that our visit elicited such an immediate connection to the grounds that I announced to Braden, if and when, The Evergreen would be where I would hope to celebrate a marriage.
The week after we got engaged in October 2014, The Evergreen Museum & Library was the first and only venue that we visited in the hopes of finding an available date. And, much to our inconceivable luck, we were able to secure August 15, 2015 at both The Evergreen and at the Loyola University Alumni Chapel – two places so special to us that throughout the months of planning we would often pause and ask each other "Can you believe we got this lucky?"
The venue was so personal to us and made the entire day and celebration so immensely special.
Favorite Details While I am so proud of the many things that we designed and created for our day, I think the most special detail was our escort cards. My grandmother who had passed less than a year earlier, only days after Braden had asked her and my parents for my hand in marriage, had always taught me the importance of picking up stray pennies, no matter where you found them as they were "pennies from heaven" and symbolized luck and that someone, somewhere was thinking of you. After her passing and throughout our engagement, Braden and I began finding pennies seemingly everywhere. Wanting to incorporate her presence in our day in a subtle but special way, we knew that pennies would be the way to do it, not only to honor her, but also to pass a little luck off to our guests as a thank you for joining us. We spent hours carefully hand stamping pennies issued in 2015 with each guests' table number, and then affixed them to escort cards that I had designed individually to match all of our paper goods. At our cocktail hour, guests collected them from a vintage window display that Braden's father had built for us, repurposed from their old beach house in Long Beach Island, New Jersey, where we had spent so many summer weekends. In addition to their lucky penny seating card keepsake, donations were made in our guests' honor to St. Jude Children's Hospital in lieu of traditional favors.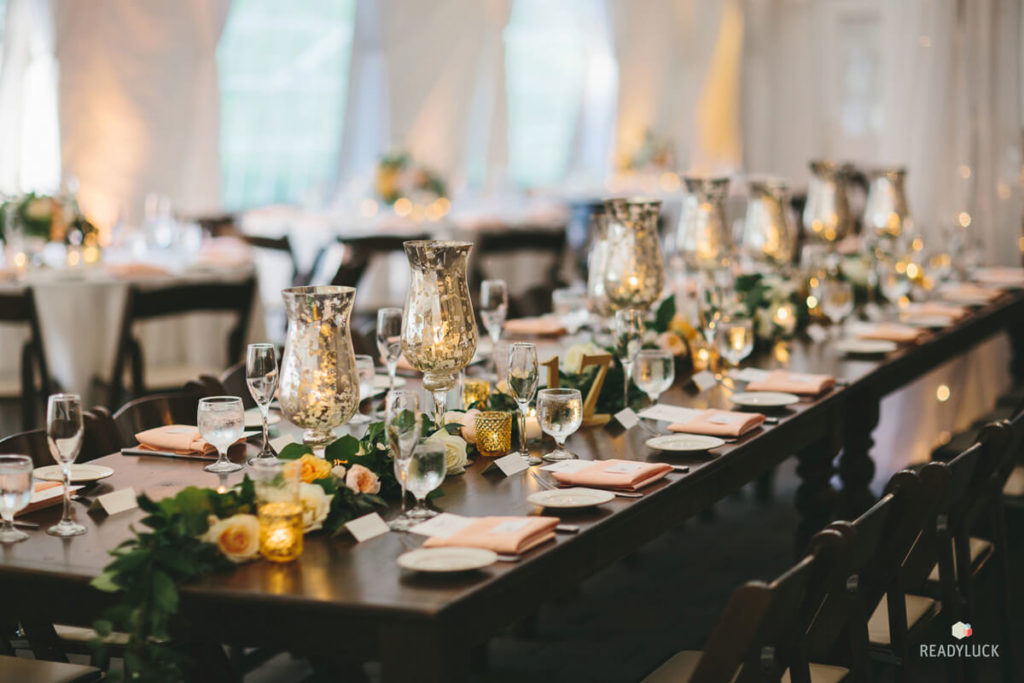 Wedding Design Inspiration With a creative background and a passion for do-it-yourself projects, I immersed myself in as many of the projects and the creative details as I could (for better or for worse), working especially close with our vendors—all of whom were so accommodating and inspiring to work with, that by the time our wedding approached, they felt like good friends who were there to celebrate with us. Our florist was sweet enough to let us be very much a part of the design process for all of our floral arrangements; an area that we agreed was one of the most integral design elements of the day. We chose leafy deep greens in tribute to The Evergreen, soft peach garden roses, and ivory spray roses as our main florals, opting for loose yet somewhat structured arrangements throughout. Amidst the table arrangements we interspersed mercury glass hurricane vases in varying heights along with Victorian rose-colored glass votives, which paired beautifully with our ivory gold-trimmed china. We incorporated a number of vintage pieces as well, including mahogany farm tables, a white washed barn door converted into a bar that we used as our DJ stand, and gorgeous wrought iron chandeliers that we adorned with greenery and clusters of flowers.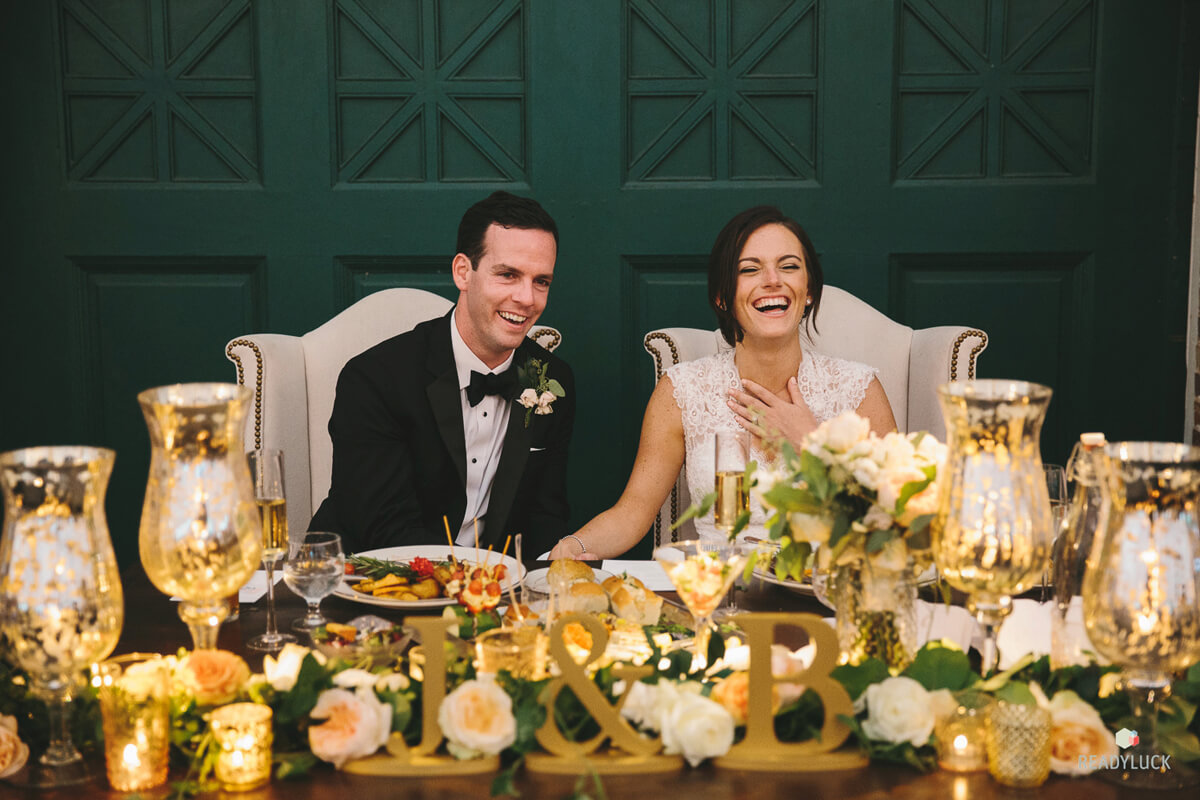 Most Unexpected Event On Your Wedding Day Nothing! Everything went according to plan—not one single hitch, shockingly.
Piece of Advice If there is one piece of advice that I could give brides-to-be, it would be to continually remind yourself and each other that the true purpose of the day is to celebrate the love you have for one another, and to always keep that in mind throughout the planning process. It's easy to get caught up in the details, and they can definitely play a role of importance, but the most rewarding parts of the day won't be the things you can see or touch—it will be the way the moments you shared with each other and your guests made you feel and the memories of them that you will carry together for a lifetime.
Beauty Behind the Veil Bridesmaids Dresses from Etsy, necklaces made by the bride, and Kate Spade earrings and bracelets Cake & Cupcakes Rouge Fine Catering Cake Topper Better Off Wed Catering Rouge Fine Catering Ceremony Loyola Alumni Memorial Chapel Day of Wedding Coordinator Gingerwood Creative Event Lighting & Music Event Pro Flowers Crimson & Clover Floral Design Groom & Groomsmen Imparali custom tailor suit, penny cufflinks from Brooks Brothers, Longines watch (both gifts from the bride), Ralph Lauren socks, Luna Rosa Home pocket square (groom); Men's Wearhouse suits, Daniel Wellington watches (gift from the groom), and Ralph Lauren socks (groomsmen.) Invitations Invitations by Salutation Linens Rouge Fine Catering Paper Products All paper goods including wedding programs, save-the-date, welcome bag tag inserts and tags, menus, bubble tags, escort cards, and signage designed and printed by Penny Luck Creative. Parking Jay's Valet Photo Booth Lady Liberty Photo  Photographer Eddie Winter/READYLUCK Reception Venue Evergreen Museum & Library Table Numbers Z Create Design Transportation ZBest Limo Vintage Rentals Vintage Affairs Wedding Dress L'Fay Bridal, Chatham, New Jersey (Swarovski earrings and bracelet, Nat Klarsfeld Inc. necklace—a gift from the groom—and Nat Klarsfeld Inc. engagement ring and wedding band.) Wedding Party Prep Renaissance Baltimore Harborplace Hotel Wedding Party Pre-Reception Loyola University Maryland Humanities Building