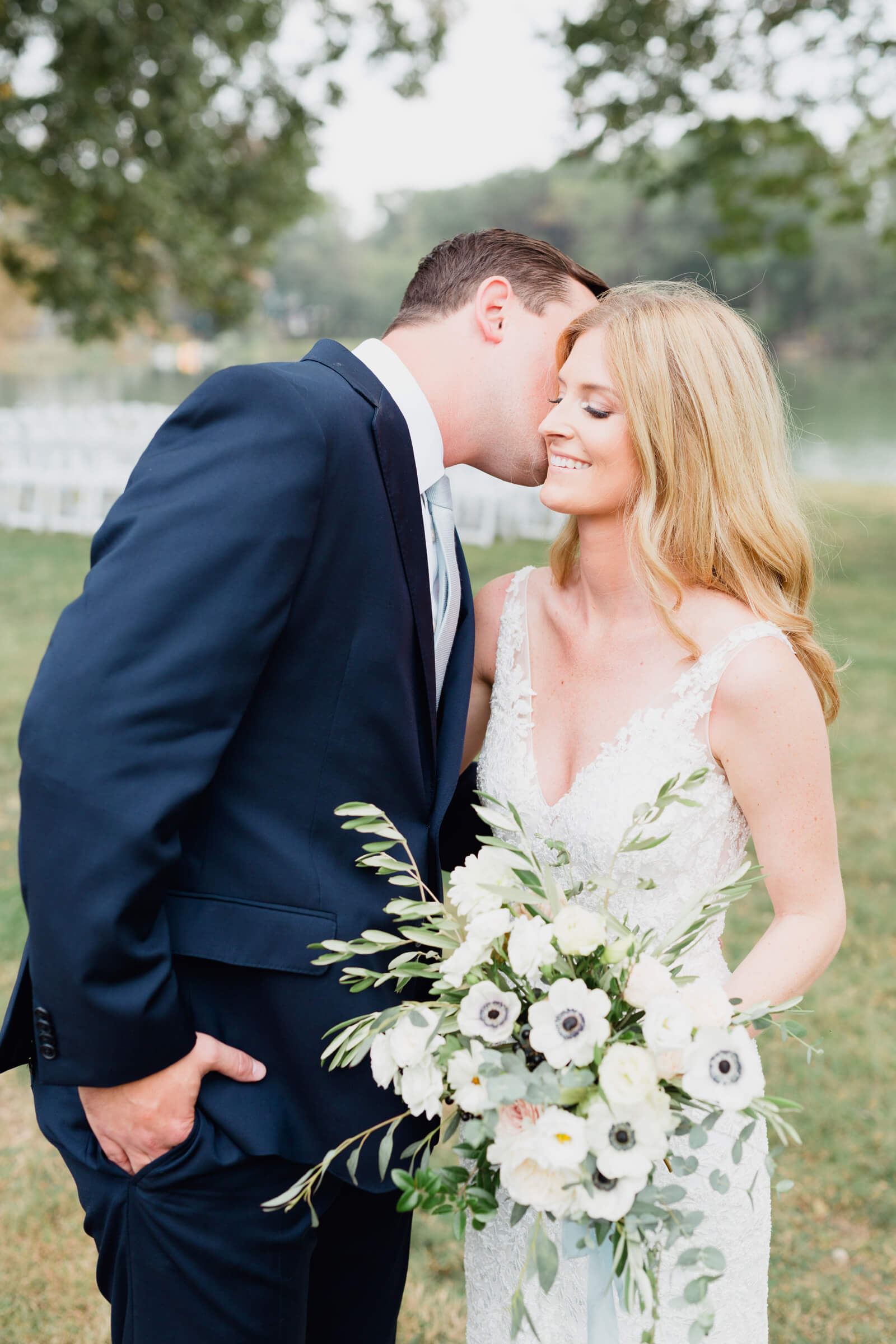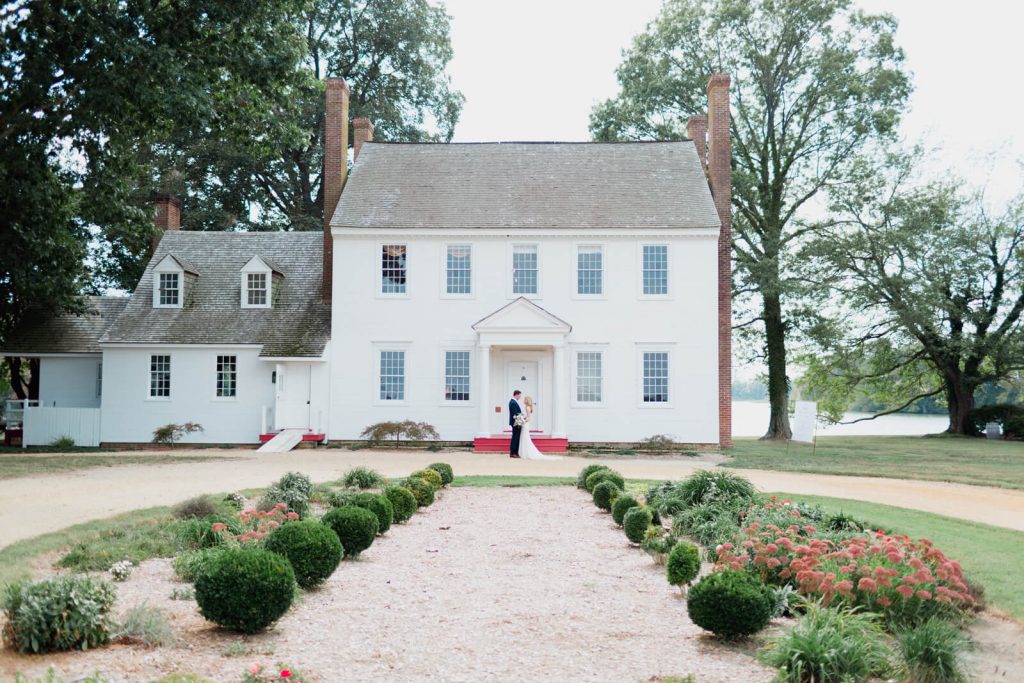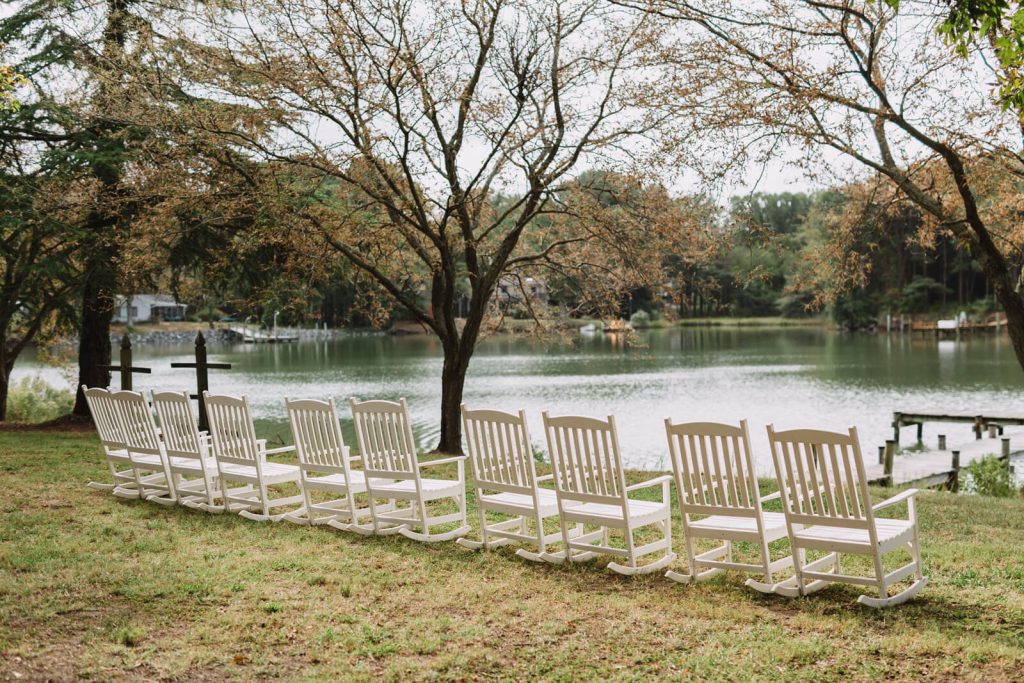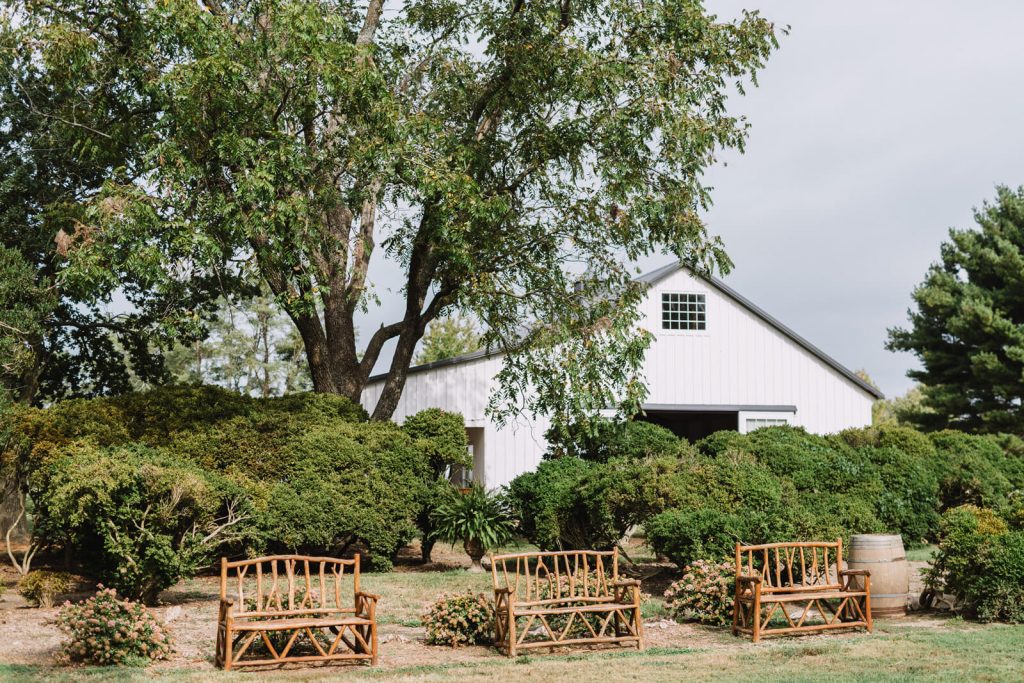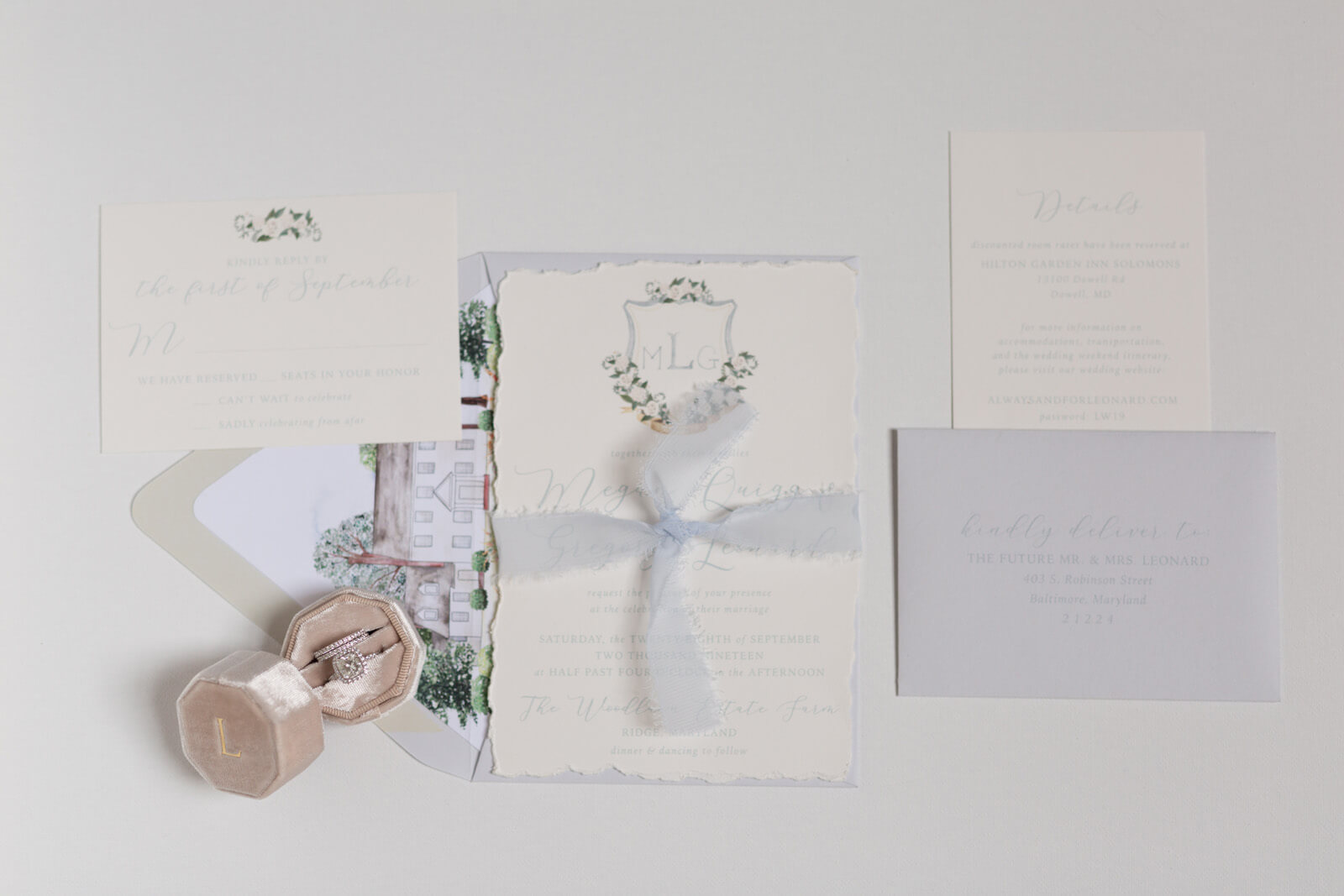 Occupations Meg is a design director of a nationwide digital marketing and PR agency, as well as the Founder of Meg Leonard Co., a home décor, design and lifestyle brand; Greg is an enterprise account executive in digital accessibility.
Wedding date September 28, 2019
Number of Attendees 115
Number of Attendants Three bridesmaids and six groomsmen.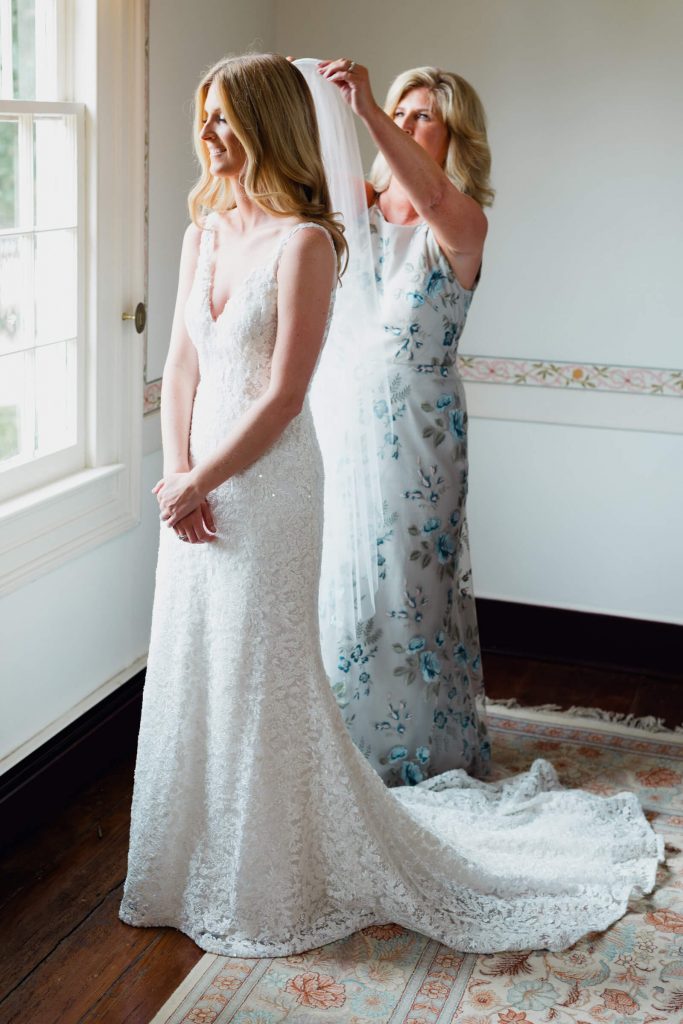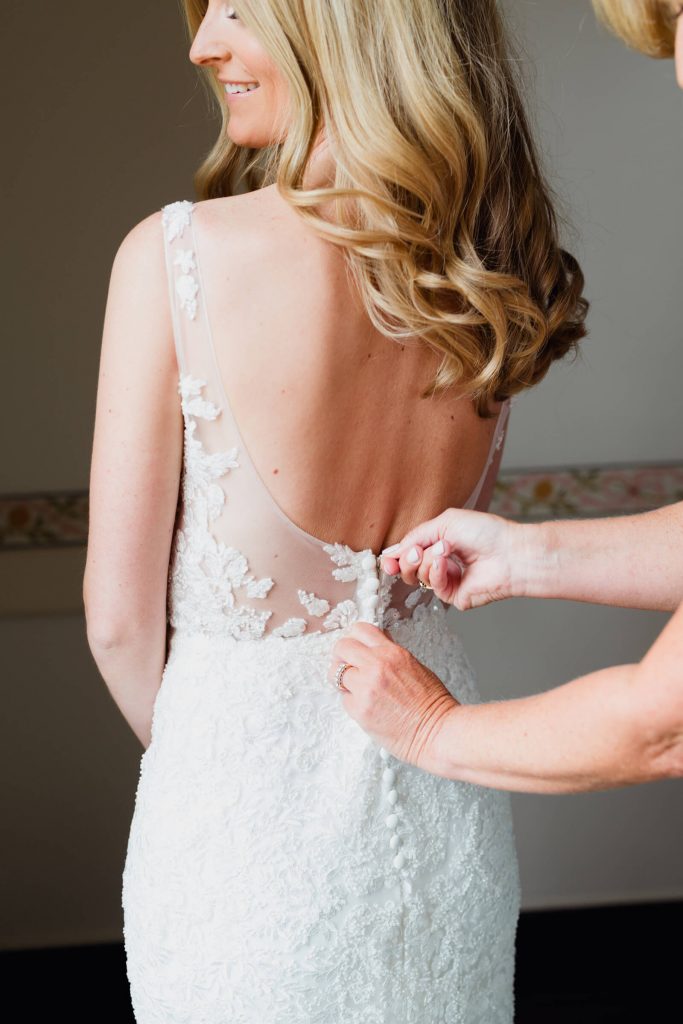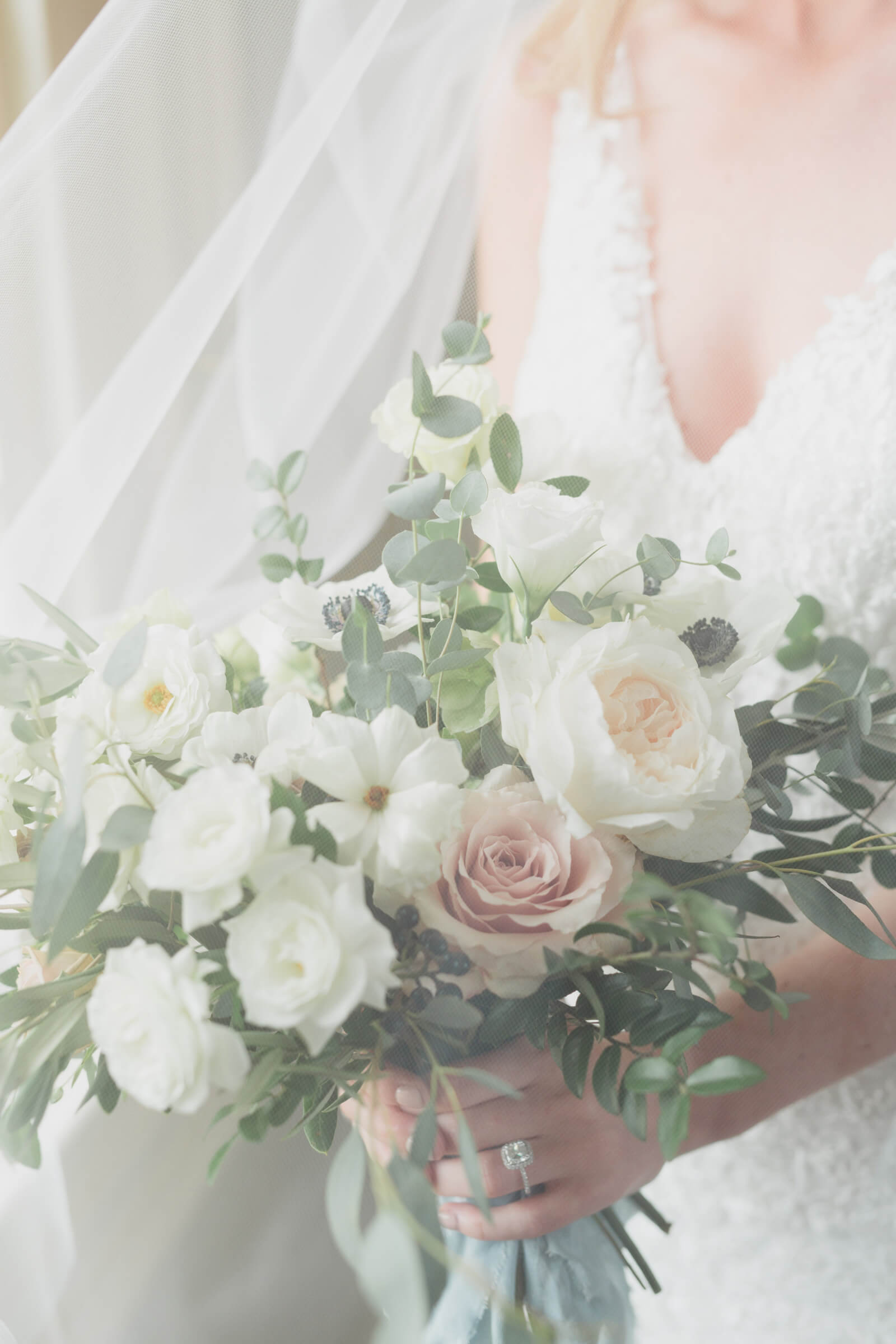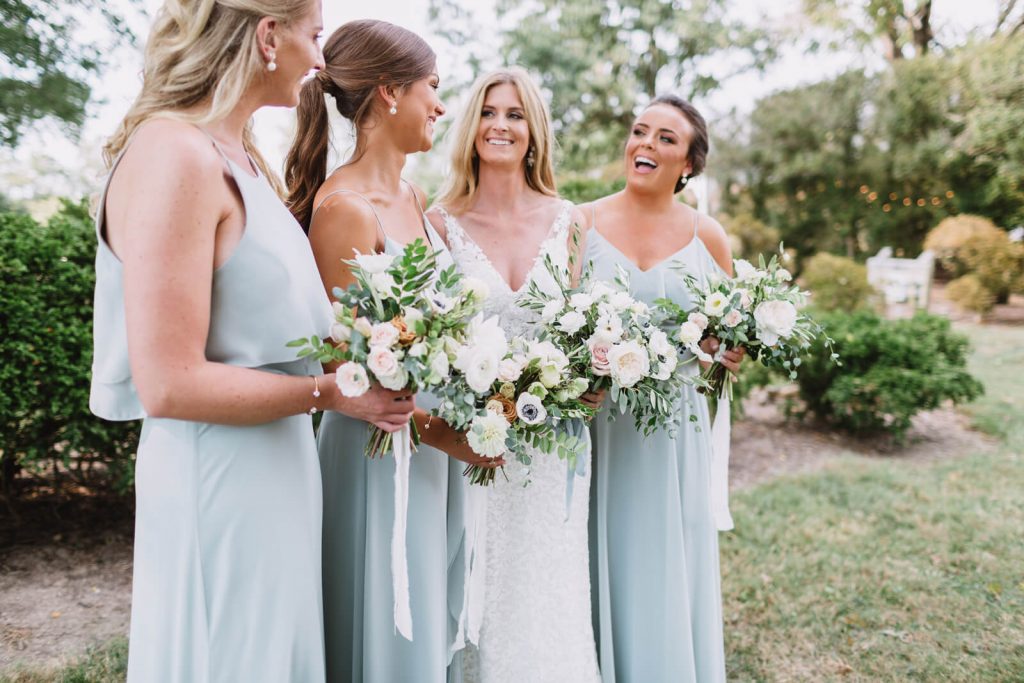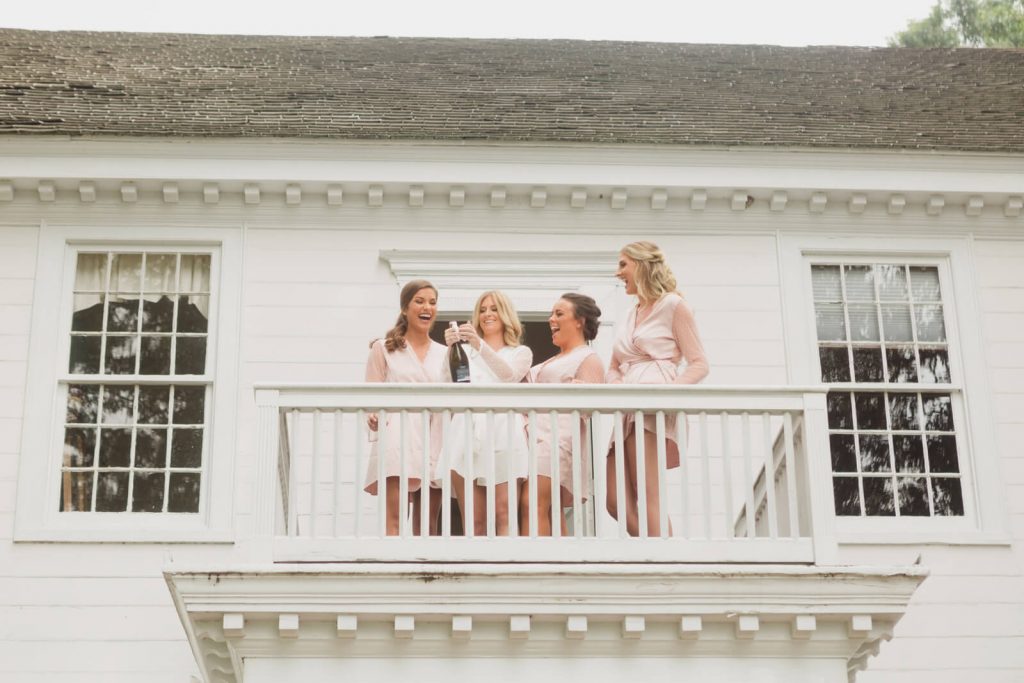 How You Met Back in 2015, we met while working together in Harbor East and our friendship grew into love over beers at the company bar.
The Engagement Greg planned a thoughtful proposal that incorporated all of my favorite things. On a nice summer's day in August, we went to our then favorite spot, Boathouse Canton with our Golden Retriever, Hudson for crushes, appetizers and live music. We had discussed getting engaged that summer, so I had assumed that if it were to happen that day, it would have happened on our walk to Boathouse through the Waterfront Park. When it didn't, I completely wrote it off for another day. We wrapped up our outing to head to a friend's house and I suggested we snap some photos by the water for the 'gram. Before I knew it, he was down on one knee with our sweet pup knocking the ring out of his hand. I said yes, and all was well with the ring.  My parents emerged from the park to take some photos and we headed back to our home to drop off the dog before celebrating downtown. To my surprise, our home was filled with our closest friends and we spent the night celebrating with too many laughs, drinks and slices of pizza.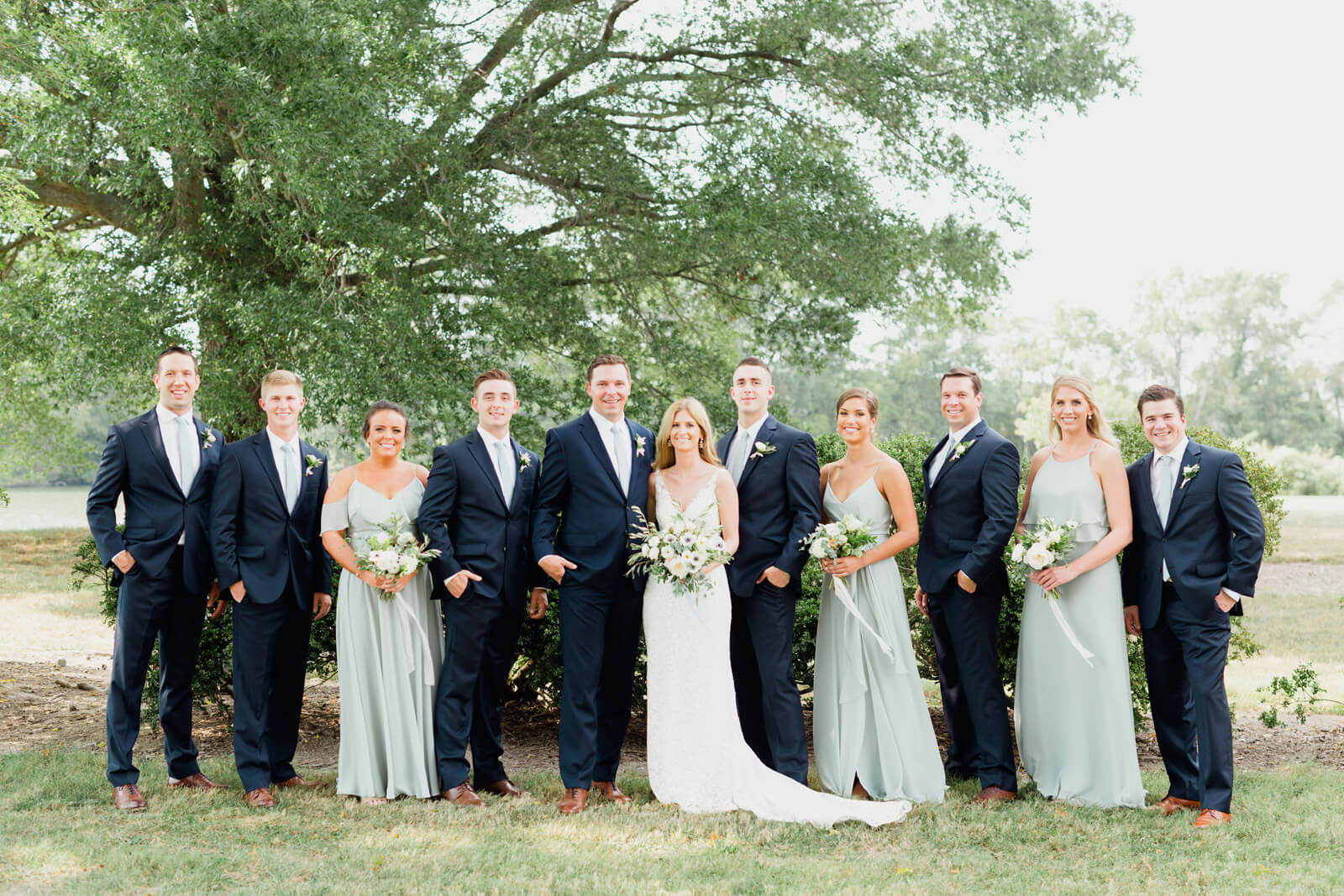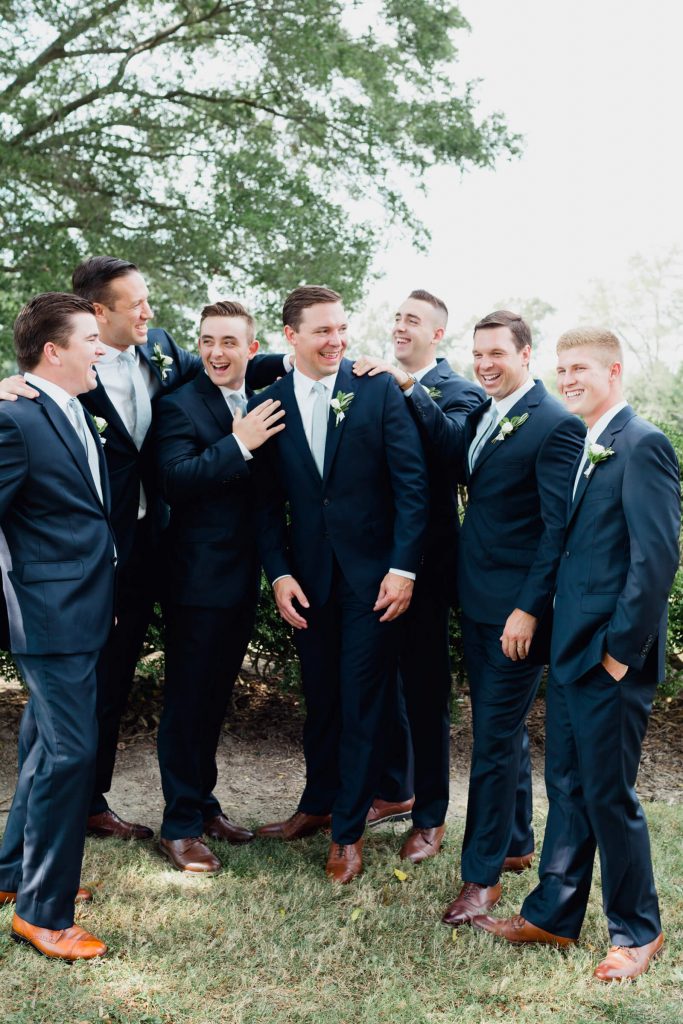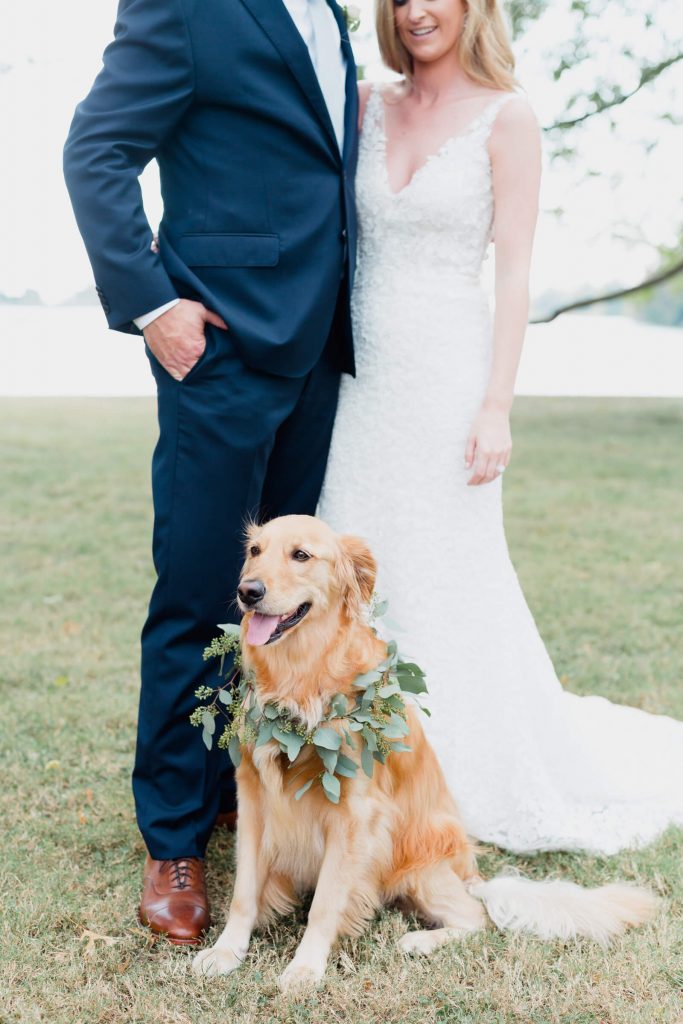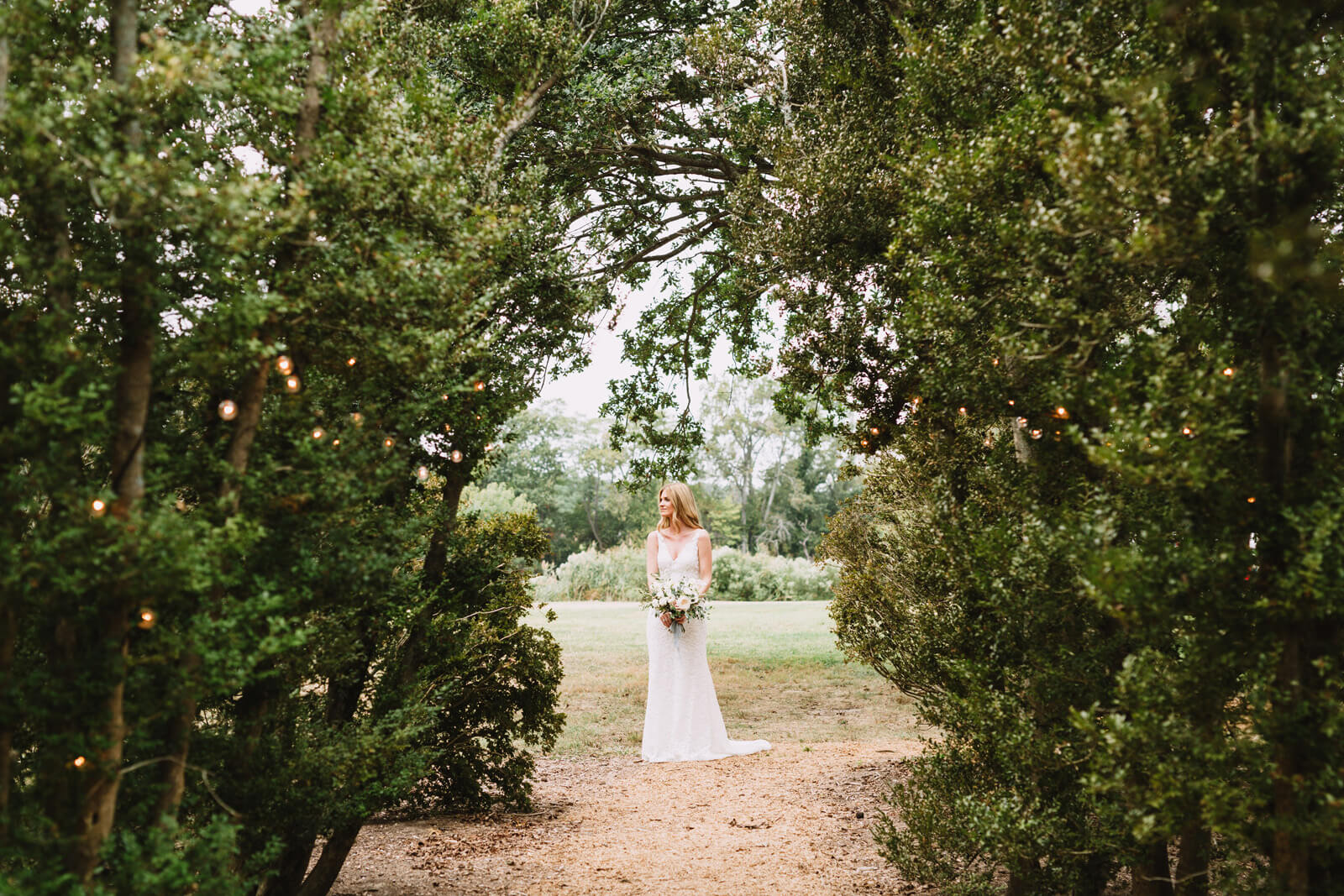 Wedding Design Inspiration We wanted to choose somewhat of a waterfront destination to stamp another special place in our hearts. We knew as soon as we stumbled upon Woodlawn that it was it. The intimate and stunning 400-year-old property houses the first deeded estate in Maryland, with a magical arrival that consists of a mile-long driveway along Calvert Creek. The entire property exuded simple elegance, so the overall design was intended to compliment it. We incorporated simple, timeless, whimsical garden-party elements through the florals and soft blue color palette with a focus on an experience that moved our guests through the property from the ceremony, to cocktail hour and the reception.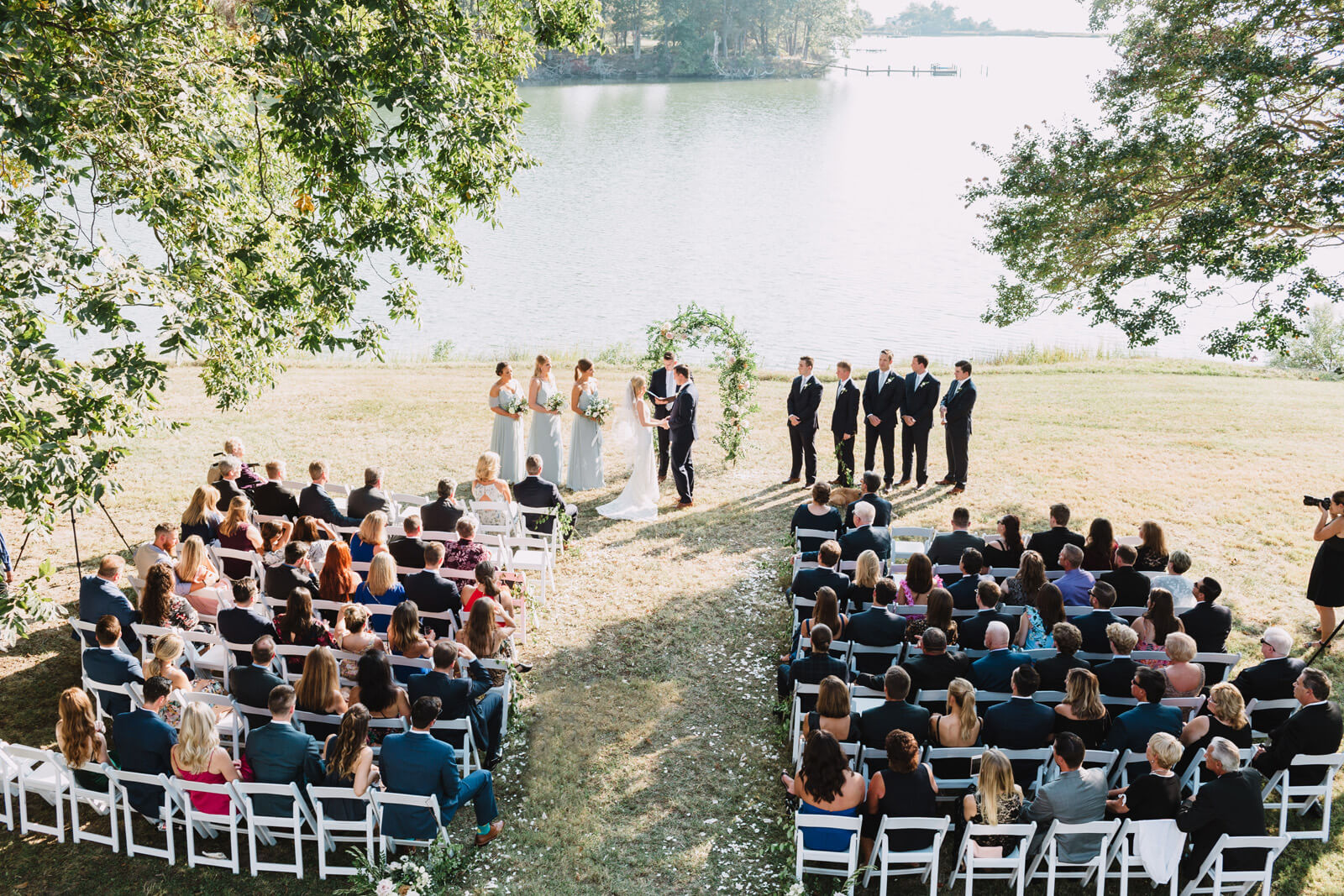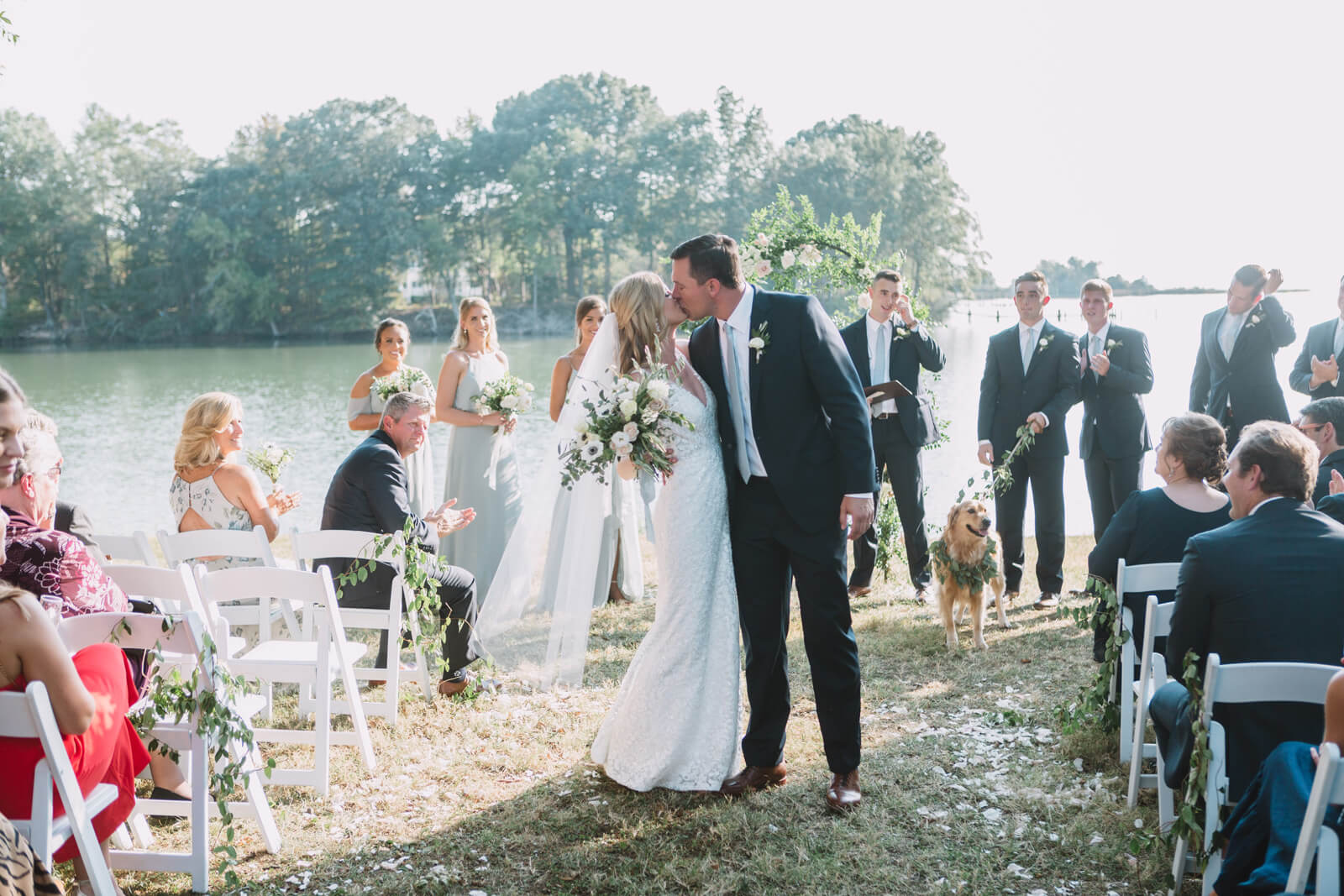 What Was Unique and Special About Your Wedding Day The entire weekend was unique and special to us. The first thing out of a married couple's mouth is how fast the day goes, so we decided to make it a full experience and take it all in. Both families and our bridesmaids were able to stay on the property which was special in itself. Waking up to the water views, heading out to the dock as the dogs ran around and just relaxing as a group was invaluable. Thursday started in Solomons Island with a sunset sail with the bride's family. Friday, we kicked things off with a cocktail party and rehearsal before heading into Solomons for our rehearsal dinner and welcome party on the water. The day after the wedding, we sat out and reminisced on the wild stories and continued the laughs. We can't imagine coming in Friday and rushing off the property the night of the wedding. Having the most important people in your life all in one place is so rare—if you have the opportunity, definitely take advantage.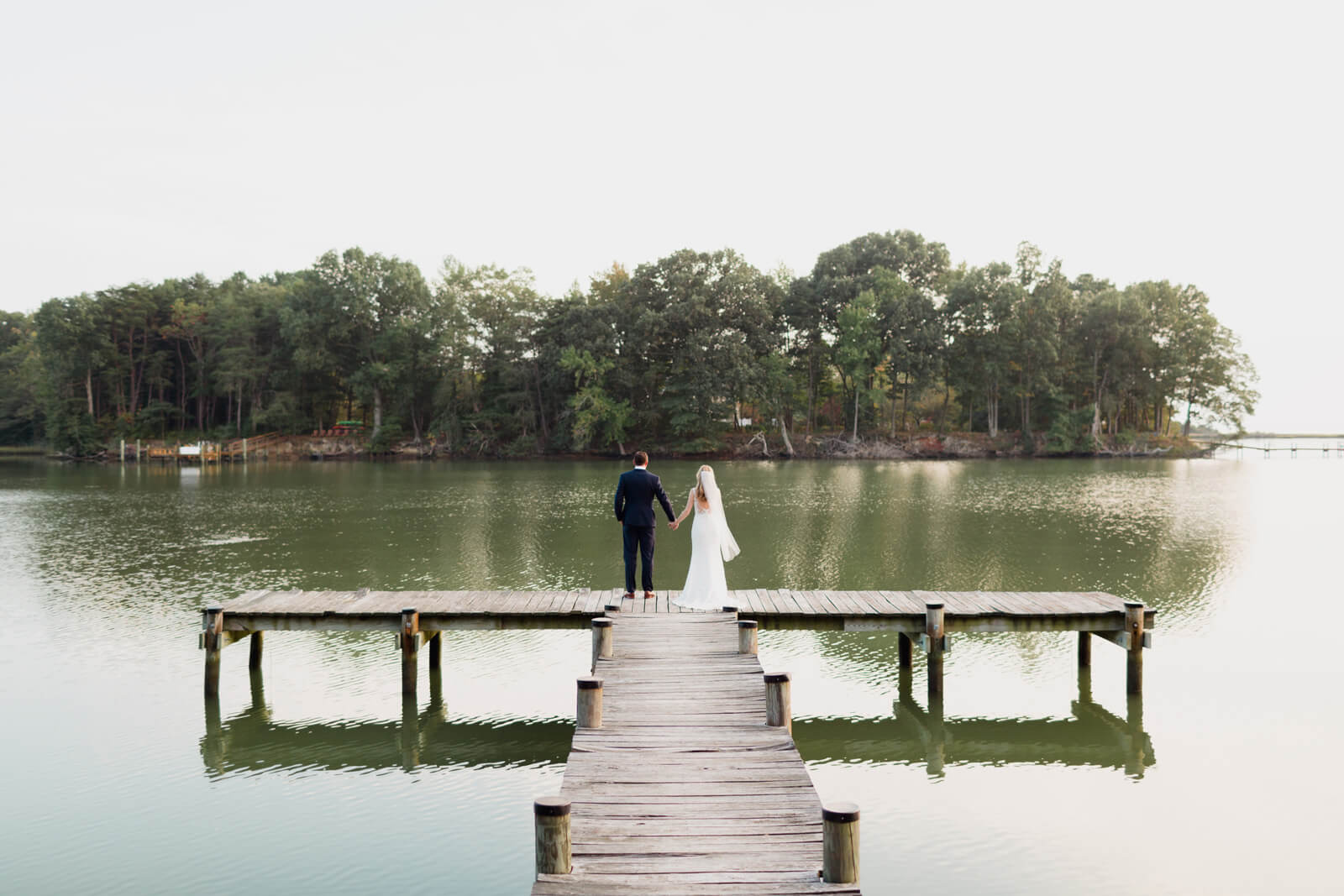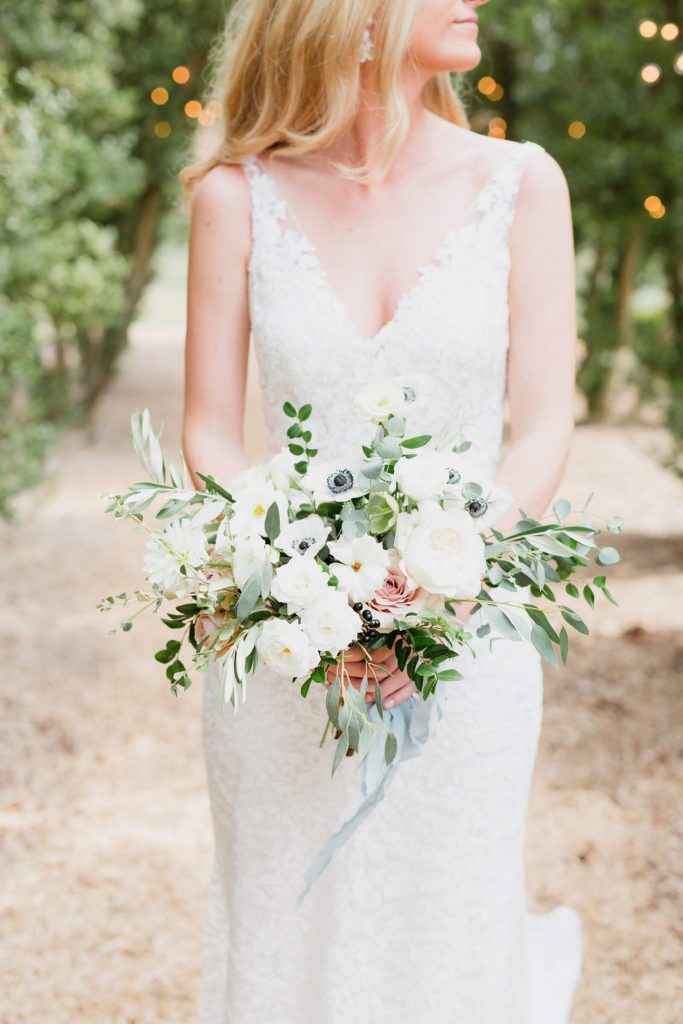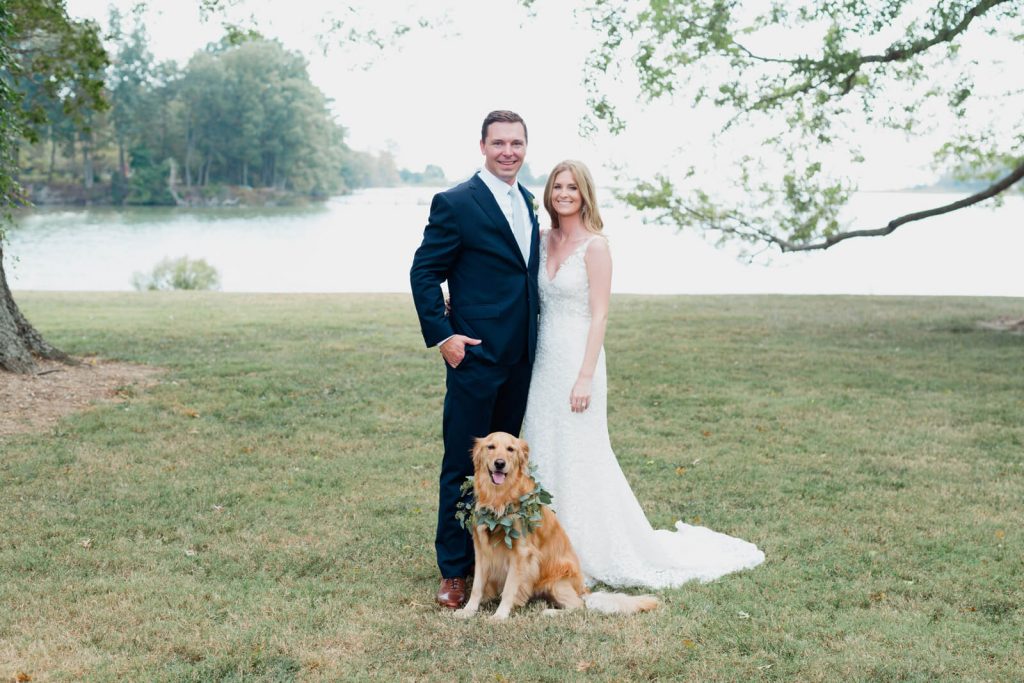 Favorite Details As the planner and the bride, seeing all of the details come together was a moment in itself. We wanted the entire day to have subtle touches of us with a thoughtful experience for our guests, especially given that nearly all were from out of town. The afternoon started with waterside welcome drinks accompanied by our string quartet playing modern love songs. There was a massive graze table and oyster bar at cocktail hour and a family style dinner to fill our guests up before the dance floor got going. Plus lots of personal touches like our Maryland-based welcome bags, custom watercolor monogrammed barware, cornhole boards, and more; paired with our favorites like Dogfish Head brews, Smith Island Cakes and Philly pretzels and cheesesteaks for our late night food as a nod to the groom. The night ended with our 8-piece band performing "September" by EWF as our last dance with a confetti-pop—we truly had a night that felt like us, driven by our love and happiness radiating from all guests.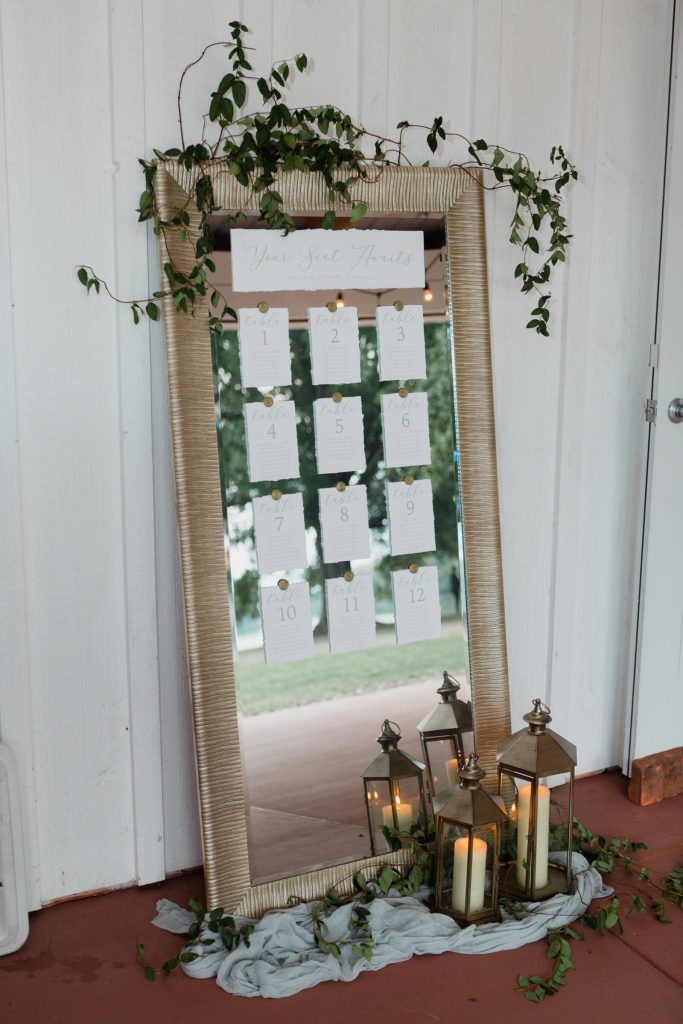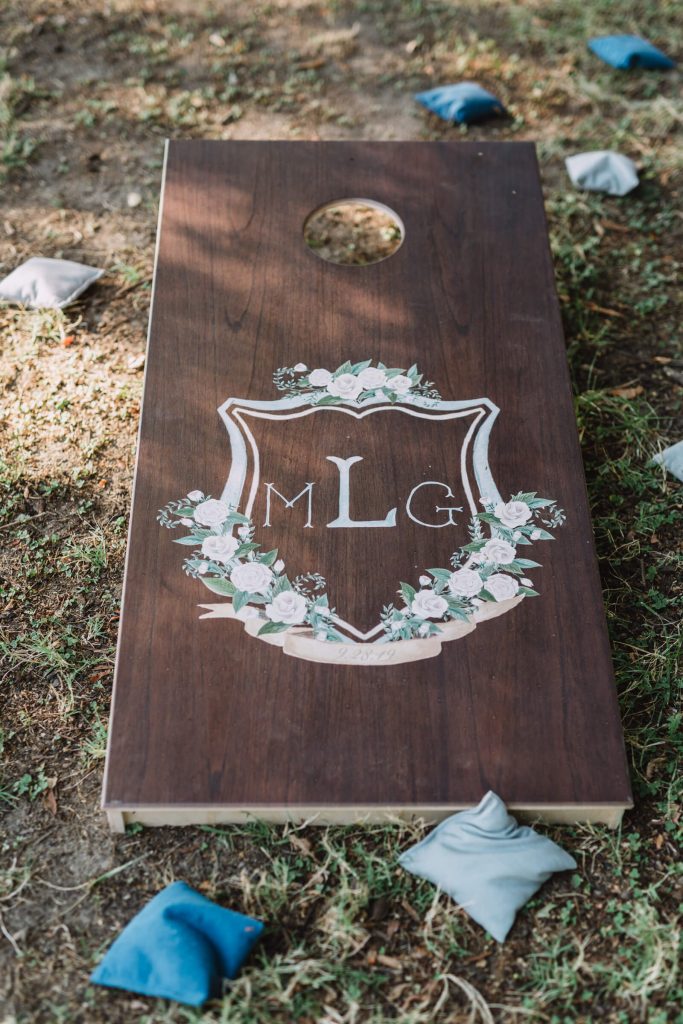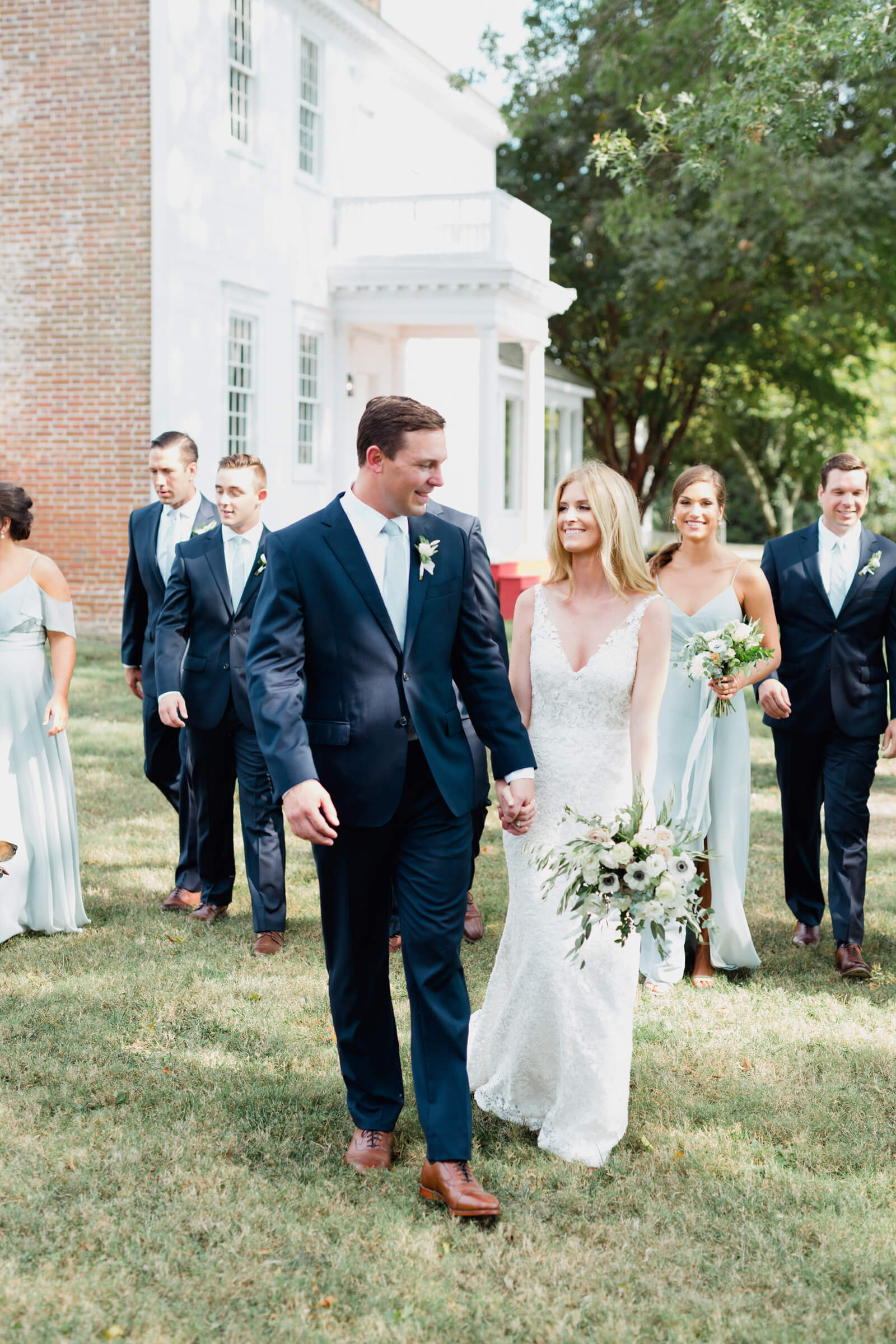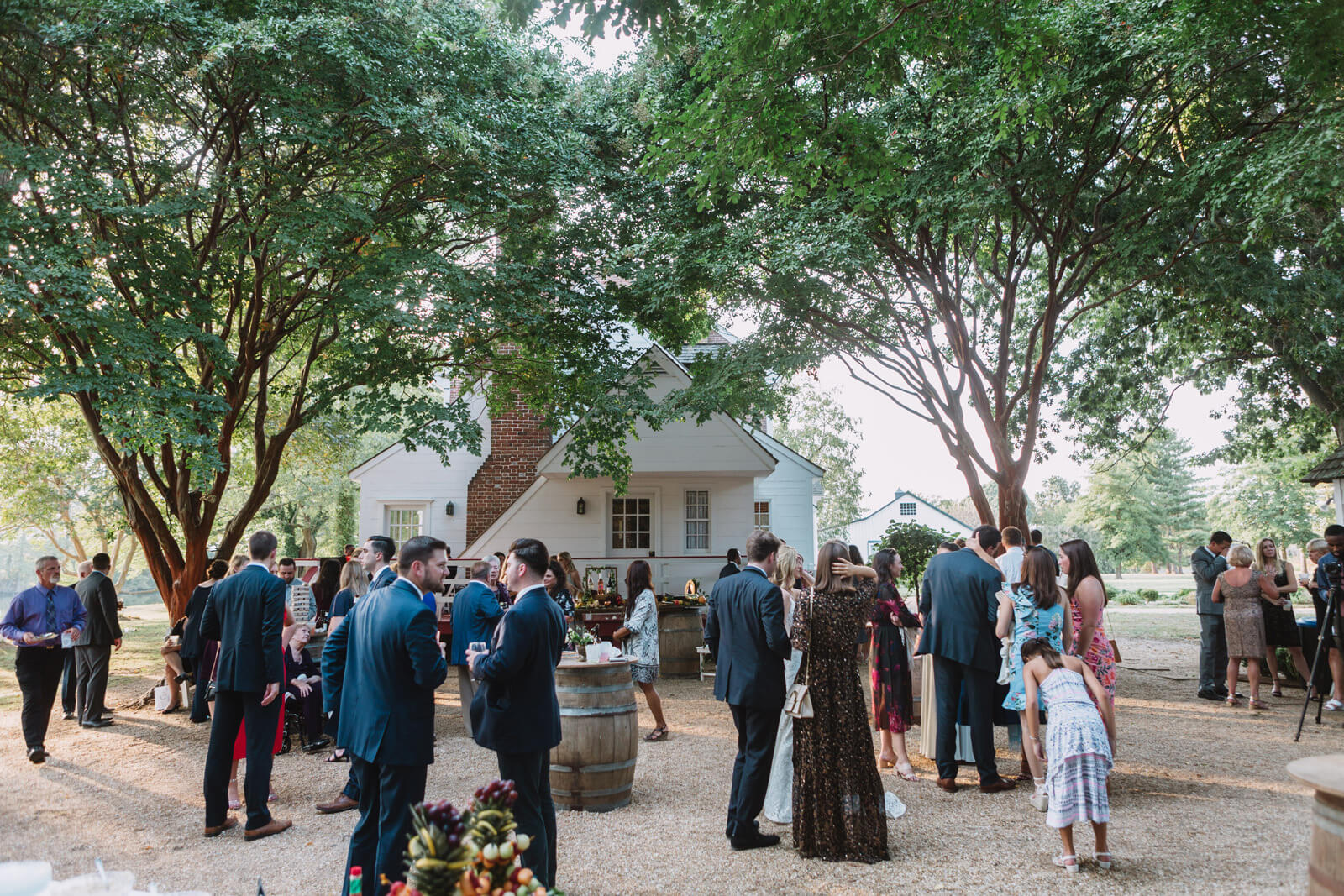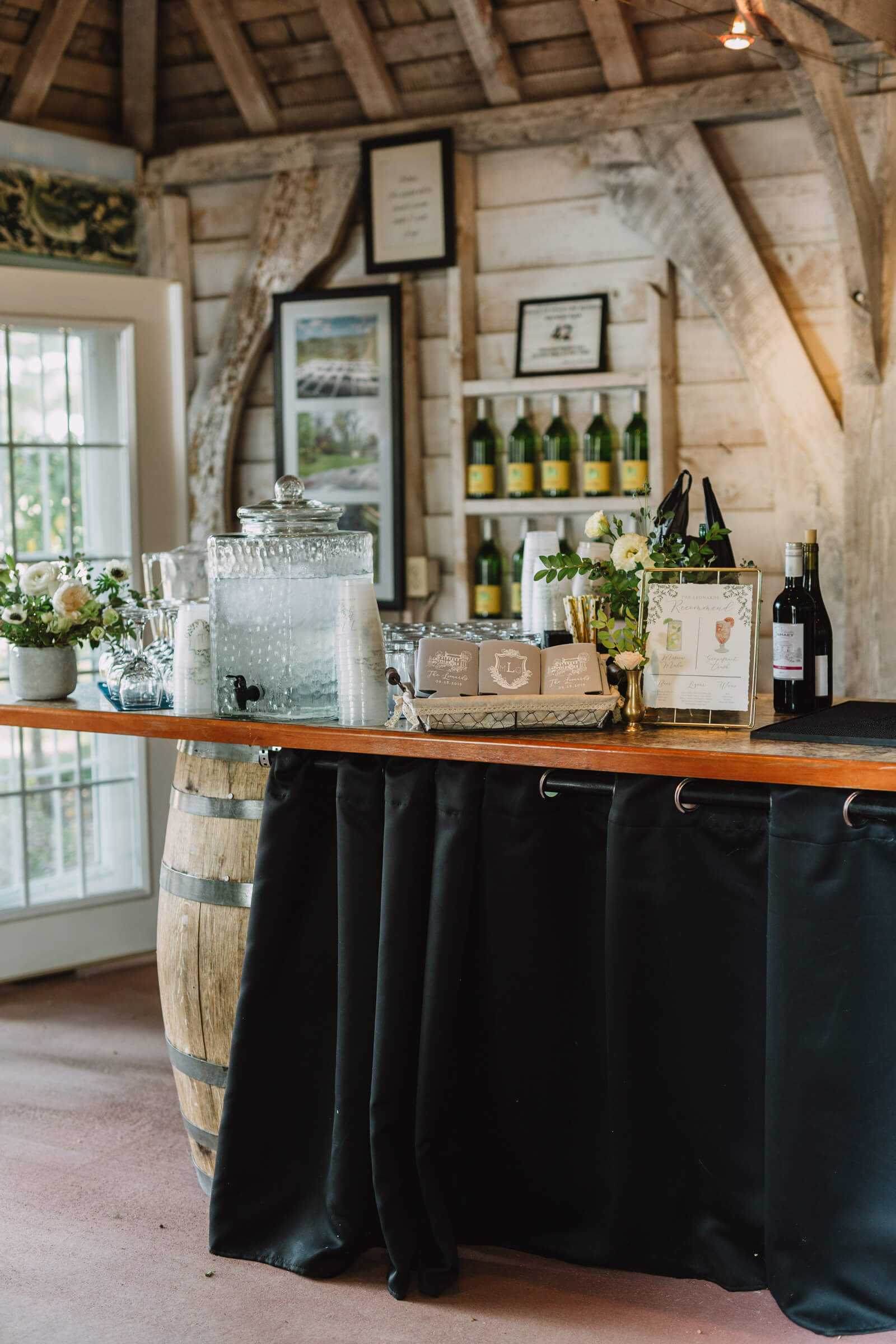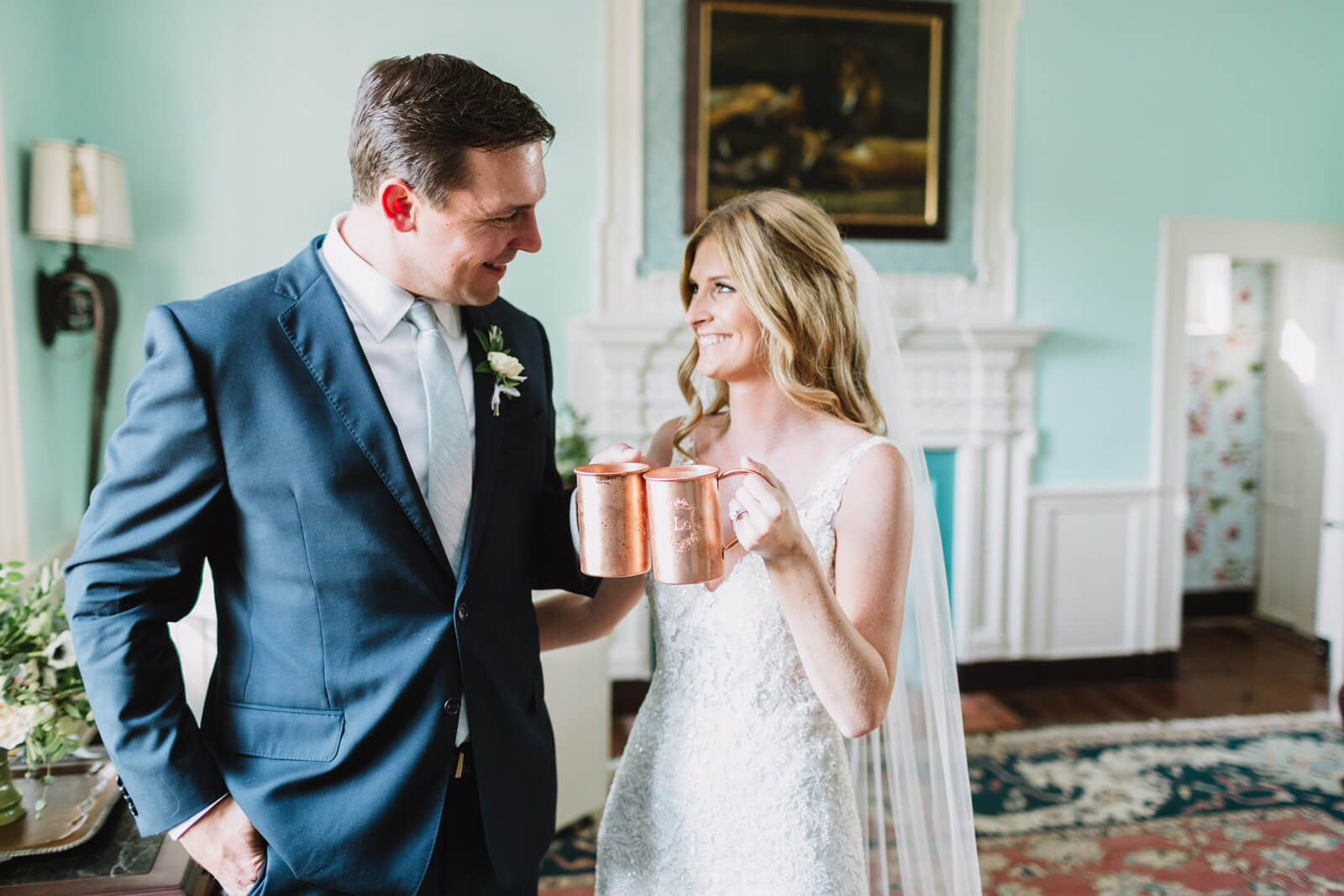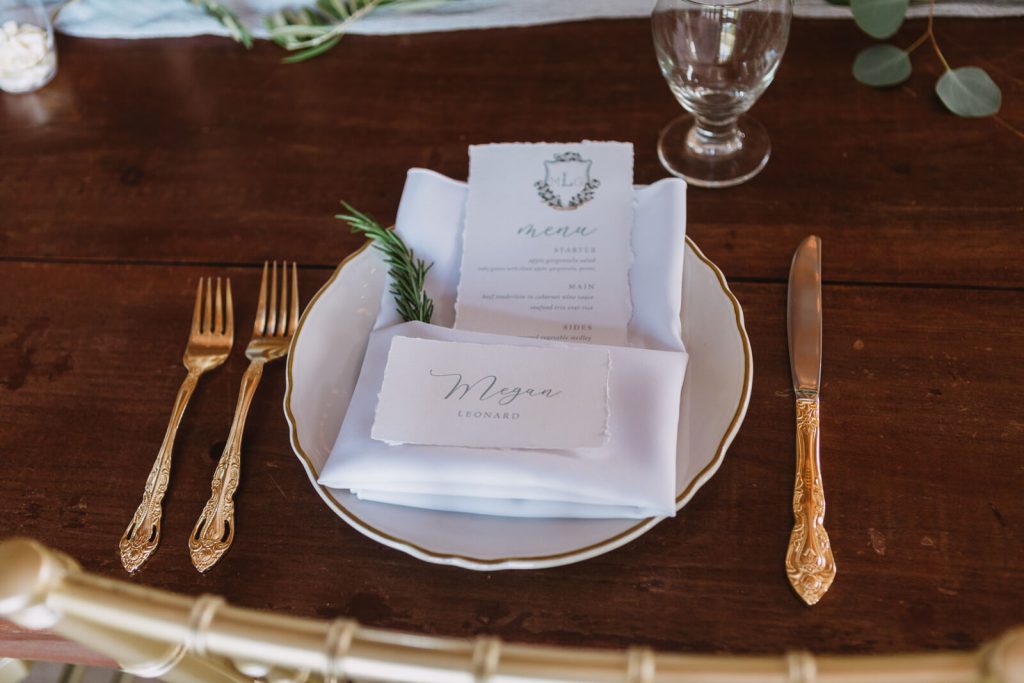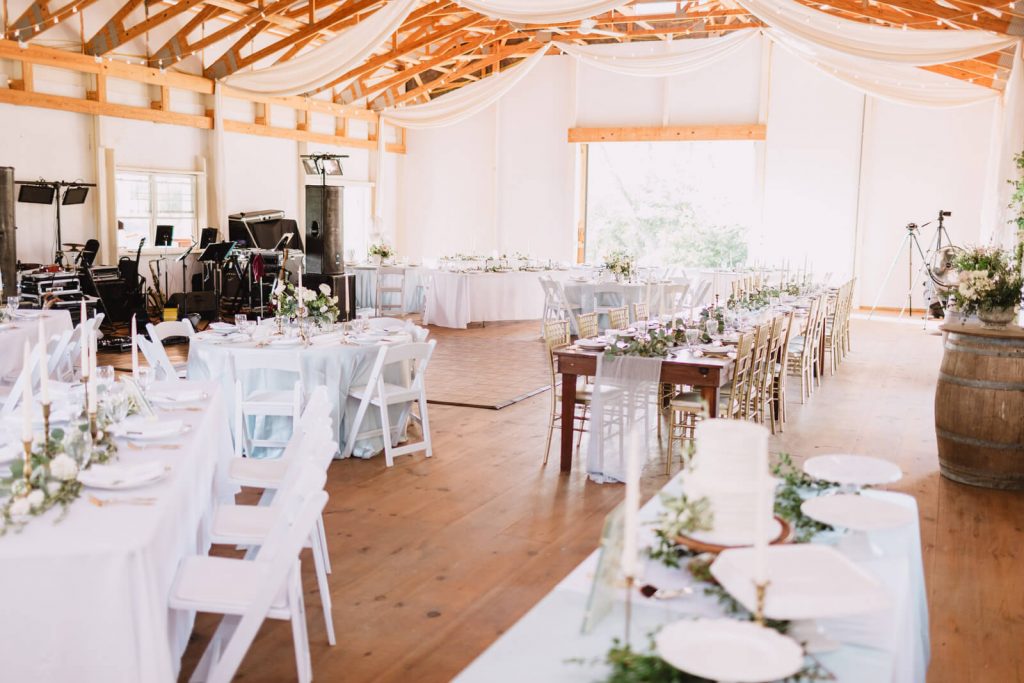 Most Unexpected Event On Your Wedding Day We were so worried about the rain hindering our outdoor wedding that being sick on the day never crossed our minds. Well, we both happened to be very ill, powering through severe colds and migraines. It certainly wasn't ideal, but we knew we couldn't change it, so our adrenaline powered us both through. In sickness and in health, right?
Piece of Advice The memories are in the fun. While I was design obsessed, my favorite memories are from the dance floor games, the roast speeches from our families, and simply seeing our closest friends and family become new friends. Things will go wrong but going into it knowing that at the end of the night you are now husband and wife, is as perfect as it gets.