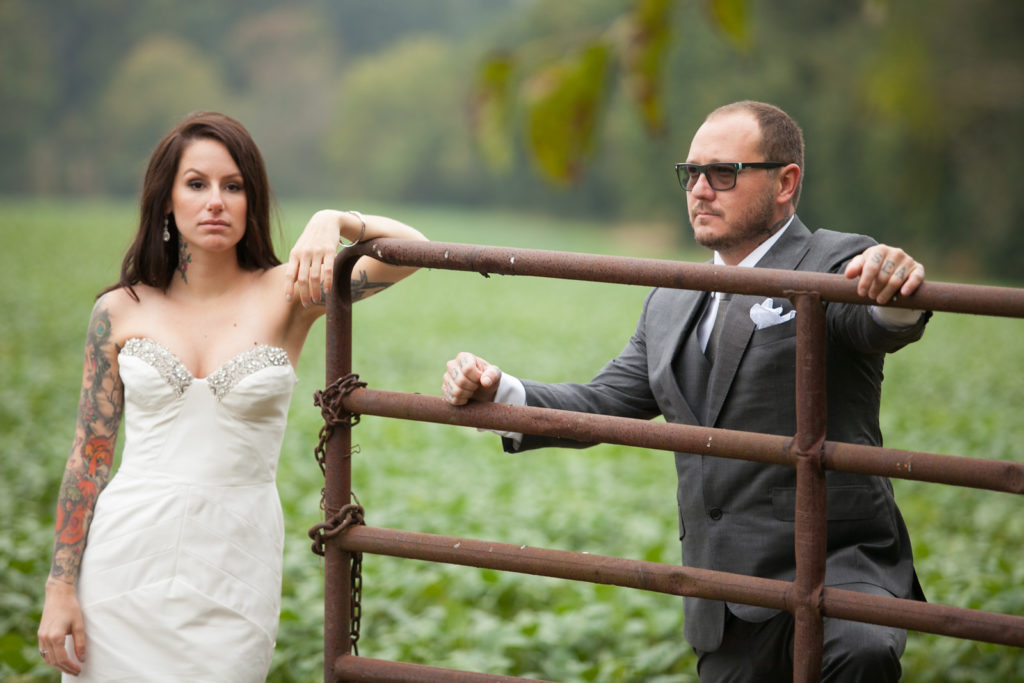 Occupations: Tristen is a labor and delivery nurse; Todd is a tattoo artist.
Wedding date: October 11, 2014
Number of Attendees: 140
Number of Attendants: 12
How You Met: Tristen met Todd at his tattoo shop in Fenwick Island, Delaware. She had gone there to talk to him about getting a tattoo.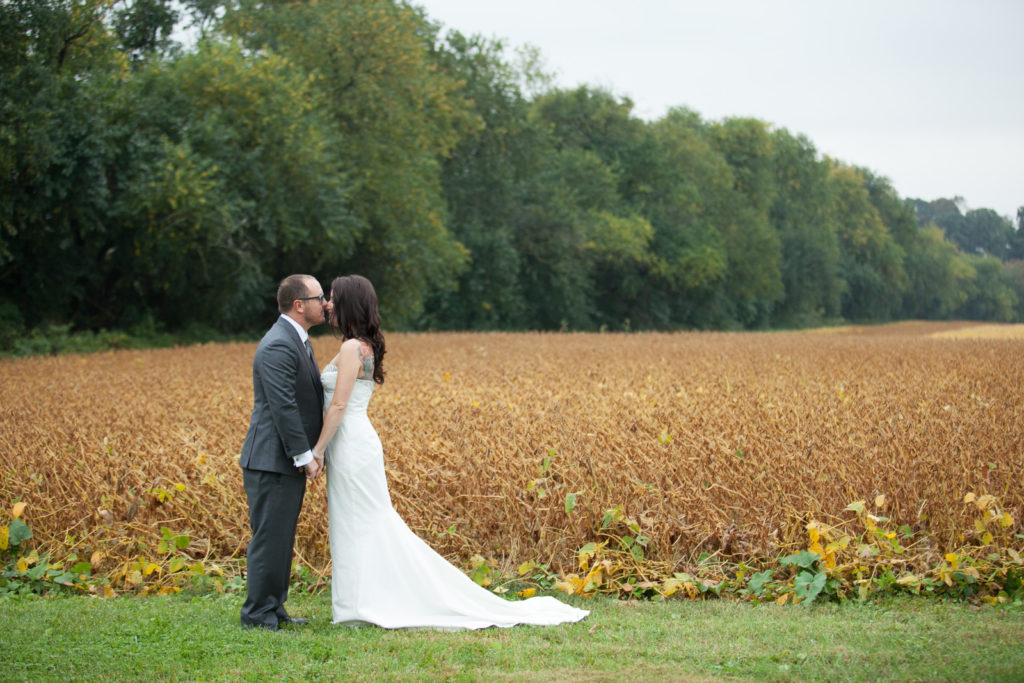 The Engagement: The traveled to San Francisco to attend a tattoo convention and were met with unseasonable cold and rainy weather. In an attempt to brighten the mood, Todd took Tristen shopping at a local boutique and bought her a really awesome black wool dress. Afterwards, he drove her up to Coit Tower, a 210-foot tower in the Telegraph Hill neighborhood. The couple arrived just as the tower was about to close and took the elevator to the top. Tristen says there was no one else up at the top of the tower, and good thing too because, "Todd was being Todd, running around saying, 'Look at this, look at that!'" Tristen was a couple of yards away from Todd facing away from him when he called her for her to come over by him to see something. When she turned around and got Todd in her sights, he was kneeling down, ring in hand with the biggest smile on his face. "I was so surprised, I threw my hands up, said, "Oh my god!" Tristen then says she started to walk the other direction. At her excited attempt to flee, Todd laughed and said, "Wait come back I want to ask you something." Needless to say, Tristen circled back and said, "Yes."
Tristen's ring is over 100 years old and has the true original emerald affixed to it. Tristen, who is a self-proclaimed "non-jewelry person," took to Google and searched for "antique wedding rings." Within a few hours, Tristen found herself on Carol Frank's website and flagged some for Todd. Tristen later learned that Todd had contacted the jeweler and bought the ring when he was in England on a business trip. Todd and a friend took a train two hours outside London to the jeweler's home to pick up the ring. The funniest part about the whole story is that Todd actually told the jeweler not to write "SOLD" over the picture of the ring (as she normally does) on the website because he had a feeling that Tristen would check the website. Turns out Todd knew his fiancé very well as she did look at the website while Todd was over in England. "I never would have thought in a million years that he would have gotten the same ring," Tristen says.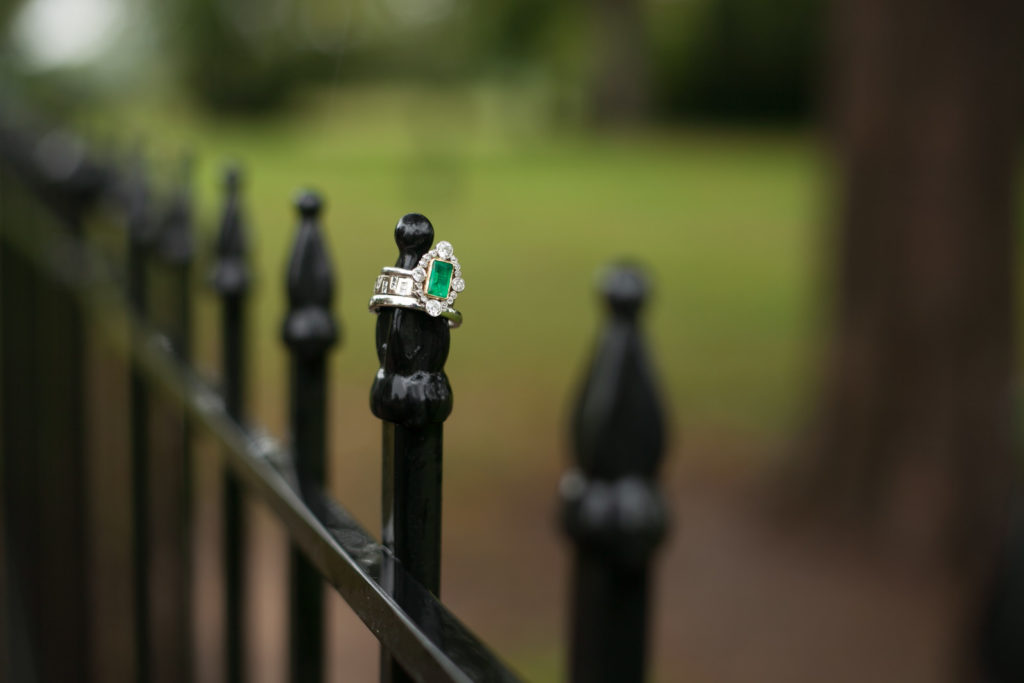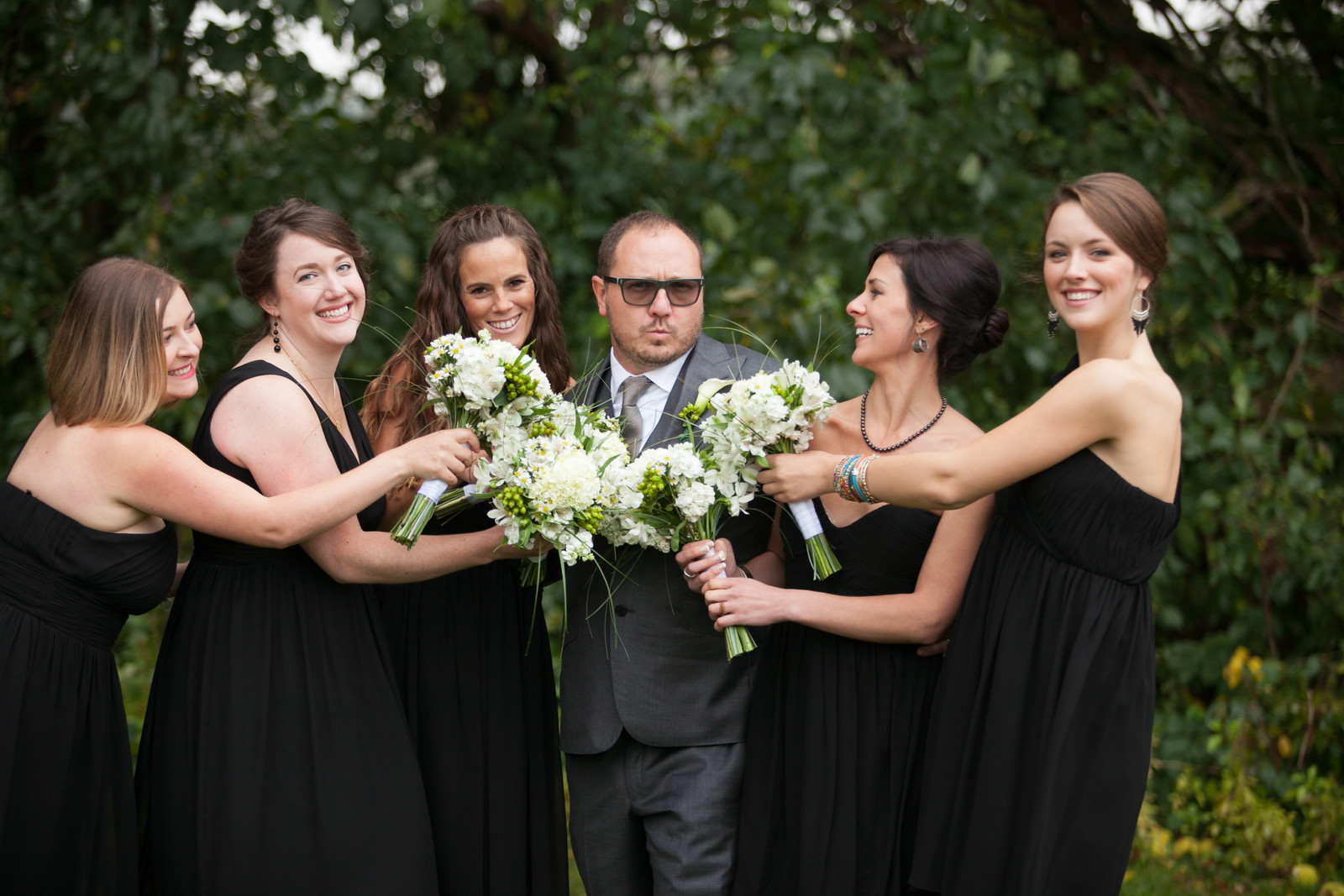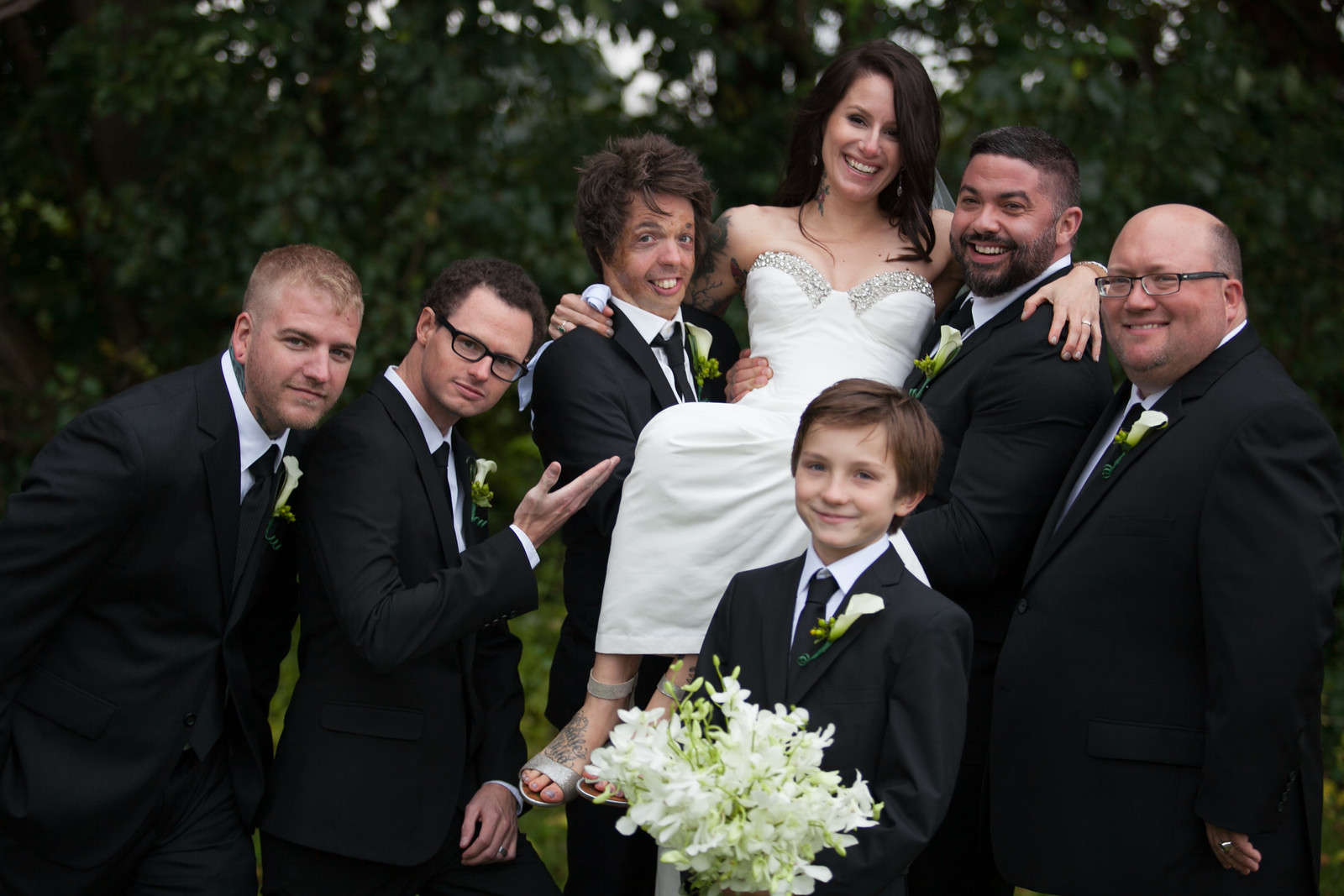 Wedding Design Inspiration: The couple wanted their wedding to be rustic and elegant. They chose to have lots of fresh white flowers with an emphasis on texture and lighting. The most important thing to Tristen and Todd was that their guests felt comfortable and relaxed.
What was unique and special about your wedding: The venue Tristen and Todd rented was an old manor from the 1700's where George Washington had stayed a couple of times (he even mentions it in his memoirs). The grounds consisted of the manor house and a barn. Tristen and Todd's parents, siblings, and Todd's son all stayed with them in the manor house the whole weekend; Tristen and Todd were so grateful and happy to have their families together and make a true weekend event out of the celebration. The couple's wedding rehearsal dinner allowed them to have their close friends and other family on-site for a big dinner and drinks.
Other notable moments (as told to Baltimore Bride):
• Todd's son was part of the wedding party.
• They had a very close friend's daughter, C Betts, sing two love songs after dinner: Bob Dylan's "Make You Feel My Love" and "I Found a Reason," by Cat Power.
• The food! The food was so good. They served chicken potpie, had a table full of deserts, including wedding cake. They got their favorite hot chocolate from Boston called L.A. Burdick Handmade Chocolates and their favorite coffee from Salisbury, called Rise Up Coffee. Everything that was offered to eat and drink was a thing they would have any day of the year because they liked it so much.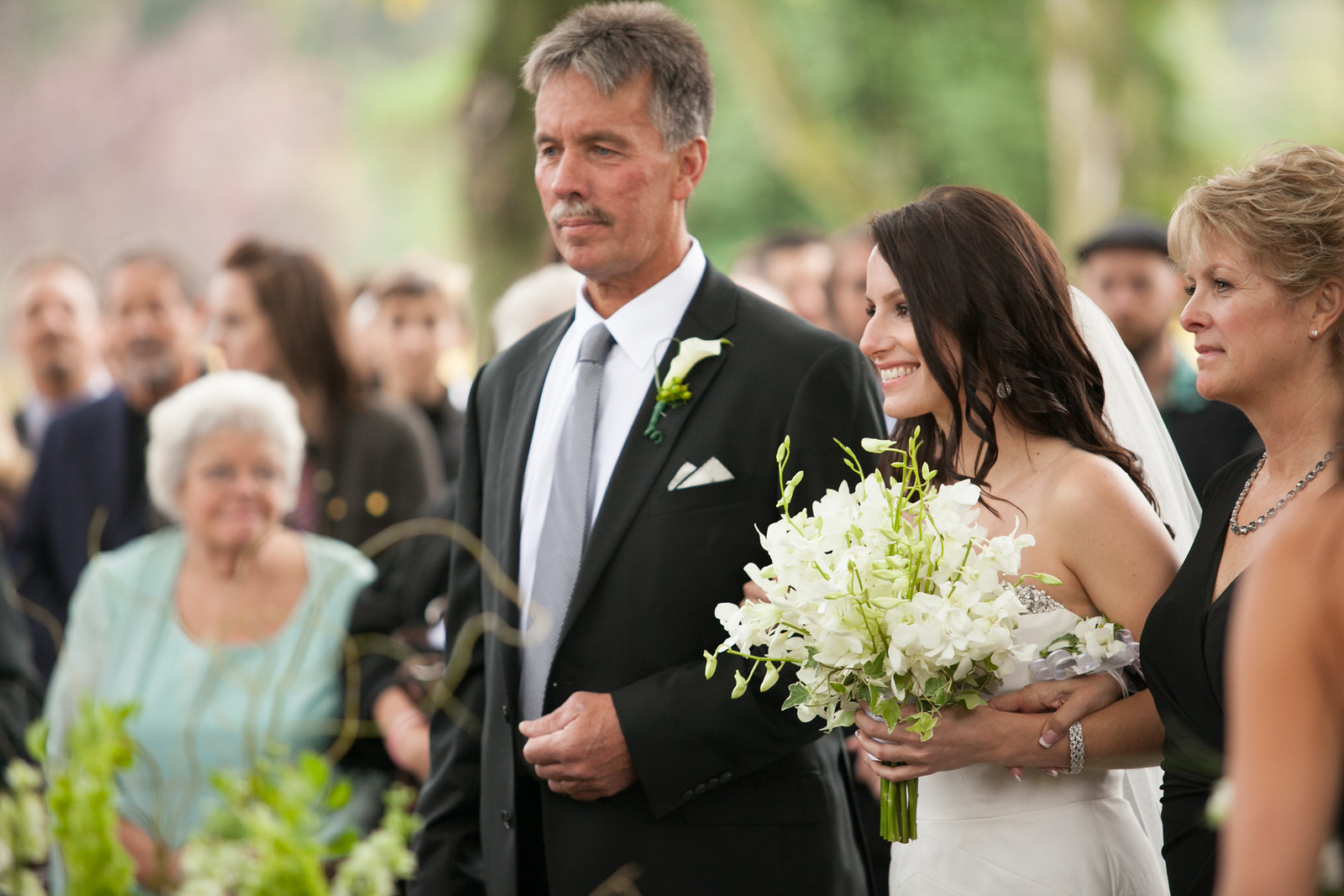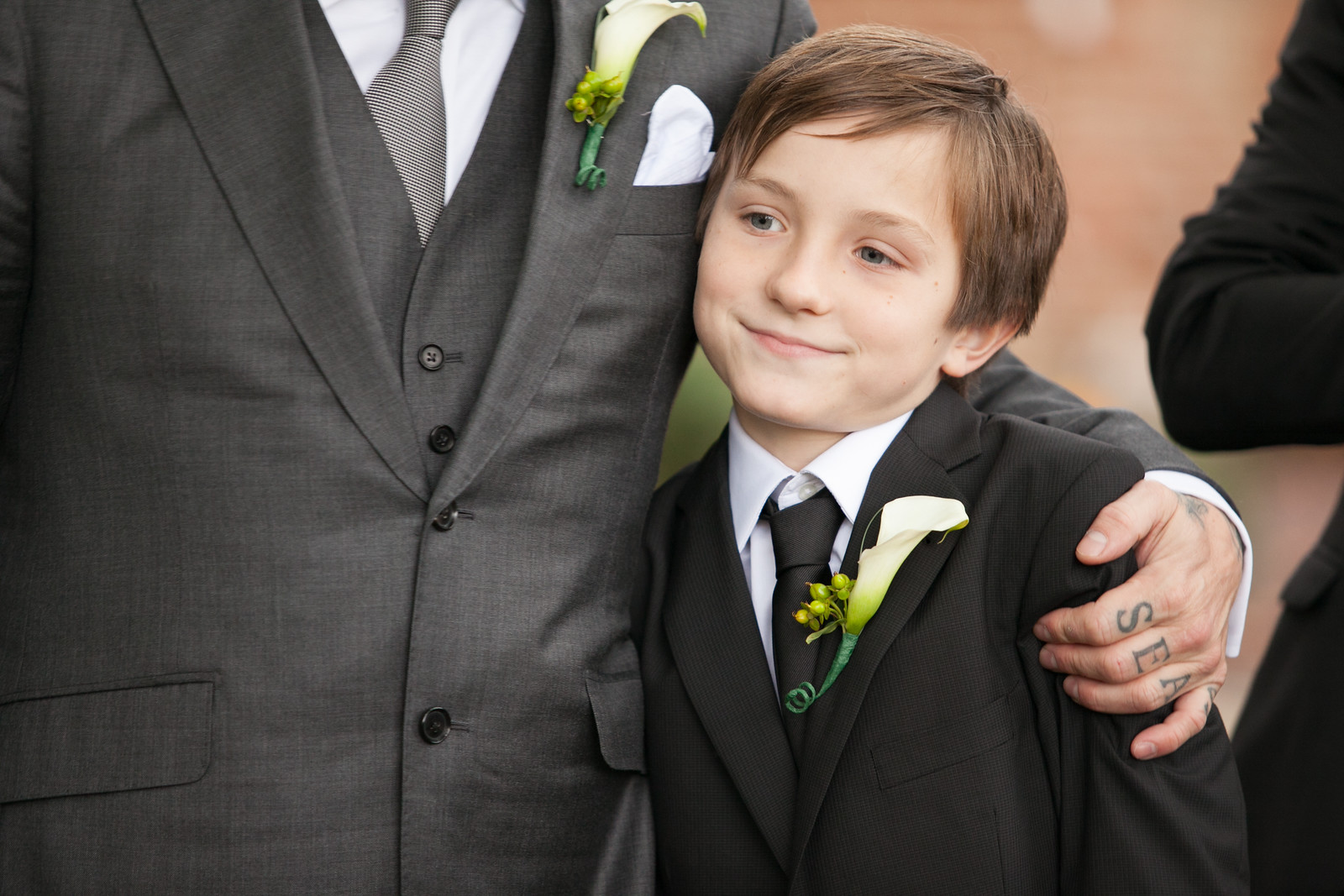 Favorite Details: Tristen and Todd included their friends' many talents in as many aspects of the wedding as possible. Their friend BJ Betts, who is known in the tattoo world as one of the best script artists, designed the wedding invitations. Their other friend, Bill Stevenson, married them. A chef and good friend of the couple made their rehearsal dinner spread of homemade lasagna and sausage bread while his wife and one of Tristen's bridesmaids was the wedding sommelier. And another friend was the DJ. Last but not least, Tristen and Todd's amazing wedding photographers at B.O.B. Photography who Tristen says, "had the best photo ops and gave us the absolute best wedding photos that have ever been shot."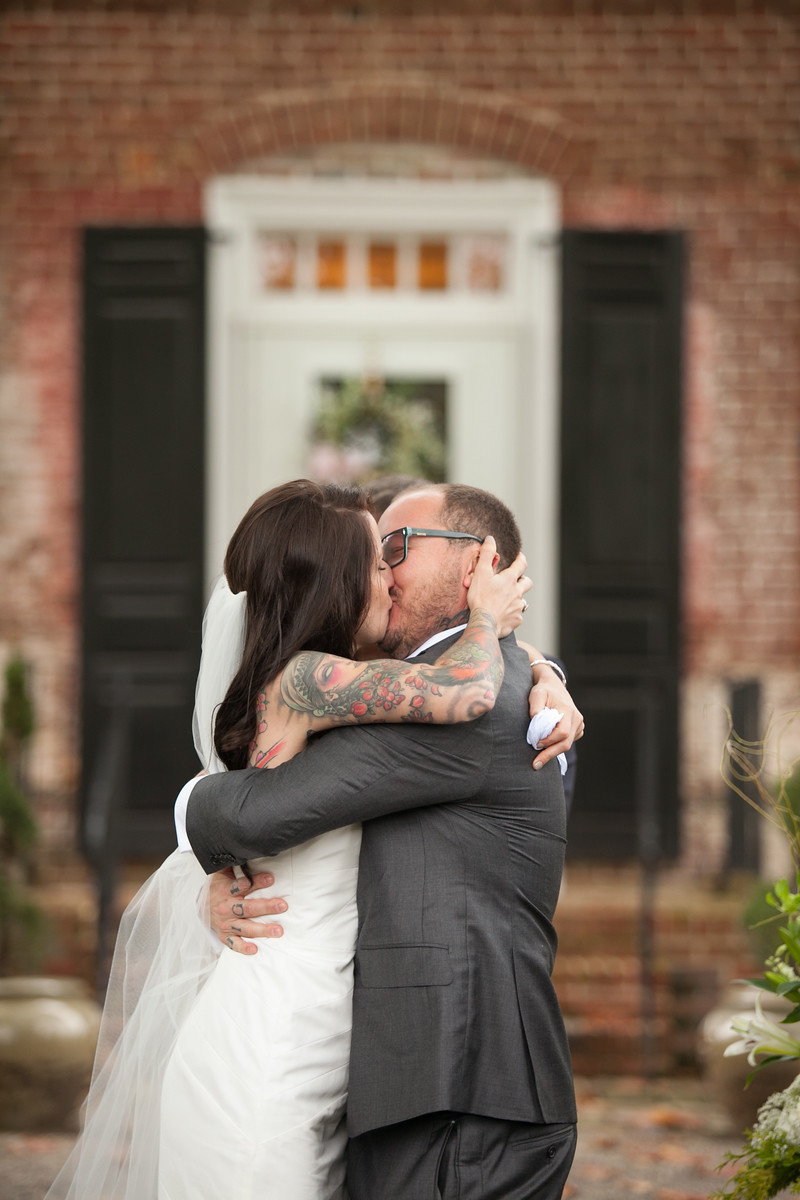 Most unexpected event on the day of the wedding: The rain decided to break for the ceremony and in general, "everything was exactly how we envisioned it to be."
Piece of advice: "Pay extra for additional hours for the wedding!" Tristen says. "Our wedding was about seven hours long (4-11PM), but I would have liked to have started earlier and ended at midnight so I could have had more time at the cocktail hour to mingle with our guests."